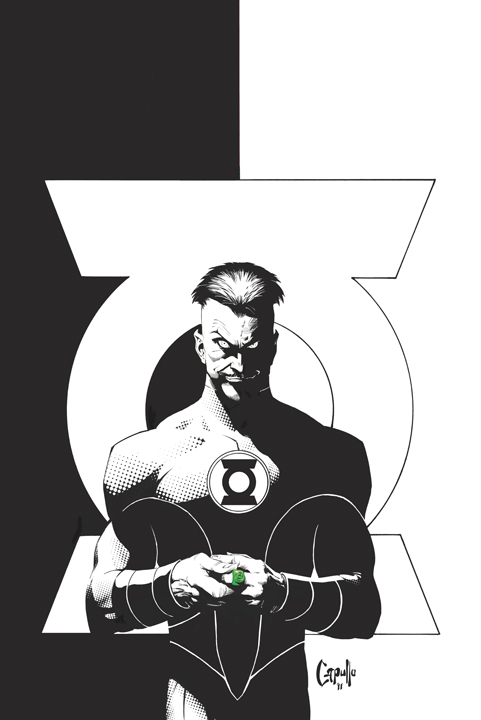 Kieron Gillen abandonne Generation Hope
Il y a peu moins d'un an était lancée la série Generation hope aux USA avec Kieron Gillen au scénario. Après 12 épisodes on apprend que James Asmus reprendra le titre, accompagné de Ibraim Robertson au dessin. Ce changement d'équipe est une surprise aussi tôt dans la série, d'autant que Gillen n'a pas hésité à mettre en avant Hope et les personnages de la série dans Uncanny X-Men. Il apparaît que la charge de travail du scénariste se soit accru de manière importante ces derniers mois au point de limiter le temps qu'il pouvait consacrer à chaque titre.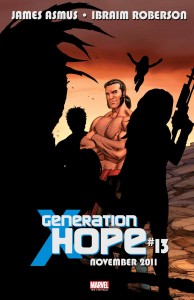 Le choix de la nouvelle équipe créative est aussi assez surprenante, en effet James Asmus n'a pour le moment signé que quelques annuals et un futur épisode de Astonishing X-Men. C'est très tôt pour lui confier une série régulière, sauf si bien entendu le but est d'enterrer la série, dont les ventes ne sont pas extraordinaires. Personnellement je dois dire que la disparition de la série ne m'affecterait as des masses étant donné son niveau de qualité. Ce n'est pas mauvais, mais c'est loin d'être la série du siècle. Etant donné qu'on est déjà bien chargé en séries X, si on pouvait se délester de celles qui ne sont pas très bonnes …
Ah et pour faire parler d'elle la série va intégrer dans ses rangs … Sebastian Shaw !
Thor 2 a un réalisateur
C'est Brian Kirk qui a été choisi pour réaliser Thor 2. Comme vous le savez peut être Kenneth Brannagh n'a pas souhaité rempiler pour un second volet du Vengeur asgardien. Marel était donc à la recherche d'un successeur.
Apparemment Brian Kirk aurait été choisi pour sa participation à la série Trone de fer qui remportent un assez grand succès aux USA. Le reste de l'équipe, acteurs et scénariste semblent continuer l'aventure.
Sollicitations Marvel pour spider-man, ultimate, et titres MAX
Après les titres Vengeurs hier, nous avons droit à un nouveau coup d'oeil sur les sollicitations marvel pour le mois de novembre (source CBR). Reste donc les sollicitations des titres X-Men. Il s'agit d'un mois important pour Marvel avec d'un côté la Hammer War, le lancement ou la relance de plusieurs titres importants, Hulk, Uncanny X-Men, et le nouveau titre Avenging Spider-man porté par le nom de Joe Madureira.
Je reste personnellement surprise que le scénario ait été confié à Zeb Wells, qui n'est pas un mauvais scénariste, mais c'est pas un auteur de premier plan tant sur la scène comics, que chez Marvel.
Comme annoncé les titres Fantastic Four sont dédoublés, entre FF et Fantastic Four (qui a dit Ka-tching ? )
ULTIMATE COMICS SPIDER-MAN #4
Written by BRIAN MICHAEL BENDIS
Penciled by SARA PICHELLI
Cover by KAARE ANDREWS
Miles Morales IS the new Spider-Man!
What's the secret behind his powers, and how will he master them?
What new and familiar enemies will rise to challenge this all-new Spider-Man?
The most-talked about story of the year keeps delivering the shocking surprises!
32 PGS./Rated T+ …$3.99
ULTIMATE COMICS HAWKEYE #4
Written by JONATHAN HICKMAN
Penciled by RAFA SANDOVAL
Cover by KAARE ANDREWS
A newly-developed mutant-serum puts the world on the brink of war!
Caught in the international conflict, Hawkeye is outnumbered with all odds against—just as he likes it!
If Hawkeye can't save world, then who can?
32 PGS./Rated T+ …$3.99
ULTIMATE COMICS ULTIMATES #4
Written by JONATHAN HICKMAN
Penciled by ESAD RIBIC
Cover by KAARE ANDREWS
Marvel Comics 50th Anniversary Variant by CHRIS STEVENS
The stunning climax to Jonathon Hickman's first arc in the bold new Ultimate Universe!
The Ultimates are officially back, but can they stop a threat more powerful than the gods?
With the world on the brink of destruction, how can Nick Fury stop this unimaginable threat?
32 PGS./Rated T+ …$3.99
ULTIMATE COMICS X-MEN #3
Written by NICK SPENCER
Penciled by PACO MEDINA
Cover by KAARE ANDREWS
The secret is out! The whole world knows that the U.S. Government created mutants!
Everyone with an X-Gene is mercilessly hunted and branded as a terrorist!
With the war against mutants back on, will the X-Men fight back?
32 PGS./Rated T+ …$3.99
PUNISHERMAX #19
Written by JASON AARON
Penciled by STEVE DILLON
Cover by DAVE JOHNSON
The deadly assassin Elektra was hired but the Kingpin to protect him from the wrath of the Punisher. But can she really shield him from what the Punisher is planning, especially when Fisk seems more interested in trying to get her into his bed?
32 PGS./Explicit Content …$3.99
DEADPOOL MAX 2 #2
Written by DAVE LAPHAM
Art & Cover by KYLE BAKER
Deadpool and Bob are the worlds' most wanted terrorists. The only person who can clear their name is Bob's secret agent ex-girlfriend, but she's shacking up with the metal-armed Adonis called CABLE! Maximum jealousy leads to maximum gunfights in DEADPOOL MAX II # 2.
32 PGS./Explicit Content …$3.99
FANTASTIC FOUR #600
Written by JONATHAN HICKMAN
Penciled by STEVE EPTING, CARMINE DI GIANDOMENICO,LEINIL YU, & FAREL DALRYMPLE
Cover by GABRIELE DELL'OTTO
Variant Covers by JOE QUESADA, JOHN ROMITA JR. & ART ADAMS
Sketch Variant Cover by JOE QUESADA
« FOREVER » Part One
THIS IS IT! The 50th anniversary issue of the Fantastic Four! This month we begin the 5-part conclusion to the story that began over 30 issues ago. Joins us for the epic celebration of Marvel's First Family with 96 pages of all-new content written by Jonathan Hickman with art by Steve Epting, Carmine Di Giandomenico, Leinil Yu and Farel Dalrymple.
104 PGS./All-New Material/No Reprints/Rated T …$7.99
FF #12
Written by JONATHAN HICKMAN
Penciled by JUAN BOBILLO
Cover by STEVE EPTING
Fantastic Four 50th Anniversary Variant by SKOTTIE YOUNG
« ALL HOPE LIES IN DOOM » Part One
The beginning of a 4-part arc that runs parallel with FOREVER in the Fantastic Four. We've teased it for years, now find out exactly how Doctor Doom and the Future Foundation will save us all.
32 PGS./Rated T+ …$2.99
MOON KNIGHT #7
Written by BRIAN MICHAEL BENDIS
Pencils & Cover by ALEX MALEEV
Marvel Comics 50th Anniversary Variant by TERRY DODSON
With Moon Knight tearing up Los Angeles it was only a matter of time before the Avengers came to see what exactly he's doing and how exactly is he doing it.  For real. Will the Avengers be the help that Moon Knight needs to finally unravel the mystery of the kingpin of Los Angeles?!
32 PGS./Rated T+ …$3.99
DAREDEVIL #6
Written by MARK WAID
Penciled by MARCOS MARTIN
Cover by MARCOS MARTIN
THE MOST CRITICALLY ACCLAIMED NEW SERIES OF THE YEAR CONTINUES !
Matt Murdock relives some of his late father's worst nightmares as Daredevil meets Bruiser, a fighter who can't be put down and won't fall! How will Matt survive–and how will doing so make him the most dangerous man in the Marvel Universe?
32 PGS./Rated T+ …$2.99
THE PUNISHER #5
Written by GREG RUCKA
Pencil & Cover by MARCO CHECCHETTO
Marvel Comics 50th Anniversary Variant by MIKE PERKINS
RUCKA AND CHECCHETTO CONTINUE THEIR STUNNING RUN.
Frank Castle. Bloody. Hurt. Fallen. Getting there first is everything.
32 PGS./Parental Advisory …$2.99
AVENGING SPIDER-MAN #1
Written by ZEB WELLS
Pencils & Cover by JOE MADUREIRA
Variant Cover by JOE QUESADA
Variant Cover by HUMBERTO RAMOS
Variant Cover by J. SCOTT CAMPBELL
Blank Variant Cover also available
GET MAD!
This is what you've been waiting for! The return of legendary artist Joe Madureira (X-Men, Battle Chasers) and fan-favorite Spidey writer Zeb Wells in a brand new, highly anticipated, monthly Spider-series that teams the wall-crawler up with some of the greatest heroes in the Marvel Universe. In our first issue, Spider-Man and Red Hulk take on a Moloid army during the New York Marathon! Stay safe until November because you'll want to be here!
32 PGS./Rated T+ …$3.99
AMAZING SPIDER-MAN #673 
Written by DAN SLOTT
Pencils & Cover by STEFANO CASELLI
SPIDER-ISLAND: EPILOGUE
It's the morning after for New York City. See how everything has changed for Peter Parker and the spider-crew now that he's once again the world's only Spider-Man… or is he?
32 PGS./Rated T …$3.99
AMAZING SPIDER-MAN #674
Written by DAN SLOTT
Penciled by GIUSEPPE CAMUNCOLI
Cover by GIUSEPPE CAMUNCOLI
Marvel Comics 50th Anniversary Variant by PASQUAL FERRY
THE VULTURE RETURNS!
It's a brave new city! As the costs of Spider-Island continue to rise, Spidey's first enemy returns! High-rise robberies and teenaged jumpers force Spidey into a high flying new adventure…with a less than friendly partner.
32 PGS./Rated T …$3.99
VENOM #9
Written by RICK REMENDER
Penciled by STEFANO Caselli
Cover by john Tyler Christopher
Marvel Comics 50th Anniversary
Variant by MICHAEL LARK
SPIDER-ISLAND AFTERMATH
Flash Thompson has suffered great loss during the Infestation, but in the wake of the outbreak, the body count may rise. The dust has settled, the outbreak over, but the heartbreak has just begun. Rick Remender (X-Force) joins special guest Stefano Caselli (Amazing Spider-Man) as Flash Thompson tries to put together the pieces of a shattered life.
32 PGS./Rated T+ …$2.99
Sinestro fiche la trouille 
On savait que le génial dessinateur Greg Capullo bossait sur une couverture de Green Lantern, il l'avait dit sur sa page Facebook. Et bien cette couverture qui met en scène Sinestro a été révélé aujourd'hui, et boudiou, Sinestro y apparaît plus terrifiant que jamais ! :