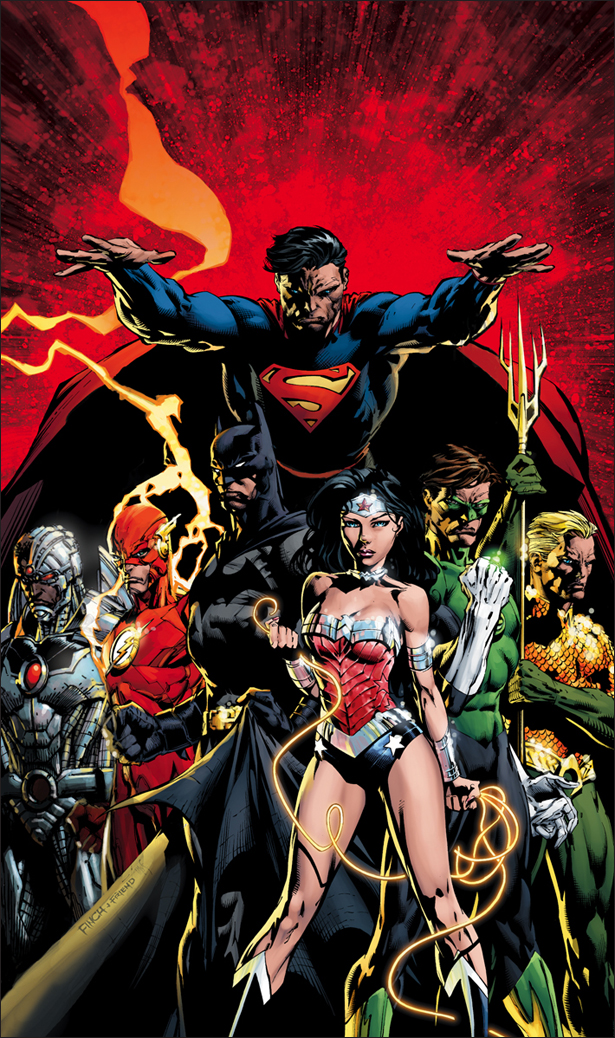 Justice League : 4e impression
Et oui les gens, malgré l'avis très réservé de pas mal de gens sur la Justice League par Geoff Johns et Jim Lee, nous nous attendions tous à ce que le titre soit un succès. Comme pour le reste du relaunch, les ventes pourraient être au delà de nos espérances, puisque le titre repart pour une 4e impression après avoir été déclaré sold out 3 fois. Preuve de ce succès ? les revendeurs qui se plaignent désormais que DC ne réimprime pas ses comic-books assez vite !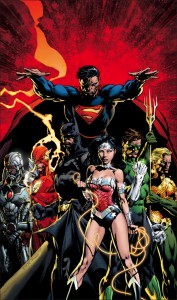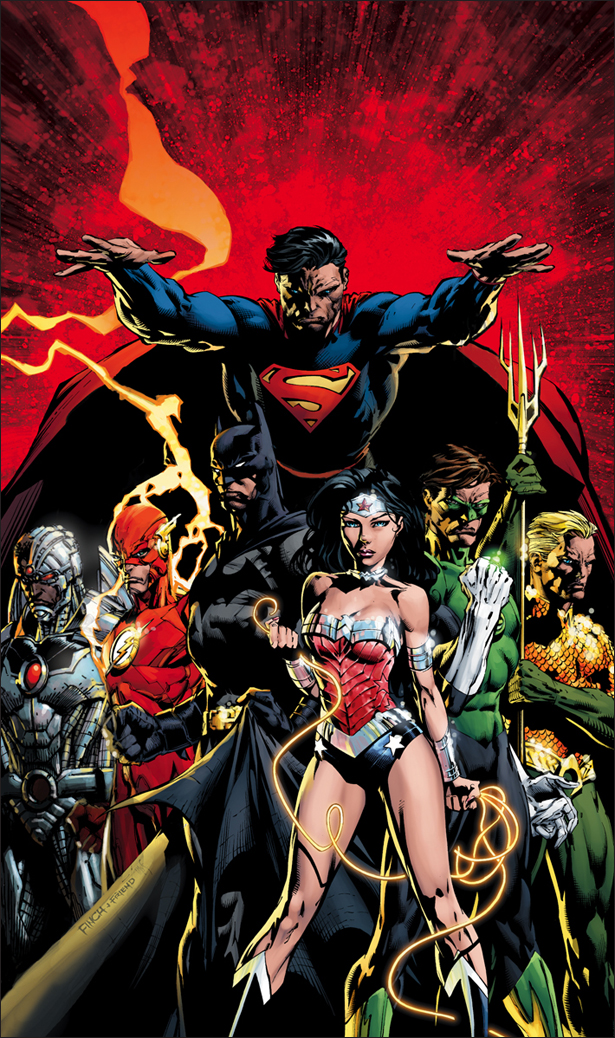 Wonder Woman 1 : la preview 
Voici les premières pages du comic-book que j'attends le plus ce mois-ci dans le cadre du relaunch DC : Wonder Woman 1 ! (Source Buzz Comics)
Fearless : deux nouveaux teasers 
L'après Fear Itself fait désormais l'objet d'une promotion accrue par Marvel avec deux nouveaux teasers, toujours avec Valkyrie au premier plan !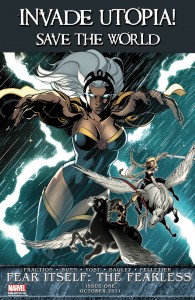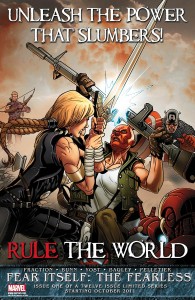 Les Vengeurs en décembre 2011 
Marvel a révélé la tête des titres Vengeurs pour le mois de décembre, et il faut bien admettre qu'il y a des choses intéressantes. Perso je suis attiré par le Secret avengers qui cumule les qualités :
– écrit par Warren Ellis
– dessiné par Alex Maleev
– centré sur Black Widow
– a un pitch de malade
Mais aussi Avengers Academy, car X-23 intégre l'académie ! étant donné qu'on ignore l'avenir du perso à l'issue de Schism, il est bon de la voir apparaître dans un autre titre. Ensuite il faudra voir si Gage parvient à respecter la caractérisation établie par Marjorie Liu.
AVENGERS 1959 #4 (of 5)
Written by HOWARD CHAYKIN
Pencils & Cover by HOWARD CHAYKIN
From the beaches, shanty towns, and mean streets of Madripoor, to the elegant boulevards of Wakanda, Fury and the Avengers fight their way through a treacherous gauntlet to learn the truth behind ICON…and its hidden agenda.
32 PGS./Rated T+ …$2.99
AVENGERS: SOLO #3 (of 5)
Written by JEN VAN METER & JIM MCCANN
Penciled by ROGER ROBINSON & CLAYTON HENRY
Cover by JOHN TYLER CHRISTOPHER
Movie Variant also available
OUTGUNNED AND ON THE RUN! To uncover a mystery meant to destroy the Avengers, Hawkeye must leave his own team behind and take down a human trafficking ring for good! Jen Van Meter (THUNDERBOLTS) and Roger Robinson (THOR) return for the action! PLUS! The Avengers Academy kids find themselves face to face with their enemies – the West Coast Avengers? By Jim McCann (NEW AVENGERS: REUNION) and Clayton Henry (SPIDER-GIRL)
32 PGS./Rated T+ …$3.99
NEW AVENGERS #19
Written by Brian Michael Bendis
Pencils & Cover by Mike Deodato
Get ready for some old-school Avengers blockbuster action! It's the New Avengers versus the new Dark Avengers!  And wait until you find out who is behind the masks!! Actually, wait until the Avengers find out who is behind the masks!
32 PGS./Rating T+ …$3.99
SECRET AVENGERS #20
Written by WARREN ELLIS
Pencils by ALEX MALEEV
Cover by JOHN CASSADAY
RUN THE MISSION! DON'T GET SEEN! SAVE THE WORLD!
The Secret Avengers are all dead save for the Black Widow.  The world's greatest secret agent finds herself one year in the past, on the most secret mission of all: saving her team, and saving the world, without letting anyone see her… especially her team.
32 PGS./Rating T+ …$3.99
AVENGERS: X-SANCTION #1 (of 4)
Written by JEPH LOEB
Pencils & Cover by ED MCGUINNESS
Variant Covers by JOE QUESADA, ED McGUINNESS & LEINIL YU
Sketch Variant by JOE QUESADA
Blank Variant also available
CABLE IS BACK! AND HE'S GOT JUST 24 HOURS TO WIPE THE AVENGERS FROM THE PAGES OF HISTORY!
How has Cable been reborn? Where has he been since "Second Coming"? And what dark event has driven him to destroy the Avengers? The answers are just the tip of an iceberg that threatens to smash the Marvel Universe to smithereens!
A crucial new series by the creators behind SUPERMAN/BATMAN and HULK, Jeph Loeb and Ed McGuinness
THE COUNTDOWN TO 2012's STATUS QUO-SHATTERING EPIC BEGINS HERE!
32 PGS./Rating T+ …$3.99
BATTLE SCARS #2 (of 6)
Written by Christopher Yost, MATT FRACTION & CULLEN BUNN
Penciled by Scot Eaton
Cover by Carlo Pagulayan
Guest-starring Captain America!
Who is US Army Ranger Marcus Johnson, and why is he the most wanted man in the world?
SHIELD, Taskmaster, Captain America and more want him – dead or alive
The mystery deepens as the hunted becomes the hunter!
32 PGS./Rated T+ …$2.99
FEAR ITSELF: THE FEARLESS #4 & #5 (of 12)
Written by Cullen Bunn, MATT FRaction & christopher yost
Penciled by MARK BAGLEY & Paul Pelletier
Cover by Arthur Adams
Guest-starring the Thing and the FF, Namor the Sub-Mariner, the Thunderbolts and more!
The Serpent's hammers could be the most dangerous artifacts in the world – vfm knows this all too well as she lays siege to the impenetrable headquarters of the FF…where the Thing stands guard over his own hammer of power! Meanwhile Sin and Crossbones pursue the weapons of mass destruction, from the depths of the seas to claim one from the undersea vault of the Sub-Mariner…to the shores of the island prison called the Raft to confront the Thunderbolts!
32 PGS. (each)/Rated T+ …$2.99 (each)
NOT FINAL COVER
DEFENDERS: THE COMING OF THE DEFENDERS #1
Written by ROY THOMAS
Penciled by ROSS ANDRU
Cover by NEAL ADAMS
And there shall come a day…the day of the Defenders! With those words, Marvel heralded the coming of the universe's mightiest group of malcontents, the titanic trio whose awesome alliance formed the first incarnation of the dynamic Defenders: Dr. Strange, the Hulk and Namor the Sub-Mariner! This overstuffed issue follows the Master of the Mystic Arts as he enlists the peerless power of the Jade Giant and Atlantis' Avenging Son in a trilogy of tales spotlighting such thrilling threats as a nuclear Doomsday machine, dimension-hopping demon lords on Halloween and extraterrestrial brainwashing! Featuring the devastating Omegatron, the Dread Dormammu and Xemnu the Titan — with a cosmic cameo of future member the star-spanning Silver Surfer thrown in for good measure! Collecting MARVEL FEATURE (1971) #1-3.
88 PGS./Rated T+ …$5.99
DEFENDERS: STRANGE HEROES
Written by JEFF CHRISTIANSEN, MIKE O'SULLIVAN, STUART VANDAL & MORE
Select Character Artwork by Gus Vazquez
Cover by Leinil Francis Yu
The OFFICIAL HANDBOOK OF THE MARVEL UNIVERSE helps usher in the Defenders' return to prominence with new profiles featuring Marvel's premier non-team! Past members (Manslaughter, Andromeda, Interloper, Cloud), foes (the Asgardian Lorelei, Mad-Dog/Baxter, Jake Fury, Sea Urchin), the unusual (Tapping Tommy, Sunshine Gross, Foolkiller/Salinger), objects of great power (Star of Capistan, Rose of Purity, Evil Eye), and one of the strangest moments in Marvel history and the man responsible for it: Defenders for a Day and Dollar Bill! Plus: updates on the team itself and its current members (Dr. Strange, Iron Fist, Namor, Red She-Hulk, Silver Surfer). Featuring new art for dozens of profiles by Gus Vazquez!
64 PGS./Rated T+ …$4.99
DEFENDERS #1
Written by MATT FRACTION
Pencils & Cover by TERRY DODSON
Variant Cover by TBA
Variant Cover by TBA
Blank Variant available
I Am A Defender Variant also Available
Spinning out of the stunning end of FEAR ITSELF! The final Worthy on a global rampage!
Matt Fraction (FEAR ITSELF, THE MIGHTY THOR, INVINCIBLE IRON MAN) reteams with TERRY DODSON (UNCANNY X-MEN, SENSATIONAL SPIDER-MAN)!
Everyone's favorite Marvel characters banding together to solve a mysterious conspiracy deep at the heart of the Marvel Universe!
The last line of defense against the forces of the unknown!
32 PGS./Rated T+ …$3.99
AVENGERS ACADEMY #23
Written by Christos Gage
Penciled by Tom Raney
Cover by Rodin Esquejo
X-23 joins Avengers Academy…will they survive the experience?
A classic villain returns!
Reptil's darkest secret is revealed!
32 PGS./Rated T …$2.99
JOURNEY INTO MYSTERY #632
Written by Kieron Gillen
Penciled by MITCH BREITWEISER
Cover by STEPHANIE HANS
The stage is set for a deadly new year.
The most unpopular boy in Asgard receives a certain four-pawed fire-breathing present. What will Loki do with this most unwelcome gift?
Guest-starring Volstagg!
32 PGS./Rated T+ …$2.99
THE MIGHTY THOR #9
Written by Matt Fraction
Pencils & Cover by Pasqual Ferry
The New All-Mothers of Asgardia battle their first threat to the Nine Realms!
Loki tries to expose the imposter thunder god Tanarus by enlisting the help of… Doctor Donald Blake?
Beyond the veil of space and time, the place where gods go to die is about to heat up…
32 PGS./Rated T …$3.99
NOT FINAL COVER
THE INCREDIBLE HULK #3
Written by JASON AARON
Pencils & Cover by MARC SILVESTRI
Bruce Banner's beasts "The Boar Brothers" bash Hulk in a literally Earth-Shaking Battle!
Banner reveals his new army!
Hulk makes an alliance with mad scientist hunter AmandaVon Doom that changes his destiny forever.
32 PGS./Parental Advisory …$3.99
INVINCIBLE IRON MAN #511
Written by MATT FRACTION
Art & Cover by SALVADOR LARROCA
The Mandarin attacks!
Zeke Stane and a NEW Detroit Steel return
Iron Man's enemies take advantage of Tony Stark's lowest ebb to destroy him
32 PGS./Rated T+ …$3.99
AVENGERS #20
Written by BRIAN MICHAEL BENDIS
Pencils & Cover by DANIEL ACUÑA
Fantastic Four Anniversary Variant
by PAOLO RIVERA
The latest and greatest roster of Avengers root out the secret labs of H.A.M.M.E.R.!
Who's really behind this latest threat, and who rebuilt the new Dark Avengers?
32 PGS./Rating T+ …$3.99
CAPTAIN AMERICA #6
Written by ED BRUBAKER
Pencils & Cover by ALAN DAVIS
Marvel Comics 50th Anniversary
Variant by
Hydra rises from the ashes!
What secret has Cap been keeping throughout Fear Itself?
Alan Davis joins the all-star creative team!
32 PGS./Rated T …$3.99