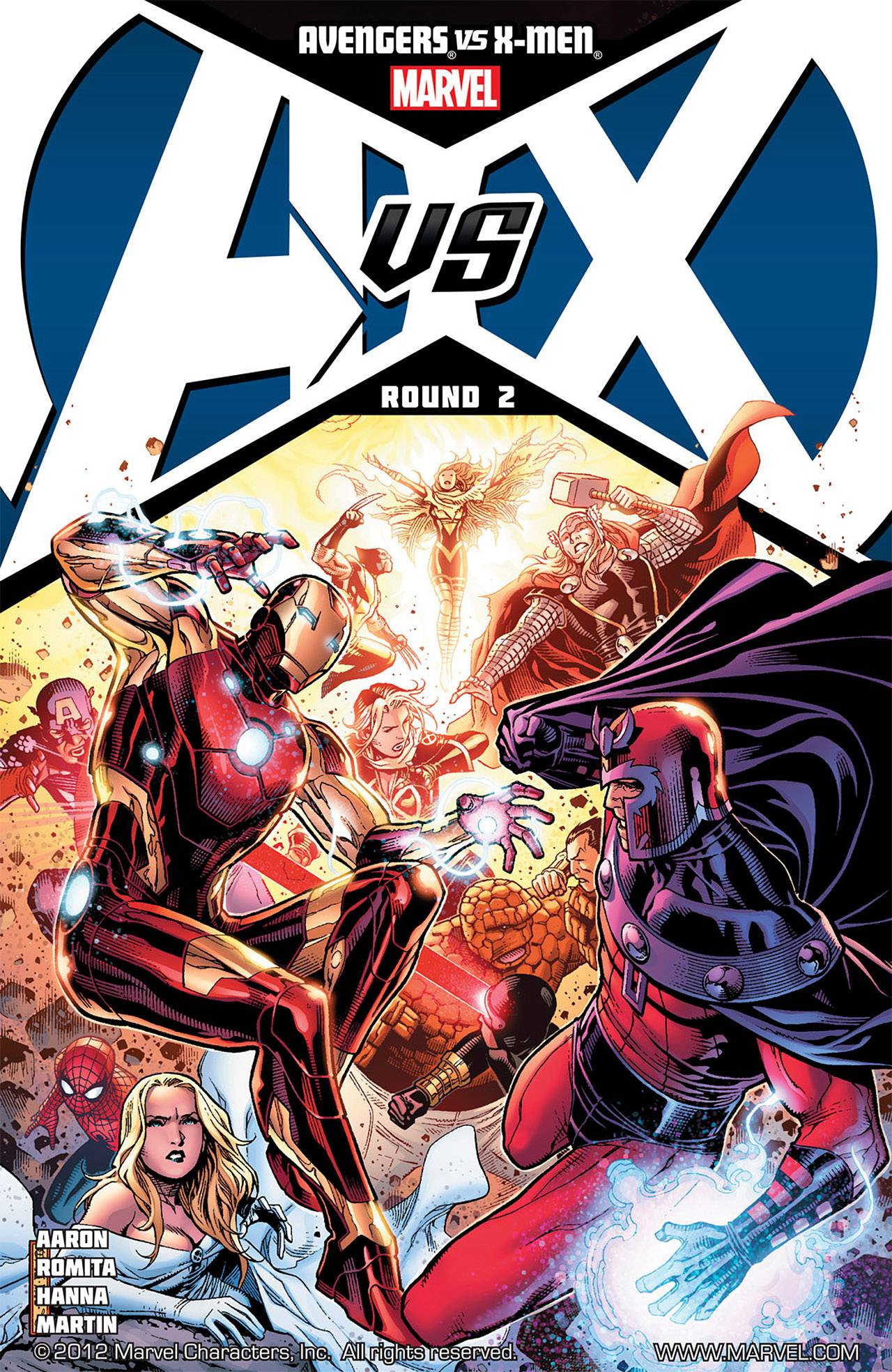 Voici donc les chiffres de ventes pour le mois d'avril 2012 et sans surprise il démontre le redressement des ventes des titres Marvel, portées par le crossover AvX, qui entrainent une augmentation des ventes globales de ventes de comics en avril.
 AvX sauve l'année de Marvel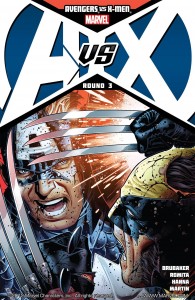 Bien que le nouveau crossover Marvel n'attire pas plus de bonnes critiques que Fear Itself l'année dernière, il attire apparemment beaucoup plus les lecteurs.De fait par rapport à l'année dernière les ventes globales de comics sont supérieures de 16% cette année. Il faut dire que AvX a démarré bien plus fort que le dernier crossover Marvel en date. Ainsi au final AvX 1 s'est écoulé à plus de 230 000ex le mois dernier, contre à peine plus de 140 000 pour Fear Itself 1.
Un résultat somme toute logique puisque la maison des idées a tout de même associé ses deux franchises reines pour parvenir à ce résultat, alors que Fear Itself reposait essentiellement sur les Vengeurs et en particulier Thor.
Outre le bon résultat d'AvX, qui maintient son numéro 2 à un niveau assez impressionnant de presque 160 000ex, le crossover tire avec lui les tie in. Ainsi le titre affilé A vs X 1, qui s'attarde sur certaines batailles esquissées dans le titre mère, débute au delà de la barre des 100 000ex. Il est peu probable qu'il se maintienne le mois prochain mais cela constitue de tout de même un excellent résultat.
De même les séries qui jouent à fond sur AvX voient leur ventes progresser que ce soit Uncanny X-Men, Wolverine and The X-Men, New Avengers ou Avengers. Ainsi pour la première fois en plus de 6 mois les séries règulières Marvel arrivent à passer devant certains titres DC comme Aquaman !
Cela se traduit aussi en part de marché. AvX permet ainsi à Marvel de reprendre assez nettement l'ascendant sur DC, là où ils se tenaient dans un mouchoir de poche ces derniers mois, avec 39% du marché pour Marvel, contre 34 à DC. Cependant si Marvel arbore une meilleure santé, il ne faut pas se leurrer, une fois AvX terminé  les problèmes de Marvel, notamment leur incapacité à maintenir de bonnes ventes pour leurs séries régulières en dehors de tout crossover, resurgiront.
En somme attendez vous à ce qu'AvX change tout pour toujours, c'est à dire pour 6 mois le temps de lancer le crossover suivant…
DC ou Batman, Batman et … Batman (imaginez ce titre avec la musique de la série des années 60…)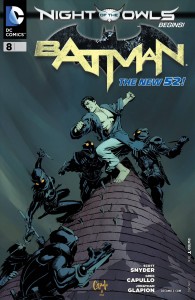 Pas de révolution pour ce mois d'avril pour DC niveau ventes, sauf une petite : Batman est enfin passé devant Justice League ! Cela couvait depuis un moment, entre le fait que la JL ne se vend réellement que pour les noms des créateurs qui y sont associés, et notamment Jim Lee, et pas vraiment pour la qualité du titre qui est assez généralement descendu en flammes par … ben tout le monde !
Il était donc prévisible que dès que Lee se prendrait une pause, où qu'il quittera définitivement la barque, les ventes baisseraient, alors que les ventes de Batman sont restés incroyablement solides depuis le relaunch DC, portées sans aucun doute par la qualité du travail de Snyder  et Capullo.
Alors que nous nous dirigeons vers la fin de la première année post relaunch, on peut donc dire que la stratégie DC est globalement un succès . Puisque même avec le giga crossover Marvel, DC maintient un part de marché bien supérieure à la période pré relaunch, 34% contre à peine plus de 25 (les bons mois) un an plus tôt…
Image se porte très bien, merci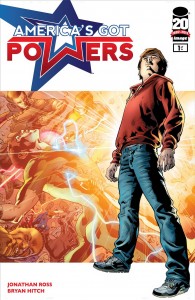 Avec une part de marché de plus de 6%, soit la meilleure performance de l'éditeur depuis des années, on peut dire qu'Image va bien. Outre le succès de Walking Dead, qui voit ses ventes encore augmenter avec le début d'un nouvel arc, l'éditeur  est parvenu à imposer de nouveaux succès ces derniers mois.
Au premier rang desquels Saga bien sur, dont le numéro 2 a très bien fonctionné, ou America got Powers dont le 1er numéro a bien démarré pour un creator owned (oui presque 20 000ex pour un creator owned c' est un succès ).
TPB : vous avez des tomes de Waking Dead ? désolé ma bonne dame on a tout vendu…
Porté par le succès phénoménal de la série TV, les TPB de Walking Dead partent à vitesse grand V, si bien que même une réédition du premier volume (sorti il y a des années) atteint le score hallucinant de 12000x. Il paraît que d'autres séries se sont vendues en TPB en avril, mais c'est dur à voir étant donné qu'il y a du Walking Dead partout à tous les étages …
| | | | | | |
| --- | --- | --- | --- | --- | --- |
| | | TOP 300 COMICS — April 2012 | | | |
| Rank | Index | Title | Price | Pub | Est.Qty |
| 1 | 121.48 | AVENGERS VS X-MEN #2 | $3.99 | MAR |  158,650 |
| 2 | 100.00 | BATMAN #8 | $3.99 | DC |  130,602 |
| 3 | 98.77 | JUSTICE LEAGUE #8 | $3.99 | DC |  128,991 |
| 4 | 79.20 | AVX VS #1 | $3.99 | MAR |  103,436 |
| 5 | 67.64 | GREEN LANTERN #8 | $2.99 | DC |  88,335 |
| 6 | 67.36 | ACTION COMICS #8 | $3.99 | DC |  87,980 |
| 7 | 67.13 | DETECTIVE COMICS #8 | $3.99 | DC |  87,675 |
| 8 | 56.88 | BATMAN THE DARK KNIGHT #8 | $2.99 | DC |  74,287 |
| 9 | 53.50 | UNCANNY X-MEN #11 | $3.99 | MAR |  69,875 |
| 10 | 50.28 | AVENGERS #25 | $3.99 | MAR |  65,664 |
| 11 | 49.76 | WOLVERINE AND X-MEN #9 | $3.99 | MAR |  64,984 |
| 12 | 49.41 | NEW AVENGERS #24 | $3.99 | MAR |  64,533 |
| 13 | 49.38 | SUPERMAN #8 | $2.99 | DC |  64,486 |
| 14 | 48.78 | FLASH #8 | $2.99 | DC |  63,702 |
| 15 | 47.43 | NEW AVENGERS #25 | $3.99 | MAR |  61,950 |
| 16 | 47.21 | AQUAMAN #8 | $2.99 | DC |  61,657 |
| 17 | 45.94 | BATMAN AND ROBIN #8 [*] | $2.99 | DC |  59,993 |
| 18 | 45.29 | AMAZING SPIDER-MAN #683 | $3.99 | MAR |  59,153 |
| 19 | 43.99 | AMAZING SPIDER-MAN #684 | $3.99 | MAR |  57,454 |
| 20 | 43.57 | UNCANNY X-MEN #10 | $3.99 | MAR |  56,906 |
| 21 | 41.16 | WOLVERINE AND X-MEN #8 | $3.99 | MAR |  53,757 |
| 22 | 40.60 | AVENGERS ASSEMBLE #2 | $3.99 | MAR |  53,024 |
| 23 | 38.91 | TEEN TITANS #8 | $2.99 | DC |  50,814 |
| 24 | 38.79 | UNCANNY X-FORCE #24 | $3.99 | MAR |  50,667 |
| 25 | 38.63 | WONDER WOMAN #8 | $2.99 | DC |  50,450 |
| 26 | 38.16 | SECRET AVENGERS #26 | $3.99 | MAR |  49,842 |
| 27 | 36.32 | AVENGING SPIDER-MAN #6 | $3.99 | MAR |  47,430 |
| 28 | 36.23 | GREEN LANTERN NEW GUARDIANS #8 | $2.99 | DC |  47,320 |
| 29 | 35.88 | NIGHTWING #8 [*] | $2.99 | DC |  46,857 |
| 30 | 35.31 | DAREDEVIL #11 | $2.99 | MAR |  46,111 |
| 31 | 34.88 | SHADOW #1 | $3.99 | DE |  45,548 |
| 32 | 34.72 | BATWOMAN #8 | $2.99 | DC |  45,341 |
| 33 | 33.68 | BATGIRL #8 [*] | $2.99 | DC |  43,990 |
| 34 | 33.48 | ULTIMATE COMICS SPIDER-MAN #9 | $3.99 | MAR |  43,724 |
| 35 | 32.79 | GREEN LANTERN CORPS #8 [*] | $2.99 | DC |  42,826 |
| 36 | 32.44 | FANTASTIC FOUR #605 | $2.99 | MAR |  42,372 |
| 37 | 32.26 | INCREDIBLE HULK #7 | $3.99 | MAR |  42,135 |
| 38 | 31.76 | CAPTAIN AMERICA #10 | $3.99 | MAR |  41,474 |
| 39 | 30.25 | SECRET SERVICE #1 (MR) | $2.99 | MAR |  39,505 |
| 40 | 30.19 | SWAMP THING #8 | $2.99 | DC |  39,431 |
| 41 | 30.06 | AGE OF APOCALYPSE #2 | $2.99 | MAR |  39,263 |
| 42 | 29.45 | SECRET AVENGERS #25 | $3.99 | MAR |  38,466 |
| 43 | 29.45 | DAREDEVIL #10.1 | $2.99 | MAR |  38,463 |
| 44 | 28.97 | WOLVERINE #304 | $3.99 | MAR |  37,836 |
| 45 | 28.67 | WOLVERINE #305 | $3.99 | MAR |  37,440 |
| 46 | 28.58 | FF #17 | $2.99 | MAR |  37,325 |
| 47 | 28.28 | WALKING DEAD #96 (MR) | $2.99 | IMA |  36,931 |
| 48 | 28.24 | SAGA #2 (MR) [*] | $2.99 | IMA |  36,885 |
| 49 | 28.21 | X-MEN #27 | $3.99 | MAR |  36,843 |
| 50 | 27.69 | RED LANTERNS #8 [*] | $2.99 | DC |  36,170 |
| 51 | 27.34 | X-MEN LEGACY #265 | $2.99 | MAR |  35,712 |
| 52 | 26.68 | CATWOMAN #8 [*] | $2.99 | DC |  34,840 |
| 53 | 26.42 | MIGHTY THOR #13 | $3.99 | MAR |  34,500 |
| 54 | 26.37 | HULK #50 | $3.99 | MAR |  34,437 |
| 55 | 26.17 | RED HOOD AND THE OUTLAWS #8 [*] | $2.99 | DC |  34,177 |
| 56 | 25.68 | MIGHTY THOR #12.1 | $2.99 | MAR |  33,533 |
| 57 | 25.66 | WINTER SOLDIER #4 | $2.99 | MAR |  33,519 |
| 58 | 25.34 | SCARLET SPIDER #4 | $2.99 | MAR |  33,097 |
| 59 | 25.06 | ANIMAL MAN #8 [*] | $2.99 | DC |  32,732 |
| 60 | 24.84 | SUPERGIRL #8 [*] | $2.99 | DC |  32,438 |
| 61 | 24.82 | PUNISHER #10 | $2.99 | MAR |  32,412 |
| 62 | 24.82 | INVINCIBLE IRON MAN #515 | $3.99 | MAR |  32,409 |
| 63 | 24.13 | JUSTICE LEAGUE DARK #8 [*] | $2.99 | DC |  31,520 |
| 64 | 23.99 | ULTIMATE COMICS ULTIMATES #9 | $3.99 | MAR |  31,336 |
| 65 | 23.96 | ASTONISHING X-MEN #49 | $3.99 | MAR |  31,291 |
| 66 | 23.87 | BATMAN ARKHAM UNHINGED #1 | $2.99 | DC |  31,170 |
| 67 | 23.27 | JUSTICE LEAGUE INTERNATIONAL #8 [*] | $2.99 | DC |  30,396 |
| 68 | 23.02 | WOLVERINE AND X-MEN ALPHA AND OMEGA #4 | $3.99 | MAR |  30,069 |
| 69 | 22.77 | ULTIMATE COMICS X-MEN #10 | $3.99 | MAR |  29,743 |
| 70 | 22.60 | SUICIDE SQUAD #8 [*] | $2.99 | DC |  29,510 |
| 71 | 22.51 | SUPERCROOKS #2 (MR) | $2.99 | MAR |  29,402 |
| 72 | 22.46 | DEADPOOL #53 | $2.99 | MAR |  29,334 |
| 73 | 22.10 | VENOM #15 | $2.99 | MAR |  28,858 |
| 74 | 22.07 | BTVS SEASON 9 FREEFALL #8 | $2.99 | DAR |  28,830 |
| 75 | 21.98 | SUPERBOY #8 [*] | $2.99 | DC |  28,710 |
| 76 | 21.94 | CARNAGE USA #5 | $3.99 | MAR |  28,652 |
| 77 | 21.78 | VENOM #16 | $2.99 | MAR |  28,440 |
| 78 | 21.36 | DEFENDERS #5 | $3.99 | MAR |  27,893 |
| 79 | 20.66 | AVENGERS VS X-MEN #1 | $3.99 | MAR |  26,981 |
| 80 | 19.86 | FANBOYS VS ZOMBIES #1 | $1.00 | BOO |  25,935 |
| 81 | 19.75 | BIRDS OF PREY #8 [*] | $2.99 | DC |  25,795 |
| 82 | 19.41 | STAR WARS BLOOD TIES BOBA FETT IS DEAD #1 | $3.50 | DAR |  25,344 |
| 83 | 18.95 | CAPTAIN AMERICA AND HAWKEYE #629 | $2.99 | MAR |  24,750 |
| 84 | 18.90 | GREEN ARROW #8 [*] | $2.99 | DC |  24,690 |
| 85 | 18.53 | BATMAN BEYOND UNLIMITED #3 | $3.99 | DC |  24,196 |
| 86 | 18.24 | X-FACTOR #234 | $2.99 | MAR |  23,821 |
| 87 | 17.77 | STORMWATCH #8 | $2.99 | DC |  23,212 |
| 88 | 17.77 | FEAR ITSELF FEARLESS #12 | $2.99 | MAR |  23,210 |
| 89 | 17.61 | FAIREST #2 (MR) | $2.99 | DC |  22,997 |
| 90 | 17.46 | FATALE #4 (MR) | $3.50 | IMA |  22,804 |
| 91 | 17.26 | ALL STAR WESTERN #8 [*] | $3.99 | DC |  22,536 |
| 92 | 17.10 | AVENGERS ACADEMY #28 | $2.99 | MAR |  22,333 |
| 93 | 16.34 | NEW MUTANTS #40 | $2.99 | MAR |  21,343 |
| 94 | 16.22 | MOON KNIGHT #12 | $3.99 | MAR |  21,185 |
| 95 | 16.19 | JOURNEY INTO MYSTERY #636 | $2.99 | MAR |  21,148 |
| 96 | 16.09 | NEW MUTANTS #41 | $2.99 | MAR |  21,012 |
| 97 | 14.88 | AMERICAS GOT POWERS #1 | $2.99 | IMA |  19,439 |
| 98 | 14.85 | SECRET AVENGERS #24 | $3.99 | MAR |  19,394 |
| 99 | 14.79 | LEGION OF SUPER HEROES #8 [*] | $2.99 | DC |  19,311 |
| 100 | 14.70 | THUNDERBOLTS #172 | $2.99 | MAR |  19,203 |
| 101 | 14.68 | STAR WARS DAWN O/T JEDI FORCE STORM #3 | $3.50 | DAR |  19,166 |
| 102 | 14.64 | TEENAGE MUTANT NINJA TURTLES ONGOING #9 | $3.99 | IDW |  19,116 |
| 103 | 14.56 | THUNDERBOLTS #173 | $2.99 | MAR |  19,017 |
| 104 | 14.56 | DEMON KNIGHTS #8 [*] | $2.99 | DC |  19,012 |
| 105 | 14.04 | BATWING #8 [*] | $2.99 | DC |  18,336 |
| 106 | 13.82 | BATMAN ODYSSEY VOL 2 #7 | $3.99 | DC |  18,050 |
| 107 | 13.65 | SECRET #1 [*] | $3.50 | IMA |  17,829 |
| 108 | 13.47 | ANGEL & FAITH #9 | $2.99 | DAR |  17,590 |
| 109 | 13.43 | FABLES #116 (MR) | $2.99 | DC |  17,543 |
| 110 | 13.22 | CONAN THE BARBARIAN #3 | $3.50 | DAR |  17,261 |
| 111 | 13.12 | ADVENTURE TIME #3 | $3.99 | BOO |  17,131 |
| 112 | 12.98 | DEATHSTROKE #8 [*] | $2.99 | DC |  16,951 |
| 113 | 12.90 | I VAMPIRE #8 [*] | $2.99 | DC |  16,845 |
| 114 | 12.61 | SAVAGE HAWKMAN #8 [*] | $2.99 | DC |  16,470 |
| 115 | 12.54 | BOYS #65 (MR) | $4.99 | DE |  16,371 |
| 116 | 12.44 | TEENAGE MUTANT NINJA TURTLES MICRO SERIES #4 LEONARDO | $3.99 | IDW |  16,253 |
| 117 | 12.39 | LEGION LOST #8 [*] | $2.99 | DC |  16,186 |
| 118 | 12.37 | FRANKENSTEIN AGENT OF SHADE #8 [*] | $2.99 | DC |  16,158 |
| 119 | 12.27 | BRILLIANT #3 (MR) | $3.95 | MAR |  16,026 |
| 120 | 12.07 | SUPERCROOKS #1 (MR) | $2.99 | MAR |  15,761 |
| 121 | 12.02 | MANHATTAN PROJECTS #2 [*] | $3.50 | IMA |  15,697 |
| 122 | 11.87 | SHADE #7 | $2.99 | DC |  15,499 |
| 123 | 11.77 | FURY OF FIRESTORM THE NUCLEAR MEN #8 [*] | $2.99 | DC |  15,368 |
| 124 | 11.49 | BATTLE SCARS #6 | $2.99 | MAR |  15,011 |
| 125 | 11.48 | RESURRECTION MAN #8 [*] | $2.99 | DC |  14,998 |
| 126 | 11.42 | DC UNIVERSE PRESENTS #8 [*] | $2.99 | DC |  14,909 |
| 127 | 11.10 | AMERICAN VAMPIRE #26 (MR) | $2.99 | DC |  14,493 |
| 128 | 11.06 | MARVELS AVENGERS PRELUDE FURYS BIG WEEK #3 | $2.99 | MAR |  14,442 |
| 129 | 11.02 | INVINCIBLE #90 | $2.99 | IMA |  14,393 |
| 130 | 10.81 | GRIFTER #8 [*] | $2.99 | DC |  14,117 |
| 131 | 10.77 | MARVELS AVENGERS PRELUDE FURYS BIG WEEK #4 | $2.99 | MAR |  14,070 |
| 132 | 10.77 | SUPREME #63 | $2.99 | IMA |  14,062 |
| 133 | 10.58 | DARK TOWER GUNSLINGER WAY STATION #5 | $3.99 | MAR |  13,823 |
| 134 | 10.46 | BLUE BEETLE #8 [*] | $2.99 | DC |  13,662 |
| 135 | 10.45 | THIEF OF THIEVES #3 [*] | $2.99 | IMA |  13,644 |
| 136 | 10.24 | STAR WARS CRIMSON EMPIRE III EMPIRE LOST #6 | $3.50 | DAR |  13,376 |
| 137 | 10.08 | STAR WARS KNIGHTS OF THE OLD REPUBLIC WAR #4 | $3.50 | DAR |  13,171 |
| 138 | 10.05 | VOODOO #8 [*] | $2.99 | DC |  13,130 |
| 139 | 9.95 | STAR WARS DARK TIMES OUT O/T WILDERNESS #5 | $2.99 | DAR |  12,997 |
| 140 | 9.86 | MARVEL UNIV AVENGERS EARTHS MIGHTIEST HEROES #1 | $2.99 | MAR |  12,874 |
| 141 | 9.81 | TWELVE #12 | $2.99 | MAR |  12,808 |
| 142 | 9.79 | GREEN LANTERN THE ANIMATED SERIES #1 | $2.99 | DC |  12,791 |
| 143 | 9.74 | SPACEMAN #6 (MR) | $2.99 | DC |  12,727 |
| 144 | 9.71 | SPAWN #218 | $2.99 | IMA |  12,680 |
| 145 | 9.49 | AVENGERS VS X-MEN #0 | $3.99 | MAR |  12,389 |
| 146 | 9.40 | STAR WARS AGENT O/T EMPIRE IRON ECLIPSE #5 | $3.50 | DAR |  12,278 |
| 147 | 9.38 | POPEYE #1 | $3.99 | IDW |  12,250 |
| 148 | 9.29 | HAWK AND DOVE #8 [*] | $2.99 | DC |  12,132 |
| 149 | 9.23 | TRANSFORMERS MORE THAN MEETS EYE ONGOING #4 | $3.99 | IDW |  12,053 |
| 150 | 9.11 | TRANSFORMERS ROBOTS IN DISGUISE ONGOING #4 | $3.99 | IDW |  11,896 |
| 151 | 9.00 | CHEW #25 (MR) | $2.99 | IMA |  11,753 |
| 152 | 8.98 | ROCKETEER ADVENTURES 2 #2 | $3.99 | IDW |  11,734 |
| 153 | 8.96 | CAPTAIN ATOM #8 [*] | $2.99 | DC |  11,701 |
| 154 | 8.84 | X-CLUB #5 | $2.99 | MAR |  11,551 |
| 155 | 8.81 | GAME OF THRONES #7 (MR) | $3.99 | DE |  11,511 |
| 156 | 8.67 | OMAC #8 [*] | $2.99 | DC |  11,328 |
| 157 | 8.62 | SAUCER COUNTRY #2 (MR) | $2.99 | DC |  11,263 |
| 158 | 8.57 | KIRBY GENESIS #6 | $3.99 | DE |  11,190 |
| 159 | 8.34 | MARVEL UNIVERSE ULTIMATE SPIDER-MAN #1 | $2.99 | MAR |  10,886 |
| 160 | 8.19 | BPRD HELL ON EARTH LONG DEATH #3 | $3.50 | DAR |  10,690 |
| 161 | 8.06 | LOBSTER JOHNSON THE BURNING HAND #4 | $3.50 | DAR |  10,531 |
| 162 | 8.04 | STEPHEN KING JOE HILL ROAD RAGE #3 | $3.99 | IDW |  10,498 |
| 163 | 8.02 | BPRD HELL ON EARTH PICKENS COUNTY HORROR #2 | $3.50 | DAR |  10,477 |
| 164 | 7.83 | NEW DEADWARDIANS #2 (MR) | $2.99 | DC |  10,229 |
| 165 | 7.82 | PEANUTS #4 | $3.99 | BOO |  10,216 |
| 166 | 7.78 | DANGER GIRL REVOLVER #3 | $3.99 | IDW |  10,156 |
| 167 | 7.73 | STATIC SHOCK #8 [*] | $2.99 | DC |  10,102 |
| 168 | 7.69 | DANGER GIRL REVOLVER #4 | $3.99 | IDW |  10,045 |
| 169 | 7.61 | DEJAH THORIS & WHITE APES OF MARS #1 (MR) | $3.99 | DE |  9,944 |
| 170 | 7.61 | KING CONAN PHOENIX ON THE SWORD #4 | $3.50 | DAR |  9,941 |
| 171 | 7.52 | CROSSED BADLANDS #3 (MR) | $3.99 | AVA |  9,824 |
| 172 | 7.49 | MISTER TERRIFIC #8 [*] | $2.99 | DC |  9,776 |
| 173 | 7.45 | WARLORD OF MARS #17 (MR) | $3.99 | DE |  9,734 |
| 174 | 7.44 | MEN OF WAR #8 [*] | $3.99 | DC |  9,722 |
| 175 | 7.43 | NIGHT FORCE #2 | $2.99 | DC |  9,698 |
| 176 | 7.41 | UNWRITTEN #36 (MR) | $2.99 | DC |  9,678 |
| 177 | 7.38 | SAGA #1 (MR) | $2.99 | IMA |  9,641 |
| 178 | 7.27 | HAUNT #23 | $2.99 | IMA |  9,501 |
| 179 | 7.25 | HELLBLAZER #290 (MR) | $2.99 | DC |  9,472 |
| 180 | 7.13 | LORD OF THE JUNGLE #3 (MR) | $3.99 | DE |  9,311 |
| 181 | 7.10 | GI JOE VOL 2 ONGOING #12 | $3.99 | IDW |  9,270 |
| 182 | 7.01 | BIONIC WOMAN #1 | $3.99 | DE |  9,154 |
| 183 | 7.01 | BLACKHAWKS #8 [*] | $2.99 | DC |  9,149 |
| 184 | 7.00 | AVENGERS COMING OF AVENGERS #1 | $3.99 | MAR |  9,138 |
| 185 | 6.93 | CROSSED BADLANDS #4 (MR) | $3.99 | AVA |  9,049 |
| 186 | 6.90 | KIRBY GENESIS #7 | $3.99 | DE |  9,017 |
| 187 | 6.90 | VAMPIRELLA #16 | $3.99 | DE |  9,012 |
| 188 | 6.88 | KEVIN SMITH BIONIC MAN #8 | $3.99 | DE |  8,988 |
| 189 | 6.87 | GARTH ENNIS JENNIFER BLOOD #11 (MR) | $3.99 | DE |  8,975 |
| 190 | 6.79 | ADVENTURE TIME #2 | $3.99 | BOO |  8,864 |
| 191 | 6.78 | WITCHBLADE #155 | $2.99 | IMA |  8,861 |
| 192 | 6.75 | SONIC THE HEDGEHOG #235 | $2.99 | ARC |  8,816 |
| 193 | 6.75 | GI JOE A REAL AMERICAN HERO #177 | $3.99 | IDW |  8,815 |
| 194 | 6.39 | GARTH ENNIS JENNIFER BLOOD #12 (MR) | $3.99 | DE |  8,350 |
| 195 | 6.36 | DOMINIQUE LAVEAU VOODOO CHILD #2 (MR) | $2.99 | DC |  8,302 |
| 196 | 6.36 | GOON #39 | $3.50 | DAR |  8,300 |
| 197 | 6.35 | GHOSTBUSTERS ONGOING #8 | $3.99 | IDW |  8,297 |
| 198 | 6.30 | DANGER GIRL ARMY OF DARKNESS #5 | $3.99 | DE |  8,233 |
| 199 | 6.29 | RACHEL RISING #7 | $3.99 | ABS |  8,210 |
| 200 | 6.28 | MASS EFFECT HOMEWORLDS #1 | $3.50 | DAR |  8,201 |
| 201 | 6.28 | THUNDER AGENTS VOL 2 #6 | $3.99 | DC |  8,201 |
| 202 | 6.25 | SNAKE EYES ONGOING (IDW) #12 | $3.99 | IDW |  8,164 |
| 203 | 6.25 | HELL YEAH #2 | $2.99 | IMA |  8,161 |
| 204 | 6.19 | COBRA ONGOING #12 | $3.99 | IDW |  8,090 |
| 205 | 6.15 | IZOMBIE #24 (MR) | $2.99 | DC |  8,032 |
| 206 | 6.13 | VAMPIRELLA RED ROOM #1 | $3.99 | DE |  8,012 |
| 207 | 6.10 | GFT ALICE IN WONDERLAND #5 (MR) | $2.99 | ZEN |  7,971 |
| 208 | 6.09 | INFESTATION 2 #2 | $3.99 | IDW |  7,954 |
| 209 | 6.06 | GFT ALICE IN WONDERLAND #4 (MR) | $2.99 | ZEN |  7,916 |
| 210 | 6.05 | SPONGEBOB COMICS #8 | $2.99 | UNI |  7,907 |
| 211 | 6.01 | IRREDEEMABLE #36 | $3.99 | BOO |  7,844 |
| 212 | 5.98 | DANGER CLUB #1 | $2.99 | IMA |  7,804 |
| 213 | 5.82 | LADY DEATH (ONGOING) #16 (MR) | $3.99 | AVA |  7,605 |
| 214 | 5.77 | SWEET TOOTH #32 (MR) | $2.99 | DC |  7,534 |
| 215 | 5.59 | RED SONJA WITCHBLADE #2 | $3.99 | DE |  7,306 |
| 216 | 5.57 | YOUNG JUSTICE #15 | $2.99 | DC |  7,273 |
| 217 | 5.45 | DARK HORSE PRESENTS #11 | $7.99 | DAR |  7,118 |
| 218 | 5.34 | DOCTOR WHO ONGOING VOL 2 #16 | $3.99 | IDW |  6,973 |
| 219 | 5.33 | LADY DEATH ORIGINS CURSED #1 (MR) | $4.99 | AVA |  6,965 |
| 220 | 5.26 | NORTHLANDERS #50 (MR) | $2.99 | DC |  6,869 |
| 221 | 5.25 | ARTIFACTS #16 | $3.99 | IMA |  6,862 |
| 222 | 5.25 | SONIC UNIVERSE #39 | $2.99 | ARC |  6,860 |
| 223 | 5.25 | HELLRAISER #13 (MR) | $3.99 | BOO |  6,855 |
| 224 | 5.22 | GRIMM FAIRY TALES #71 (MR) | $2.99 | ZEN |  6,820 |
| 225 | 5.17 | SIMPSONS COMICS #189 | $2.99 | BON |  6,754 |
| 226 | 5.17 | GREEN HORNET #24 | $3.99 | DE |  6,751 |
| 227 | 5.15 | RED SONJA #65 | $3.99 | DE |  6,732 |
| 228 | 5.08 | PROPHET #24 | $2.99 | IMA |  6,639 |
| 229 | 5.05 | GRIMM FAIRY TALES #72 (MR) | $2.99 | ZEN |  6,590 |
| 230 | 4.91 | RAGEMOOR #2 | $3.50 | DAR |  6,415 |
| 231 | 4.89 | STITCHED #4 (MR) | $3.99 | AVA |  6,386 |
| 232 | 4.89 | ARMY OF DARKNESS ONGOING #3 | $3.99 | DE |  6,382 |
| 233 | 4.86 | ALABASTER WOLVES #1 | $3.50 | DAR |  6,344 |
| 234 | 4.81 | HELLRAISER ANNUAL #1 (MR) | $4.99 | BOO |  6,283 |
| 235 | 4.77 | HALO FALL OF REACH INVASION #3 | $3.99 | MAR |  6,224 |
| 236 | 4.72 | CASANOVA AVARITIA #3 (MR) | $4.99 | MAR |  6,159 |
| 237 | 4.71 | GFT JUNGLE BOOK #2 (MR) | $2.99 | ZEN |  6,157 |
| 238 | 4.69 | VAMPIRELLA VS DRACULA #3 | $3.99 | DE |  6,124 |
| 239 | 4.68 | AMAZING SPIDER-MAN HOOKY #1 | $4.99 | MAR |  6,112 |
| 240 | 4.65 | THE LONE RANGER #4 | $3.99 | DE |  6,071 |
| 241 | 4.65 | AVENGERS ROLL CALL | $4.99 | MAR |  6,071 |
| 242 | 4.63 | FERALS #4 (MR) | $3.99 | AVA |  6,043 |
| 243 | 4.61 | QUEEN SONJA #28 | $3.99 | DE |  6,026 |
| 244 | 4.60 | VOLTRON YEAR ONE #1 | $3.99 | DE |  6,014 |
| 245 | 4.60 | MEGA MAN #12 | $2.99 | ARC |  6,006 |
| 246 | 4.57 | DARKNESS #102 (MR) | $2.99 | IMA |  5,963 |
| 247 | 4.50 | MERCILESS RISE OF MING #1 | $3.99 | DE |  5,878 |
| 248 | 4.41 | FATHOM KIANI VOL 2 #1 | $3.50 | ASP |  5,764 |
| 249 | 4.40 | NEXT MEN AFTERMATH #42 | $3.99 | IDW |  5,750 |
| 250 | 4.26 | INCORRUPTIBLE #28 | $3.99 | BOO |  5,562 |
| 251 | 4.26 | RESET #1 | $3.50 | DAR |  5,559 |
| 252 | 4.22 | PETER PANZERFAUST #3 (MR) | $3.50 | IMA |  5,515 |
| 253 | 4.22 | CREEPY COMICS #8 | $4.99 | DAR |  5,507 |
| 254 | 4.17 | DUNGEONS & DRAGONS EBERRON ANNUAL 2012 #1 | $7.99 | IDW |  5,452 |
| 255 | 4.17 | NINJETTES #3 (MR) | $3.99 | DE |  5,447 |
| 256 | 4.15 | INFESTATION 2 30 DAYS OF NIGHT ONE SHOT | $3.99 | IDW |  5,423 |
| 257 | 4.10 | GFT MYTHS & LEGENDS #15 (MR) | $2.99 | ZEN |  5,359 |
| 258 | 4.09 | PLANET OF THE APES #13 | $3.99 | BOO |  5,343 |
| 259 | 4.04 | BART SIMPSON COMICS #70 | $2.99 | BON |  5,281 |
| 260 | 4.02 | WHISPERS #2 | $2.99 | IMA |  5,255 |
| 261 | 4.02 | JOHN CARTER GODS OF MARS #2 | $2.99 | MAR |  5,254 |
| 262 | 3.99 | MANHATTAN PROJECTS #1 | $3.50 | IMA |  5,213 |
| 263 | 3.94 | GI JOE 2 RETALIATION MOVIE PREQUEL #4 | $3.99 | IDW |  5,152 |
| 264 | 3.85 | TOY STORY #2 | $2.99 | MAR |  5,034 |
| 265 | 3.80 | GRIMM FAIRY TALES THE LIBRARY #5 | $2.99 | ZEN |  4,961 |
| 266 | 3.77 | 68 SCARS #1(MR) | $3.99 | IMA |  4,926 |
| 267 | 3.77 | GFT APRIL FOOLS SPECIAL 2012 (MR) | $3.99 | ZEN |  4,920 |
| 268 | 3.67 | RESIDENT ALIEN #0 | $3.50 | DAR |  4,788 |
| 269 | 3.65 | ARCHIE #632 | $2.99 | ARC |  4,765 |
| 270 | 3.64 | COURTNEY CRUMRIN ONGOING #1 | $3.99 | ONI |  4,758 |
| 271 | 3.64 | SCOOBY DOO WHERE ARE YOU #20 | $2.99 | DC |  4,752 |
| 272 | 3.64 | EXILE PLANET O/T APES #2 | $3.99 | BOO |  4,751 |
| 273 | 3.64 | SUPER DINOSAUR #10 | $2.99 | IMA |  4,751 |
| 274 | 3.63 | UNCHARTED #6 | $2.99 | DC |  4,739 |
| 275 | 3.62 | STEED AND MRS PEEL #4 | $3.99 | BOO |  4,723 |
| 276 | 3.61 | ORCHID #6 (MR) | $3.50 | DAR |  4,718 |
| 277 | 3.61 | NO PLACE LIKE HOME #3 (MR) | $2.99 | IMA |  4,712 |
| 278 | 3.58 | GLORY #25 | $2.99 | IMA |  4,677 |
| 279 | 3.56 | REBEL BLOOD #2 (MR) | $3.50 | IMA |  4,650 |
| 280 | 3.53 | SAVAGE DRAGON #179 | $3.50 | IMA |  4,614 |
| 281 | 3.27 | GLAMOURPUSS #24 | $3.00 | AAR |  4,271 |
| 282 | 3.27 | STAR WARS DAWN O/T JEDI FORCE STORM #0 | $3.50 | DAR |  4,269 |
| 283 | 3.25 | JUSTICE LEAGUE #8 COMBO PACK | $4.99 | DC |  4,249 |
| 284 | 3.19 | TEENAGE MUTANT NINJA TURTLES ARCHIE 100 PG SPECTACULAR | $7.99 | IDW |  4,163 |
| 285 | 3.16 | WAKING DREAM END #1 (MR) | $3.99 | ZEN |  4,127 |
| 286 | 3.14 | BATMAN #1 | $2.99 | DC |  4,096 |
| 287 | 3.13 | BATMAN BEYOND UNLIMITED #1 | $3.99 | DC |  4,094 |
| 288 | 3.13 | 30 DAYS OF NIGHT ONGOING #6 | $3.99 | IDW |  4,085 |
| 289 | 3.08 | GEARS OF WAR #23 | $2.99 | DC |  4,024 |
| 290 | 3.06 | LENORE VOLUME II #5 | $3.99 | TIT |  3,995 |
| 291 | 3.06 | CRIMINAL MACABRE DIE DIE MY DARLING | $3.50 | DAR |  3,994 |
| 292 | 3.06 | KEVIN KELLER #2 | $2.99 | ARC |  3,990 |
| 293 | 3.05 | BATMAN #5 | $2.99 | DC |  3,985 |
| 294 | 3.02 | WAREHOUSE 13 #5 | $3.99 | DE |  3,947 |
| 295 | 2.88 | MUDMAN #3 | $3.50 | IMA |  3,766 |
| 296 | 2.85 | SMOKE AND MIRRORS #2 | $3.99 | IDW |  3,720 |
| 297 | 2.70 | BLOODSTRIKE #27 | $2.99 | IMA |  3,529 |
| 298 | 2.68 | BATMAN #6 | $2.99 | DC |  3,498 |
| 299 | 2.66 | THEATER #5 (MR) | $3.99 | ZEN |  3,477 |
| 300 | 2.64 | JUSTICE LEAGUE #5 | $3.99 | DC |  3,447 |
| | | | | | |
| --- | --- | --- | --- | --- | --- |
| | | Top 300 GNs — April 2012 | | | |
| Rank | Index | Title | Price | Pub | Est.Qty |
| 1 | 9.44 | WALKING DEAD TP VOL 01 DAYS GONE BYE | $9.99 | IMA |    12,323 |
| 2 | 6.86 | WALKING DEAD TP VOL 02 MILES BEHIND US (MR) | $14.99 | IMA |      8,955 |
| 3 | 5.38 | WALKING DEAD TP VOL 03 SAFETY BEHIND BARS | $14.99 | IMA |      7,027 |
| 4 | 4.48 | FLEX MENTALLO MAN OF MUSCLE MYSTERY DLX HC (MR) | $22.99 | DC |      5,845 |
| 5 | 4.27 | CHEW TP VOL 05 MAJOR LEAGUE CHEW (MR) | $12.99 | IMA |      5,577 |
| 6 | 3.55 | CINDERELLA FABLES ARE FOREVER TP (MR) | $14.99 | DC |      4,639 |
| 7 | 3.51 | WALKING DEAD TP VOL 05 BEST DEFENSE (MR) | $14.99 | IMA |      4,580 |
| 8 | 3.42 | WALKING DEAD TP VOL 15 WE FIND OURSELVES (MR) | $14.99 | IMA |      4,469 |
| 9 | 3.15 | WALKING DEAD TP VOL 04 HEARTS DESIRE (MR) | $14.99 | IMA |      4,115 |
| 10 | 3.11 | WALKING DEAD TP VOL 06 SORROWFUL LIFE (MR) | $14.99 | IMA |      4,066 |
| 11 | 2.89 | WALKING DEAD TP VOL 09 HERE WE REMAIN (MR) | $14.99 | IMA |      3,774 |
| 12 | 2.81 | WALKING DEAD TP VOL 07 THE CALM BEFORE (MR) | $14.99 | IMA |      3,667 |
| 13 | 2.75 | BATMAN INCORPORATED DELUXE HC VOL 01 | $29.99 | DC |      3,594 |
| 14 | 2.66 | WALKING DEAD TP VOL 10 WHAT WE BECOME | $14.99 | IMA |      3,470 |
| 15 | 2.53 | WALKING DEAD TP VOL 08 MADE TO SUFFER (MR) | $14.99 | IMA |      3,303 |
| 16 | 2.44 | WALKING DEAD TP VOL 14 NO WAY OUT (MR) | $14.99 | IMA |      3,190 |
| 17 | 2.33 | WALKING DEAD TP VOL 11 FEAR THE HUNTERS (MR) | $14.99 | IMA |      3,047 |
| 18 | 2.31 | WALKING DEAD TP VOL 12 LIFE AMONG THEM | $14.99 | IMA |      3,011 |
| 19 | 2.21 | DAREDEVIL SEASON ONE PREM HC | $24.99 | MAR |      2,887 |
| 20 | 2.21 | WALKING DEAD TP VOL 13 TOO FAR GONE (MR) | $14.99 | IMA |      2,884 |
| 21 | 2.14 | AVENGERS VS X-MEN ITS COMING TP | $19.99 | MAR |      2,796 |
| 22 | 2.13 | BATMAN KNIGHTFALL TP NEW ED VOL 01 | $29.99 | DC |      2,780 |
| 23 | 1.99 | ABE SAPIEN TP VOL 02 DEVIL DOES NOT JEST | $17.99 | DAR |      2,596 |
| 24 | 1.90 | STRANGE TALENT OF LUTHER STRODE TP VOL 01 (MR) | $14.99 | IMA |      2,476 |
| 25 | 1.89 | WOLVERINE AND X-MEN BY JASON AARON PREM HC VOL 01 | $19.99 | MAR |      2,471 |
| 26 | 1.79 | ULTIMATE COMICS X ORIGINS TP | $19.99 | MAR |      2,341 |
| 27 | 1.79 | SPIDER-MAN RETURN OF ANTI-VENOM TP | $15.99 | MAR |      2,336 |
| 28 | 1.79 | SEVERED HC (MR) | $24.99 | IMA |      2,334 |
| 29 | 1.79 | ULT COMICS SPIDER-MAN TP VOL 04 DOSM | $19.99 | MAR |      2,334 |
| 30 | 1.75 | BATMAN NO MANS LAND TP VOL 02 | $29.99 | DC |      2,291 |
| 31 | 1.73 | HARVEY PEKAR CLEVELAND HC | $21.99 | TOP |      2,262 |
| 32 | 1.70 | BLEACH TP VOL 39 | $9.99 | VIZ |      2,222 |
| 33 | 1.67 | DOLLHOUSE EPITAPHS TP VOL 01 | $18.99 | DAR |      2,184 |
| 34 | 1.63 | BATMAN VENOM TP NEW EDITION | $14.99 | DC |      2,125 |
| 35 | 1.46 | STAR WARS INVASION TP VOL 03 REVELATIONS | $18.99 | DAR |      1,908 |
| 36 | 1.46 | TEENAGE MUTANT NINJA TURTLES ULT COLL HC VOL 02 | $49.99 | IDW |      1,904 |
| 37 | 1.45 | MASS EFFECT TP VOL 03 INVASION | $16.99 | DAR |      1,900 |
| 38 | 1.43 | BLACK ORCHID DELUXE EDITION HC (MR) | $24.99 | DC |      1,867 |
| 39 | 1.38 | RED HULK HULK OF ARABIA TP | $14.99 | MAR |      1,800 |
| 40 | 1.38 | ARCHIE MEETS KISS TP | $12.99 | ARC |      1,797 |
| 41 | 1.38 | GOTHAM CENTRAL TP BOOK 04 CORRIGAN | $19.99 | DC |      1,796 |
| 42 | 1.36 | PUNISHERMAX FRANK TP | $19.99 | MAR |      1,773 |
| 43 | 1.35 | SHOWCASE PRESENTS THE SPECTRE TP VOL 01 | $19.99 | DC |      1,765 |
| 44 | 1.35 | BATMAN GOTHAM SHALL BE JUDGED TP | $19.99 | DC |      1,761 |
| 45 | 1.34 | X-MEN LEGACY LOST LEGIONS TP | $16.99 | MAR |      1,745 |
| 46 | 1.33 | X-FACTOR TP VOL 13 HARD LABOR | $15.99 | MAR |      1,732 |
| 47 | 1.32 | MU AVENGERS EARTHS HEROES COMIC READER TP #1 | $3.99 | MAR |      1,719 |
| 48 | 1.32 | HIGH SCHOOL OF DEAD GN VOL 06 (MR) | $13.99 | HAC |      1,718 |
| 49 | 1.28 | AMAZING SPIDER-MAN OMNIBUS HC VOL 02 | $99.99 | MAR |      1,671 |
| 50 | 1.26 | MU AVENGERS EARTHS HEROES COMIC READER TP #2 | $3.99 | MAR |      1,642 |
| 51 | 1.24 | SAGA OF THE SWAMP THING TP BOOK 01 (MR) | $19.99 | DC |      1,619 |
| 52 | 1.23 | BLACK BUTLER TP VOL 09 | $11.99 | HAC |      1,610 |
| 53 | 1.23 | OH MY GODDESS RTL TP VOL 41 | $12.99 | DAR |      1,603 |
| 54 | 1.20 | SHOWCASE PRESENTS ALL STAR SQUADRON TP VOL 01 | $19.99 | DC |      1,569 |
| 55 | 1.19 | WALKING DEAD COMPENDIUM TP VOL 01 (MR) | $59.99 | IMA |      1,559 |
| 56 | 1.19 | SUPERMAN SECRETS OF THE FORTRESS OF SOLITUDE TP | $19.99 | DC |      1,556 |
| 57 | 1.17 | SHOWCASE PRESENTS THE LOSERS TP VOL 01 | $19.99 | DC |      1,530 |
| 58 | 1.15 | AVENGERS HAWKEYE SOLO TP | $16.99 | MAR |      1,501 |
| 59 | 1.15 | DARK TOWER TP BATTLE OF JERICHO HILL | $19.99 | MAR |      1,499 |
| 60 | 1.14 | SONIC THE HEDGEHOG SELECT TP VOL 05 | $11.99 | ARC |      1,488 |
| 61 | 1.12 | WOLVERINE WOLVERINE'S REVENGE TP | $16.99 | MAR |      1,463 |
| 62 | 1.12 | X-MEN DARK PHOENIX SAGA TP | $24.99 | MAR |      1,457 |
| 63 | 1.11 | DAKEN DARK WOLVERINE BIG BREAK TP | $16.99 | MAR |      1,454 |
| 64 | 1.10 | GANTZ TP VOL 22 | $12.99 | DAR |      1,439 |
| 65 | 1.10 | 100 BULLETS HC BOOK 02 (MR) | $49.99 | DC |      1,431 |
| 66 | 1.09 | TEEN TITANS PRIME OF LIFE TP | $19.99 | DC |      1,427 |
| 67 | 1.09 | LEGENDS OF THE DARK KNIGHT JIM APARO HC | $49.99 | DC |      1,421 |
| 68 | 1.06 | I VAMPIRE TP | $29.99 | DC |      1,385 |
| 69 | 1.05 | ESSENTIAL AVENGERS TP VOL 08 | $19.99 | MAR |      1,366 |
| 70 | 1.04 | HITMAN TP VOL 06 FOR TOMORROW | $29.99 | DC |      1,361 |
| 71 | 1.04 | SIMPSONS CONFIDENTIAL TP | $15.99 | BON |      1,360 |
| 72 | 1.03 | ROSARIO VAMPIRE SEASON II TP VOL 08 | $9.99 | VIZ |      1,348 |
| 73 | 1.03 | SIXTH GUN TP VOL 03 | $19.99 | ONI |      1,339 |
| 74 | 1.00 | X-MEN WAR MACHINES PREM HC | $19.99 | MAR |      1,309 |
| 75 | 1.00 | PUNISHERMAX HOMELESS PREM HC | $19.99 | MAR |      1,300 |
| 76 | 0.98 | MMW CAPTAIN AMERICA HC VOL 06 | $59.99 | MAR |      1,284 |
| 77 | 0.98 | WALKING DEAD HC VOL 02 (MR) | $34.99 | IMA |      1,279 |
| 78 | 0.97 | FEAR AGENT TP VOL 06 | $16.99 | DAR |      1,273 |
| 79 | 0.97 | FEAR ITSELF WOLVERINE NEW MUTANTS PREM HC | $24.99 | MAR |      1,269 |
| 80 | 0.97 | BAKUMAN TP VOL 10 | $9.99 | VIZ |      1,268 |
| 81 | 0.97 | SIX GUNS TP | $14.99 | MAR |      1,261 |
| 82 | 0.96 | ASTONISHING X-MEN EXALTED PREM HC | $19.99 | MAR |      1,260 |
| 83 | 0.94 | BATMAN THE KILLING JOKE SPECIAL ED HC | $17.99 | DC |      1,233 |
| 84 | 0.91 | GEARS OF WAR TP BOOK 02 | $14.99 | DC |      1,193 |
| 85 | 0.89 | BLUE EXORCIST GN VOL 07 | $9.99 | VIZ |      1,167 |
| 86 | 0.87 | BATMAN HUSH COMPLETE TP | $24.99 | DC |      1,131 |
| 87 | 0.86 | DARKHAWK CLASSIC TP VOL 01 | $24.99 | MAR |      1,128 |
| 88 | 0.86 | FEAR ITSELF UNCANNY X-FORCE DEEP PREM HC | $24.99 | MAR |      1,123 |
| 89 | 0.84 | INFINITE HORIZON TP | $17.99 | IMA |      1,099 |
| 90 | 0.84 | NEW TEEN TITANS OMNIBUS HC VOL 02 | $75.00 | DC |      1,095 |
| 91 | 0.84 | SHOOTERS HC (MR) | $22.99 | DC |      1,094 |
| 92 | 0.83 | WALKING DEAD HC VOL 01 (MR) | $34.99 | IMA |      1,086 |
| 93 | 0.83 | GRIMM FAIRY TALES DIFFERENT SEASONS TP VOL 02 | $17.99 | ZEN |      1,078 |
| 94 | 0.82 | STORMWATCH HC VOL 01 | $29.99 | DC |      1,077 |
| 95 | 0.80 | COURTNEY CRUMRIN SPEC ED HC VOL 01 | $19.99 | ONI |      1,050 |
| 96 | 0.78 | NAOKI URASAWA 20TH CENTURY BOYS GN VOL 20 | $12.99 | VIZ |      1,025 |
| 97 | 0.78 | JACK KIRBYS FOURTH WORLD OMNIBUS TP VOL 02 | $29.99 | DC |      1,022 |
| 98 | 0.78 | BATMAN DARK KNIGHT RETURNS TP | $19.99 | DC |      1,016 |
| 99 | 0.78 | JERUSALEM CHRONICLES FROM THE HOLY CITY HC (MR) | $24.95 | DRA |      1,013 |
| 100 | 0.77 | WATCHMEN TP | $19.99 | DC |      1,007 |
| 101 | 0.76 | SECRET INVASION TP | $29.99 | MAR |         998 |
| 102 | 0.76 | TRUE BLOOD HC VOL 03 THE FRENCH QUARTER | $24.99 | IDW |         992 |
| 103 | 0.76 | SPIDER-MAN FLYING BLIND PREM HC | $19.99 | MAR |         990 |
| 104 | 0.75 | X-MEN HIDDEN YEARS TP VOL 01 | $34.99 | MAR |         984 |
| 105 | 0.75 | NEW MUTANTS DATE WITH DEVIL PREM HC | $19.99 | MAR |         982 |
| 106 | 0.75 | HP LOVECRAFT THE DUNWICH HORROR TP | $17.99 | IDW |         980 |
| 107 | 0.75 | KATSUYA TERADA THE MONKEY KING TP VOL 02 | $16.99 | DAR |         978 |
| 108 | 0.73 | MMW DAREDEVIL TP VOL 03 | $24.99 | MAR |         951 |
| 109 | 0.72 | MAGIC KNIGHT RAYEARTH DARK HORSE OMNIBUS ED VOL 02 | $19.99 | DAR |         942 |
| 110 | 0.72 | LEGION OF SUPER HEROES WHEN EVIL CALLS TP | $29.99 | DC |         936 |
| 111 | 0.71 | GI JOE COBRA ONGOING TP VOL 02 COBRA CIVIL WAR | $17.99 | IDW |         932 |
| 112 | 0.71 | TALES FROM NEVERLAND TP (MR) | $12.99 | ZEN |         931 |
| 113 | 0.71 | NEW MUTANTS TP VOL 04 UNFINISHED BUSINESS | $16.99 | MAR |         924 |
| 114 | 0.70 | BRODYS GHOST BOOK 03 | $6.99 | DAR |         915 |
| 115 | 0.70 | SPIDER-MAN COMPLETE BEN REILLY EPIC TP BOOK 04 | $39.99 | MAR |         909 |
| 116 | 0.68 | STAN LEE STRIPPERELLA GN (MR) | $14.99 | DEE |         892 |
| 117 | 0.68 | FLASH OMNIBUS BY GEOFF JOHNS HC VOL 02 | $75.00 | DC |         884 |
| 118 | 0.67 | WALKING DEAD HC VOL 03 (MR) | $34.99 | IMA |         881 |
| 119 | 0.67 | 30 DAYS OF NIGHT ONGOING TP VOL 01 | $17.99 | IDW |         880 |
| 120 | 0.67 | DURARARA GN VOL 02 | $11.99 | HAC |         879 |
| 121 | 0.66 | BATMAN GATES OF GOTHAM TP | $14.99 | DC |         866 |
| 122 | 0.65 | GOLDFISH GN HC (MR) | $24.99 | MAR |         850 |
| 123 | 0.64 | DISNEY FAIRIES GN VOL 08 TINKER BELL STORIES FOR RAINY DAY | $7.99 | NBM |         834 |
| 124 | 0.64 | BLACK PANTHER MDMA KINGPIN OF WAKANDA TP | $16.99 | MAR |         831 |
| 125 | 0.63 | MICHAEL TURNER SOULFIRE DEFINITIVE ED TP VOL 01 | $39.99 | ASP |         826 |
| 126 | 0.63 | VOLTRON FORCE GN VOL 01 | $7.99 | VIZ |         820 |
| 127 | 0.61 | DARK TOWER PREM HC BATTLE OF JERICHO HILL | $24.99 | MAR |         803 |
| 128 | 0.61 | V FOR VENDETTA NEW EDITION TP (MR) | $19.99 | DC |         797 |
| 129 | 0.59 | Y THE LAST MAN TP VOL 01 UNMANNED | $14.99 | DC |         775 |
| 130 | 0.57 | SANDMAN TP VOL 01 PRELUDES & NOCTURNES NEW ED (MR) | $19.99 | DC |         750 |
| 131 | 0.57 | TRANSFORMERS CLASSICS TP VOL 03 | $24.99 | IDW |         750 |
| 132 | 0.57 | AVENGERS MYTHOS HC | $24.99 | MAR |         749 |
| 133 | 0.57 | DARK TOWER TREACHERY PREM HC | $24.99 | MAR |         748 |
| 134 | 0.57 | FRAZETTA FUNNY STUFF HC | $49.99 | IDW |         743 |
| 135 | 0.57 | BATMAN THE LONG HALLOWEEN TP | $24.99 | DC |         741 |
| 136 | 0.57 | DARK TOWER FALL OF GILEAD PREM HC | $24.99 | MAR |         741 |
| 137 | 0.56 | BLACKEST NIGHT TP | $19.99 | DC |         735 |
| 138 | 0.56 | AVENGERS CHILDRENS CRUSADE HC | $34.99 | MAR |         734 |
| 139 | 0.56 | DUNGEONS & DRAGONS HC VOL 03 DOWN | $21.99 | IDW |         727 |
| 140 | 0.56 | ARCHIE MEETS KISS COLLECTORS ED HC | $29.99 | ARC |         726 |
| 141 | 0.56 | AVENGERS SERPENT CROWN PREM HC | $24.99 | MAR |         726 |
| 142 | 0.54 | FLASHPOINT TP | $14.99 | DC |         706 |
| 143 | 0.54 | AVENGERS LEGION OF UNLIVING TP | $29.99 | MAR |         701 |
| 144 | 0.53 | TINTIN YOUNG READER ED SHOOTING STAR | $8.99 | HAC |         696 |
| 145 | 0.53 | CHARMED TP VOL 03 | $15.99 | ZEN |         691 |
| 146 | 0.53 | TINTIN YOUNG READER ED CRAB & GOLDEN CLAW | $8.99 | HAC |         690 |
| 147 | 0.53 | DARKSTALKERS ULTIMATE ED TP | $49.99 | UDO |         688 |
| 148 | 0.53 | JOHNNY HOMICIDAL MANIAC DIRECTORS CUT SC | $21.95 | SLA |         688 |
| 149 | 0.53 | CODE GEASS QUEEN GN VOL 05 | $11.99 | BAN |         686 |
| 150 | 0.52 | SCOTT PILGRIM GN VOL 01 PRECIOUS LITTLE LIFE | $11.99 | ONI |         680 |
| 151 | 0.52 | TERMINATOR ROBOCOP KILL HUMAN TP | $16.99 | DE |         680 |
| 152 | 0.52 | WALKING DEAD HC VOL 05 (MR) | $34.99 | IMA |         676 |
| 153 | 0.51 | HELLCYON TP | $12.99 | DAR |         672 |
| 154 | 0.50 | DARK TOWER LONG ROAD HOME HC | $24.99 | MAR |         649 |
| 155 | 0.50 | LEGION OF MONSTERS TP | $15.99 | MAR |         649 |
| 156 | 0.49 | BATMAN YEAR ONE DELUXE SC | $14.99 | DC |         645 |
| 157 | 0.49 | WALKING DEAD HC VOL 07 (MR) | $34.99 | IMA |         643 |
| 158 | 0.49 | AVENGERS WEST COAST AVENGERS ASSEMBLE TP | $24.99 | MAR |         642 |
| 159 | 0.49 | ULTIMATE COMICS AVENGERS BY MARK MILLAR OMNIBUS HC | $75.00 | MAR |         640 |
| 160 | 0.49 | X-MEN FATAL ATTRACTIONS HC | $99.99 | MAR |         639 |
| 161 | 0.49 | COLD WAR TP VOL 01 | $19.99 | IDW |         636 |
| 162 | 0.48 | FEAR ITSELF HOME FRONT PREM HC | $29.99 | MAR |         632 |
| 163 | 0.48 | TENJO TENGE GN VOL 06 (MR) | $17.99 | VIZ |         621 |
| 164 | 0.47 | HIGURASHI WHEN THEY CRY GN VOL 18 ATONEMENT ARC PT 4 | $11.99 | HAC |         619 |
| 165 | 0.47 | INCREDIBLE HULK PARDONED TP | $39.99 | MAR |         608 |
| 166 | 0.46 | POKEMON BLACK & WHITE GN VOL 06 | $4.99 | VIZ |         606 |
| 167 | 0.46 | UNTOLD TALES OF SPIDER-MAN OMNIBUS HC | $99.99 | MAR |         601 |
| 168 | 0.46 | EMMA GN TP | $14.99 | MAR |         599 |
| 169 | 0.46 | OWLY GN VOL 05 TINY TALES | $10.00 | TOP |         598 |
| 170 | 0.46 | CHEW TP VOL 01 (MR) | $9.99 | IMA |         595 |
| 171 | 0.46 | UNCANNY X-FORCE TP VOL 01 APOCALYPSE SOLUTION | $15.99 | MAR |         595 |
| 172 | 0.45 | X-FORCE TOY SOLDIERS PREM HC | $29.99 | MAR |         593 |
| 173 | 0.45 | POPEYE HC VOL 06 ME LIL SWEE PEA | $29.99 | FAN |         589 |
| 174 | 0.45 | AVATAR LAST AIRBENDER TP VOL 01 PROMISE PART 1 | $10.99 | DAR |         586 |
| 175 | 0.45 | CODE GEASS KNIGHT GN VOL 05 | $10.99 | BAN |         584 |
| 176 | 0.44 | EPIC MAD TP | $12.99 | DC |         572 |
| 177 | 0.44 | LOCKE & KEY TP VOL 03 CROWN OF SHADOWS | $19.99 | IDW |         572 |
| 178 | 0.43 | BATMAN THE BLACK MIRROR HC | $29.99 | DC |         565 |
| 179 | 0.43 | CIVIL WAR TP | $24.99 | MAR |         565 |
| 180 | 0.43 | SKIP BEAT TP VOL 27 | $9.99 | VIZ |         558 |
| 181 | 0.43 | KRAZY & IGNATZ TP 1922 1924 DRIM OF LOVE | $24.99 | FAN |         556 |
| 182 | 0.42 | BOYS TP VOL 10 BUTCHER BAKER CANDLESTICKMAKER (MR) | $19.99 | DE |         553 |
| 183 | 0.42 | TERMINATOR REVOLUTION TP | $19.99 | DE |         545 |
| 184 | 0.41 | VAMPIRELLA MASTERS SERIES TP VOL 07 | $19.99 | DE |         535 |
| 185 | 0.41 | SENGOKU BASARA SAMURAI LEGENDS GN VOL 01 | $19.99 | UDO |         534 |
| 186 | 0.41 | KODT BUNDLE OF TROUBLE TP VOL 35 | $14.99 | KEN |         531 |
| 187 | 0.40 | KODT BUNDLE OF TROUBLE TP VOL 36 | $14.99 | KEN |         528 |
| 188 | 0.40 | TORADORA GN VOL 04 | $11.99 | ST. |         526 |
| 189 | 0.40 | SPIDER-MAN SINISTER SIX PREM HC | $24.99 | MAR |         525 |
| 190 | 0.40 | FLASHPOINT WORLD OF FLASHPOINT BATMAN TP | $17.99 | DC |         524 |
| 191 | 0.39 | ESSENTIAL DAREDEVIL TP VOL 01 NEW ED | $19.99 | MAR |         513 |
| 192 | 0.39 | VAMPI OMNIBUS TP VOL 01 | $29.99 | DE |         513 |
| 193 | 0.39 | SAILOR MOON TP KODANSHA ED VOL 01 | $10.99 | RAN |         506 |
| 194 | 0.39 | WOLVERINE OLD MAN LOGAN TP | $29.99 | MAR |         506 |
| 195 | 0.38 | GTO 14 DAYS IN SHONAN GN VOL 02 | $10.95 | RAN |         502 |
| 196 | 0.38 | SHATTERED HEROES HC | $19.99 | MAR |         501 |
| 197 | 0.38 | AIR GEAR GN VOL 23 (MR) | $10.99 | RAN |         497 |
| 198 | 0.38 | FARSCAPE TP VOL 07 WAR UNCHARTED TERRITORIES PT ONE | $12.99 | BOO |         495 |
| 199 | 0.37 | Y THE LAST MAN TP VOL 02 CYCLES (MR) | $12.99 | DC |         487 |
| 200 | 0.37 | ARMY OF DARKNESS OMNIBUS TP VOL 02 | $29.99 | DE |         482 |
| 201 | 0.37 | STAND HARDCASES PREM HC | $24.99 | MAR |         482 |
| 202 | 0.37 | STAND SOUL SURVIVORS PREM HC | $24.99 | MAR |         477 |
| 203 | 0.36 | FABLES TP VOL 02 ANIMAL FARM | $12.99 | DC |         475 |
| 204 | 0.36 | KINGDOM COME TP NEW EDITION | $17.99 | DC |         475 |
| 205 | 0.36 | FABLES TP VOL 16 SUPER TEAM (MR) | $14.99 | DC |         474 |
| 206 | 0.36 | JIM HENSONS DARK CRYSTAL HC VOL 01 CREATION MYTHS | $19.95 | ARA |         471 |
| 207 | 0.36 | TERMINATOR INFINITY TP VOL 01 (MR) | $19.99 | DE |         471 |
| 208 | 0.36 | STAND NO MANS LAND PREM HC | $24.99 | MAR |         469 |
| 209 | 0.36 | SPAWN ORIGINS HC VOL 06 | $29.99 | IMA |         465 |
| 210 | 0.35 | SKULLKICKERS TREASURE TROVE HC VOL 01 (MR) | $34.99 | IMA |         463 |
| 211 | 0.35 | PETE AND MIRIAM GN (MR) | $14.99 | BOO |         459 |
| 212 | 0.35 | PREACHER TP VOL 01 GONE TO TEXAS NEW EDITION | $17.99 | DC |         458 |
| 213 | 0.35 | ARKHAM ASYLUM ANNIVERSARY ED SC (MR) | $17.99 | DC |         455 |
| 214 | 0.34 | ARCHIE ARCHIVES HC VOL 05 | $49.99 | DAR |         450 |
| 215 | 0.34 | AXE COP TP VOL 01 | $14.99 | DAR |         450 |
| 216 | 0.34 | A TALE OF SAND HC | $29.95 | ARA |         448 |
| 217 | 0.34 | SAKURA HIME LEGEND OF PRINCESS SAKURA GN VOL 07 | $9.99 | VIZ |         445 |
| 218 | 0.34 | GIRL WHO OWNED A CITY GN | $9.95 | LER |         444 |
| 219 | 0.33 | JOKER HC | $19.99 | DC |         436 |
| 220 | 0.33 | GHOST RIDER DANNY KETCH TP VOL 01 | $29.99 | MAR |         435 |
| 221 | 0.33 | NURA RISE O/T YOKAI CLAN GN VOL 08 | $9.99 | VIZ |         433 |
| 222 | 0.33 | POKEMON MOVIE WHITE VICTINI & ZEKROM GN | $7.99 | VIZ |         429 |
| 223 | 0.33 | SANDMAN TP VOL 02 THE DOLLS HOUSE NEW ED (MR) | $19.99 | DC |         429 |
| 224 | 0.33 | AVALON CHRONICLES HC VOL 01 | $19.99 | ONI |         428 |
| 225 | 0.33 | BATMAN KNIGHTFALL TP PART 01 BROKEN BAT | $19.99 | DC |         427 |
| 226 | 0.33 | BATMAN DARK VICTORY TP | $19.99 | DC |         425 |
| 227 | 0.32 | CHEW TP VOL 04 FLAMBE (MR) | $12.99 | IMA |         420 |
| 228 | 0.32 | TRANSMETROPOLITAN TP VOL 01 BACK ON THE STREET (MR) | $14.99 | DC |         418 |
| 229 | 0.32 | SUPERMAN RED SON TP | $17.99 | DC |         414 |
| 230 | 0.32 | CAPTAIN COMMANDO GN VOL 01 | $19.99 | UDO |         412 |
| 231 | 0.32 | TUROK SON OF STONE ARCHIVES HC VOL 10 | $59.99 | DAR |         412 |
| 232 | 0.31 | JEREMIAH OMNIBUS HC VOL 01 | $24.99 | DAR |         410 |
| 233 | 0.31 | FEAR ITSELF PREM HC | $34.99 | MAR |         408 |
| 234 | 0.31 | MORNING GLORIES TP VOL 01 FOR A BETTER FUTURE | $9.99 | IMA |         407 |
| 235 | 0.31 | X 3-IN-1 ED TP VOL 02 | $19.99 | VIZ |         406 |
| 236 | 0.31 | DREAM QUEST OF UNKNOWN KADATH & OTHER STORIES HC | $24.99 | MOC |         405 |
| 237 | 0.31 | GREEN LANTERN RAGE OF THE RED LANTERNS TP | $14.99 | DC |         404 |
| 238 | 0.31 | DROPS OF GOD GN VOL 03 | $14.95 | RAN |         403 |
| 239 | 0.31 | LOVECRAFT ANTHOLOGY TP VOL 01 | $19.95 | ABR |         403 |
| 240 | 0.31 | EXCEL SAGA TP VOL 23 | $9.99 | VIZ |         401 |
| 241 | 0.31 | UNCANNY X-MEN HC MANIFEST DESTINY | $29.99 | MAR |         401 |
| 242 | 0.31 | AMERICAN VAMPIRE TP VOL 01 (MR) | $19.99 | DC |         400 |
| 243 | 0.31 | SAYONARA ZETSUBOU SENSEI GN VOL 14 | $10.99 | RAN |         400 |
| 244 | 0.30 | HELLBOY TP VOL 12 THE STORM AND THE FURY | $19.99 | DAR |         394 |
| 245 | 0.30 | WALKING DEAD HC VOL 06 (MR) | $34.99 | IMA |         394 |
| 246 | 0.30 | CROSSED TP VOL 01 (MR) | $24.99 | AVA |         393 |
| 247 | 0.30 | PENGUINS OF MADAGASCAR TP VOL 01 | $14.95 | APE |         391 |
| 248 | 0.30 | BATMAN AND SON TP | $14.99 | DC |         387 |
| 249 | 0.30 | CHEW TP VOL 02 INTERNATIONAL FLAVOR (MR) | $12.99 | IMA |         386 |
| 250 | 0.29 | UNCANNY X-FORCE TP VOL 02 DEATHLOK NATION | $15.99 | MAR |         384 |
| 251 | 0.29 | MARVEL ZOMBIES 03 HC | $19.99 | MAR |         379 |
| 252 | 0.29 | MARVEL ZOMBIES 04 HC | $19.99 | MAR |         379 |
| 253 | 0.29 | MASS EFFECT TP VOL 01 REDEMPTION | $16.99 | DAR |         379 |
| 254 | 0.29 | X-MEN SHATTERING TP | $34.99 | MAR |         379 |
| 255 | 0.29 | BATMAN VS BANE TP | $12.99 | DC |         378 |
| 256 | 0.29 | BETRAYAL KNOWS MY NAME GN VOL 03 (MR) | $18.99 | HAC |         378 |
| 257 | 0.29 | KAMISAMA KISS TP VOL 08 | $9.99 | VIZ |         378 |
| 258 | 0.29 | MASS EFFECT TP VOL 02 EVOLUTION | $16.99 | DAR |         377 |
| 259 | 0.28 | YOTSUBA & ! GN VOL 01 | $11.99 | HAC |         372 |
| 260 | 0.28 | SCOOBY DOO WHERE ARE YOU TP | $12.99 | DC |         368 |
| 261 | 0.28 | ALAN MOORE NEONOMICON TP (MR) | $19.99 | AVA |         366 |
| 262 | 0.28 | DAWN OF THE ARCANA TP VOL 03 | $9.99 | VIZ |         364 |
| 263 | 0.28 | CASE CLOSED GN VOL 42 | $9.99 | VIZ |         363 |
| 264 | 0.28 | NEGIMA OMNIBUS GN VOL 04 (MR) | $19.99 | RAN |         360 |
| 265 | 0.27 | GTO EARLY YEARS GN VOL 12 (MR) | $12.95 | RAN |         357 |
| 266 | 0.27 | PANDEMONIUM GN (HUMANOIDS) (MR) | $19.95 | HUM |         357 |
| 267 | 0.27 | SAILOR MOON TP KODANSHA ED VOL 04 | $10.99 | RAN |         354 |
| 268 | 0.27 | CARDCAPTOR SAKURA DARK HORSE OMNIBUS TP VOL 01 | $19.99 | DAR |         353 |
| 269 | 0.27 | THE GOOD THE BAD & THE UGLY TP VOL 01 | $19.99 | DE |         353 |
| 270 | 0.27 | PLAY BALL HC | $19.99 | ONI |         351 |
| 271 | 0.27 | FABLES TP VOL 03 STORYBOOK LOVE (MR) | $14.99 | DC |         350 |
| 272 | 0.27 | USAGI YOJIMBO SC VOL 01 RONIN | $15.95 | FAN |         350 |
| 273 | 0.27 | PAINKILLER JANE VS TERMINATOR TP VOL 01 | $14.99 | DE |         349 |
| 274 | 0.27 | STAR WARS CLONE WARS ADVENTURES TP VOL 01 | $6.99 | DAR |         349 |
| 275 | 0.26 | BLOODY MONDAY GN VOL 05 | $10.99 | RAN |         346 |
| 276 | 0.26 | BLACKSAD HC VOL 01 | $29.99 | DAR |         341 |
| 277 | 0.26 | EXILES ULTIMATE COLLECTION TP BOOK 03 | $34.99 | MAR |         334 |
| 278 | 0.25 | CROSS GAME TP VOL 07 | $14.99 | VIZ |         333 |
| 279 | 0.25 | SCOTT PILGRIM GN VOL 02 VS THE WORLD | $11.99 | ONI |         333 |
| 280 | 0.25 | 100 BULLETS TP VOL 01 FIRST SHOT LAST CALL | $9.99 | DC |         331 |
| 281 | 0.25 | BOYS TP VOL 09 BIG RIDE (MR) | $24.99 | DE |         331 |
| 282 | 0.25 | Y THE LAST MAN TP VOL 03 ONE SMALL STEP (MR) | $14.99 | DC |         331 |
| 283 | 0.25 | AVENGERS DK READERS SC AVENGERS ASSEMBLE | $3.99 | DK |         329 |
| 284 | 0.25 | BOYS TP VOL 01 NAME OF THE GAME (MR) | $16.99 | DE |         326 |
| 285 | 0.25 | COUNTDOWN 7 DAYS GN VOL 02 | $12.95 | DIG |         326 |
| 286 | 0.25 | CELESTIAL BIBENDUM DLX HC (MR) | $69.95 | HUM |         324 |
| 287 | 0.25 | CHEW TP VOL 03 JUST DESSERTS (MR) | $12.99 | IMA |         324 |
| 288 | 0.25 | UNWRITTEN TP VOL 01 TOMMY TAYLOR AND BOGUS IDENTITY (MR) | $12.99 | DC |         323 |
| 289 | 0.25 | FOLLY CONSEQUENCES OF INDISCRETION GN (MR) | $18.99 | FAN |         320 |
| 290 | 0.25 | MORNING GLORIES TP VOL 02 | $12.99 | IMA |         320 |
| 291 | 0.24 | AVENGERS DK READERS SC WORLDS MIGHTIEST SUPER HERO TEAM | $3.99 | DK |         318 |
| 292 | 0.24 | BATMAN ARKHAM CITY HC | $22.99 | DC |         318 |
| 293 | 0.24 | BATMAN RIP TP | $14.99 | DC |         318 |
| 294 | 0.24 | KICK-ASS TP (MR) | $19.99 | MAR |         318 |
| 295 | 0.24 | BLOOD ALONE GN VOL 06 | $11.99 | ST. |         317 |
| 296 | 0.24 | LITTLE MISS SUNSHINE HERE COMES THE SUN GN | $6.99 | VIZ |         317 |
| 297 | 0.24 | GIANTS BEWARE GN | $14.99 | ST. |         316 |
| 298 | 0.24 | SANDMAN TP VOL 03 DREAM COUNTRY NEW ED (MR) | $19.99 | DC |         316 |
| 299 | 0.24 | CODENAME SAILOR V TP VOL 01 | $10.99 | RAN |         311 |
| 300 | 0.24 | PATRICIA BRIGGS MERCY THOMPSON MOON CALLED TP VOL 01 | $16.99 | DE |         311 |