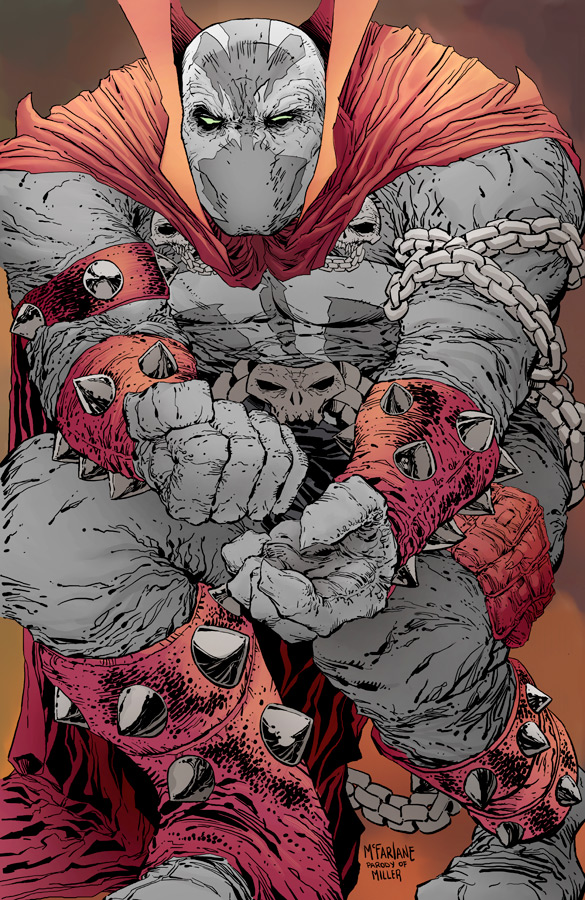 Et voici enfin les sollicitations Image Comics pour le mois d'Octobre, oui là le enfin est mérité ! on est au delà du 20 du mois ! soit presque 10 jours après les autres grands éditeurs !
 A noter en octobre le relaunch de Cyberforce gratos, puisque financé grâce à Kickstater, soit Top Cow est sur la paille, soit ils ont voulu faire un coup marketing. Mais bon comme ils ont mis Koi Pham au dessin, je pense qu'ils ne s'attendent pas à ce que le titre dure très longtemps.
A voir aussi le nouveau creator owned de Nick Spener (Morning Glories et Infinite vacation dont on attend encore la fin d'ailleurs…) intitulé Bedlam, le début d'une mini sur McGyver (non c'est pas une blague) , un nouveau projet de Jay Faerber (Near Death), mais aussi quelques absences comme Saga qui manifestement ce prend un mois de vacances.
Oh à ne pas rater la couverture de Spawn pas du tout pompé sur le Dark Knight Returns de Frank Miller…
CYBER FORCE #1 – GEM OF THE MONTH
story MARC SILVESTRI & MATT HAWKINS
art KHOI PHAM & SUNNY GHO
cover MARC SILVESTRI
OCTOBER 3
32 PAGES / FC / T+
FREE
TOP COW'S TOP-SELLING SERIES RETURNS IN A GROUND-BREAKING WAY!
Top Cow celebrates its 20th anniversary with the return of the series that started it all: CYBER FORCE! Top Cow founder MARC SILVESTRI (THE DARKNESS, INCREDIBLE HULK) returns to his first Image series as co-writer, art director and cover artist! Co-writer MATT HAWKINS (THINK TANK, LADY PENDRAGON) and artist KHOI PHAM (MIGHTY AVENGERS, DAREDEVIL) join SILVESTRI to bring you a contemporary re-imagining rooted in cutting edge, real world technology.
Carin Taylor, codenamed Velocity, has escaped from the CDI-controlled Millennium City and is desperately trying to find the one man she believes can help her prevent the end of the world. When she runs a group of other CDI escapees, will they help her… or turn their backs?
Not content in pushing the envelope just in terms of story and art, Top Cow will be the first major US comic publisher to launch one of their biggest properties with top tier creators concurrently for both the traditional print market and exploding worldwide digital market for FREE. That's right: Thanks to the support of fans through Kickstarter and participating comic shops, you can get the first FIVE issues of CYBER FORCE at no cost.
BEDLAM #1 – GEM OF THE MONTH 
story NICK SPENCER
art RILEY ROSSMO
cover FRAZER IRVING
OCTOBER 31
48 PAGES / FC / M
$3.50
Fillmore Press was once Madder Red, a homicidal maniac and criminal overlord who terrorized the town of Bedlam for years. Then he got better. This is what happens next.
A double-sized introduction to a blood-soaked cityscape of murder, mayhem, and mystery by NICK SPENCER (MORNING GLORIES, THIEF OF THIEVES) and RILEY ROSSMO (REBEL BLOOD, GREEN WAKE)!
MacGYVER: FUGITIVE GAUNTLET #1 (of 5)
story LEE DAVID ZLOTFF & TONY LEE
art WILL SLINEY
cover ANDIE TONG
OCTOBER 10
32 PAGES / FC / T+
$3.50
Welcome to the long-awaited return of MacGyver – co-written by his creator! When an old friend calls for help, Mac becomes involved in a web of industrial espionage, murder and a white-knuckle pursuit across the globe with a million dollar hit on his head! Can he live long enough to save the world – or has his luck finally run out?
MULTIPLE WARHEADS: ALPHABET TO INFINITY #1 (of 4)
story / art / cover BRANDON GRAHAM
OCTOBER 24
48 PAGES / FC / T+
$3.99
Sexica and her Werewolf boyfriend Nikoli travel across a sci-fi, fantasy Russia smoking singing cigarettes.
Meanwhile the organ hunter Nura is sent out with a severed head and instructions to find its body.
NON-HUMANS #1 (of 4)
story GLEN BRUNSWICK
art / cover WHILCE PORTACIO
OCTOBER 3
32 PAGES / FC / T+
2.99
Los Angeles, 2041 – it's twenty-six years after a NASA probe brought back a strange disease causing many of our familiar toy-like objects to come to life.  This is a new world order where cute and fearsome creatures fight for their right to exist in a world that fears them – Blade Runner meets Toy Story.
POINT OF IMPACT #1 (of 4)
story JAY FAERBER
art & cover KORAY KURANEL
OCTOBER 10
32 PAGES / BW / M
$2.99
A gripping, provocative four-part crime series from acclaimed writer JAY FAERBER and stunning new artist KORAY KURANEL begins with one woman's murder and branches out to follow the investigation by three people with personal connections to her: her husband, an investigative reporter; her lover, an ex-soldier; and her friend, a homicide detective. Her death will change all of their lives.
CBLDF LIBERTY ANNUAL 2012
story HOWARD CHAYKIN, ANDY DIGGLE, WARREN ELLIS, CHRIS GIARRUSSO, KIERON GILLEN, BRANDON GRAHAM, DAVID HINE, JOE KEATINGE, ROBERT KIRKMAN, JIM McCANN, TERRY MOORE, CHRIS ROBERSON, JAMES ROBINSON, JONATHAN ROSS, STEVEN T. SEAGLE, RICHARD STARKINGS & ERIC STEPHENSON
art CHARLIE ADLARD, MIKE ALLRED, NATE BELLEGARDE, J. BONE, DOUG BRAITHWAITE, IAN CHURCHILL, MARCO CINELLO, CHYNNA CLUGSTON-FLORES, CHRIS GIARRUSSO, SINA GRACE, BRANDON GRAHAM, ROGER LANDRIDGE, JANET LEE, JOHN PAUL LEON, TERRY MOORE & BEN TEMPLESMITH
cover A GABRIEL BA
cover B TERRY DODSON
OCTOBER 10
48 PAGES / FC / M
$4.99
A COMIC BOOK LEGAL DEFENSE FUND BENEFIT BOOK!
"IT'S GOOD TO BE FREE!"
CBLDF LIBERTY ANNUAL returns! This year's installment is edited by Image Comics Publisher ERIC STEPHENSON, who has recruited an all-star line-up of writers and artists to make ALL-NEW stories about the positive qualities of freedom! All proceeds from this book benefit the important First Amendment work of the COMIC BOOK LEGAL DEFENSE FUND, who've been fighting censorship in comics for over 25 years!
All proceeds from CBLDF LIBERTY ANNUAL 2012 will benefit the important First Amendment legal work of the COMIC BOOK LEGAL DEFENSE FUND, a non-profit organization dedicated to the protection of the First Amendment rights of the comics art form and its community of retailers, creators, publishers, librarians and readers.
THE WALKING DEAD #103
story ROBERT KIRKMAN
art / cover CHARLIE ADLARD & CLIFF RATHBURN
OCTOBER 17
32 PAGES / BW / M
$2.99
It is a new beginning for THE WALKING DEAD. Rick Grimes is no longer in charge, and nothing will ever be the same again. It's such a perfect jumping on point, it could easily have been a new first issue – but instead, the world's best selling creator-owned comic just keeps moving forward, with #103 and counting!
THE WALKING DEAD: MICHONNE SPECIAL
story ROBERT KIRKMAN
art / cover CHARLIE ADLARD & CLIFF RATHBURN
OCTOBER 10
32 PAGES / BW / M
$2.99
This special issue of THE WALKING DEAD presents THE WALKING DEAD #19, featuring the first appearance of Michonne as well as the Michonne origin story that first appeared in Playboy Magazine. Just in time for Michonne's appearance in THE WALKING DEAD SEASON 3!
HALLOWEEN EVE (one-shot)
story BRANDON MONTCLARE
art / cover AMY REEDER
variant cover AMY REEDER
OCTOBER 10
40 PAGES / FC / T+
$3.99
Eve has an imagination that's more than active – it can be downright dangerous!  Working late at the costume super-store Halloween Land, she gets lost in her own thoughts until something goes bump in the night.  The rubber masks and plastic novelties are coming to life, and Eve must face ghosts, goblins, and gorilla suits made real.
High fantasy and heartbreak in an oversized holiday one-shot by BRANDON MONTCLARE (FEAR ITSELF: FEARSOME FOUR) and Eisner Award nominee AMY REEDER (BATWOMAN, MADAME XANADU).
NOT MY BAG TP
story / art / cover SINA GRACE
OCTOBER 10
96 PAGES / BW / T
$12.99
From the artist of THE LI'L DEPRESSED BOY and AMBER BENSON'S AMONG THE GHOSTS, comes a retail hell story like you've never encountered before! A young artist takes a job at a department store in order to make ends meet… little does he know that he may meet his end! In this gothic story for fans of PERSEPOLIS, BLANKETS, and THE DEVIL WEARS PRADA, can the artist withstand competitive pressure, treachery, and high fashion while still keeping his soul?
CYBER FORCE: ORIGINS, VOL. 1 TP
story MARC SILVESTRI & ERIC SILVESTRI
art MARC SILVESTRI, WALTER SIMONSON & DAVID FINCH
cover MARC SILVESTRI
OCTOBER 3
160 PAGES / FC / T+
$9.99
GO BACK TO THE BEGINNING!
To coincide with the groundbreaking return of CYBER FORCE, Top Cow proudly presents the original stories that launched the series in this introductory-priced collection! Collecting the very first CYBER FORCE story, "Tin Men of War," along with two bonus issues, fans can go back and rediscover the introduction of characters like Velocity, Ripclaw, Heatwave, Cyblade, Impact and Ballistic to the world of comics with brilliant art by MARC SILVESTRI (THE DARKNESS, INCREDIBLE HULK), WALTER SIMONSON (THE AVENGERS, THOR), and DAVID FINCH (APHRODITE IX, THE DARK KNIGHT).
This collection includes a complete cover gallery, character designs, commentary and more.
Collects CYBER FORCE, VOL. 1 #1-#4, CYBER FORCE #0 & CYBER FORCE ANNUAL #1.
DANCER TP
story NATHAN EDMONDSON
art / cover NIC KLEIN
OCTOBER 10
132 PAGES / FC / T+
$15.99
The multiple sell-out miniseries from the writer of WHO IS JAKE ELLIS? and the artist of VIKING, DANCER is the story of a retired assassin who must protect his ballerina love from a sniper stalking them both through the back alleys of a wintry Europe.
CNN calls DANCER: « The best example of what's possible without a man in tights. »
Collects DANCER #1-5.
EPIC KILL, VOL. 1 TP
story / art / cover RAFFAELE IENCO
OCTOBER 3
144 PAGES / FC / T+
$12.99
Hitmen and mercenaries are ordered by the President to bring down an eighteen-year-old super assassin named Song– but she's going to turn the tables on them – and every kill is going to be epic!
Song has trained since childhood to take revenge on the man responsible for her parent's deaths – the man who has just been elected President!
Filled with never-seen-before extra material!
Collects EPIC KILL #1-5.
GRIM LEAPER TP
story KURTIS J. WIEBE
art / cover ALUISIO C. SANTOS
OCTOBER 31
120 PAGES / FC / M
$14.99
In death, he finally found something to live for.
Lou Collins is caught in a cyclical curse of violent, gruesome deaths and new beginnings in the bodies of strangers. With no clue why, Lou desperately searches for a way to break the curse and cross over peacefully to the other side. Then equally doomed Ella comes along. It's a love story to die for.
Collects all four issues and features never before seen sketches, alternate covers and conceptual art by series illustrator ALUISIO C. SANTOS .
MIND THE GAP, VOL. 1: INTIMATE STRANGERS TP
story JIM McCANN
art / cover RODIN ESQUEJO, SONIA OBACK & ADRIAN ALPHONA
OCTOBER 3
168 PAGES / FC / T+
$9.99
Elle Peterssen is young, wealthy, and beautiful — and there is a reason someone tried to kill her. Only, Elle doesn't remember any of this. MIND THE GAP, the new series by the Eisner Award-winning writer JIM McCANN (Return of the Dapper Men), is a mystery with a paranormal twist. Elle, in a spirit form detached from her comatose body, must not only unravel the mystery of her attacker's identity and motive but her entire life as well.  Who can she trust, in both this word and in the gap she exists in that lies between life and death?  Filled with twists and turns, Elle's life isn't the only one turned upside down by the attack on her life.  Deceit, secrets, and hidden agendas are everywhere in a story where everyone is a suspect, and no one is innocent.  USAToday hails it as an "anxiously anticipated modern thriller. »
Collects MIND THE GAP #1-5
NANCY IN HELL (ON EARTH) TP
story EL TORRES
art ENRIQUE LOPEZ LORENZANA
cover NACHO MOLINA
OCTOBER 24
104 pages / FC / M
$12.99
Nancy and Lucifer filleted their way out of Hell… and they left the Gates open. Now demons are pouring onto Earth, and angels want to destroy the whole planet before Hell spreads through all the realms. And Nancy, her daisy dukes and her trusty chainsaw are in the way! Featuring Lucifer, the Twelve Disciples of Hell, giant demons and nekkid angels! If you like grindhouse films and crazy, gory fun, be sure to check this volume written by EL TORRES with artwork by the insane master of detail ENRIQUE LORENZANA!
Collects NANCY IN HELL (ON EARTH) #1–4
ROCK BOTTOM HC
story JOE CASEY
art / cover CHARLIE ADLARD
OCTOBER 24
120 PAGES / BW / T+
$19.99
THE ACCLAIMED OGN RETURNS IN AN ALL-NEW, OVERSIZED HARDCOVER EDITION! Meet Thomas Dare… an ordinary man dealing with an extraordinary circumstance. What would you do if you found you were turning to stone? What choices would you make? Hint: being a superhero is not one of them. From the CODEFLESH creative team of JOE CASEY (GØDLAND) and CHARLIE ADLARD (THE WALKING DEAD).
« … ballsy in its unforgiving, raw and emotional nature. Dead-on dramatic pulp, pure and simple. » – Comic Book Zeitgeist
« Really fine storytelling… that'll linger long past many more flashy efforts. » –blogcritics
ROCK BOTTOM: AN EPIC OF HUMAN PROPORTIONS!
SAGA, VOL. 1 TP
story BRIAN K. VAUGHAN
art / cover FIONA STAPLES
OCTOBER 10
160 PAGES / FC / M
$9.99
From New York Times bestselling writer BRIAN K.VAUGHAN (Y: THE LAST MAN, EX MACHINA) and critically acclaimed artist FIONA STAPLES (MYSTERY SOCIETY, NORTH 40), SAGA is the sweeping tale of one young family fighting to find their place in the worlds.  When two soldiers from opposite sides of a never-ending galactic war fall in love, they risk everything to bring a fragile new life into a dangerous old universe.  Fantasy and science fiction are wed like never before in a sexy, subversive drama for adults.  This specially priced volume collects the first arc of the smash hit series The Onion A.V. Club calls « the emotional epic Hollywood wishes it could make. »
Collects SAGA #1-6
SKULLKICKERS, VOL. 3: SIX SHOOTER ON THE SEVEN SEAS TP
story JIM ZUB
art EDWIN HUANG & MISTY COATS
cover EDWIN HUANG & ESPEN GRUNDETJERN
OCTOBER 31
144 PAGES / FC / T
$16.99
The third SKULLKICKERS adventure is a tidal wave of adventure: a pirate ship of lady buccaneers, dangerous cargo, sea monsters, food fights and the strange secret of the mysterious gun at the center of the SKULLKICKERS mythos.
Jump on board and see why the Young Adult Library Services Association (YALSA) added SKULLKICKERS to their list of « Great Graphic Novels For Teens 2012 »!
Collects SKULLKICKERS #12-17
THE WALKING DEAD COMPENDIUM, VOL. 2 TP
story ROBERT KIRKMAN
art / cover CHARLIE ADLARD & CLIFF RATHBURN
OCTOBER 3
1068 PAGES / BW / M
$59.99
Returning with the second eight volumes of the fan-favorite, New York Times Best Seller series collected into one massive paperback collection! This is the perfect collection for any fan of the Emmy Award-winning television series on AMC: over one thousand pages chronicling the next chapter of ROBERT KIRKMAN's Eisner Award-winning continuing story of survival horror- beginning with Rick Grimes' struggle to survive after the prison raid, to the group's finding short solace in The Community, and the devastation that follows… In a world ruled by the dead, we are finally forced to finally start living.
Collects THE WALKING DEAD #49-96
THE ACTIVITY #10
story NATHAN EDMONDSON
art / cover MITCH GERADS
OCTOBER 17
32 PAGES / FC / T+
$3.50
« OUT WITH THE TRASH »
Team Omaha sets up a business front in the Philippines, only to find out they've done their job a little too well.
AMERICA'S GOT POWERS #6 (of 6)
story JONATHAN ROSS
art / cover BRYAN HITCH
OCTOBER 31
32 PAGES / FC / T+
$2.99
EVERYONE wants a piece of Tommy Watts – at least the part that can give them super powers. But if everyone in America is a superhero, will that be a good thing…or the worst thing that could ever happen to planet Earth?
ARTIFACTS #23
story RON MARZ
art & cover STJEPAN SEJIC
OCTOBER 24
32 PAGES / FC / T+
$3.99
"TRUTHS & DESTINIES," PART 2
Tom Judge's training as a priest did not prepare him for the horrors he's seen as a special investigator for the FBI. But Tom's current case – an unholy combination of the supernatural and murder most foul – is beyond anything he's ever experienced, and even the powerful Artifact he wields, the Rapture, won't be enough to save him.
BLACK KISS #3 (of 6)
story / art / cover HOWARD CHAYKIN
OCTOBER 3
24 PAGES / BW / M
$2.99
The black shadow of fascist darkness sprawls across France—shattered by the scarlet smears of sex and death…
…And the south coast learns there's more to California than sunshine and surf, as twin offspring of different mothers find soulmates.
BLOODSTRIKE #33
story TIM SEELEY
art FRANCHESCO GASTON
cover by TIM SEELEY
OCTOBER 24
32 PAGES / FC / T+
$2.99
Suprema is under the control of an evil force, and no one is safe from her eye beams and short skirt!! Cabbot and Twilight have to enlist the help of Marduk and his cult or be disintegrated! But have they inadvertantly delivered the most powerful weapon on earth to a madman?
CHEW #30
story JOHN LAYMAN
art & gatefold cover ROB GUILLORY
OCTOBER 24
32 PAGES / FC / M
$2.99
"SPACE CAKES," Conclusion
The bonus-sized wedding issue, CHEW's half-way point, and the issue that is gonna take EVERYBODY by surprise. Sure, it's a terrible jumping-on point for new readers, but did we mention the FREE TRI-FOLD POSTER COVER, at no extra cost?
CREATOR OWNED HEROES #5 
story STEVE NILES, JAY RUSSEL, JIMMY PALMIOTTI, JUSTIN GRAY, ANDREW RITCHIE, JERRY LANDO & PAUL MOUNTS
art & cover  DAVE JOHNSON & ANDREW RITCHIE
OCTOBER 3
40 PAGES / FC / M
$3.99
ALL-NEW STORIES BEGIN!
"KILLSWITCH," Part One
Part one of a brand new four-part story. Introducing Killswitch, an enigmatic, and devastatingly handsome killer with a fetish for blunt force, a strong code of honor, and more than a few skeletons in his closet. Killswitch is drawn into a game of death with the world's top assassins to find out who is behind the contract on his head – and why.
"BLACK SPARROW," Part One
A brand new two-part story begins, as a family living in the old west must reconcile that someone close to them might be a killer, or worse. A dark tale of haunting family dedication and the price we pay for love.
PLUS! An interview with AMANDA CONNER, art galleries, con photos, and original articles all celebrating the creator owned spirit.
THE DARKNESS #108
story DAVID HINE
art & cover JEREMY HAUN
OCTOBER 17
32 PAGES / FC / M
$2.99
"BREAKING DARK," PART Three
Jackie Estacado's world has been crumbling around him and he fears recent events may drive his wife, Jenny, to the brink of insanity. But will Jackie be able to hold it together when he receives even more tragic family news? DAVID HINE (THE DARKNESS: FOUR HORSEMEN, THE BULLETPROOF COFFIN) and JEREMY HAUN (ARTIFACTS, Detective Comics) follow up their horrific first arc with a four-part story that will make you question everything you think you know about the Top Cow universe.
DEBRIS #4 (of 4)
story KURTIS J. WIEBE
art / cover RILEY ROSSMO
OCTOBER 24
32 PAGES / FC / T
$3.50
The epic finale to the junk punk series sets the stage for a massive battle between humanity and the Colossals, with the fate of the entire human race in the balance. Maya must lead the Athabascan Tribe to victory against the insane wasteland dragon spirit, Nogo.
ELEPHANTMEN #45
story RICHARD STARKINGS
art AXEL MEDELLIN
cover FIONA MENG
OCTOBER 17
40 PAGES / FC / M
$3.99
"SLEEPING PARTNERS," Part Four
Some girls don't.
FATALE # 10
story ED BRUBAKER
art & cover SEAN PHILLIPS & DAVE STEWART
OCTOBER 31
32 PGS / FC / M
$3.50
FATALE's second arc comes to its brutal conclusion! Secrets are revealed and new mysteries are born, as our Femme Fatale star goes from victim to hero!
And remember each issue of FATALE contains extra content, articles and
artwork that are not available anywhere but the printed single issues.
GLORY #29
story JOE KEATINGE
art / cover  ROSS CAMPBELL
OCTOBER 17
32 PAGES / FC / T+
$2.99
« BLOODSHADOW, » Part One
There is only one warrior Glory has ever feared; only one who's more dangerous than her, only one she knows can stop her. Get ready for the coming of Nanaja, Glory's little sister.
GUARDING THE GLOBE #2
story PHIL HESTER
art / cover: TODD NAUCK & JOHN RAUCH
OCTOBER 3
32 PAGES / FC / T
$2.99
What does it take to defend an entire planet?  As The Guardians of the Globe divide their forces to deal with threats all over Earth, simultaneously, a darker, familiar, threat continues to loom under their very noses.
HACK/SLASH #21
story TIM SEELEY
art ELENA CASAGRANDE
covers A TIM SEELEY & DOMINIC MARCO
cover B ELENA CASAGRANDE
OCTOBER 31
32 PAGES / FC / M
$3.50
"FINAL," Part Two
The most twisted and persistent slashers Cassie has ever faced are back. And they're on the hunt, ensuring that everyone Cassie and Vlad have ever saved become the victims they were intended to be! Someone dies! Actually, a whole lot of people die!!
HAPPY! #2
story GRANT MORRISON
art / cover  DARICK ROBERTSON
OCTOBER 31
32 PAGES / FC / M
$2.99
Trapped in a mob hospital at the mercy of the cold-eyed torture expert Smoothie and his team of dedicated sadists, the only hope for Nick Sax is Happy the Horse! With three days to Black Christmas, can our unlikely duo stay together long enough to stop Pedo-Santa's rampage?
HARVEST #3 (of 5)
story A.J. LIEBERMAN
art & cover COLIN LORIMER
OCTOBER 3
32 PAGES / FC / M
$3.50
Set up for murder, Dr. Benjamin Dane finds himself wanted by a black market surgical squad and the FBI, with only an outcast Yakuza assassin to protect him, none of which will stop him from getting to his next patient.  Plus the freaky kid is back.
HELL YEAH #7
story JOE KEATINGE
art / cover  ANDRE SZYMANOWICZ
OCTOBER 10
32 PAGES / FC / T+
$2.99
« EVERYTHING YOU KNOW IS RIGHT, » Part Two
HELL YEAH's shocking new direction continues as the battle of the century arrives: Ben Day vs. Getting His Ass Handed To Him!
HOAX HUNTERS #4
story MICHAEL MORECI & STEVE SEELEY
art AXEL MEDELLIN
cover KEITH BURNS
OCTOBER 10
32 PAGES / FC / T +
$2.99
"DIE OFF ANOTHER DAY," Conclusion
The Hoax Hunters desperately try to prevent Clive and his carnival from executing their plan—a plan that includes the extinction of an entire cryptid race. More answers to the deepening mystery are revealed in this thrilling finale to the first Hoax Hunters arc!
INVINCIBLE #97
story ROBERT KIRKMAN
art / cover RYAN OTTLEY & JOHN RAUCH
OCTOBER 24
32 PAGES / FC / T +
$2.99
Finally, at long last: the origin of Zandale Randolph, otherwise known as Invincible. Also in this issue, an update on Mark Grayson, as the stage is set for the MONUMENTAL 100TH ISSUE! Do not miss out!
IT GIRL & THE ATOMICS #3
story JAMIE S. RICH
art MIKE NORTON
cover MICHAEL & LAURA ALLRED
OCTOBER 17
32 PAGES / FC / E
$2.99
"DARK STREETS, SNAP CITY," Part Three
The Skunk's old gang is up to trouble, and It Girl has a few choice words for the man who killed her sister. But who's the shadowy presence that follows her wherever she goes, and can she and the rest of the Atomics stop a crime spree before it starts?
THE MANHATTAN PROJECTS #8
story JONATHAN HICKMAN
art NICK PITARRA & JORDIE BELLAIRE
OCTOBER 24
32 PAGES / FC / T+
$3.50
"THEY RULE"
They have waited and watched in the dark and now the old money that runs nations is ready to make their move against the Manhattan Projects. It's the secret leaders of the world like you've never seen them before.
The thrilling FEEL GOOD, BAD SCIENCE series continues in THE MANHATTAN PROJECTS #8: THEY RULE!
MORNING GLORIES #24
story NICK SPENCER
art JOE EISMA
cover RODIN ESQUEJO
OCTOBER 24
32 PAGES / FC / M
$2.99
« Truants. »
MUDMAN #9
story / art / cover PAUL GRIST
OCTOBER 31
32 PAGES / FC / T
$3.50
Mudman and Captain Gull enter the mysterious house on the sea front only to find the house doesn't have a warm welcome for visitors!
PETER PANZERFAUST #7
story KURTIS J. WIEBE
art / cover TYLER JENKINS
OCTOBER 10
32 PAGES / FC / T
$3.50
"PARIS," Part Two
The Boys team up with a local band of resistance fighters who fight for the same goal of freeing prisoners of war. A daring rescue operation puts Peter and the Lost Boys in the crosshairs of the German army while new allies offer a door to a whole new world.
« Wiebe and Jenkins are making magic. First star to the right, straight on to the next issue. The Verdict: 10/10 » – Comixosity
PROPHET #30
story BRANDON GRAHAM, SIMON ROY &GIANNIS MILONOGIANNIS
art GIANNIS MILONOGIANNIS
cover HELEN MAIER
OCTOBER 24
32 PAGES / FC / T+
$2.99
Old man Prophet's team goes looking for supplies on a city built into the torso of a giant at war with its other body parts. And an old acquaintance.
REVIVAL #4
story TIM SEELEY
art MIKE NORTON
cover by JENNY FRISON
OCTOBER 24
32 PAGES / FC / T+
$2.99
Dana investigates threats sent to a pair of siblings running a charity to help people adjust to life with undead loved ones. But there's more to this brother and sister than philanthropy. Meanwhile May Thao discovers photos of a bizarre creature, and just can't help but get herself into deep sh*t.
SAVAGE DRAGON #185
story, art & cover ERIK LARSEN
OCTOBER 31
32 PAGES / FC / T
$3.99
"THE VERDICT"
Savage Dragon is on trial crimes he committed when he had reverted to his Emperor Kurr persona. Now the world is his witness as the shocking verdict is read. Meanwhile, Malcolm Dragon has troubles of his own: Thunder-Head and Double-Paige! Comes with our highest possible recommendation!
SPAWN #224 
story TODD McFARLANE
art SZYMON KUDRANSKI
cover TODD McFARLANE
OCTOBER 3
32 PAGES / FC / T
$2.99
"ORIGIN OF THE SPECIES," Part Five
The epic story arc celebrating SPAWN's 20th Anniversary continues!  TODD McFARLANE and rising star SZYMON KUDRANSKI bring you the next chapter in the origin of Jim Downing!! Features a classic comic book cover re-imagined by TODD MCFARLANE!
Was Jim Downing a mastermind or a victim in his previous life? As a brutal interrogation intensifies, the answers Jim seeks, and the realities of the man he was, may exist somewhere in between good and evil. To complicate matters further, the final details he needs to put an ultimate end to « The Program » rest in the hands of a man whose actions helped shape the very foundation of the SPAWN universe…Jason Wynn.
SUPER DINOSAUR #15
story ROBERT KIRKMAN
art / cover JASON HOWARD
OCTOBER 31
32 PAGES / FC / E
$2.99
ESCAPE FROM INNER-EARTH: CONCLUSION!
Derek is now aware of the REPTILOIDS and the threat they pose to the surface world. Super Dinosaur has learned so much about where he comes from–will he want to come back? Answers to this question and more as the stage is set for the next few years of Super Dinosaur adventures! This is where it all begins, people!
SUPREME #68
story ERIK LARSEN
art ERIK LARSEN & CORY HAMSCHER cover ERIK LARSEN
OCTOBER 3
32 PAGES / FC / T
$3.99
"The KHROMIUM Age"
His father was one of Supreme's greatest foes. Now he seeks vengeance–and he has the power to get it! Face-to-face with the Ivory Icon on a far off world KHROMIUM will have his revenge–or die trying! Meanwhile, Ethan Crane and the former Supremouse Squeak form an uneasy alliance with the one being that might help restore their missing powers: Darius Duck! A shocker!
THIEF OF THIEVES #9
story ROBERT KIRKMAN & JAMES ASMUS
art / cover SHAWN MARTINBROUGH & FELIX SERRANO
OCTOBER 3
32 PAGES / FC / T+
$2.99
Augustus' troubled past comes back to bite him where it hurts – and Redmond's son has to step up to the plate to keep an angry cartel at bay. Meanwhile: Cohen pushes harder on Conrad.
THINK TANK #3
story MATT HAWKINS
art & cover RAHSAN EKEDAL & BRIAN REBER
OCTOBER 3
32 PAGES / BW / M
$3.99
BREAKING FREE!
Dr. David Loren has had enough. Enough of the death and destruction at his hands. Enough of the military men that control his life. Tonight, David finally makes his move to escape from the military think tank that has been his prison and playground for years. The only complication… he has to free an innocent woman from the same place.
WITCHBLADE #162
story TIM SEELEY
art DIEGO BERNARD & FRED BENES
cover A JOHN TYLER CHRISTOPHER
cover B DIEGO BERNARD & FRED BENES
OCTOBER 10
32 PAGES / FC / T+
$2.99
"BLACK CAT"
Sara Pezzini finally relents to Cain Jorgenson's advances and agrees to a date at a baseball game in this date night issue of WITCHBLADE! But as usual, the Witchblade's tendency to attract weirdness like a magnet will draw out Chicago's supernatural corruption… even at Wrigley Field.
YOUNGBLOOD #76
story JOHN McLAUGHLIN
art JON MALIN & ROB LIEFELD
cover ROB LIEFELD
OCTOBER 31
32 PAGES / FC / T+
$3.99
At long last… the untold story of Badrock and how he was critically wounded trying to save the rest of Team Youngblood. For everyone who has been wondering why the Original Shaft felt the need to step away from the team… this is the issue that tells everything!