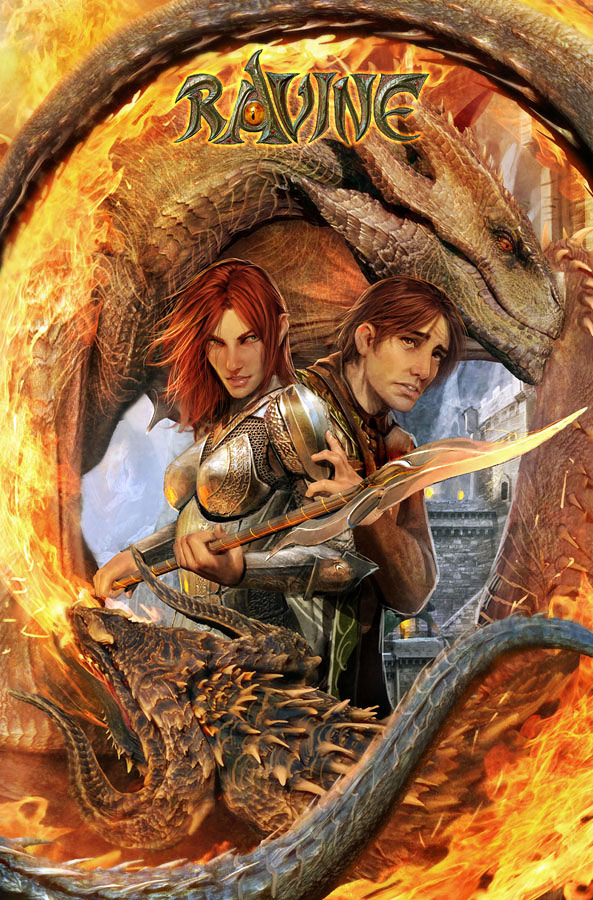 Et voici les sollicitations Image Comics pour le mois d »août prochain ! qui sont marquées par le lancement d »un nouveau creator owned de JMS, Sidekick, qui va donc toucher au genre super-héroïque mais de manière bien particulière ! On notera aussi la sollicitation assez étrange de Chew qui avec l »épisode d »août reviendra en arrière ! ensuite on ne manquera pas le retour de Saga après plusieurs mois d »absence !!!!
L »association Ron Marz /Sjtepan Sejic continue sur Ravine dont le second volume est annoncé. Niveau TPB, on se jettera sur le premier de Est of West, le 5e de Morning Glories et pour ceux qui ont vraiment envie de lire du Invincible, il a y a le second  compendium, soit environ 1000 pages, qui est annoncé !
THE SIDEKICK #1 – GEM OF THE MONTH
story J. MICHAEL STRACZYNSKI
art / cover A TOM MANDRAKE & BRIAN MILLER
cover B CHARLIE ADLARD
AUGUST 14
32 PAGES / FC / M
$2.99
WITNESS A MODERN HERO'S FALL FROM GRACE!
The Cowl and Flyboy: renowned superhero and sidekick despite dopey names. They were famous, popular, and happy until the Cowl »s assassination. Now, no one takes Flyboy seriously. Follow his trajectory from barely tolerated hero to figure of ridicule, and witness his slow descent into madness, darkness and crime.
CHEW #36
story JOHN LAYMAN
art / cover ROB GUILLORY
AUGUST 14
32 PAGES / FC / M
$2.99
CHEW #36 is CHEW #29½ . Did that just blow your mind?
CHEW, VOL. 7: BAD APPLES TP
story JOHN LAYMAN
art / cover ROB GUILLORY
AUGUST 21
128 PAGES / FC / M
$2.99
Presenting a new storyline of the New York Times Best Selling, Harvey and multiple Eisner Award-winner series about cops, crooks, cooks, cannibals, and clairvoyants.
Tony Chu – the cibopathic federal agent with the ability to get psychic impressions from what he eats – is back in action, just in time to face a cult of egg-worshipping terrorists who've declared holy war on the chicken-eaters of the world.
Collects CHEW # 31-35.
NOWHERE MEN #7
story ERIC STEPHENSON
art NATE BELLEGARDE, EMI LENOX & JORDIE BELLAIRE
cover NATE BELLEGARDE & FONOGRAFIKS
AUGUST 28
32 PAGES / COLOR / T
$2.99
Meet Monica Strange.
SAGA #13
story BRIAN K. VAUGHAN
art / cover  FIONA STAPLES
AUGUST 14
32 PAGES / FC / M
$2.99
THE SMASH-HIT, CRITICALLY ACCLAIMED SERIES RETURNS!
Now that you »ve read the first two bestselling collections of SAGA, you »re all caught up and ready to jump on the ongoing train with Chapter Thirteen, beginning an all-new monthly sci-fi/fantasy adventure, as Hazel and her parents head to the planet Quietus in search of cult romance novelist D. Oswald Heist.
SECRET #3 (RES)
story JONATHAN HICKMAN
art RYAN BODENHEIM & MICHAEL GARLAND
AUGUST 7
32 PAGES / FC / T
$3.50
"THE SYSTEM"
Things begin to unravel as we learn the identity of who Steadfast is working for. Billions and billions of bits of data floating through the air screaming to anyone who will listen: FOLLOW THE MONEY.
SKULLKICKERS #24
story RON MARZ, ADAM WARREN, TODD DEZAGO, JIM ZUB
art LEE MODER, TOM RANEY, STJEPAN SEJIC, EDWIN HUANG
cover EDWIN HUANG & JIM ZUB
AUGUST 14
32 PAGES / FC / T
$3.50
BEFORE SKULLKICKERS
A return to our classic legacy numbering just in time for a new set of Tavern Tales! Four short stories by top flight talent detailing the earlier adventures of our heroes.
BURN THE ORPHANAGE: BORN TO LOSE #1 (of 3) 
story DANIEL FREEDMAN & SINA GRACE
art / cover SINA GRACE
JULY 3
40 PAGES / FC / T TEEN PLUS
$3.99
A young orphan named Rock was left for dead, now he »s out for revenge! With partners Lex and Bear by his side, our hero will find out who burned his home and family to the ground. If that means taking on every goon, punk, and topless stripper ninja in the city… then so be it.
PART ONE OF THE BORN TO LOSE TRILOGY!
RAVINE, VOL. 2 TP
story RON MARZ & STJEPAN SEJIC
art / cover STJEPAN SEJIC
AUGUST 21
160 PAGES / FC / T
$14.99
THE HIT FANTASY EPIC CONTINUES!
The balance of power in the kingdom of Palladia is threatened, as schemers plot to overthrow the rightful king. Amid this turmoil, a sorcerer named Stein Phais and a dragon rider named Lynn de Luctes are Wanderers, blessed with great power and destinies that can shape the fate of nations. How long will it be before they are drawn into the conflict?
BOMB QUEEN DELUXE, VOL. 3 HC
story, art& cover JIMMIE ROBINSON
AUGUST 7
248 PAGES/FC/M
$24.99
BOMB QUEEN Volumes 5 and 6 completely re-mastered into a beautiful deluxe over-sized edition that will sit proudly on any pervert »s…er, we mean collector »s shelf! Featuring cameos by ShadowHawk, Youngblood, even President Obama!
EAST OF WEST, VOL . 1: THE PROMISE TP
story JONATHAN HICKMAN
art / cover NICK DRAGOTTA
AUGUST 28
32 PAGES / FC / T
$9.99
This is the world. It is not the one we wanted, but it is the one we deserved. The Four Horsemen of the Apocalypse roam the Earth, signaling the End Times for humanity, and our best hope for life, lies in DEATH.
Collects EAST OF WEST #1 – #5.
FRANK CHO: WOMEN BOOK 2 TP
story FRANK CHO
art / cover  FRANK CHO
AUGUST 7
80 PAGES / FC / M
$14.99
NOW AVAILABLE IN SOFTCOVER
Highlighting the latest covers, pin-ups, illustrations, paintings and sketches by internationally renowned and Emmy Award-winning master artist FRANK CHO. This book contains images of women in various states of undress and in full cheesecake glory.
HIP FLASK: UNNATURAL SELECTION 10th ANNIVERSARY ELEPHANTMEN EDITION HC
story RICHARD STARKINGS, LADRÖNN & JOE CASEY
art / cover: LADRÖNN
Featuring the art of Eisner award winner LADRÖNN, the long out of print HIP FLASK: UNNATURAL SELECTION HC collects the remastered and expanded "widescreen »" art and story from HIP FLASK: UNNATURAL SELECTION as well as pages and covers from HIP FLASK: ELEPHANTMEN.
INVINCIBLE COMPENDIUM, VOL. 2 TP
story ROBERT KIRKMAN
art RYAN OTTLEY, CORY WALKER & CLIFF RATHBURN
cover RYAN OTTLEY & JOHN RAUCH
AUGUST
1024 PAGES/ FC/ T
$64.99
It's here: the second massive paperback collection of the greatest superhero comic in the universe! Witness Invincible »s transition from new kid on the block to established superhero!
Collects INVINCIBLE #48-96.
THE LEGEND OF LUTHER STRODE, VOL 2
story JUSTIN JORDAN
art & cover TRADD MOORE
AUGUST 14
144 PAGES / FC / M
$17.99
For five years, Luther Strode has been the legend terrifying criminals. But now the criminals have struck back, and the hunt for Luther Strode is on. Can Luther survive old enemies working with new friends?
Collects THE LEGEND OF LUTHER STRODE #1-6
MORNING GLORIES, VOL. 5 TP
story NICK SPENCER
art JOE EISMA
cover RODIN ESQUEJO
AUGUST 28
136 pages/ FC/ T
$12.99
The Glories are scattered, The Faculty broken, and The Truants on the attack! Collecting the explosive, mind-bending Season 2 premiere event, « Tests. »
Collects MORNING GLORIES #26-29
ONE TRICK RIP-OFF/DEEP-CUTS TP
story PAUL POPE
art / cover  PAUL POPE
AUGUST 7
288 PAGES / FC / T
$19.99 US
NOW AVAILABLE IN SOFTCOVER!
Young lovers Tubby and Vim want to escape – escape the mistakes they »ve made, the lives they »ve lived, and the dirty city weighing them down. Their plan is simple – all they have to do is rip-off Tubby's pals, the One Tricks – the toughest street gang in LA. If they pull it off, they »re set for life. If not, their lives won »t matter much anyway.
Included in the « Deep Cuts » section is a bounty of unpublished and rare work POPE did in the « 90s, including the legendary « Supertrouble » manga, created for Kodansha in Japan.
SPAWN: ORIGINS, BOOK 9 HC
story TODD MCFARLANE & BRIAN HOLGUIN
art ANGEL MEDINA
cover CLAYTON CRAIN
AUGUST 14
384 PAGES / FC / T
$29.99
Relive the excitement of this groundbreaking series – collected as oversized hardcover complete with cover galleries, behind-the-scenes online casino art, classic quotes and a wraparound cover by CLAYTON CRAIN.
Collects SPAWN #101-112
TODD, THE UGLIEST KID ON EARTH, VOL. 1 TP 
story KEN KRISTENSEN
art / cover M.K. PERKER
AUGUST 7
## PAGES / FC / T
$9.99
This critically acclaimed hit series (now ongoing!) brings its first story arc to trade paperback format. Follow the misadventures of the Belluomo family and their infectiously optimistic paper-bag-wearing son. Irreverent and politically incorrect, TODD tickles every taboo in one wild ride filled with ax murderers, cults, celebrity stalkers, and a neo-Nazi prison gang.
Collects TODD, THE UGLIEST KID ON EARTH #1-4
NOWHERE MEN "WORLD CORP TEST DIVISON" T-SHIRT
Men's and women's sizes
$19.99 S-XL
$22.99 XXL
Black and Grey
AUGUST 14
Perfect for whiling away your work hours at your favorite undisclosed location
THE WALKING DEAD "MICHONNE & CARL" T-SHIRT
Men's and women's sizes
$19.99 S-XL
$22.99 XXL
AUGUST 14
Michonne and Carl are ready to lay waste to a group of zombies in this brand new shirt, with art by CHARLIE ADLARD.
APHRODITE IX #4
story MATT HAWKINS
art STJEPAN SEJIC
cover A STJEPAN SEJIC
cover B DAVID FINCH
cover C ERIC BASALDUA
cover D TREVOR HAIRSINE
AUGUST 14
32 PAGES / FC / T
$2.99
"DEADLY LIAISONS"
Everything changes as Aphrodite IX discovers the truth about herself and how her handler Burch has been manipulating her.
BEDLAM #10
story NICK SPENCER
art RYAN BROWNE
cover FRAZER IRVING
AUGUST 14
32 PAGES / FC / M
$3.50
« Falling. »
BLACKACRE #9
story DUFFY BOUDREAU
art WENDELL CAVALCANTI & ANTONIO FABELA
cover BRIAN CHURILLA
AUGUST 7
32 PAGES / FC / M
$2.99
A high-risk ploy has landed a pair of assassins deep in the heart of enemy territory. And now they're closing in on the target. But how much longer will their cover – and their luck – hold?
THE BOUNCE #4
story JOE CASEY
art / cover DAVID MESSINA
AUGUST 21
32 PAGES / FC / M
$2.99
The Bounce is confronted with a classic superhero dilemma: Is the Horror an enemy… or a kindred spirit? Meanwhile, Jasper Jenkins is confronted with a classic relationship dilemma: Is his potential girlfriend smarter than he is? All this, and THE VAMP, too!
CHIN MUSIC #5
story STEVE NILES
art / cover  TONY HARRIS
AUGUST 14
22 PAGES / FC / M
$2.99
Shaw's enemies are invading Chicago, using the dead as their passageway. It's going to get messy, but it's time for Shaw to confront those who stripped him and cast him powerless to earth.
CLONE #10
story DAVID SCHULNER, AARON GINSBURG & WADE MCINTYRE
art / cover JUAN JOSE RYP & FELIX SERRANO
AUGUST 21
32 PAGES / FC / T
$2.99
"If you come for us, we'll tell the world what you did."
CYBER FORCE #7
story MARC SILVESTRI
art MARCO TURINI & STJEPAN SEJIC
cover MARC SILVESTRI
AUGUST 21
32 PAGES / FC / T
$2.99
"KILLJOY RETURNS!" Part Two
Killjoy has been released. But who should fear her most? The newly reformed Cyber Force, or her creators?
A DISTANT SOIL #42
story / art / cover COLLEEN DORAN
AUGUST 28
32 PAGES/BW/T
$3.50
THE FINAL CHAPTER OF A DISTANT SOIL CONTINUES
The resistance dissolves into warring factions intent on seizing power. And the on that gets hold of Liana is determined to destroy the tradition of Avatar rule.
THE DREAM MERCHANT #4 (of 6)
story NATHAN EDMONDSON
art / cover KONSTANTIN NOVOSADOV
AUGUST 14
32 PAGES / FC / T
$3.50
The vision of the impossible becomes real, and only Winslow is awake to stop it.
FATALE #17
story ED BRUBAKER
art SEAN PHILLIPS & BETTIE BREITWEISER
cover SEAN PHILLIPS
AUGUST 7
32 PGS / FC / M
$3.50
The Bishop disappeared in Los Angeles in the late '70s, in a fiery scream, but he »s never really been gone, and now he »s finally got Jo »s scent again.
And remember each issue of FATALE contains extra content, articles and artwork that are not available anywhere but the printed single issues.
GHOSTED #2
story JOSHUA WILLIAMSON
art GORAN SUDZUKA & MIROSLAV MRVA
cover SEAN PHILLIPS
AUGUST 14
32 PAGES / FC / M
$2.99
The Trask Mansion has a bloody history of death and dismemberment. Jackson T. Winters' #1 rule to survive it: Get out before the sun goes down. But how can his team of paranormal experts steal a ghost without breaking a few rules?
GREAT PACIFIC #9
story JOE HARRIS
art / cover  MARTÍN MORAZZO
AUGUST 7
32 PAGES / FC / M
$2.99
"NATION BUILDING," Part Three
Founding New Texas was hard enough. But if Chas Worthington is to gain international support for his young country, it willl take all the allies he can gather…
INVINCIBLE #106
story ROBERT KIRKMAN
art / cover RYAN OTTLEY & JOHN RAUCH
AUGUST 21
32 PAGES / FC / T 4
$2.99
Who's stronger?
INVINCIBLE UNIVERSE #5
story PHIL HESTER
art/ cover TODD NAUCK & GABE ELTAEB
AUGUST 7
32 PAGES / FC / T
$2.99
As the UN gathers to enforce the Dinosaurus Protocols, Cecil is pushed to the limit. Just who are those unsanctioned agents infiltrating North Korea?
JUPITER'S LEGACY #3
story MARK MILLAR
art / cover FRANK QUITELY
AUGUST 28
32 PAGES / FC / M
$2.99
The heroes conspire to overthrow The Utopian, discontent rumbling in the bars and the clubs where the superheroes get wasted and complain how much he »s been holding them all back with his old-fashioned ideas of power and responsibility. There »s a new world out there if they will only grasp it. But what is his daughter »s secret and how will it change things forever for their family?
LAZARUS #3
story GREG RUCKA
art/cover MICHAEL LARK
AUGUST 21
32 PAGES / FC / M
$2.99
"FAMILY," Part Three
Forever, now a "guest" of Family Morray in Mexico, shares a message and ultimatum, and gets to know her opposite number, the Morray Lazarus, Joacquim. In Los Angeles, the Twins continue their plot against their father, using Forever as their pawn.
MICE TEMPLAR IV: LEGEND #6
story BRYAN J.L. GLASS & MICHAEL AVON OEMING
art VICTOR SANTOS
cover A MICHAEL AVON OEMING
cover B SKOTTIE YOUNG
AUGUST 21
32 PAGES / FC / T
$2.99
"THE HISTORY LESSON"
Youthful insurrection grows in the capital. Lady Lorelie makes a desperate bid against the insane « Queen » Alexis to reclaim King Icarus as her own.
MIND THE GAP #14
story JIM McCANN
art RODIN ESQUEJO & DAN McDAID
cover A RODIN ESQUEJO
cover B DAN McDAID
AUGUST 14
32 PAGES / FC / T
$2.99
"R.I. PETERSSEN," Part Two
THE RACE TO KILL ELLE PETERSSEN continues! The origins of Jairus and the Peterssens' involvement are revealed at last. Elle makes a possible final contact with "Team Hoodie" giving them her last request!
MINIATURE JESUS #5 (of 5)
story / art / cover TED McKEEVER
AUGUST 21
24 PAGES / BW / M
$3.99
GOLDEN-AGE FORMAT
MINISERIES CONCLUSION
Stop me if you've heard this one before: A recovering alcoholic, an 8″ tall Jesus, a mummified cat and Satan walk into a bar . . . No? Then check out the final issue of this exceptionally unorthodox series and see how the punchline might not be what you'd expect.
MORNING GLORIES #30
story NICK SPENCER
art JOE EISMA
cover RODIN ESQUEJO
AUGUST 28
32 PAGES / FC / M
$3.50
« Smaller Rebellions. »
PETER PANZERFAUST #13
story KURTIS J. WIEBE
art / cover TYLER JENKINS
AUGUST 14
32 PAGES / FC / T
$3.50
"CRY OF THE WOLF," Part Three
With the French military liaison »s life in jeopardy, Felix and Jacques race against time to extract their one connection to the great war before the Germans remove him from the equation.
PROPHET #40
story BRANDON GRAHAM & SIMON ROY
art SIMON ROY & GIANNIS MILONOGIANNIS
cover FAREL DALRYMPLE
AUGUST 21
32 PAGES / FC / T
$3.99
Old man Prophet goes looking for ancient heroes in hopes of tracking down the missing Badrock.
REVIVAL #13
story TIM SEELEY
art MIKE NORTON w/ ART BALTAZAR
cover by SKOTTIE YOUNG
AUGUST 21
32 PAGES / FC / MR
$2.99
The citizens of the quarantine know true fear as Valentine »s Day arrives with its dark herald, KARAOKE TRIPLE DATE NIGHT.
SATELLITE SAM #2
story MATT FRACTION
art / cover  HOWARD CHAYKIN
AUGUST 7
32 PAGES / BW / M
$3.50
SEX • DEATH • LIVE TV!
NEW YORK CITY, 1951: Mike buries his father and Ginsburg buries the lede making his sales pitch. Will TV be an East Coast or West Coast medium? And in a pile of filthy photographs Mike finds one image that is really and truly shocking.
SAVAGE DRAGON #191
story / art / cover ERIK LARSEN
AUGUST 21
32 PAGES / FC / M
$3.99
"JAILBREAK!"
As hundreds of inmates riot in an effort to escape from Stronghold Penitentiary, Dragon faces the deadly Dread Knight! The countdown to the biggest and most significant change for SAVAGE DRAGON ever continues!
SEX #6
story JOE CASEY
art / cover PIOTR KOWALSKI
AUGUST 28
32 PAGES/FC/M
$2.99
What is the Saturnalia?! Simon Cooke »s lawyer wants to know – and he »ll do anything to find out! And we do mean ANYTHING. Also this issue: the unfortunate consequences of hi-tech super-villainy. And you knew we »d eventually ask: Do SEX and politics mix?
SHELTERED #2
story ED BRISSON
art / cover  JOHNNIE CHRISTMAS
AUGUST 7
32 PAGES / FC / T
$2.99
With their parents' blood on their hands, the youth of Safe Haven begin to splinter as doubt is cast on Lucas »s leadership. New arrival Victoria finds that escaping from a compound built to keep others out is near-impossible.
SPAWN #234
story TODD MCFARLANE
art SZYMON KUDRANSKI
cover TODD MCFARLANE
AUGUST 7
32 PAGES / FC / T
$2.99
The violent, soul-shattering struggle between Jim Downing and the increasingly powerful K7-Leetha threatens to overwhelm the world »s new savior. Whoever wins – Jim or the symbiote – will change the world.
SUPER DINOSAUR #23
story ROBERT KIRKMAN
art JASON HOWARD & CLIFF RATHBURN
cover JASON HOWARD
AUGUST 28
32 PAGES / FC / E
$2.99
Super Dinosaur has fallen! Derek Dynamo must save the day on his own!
TEN GRAND #4
story J. MICHAEL STRACZYNSKI
art / cover BEN TEMPLESMITH
AUGUST 7
32 PAGES / FC / M
$2.99
Joe Fitzgerald has been to heaven many times…or at least someplace that looks a lot like heaven if you didn »t know any better. But now he »s going somewhere he »s never been before: into Hell itself, in pursuit of the woman he loves. What he finds there will change his life forever.
THIEF OF THIEVES #17
story ANDY DIGGLE & ROBERT KIRKMAN
art / cover SHAWN MARTINBROUGH & FELIX SERRANO
AUGUST 28
32 PAGES / FC / T
$2.99
Caravaggio. Picasso. Van Gogh. It's time for these legends to get acquainted with a real master: Redmond. But is even he daring enough to steal from the Mafia?
THINK TANK #9
story MATT HAWKINS
art RAHSAN EKEDAL
cover RAHSAN EKEDAL
AUGUST 7
32 PAGES / BW / T
$3.99
"FIELD TEST," Part One
Dr. David Loren used to worry about the deadly consequences of his creations from the safety of his laboratory… but now he's been deployed to Taiwan to oversee a field test gone awry. Will having the mysterious SEAL Team 6 as his bodyguards be enough to ensure that David returns home alive.
THE WALKING DEAD #113
story ROBERT KIRKMAN
art / cover CHARLIE ADLARD & CLIFF RATHBURN
AUGUST 14
32 PAGES / BW / M
$2.99
They march to certain doom.
WITCHBLADE #169
story TIM SEELEY
art DIEGO BERNARD
cover A JOHN TYLER CHRISTOPHER
cover B DIEGO BERNARD
AUGUST 14
32 PAGES / FC / T
$2.99
"ABSOLUTE CORRUPTION," Conclusion
Sara has faced ultimate evil embodied within a bubbly twenty-something, an ex-convict who deals in black magic, and a boyfriend who keeps a supernatural, artifact-eating mystic in his basement. She has managed to thwart each threat separately, but when they converge, can she put up enough of a fight to save her adopted hometown?