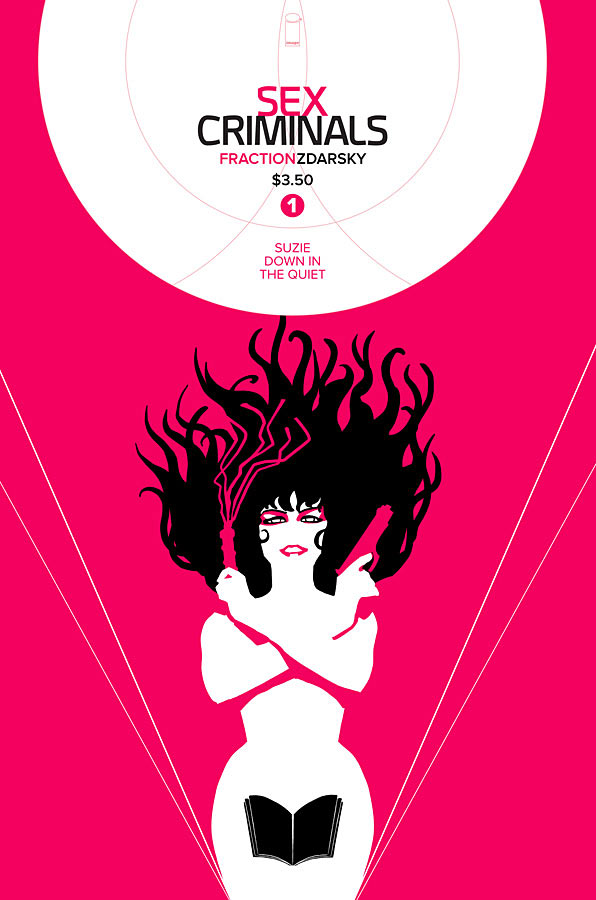 Et voici les sollicitations d'Image pour le mois de septembre, qui est un peu le mois des revenants avec des séries dont on n'attendait plus la suite :
– attention le Secret de Hickman revient pour un 4e épisode, oui je sais tachez de ne pas rire. Outre un pitch que je cherche encore à comprendre, la série aura connu des retards assez ahurissants, surtout si on compare le titre aux autres séries de l'auteur comme Manatthan Projects ou East of West qui sont très régulières …
– Whispers, d'un des frères Luna qui se traîne depuis deux ans pour sortir de nouveaux épisodes.
Comme d'habitude, pas mal de nouvelle séries, notamment un nouveau creator owned de Matt Fraction, qui manifestement à décider comme son confrère Joe Casey de s'intéresser à la chose…Pour ceux qui ont écouté le dernier weeklynews, ils sauront que nous nous interrogeons beaucoup sur les détails pratiques des pouvoirs des jeunes gens mis en scène…
SEX CRIMINALS #1 – GEM OF THE MONTH
story MATT FRACTION
art / cover CHIP ZDARSKY
SEPTEMBER 4
32 PAGES / FC / M
$3.50
A SEX COMEDY FOR COMICS
Suzie's a normal girl with an extraordinary ability: when she has sex, she stops time. One night she meets John… who has the same gift. And so they do what any other sex-having, time-stopping, couple would do: they rob banks. In the vein of THE 40-YEAR OLD VIRGIN and BRIDESMAIDS, Image Comics invites you to come along with MATT FRACTION (Hawkeye, SATELLITE SAM) and CHIP ZDARSKY (Prison Funnies, Monster Cops) for the series that puts the « comic » back in « comics » and the « sexy » back in « sex crimes. »
RAT QUEENS #1 – GEM OF THE MONTH
story KURTIS J. WIEBE
art / cover ROC UPCHURCH
incentive cover FIONA STAPLES
SEPTEMBER 25
32 PAGES / FC / M
$3.50
« GOLD, GUTS AND GROG, » Part One
Who are the Rat Queens? A pack of booze-guzzling, death-dealing battle maidens-for-hire, and they're in the business of killing all gods' creatures for profit.
It's also a darkly comedic fantasy series starring Hannah the Rockabilly Elven Mage, Violet the Hipster Dwarven Fighter, Dee the Atheist Human Cleric and Betty the Hippy Hobbit Thief. This modern spin on an old school genre is a violent monster-killing epic that is like Buffy meets Tank Girl in a Lord of the Rings world on crack!
A new ongoing series from PETER PANZERFAUST's KURTIS J. WIEBE and featuring a gorgeous incentive cover by SAGA's FIONA STAPLES!
REALITY CHECK #1
story GLEN BRUNSWICK
art / cover VIKTOR BOGDANOVIC
SEPTEMBER 4
32 PAGES / FC / T+
$2.99
A struggling artist, Willard Penn, scores an unlikely hit with his new comic. The story centers on a hero more concerned with his libido than serving justice. After an unexpected sell out, Willard can't recall anything about his story. That night the book's hero shows up outside Willard's window refusing to return to the comic until he finds true love. Exasperated, Willard is forced to help the lovesick hero meet the perfect woman. But he'll need to hurry because the book's villain, a homicidal maniac, has entered his world as well.
ZERO #1
story ALES KOT
art MICHAEL WALSH & JORDIE BELLAIRE
cover A MICHAEL WALSH & TOM MULLER
cover B BECKY CLOONAN
cover C CHRIS BURNHAM
SEPTEMBER 18
32 PAGES / FC / M
$2.99
SAVING THE WORLD. ONE MURDER AT A TIME.
Edward Zero is the perfect execution machine – a spy who breaks the rules to get things done. When a stolen device appears in the center of a long-running conflict, Zero comes to retrieve it. The problem is, the device is inside a living, breathing, bio-modified terrorist and there's an entire army after it.
EAST OF WEST #6
story JONATHAN HICKMAN
art / cover NICK DRAGOTTA
SEPTEMBER 18
32 PAGES / FC / M
$3.50
« JUSTICE »
The work of the Chosen is revealed as the RANGER is recruited to hunt down and kill Death.
ELEPHANTMEN #51
story RICHARD STARKINGS
art AXEL MEDELLIN
cover BOO COOK
SEPTEMBER 25
40 PAGES / FC / M
$3.99
« PICKING UP THE PIECES, » Part One
Farrell is a Private Detective who never gave a second thought to the Elephantmen—until he was paid to.
TODD, THE UGLIEST KID ON EARTH #5
story KEN KRISTENSEN
art / cover M.K. PERKER
SEPTEMBER 4
32 PAGES / FC / T+
$2.99
« Charlie Rose's Table: Public Broadcasting Satan » Part One
After picking up some cursed swag at Granby Comic-Con, Todd uncovers a satanic cabal headquartered at PBS. His dad, Gus, concocts an elaborate ruse to keep his latest financial windfall alive. Meanwhile, Police Chief Hargrave searches for his « perfect Glover »–a black partner that will boost his political popularity.
LOVE STORIES (TO DIE FOR) #1 (ONE-SHOT FLIP BOOK)
story DIRK MANNING
art OWEN GIENI & RICH BONK
cover A RICH BONK
cover B OWEN GIENI
SEPTEMBER 4
48 PAGES / FC / T+
$4.99
TWO COMPLETE STORIES AT LESS THAN HALF THE PRICE OF TWO COMICS!
Two full-length stories in one double-length flip book! First, a desperate monk pits a band of savage Vikings against a pack of rabid vampires in a frantic attempt to protect an exceptionally precious child. In the second story, a woman trapped on a space station overrun by aliens must chose whether to save the second seat on her two-person escape pod for her aloof but heroic husband or for her passionate, forbidden lover.
MULTIPLE WARHEADS: DOWN FALL (one-shot)
story / art / cover BRANDON GRAHAM
SEPTEMBER 18
80 PAGES / BW / M
$7.99
The organ smuggler Sexica and her werewolf boyfriend Nikoli try to get by in a harsh Soviet fantasy world with dream monsters, radiation slugs, and starships falling from Wolf War 3.
Reprints 2007's « The Fall, » the original 2003 adult Warheads story, and the 2004 short « Elevator. »
CENTURY WEST OGN
story / art / cover HOWARD CHAYKIN
SEPTEMBER 11
64 PAGES / FC / M
$7.99
Century, Texas used to be a sleepy little burg, barely a whistlestop between nowhere and the great beyond…until the 20th Century arrived with a bang, bringing with it automobiles, aeroplanes, telephones, paved streets…and, of course, the movies.
Howard Chaykin tells the colorful story of the American West, transformed from frontier to legend, and how the American dream became a modern myth.
CARBON GREY, VOL. 2: DAUGHTERS OF STONE TP
story PAUL GARDNER & HOANG NGUYEN
art / cover KHARI EVANS, HOANG NGUYEN & KINSUN LOH
SEPTEMBER 4
128 PAGES / FC / T+
$14.99
The second volume of the epic story of deception, duty, and destiny.
Their god is dead, yet the sisters Grey live on. As the Queen conspires to escalate the war, sister is turned against sister. Mathilde embarks on a journey to reclaim the legendary stone of Gottfaust, while in Caul Giselle must solve the mystery of the Kaiser's final message or face execution as a spy.
DAUGHTERS OF STONE includes all three issues of volume two, along with stories « Raisa » and « Marshal and Marshall » (first published in CARBON GREY ORIGINS #2), and original material.
Collects CARBON GREY, VOL. 2 #1-3
COWBOY NINJA VIKING DELUXE HC
story A.J. LIEBERMAN
art / cover RILEY ROSSMO
SEPTEMBER 18
304 PAGES / FC / M
OVERSIZED HARDCOVER
$39.99
Collected at last in one giant, oversized, deluxe hardcover are both volumes of the critically acclaimed fan-favorite series COWBOY NINJA VIKING! Featuring all the material in both trades plus brand new, never-before-seen extras!
From the author of HARVEST and TERM LIFE and the artist of GREEN WAKE, DIA DE LOS MUERTOS and PROOF! This is one gorgeous volume you'll want to add to your permanent collection!
Collects COWBOY NINJA VIKING #1-10
FIVE GHOSTS, VOL. 1 TP: THE HAUNTING OF FABIAN GRAY
story FRANK J. BARBIERE
art / cover CHRIS MOONEYHAM
SEPTEMBER 18
128 PAGES / FC / T+
$9.99
A BOLD NEW ERA OF PULP ADVENTURE BEGINS HERE!
After a tragic encounter with an artifact known as « The Dreamstone, » infamous treasure hunter Fabian Gray was possessed by five literary ghosts and has been granted access to their unique abilities.
Collects FIVE GHOSTS: THE HAUNTING OF FABIAN GRAY #1-5
FIVE WEAPONS: MAKING THE GRADE TP
story / art / cover JIMMIE ROBINSON
SEPTEMBER 11
144 PAGES / FC / T
$15.99
13-year-old Tyler has a problem. He's a pacifist enrolled in a school for young assassins. His father is a legendary hitman but, worst of all, he has a secret that can get him killed. Tyler is optimistic because he has a unique weapon that nobody can beat—his razor sharp mind. An adventure that'll keep you guessing to the very end!
Collects FIVE WEAPONS #1-5, plus never-before-seen extras!
IT GIRL & THE ATOMICS, ROUND TWO: THE WORLD IS FLAT TP
story JAMIE S. RICH
art MIKE NORTON, NATALIE NOURIGAT & CHYNNA CLUGSTON FLORES
cover MICHAEL & LAURA ALLRED
SEPTEMBER 25
168 PAGES / FC / E
$14.99
It Girl goes on a series of globe-spanning adventures: fighting robots in the Swiss Alps, stupid rat creatures underwater, and a legendary immortal on her home turf of Snap City. Collecting all the comics and covers with new pin-ups! Get your good-time superhero action today, have yourself a better tomorrow.
Collects IT GIRL & THE ATOMICS #7-12
LOST VEGAS TP
story JIM McCANN
art/cover JANET LEE
SEPTEMBER 18
128 PAGES / FC / T+
$14.99
« Part Star Wars, part Ocean's Eleven and all intergalactically awesome. Just go ahead and beam me up now. » – USA Today
The Eisner Award-winning team behind Return of the Dapper Men reunite to create a completely different, and far more dangerous cosmos filled with intrigue as one gambler-turned-slave has 24 hours to go all in and pull off the greatest heist the universe has seen. Aboard a luxury star-cruiser whose glamour hides deep secrets that endanger the entire galaxy, will Roland choose his own freedom or expose the greatest lie hiding in plain sight? High risk stakes where either choice means someone will lose everything!
Collects LOST VEGAS #1-4
MACGYVER: FUGITIVE GAUNTLET TP
story LEE DAVID ZLOTOFF & TONY LEE
art WILL SLINEY, CIARAN LUCAS & OWEN JOLLANDS
cover ANDIE TONG
SEPTEMBER 25
128 PAGES / FC / T+
$14.99
Welcome to the long-awaited return of MACGYVER, co-written by his creator! When an old friend calls for help, Mac becomes involved in in a web of industrial espionage, murder and a white-knuckle pursuit across the globe with a million dollar hit on his head and a beautiful woman by his side! Can he live long enough to save the world — or has his luck finally run out?
Collects MACGYVER: FUGITIVE GAUNTLET #1-5!
MORNING GLORIES, VOL. 2 DELUXE EDITION HC
story NICK SPENCER
art JOE EISMA
cover RODIN ESQUEJO
SEPTEMBER 18
480 PAGES / FC / T+
$39.99
The hit, epic series about a sinister boarding school and the kids trapped there, trying to solve the mysteries of time and space—presented once again in the beautiful, oversized deluxe hardcover format, and including copious bonus materials—sketches, character designs, cover galleries, and more!
Collects MORNING GLORIES #13-25
SKULLKICKERS TREASURE TROVE, VOL. 2 HC
story JIM ZUB
art EDWIN HUANG & MISTY COATS
cover EDWIN HUANG & MISTY COATS
SEPTEMBER 18
320 PAGES / FC / TEEN
$34.99
It's The Hobbit meets The Hangover as two hard-headed mercenaries kill monsters in their mad search for money, fame and adventure.
The SKULLKICKERS story continues in this gorgeous oversized hardcover edition collecting the third and fourth story arcs along with lots of spiffy extras and rarities.
Collects SKULLKICKERS #12-23 (including the five 'unbooted' issues Uncanny, Savage, Mighty, All-New Secret and Dark Skullkickers Dark).
SON OF MERLIN, VOL. 1 TP
story ROBERT NAPTON
art / cover ZID
SEPTEMBER 4
160 PAGES / FC / T+
$19.99
SCIENCE AND MAGIC COLLIDE!
Simon Ambrose is a brilliant young professor at MIT. As a man of science, he does not put much stock in faith. When he discovers that he is the bastard son of the world's greatest wizard, Merlin, he is forced to put his skepticism aside and embrace a world of magic… and the mayhem it embodies.
Collects SON OF MERLIN #1-5
SPAWN: ORIGINS, VOL. 19 TP
story TODD McFARLANE & BRIAN HOLGUIN
art ANGEL MEDINA & DANNY MIKI
cover CLATON CRAIN
SEPTEMBER 25
160 PAGES / FC / T+
$14.99
In 1992, legendary writer and artist Todd McFarlane unleashed his iconic antihero, Spawn, on the world. In so doing, he launched the most successful independent comic book in history – and the world would never be the same.
Spawn: Origins Volume 19 trade paperback features the stories and artwork that helped cement the Spawn legacy. Relive the excitement of this groundbreaking series—collected in this accessibly priced format with exclusive bonus content, including cover galleries, b/w art, classic quotes from Todd McFarlane and an exclusive digitally painted cover by Clayton Crain.
Collects SPAWN #111-116.
THE WALKING DEAD, VOL. 1 SPANISH LANGUAGE EDITION TP
story ROBERT KIRKMAN
art / cover CHARLIE ADLARD & CLIFF RATHBURN
SEPTEMBER 18
132 PAGES / BW / M
$14.99
Available for the first time in the US, the first volume of the Walking Dead saga is presented in Spanish.
Collects THE WALKING DEAD #1-6.
THE WALKING DEAD BOOK 9 HC
story ROBERT KIRKMAN
art / cover CHARLIE ADLARD & CLIFF RATHBURN
SEPTEMBER 4
336 PAGES / BW/ M
$34.99
In this volume of the New York Times bestselling survival horror, Rick and his band of survivors work to build a larger network of thriving communities. But Negan and his Saviors prove to be a larger threat than they could have imagined. Crossing them will lead to THE WALKING DEAD's most harrowing story since the Governor's reign of terror.
Collects issues #97-108.
THE WALKING DEAD 100 PROJECT TP
art / cover VARIOUS
SEPTEMBER 25
128 PAGES /C / M
$12.99
LTD ED HC $24.99
ROBERT KIRKMAN and Skybound team up with the Hero Initiative to present 100 all new covers envisioning the horrors of the bestselling THE WALKING DEAD. This art book features brand-new pieces by THE WALKING DEAD artist CHARLIE ADLARD, PAOLO RIVERA, RYAN OTTLEY, RAFAEL ALBUQUERQUE and more! This book will never be reprinted and all proceeds go to the Hero Initiative and comic book creators in need!
WITCHBLADE: REBIRTH, VOL. 4 TP
story TIM SEELEY
art DIEGO BERNARD
cover JOHN TYLER CHRISTOPHER
SEPTEMBER 4
160 PAGES / FC / T+
$16.99
« ABSOLUTE CORRUPTION »
After sealing off the main artery of an interdimensional black market trade in the supernatural, Witchblade-bearer Sara Pezzini wears a target on her back. Between Chicago's corrupt elite and common criminals, everyone wants a piece of the Witchblade–but who will get to her first?
Collects WITCHBLADE #166-169 and more!
APHRODITE IX #5
story MATT HAWKINS
art / cover STJEPAN SEJIC
SEPTEMBER 11
32 PAGES / FC / T+
$2.99
DEADLY LIASONS
Aphrodite IX woke up in a new world with no memory and no idea of her true purpose. But finding out the truth about herself and how her handler Burch has been manipulating her will change everything.
ARTIFACTS #31
story RON MARZ
art JUNG-GEUN YOON
cover STJEPAN SEJIC
SEPTEMBER 4
32 PAGES / FC / T+
$3.99
« WINGS »
Rapture bearer and defrocked priest Tom Judge and Angelus host Finch join forces to stop a primeval force from consuming lower Manhattan. But are they truly battling the spawns of hell—or their own personal demons?
BLACKACRE #10
story DUFFY BOUDREAU
art WENDELL CAVALCANTI & ANTONIO FABELA
cover BRIAN CHURILLA
SEPTEMBER 4
32 PAGES / FC / M
$2.99
At his distant outpost, Hull receives unwelcome visitors. Meanwhile, an eager Guardian puts BlackAcre's security capabilities on explosive display.
THE BOUNCE #5
story JOE CASEY
art / cover DAVID MESSINA
SEPTEMBER 18
32 PAGES / FC / M
$2.99
THE BOUNCE CAN'T CATCH A BREAK – EVEN ON A DATE!
Japser Jenkins is taking his first step into a larger world (and if you didn't catch that reference, turn in your geek credentials on your way out the door!). And who is Vainglorious Vox?! Plus, prepare to explore the mysteries of the Darling!
bounce05_cover
CHEW #37
story JOHN LAYMAN
art / cover ROB GUILLORY
SEPTEMBER 11
32 PAGES / FC / M
$2.99
« FAMILY RECIPE, » Part Two
It's take your daughter to dinner day!
CYBER FORCE #8
story MARC SILVESTRI
art MARCO TURINI & STJEPAN SEJIC
cover MARC SILVESTRI
SEPTEMBER 18
32 PAGES / FC / T+
$2.99
STRYKER UNARMED
What humanity remains of Morgan Stryker? Is he more man… or is he more a machine of death?
THE DREAM MERCHANT #5 (of 6)
story NATHAN EDMONDSON
art / cover KONSTANTIN NOVOSADOV
SEPTEMBER 25
32 PAGES / FC / T
$3.50
Everything that rises must converge. Winslow embraces his dream and is ready to defend the world from what is already here. The tale draws to a close and the scope of Winslow's dream is larger than anyone could have imagined.
FATALE #18
story ED BRUBAKER
art SEAN PHILLIPS and ELIZABETH BREITWEISER
cover SEAN PHILLIPS
SEPTEMBER 11
32 PAGES/ FC/ M
$3.50
NOMINATED FOR MORE 2013 EISNER AWARDS THAN ANY OTHER COMIC!
Everything goes wrong when Josephine appears in a Seattle band's music video, and her effect on those who desire her runs wild, as the most exciting arc of Fatale continues.
And remember, each issue of FATALE contains extra content, artwork and articles that are only available in the printed single issues.
GHOSTED #3
story JOSHUA WILLIAMSON
art GORAN SUDZUKA & MIROSLAV MRVA
cover SEAN PHILLIPS
SEPTEMBER 11
32 PAGES / FC / M
$2.99
At dusk, murderers rise from the shadows of the Trask mansion… can Jackson T. Winters and his crew steal a ghost before night falls?
GREAT PACIFIC #10
story JOE HARRIS
art / cover MARTÍN MORAZZO
SEPTEMBER 4
32 PAGES / FC / M
$2.99
« NATION BUILDING, » Part Four
Chas travels to New York to address the United Nations, but the search for international support for his fledgling nation makes for strange enemies and even worse allies. Meanwhile, Zoe infiltrates the « Green-X » eco-terror group and learns some disturbing truths about Chas and his efforts to develop the garbage patch.
HOAX HUNTERS #10
story MICHAEL MORECI & STEVE SEELEY
art / cover TRISTAN JONES
SEPTEMBER 4
32 PAGES / FC / T
$3.50
« THE BOOK OF MOTHMAN » Part One
The start of the final arc of season one begins here! Featuring new series artist TRISTAN JONES!
Cryptids begin appearing across the country. Regan joins Donovan to confront a powerful demon in South America. Tensions build and threats heighten, all leading to the season's powerful conclusion.
INVINCIBLE UNIVERSE #6
story PHIL HESTER
art/ cover TODD NAUCK & GABE ELTAEB
SEPTEMBER 4
32 PAGES / FC / T+
$2.99
Buy this comic and support the war effort against North Korea! Bring our Guardians of the Globe home safe!
LAZARUS #4
story GREG RUCKA
art / cover MICHAEL LARK
SEPTEMBER 18
32 PAGES / FC / M
$2.99
« FAMILY, » Part Four
The conclusion of the first arc. Forever moves to defend her Family with blood and steel as the Twins' plot against their father is revealed.
MANHATTAN PROJECTS #17
story JONATHAN HICKMAN
art / cover NICK PITARRA
SEPTEMBER 25
32 PAGES / FC / T+
$3.50
« UNHOLY ALIGNMENT »
The four secret programs of the Manhattan Projects collide. Old friends at war, new alliances, and so much betrayal.
MICE TEMPLAR IV: LEGEND #7
story BRYAN J.L. GLASS & MICHAEL AVON OEMING
art VICTOR SANTOS
cover a MICHAEL AVON OEMING
cover b VICTOR SANTOS & CHANDRA FREE
SEPTEMBER 18
32 PAGES / FC / T
$2.99
« EYE FOR AN EYE »
In an arena where starving cats battle for the entertainment of the rat army, One-Arm Leito comes face-to-face with the fearsome Captain Tosk!
MIND THE GAP #15
story JIM McCANN
art RODIN ESQUEJO & DAN McDAID
cover A RODIN ESQUEJO
cover B DAN McDAID
SEPTEMBER 11
32 PAGES / FC / T+
$2.99
« R.I.PETERSSEN, » Conclusion
The end of the beginning or the beginning of the end? EVERYTHING changes here. Which life will Elle choose—The Garden, Earth, or Death? Elle Peterssen Is Dead. Long Live Elle Peterssen.
MORNING GLORIES #31
story NICK SPENCER
art JOE EISMA
cover RODIN ESQUEJO
SEPTEMBER 11
32 PAGES / FC / T+
$3.50
« Say goodbye. »
MORNING GLORIES #32
story NICK SPENCER
art JOE EISMA
cover RODIN ESQUEJO
SEPTEMBER 25
32 PAGES / FC / T+
$3.50
« Stories we tell. »
NOWHERE MEN #8
story ERIC STEPHENSON
art NATE BELLEGARDE, EMI LENOX & JORDIE BELLAIRE
cover NATE BELLEGARDE & FONOGRAFIKS
SEPTEMBER 25
32 PAGES / FC / T+
$2.99
Life's what you make it.
PETER PANZERFAUST #14
story KURTIS J. WIEBE
art / cover TYLER JENKINS
SEPTEMBER 18
32 PAGES/FC/T
$3.50
« CRY OF THE WOLF, » Part Four
A terrifying double cross leads Felix, once again, into the hands of the enemy. A traitor is revealed and the fate of the Braves and the entire Sticks operation hangs by a thread. Time is running out and death waits in the hands of a clock…tick…tock….
PROPHET #41
story BRANDON GRAHAM & RON WIMBERLY
art / cover RON WIMBERLY
SEPTEMBER 22
32 PAGES / FC / T+
$3.99
Diehard looks back at his life, thousands of years ago, to his first encounter with the Earth Empire.
REVIVAL #14
story TIM SEELEY
art MIKE NORTON
cover JENNY FRISON
SEPTEMBER 18
32 PAGES / FC / MR
$2.99
Em seeks redemption for herself by vowing to protect a young girl from the creature that haunts her. But can even a girl that can't die deal with something that may not be alive?
SAGA #14
story BRIAN K. VAUGHAN
art / cover FIONA STAPLES
SEPTEMBER 18
32 PAGES / FC / M
$2.99
Gwendolyn and Slave Girl think about the future.
SATELLITE SAM #3
story MATT FRACTION
art / cover HOWARD CHAYKIN
SEPTEMBER 4
32 PAGES / BW / M
$3.50
Mike reaches out to the only woman he recognizes in his dead father's collection of personal girlie snaps, and not only does she have stories about the old man would curl your hair, but she sees a method to the old man's madness. What if there's a picture of his killer somewhere in the room where he died?
SAVAGE DRAGON #192
story / art / cover ERIK LARSEN
SEPTEMBER 18
32 PAGES / FC / M
$3.99
« THE LAST WALK »
For 21 years, Savage Dragon has been fighting the good fight. Now, that fight comes to its end.
SECRET #4 (RES)
story JONATHAN HICKMAN
art RYAN BODENHEIM & MICHAEL GARLAND
SEPTEMBER 11
32 PAGES / FC / T+
$3.50
« NOCTURNAL »
Everything clicks into place as we discover who's really behind KodiaK. Someone lives. Someone dies. Someone knows…a secret.
SEX #7
story JOE CASEY
art / cover PIOTR KOWALSKI
SEPTEMBER 25
32 PAGES / FC / M
$2.99
There's romance in the Saturn City air… but 1) for whom does the love bell toll and 2) how depraved will it get? Meanwhile, Simon Cooke finds himself at a new kind of crossroads. So… will he or won't he? Only his lawyer sidekick knows for sure, but a good wingman's work is never done!
SIDEKICK #2
story J. MICHAEL STRACZYNSKI
art / cover TOM MANDRAKE & HIFI
SEPTEMBER 11
32 PAGES / FC / M
$2.99
The Moonglow Twins were two of the Red Cowl and Flyboy's greatest enemies. Now that the Red Cowl is dead, one of them has returned with a vengeance. But whose vengeance, and why, and what is the reason for her sudden interest in Flyboy? Is Flyboy about to find a reason to live and repair his life, or is he about to hurtle down into even greater depths of madness and depravity? It's a monthly book, what the heck do you think is going to happen? The fun is in seeing just how far he spirals downward and what's waiting for him when he hits bottom…
SHELTERED #3
story ED BRISSON
art / cover JOHNNIE CHRISTMAS
SEPTEMBER 4
32 PAGES / FC / T+
$2.99
What has the kids of Safe Haven so terrified? Their fears as revealed as Lucas and Victoria square off against one another.
SPAWN #235
story TODD MCFARLANE
art SZYMON KUDRANSKI
cover artist TODD MCFARLANE
SEPTEMBER 4
32 PAGES / FC / T+
$2.99
JIM'S BATTLE WITH THE K7-LEETHA CONTINUES!
FEATURING…A WARNING! A NEW ALLY! AND…
THE ORIGIN OF BLUDD!
Having fought off the K7-Leetha's attempt to control him—if only temporarily—Jim finds himself trapped in « the white »—an endless nothing, where secrets hide and new truths await discovery.
From this seemingly empty haze, a new friend, with close ties to one of Al Simmons's greatest allies, comes forth with a warning about Bludd's true self, and an ancient tale of the origin of the world's first vampire.
TEN GRAND #5
story J. MICHAEL STRACZYNSKI
art / cover BEN TEMPLESMITH
SEPTEMBER 4
32 PAGES / FC / M
$2.99
Joe Fitzgerald has crossed into Hell itself in an attempt to rescue Laura, the spirit of his murdered love who had been safely ensconced in Heaven (or someplace that looks a lot like it) before all the forces of Hell tore the veil to take her down into the depths of utter darkness. But why would they take her? Why would Heaven allow her to be taken? And what's Joe going to do when he finally learns the secret behind her situation? Be assured that someone's going down for this, and going down hard.
THIEF OF THIEVES #18
story ANDY DIGGLE & ROBERT KIRKMAN
art / cover SHAWN MARTINBROUGH & FELIX SERRANO
SEPTEMBER 25
32 PAGES / FC / T+
$2.99
The Godfather is not pleased. Will Conrad make a clean getaway, or double down for the biggest score of his career?
THINK TANK #10
story MATT HAWKINS
art / cover RAHSAN EKEDAL
SEPTEMBER 25
32 PAGES / BW / T+
3.99
« OUTBREAK, » Part Two
Slacker genius Dr. David Loren made a calculated gamble that the US government would never allow his latest DNA-targeting virus to go airborne… and lost. Can he mitigate the collateral damage triggered by his deadly invention? Or will he lose everyone he loves?
THE WALKING DEAD #114
story ROBERT KIRKMAN
art / cover CHARLIE ADLARD & CLIFF RATHBURN
SEPTEMBER 11
32 PAGES / BW / M
$2.99
What would Jesus do?
WHISPERS #6 (of 6)
story JOSHUA LUNA
art / cover JOSHUA LUNA
SEPTEMBER 25
32 PAGES / FC / M
$2.99
After his journey through hell, Sam is able to untangle reality from fiction and discover the shocking truth about his powers. But when he confronts the source, will he be able to discover the truth about himself? It all ends here in the dramatic conclusion of Whispers!