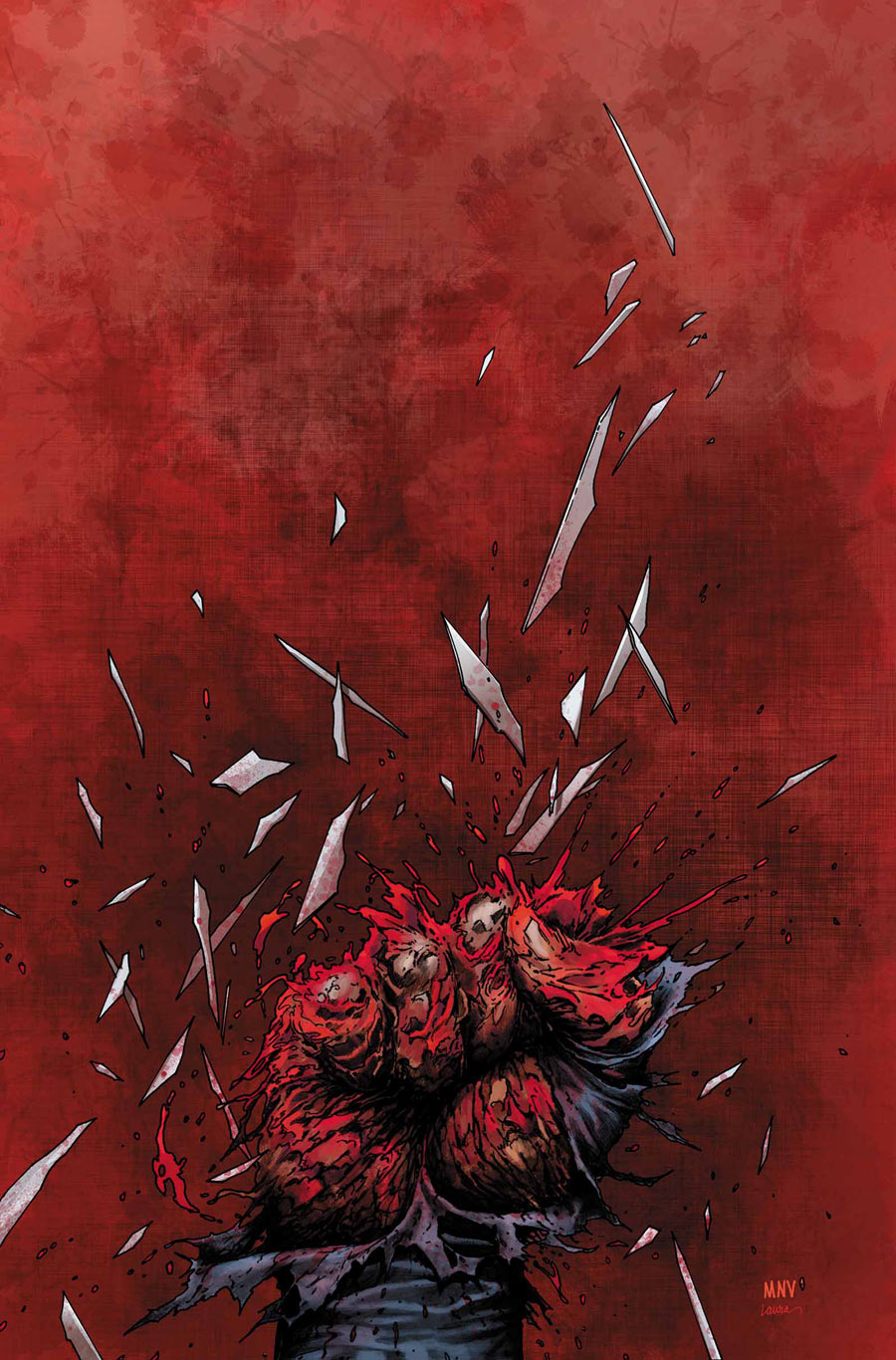 Et voici les sollicitations Marvel pour le mois d'août prochain ! et il y a du lourd au programme avec la conclusion d'Original Sin qui semble impacter presque toutes les franchises de la maison qui avait des idées ! Ainsi les Avengers vont se retrouver diviser par un Cap qui a retrouvé ses souvenirs et est pas content !!! Tony Stark va le sentir passer, comme le reste des Illuminatis.
Du côté des X-Men, le testament de Xavier  promet de tout changer… encore !!! du côté de Spidey, Slott introduit Silk qui aurait été piquée par la même araignée que Peter (que d'infidélités, bientôt on nous apprendra qu'elle a conclu un pacte avec Mephisto et c'est pour cela que l'on apprend son existence qu'aujourd'hui…)

Parmi les secrets révélés auxquels on ne croyait plus, il y a bien sur dans Gardians of the Galaxy : comment Starlord et Thanos sont ils revenus du Cancerverse, mais pas Richard Rider ? dans DD, Waid va revenir sur la mère de Matt et pourquoi elle l'a abandonné. Il s'agit d'un secret qui date de Miller sur lequel y avait une espèce d'omerta, les scénaristes l'évoquaient sans jamais s'attarder…

A noter également :

– le retour de Superior Spider-Man pour 2 épisodes, qui vont préparer Spiderverse

– la fin apparemment du run de Ellis sur Moon Knight (le long cri d'angoisse dans la nuit c'était moi à l'annonce de cette nouvelle…j'espérais au moins 12 épisodes…)

– la fin du volume actuel de Wolverine. Et comme cela a déjà été dit, le run de Cornell sur le titre n'aura guère été apprécié…En ce qui me concerne, je me suis arrêté assez vite au vu du niveau de décompression…Bien entendu en septembre, Wolverine meurt et ne reviendra jamais…
MARVEL 75TH ANNIVERSARY MAGAZINE #1
Cover by GREG LAND
Marvel celebrates its diamond jubilee with a gem of a magazine spanning its entire 75-year history! From its origins in the Golden Age through the rise of the Marvel Age of Comics and beyond, the House of Ideas has introduced a collection of characters unparalleled in pop culture. The MARVEL 75TH ANNIVERSARY MAGAZINE covers it all — Spider-Man, the Avengers, the Defenders and more, and the creators who have chronicled their legendary adventures — with a collection of articles, interviews and insights into each decade's highlights.
96 PGS./All Ages …FREE*
*Retailer: Check upcoming Marvel Mailers on details on how to recieve your free copies.
Also available for order, a keepsake edition of MARVEL 75TH ANNIVERSARY MAGAZINE #1 – 96 PGS./All Ages …$9.99
ORIGINAL SIN #7 (of 8)
JASON AARON (W) • MIKE DEODATO (A)
Cover by Julian Totino Tedesco
Variant Cover by GABRIELE DELL'OTTO
Interlocking Battle Variant by ARTHUR ADAMS
Teaser Variant by MIKE McKONE
The LAST BATTLEGROUND!
32 PGS./Rated T+ …$3.99
ORIGINAL SIN #8 (of 8)
JASON AARON (W) • MIKE DEODATO (A)
Cover by Julian Totino Tedesco
Variant Cover by GABRIELE DELL'OTTO
Interlocking Battle Variant by ARTHUR ADAMS
Teaser Variant by JEUN-SIIK AHN
The Final Judgment!
40 PGS./Rated T+ …$4.99
AMAZING SPIDER-MAN #5
DAN SLOTT (W) • HUMBERTO RAMOS (A/C)
ORIGINAL SIN tie-in!
• The greatest untold secret of Spider-Man's world has a name – SILK!
• Who is this mysterious woman and what does she have to do with Black Cat and Electro?!
32 PGS./Rated T …$3.99
ORIGINAL SINS #5 (OF 5)
AL EWING, RYAN NORTH & CHIP ZDARSKY (W)
RAMON VILLALOBOS, CHIP ZDARSKY & MORE (A)
Cover by Mark Brooks
• The Young Avengers' battle with the Hood reaches its climax!
• The prime mover behind the Watcher's murder confesses his own Original Sin!
• Plus, Everybody's Got One! Find out the Original Sins and hidden secrets of dozens of other Marvel heroes and villains!
32 PGS./Rated T+ …$3.99
NOVA #20
GERRY DUGGAN (W) • David Baldeon (A)
Cover by DAVE WILLIAMS
ORIGINAL SIN tie-in! GUEST-STARRING ROCKET RACCOON!
• The secrets of the Black Novas and Sam Alexander's dad have been revealed.
• Sam's world is torn apart, but can he come out of this stronger?
32 PGS./Rated T …$3.99
FANTASTIC FOUR #8
JAMES ROBINSON (W) • LEONARD KIRK (A/C)
ORIGINAL SIN TIE-IN!
• BEN GRIMM: MURDERER?!
32 PGS./Rated T+ …$3.99
DEADPOOL #33
GERRY DUGGAN & BRIAN POSEHN (w) • JOHN LUCAS (a)
Cover by MIKE DEL MUNDO
AGENTS OF S.H.I.E.L.D. VARIANT BY PASCAL CAMPION
ORIGINAL SIN TIE-IN!
• Deadpool's.
• Daughter.
32 PGS./Rated T+ …$3.99
DAREDEVIL #7
Mark Waid (W) • Javier Rodriguez (A)
Cover by Chris Samnee
ORIGINAL SIN TIE-IN!
• The man without fear braves the wilds of Wakanda!
• And the truth behind Matt's mother's greatest sin is finally revealed.
32 PGS./Rated T+ …$3.99
AVENGERS #34
JONATHAN HICKMAN (W) • LEINIL FRANCIS YU (A/C)
AGENTS OF S.H.I.E.L.D. VARIANT BY PAOLO RIVERA
ORIGINAL SIN tie-in!  – « THIS PROBLEM OF AVENGERS »
• The first Avenger meets the last Avenger…
• And the Avengers World crumbles.
• You won't believe what comes next.
32 PGS./Rated T+ …$3.99
GUARDIANS OF THE GALAXY #18
Brian Michael Bendis (W) • Ed McGuinness (A/C)
75th Anniversary Variant by ALEX ROSS
75th Anniversary Sketch Variant by ALEX ROSS
Original Sin Tie-In!
• You know you want to know how Star-Lord got back from the Cancerverse.
• And didn't Nova go in there with him? Guess he's not into the whole « no man left behind » thing.
32 PGS./Rated T …$3.99
UNCANNY X-MEN #25
Brian Michael Bendis (W) • Chris Bachalo (A/C)
AGENTS OF S.H.I.E.L.D. VARIANT BY PHANTOM CITY CREATIVE
ORIGINAL SIN tie-in!
• Xavier's greatest secret has been revealed!
• Against such overwhelming power, will the X-Men succeed in holding the line?
• Or will Xavier's final « gift » to his children be their undoing.
32 PGS./Rated T+ …$3.99
AVENGERS WORLD #11
NICK SPENCER (W) • STEFANO CASELLI (A)
Cover by PAUL RENAUD
• The UPRISING begins.
• The Island opens its doors. The Dead march into the light. The Dragon declares war.
• Confronted by immense dangers on all sides, The Avengers face a world on fire — and to restore peace, they'll have to become something even bigger than before.
32 PGS./Rated T+ …$3.99
NEW AVENGERS #22 & 23
Jonathan Hickman (W) • KEV WALKER (A)
Issue #22 – Cover by DALE KEOWN
Issue #22 – AGENTS OF S.H.I.E.L.D. VARIANT BY STEPHANIE HANS
Issue #23 – Cover by CHRISTIAN WARD
Issue #22 – « THIS IS THE VERY END… »
• The Illuminati shatters under an exploding planet.
32 PGS./Rated T+ …$3.99
Issue #23 – « OF ALL THAT WE ONCE WERE »
• We follow the members of the now-broken Illuminati through their last day on Earth.
32 PGS./Rated T+ …$3.99
AVENGERS UNDERCOVER #8 & 9
DENNIS HOPELESS (W)
Issue #8 – TIGH WALKER (A)
Issue #9 – TIMOTHY GREEN II (A)
Covers by FRANCESCO MATTINA
Issue #8 –
EVERYTHING CHANGES AS WE JUMP THREE MONTHS LATER!
• After last issue's huge reveal, what else has happened in the 90 days since the events of issue #7?
• Why is Hazmat working for Madame Masque…and maybe Mystique and Sabretooth?
• And how does this issue's cliffhanger change everything again?
32 PGS./Rated T+ …$2.99
Issue #9 –
THE AVENGERS & S.H.I.E.L.D. ATTACK IN « GONE NATIVE » PART 3 OF 4!
• Justice comes to Baron Zemo's super-villain city!
• When the heroes arrive, whose side will our Murder World survivors pick?
32 PGS./Rated T+ …$2.99
SECRET AVENGERS #7
Ales Kot (W)
Michael Walsh (A)
Cover by Tradd Moore
• « EXECUTIVE DECISION »
• DEADPOOL DEADPOOL DEADPOOL DEADPOOL DEADPOOL! WE HEARD THAT DEADPOOL RAISES SALES SO WE'RE DOING THIS EARLY ON.
• JUST KIDDING. ALL ABOUT THE ART. YOU'RE GOING TO PAY FOR THIS, RIGHT?
• THE NOOSE: TIGHTENS! SECRET AVENGERS: HUNTED! MARIA HILL: INVESTIGATING! ALSO DEADPOOL!
32 PGS./Rated T+ …$3.99
UNCANNY AVENGERS #23
RICK REMENDER (W) • SANFORD GREENE (A)
Cover by AGUSTIN ALESSIO
AGENTS OF S.H.I.E.L.D. VARIANT BY EMMA RIOS
• Uncanny Avengers reunited!
• The threat of Kang is over, but what are the repercussions?
• Meet the new faces of the Marvel Universe!
32 PGS./Rated T …$3.99
MIGHTY AVENGERS #13
AL Ewing (W) • Greg Land (A/C)
• Unlucky for some! The moon is full, the sacrifice is ready, and the Deathwalkers are about to end humanity as we know it!
• The Mighty Avengers get a new member – but is that enough to stop the Four Who Rule attaining godhood?
• Or… is it already too late to save the Earth?
32 PGS./Rated T+ …$3.99
MILES MORALES: THE ULTIMATE SPIDER-MAN #4
BRIAN MICHAEL BENDIS (W) • DAVE MARQUEZ (A/C)
THE SPIDER-MAN STORY EVERYONE IS TALKING ABOUT!!!
• SPIDEY VS SPIDEY!
• What more do you need?
32 PGS./Rated T+ …$3.99
ULTIMATE FF #6
JOSHUA HALE FIALKOV (W) • ANDRÉ ARAÚJO (A/C)
• The ULTIMATE UNIVERSE'S worst nightmare approaches
• Jump into the future of the Ultimate Universe as the DOOMSDAY CLOCK counts down.
• The END of the FUTURE FOUNDATION.
32 PGS./Rated T+ …$3.99
ALL-NEW ULTIMATES #6 & 7
MICHEL FIFFE (W) • Issue #6 – AMILCAR PINNA (A)
Issue #7 – GIANNIS MILONOGIANNIS (A)
Covers by DAVID NAKAYAMA
ISSUE #6 –
THE CLIMACTIC CONCLUSION OF « POWER FOR POWER »
• The ULTIMATES' battle with the SERPENT SKULLS! Fever pitch violence drives this war between the classes & sexes.
• DIAMONDBACK breaks hearts and faces! SCOURGE goes out in a blaze of glory! CROSSBONES fights to the bitter end!
• Will the team quit while they're ahead? Or will they emerge as something even STRONGER?!
32 PGS./Rated T+ …$3.99
ISSUE #7 –
• SPIDER-MAN, BLACK WIDOW, KITTY, CLOAK & DAGGER barely hold back the carnage of vengeful sewer leaders AGENT CROCK & VERMIN!
• The BENGAL joins the police squad just in time to regulate Scourge's murderous aftermath!
• Will the hunt for CROSSBONES reveal a deeper, darker secret behind the city's rampant crime wave?
32 PGS./Rated T+ …$3.99
SPIDER-MAN 2099 #2
Peter David (W) • William Sliney (A)
Cover by Alexander Lozano
ARTIST VARIANT BY TBA
•  Life's not easy when you're a Spider-Man from the year 2099 stuck in our present.
•  But what's the bigger danger: bank robbers, or beautiful women?
•  Peter David's truimpant return to the character he created continues!
32 PGS./Rated T …$3.99
SUPERIOR SPIDER-MAN #32
DAN SLOTT & CHRISTOS GAGE (W)
GIUSEPPE CAMUNCOLI & ADAM KUBERT (A)
Cover by GIUSEPPE CAMUNCOLI
INTERLOCKING VARIANT A by SKOTTIE YOUNG
SUPERIOR SPIDER-MAN KICKS OFF THE EDGE OF SPIDER-VERSE!
• Extra-sized monumental issue, including a story drawn by living legend ADAM KUBERT (ORIGIN 2, AVX)!
• How is the Superior Spider-Man still around? Where is he? What is he doing? The road to SPIDER-VERSE STARTS HERE!
40 PGS./Rated T …$4.99
THE SUPERIOR FOES OF SPIDER-MAN #14
NICK SPENCER (W) • STEVE LIEBER (A)
Cover by KRIS ANKA
• A year of duplicity and double crossing leads to this – who will live, who will die, who will get the head of Silvermane?
• Spencer and Lieber bring this rollicking tail of evil to it's penultimate hour!
32 PGS./Rated T+ …$3.99
AMAZING SPIDER-MAN #1.4
DAN SLOTT (W) • Ramón Pérez (A)
Cover by ALEX ROSS
SKETCH VARIANT BY ALEX ROSS
• Witness another secret chapter from the first days of Spider-Man!
• What started off as fun-and-games for new villain Clash turns deadly serious.
• As if that weren't enough, a classic Spider-Man villain joins in on the fun!
32 PGS./Rated T …$3.99
LEGENDARY STAR-LORD #2
Sam Humphries (W) • Paco Medina (A/C)
ARTIST VARIANT BY TBA
• Peter's captured by a bounty hunter—who may have a strange connection to his past!
• Can Peter and the bounty hunter make amends before he's fed to a giant alien?
• And who is the mysterious Mr. Knife–and why is he so interested in Star-Lord?
32 PGS./Rated T …$3.99
ROCKET RACCOON #2
SKOTTIE Young (W) • SKOTTIE Young (A/C)
ARTIST VARIANT BY TBA
• FRAMED. The most notorious Raccoon in the galaxy has been arrested and falsely accused of murder!
• The real killer? An imposter procyon that seems to be one step ahead of Rocket at every turn.
• Now, it's up to Rocket and a certain someone from Planet X to find the truth!
32 PGS./Rated T …$3.99
ALL-NEW GHOST RIDER #6
FELIPE SMITH (W) • DAMION SCOTT (A)
Cover by TRADD MOORE
« LEGEND »
• GHOST RIDER has become a local hero
• Can ROBBIE REYES resist the call of street racing?
• Who is the mysterious figure who takes an interest in the new Ghost Rider?
32 PGS./Rated T+ …$3.99
NOVA SPECIAL #1
Sean Ryan (W) • JOHN TIMMS (A)
Cover by GARY CHOO
Interlocking Variant by MARK BROOKS
CONCLUSION TO THE UNCANNY X-MEN/IRON MAN/NOVA CROSSOVER – « NO END IN SIGHT »
• Nova gets tied up into an adventure with the Uncanny X-Men and Iron Man that takes him half-way across the galaxy.
• See three of the best books at Marvel collide!
40 PGS./Rated T …$4.99
SHE-HULK #7
Charles Soule (W) • Javier Pulido (A)
COVER BY Kevin P. Wada
• The return of superstar artist JAVIER PULIDO!
• Guest-starring Hank Pym!
• She-Hulk, Hellcat and Giant-Man team up to save one of Jen's officemates…but what else does Hank Pym have at stake, and what isn't he telling them?
32 PGS./Rated T+ …$2.99
CAPTAIN AMERICA #23
Rick Remender (W) • CARLOS PACHECO (A/C)
The Tomorrow Soldier part 2
• Zola has waged war on New York!
• Without a Captain America to lead them, can the Avengers stop the Bio-Fanatic's plot for revenge?!
• The Falcon faces a dark secret form Captain America's past!
32 PGS./Rated T …$3.99
IRON FIST: THE LIVING WEAPON #5
Kaare Andrews (W) • Kaare Andrews (A/C)
• Is everything broken?
• Is Danny Rand an Iron Fist no more?
• What fresh, monstrous hell is soon to be unleashed?
32 PGS./Rated T+ …$3.99
MOON KNIGHT #6
Warren Ellis (W)
Declan Shalvey & JORDIE BELLAIRE (A/C)
• A threat from the first issue is back to cause problems for Moon Knight!
• This mysterious person is the new BLACK SPECTRE and it doesn't mean anything good for the protector of night travelers.
• Don't miss the conclusion of Warren Ellis, Declan Shalvey and Jordie Bellaire.
32 PGS./Rated T+ …$3.99
THE PUNISHER #9
Nathan Edmondson (W)
MITCHELL THOMAS GERADS (A/C)
FRIEND FROM FOE CROSSOVER
• In the middle of the Pacific, THE PUNISHER finds himself fighting alongside–or against?–BLACK WIDOW for access to a deadly criminal network.
• But the clock is ticking. Will Frank and Natasha be able to complete their mission before they are taken down by their enemies…or each other?
• See the rest of the story in BLACK WIDOW #9!
32 PGS./Parental Advisory …$3.99
BLACK WIDOW #9
Nathan Edmondson (W)
Phil Noto (A/C)
« FRIEND FROM FOE. »
• In the pursuit of XAOC, Black Widow finds THE PUNISHER!
• And they are trapped on an abandoned oil tanker rigged to explode with CROSSBONES and his SKULL SQUAD!
• Don't miss the other side of this action-packed crossover event in THE PUNISHER #9!
32 PGS./Rated T+ …$3.99
DEADLY HANDS OF KUNG FU #4 (of 4)
MIKE BENSON (W)
TAN ENG HUAT (A)
Cover by DAVE JOHNSON
• THE STUNNING CONCLUSION! The shocking truth of Leiko Wu's murder revealed!
• Shang-Chi's epic showdown with the enemy he never saw coming!
• The jaw-dropping final twist of the knife that NO ONE will see coming!
32 PGS./Rated T+ …$3.99
THUNDERBOLTS #29 & 30
BEN ACKER & BEN BLACKER (W)
GERARDO SANDOVAL (A)
CoverS by DAVID YARDIN
PUNISHER VS. THE THUNDERBOLTS, parts 3-4!
• First: Skull to Skull against the Ghost Rider!
• Then: watch lovers quarrel as Frank takes on Elektra!
32 PGS. (EACH)/Parental Advisory …$2.99 (EACH)
NEW WARRIORS #8
Christopher Yost (W) • Marcus To (A)
Cover by TAKESHI MIYAZWA
• Haechi, the Inhuman member of the New Warriors, is faced with a difficult choice.
• Jake Waffles and Mister Whiskers are back again, but are they friend or foe?
32 PGS./Rated T+ …$3.99
INHUMAN #5
Charles Soule (W) • Ryan Stegman (A/C)
Variant Cover by JOE MADUREIRA
• Medusa and the Inhumans of Attilan are taken down hard.
• The Unspoken is back and taking his kingdom back no matter the cost.
32 PGS./Rated T+ …$3.99
CAPTAIN MARVEL #6
Kelly Sue DeConnick (W) • David Lopez (A/C)
• THE BATTLE ISSUE. Space! Ships! Super heroes!
• Captain Marvel has been caught in the middle of an interplanetary turf war for weeks.
• Now, it's time for Earth's Mightiest Hero to get her hands dirty and show the Spartax and the Haffensye what's what.
32 PGS./Rated T+ …$3.99
HULK #5
GERRY DUGGAN (W) • Mark Bagley (A)
Cover by ALEX ROSS
Variant Cover by GARY FRANK
• New writer Gerry Duggan (DEADPOOL) joins superstar artist Mark Bagley on an all new arc!
• HULK is now…………
• BANNER no more???
32 PGS./Rated T+ …$3.99
ELEKTRA #5
William Haden Jr. Blackman (W)
Michael Del Mundo (A/C)
• The critically-acclaimed and captivating story of Elektra's search for redemption reaches a bloody climax.
• Legendary assassins go head to head at the edge of the world, but it looks like Elektra's soul is right at Death's door.
32 PGS./Rated T+ …$3.99
SAVAGE HULK #3
Alan Davis (W) • Alan Davis (A/C)
Variant Cover by JIM STARLIN
THE ALL-NEW SERIES BY COMICS SUPERSTAR ALAN DAVIS CONTINUES!
• Who, or what, is the newest gamma-powered goliath?!
• Robots, mutants and Hulks, oh my!
• To what lengths will Charles Xavier go to save Bruce Banner?
32 PGS./Rated T+ …$3.99
FANTASTIC FOUR #9
JAMES ROBINSON (W) • DERLIS SANTACRUZ (A)
Cover by LEONARD KIRK
• Who is the new FRIGHTFUL FOUR?
• Can REED prove BEN'S innocence?
• And an adventure with the kids of the FUTURE FOUNDATION and the ORIGINAL HUMAN TORCH!
32 PGS./Rated T+ …$3.99
MS. MARVEL #7
G. Willow Wilson (W) • Jacob Wyatt (A)
Cover by JAMIE MCKELVIE
IT'S WOLVERINE!
• Kamala may be fan-girling out when her favorite (okay maybe Top Five) super hero shows up for some help, but that won't stop her from protecting her hometown.
• Who is the Inventor, and what does he want with Kamala and all her friends? Maybe Wolvie can be of some help.
• « If you're not reading Ms. Marvel, you're missing out on one of the best series out there. » –Says Almost Everybody
32 PGS./Rated T+ …$2.99
GUARDIANS OF THE GALAXY ANNUAL #1
Brian Michael Bendis (W) • Frank Cho (A/C)
ARTIST VARIANT Cover by TBA
• Most days in space aren't exactly what you'd call normal, but everything seemed to be status quo today.
• That is until a S.H.I.E.L.D. helicarrier showed up out of nowhere…IN SPACE.
• Sometimes you have to go outside your jurisdiction to take care of business, but this might be stretching it a bit.
40 PGS./Rated T …$4.99
ALL-NEW INVADERS #9
JAMES ROBINSON (W) • STEVE PUGH (A)
Cover by MICHAEL KOMARCK
DEATH BY DEATHLOK! THE LAST LUTHER MANNING STORY!
• WINTER SOLDIER, NAMOR and the ORIGINAL HUMAN TORCH'S initial mission to rescue Jim Hammond's old partner and fellow Invader TORO has changed in light of a new threat that Toro's kidnapper has at his disposal…
• …Every DEATHLOK in the Marvel Universe!
• How will the Torch overcome his enemy's ability to control artificial intelligence?
• PLUS How will Cap react to Namor in the aftermath of ORIGINAL SIN?
32 PGS./Rated T+ …$3.99
MIRACLEMAN #9
THE ORIGINAL WRITER (W) • RICK VEITCH (A/C)
Variant Cover by DAVE MARQUEZ
Variant Cover by PAUL RENAUD
Variant Cover by ADI Granov
• The battle with Gargunza has ended.
• The birth of Miracleman and Liz Moran's baby!
• And a shocking surprise ending in this groundbreaking issue!
• Including material originally presented in MIRACLEMAN (1985) #9, plus bonus content.
48 PGS./Parental AdvisorySLC …$4.99
NOTE: This issue will be polybagged
FIGMENT #3 (OF 5)
JIM ZUB (W) • FILIPE ANDRADE (A)
Cover by JOHN TYLER CHRISTOPHER
REVEALING THE ORIGINS OF ONE OF DISNEY'S MOST IMAGINATIVE CHARACTERS!
• An all-new steampunk fantasy story exploring the never-before-revealed first adventure of the inventor known as Dreamfinder and his famous dragon Figment!
• Our daring duo explores the realms of imagination, finding friends and foes alike…while back on Earth, a clockwork army assembles under the command of the frightening force known only as The Singular!
• Acclaimed creators Jim Zub (Skullkickers) and Filipe Andrade (CAPTAIN MARVEL) give a Marvel spin to the mind-expanding attraction Journey Into Imagination!
32 PGS./All Ages …$3.99
Elements based on Figment © Disney
MARVEL UNIVERSE ULTIMATE SPIDER-MAN #29
Adapted by Joe Caramagna
• Loki puts a hex on Spidey, turning him into a pig! Enter: Peter Porker!
• Can Thor our Friendly Neighborhood Spider-Ham survive an Asgardian boar hunt?
32 PGS./All Ages …$2.99
MARVEL UNIVERSE AVENGERS ASSEMBLE #11
Adapted by Joe Caramagna
• The Red Skull has turned the Avengers into rampaging monsters!
• Hulk and Black Widow must team up and stop the raging Hulk-Vengers!
32 PGS./All Ages …$2.99
SILVER SURFER #6
DAN SLOTT (W) • MICHAEL ALLRED (A/C)
« Perfection »
• Everything up till this point was chance and fate– but now it's decided. Dawn's earned her spot on the board and she the Surfer are going to explore the universe together. And what better place to start than Planet Prime, the most perfect planet in the entire Universe?
• Perfect food, perfect music, and… oh, right… the PERFECT SOLDIER– out to stop any possible alien threat that might set foot on his world.
• What chance does the Surfer have against WARRIOR ONE, the deadliest combatant in all of creation?!
32 PGS./Rated T+ …$3.99
WOLVERINE ANNUAL #1
Elliott Kalan (W) • JONATHAN MARKS (A)
Cover by DUSTIN NGUYEN
VARIANT COVER BY ED MCGUINNESS
ONE MONTH TO DIE!
• A little Father/Adoptive Daughter/Adoptive Daughter's son time. Now that's a mouthful.
• Wolverine and Jubilee take Shogo on a camping trip.
• Hey, it's a Wolverine story in the middle of the wilderness. What could go wrong?
40 PGS./Parental Advisory …$4.99
WOLVERINE #11
Paul Cornell (W) • Peter M. Woods (A)
Cover by Steve McNiven
Variant Cover by Ryan Stegman
ONE MONTH TO DIE!
• With the fates of two human beings placed in her hands, Pinch is faced with a decision that may haunt her for the rest of her life.
• That is, unless Wolverine and his S.H.I.E.L.D. cavalry can reach her in time.
• Classic Sabretooth, still finds time to mess with Logan, even while he's busy trying to remake the world in his image.
32 PGS./Parental Advisory …$3.99
WOLVERINE #12
Paul Cornell (W) • Peter M. Woods (A)
Cover by Steve McNiven
Variant Cover by Ryan Stegman
ONE MONTH TO DIE! A DOUBLE-SIZED SERIES FINALE!
• Looks like Sabretooth is ready for his final showdown with Logan and he sure picked a meaningful venue.
• Didn't we just see a fight in a shopping mall that seriously scarred Logan?
• Oh, right. That whole « messing with Wolverine » thing.
64 PGS./Parental Advisory …$5.99
ALL-NEW X-MEN #31
BRIAN MICHAEL BENDIS (W) • MAHMUD ASRAR (A)
Cover by STUART IMMONEN
AGENTS OF S.H.I.E.L.D. VARIANT BY MIKE DEL MUNDO
• ICEMAN UNLEASHED! Young Bobby Drake takes to the offensive!
• For someone who's said she doesn't find him particularly pleasant to be around, Laura seems to have taken an odd interest in Warren.
32 PGS./Rated T …$3.99
CYCLOPS #4
Greg Rucka (W) • RUSSELL DAUTERMAN (A)
Cover by ALEX LOZANO
• Scott and Corsair are stranded on an alien planet with no hope of rescue
• The indigenous species are none too happy with them
• Not that they're very happy with each other, either — what bargains will need to be struck to get either or both of then out alive?
32 PGS./Rated T …$3.99
DEADPOOL VS. X-FORCE #3 (of 4)
DUANE SWIERCZYNSKI (W) • PEPE LARRAZ (A)
Cover by SHANE DAVIS
• Can X-Force stop Deadpool from rewriting history?
• Cable chases the M w/the M to the Boxer Rebellion to try!
• Plus: did you know there is a character named « Boom Boom »?
32 PGS./Parental Advisory …$3.99
DEADPOOL: DRACULA'S GAUNTLET #5-7
GERRY DUGGAN & BRIAN POSEHN (W)
REILLY BROWN, KHARY RANDOLPH & SCOTT KOBLISH(A)
Covers by REILLY BROWN
• Representing the hit Infinite Comic in print for the first time!
• Deadpool and his bride-to-be take on the forces of Dracula…for keeps!
• Plus: an all-new epilogue story!
32 PGS. (EACH)/Parental Advisory…$3.99 (EACH)
MAGNETO #8
Cullen Bunn (W) • JAVIER FERNANDEZ (A)
Cover by Declan Shalvey
• MAGNETO was once arguably the most powerful mutant on the planet.
• But after his latest tenure with the X-Men, his powers have been reduced to a whisper of what they once were.
• Maddened by the fact that he struggles to safeguard mutantkind in uncertain times yet his own mutant gift wavers, to what lengths will Magneto go to become the Master of Magnetism once more?
32 PGS./Parental Advisory …$3.99
NIGHTCRAWLER #5
Chris Claremont (W) • Todd Nauck (A)
Cover by JAMIE McKELVIE
• Who knew the life of a high school teacher isn't as glamorous as it's made out to be?
• Struggling to adjust to everyday life back at the Jean Grey School, Nightcrawler turns to his fellow X-Men for inspiration.
• But when it comes to life with the X-Men, inspiration may just come from the unlikeliest of places!
32 PGS./Rated T+ …$3.99
AMAZING X-MEN #10
Christopher Yost & Craig Kyle (W)
CARLO BARBERI (A/C)
World War Wendigo Part 3 (of 5)!
• As the Wendigo virus runs rampant through Canada, one of the X-Men falls prey to the deadly plague!
• Guest-starring Alpha Flight!
32 PGS./Rated T+ …$3.99
WOLVERINE & THE X-MEN #7 & 8
Jason Latour (W) • TBA (A)
CoverS by Mahmud Asrar
Issue #7 –
• Guest-starring Matt Murdock!
• Melita Garner returns, but not for romance—she's got something on Logan that throws the entire school into uproar.
• Little does Melita know she's also drawn the attention of the Red Right Hand!
32 PGS./Rated T+ …$3.99
Issue #8 –
• What's it like to be a rich, famous, teenage mutant? Just ask Quentin Quire!
• Logan and storm go on a long overdue date!
• And when the headmasters are away, villains come out to play.
32 PGS./Rated T+ …$3.99
X-FORCE #8
SIMON SPURRIER (W)
ROCK-HE KIM (A/C)
• Every country employs covert superhumans to protect their interests.
• And while pursuing the foe who killed one of their own, X-Force is about to run afoul of the United Kingdom's superhuman operatives: PETE WISDOM and MI13!
• In this game of spy versus spy, how can X-Force manage to outplay the best spy there is?
32 PGS./Parental Advisory …$3.99
ALL-NEW X-FACTOR #12
PETER DAVID (W)
CARMINE DI GIANDOMENICO (A)
Cover by KRIS ANKA
& JARED FLETCHER
• Serval holds an X-Factor press conference!
• Everything should be fine.
• It's not like any of the members have secrets, right?
32 PGS./Rated T+ …$3.99
STORM #2
GREG PAK (W) • VICTOR IBANEZ (A/C)
VARIANT COVER BY PASQUAL FERRY
• STORM is on a mission to use her extraordinary powers for the betterment of not just mutantkind, but the entire world.
• When wayward youth start disappearing from the streets of New York, Storm is reminded of her own past as a thief and decides to investigate.
• But little does she suspect that the culprit behind the disappearances is one of her oldest foes: CALLISTO!
32 PGS./Rated T+ …$3.99
ALL-NEW DOOP #5 (of 5)
PETER MILLIGAN (W)
DAVID LAFUENTE (A)
Cover by MICHAEL ALLRED
• A senior X-Man must find Doop and make him stop the craziness corrupting the real world. But is the little green guy too far gone to listen?
• Someone leaves the X-Men, Doop turns down a marriage proposal, and a reservation is made at the Hall of Hairy Armpits.
32 PGS./Rated T+ …$3.99
SAVAGE WOLVERINE #22
John Arcudi (W)
JOE QUINONES (A)
Cover by Kevin Nowlan
• John Arcudi brings Logan's World War I story to a conclusion!
• Logan finds himself at the business end of 20 Germans soldiers' guns—for anyone else that might be a challenge!
32 PGS./Parental Advisory …$3.99
X-MEN #18
MARC GUGGENHEIM (W) • DEXTER SOY (A)
Cover by Terry Dodson
FROM THE EXECUTIVE PRODUCER OF TV's « ARROW »!
• NEW CREATIVE TEAM! And a new mission for the first all-female team of X-MEN…
• S.W.O.R.D. is Earth's premiere counterterrorism and intelligence agency when it comes to dealing with extraterrestrial threats.
• But when the ferocious Shi'Ar warrior Deathbird lands on their doorstep at the brink of death, S.W.O.R.D. calls in the X-MEN to investigate!
• But are the X-Men equipped to handle the horrific new threat that's emerged from the edge of space?
32 PGS./Rated T+ …$3.99
THE SECRET SERVICE HC
MARK MILLAR (W) • DAVE GIBBONS (A)
ALL-NEW Cover by DAVE GIBBONS
IN THEATERS OCTOBER 2014
Kick-Ass writer Mark Millar, Watchmen legend Dave Gibbons, and superstar director Matthew Vaughn team up to reinvent the spy genre for the 21st century in one of the most brilliant new comics of recent years. A British secret agent feels guilty about never spending time with his deadbeat sister and takes his wayward nephew under his wing after he's arrested in the London riots. The boy is heading straight for a jail cell until his uncle steps in and tries to give him a new life, training him up to be a gentleman spy. Gone are the garish street clothes and chunky jewelry, replaced with a Savile Row suit and bulletproof umbrella as he travels the globe to uncover a plot that links the kidnapping of the world's most famous sci-fi actors with a plot to eradicate 90% of the human race. This hardcover edition collects The Secret Service #1-6, and includes special bonus material! Collecing THE SECRET SERVICE #1-6 plus bonus material (sketches, commentary, etc.)
176 PGS./Rated T+ …$24.99
ISBN: 978-0-7851-6545-3
Trim size: oversized
THE UNITED STATES OF MURDER INC. #4
BRIAN MICHAEL BENDIS (W) • MICHAEL AVON OEMING (A/C)
VARIANT COVER BY DAVID MACK
VARIANT COVER BY Ray Fawkes
This new crime epic saga from the award-winning creators of POWERS continues! Valentine and Jagger are on the run as the five families meet to decide the fate of the United States of Murder Inc. Every issue delivers powerful visuals by Eisner Award winner Michael Avon Oeming and a story by the writer of some of your favorite Marvel comics including ALL-NEW X-MEN!
32 PGS./Mature …$3.99
© 2013 Jinxworld Inc.
FANTASTIC FOUR BY JONATHAN HICKMAN OMNIBUS VOL. 2 HC
Written by JONATHAN HICKMAN
Penciled by GREG TOCCHINI, STEVE EPTING, BARRY KITSON, JUAN BOBILLO, NICK DRAGOTTA, GABRIEL HERNANDEZ WALTA, ANDRE ARAUJO, CARMINE DI GIANDOMENICO, RON GARNEY, MIKE CHOI, GIUSEPPE CAMUNCOLI, RYAN STEGMAN & MORE
Cover by GABRIELE DELL'OTTO
Superstar writer Jonathan Hickman revamps and redefines Marvel's First Family! The War of Four Cities escalates, with the Future Foundation caught in the middle! But as the Inhumans return to Earth, and Annihilus' forces and the Kree armada lay siege to the planet, will the coming of Galactus turn the tide — or doom us all? When the Future Foundation contends with the Council of Reeds and the Mad Celestials, Valeria turns to their greatest foe! Find out why all hope lies in Doom! And in the aftermath of an endgame beyond imagination, the FF explore the furthest reaches of the Marvel Universe — from Wakanda to the Negative Zone, from the past to the future! Collecting FF (2011) #6-23, and FANTASTIC FOUR (1961) #600-611 and #605.1.
832 PGS./Rated T …$125
ISBN: 978-0-7851-8900-8
Trim size: oversized
Choose your favorite comic issue from the past 75 years of Marvel Comics history.
Email yours to marvel75@marvel.com
Once the voting is finished we'll print your top picks in this massive, 1200 page tome!
MARVEL 75TH ANNIVERSARY OMNIBUS HC
Written by VARIOUS
Penciled by VARIOUS
In late 1939, the fledgling Timely Comics published MARVEL COMICS #1 — introducing the Human Torch, Sub-Mariner and more to an unsuspecting populace. Seventy-five years later, Marvel Comics has become a world-renowned multimedia empire, home to some of the most recognizable and beloved fictional characters ever known. Now, the cream of the crop is presented in one deluxe, oversized hardcover! That's right, it's the best of the best from Marvel's 75-year publishing history — from the Golden Age to Marvel NOW! — as chosen by you, the loyal fans! So face front, True Believers, and prepare to relive 75 years of greatness as only Mighty Marvel could do it!
1000 PGS./Rated T+ …$99.99
ISBN: 978-0-7851-9198-8
Trim size: oversized
DEADPOOL: DRACULA'S GAUNTLET HC
Written by GERRY DUGGAN & BRIAN POSEHN
Penciled by REILLY BROWN
Cover by FRANK CHO
You've witnessed Deadpool's marriage to the succubus queen Shiklah! Now, experience their first meeting and learn the secrets of their bloody romance! When Dracula hires Deadpool to transport a highly valuable delivery for him, Wade has no idea what kind of trouble he's in for. It's a crazy journey across the world — and into the dark heart of the Merc with the Mouth! Guest-starring Blade, M.O.D.O.K., Hydra Bob, Werewolf by Night and more! Collecting DEADPOOL: DRACULA'S GAUNTLET #1-7.
280 PGS./Rated T+ …$34.99
ISBN: 978-0-7851-8457-7
Trim size: oversized
THOR: GOD OF THUNDER VOL. 1 HC
Written by JASON AARON
Penciled by ESAD RIBIC & BUTCH GUICE
Cover by ESAD RIBIC
A trail of blood consumes Thor's past, present and future! Throughout the ages, gods are vanishing, and Thor must unravel the gruesome mystery of Gorr the God Butcher! In the distant past, Thor discovers a cave that echoes with the cries of tortured gods! In the present, Thor follows the bloody wake of murdered gods across the depths of space. And millennia from now, the last god-king of Asgard makes his final stand against Gorr's berserker legions. As Thors from three eras race to stop Gorr, his scheme's full extent is revealed: What is the Godbomb? At the end of time, all the universe's gods are enslaved, building a machine that will forever change the face of creation. Three time-bending Thors unite, but will it all be for naught as the massive Godbomb is triggered? Collecting THOR: GOD OF THUNDER #1-11.
272 PGS./Rated T+ …$34.99
ISBN: 978-0-7851-9113-1
Trim size: oversized
MARVEL MASTERWORKS: THE INCREDIBLE HULK VOL. 8 HC
Written by ARCHIE GOODWIN with ROY THOMAS, GERRY CONWAY, GARY FRIEDRICH, LEN WEIN & CHRIS CLAREMONT
Penciled by HERB TRIMPE with DICK AYERS
Cover by HERB TRIMPE
He's mean, he's green, and sometimes he's too small to be seen — he's the Incredible Hulk! Yes, the Hulk's back in another round of tales full of trials, tribulations, revenge, romance and…Richard Nixon?! Returning from a battle with Dr. Doom, the Hulk finds himself in the sights of the U.S. military's Project: Greenskin. Objective? Destroy the Hulk! The adventure continues with the green girl of Hulk's heart, the other-dimensional Jarella! With the help of Ant-Man, Hulk will reunite with his love — but not before he's put on trial in front of the heroes of the Marvel Universe! With art by the classic Herb Trimpe/John Severin team, Hulk's never looked meaner, greener or better! Collecting INCREDIBLE HULK (1968) #145-156.
288 PGS./Rated T …$69.99
ISBN: 978-0-7851-8854-4
MARVEL MASTERWORKS: THE INCREDIBLE HULK VOL. 8 HC — VARIANT EDITION VOL. 212 (DM ONLY)
288 PGS./Rated T …$69.99
ISBN: 978-0-7851-8855-1
MARVEL MASTERWORKS: ATLAS ERA TALES OF SUSPENSE VOL. 1 TPB
Written by STAN LEE, LARRY LIEBER & MORE
Penciled by JACK KIRBY, STEVE DITKO, DON HECK, JOE SINNOTT, AL WILLIAMSON, BILL EVERETT, JOHN BUSCEMA, RUSS HEATH & MORE
Cover by DON HECK & RICHARD ISANOVE
In 1958, Stan Lee stood before the decimated Atlas line. Having gone from editor of a line of dozens of titles to just eight, Stan refocused his efforts on only biggest and best: enter TALES OF SUSPENSE! Anchored by the visual talents Jack Kirby, Steve Ditko and Don Heck, this new « big monster » book became part of a creative revival that would change comics forever. Their twist-ending tales featuring Martians, killer robots and massive monsters were the very foundation for what would become Marvel's super-hero House of Ideas. So strap on your tin-foil hat, grab your ray gun, and get ready to dive into one of the most amazing eras of comics' history! Collecting TALES OF SUSPENSE (1959) #1-10.
272 PGS./Rated T …$29.99
ISBN: 978-0-7851-8897-1
MARVEL MASTERWORKS: ATLAS ERA TALES OF SUSPENSE
VOL. 1 TPB — VARIANT EDITION VOL. 68 (DM ONLY)
272 PGS./Rated T …$29.99
ISBN: 978-0-7851-8898-8
UNCANNY AVENGERS VOL. 4: AVENGE THE EARTH PREMIERE HC
Written by RICK REMENDER
Penciled by DANIEL ACUNA
Cover by DANIEL ACUNA
Welcome to Planet X, the new mutant homeworld, where everything is great — if you possess the mutant gene! The Wasp is the last human alive, relentlessly pursued by Magneto's All-New X-Force and protected by her husband, Havok! Now, as Kang's Chronos Corps arrives on Planet X with a terrible offer, the former Unity Squad members must reunite to defeat the Apocalypse Twins and avenge the Earth! But even with a time traveler on their side, is it too late? Which of the seven prime futures will become dominant? And what is Kang's hidden, ultimate goal? This is it! The conclusion to an epic two years in the making — and rest assured, nothing will ever be the same again! Collecting UNCANNY AVENGERS #18-22.
136 PGS./Rated T …$24.99
ISBN: 978-0-7851-5423-5
Trim size: standard
ALL-NEW X-MEN VOL. 5: ONE DOWN PREMIERE HC
Written by BRIAN MICHAEL BENDIS
Penciled by STUART IMMONEN with ARTHUR ADAMS, BRUCE TIMM, J. SCOTT CAMPBELL, SKOTTIE YOUNG, RAFAEL GRAMPA & MORE
Cover by Stuart Immonen
The future Brotherhood of Evil Mutants, last seen in « Battle of the Atom, » is back — and they're still gunning for yesterday's X-Men! But even as the Brotherhood takes its next devastating step against the time-tossed teens, the mysteries surrounding Jean Grey begin to unfold! Jean came back from her Shi'ar trial…different. What does this mean for her future, for the past of the woman she's supposed to become and for the rest of the X-Men? Past, present and future collide when the Future Brotherhood exacts its final judgment on the All-New X-Men! And it's mutant magic as only Mighty Marvel could do it as artist Stuart Immonen is joined by a practical hall of fame lineup of comic-book artists! Collecting ALL-NEW X-MEN #25-29.
144 PGS./Rated T …$24.99
ISBN: 978-0-7851-5433-4
Trim size: standard
UNCANNY X-MEN VOL. 4: VS. S.H.I.E.L.D. PREMIERE HC
Written by BRIAN MICHAEL BENDIS
Penciled by CHRIS BACHALO & KRIS ANKA
Cover by CHRIS BACHALO
After relentless persecution and a near-fatal Sentinel attack, the Uncanny X-Men and their mutant revolution take the offensive! Their target? The international spy organization S.H.I.E.L.D.! But as the members of Cyclops' team fights to save their species, are they only digging themselves into a deeper and more dangerous hole? Who is the mysterious figure building S.H.I.E.L.D.'s Sentinels? What happened to Dazzler after Mystique replaced her? And is S.H.I.E.L.D. really responsible for the attacks? Then, it's an ORIGINAL SIN tie-in as Charles Xavier's last will and testament is discovered, but what's concealed within its pages might be the X-Men's ultimate undoing! Could a previously unknown power now be their greatest threat? How will the Uncanny X-Men cope with the shadows of Xavier's past? Collecting UNCANNY X-MEN (2013) #19-24.
136 PGS./Rated T+ …$24.99
ISBN: 978-0-7851-5489-1
Trim size: standard
MS. MARVEL VOL. 1: NO NORMAL TPB
Written by G. WILLOW WILSON
Penciled by ADRIAN ALPHONA & JACOB WYATT
Cover by SARA PICHELLI
Marvel Comics presents the new Ms. Marvel, the groundbreaking heroine that has become an international sensation! Kamala Khan is an ordinary girl from Jersey City — until she's suddenly empowered with extraordinary gifts. But who truly is the new Ms. Marvel? Teenager? Muslim? Inhuman? Find out as she takes the Marvel Universe by storm! When Kamala discovers the dangers of her newfound powers, she unlocks a secret behind them, as well. Is Kamala ready to wield these immense new gifts? Or will the weight of the legacy before her be too much to bear? Kamala has no idea, either. But she's comin' for you, New York! It's history in the making from acclaimed writer G. Willow Wilson (Air, Cairo) and beloved artist Adrian Alphona (RUNAWAYS)! Collecting MS. MARVEL (2014) #1-5 and material from ALL-NEW MARVEL NOW! POINT ONE #1.
120 PGS./Rated T+ …$15.99
ISBN: 978-0-7851-9021-9
Celebrate 75 years with the first volumes of these Marvel Epic Collections On-Sale through the end of 2014!
September
AMAZING SPIDER-MAN EPIC COLLECTION: GREAT POWER TPB
October
THOR EPIC COLLECTION: THE GOD OF THUNDER TPB
MOON KNIGHT EPIC COLLECTION: BAD MOON RISING TPB
IRON MAN EPIC COLLECTION: THE GOLDEN AVENGER TPB
More to be announced!
FANTASTIC FOUR EPIC COLLECTION: THE WORLD'S GREATEST COMIC MAGAZINE TPB
Volume #1 in the Fantastic Four Epic Collections
Written by STAN LEE
Penciled by JACK KIRBY
Cover by JACK KIRBY
In 1961, Stan Lee and Jack Kirby lit the fuse of the greatest revolution in comic-book history — the Marvel Age of Comics — and it started right here, in the pages of FANTASTIC FOUR! With the space race on, Reed Richards, Ben Grimm, Sue Storm and Johnny Storm shoot for the stars — but after their craft is bombarded by cosmic rays, they return to Earth with the startling powers of the Fantastic Four! These weren't just any super heroes, though — the Fantastic Four were a realistic, relatable, bickering and loveable family that couldn't pay their rent and didn't always love their powers. So crack open this Epic Collection and enjoy the beginning of the series that earned the name « The World's Greatest Comic Magazine! » Collecting FANTASTIC FOUR (1961) #1-18.
456 PGS./All Ages …$34.99
ISBN: 978-0-7851-8832-2
SUB-MARINER & THE ORIGINAL HUMAN TORCH TPB
Written by ROY THOMAS & DANN THOMAS
Penciled by RICH BUCKLER
Cover by RICH BUCKLER
Namor the Sub-Mariner, Avenging Son of Atlantis. Jim Hammond, the original android Human Torch. Two icons whose rivalry dates all the way back to the dawn of Marvel Comics. Now, learn the full story of two legendary adversaries who would one day become allies, even friends. From enemy of mankind to wartime savior — from Fantastic Four foe to staunch Invader, Defender and Avenger — Namor is a man of contrasts. Relive the life and times of Marvel's mightiest mutant as only he could see it. Imperius Rex! Meanwhile, a recently revived Torch looks back to his own uncanny creation. Meet his sizzling sidekick, Toro; learn his incredible part in Hitler's downfall; and discover why the flame of Marvel's first hero was doused for so long! Collecting SAGA OF THE SUB-MARINER #1-12 and SAGA OF THE ORIGINAL HUMAN TORCH #1-4.
392 PGS./Rated T …$39.99
ISBN: 978-0-7851-9048-6
SHE-HULK VOL. 1: LAW AND DISORDER TPB
Written by CHARLES SOULE
Penciled by JAVIER PULIDO & RON WIMBERLY
Cover by KEVIN WADA
Jennifer Walters is the She-Hulk! A stalwart member of the Avengers and FF, she's also a killer attorney with a pile of degrees and professional respect. But juggling cases and kicking bad guy butt is a little more complicated than she anticipated. With a new practice, a new paralegal and a mounting number of super villains she's racking up as personal enemies, She Hulk might have bitten off more than she can chew! When Kristoff Vernard, the son of Victor Von Doom, seeks extradition, it's an international jailbreak, She-Hulk-style! Then, She-Hulk and Hellcat must uncover the secrets of the Blue File — a conspiracy that touches the entire Marvel Universe! And when someone important to She-Hulk is killed, and won't let it stand — but who can she trust? She-Hulk takes on her most terrifying role yet: defendant! Collecting SHE-HULK (2014) #1-6.
136 PGS./Rated T+ …$15.99
ISBN: 978-0-7851-9019-6
AVENGERS WORLD VOL. 2: ASCENSION TPB
Written by NICK SPENCER
Penciled by MARCO CHECCHETTO & STEFANO CASELLI
Cover by MARK BROOKS
A rising superpower answers the call in the face of an ancient evil. The City of the Dead prepares to rise. A.I.M. Empire makes its stand. In one catastrophic moment, an Avengers World world erupts into flames. The Uprising begins! Collecting AVENGERS WORLD #6-10.
136 PGS./Rated T+ …$17.99
ISBN: 978-0-7851-9094-3
INFINITY TPB
Written by JONATHAN HICKMAN
Penciled by JIM CHEUNG, JEROME OPENA, DUSTIN WEAVER, MIKE DEODATO JR. & LEINIL FRANCIS YU
Cover by ADAM KUBERT
To save the world from ever-greater dangers, the Avengers got bigger. Yet when the oldest race in the universe marks Earth for destruction, it's time for Captain America to think grander still. As the most powerful Avengers team ever assembled heads into space to join an intergalactic alliance against the ancient Builders, an old enemy deems their home unprotected. Thanos, the Mad Titan, unleashes his forces on Earth in the latest chapter of his endless quest for death. But even a world without Avengers has its defenders. Among them, the secret cabal of history-shapers known as the Illuminati — a group riven with internal conflict already confronting another planet-ending crisis. As Earth's Mightiest Heroes wage war on multiple fronts, their battle for Infinity threatens to descend into Inhumanity. Collecting INFINITY #1-6, NEW AVENGERS (2013) #7-12 and AVENGERS (2012) #14-23.
592 PGS./Rated T+ …$49.99
ISBN: 978-0-7851-8423-2
WINTER SOLDIER BY ED BRUBAKER: THE COMPLETE COLLECTION TPB
Written by ED BRUBAKER
Penciled by BUTCH GUICE & MICHAEL LARK
Cover by DANIEL ACUNA
He's been Bucky and Captain America — now, James Barnes returns to the role of the Winter Soldier! When ex-Russian sleeper agents awaken, the trail leads to Latveria, and Winter Soldier and the Black Widow come face-to-face with Dr. Doom! Can Marvel's super-spies prevent war with Latveria? Can Bucky stop the sleepers he himself trained? Old enemies resurface with new identities, and Winter Soldier and Black Widow's hunt gets personal in the aftermath of a savage murder. Now, Winter Soldier must save the Widow from her own past! But even with help from Avengers teammates Wolverine, Captain America and Hawkeye, Bucky must decide whether he is willing to sacrifice everything to save his love. Master CAPTAIN AMERICA writer Ed Brubaker wraps up his critically acclaimed run here — and no one escapes unscathed! Collecting FEAR ITSELF #7.1: CAPTAIN AMERICA and WINTER SOLDIER #1-14.
344 PGS./Rated T+ …$29.99
ISBN: 978-0-7851-9065-3
X-FORCE BY CRAIG KYLE & CHRIS YOST: THE COMPLETE COLLECTION VOL. 2 TPB
Written by CRAIG KYLE & CHRIS YOST
Penciled by MIKE CHOI, CLAYTON CRAIN, CARLO BARBERI, GABRIELE DELL'OTTO & MORE
Cover by MIKE CHOI
X-Force returns from the future, but as they race to defuse the Leper Queen and the Sapien League's plot, X-23 is captured by the Facility! Now, her only hope is S.H.I.E.L.D. agent Morales — but can either of them survive against Kimura, the one foe X-23 has never beaten? Meanwhile, Wolfsbane is reunited with X-Force — just as Selene's forces descend on Utopia! X-Force fights an unsettling battle against Selene's army of undead mutants, including former teammate Caliban and Warpath's brother, Thunderbird! Can the team obtain the one weapon capable of stopping Selene in time? And when the Assassin's Guild targets Wolverine and Domino, the two heroes must face a murderer's row of villains — while insanely distracted by each other! Collecting X-FORCE (2008) #17-25, X-NECROSHA: THE GATHERING, X-FORCE: SEX & VIOLENCE #1-3 and material from X-NECROSHA and X-FORCE ANNUAL (2010) #1.
384 PGS./Parental Advisory …$39.99
ISBN: 978-0-7851-9000-4
DAREDEVIL VOL. 1: DEVIL AT BAY TPB
Written by MARK WAID
Penciled by CHRIS SAMNEE, JAVIER RODRIGUEZ & PETER KRAUSE
Cover by CHRIS SAMNEE
Marvel's fearless hero begins his most awe-inspiring adventure yet in sunny San Francisco! Daredevil has headed West, and he now protects the Golden City's streets from evil — both as a costumed hero and as blind lawyer Matt Murdock! But big changes are in store for Matt as old haunts and familiar faces rise to give the devil his due. The Owl is back, and he isn't working alone. But old enemies are small potatoes compared to Matt's new « friend »: the would-be hero known as the Shroud! As one of DD's oldest enemies is permanently redefined, deadlier than ever, Kirsten and Matt find themselves sharing a volatile secret. But who will crack first? Plus: What killed Foggy Nelson? Also featuring a special look into the future, celebrating DD's fiftieth anniversary with cryptic hints at what's to come! Collecting DAREDEVIL (2014) #1-5, #1.50 and #0.1.
176 PGS./Rated T+ …$17.99
ISBN: 978-0-7851-5411-2
AVENGERS UNDERCOVER VOL. 1: DESCENT TPB
Written by DENNIS HOPELESS
Penciled by KEV WALKER & TIMOTHY GREEN II
Cover by FRANCESCO MATTINA
When teen heroes infiltrate the Masters of Evil, who will break bad? Damaged by their experience in Murderworld, five conflicted young superhumans go rogue and pose as villains, planning to bring the Avengers' rivals down from within. But the longer the teens spend undercover, the more they descend into darkness — and as they start to build relationships with these multi-layered criminals, the line between good and evil blurs. What will happen first: joining the Masters for real, or getting exposed and killed? What happens when the teens confront their former captor, Arcade? And what on earth do the undercover heroes do that brands them as Public Enemy No. 1? As Death Locket must choose between murdering Captain America or blowing her cover, Baron Zemo makes the teens an offer they can't — they dare not — refuse! Collecting AVENGERS UNDERCOVER #1-6.
136 PGS./Rated T+ …$15.99
ISBN: 978-0-7851-8940-4
FANTASTIC FOUR VOL. 1: THE FALL OF THE FANTASTIC FOUR TPB
Written by JAMES ROBINSON
Penciled by LEONARD KIRK & MORE
Cover by LEONARD KIRK
The World's Greatest Comics Magazine begins anew! But as the Fantastic Four embark on a strange mission, they aren't met with new beginnings — they face an untimely end! Marvel's First Family heads toward its darkest hour, but who's behind the FF's downfall? Manhattan is under attack by a killer swarm from a corrupted pocket universe; to defeat it, the Human Torch must make a terrible sacrifice! And with one member down, a new menace emerges: the Wrecking Crew, their powers mysteriously elevated! As Ben and Alicia's romance rekindles, the threats of Fin Fang Foom, the Wizard and the Puppet Master loom; the Baxter Building is quarantined; and the Fantastic Four are held accountable for the destruction in Manhattan! It's the trial of the century and a major turning point for the FF! Collecting FANTASTIC FOUR (2014) #1-5.
112 PGS./Rated T …$15.99
ISBN: 978-0-7851-5474-7
WOLVERINE & THE X-MEN VOL. 1: THE PHOENIX CORPORATION TPB
Written by JASON LATOUR
Penciled by MAHMUD ASRAR
Cover by MAHMUD ASRAR
Welcome to the Jean Grey School of Higher Learning, where Wolverine, Storm and a star-studded faculty educate the next generation of mutants! But with their own lives steeped in deadly enemies and personal crises, how can the X-Men guide and educate — let alone defend — the school? And what mysterious organization waits in the shadows to destroy Wolverine's mutant sanctuary? The mysterious Phoenix Corporation wants Quentin Quire, but why? As Wolverine clings to life, Storm, Idie and the kids make a stand against the Phoenix Corporation — while a fleeing Quentin finds a new ally in Cyclops! And only Evan can save Fantomex from certain death, but does he dare? Wolverine and Storm reach a breaking point as the X-Men take on the Phoenix Corporation — with their very future hanging in the balance! Collecting WOLVERINE & THE X-MEN (2014) #1-6.
144 PGS./Rated T+ …$17.99
ISBN: 978-0-7851-8992-3
X-MEN: THE ADVENTURES OF CYCLOPS & PHOENIX TPB
Written by SCOTT LOBDELL, JEPH LOEB, JOHN FRANCIS MOORE & TOM DEFALCO
Penciled by GENE HA, PASCAL ALIXE, KYLE HOTZ & MORE
Cover by GENE HA
Join Cyclops and Phoenix on the wildest honeymoon of all time, and learn how young Nathan Summers became the man called Cable! When the newlyweds are pulled 2,000 years into the future, they must raise Cyclops' son in the shadow of Apocalypse. Can this post-nuclear family overthrow the ancient tyrant and his sadistic protégé, the boy called Stryfe, before Cyclops and Phoenix return to the present? In the aftermath, Nathan meets the mysterious Blaquesmith, falls for the lovely Aliya and seeks out the hidden Askani order — but why are they hailing him as their chosen one? Learn the Askani's secret origin and their strange connection to Rachel Summers — another time-torn mutant, and Nathan's long-lost sister! Collecting ADVENTURES OF CYCLOPS & PHOENIX #1-4, ASKANI'SON #1-4, X-MEN: PHOENIX #1-3, X-MEN: BOOKS OF ASKANI and material from MARVEL VALENTINE SPECIAL.
352 PGS./Rated T …$34.99
ISBN: 978-0-7851-8833-9
X-MEN: ASGARDIAN WARS TPB (NEW PRINTING)
Written by CHRIS CLAREMONT
Penciled by PAUL SMITH & ARTHUR ADAMS
Cover by ARTHUR ADAMS
The X-Men take on Loki, god of mischief! In the Arctic Circle, Alpha Flight and the X-Men discover a power that could save the world — but are they willing to pay the terrible price? Is Loki truly trying to give Earth a godly boon, or are his motives darker than the heroes dare dream? And when the X-Men incur Loki's wrath, it's the novice New Mutants who take the fall…and rise to Asgard! The X-Men ride to the rescue, but what if the New Mutants don't want to go home? And as Storm falls under Loki's sway, Magik is ensorcelled by the Enchantress, and Mirage has a fateful encounter with the Valkyrie, can even the mightiest mutants survive the magic of myth? Collecting X-MEN & ALPHA FLIGHT (1995) #1-2, NEW MUTANTS SPECIAL EDITION #1 and X-MEN ANNUAL (1970) #9.
248 PGS./Rated T …$29.99
ISBN: 978-0-7851-8872-8
MAGNETO VOL. 1: INFAMOUS TPB
Written by CULLEN BUNN
Penciled by GABRIEL HERNANDEZ WALTA & JAVI FERNANDEZ
Cover by PAOLO RIVERA
Once the deadliest, most feared mutant mastermind on the planet, Magneto is no longer the man he was. After allying with Cyclops and the X-Men, he became a pawn in another man's war. But now, determined to fight for mutantkind's survival on his own terms, Magneto sets out to regain what he's lost…and remind the world why it should tremble at the sound of his name. Magneto will safeguard the future of the mutant race by hunting down each and every threat that would see his kind extinguished — and bloody his hands that they may never be a threat again. But as horrors from his past loom large and S.H.I.E.L.D. agents pursue him, will Magneto soon become the villain he once was? And how will a mysterious woman from his past affect his mission? Collecting MAGNETO (2014) #1-6.
136 PGS./Parental Advisory …$17.99
ISBN: 978-0-7851-8987-9
NEW AVENGERS VOL. 2: INFINITY TPB
Written by JONATHAN HICKMAN
Penciled by MIKE DEODATO JR.
Cover by MIKE DEODATO JR.
The battle for Earth continues! As the Avengers wage all-out war against a cosmic invasion force in space, the cold war between Wakanda and Atlantis heats up into a full-scale conflict on Earth. Casualties begin to mount, and one of the Illuminati is forced to make a hard choice. But when an Inhuman learns of the Illuminati's
plans, everything falls apart — and the House of Black Bolt finally cracks as the Illuminati take to the front lines to oppose the mad Titan Thanos' invasion of Earth! How is Maximus the Mad involved, and what secret desires does Thanos harbor? Collecting NEW AVENGERS (2013) #7-12.
152 PGS./Rated T+ …$19.99
ISBN: 978-0-7851-6662-7
AVENGERS VOL. 4: INFINITY TPB
Written by JONATHAN HICKMAN
Penciled by LEINIL FRANCIS YU
Cover by LEINIL FRANCIS YU
The battle for the Marvel Universe continues here! Deep in space, the Avengers join the intergalactic fight against cosmic invaders on a collision course with Earth. The Builders have already decimated the forces of the mighty Skrull Empire — so what chance do even Earth's Mightiest Heroes stand? And when betrayal strikes the Council of Worlds and the Avengers find themselves prisoners of war, one last desperate plan is hatched! Galactic empires fall and rise — and as Earth is targeted, the Avengers race back to their own solar system. But will they be in time? Collecting AVENGERS (2012) #18-23.
168 PGS./Rated T …$15.99
ISBN: 978-0-7851-8415-7
UNCANNY AVENGERS VOL. 3: RAGNAROK NOW TPB
Written by RICK REMENDER
Penciled by SALVADOR LARROCA, DANIEL ACUNA & STEVE MCNIVEN
Cover by STEVE MCNIVEN
It's the dark origin of the Apocalypse Twins as Kang's true motives are revealed! When an Avenger falls, it's only the first casualty of many! As the Wasp faces the Grim Reaper, the Scarlet Witch confesses her true love and makes an impossible choice. And Sunfire and Rogue must defeat the Apocalypse Twins alone — or watch the end of our world! Wolverine fails mankind, more Avengers die, villains take their revenge, and the Unity Squad is left shattered. The fate of humanity rests in Thor's hands, but can even the God of Thunder defeat the combined might of two Apocalypses? Bring on the bad guys, because Ragnarok is now! Collecting UNCANNY AVENGERS #12-17.
136 PGS./Rated T …$19.99
ISBN: 978-0-7851-8484-3
INDESTRUCTIBLE HULK VOL. 3: S.M.A.S.H. TIME TPB
Written by MARK WAID
Penciled by MATTEO SCALERA & KIM JACINTO
Cover by MUKESH SINGH
Can history survive the Hulk? Spinning out of the events of Age of Ultron, Hulk goes on his most dangerous mission yet when a secret time-traveling subdivision of S.H.I.E.L.D. enlists him to save the space-time continuum! The timestream cracks under the pressure of unusual fluctuations and only the Hulk possesses the strength to hold it together — but without the superlative mind of his counterpart Bruce Banner to navigate the twists and turns of time travel, the green goliath will be lost to history! Can the two sides of the Hulk make peace long enough to survive harrowing battles with dinosaurs, cowboys and the knights of Camelot? And when he faces his own gamma-irradiated origin, will the Hulk make the ultimate sacrifice and erase himself from history in order to stop the time-traveling terrorist Chronarchists? Collecting INDESTRUCTIBLE HULK #11-15.
136 PGS./Rated T …$15.99
ISBN: 978-0-7851-8885-8
ULTIMATE COMICS SPIDER-MAN BY BRIAN MICHAEL BENDIS VOL. 5 TPB
Written by BRIAN MICHAEL BENDIS
Penciled by DAVID MARQUEZ
Cover by DAVID MARQUEZ
Spider-Man no more? In addition to the proportionate strength of a spider, Miles Morales can climb walls, turn invisible and fire venom blasts. He's even got a new set of web-shooters used by Peter Parker himself. But none of it prevented his mother's death, or spared his father from a life-changing injury in a brutal fight against Venom. Miles is convinced he caused the tragedy — so in an emotion-filled decision, he has put away the costume, swearing never to fight as Spider-Man again. But two new super-powered teenagers, Cloak and Dagger, have emerged. And when the Taskmaster breaks up their fight with the juvenile delinquent Bombshell, innocent lives are at stake! It's a job for someone with great power and great responsibility, but Miles Morales is Spider-Man no more!
Collecting ULTIMATE COMICS SPIDER-MAN (2011) #23-28.
136 PGS./Rated T+ …$17.99
ISBN: 978-0-7851-6706-8
CASTLE: A CALM BEFORE STORM TPB
Written by PETER DAVID
Penciled by ROBERT ATKINS
Cover by MICO SUAYAN
The adaptations based on the hit ABC show Castle continue as Derrick Storm's gruesome discovery draws him into an international spectacle! Who is the Fear? What does he want with Derrick? And why is Derrick's father next on his hit list? As the international situation in New York continues to degrade, Derrick reaches out to the one person who may be able to help him: his former handler, Clara Strike. But even if she responds, will she be with him or against him? With the city of Moscow teetering on the verge of a meltdown, Derrick faces the Fear in final battle. Can he prevent World War III — and finally avenge his mother? Don't miss the espionage thriller that has comic-book and Castle fans raving! Collecting CASTLE: A CALM BEFORE STORM #1-5.
120 PGS./13 & Up …$15.99
ISBN: 978-0-7851-6819-5
SOON TO BE A NETFLIX ORIGINAL SERIES!
JESSICA JONES: THE PULSE — THE COMPLETE COLLECTION TPB
Written by BRIAN MICHAEL BENDIS
Penciled by MARK BAGLEY, BRENT ANDERSON, MICHAEL LARK, MICHAEL GAYDOS & OLIVIER COIPEL
Cover by MIKE MAYHEW
Jessica Jones, breakout star of Brian Michael Bendis' hit series ALIAS, is back! And the ex-Avenger-turned-private investigator is starting a new chapter in her life — working for The Daily Bugle's new super-hero section, The Pulse! Jessica's first assignment: to uncover the identity of a former Bugle reporter's super-powered murderer! How is Norman Osborn involved? And how will Jessica's shocking discovery affect the entire Marvel Universe? And when Nick Fury's Secret War spills over into the streets, it hits Jessica and Luke Cage right where they live! With their lives in shambles, Jessica decides to fight back! Finally, it's the moment you've been waiting for: the birth of Jessica and Luke's baby, and their wedding day! Guest-starring Spider-Man, Captain America, the New Avengers and more! Collecting PULSE #1-9 and #11-14, and NEW AVENGERS ANNUAL (2006) #1.
360 PGS./Rated T+ …$34.99
ISBN: 978-0-7851-9086-8
OZ: DOROTHY & THE WIZARD IN OZ TPB
Written by ERIC SHANOWER
Penciled by SKOTTIE YOUNG
Cover by SKOTTIE YOUNG
Once upon a time, a tornado brought her to Oz. Now, an earthquake sends Dorothy on her latest and greatest adventure! L. Frank Baum's magical worlds come to life again as Dorothy Gale takes yet another unexpected trip. This time, Dorothy and her cousin Zeb tumble deep into the ground after an earthquake! They'll encounter the strange Mangaboos and invisible bears. They'll tussle with fierce wooden gargoyles and hungry 66-year-old baby dragons! But Dorothy will have an old friend at her side: the wonderful Wizard of Oz! But can the Wizard's guile save Dorothy and Zeb? And what master plan has he been hiding? Experience Marvel's fourth amazing adaptation of the L. Frank Baum classics, written by award-winning scribe Eric Shanower (Age of Bronze) and illustrated by Skottie Young (NEW X-MEN). Collecting DOROTHY & THE WIZARD IN OZ #1-8.
184 PGS./All Ages …$19.99
ISBN: 978-0-7851-9114-8