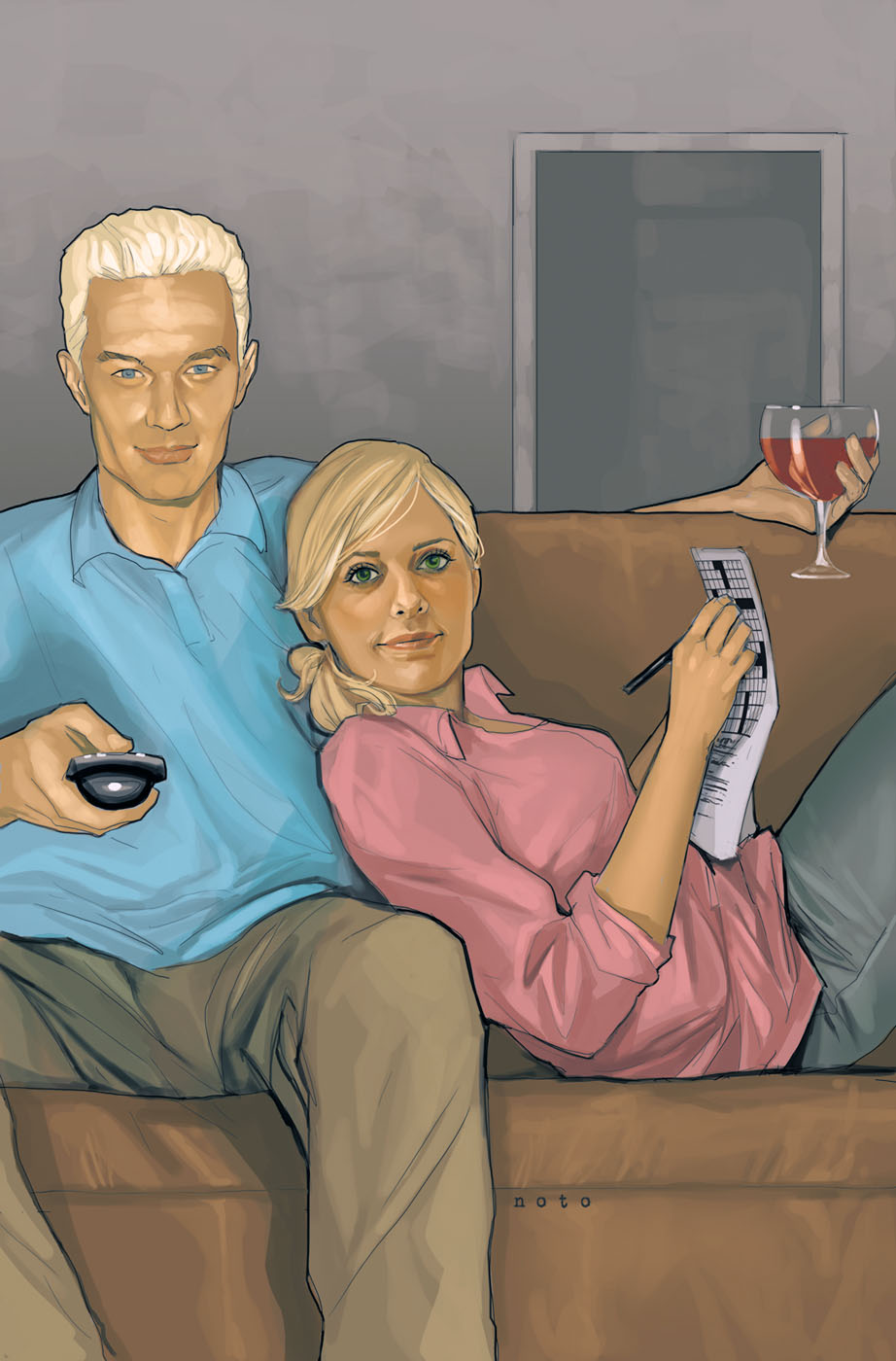 Voici les sollicitations Dark Horse Comics pour le mois de mars 2012, avec pour moi toujours les titres du Buffyverse : buffy et Angel & Faith, et les titres signés Mike Mignola avec deux mini séries BPRD en cours. (Source Comic Book Alliance).
ABE SAPIEN VOLUME 2: THE DEVIL DOES NOT JEST AND OTHER STORIES TP
Mike Mignola (W/Cover), John Arcudi (W), James Harren (A), Patric Reynolds (A), Peter Snejbjerg (A), and Dave Stewart (C)
Paranormal crime scenes wreak havoc on Abe Sapien as he investigates a recluse demonologist's evil house, a haunted lake, and a sunken Soviet U-boat filled with zombies!
144 pages, $17.99, in stores on May 9. 

ANGEL & FAITH #8
Christos Gage (W), Rebekah Isaacs (A/Variant cover), Dan Jackson (C), and Steve Morris (Cover)
Faith faces off against a troubled Slayer and the Irish mob, which is no easy task with a visitor from her past clouding her thoughts! Even with support from Angel, will Faith be able to maintain her sanity and follow her new righteous path or will she take the easy route and fall back on her old, murderous tendencies?
32 pages, $2.99, in stores on March 28. 

ARCHIE ARCHIVES VOLUME 5 HC
Harry Shorten (W), Harry Sahle (W/A), George Kapitan (W), Ray Cohan (W), Bill Vigoda (A), Al Fagaly (A), Eleanor Woik (A), Al McLean (A)
Celebrate the mirth of a nation with Archie Comics and Dark Horse Comics in this latest addition to the Archie Archives line! 1940s America instantly fell in love with Archie Andrews, Jughead, Betty and Veronica, and the whole gang from Riverdale, so much so that within just a few short years publisher MLJ Magazines became Archie Comics, beginning with some of the stories in this volume! Collecting Archie Comics #15Ð#18 and Pep Comics #54Ð#56!
224 pages, $49.99, in stores on May 9. 

AVATAR: THE LAST AIRBENDER VOLUME 2–THE PROMISE PART 2 TP
Gene Luen Yang (W), Michael Dante DiMartino (W), Bryan Konietzko (W), and Gurihiru (A)
Aang and Katara are working tirelessly for peace when an impasse between Fire Lord Zuko and Earth King Kuei over Fire Nation colonies within the borders of the Earth Nation threatens to plunge the world back into war! Meanwhile, Sokka must help Toph prepare her hapless first class of metalbending students to defend their school against a rival class of firebenders!
80 pages, $10.99, in stores on May 30. 

B.P.R.D. HELL ON EARTH: THE LONG DEATH #2
Mike Mignola (W), John Arcudi (W), James Harren (A), Dave Stewart (C), and Duncan Fegredo (Cover)
Agent Johann Kraus, the ectoplasmic man, leads a special task force through monster-filled northwestern woods packed with mangled campers in order to hunt and kill the man he blames for the host body he lost in Killing Ground.
32 pages, $3.50, in stores on March 21. 

B.P.R.D. HELL ON EARTH: THE PICKENS COUNTY HORROR #1
Mike Mignola (W/Variant cover), Scott Allie (W), Jason Latour (A), Dave Stewart (C), and Becky Cloonan (Cover)
As the world goes to hell, a backwoods vampire clan shelters themselves in their Gothic southern home, covered in fog and fungal horror, ready to create havoc for a trespassing B.P.R.D. crew.
32 pages, $3.50, in stores on March 28. 

BLOOD BLOCKADE BATTLEFRONT VOLUME 2 TP
Yasuhiro Nightow (W/A)
In the interdimensional maelstrom of New Jerusalem–what New York used to be before it went to hell, literally!–the agents of Libra quietly keep the lid on the paranormal pressure cooker. When agent Klaus Reinhertz tracks the source of the super-drug Angel Scale, he is drawn into a deadly game with a mob boss from the Beyond: Win and have your dreams come true, lose and have your mind absorbed by the alien godfather!
208 pages, black and white, $10.99, in stores on May 9. 

BRIDE OF THE WATER GOD VOLUME 11 TP
Mi-Kyung Yun (W/A)
Betrayed, horribly injured, and still reeling from the fate that befell his former human bride, Habaek is reunited with Soah and seeks to patch things up with her. Will this troubled couple finally be able to recover from the treachery that's warped their lives? Star-crossed lovers, strange curses, feuding elemental gods, and seething grudges set the stage for this installment. This volume also includes the hilarious « How to Draw Bride of the Water God » bonus strip section!
168 pages, black and white, $9.99, in stores on May 16. 

BUFFY THE VAMPIRE SLAYER SEASON 8 VOLUME 1 HC
Joss Whedon (W), Brian K. Vaughan (W), Georges Jeanty (P), Paul Lee (P), Cliff Richards (P), Andy Owens (I), Dave Stewart (C), Michelle Madsen (C), and Jo Chen (Cover)
This deluxe, oversized hardcover edition contains the first two arcs of Season 8, plus two one-shots. After the destruction of the Hellmouth, the Slayers–newly legion–have gotten organized, but it's not long before new and old enemies begin popping up. Buffy, Xander, Willow, and a very different Dawn are introduced to the season's big bad, Twilight, and are only beginning to understand the incredible reach of this mysterious threat. Meanwhile, rebel Slayer Faith teams up with Giles to handle a menace on the other side of the Atlantic. It's a dirty job, and Faith is just the girl to do it!
304 pages, $29.99, in stores on May 30. 

BUFFY THE VAMPIRE SLAYER SEASON 9 #7
Andrew Chambliss (W), Georges Jeanty (P/Variant cover), Karl Story (I), Michelle Madsen (C), and Phil Noto (Cover)
Still seeking normalcy in the midst of zompire-stricken San Francisco, Buffy contemplates a life-changing decision the likes of which few Slayers have ever faced. Meanwhile Spike rushes to the aid of Detective Dowling, who's in over his head with his recent investigation into the undead bloodsuckers plaguing the city.
32 pages, $2.99, in stores on March 14. 

CHANNEL ZERO TP
Brian Wood (W/A/Cover) and Becky Cloonan (A)
A blistering take on media control in a repressive future America! DMZ and The Massive creator Brian Wood launched an all-out assault on the comics medium in 1997 with Channel Zero, an influential, forward-thinking series that combined art, politics, and graphic design in a unique way. Touching on themes of freedom of expression, hacking, cutting-edge media manipulation, and policeÊsurveillance, it remains as relevant today as it did back then.
The Channel Zero collection contains the original series, the prequel graphic novel Jennie One (illustratedÊby Becky Cloonan), the best of the two Public Domain design books, and almost fifteen years of extras, rarities, short stories, and unused art. Also featuring the now-classic Warren Ellis introduction and an all-new cover by Wood, this is the must-have edition. See where it all began!
296 pages, black and white, $19.99, in stores on May 30. 

Brian Wood (W), Becky Cloonan (A), Dave Stewart (C), Massimo Carnevale (Cover), and Leandro Fernandez (Varinat cover)
Death has come for Conan and his fellow sailors in the visage of the privateer Blit! Rage and desire mingle in an orgy of slaughter as the barbarian and the pirate queen glimpse each other for the first time–as opponents in a battle to the last man!
32 pages, $3.50, in stores on March 14. 

Brian Wood (W), Colin Lorimer (W/P), Carla Speed McNeil (W/P), Steve Niles (W), Evan Dorkin (W), Al Gordon (W), Steve Horton (W), Andrew Vachss (W), Neal Adams (W/P), M. J. Butler (W), Kristian Donaldson (P), Christopher Mitten (P), Thomas Yeates (P/Cover), Michael Dialynas (P), Geof Darrow (P), Mark Wheatley (P), and Fiona Staples (Variant cover)
Evan Dorkin is unleashed in House of Fun, and Steve Niles weaves another web of paranormal intrigue in Criminal Macabre: They Fight by Night. Three brothers in a grim, postwar England of the future are given experimental suits that could make them the saviors of mankind–that is, if they can ever get past their obsessions with film, violent video games, and porn in Colin Lorimer's UXB! Brian Wood's The Massive finishes up, Carla Speed McNeil begins an epic new arc of Finder: Third World, Al Gordon and Thomas Yeates's centennial celebration of Tarzan concludes, and much more!
80 pages, $7.99, in stores on March 21. 

DARK MATTER #3
Joseph Mallozzi (W), Paul Mullie (W), Garry Brown (A/Cover), and Ryan Hill (C)
On the heels of a shocking revelation about the nature of their mission, the amnesiac crew struggle to come to terms with their roles–and each other. Meanwhile, a space ship bristling with weaponry pops up on their radar and it doesn't seem friendly. Will a reckless response to a perceived threat damn them all?
32 pages, $3.50, in stores on March 14. 

EERIE ARCHIVES VOLUME 10 HC
Doug Moench (W), Esteban Maroto (W/P), Bill DuBay (W), Steve Skeates (W), Al Milgrom (W), Jack Butterworth (W), John Jacobson (W), Sanjulian (P/Cover), Tom Sutton (P), Jaime Brocal (P), Martin Salvador (P), Ramon Torrents (P), and Paul Neary (P)
Collecting issues #47 to #51 of Warren Publishing's legendary anthology, this volume contains seminal work from Warren luminaries and fan-favorite creators like Doug Moench, Steve Skeates, Esteban Maroto, Tom Sutton, Al Milgrom, Jaime Brocal, Bill DuBay, Paul Neary, and more! Complete with vintage ads, all original text pieces, the debut of the Eerie's Delights feature, and reproductions of Sanjulian's legendary painted covers, this is one series that just keeps getting better and better! As a special bonus treat, this volume also reprints two horror-themed, cutout game spreads (complete with rules) created by Bill DuBay and reprinted in color! New Foreword by Batton Lash!
240 pages, black and white, $49.99, in stores on May 23. 

EMPOWERED VOLUME 7 TP
Adam Warren (W/A)
While costumed crime fighter Empowered makes a startling discovery regarding her status as an all-too-frequent « damsel in distress, » Ninjette confronts her own sordid past and frighteningly uncertain future as she battles alone against an entire clan of supernaturally durable ninja. What's more, can our hard-luck heroines withstand the challenges of supervillainous minivans, dueling « daddy issues, » doomed-but-still-hot boyfriends, undead karaoke-party crashers, and spoiler alerts from hell itself?
208 pages, black and white, $16.99, in stores on May 30. 

FEAR AGENT VOLUME 6 TP
Rick Remender (W), Mike Hawthorne (A), Tony Moore (A), John Lucas (A), Lee Loughridge (C), and Jerome Ope–a (Cover)
The final tale of the last Fear Agent! Heath Huston is the onlyÊremaining human in a universe that has been totally amalgamated by TetaldianÊrobotic conquerors. As the Tetaldians continue to hunt him, Heath uncovers theÊhistory of the robot hordes and their secret coconspirators. The odds areÊstacked higher than ever, his body is aged and broken. Presented withÊone final opportunity for redemption, can the last Fear AgentÊmove past hisÊrole in it all and give the bastards a little back?
128 pages, $16.99, in stores on May 2. 

FLCL OMNIBUS
Gainax (W) and Hajime Ueda (A)
The complete FLCL manga adaptation–now with bonus color illustrations and remastered story pages! In this surreal sci-fi romp, a sullen Japanese boy finds himself in the middle of an interstellar conspiracy. As his home life unravels, a sexy space assassin becomes his family maid, and his own head becomes a portal for armed robots. Life as he knows it is quickly falling apart, and Ueda doesn't know who's friend or foe! One thing's for certain–he has to grow up quick and save his hometown, whether he wants to or not!
392 pages, black and white, $19.99, in stores on May 16. 

HOUSE OF NIGHT #5
Kent Dalian (W), P. C. Cast (W), Kristin Cast (W), Jo'lle Jones (A), Eric Canete (A/C), Ryan Hill (C), and Jenny Frison (Cover)
A tale of heated passion and deadly heartbreak starring warriors Hippolyte and Herkales forms the backdrop for Zoey Redbird's fifth and final lesson from the goddess Nyx. It's now time for Zoey to take all she's learned and make an inevitably controversial decision on how to lead the popular student group known as the Dark Daughters.
32 pages, $2.99, in stores on March 14. 

THE IMMORTAL: DEMON IN THE BLOOD #4
Ian Edginton (W), Vicen Villagrasa (P), JosŽ Luis R'o (I/C), and Long Vo (Cover)
Investigating the mysterious deaths in Yokohama, the immortal samurai Enma finally stumbles on a lead that takes him to his master's former apprentice–another demon-possessed immortal–for an explosive confrontation. Enma's sway over the demon within him is challenged. His ultimate fate is decided when the girl he loves takes a central position in the conflict . . .
32 pages, $3.50, in stores on March 28. 

THE INCREDIBLE ADVENTURES OF DOG MENDONZA AND PIZZABOY TP
Filipe Melo (W), Juan Cavia (A), and Santiago Villa (C)
What do an overweight Portuguese werewolf, a seven-year-old girl who's actually a six thousand-year-old demon, and a downtrodden pizza boy have in common? In this smash-hit import, the unlikely team bands together to ward off occult evils, Nazis, and impending global doom!
112 pages, $12.99, in stores on May 23. 

KING CONAN: THE PHOENIX ON THE SWORD #3
Tim Truman (W), Tom‡s Giorello (A), JosŽ Villarrubia (C), and Andrew Robinson (Cover)
King Conan has built his empire by brawn and by blade, but there are dangers that lurk in the shadows of his throne that cannot be slain by the Cimmerian's steel. Assassins are at his chamber door, and Thoth-Amon–back to the height of his power–is summoning fearsome fiends from the fiery pit! If he is to survive the night, Conan will need to enlist the aid of the gods!
32 pages, $3.50, in stores on March 28. 

KULT TP
Jeremy Barlow (W), Iwan Nazif (A), Michael Atiyeh (C), and Jake Murray (Cover)
Fondly remembered for its philosophical complexity and controversial content, Kult has achieved legendary status amongst role-playing gamers. The Kult graphic novel introduces this setting anew with parole officer Tomas Zenk, one of the few who can pierce the illusion. As he overcomes monsters sent to kill him, Zenk discovers the true extent of his powers, including the ability to exert control over the machinery of humanity's enslavement. But will he aid the forces attempting to bring down the illusion . . . or succumb to the temptations of power? Collects the four-issue miniseries.
88 pages, $12.99, in stores on May 23. 

LOBSTER JOHNSON: THE BURNING HAND #3
Mike Mignola (W), John Arcudi (W), Tonci Zonjic (A), Dave Stewart (C), and Dave Johnson (Cover).
A fiery menace is turning the city into an inferno, and only Lobster Johnson and his league of crime fighters can put an end to these paranormal horrors.
32 pages, $3.50, in stores on March 14. 

MANARA EROTICA VOLUME 1: CLICK! AND OTHER STORIES HC
Milo Manara (W/A)
Milo Manara's landmark collaboration with Dark Horse continues with the premier volume of Manara Erotica, a sumptuous companion to the Manara Library! A master of storytelling and of the human form, Manara has created some of the sexiest comics ever published, all of which are included in this deluxe three-volume series.
Volume one is anchored by all four parts of Manara's internationally acclaimed Click! A beautiful but passionless woman is plunged into a hilarious, world-spanning adventure when she is implanted with a remote-controlled chip able to unlock her inner lustfulness. Manara classics Fatal Rendezvous and « Piercing » round out this dazzling compilation, a must-own for any fan of European comics.
292 pages, black and white, $59.99, in stores on May 9. 

MARVEL CLASSIC CHARACTER–FANTASTIC FOUR #4: THE THING
Benjamin Jacob « Ben » Grimm, better known to the world as the Thing, has become one of the best-known comic-book characters of all time. Created by Stan Lee and Jack Kirby, he pilots into space on the fateful mission that results in the creation of the Fantastic Four. Transmogrified into an orange humanoid monster, the Thing nevertheless retains his sense of humor, his bright blue eyes, and a big ol' heart of pure gold. His trademark battle cry, « It's clobberin' time! » is world famous.
This ongoing character lineup presents these characters just as they originally appeared, but the statues feature a rougher surface texture, visible seam lines, and other slightly distressed aspects, such as paint-application techniques. Sculpted by Yoe! Studio.
5 1/4″ tall, limited to 650 numbered pieces, packaged in its own tin box, with a pin-back button and character booklet, $49.95, in stores on March 28. 

ORCHID #5
Tom Morello (W), Scott Hepburn (A), Dan Jackson (C), and Massimo Carnevale (Cover)
As the noose tightens around the rebellion's neck, Orchid arrives at an enemy-controlled outpost rife with debauchery, sin, and soldiers eager to get their hands on the runaway and her companions. Opal's expertise in the department of violence and Orchid's streetwise instincts come in handy but can only take them so far, as a threat from Orchid's past catches up with her and threatens to bring their tiny crusade to an end.
32 pages, $3.50, in stores on March 14. 

RAGEMOOR #1
Jan Strnad (W) and Richard Corben (A/Cover)
Ragemoor! A living castle, nurtured on pagan blood, harborer to deadly monsters! A fortress possessed of its own will and ability to change itself, with the power to add and destroy rooms and to grow without the help of any human hand. Its owner is mad with jealously, its servants aren't human, and its secret's horrific! Ê
32 pages, black and white, $3.50, in stores on March 21. 

THE SAVAGE SWORD OF CONAN VOLUME 11 TP
Larry Yakata (W), Michael Fleisher (W), Don Kraar (W), Pablo Marcos (A), Val Mayerik (A), Ernie Chan (A), Gary Kwapisz (A), Dave Simons (A), Rudy Nebres (A), and Michael Golden (Cover)
After many journeys trading his feared sword arm for gold, Conan returns to the land of his birth, Cimmeria, only to find his family murdered and his sister enslaved by a ruthless rival clan. While the mighty slayer cannot bring back the dead, he can still mete out a terrible vengeance, but can even a warrior as skilled and merciless as Conan take on an entire clan whose treacherous hands hold a blade to his sister's throat?
536 pages, black and white, $19.99, in stores on May 2. 

SPACE FAMILY ROBINSON ARCHIVES VOLUME 4
Gaylord DuBois (W) and Dan Spiegle (A)
With the help of an advanced group of alien beings, a little ingenuity, and a lot of luck, the Robinsons have managed to traverse dimensional rifts and vast swaths of space to make their way back to our solar system! But something has gone wrong! Their time-shift mechanism has malfunctioned and sent them careening into Mars! With repairs to their ship underway, the Robinsons notice that this isn't the Mars that they know, but Mars from untold ages ago! Join the Robinsons as they come face to face with Martians! Will they survive Mars and make it back to the present, or be forever lost in time? Collects the Space Family Robinson Lost in Space comics from #23 to #31 and March of Comics #320. Includes the beautiful, original painted covers by George Wilson!
224 pages, $49.99, in stores on May 2. 

STAR WARS: AGENT OF THE EMPIRE — IRON ECLIPSE #4
John Ostrander (W), StŽphane Roux (P/Cover), Julien Hugonnard-Bert (I), and Karine Boccanfuso (C)
So far tonight, Jahan Cross has been « killed, » has entered into a « marriage » of convenience with the sister of his enemy, and has had a knock-down, drag-out fight with a murderous droid. Now he's onboard the Millennium Falcon and headed for an obvious trap! All in a night's work for an agent of the Empire!
32 pages, $3.50, in stores on March 14. 

STAR WARS: CRIMSON EMPIRE III — EMPIRE LOST #6
Mike Richardson (W), Paul Gulacy (A), Michael Bartolo (C), and Dave Dorman (Cover)
It's the final showdown between Admiral Pellaeon's Imperial forces and those of his hardliner adversaries, with the New Republic joining in the fray! The outcome could mean peace–or extended war for the galaxy. But will either alternative matter for the last surviving member of Emperor Palpatine's Royal Guard? Kir Kanos is a man on the edge–a man without a past, and only questions for the future!
32 pages, $3.50, in stores on March 28. 

STAR WARS: DAWN OF THE JEDI #2
John Ostrander (W), Jan Duursema (P/Cover), Dan Parsons (I), and Wes Dzioba (C)
At the heart of a galaxy far, far away lies the Tython system–home of the Je'daii for thousands of years. Now a stranger has come and the balance of the Force has been disrupted. Three young students feel the disturbance in the Force and are called to this new, shadowy presence. It is the calm before the storm that will engulf their planet and change the galaxy forever!
32 pages, $3.50, in stores on March 21. 

STAR WARS: INVASION VOLUME 3–REVELATIONS TP
Tom Taylor (W), Colin Wilson (A), Wes Dzioba (C), and Chris Scalf (Cover)
The galaxy is united against the invading Yuuzhan Vong. Or is it? The Galfridian royal family has been at the forefront of the Yuuzhan Vong war since their homeworld was conquered. Princess Kaye and Queen Nina have gathered refugees and seek to reunite them with their families at a safe haven. But could a haven run by the Empire really be safe?
Meanwhile, Finn Galfridian, under the guidance of Jedi Master Dray, infiltrates Coruscant and discovers revelations about the leaders of the New Republic that could lead to disaster for the war, and for his family!
128 pages, $18.99, in stores on May 16. 

STAR WARS: KNIGHTS OF THE OLD REPUBLIC–WAR #3
John Jackson Miller (W), Andrea Mutti (P), Gigi Baldassini (I), Michael Atiyeh (C), and Benjamin CarrŽ (Cover)
Peace-loving Jedi Zayne Carrick is an unwilling recruit in the war between the Republic and the Mandalorians. When he discovers that his homeworld is about to become the center of a battle zone, Zayne is prepared to do everything to prevent bloodshed–like calling in a favor from an old friend and putting together a complicated ruse!
32 pages, $3.50, in stores on March 14. 

THE STRAIN #4
David Lapham (W), Mike Huddleston (A/Cover), and Dan Jackson (C)
The first night has fallen, and pale creatures roam the streets as a dark shadow creeps over New York City. Dr. Ephraim Goodweather is no closer to solving the mystery behind these strange incidents, and–though he doesn't know it–a new visitor to the city has arrived with plans to thwart his efforts even further!
32 pages, $3.50, in stores on March 14. 

TUROK, SON OF STONE ARCHIVES VOLUME 10 HC
Paul S. Newman (W), Alberto Giolitti (P), and Rex Maxon (P)
Turok and Andar find themselves in a never-ending string of dangerous situations as they struggle to escape the lost valley that traps them. Pursued by maddened beasts, surrounded by sea honkers, threatened by a volcanic eruption, or fighting for their lives in a dead city, the braves never give up hope of one day finding a way out of the strange and perilous land! This volume collects issues #60Ð#67, first published by Gold Key Comics.
248 pages, $59.99, in stores on May 16.