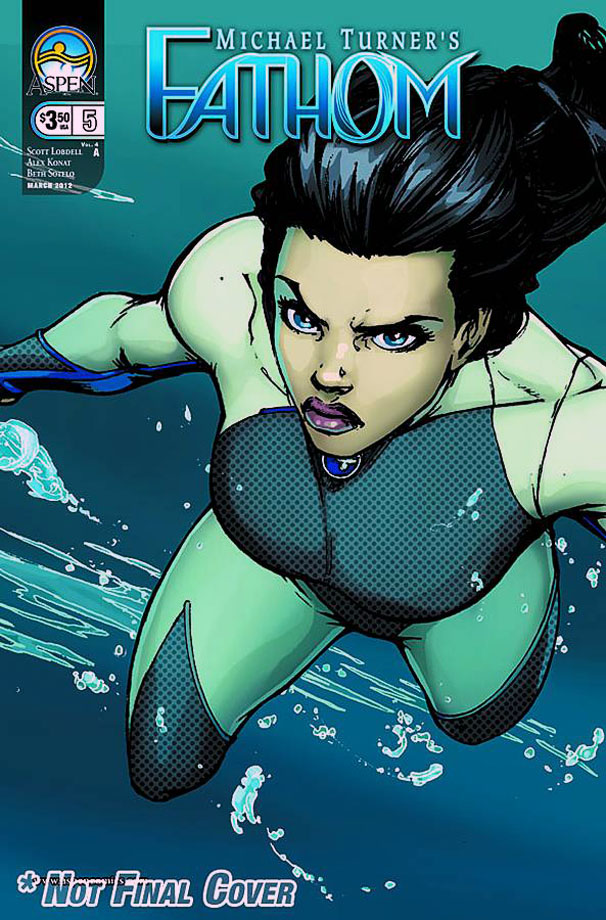 Dark Knight Rises : la promo commence 
Le dernier film de la trilogie Batman par Nolan sort l'année prochaine, mais entre temps il faut bien aiguiser les appétits. Le mag Empire participe à la pré campagne de promo avec les premières couvertures du film :
Alors Batman ça va, par contre Bane, non juste non. Ce sera peut être bien dans le film, mais là c'est plus ridicule qu'autre chose. Cependant à cette occasion Nolan a révélé une information importante sur le contenu du film, puisqu'il a révélé que Dark Knight Rises se déroulait 8 ans après la fin de Dark Knight. Bien évidemment Bruce Wayne, et son alter-ego, sont bien plus âgés en conséquence. C'est alors que Bane débarque qui est selon Nolan « le défi physique ultime »…
Aspen Comics en février 2012
SHRUGGED (VOL. 2) #0
Written by Frank Mastromauro, art by Micah Gunnell and Kelsey Shannon.
The little voices return as Shrugged Vol. 2 begins!
From visionary Michael Turner, the same great creative force that brought you the acclaimed hits Fathom and Soulfire, comes this unique tale of the human intellect, the hearts desires, and the reason behind your every decision! However, these « reasons » aren't just in your head, they're real, and they're planning their way out all over again!
But, if you thought you knew anything about the world of Shrugged, you better think twice! Or three times even, because everything you know is about to be turned upside down, and those little voices inside your head are about to get MUCH louder!
This debut zero issue features a new 16-page story that sets the stage for next month's upcoming premiere of Shrugged Vol. 2 #1. Accompanied by an additional sketchbook section and never before seen character designs and art, make sure to listen to the little voices inside of your head and pick up, Shrugged!
32 pages, $2.50, in stores on Feb. 1. 

DEAD MAN'S RUN #2
Written by Greg Pak, art by Tony Parker.
What does a dead man do when he discovers that Hell is the world's most horrific maximum-security prison on the planet? If you're cartographer Sam Tinker, you plan your escape — by pulling together a team of Hell's most terrifying inmates. Discover how far a good man will go to save his innocent sister, and get ready for an unbelievable supernatural action-packed thriller.
32 pages, $3.50, in stores on Feb. 15. 

Written by Mark Roslan, art by Micah Kaneshiro.
The broken pieces of Dr. Richard Adam's present begin to come together, revealing the tragic reality of his impending future! Meanwhile, Adams begins to discover the disastrous and horrific conditions of the world and people outside the boundaries of Trinion's control, as his wife Gabriella must make a reluctant decision to continue working on her research for Ludas, and the nefarious corporation. Plus, the arrival of Trinion's Elite Soldier force complicates matters even more — as collateral damage and bloodshed follows their destructive mission objective!
32 pages, $3.50, in stores on Feb. 8.

HAUNTED CITY #4
Written by Chap Taylor and Peter Johnson, art by Michael Ryan.
Volume one of Haunted City reaches its shattering climax as Tom and the team fight for their lives against the evil that surrounds them on all sides, culminating in a pitched battle against resurrected 19th-century gangsters that rages from the Stygian depths of Manhattan Island to the pinnacle of the Empire State Building. Secrets are revealed and questions are answered as Internal Affairs, Vic Cerberus' werewolf gangsters and an entirely new threat test our heroes as never before… and one member of the team pays the ultimate price.
32 pages, $3.50, in stores on Feb. 29. 

FATHOM (VOL. 4) #5
Written by Scott Lobdell, art by Alex Konat, colors by Beth Sotelo.
Aspen Matthews stands alone against the mysterious Church of the Eternal Depths — while her new alley Galit works to destroy the undersea order at its source: an ancient factions within the Japanese government! Since the opening pages of the epic story of Aspen Matthews, those factions have been waiting to unleash the myriad of weapons they have adapted from the Blue's technology. But, if they were counting on facing the underwater wallflower from her earliest adventures, her enemies couldn't possibly understand the true power that is Aspen!
32 pages, $3.50, in stores on Feb. 22. 

Written by J.T. Krul, art by Jason Fabok, colors by John Starr.
As the war of ages between the Sethoru and the Rahtumi rages on to its climactic finish, Malikai must confront a deeply startling revelation ñ the malevolent chaos creatures that have been tormenting the world — are actually part of his own soul! How can the Bearer of the Light possibly defeat an evil that grows within himself? And what means can he possibly turn to in order to contain a darkness that feeds on the very light of the living? The shocking conclusion to the epic third volume of Soulfire!
32 pages, $3.50, in stores on Feb. 22.