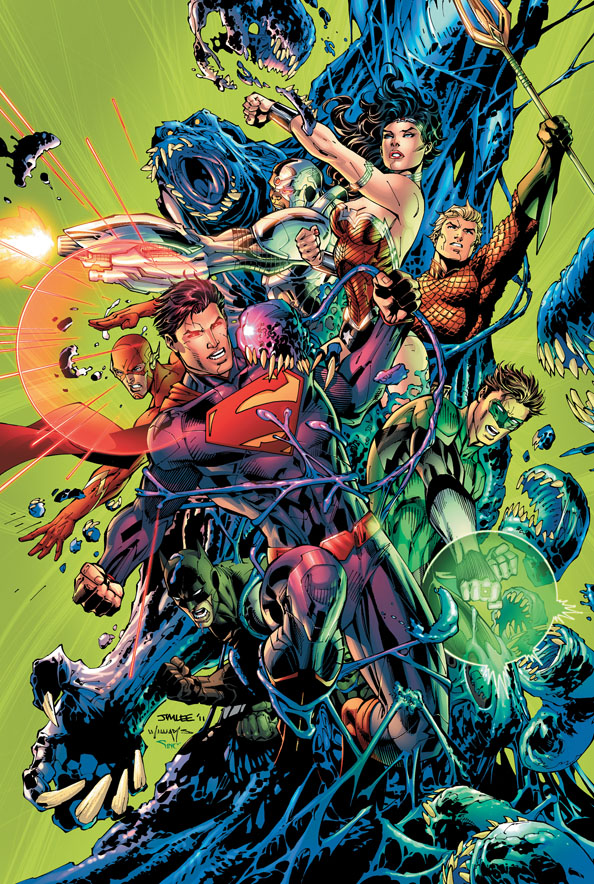 Panini 2012 : double ration de Schism en mai 
NEWS ! SCHISM ! La saga mutante démarre en mai, dans les pages d'X-MEN, avec deux épisodes !
Comme je l'ai déjà dit, si en single la saga Schism n'est pas extraordinaire, en TPB cela peut valoir le coup. J'espère donc que Panini optera pour une publication très condensée.
 Sollicitations Justice League et Superman pour mars 2012

JUSTICE LEAGUE #7
Written by GEOFF JOHNS
Art by GENE HA and GARY FRANK
Cover by JIM LEE and SCOTT WILLIAMS
1:25 Variant cover by GARY FRANK
1:200 B&W Variant cover by JIM LEE
On sale MARCH 21 • 40 pg, FC, $3.99 US • RATED T
Combo pack edition: $4.99 US
Now that the team's origin story is complete, starting with this issue we shift to the present-day Justice League! What has changed? Who has joined the team since? Featuring artwork by Gene Ha, the story also reintroduces the team's greatest champion: Steve Trevor!
Also starting in this issue: "The Curse of Shazam!" featuring a story by Geoff Johns and art by Gary Frank! Discover Billy Batson's place in DC Comics – The New 52 as we reveal his all-new origin story!
This issue is also offered as a special combo pack edition, polybagged with a redemption code for a digital download of this issue.

JUSTICE LEAGUE INTERNATIONAL #7
Written by DAN JURGENS
Art by AARON LOPRESTI and MATT RYAN
Cover by DAVID FINCH and RICHARD FRIEND
On sale MARCH 7 • 32 pg, FC, $2.99 US • RATED T
With the Signal Men defeated and Earth saved from certain annihilation, the members of Justice League International expected to bask in glory and appreciation. Such is not the case as a new threat, one far more dangerous than anyone dared suspect, emerges and attacks with dire results, forever altering the team and sending it in a bold, new and unexpected direction.
AQUAMAN #7
Written by GEOFF JOHNS
Art and cover by IVAN REIS and JOE PRADO
1:25 B&W Variant cover by IVAN REIS and JOE PRADO
On sale MARCH 28 • 32 pg, FC, $2.99 US • RATED T
Who destroyed Atlantis? In the start of a new storyline, we follow the hunter as he stalks and kills his prey, claiming their weapons and armor as trophies. A golden shield, a golden helm…and the final prize is the most powerful of all: a golden trident. The only problem is, he's going to have to go through Aquaman to get it. Who is he? What is the secret of Aquaman's trident? And how does this all tie into the destruction of Atlantis?

WONDER WOMAN #7
Written by BRIAN AZZARELLO
Art and cover by CLIFF CHIANG
1:25 B&W Variant cover by CLIFF CHIANG
On sale MARCH 21 • 32 pg, FC, $2.99 US • RATED T
Remember the myth of Orpheus? Wonder Woman certainly does. And we hope she's learned its lessons well, because someone she dearly loves is in Hell's clutches – and she's the only one who can mount a rescue mission! But Hades has no mercy, even for his own family – in fact, especially for his own family – and he doesn't intend to let her walk out of his domain without paying a terrible price!

THE FLASH #7
Written by FRANCIS MANAPUL and BRIAN BUCCELLATO
Variant cover by DALE KEOWN
1:200 B&W Variant cover by FRANCIS MANAPUL
On sale MARCH 28 • 32 pg, FC, $2.99 US • RATED T
Captain Cold is back – and he's more dangerous than ever! Seeking revenge on The Flash, he must convince the rest of the Rogues to reunite one last time. But what tore them apart before? And what did The Flash do to earn their deadly scorn? Find out here!

CAPTAIN ATOM #7
Written by J.T. KRUL
Art by FREDDIE WILLIAMS II
Cover by MIKE CHOI
On sale MARCH 21 • 32 pg, FC, $2.99 US • RATED T
This issue's got all the answers! Why did Nathaniel Adam sign up for Megala's experiment? How did he become Captain Atom? Do his powers have any limits? And what's the deal with those numbers? It's time to explore the past, present, and future of Captain Atom as he tries to stop a catastrophic event even though he's already too late!
THE FURY OF FIRESTORM: THE NUCLEAR MEN #7
Written by JOE HARRIS and ETHAN VAN SCIVER
Art and cover by ETHAN VAN SCIVER
On sale MARCH 28 • 32 pg, FC, $2.99 US • RATED T
New co-writer Joe Harris (Ghost Projekt) joins Ethan Van Sciver in this white-hot jumping-on issue! Plus: Van Sciver provides interior art for what's sure to be one of the most talked-about comics of the year! As the fallout from the recent rogue Firestorm attack spreads and threatens to bring down Zither-Tech and the Firestorm Protocols, Ronnie Raymond pursues the Russian Nuclear Man Pozhar on what may well turn out to be a suicide mission. Meanwhile, Jason Rusch is made an offer he can't refuse. Separated in an evolving game of international atomic brinkmanship, each Firestorm faces a world more dangerous than he ever imagined… while one gets a life-altering shock you'll never forget!

GREEN ARROW #7
Written by ANN NOCENTI
Art by HARVEY TOLIBAO
Cover by HOWARD PORTER
On sale MARCH 7 • 32 pg, FC, $2.99 US • RATED T
Green Arrow's gone looking for trouble, and he's found it – in triplicate! Three women who give new meaning to the term "drop dead gorgeous" have our hero outnumbered and outgunned! Collectively, they're called "Skylark," and they've been sent on a secret mission with Oliver Queen as its focus! Who's directing them, what is their shadowy goal and will Ollie let his guard down and be gulled by these beautiful and deadly adversaries? Join new creative team Anne Nocenti and Harvey Tolibao as they chart the next chapter in the life of Oliver Queen!

MISTER TERRIFIC #7
Written by ERIC WALLACE
Art by GIANLUCA GUGLIOTTA and WAYNE FAUCHER
Cover by J.G. JONES
On sale MARCH 14 • 32 pg, FC, $2.99 US • RATED T
When a mysterious ghost ship appears in Los Angeles harbor, Mister Terrific must investigate his strangest case yet! Supernatural horror quickly gives way to a nuclear nightmare as L.A.'s protector uncovers a terrorist plot to destroy the city. But while Mister Terrific fights for the City of Angels, a shocking new villain rises from the ashes of betrayal. Get ready to meet Digitus, the unstoppable monstrosity who can outthink Mister Terrific!

DC UNIVERSE PRESENTS #7
Written by DAN DIDIO and JERRY ORDWAY
Art by JERRY ORDWAY
Cover by RYAN SOOK
On sale MARCH 21 • 32 pg, FC, $2.99 US • RATED T
What do you do when death wears the face of the one you loved? That's what June Robbins must deal with, as the one person who didn't survive last issue's crash, Ace, returns in a monstrous new form, determined to end the lives of June and the Challengers of the Unknown! Get ready for a globe-hopping, reality-warping thrill ride from Dan DiDio and Jerry Ordway!

THE SAVAGE HAWKMAN #7
Written by TONY S. DANIEL and JAMES BONNY
Art and cover by PHILIP TAN
On sale MARCH 28 • 32 pg, FC, $2.99 US • RATED T
Hawkman battles an army of living corpses raised from the dead by the power of the Mortis Orb. Now that the ancient relic is in the possession of the Gentleman Ghost, thousands of lives might be snuffed out in an instant. It will take a team-up with New York City's own Static to stop this undead threat!
ACTION COMICS #7
Written by GRANT MORRISON
Backup story written by SHOLLY FISCH
Art by RAGS MORALES and RICK BRYANT
Backup story art by BRAD WALKER
Cover by RAGS MORALES
Variant cover by GREG CAPULLO
1:200 B&W Variant cover by RAGS MORALES
On sale MARCH 7 • 40 pg, FC, $3.99 US • RATED T
Combo pack edition: $4.99 US
Metropolis has been captured! To save it, Superman must push the limits of his nascent powers as never before! Aboard the ship that has the city captive, The Man of Steel finds an important tool that may help him defeat Metal-zero and his boss!
And as Superman fights foes in the sky, Steel must do what he can to protect those still in danger on the ground in a backup story by Sholly Fisch and Brad Walker!
This issue is also offered as a special combo pack edition, polybagged with a redemption code for a digital download of this issue.
SUPERMAN #7
Written by KEITH GIFFEN and DAN JURGENS
Art by DAN JURGENS and JESUS MERINO
Cover by IVAN REIS and JOE PRADO
1:25 B&W Variant cover by IVAN REIS and JOE PRADO
On sale MARCH 28 • 32 pg, FC, $2.99 US • RATED T
The start of an insanely epic arc from the new writing team of Keith Giffen and Dan Jurgens! New love interests, new roommates, and a new foe: the wicked Helspont! What does this monster want with Superman, and how does it all connect to the Daemonites? 

SUPERBOY #7
Written by SCOTT LOBDELL
Art by R.B. SILVA and ROB LEAN
Cover by SHANE DAVIS
On sale MARCH 14 • 32 pg, FC, $2.99 US • RATED T
Superboy's come back to N.O.W.H.E.R.E. with vengeance on his mind – but Rose Wilson is waiting for him. Right from the start, she was the one meant to bring him down when he went out of control – and this fight is going to be out of control! What can one woman with swords do against the most powerful teenager in the world? You – and Superboy – will be very surprised indeed!

SUPERGIRL #7
Written by MICHAEL GREEN and MIKE JOHNSON
Art and cover by MAHMUD ASRAR
On sale MARCH 21 • 32 pg, FC, $2.99 US • RATED T
It's Supergirl versus the Worldkillers! But who are they, and where did they come from? What is their connection to Krypton? More important, can the Girl of Steel stop them before they make good on their names and destroy Earth?