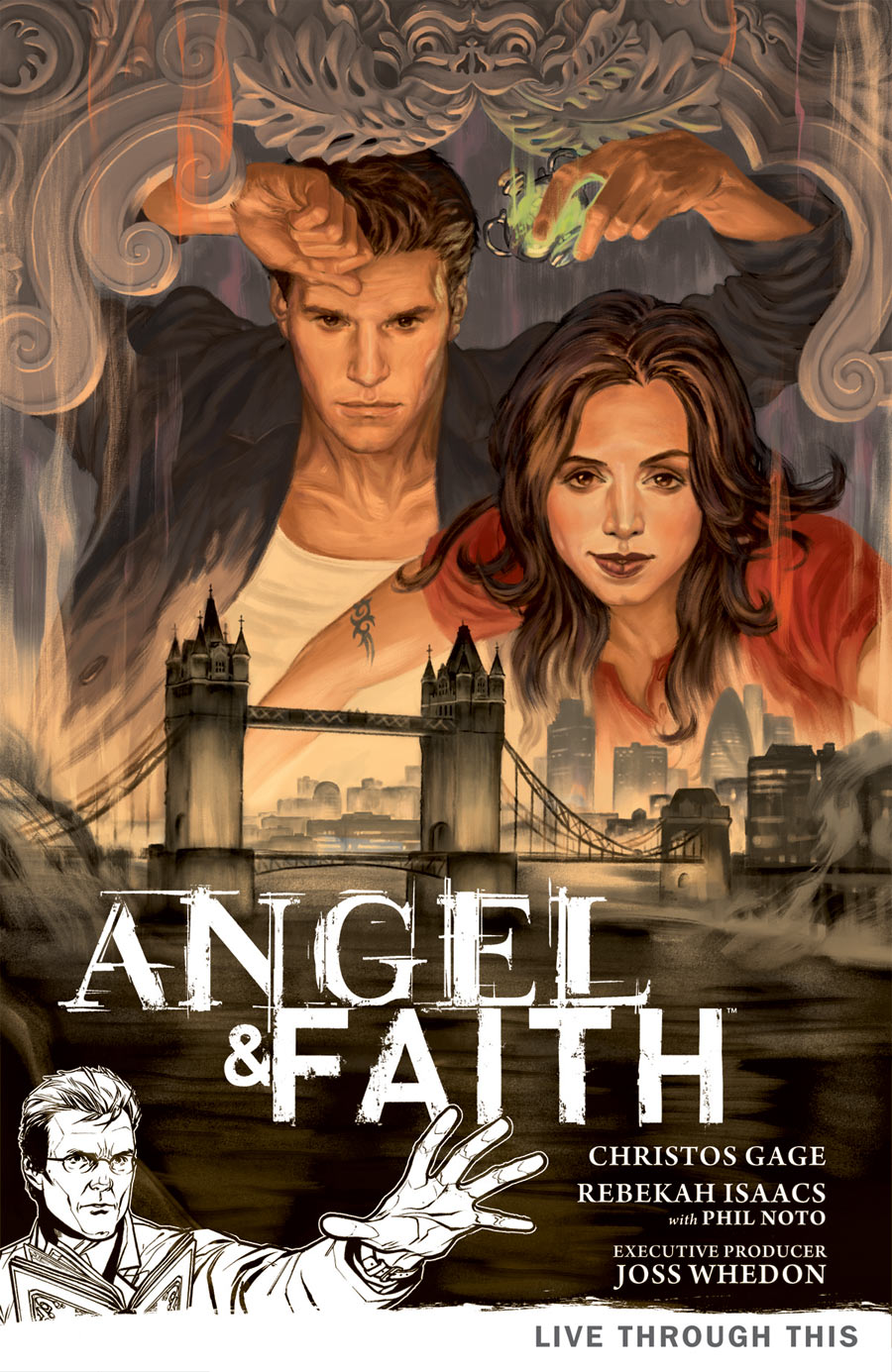 Dark Horse ouvre le feu des sollicitations pour le mois d'avril, avec pour moi toujours les titres du Buffyverse, et notamment cette couverture de Buffy # 8 qui fait très peur !!! Les fans connaissent le goût de Joss Whedon pour les traumatiser … On pourra aussi noter du côté des TPB la sortie du 1er tome de la nouvelle série Angel & Faith.
Il y a aussi les séries du Mignolaverse avec la floppée de mini-séries entourant le titre BPRD qui se poursuivent.
3 STORY: SECRET FILES OF THE GIANT MAN
Matt Kindt (W/A/Cover)
On sale Apr 18
FC, 32 pages
$3.50
One-shot
The most acclaimed graphic novel of 2009 returns! Some episodes from the life of Craig Pressgang were too sensitive even for the pages of 3 Story: The Secret History of the Giant Man, but now the full truth of his years as a spy can be told! Lending new meaning to the phrase "hiding in plain sight," Craig's missions to Paris, Cairo, and the Philippines make Secret Files an essential companion to the 3 Story graphic novel, as well as a perfect standalone introduction to Matt Kindt's touching history of the Giant Man. Collects all three Giant Man stories from MySpace Dark Horse Presents.
• Visionary artist Matt Kindt returns to his most beloved creation!
• Includes a preview of Kindt's new series, Mind MGMT!
• 3 Story is in production as a major film!
ADVENTURES INTO THE UNKNOWN! ARCHIVES VOLUME 1 HC
Edvard Moritz (W/A), King Ward (W/A), Mac Elkan (W), Fred Guardineer (A), Al Feldstein (A), Leonard Starr (A), Al Ulmer (A), and Paul Reinman (A)
On sale June 6
FC, 216 pages
$49.99
HC, 6 5/8" x 10 3/16"
The first ongoing horror comics anthology, Adventures into the Unknown! is finally collected into a series of deluxe hardcovers! The pre-Code delights found in this debut volume include inventive, exciting tales like "The Living Ghost," "Kill, Puppets, Kill," "The Affair of Room 1313," and the ongoing "True Ghosts of History" feature—and contributions from Golden Age greats Fred Guardineer, Al Feldstein, Leonard Starr, Edvard Moritz, and others! Adventures into the Unknown! Archives Volume 1 reprints the first four issues of the popular, long-running horror anthology, which ran from 1948 to 1967.
• Foreword by Bruce Jones!
Who is Dancy Flammarion?

ALABASTER: WOLVES #1 (of 5)
Caitlín R. Kiernan (W), Steve Lieber (A), Greg Ruth (Cover), and Michael Avon Oeming (Variant cover)
On sale Apr 11
FC, 32 pages
$3.50
Miniseries
International Horror Guild Award-winning author Caitlín R. Kiernan brings one of her most enduring and popular creations to comics!
For nearly as long as she can remember, Dancy Flammarion has fought monsters, cutting a bloody swath through the demons and dark things of the world, aimed like a weapon by forces beyond her control or questioning.
But now, for the first time, Dancy finds herself alone—and the wolves are closing in.
• A new comics series by Caitlín R. Kiernan with art by Steve Lieber.
• For fans of Vertigo's supernatural horror.
Desperate thoughts, desperate actions!

ANGEL & FAITH #9
Christos Gage (W), Rebekah Isaacs (A/Variant cover), Dan Jackson (C), and Steve Morris (Cover)
On sale Apr 25
FC, 32 pages
$2.99
Ongoing
Still reeling from her father's unexpected appearance, Faith goes rogue, taking on Drusilla and her pet demon. It's time to burn off some anger. Angel is hot on her tail, but he may be too late to save her from Dru, and ultimately herself.
• Follows the events of Buffy Season 8!
ANGEL & FAITH VOLUME 1: LIVE THROUGH THIS TP
Christos Gage (W), Rebekah Isaacs (A), Dan Jackson (C), Phil Noto (A), and Steve Morris (Cover)
On sale June 20
FC, 136 pages
$17.99
TP, 7″ x 10″
Angel has made bad choices in his life. Most recently? While possessed, he killed Giles. However, he believes he's found a way to make amends, by bringing the Watcher back from the grave! Cue Faith—rebel Slayer, and Angel's only ally—who only supports this harebrained scheme in order to keep her friend from catatonia. New threats emerge as this unlikely duo struggles against real and personal demons alike, while hitting the dark streets of London! Collects Angel & Faith #1–#5, plus the Harmony one-shot.
BALTIMORE: THE CURSE BELLS VOLUME 2 HC
Mike Mignola (W/Cover), Christopher Golden (W), Ben Stenbeck (A), and Dave Stewart (C)
On sale June 13
FC, 144 pages
$24.99
HC, 7″ x 10″
A horrific ritual will create havoc on a small European town, as Lord Baltimore takes on the twisted blessing of vampiric nuns and an insane warlock!
• By award–winning writers Mike Mignola and Christopher Golden.
• New York Times bestseller!
"Crisp, clean & drenched in blood!" —Comic Attack
A fight to the death!

B.P.R.D. HELL ON EARTH: THE LONG DEATH #3 (of 3)
Mike Mignola (W), John Arcudi (W), James Harren (A), Dave Stewart (C), and Duncan Fegredo (Cover)
On sale Apr 18
FC, 32 pages
$3.50
Miniseries
In a frozen camp full of slaughtered agents, two monstrous, long-running characters go head to head in a life-and-death battle!
• From the pages of Hellboy!
• The Wendigo vs. the Jaguar God!
"Eighty issues in, and B.P.R.D. is still going strong." —Comic Book Resources
B.P.R.D. HELL ON EARTH: THE PICKENS COUNTY HORROR #2 (of 2)
Mike Mignola (W), Scott Allie (W), Jason Latour (A), Dave Stewart (C), and Becky Cloonan (Cover)
On sale Apr 25
FC, 32 pages
$3.50
Miniseries
A reclusive vampire clan and a deadly mist create one of the most disastrous missions our heroes have ever faced!
• The most horrific B.P.R.D. in years!
"The world has taken a turn for the apocalyptic — which makes the series title Hell on Earth an apt one." —USA Today
BUFFY THE VAMPIRE SLAYER SEASON 9 #8
Andrew Chambliss (W), Cliff Richards (P), Andy Owens (I), Michelle Madsen (C), Phil Noto (Cover), and Georges Jeanty (Variant cover)
On sale Apr 11
FC, 40 pages
$2.99
Ongoing
There is something seriously wrong with Buffy! She and Spike discover that the one person who can help her is actually . . . Andrew? Buffy's situation becomes even more dire as she discovers that Simone, the Slayer with an enormous grudge, has been targeting her.
• Buffy, the one-armed Slayer of San Francisco!
• Executive produced by Joss Whedon!
CONAN THE BARBARIAN #3
Brian Wood (W), Becky Cloonan (A), Dave Stewart (C), Massimo Carnevale (Cover), and John Paul Leon (Variant cover)
On sale Apr 11
FC, 32 pages
$3.50
Ongoing
Alone, Conan was the most fearsome warrior to ever walk the planet! Now, joined with the pirate queen Bêlit, he is swept to new levels of danger and passion. Wood and Cloonan continue to redefine the Cimmerian as he embraces piracy and begins his joint reign of the Black Coast alongside the deadly siren, Bêlit!
• Brian Wood (DMZ, Northlanders) and Becky Cloonan (Demo, Pixu)!
• Robert E. Howard's most beloved Conan story!
CONAN VOLUME 11: ROAD OF KINGS TP
Roy Thomas (W), Mike Hawthorne (P), John Lucas (I), Jason Gorder (I), Dave Stewart (C), and Dan Jackson (C)
On sale June 27
FC, 152 pages
$19.99
TP, 7″ x 10″
The journey down the fabled Road of Kings is a treacherous one, filled with monsters, angry victims of Conan's light fingers, and other thieving highwaymen. While Conan becomes caught up in palace intrigue along the way, a slaver kidnaps his companion, Olivia, determined to collect a ransom from her royal father! Collecting Conan: Road of Kings #1–#6, these are some of the most thrilling Conan stories ever printed!
• Roy Thomas's return to Conan!
• Bold artwork by Mike Hawthorne!
CREEPY COMICS #8
Jeff Parker (W), Doug Moench (W), Rick Geary (W/A), Colleen Coover (A), Kelly Jones (A), and Richard Corben (Cover)
On sale Apr 4
FC, 48 pages
$4.99
Ongoing
Uncle Creepy has unearthed another malicious mag's worth of terror! Waiting in these pages are brand-new stories from Jeff Parker (Thunderbolts, Hulk), Colleen Coover (X-Men: First Class), Rick Geary (A Treasury of Victorian Murder), Doug Moench (Batman), and Kelly Jones (Criminal Macabre) all wrapped up in a cover from horror master Richard Corben (Hellboy, classic Creepy and Eerie)!
• Cover by Richard Corben!
• Featuring a classic reprint from Bruce Jones and Bernie Wrightson!
CREEPY ARCHIVES VOLUME 13 HC
Bill DuBay (W), Bruce Jones (W), Steve Skeates (W),Tom Sutton (W), Richard Corben (A), Bernie Wrightson (A), John Severin (A), Sanjulian (A), Ken Kelly (A), Jose Bea (A), and Leo Summers (A)
On sale June 20
b&w, 256 pages
$49.99
HC, 8 3/8" x 10 7/8"
It's a lucky time to be a horror fan! Celebrate the tremendously terrifying thirteenth volume in the Creepy Archives hardcover series with classic tales by Bernie Wrightson, Bruce Jones, John Severin, and more, as the esteemed horror magazine hits another fruitful period of frightful delights in the mid-seventies! Collecting the classic Creepy magazines #60 through #63, plus several color pieces by Richard Corben, Sanjulian, and Ken Kelly—with black-and-white stories throughout by Tom Sutton, Jose Bea, Bill DuBay, Jose Gual, and many others.
• Eisner Award-winning archival series!
• Both the Creepy and Eerie Archives have been on the New York Times Top 10 graphic novel list.
The beginning of the monster war!!!!

CRIMINAL MACABRE: DIE, DIE, MY DARLING!
Steve Niles (W), Christopher Mitten (A), Michelle Madsen (C), and Fiona Staples (Cover)
On sale Apr 4
FC, 32 pages
$3.50
One-shot
Monster hunters Cal and Mo'loch are hired by a giant stranger and his fetal sibling to make a final stand in the war between good and evil.
• A perfect introduction for new readers!
"Steve Niles has beaten up his main man, broken him down and now stands on the precipice of reinventing him with a conflict on the horizon that portends to be nothing short of epic." –Newsarama
DARK HORSE PRESENTS #11
Francesco Francavilla (W/A/Cover), Steve Horton (W), Carla Speed McNeil (W/A), Steve Niles (W), Evan Dorkin (W/A), Tim Seeley (W), John Arcudi (W), Andrew Vachss (W), Neal Adams (W/A), Frank Barbiere (W), Michael Dialynas (A), Jonathan Case (A), Victor Drujiniu (A), Tonci Zonjic (A/Cover), Geof Darrow (A), and Luke Radl (A)
On sale Apr 18
FC, 80 pages
$7.99
Ongoing
Don't miss the continuing exploits of cunning assassin Amala, Carla Speed McNeil's Finder, Evan Dorkin's House of Fun, and Steve Niles's Criminal Macabre.
This issue is also packed with the exciting premiere of Francesco Francavilla's pulp-noir hero the Black Beetle, the return of John Arcudi's The Creep, and a new story by Andrew Vachss with illustrations by Geof Darrow!
And in an exciting feature by Frank Barbiere and Luke Radl, meet the killers known as the White Suits, who have left their bloody fingerprints throughout modern history. When a young girl encounters one of the Suits during a mob deal gone wrong, she is forced to make a decision that will change her life forever—or end it!
DARK MATTER #4 (of 4)
Joseph Mallozzi (W), Paul Mullie (W), Garry Brown (A/Cover), and Ryan Hill (C)
On sale Apr 11
FC, 32 pages
$3.50
Miniseries
Abandoned by one of their own, the remaining crew members are trapped planet-side as enemies orbit their position. Outnumbered and outgunned, their only hope rests with a suicidal last stand—and help from a most unlikely source…
• By Stargate series writers Joseph Mallozzi and Paul Mullie!
• Mind-bending sci-fi adventure!
DOCTOR SOLAR, MAN OF THE ATOM VOL 2: REVELATION/SOLAR RISE TP
Jim Shooter (W), Roger Robinson (P/I), Agustin Alessio (P/I/C), Diego Bernard (P), Fred Benes (I), Wes Dzioba (C), and Michael Komarck (Cover)
On sale June 6
FC, 96 pages
$15.99
TP, 7″ x 10″
Ruthless power broker Tanek Nuro has hacked into the operating system of the universe. With no limit to his monstrous ambition and only Doctor Solar in his way, a new Big Bang is about to begin! Plus, the mind-blowing origin of the Man of the Atom is revealed: how did a middle-aged physicist come to command the fires of creation? Everything you knew—and everything you didn't—is about to cross the event horizon! Collects Doctor Solar #5–#8.
• One of comics, true iconic characters!
• Industry legend Jim Shooter returns to the character he re-defined in the 1990s!
"Two stories, one great book." —Comic Book Interviews.com
"I'm more taken by the series now than I was with its first four wonderful issues." —Comic Attack.net
DRAGON AGE PATCHES AND PLAYING CARDS 
On sale May 30
Dragon Age II Embroidered Patch: Chantry
$4.99
Dragon Age II Embroidered Patch: Kirkwall
$4.99
Dragon Age II Embroidered Patch: Quanari
$4.99
Dragon Age II Embroidered Patch: Templars
$4.99
Dragon Age II Playing Cards
$4.99
We have created four embroidered patches from BioWare's world of Dragon Age II. The logos represented are Quanari, Chantry, Kirkwall, and Templars. Each patch comes on a backing card with a die-cut for hanging. The BioWare development team has also helped us design a fantastic deck of Dragon Age II playing cards. The detailed artwork captures the look and feel of the game and is a perfect addition to your Dragon Age game collection!
GAME OF THRONES MUGS
On sale May 30
Game of Thrones Coffee Mug: Lannister
$12.99
Game of Thrones Coffee Mug: Baratheon
$12.99
Continuing our series of licensed products based HBO's award-winning television series Game of Thrones, which is in turn based on the bestselling epic fantasy book series A Song of Ice and Fire by George R. R. Martin, we offer two mugs, each representing the house sigil of one of the noble families in the series.
GANTZ VOLUME 23 TP
Hiroya Oku (W/A)
On sale June 20
b&w, 216 pages
$12.99
TP, 5 1/8" x 7 1/16"
The battle-hardened Osaka Gantz team has fought with courage and fury to wipe out most of the lower-level (but highly lethal) alien invaders. Now firing on all cylinders, the OGs set out to go toe-to-toe with the insanely powerful boss-class offworlders, including the elusive, shape-shifting "100 Point" boss, a creature that can appear as beautiful as it is deadly. The Tokyo Gantz squad can do little more than watch as the Osaka fighters soon realize that the constantly changing forms of the boss monster may be more than even they can handle!
• Gantz has sold over fifteen million copies in Japan!
• Popular anime series!
• Live-action feature.
"Gantz is a mind-blowing sci-fi suspense story that reads like a first-person shooter video game." —About.com
GATE 7 VOLUME 3 TP
CLAMP (W/A)
On sale June 27
b&w, 184 pages
$10.99
TP, 5 1/8" x 7 3/16"
A battle for supernatural supremacy rages in Kyoto! When a strange dimension overlaps with our reality, Hana and the members of her Inou Squad use their mystical dominion over the elements to protect humanity against a torrent of invading creatures. Thrust in the middle of this war, Chikahito is a seemingly ordinary boy who's been accepted into Hana's group—but it's possible that he has latent powers of his own!
• Released just a few months after the original release date in Japan!
• Volume 3 continues CLAMP's exciting new series.
GOOD LUCK TROLLS 2.5" FIGURES MYSTERY BOX ASSORTMENT
On sale June 27
15-figure counter display
$119.85
Trolls became one of America's biggest toy fads in the early 1960s, and again over the years in various revivals from many toy manufacturers.
In 2003, Toy Industry Association commemorated them among the one hundred most creative toys of the twentieth century. Also in 2003, a Congressional law allowed the Dam family of Denmark to restore their original U.S. copyright and become the only official owner. After keeping them off the market for nearly a decade, they have awarded Dark Horse Deluxe a license to bring back Trolls in a "mystery box" program.
This all-new assortment of colorful designs, with an array of hair colors and exotic surface treatments from glitter to metallic to flocked, are sure to stun both collectors and casual fans.
Eric Powell sells out!

THE GOON #39
Eric Powell (W/A/Cover) and Dave Stewart (C)
On sale Apr 25
FC, 32 pages
$3.50
Ongoing
In order to try to compete with the gimmicks and rehashes of the Big Two superhero companies, Eric Powell has decided to completely sell out and relaunch the Goon in this super-epic, brand new, first-ever first edition of the 39th issue of The Goon! Not only do the Goon and Franky get new costumes, but we also discover there are different-colored versions of the Goon! Green Goon! Red Goon! Blue Goon! Purple Goon! WHAT A PLOT!
THE GOON VOLUME 11: THE DEFORMED OF BODY AND DEVIOUS OF MIND TP
Eric Powell (W/A/Cover), Evan Dorkin (W), and Dave Stewart (C)
One sale June 27
FC, 144 pages
$16.99
TP, 7″ x 10″
Sparkly, skinny-jean wearin' vampires, wiener-eatin' hoboes, multinational midgets, and 2010 Queen of Burlesque star, Roxi DLite, are just a few of the obstacles Goon and Franky are up against in this new collection from Dark Horse Comics! Plus, guest writer Evan Dorkin (Milk and Cheese, Beasts of Burden) pits Goon against the horrendous, bacon-eating behemoth, the Ten-in-One! Collects The Goon issues #34-#37, The Goon in "An Irish Wake" from USA Today, and The Goon's on Vacation from Billy the Kid's Old Timey Oddities and the Ghastly Fiend of London.
• Eisner Award-winning series!
"Eric Powell's great series The Goon deftly combines lowbrow humor with unexpected emotional depth in its ongoing story of a big, not-so-dumb guy who does battle with zombies in a town seemingly dreamt up by Tom Waits." – The Onion A.V. Club
GRENDEL OMNIBUS VOLUME 1: HUNTER ROSE TP
Matt Wagner (W/A), Tim Sale (A), David Mack (A), Duncan Fegredo (A), Mike Allred (A), Guy Davis (A), Teddy Kristiansen (A), Ashley Wood (A), Mike Huddleston (A), and Dean Motter (A)
On sale June 6
b&w&r, 600 pages
$24.99
TP, 6˝ x 9˝
Matt Wagner's masterpiece celebrates its thirtieth anniversary with the first-ever comprehensive collection of the complete Grendel saga! The first of four volumes presenting the entire series and following the chronology of the stories, this edition introduces millionaire Hunter Rose and his alter ego, the criminal mastermind Grendel!
Volume 1 reprints Grendel: Devil by the Deed; the short story collections Grendel: Black, White, & Red and Grendel: Red, White, & Black, featuring a host of legendary guest artists; and the epic Grendel: Behold the Devil.
• The complete series, collected for the first time!
• 600 pages!
"Grendel is a brave and possibly even reckless experiment that has succeeded admirably." —Alan Moore (Watchmen)
Brawling Barbarians!

GROO VS. CONAN #1 (of 4)
Mark Evanier (W), Sergio Aragonés (A), Thomas Yeates (A), and Tom Luth (C)
On sale Apr 18
FC, 32 pages
$3.50
Miniseries
It had to happen: the most heroic warrior in history meets the stupidest as Robert E. Howard's immortal Conan the Barbarian crosses swords with Sergio Aragones' Groo the Wanderer in Groo vs. Conan #1. This four-issue miniseries was concocted by the Eisner Award-winning team of Mark Evanier and Sergio Aragones, aided by master illustrator Thomas Yeates and master colorist Tom Luth. Will Conan annihilate Groo? Will Groo turn out to be the man who can defeat Conan? We'll see.
• From Mark Evanier and Sergio Aragonés!
THE HUNCHBACK OF NOTRE DAME HC
Tim Conrad (W/A)
On sale June 20
FC, 48 pages
$12.99
HC, 7" x 10"
Tim Conrad adapts Victor Hugo's classic romance about a beautiful gypsy girl, Esmeralda, who is framed for murder by the infatuated Archdeacon of Notre Dame. Only Quasimodo, the hideously deformed bell-ringer of the cathedral, can save her.
Religious extremism, class distinction, fate, destiny, and sexual dynamics are played out in a rousing yarn of intrigue within the walls of the Parisian cathedral of Notre Dame.
• Tim Conrad's first comic book work in over twenty years!
JEREMIAH OMNIBUS VOLUME 1 HC
Hermann (W/A)
On sale March 21
FC, 152 pages
$24.99
HC, 8.375″ x 10.875″
One of Europe's most revered comics classics comes to America! At the end of the twentieth century, the United States is overcome by race hatred, and the ensuing civil war leaves only a few million survivors and a shattered society. Forced by circumstances into a series of violent moral compromises, innocent Jeremiah and his cynical friend Kurdy attempt to find their place in the postapocalyptic world without descending into savagery. Collecting the first three volumes of the acclaimed series, the Jeremiah Omnibus is one of the darkest, most dangerous sci-fi stories in comics!
• The inspiration for the Showtime series developed by J. Michael Straczynski!
• Direct Market exclusive. Only 500 copies offered in the United States.
KING CONAN: THE PHOENIX ON THE SWORD #4 (of 4)
Tim Truman (W), Tomás Giorello (A), José Villarrubia (C), and Andrew Robinson (Cover)
On sale Apr 25
FC, 32 pages
$3.50
Miniseries
The Rebel Four spring their trap on King Conan, sending assassins to slay the barbarian monarch in his sleep! After waking from a strange vision, Conan has his back up against a wall and his enemies in front of him—right where he wants them. If these traitors want his crown, they'll have to take it! But even if Conan survives the assassination attempt, the evil wizard Thoth-Amon is back at full power and waiting for the perfect opportunity to strike and take the throne for himself!
• The return of Conan's greatest foe—Thoth-Amon!
LOBSTER JOHNSON: THE BURNING HAND #4 (of 5)
Mike Mignola (W/Variant cover), John Arcudi (W), Tonci Zonjic (A), Dave Stewart (C), and Dave Johnson (Cover)
On sale Apr 11
FC, 32 pages
$3.50
Miniseries
As dead gangsters bloody the floor of his secret hideout, crime-fighter Lobster Johnson goes head to head with the powerful Nazi boss—the Black Flame!
• From the pages of Hellboy!
• Art by Tonci Zonjic (Who Is Jake Ellis)
• Mike Mignola's Year of Monsters!
"The mark of a truly successful comic book artist is the ability to take away all the dialogue balloons and have the reader still be able to follow the story purely through the emotions of the art. And Zonjic does just this perfectly. »
—Major Spoilers
Essential Stories!

MASS EFFECT: HOMEWORLDS #1
Mac Walters (W), Eduardo Francisco (A), Michael Atiyeh (C), Anthony Palumbo (Cover), and Mike Hawthorne (Variant cover)
On sale Apr 25
FC, 32 pages
$3.50
Miniseries
Mass Effect 3 lead writer Mac Walters kicks off a new series of single-issue stories featuring heroes and adventures essential to the story of BioWare's latest blockbuster!
Each issue will star one of the main characters of Mass Effect 3 in a story written by the BioWare writer who wrote that character in the game—beginning with a Mac Walters-penned tale of brash young gun James Vega!
• Mass Effect 3 is the most anticipated game of 2012!
• Mass Effect 3 won Most Anticipated Game at the Video Game Awards.
"The book stays true to everything we know and love about the Mass Effect games." —VGChartz
MARVEL CLASSIC CHARACTER: FANTASTIC FOUR #5—DR. DOOM
On sale May 16
Limited to 650 numbered pieces
Packaged in its own tin box, with a pin-back button and character booklet
Measures 5 1/2" tall
$49.95
Victor von Doom, aka Dr. Doom, is the true archenemy of the Fantastic Four and is one of the most recognizable villains in the Marvel universe. Created by Stan Lee and Jack Kirby, he first appeared in Fantastic Four #5.
A fellow student and intellectual peer of Reed Richards, von Doom's face is severely disfigured in an experiment gone wrong. Doom forges a suit of armor and a mask that only he can remove and sets out to menace those he feels are responsible for his accident, including Reed Richards of the Fantastic Four.
NEON GENESIS EVANGELION: THE SHINJI IKARI RAISING PROJECT VOLUME 11 TP
Osamu Takahashi (W/A)
On sale June 6
b&w, 184 pages
$9.99
TP, 5 1/8″ x 7 1/4″
Of all the unbelievable things that have happened, perhaps the most shocking is that Yui has finally managed to dig Kyoko out from her laboratory to join the crew on a forest retreat! Asuka and Shinji are bound to get close by accident, but wait—are they actually getting closer . . . ? Then it's back to target training for the students . . . but this time the arena is their school, and this time the targets are shooting back!
• Famous anime franchise!
• Contains opening pages in full color, fan art, letters, and giveaways!
ORCHID #6
Tom Morello (W), Scott Hepburn (A), Dan Jackson (C), and Massimo Carnevale (Cover)
On sale Apr 11
FC, 32 pages
$3.50
Ongoing
With the rebel leader's imminent execution forcing their hand, Orchid and Simon—with a few new allies in tow—must act now or see one of their last symbols of hope destroyed. But attempting to liberate anyone from dictator Tomo Wolfe's clutches may be the bold act that gets them all killed.
• Each issue accompanied by an original song by Tom Morello.
• Read the next chapter of the successful new series with a first-issue sellout!
RAGEMOOR #2
Jan Strnad (W) and Richard Corben (A/Cover)
On sale Apr 18
b&w, 32 pages
$3.50
Miniseries
Ragemoor's mad owner gets caught in a deadly battle between a horrible race of worm men and the vicious apes that guard his castle!
• From the creators of Mutant World!
"Mr. Richard Corben… a genuine giant of his chosen medium." —Alan Moore
Relive your life until it REALLY hurts!

RESET #1 (of 4)
Peter Bagge (W/A/Cover) and Matt Kindt (Variant cover)
On sale Apr 18
b&w, 24 pages
$3.50
Miniseries
If you could relive major events in your life, would you take a stab at making things better—and would your best attempts only make things worse? Or would you use your second chance to put your most twisted, perverted fantasies in motion? These are questions washed up actor and comedian Guy Krause asks himself after he signs up to be the main research subject for a virtual reality experiment.
• From multiple Harvey and Eagle Award winner Peter Bagge (Hate)!
The doctor is IN—and he's an alien!

RESIDENT ALIEN #0
Peter Hogan (W) and Steve Parkhouse (A/Cover)
On sale Apr 18
FC, 32 pages
$3.50
One-shot
Surviving a crash landing that ruins his spaceship, a stranded alien hopes to quietly live out his life in the sleepy town of Patience, USA, masquerading as a semi-retired doctor. He has some alien powers of empathy and the ability to mask his odd appearance from most people—but how long can he last undercover? After three long years of living below the radar, something in Patience is about to pull him out of hiding and into an uncomfortable spotlight! An alien adventure with humor, heart, and mystery—from acclaimed creators Peter Hogan (2000 AD, Tom Strong) and Steve Parkhouse (Milkman Murders, Doctor Who)!
• From the writer of Tom Strong and the artist for Alan Moore's The Bojeffries Saga!
SILVER STREAK ARCHIVES FEATURING THE ORIGINAL DAREDEVIL VOLUME 1 HC
Jack Cole (W), Jack Binder (W/A), Bob Wood (W/A), Dick Briefer (W), Ralph Johns (W/A), Kane Miller (W), Jack Cole (A), and Fred Guardineer (A)
On sale June 27
FC, 280 pages
$59.99
HC, 6 5/8" x 10 3/16"
Debuting in 1940 in Silver Streak Comics #6, the original Daredevil was a mute superhero who used boomerangs and his athletic abilities to wipe out American mobsters and international criminals. Capturing readers' imaginations as he fought his nemesis, the evil Claw, the original Daredevil was a popular recurring character and eventual headliner in his own comic book series. In this volume, the first four expensive and hard-to-find Silver Streak Comics are finally collected in a deluxe hardcover volume! In addition to reprinting the original Daredevil's debut episodes and early work by Jack Cole (Plastic Man), this essential volume of comic book treasures will present every story, gag strip, and text piece from the original anthologies!
STAR WARS: AGENT OF THE EMPIRE—IRON ECLIPSE #5 (of 5)
John Ostrander (W), Stéphane Roux (P/Cover), and Julien Hugonnard-Bert (I)
On sale Apr 11
FC, 32 pages
$3.50
Miniseries
Jahan Cross finally learns the truth about the deadly project called "Iron Eclipse." Now all he has to do is defeat the crazed mastermind behind it all, keep his allies from double-crossing him, and escape the Corporate Sector with his life!
All in a day's work for an Agent of the Empire!
• The final action-packed issue!
Boba Fett is DEAD!

STAR WARS: BLOOD TIES—BOBA FETT IS DEAD #1 (of 4)
Tom Taylor (W), Chris Scalf (A/Cover), and David Palumbo (Variant cover)
On sale Apr 25
FC, 40 pages
$3.50
Miniseries
The news spreads from one end of the galaxy to the other like wildfire: Boba Fett, the galaxy's most feared bounty hunter, is dead.
But when members of the team that killed Fett are themselves picked off one by one, Connor Freeman—the son of one of Jango Fett's clones—gets pulled into the action in a most unexpected way!
• Writer Tom Taylor brings Blood Ties back with Boba Fett!
• Interiors and covers by Chris Scalf!
STAR WARS: DAWN OF THE JEDI—FORCE STORM #3 (of 5)
John Ostrander (W), Jan Duursema (P/Cover), Dan Parsons (I), and Wes Dzioba (C)
On sale Apr 18
FC, 32 pages
$3.50
Miniseries
The balance of the Force on Tython has been thrown into turmoil. A ship has fallen from the sky, bringing with it a strange, dark, and hostile individual. Three young Jédaii who felt "called" to the site of the crash now fight for their lives with their swords and the Force. But live or die, the storm that will engulf the homeworld of the Je'daii has already begun!
• Establishes the beginnings of the Jedi!
• The Ostrander/Duursema team returns!
STAR WARS: KNIGHT ERRANT VOLUME 2—DELUGE TP
John Jackson Miller (W), Ivan Rodriguez (P/I), Iban Coello (P), David Daza (P), Sergio Abad (I), Michael Atiyeh (C), and Joe Quinones (Cover)
On sale June 13
FC, 120 pages
$18.99
TP, 7″ x 10″
Alone, deep behind enemy lines, Jedi Knight Kerra Holt has a new plan—liberate her homeworld from the Sith! But when her arrival on the planet coincides with an ambush from a Hutt mastermind, her daring rescue quickly starts looking like a suicide mission. Collects the five-issue miniseries.
• The sequel to John Jackson Miller's New York Times bestseller!
STAR WARS: KNIGHTS OF THE OLD REPUBLIC—WAR #4 (of 5)
John Jackson Miller (W), Andrea Mutti (P), Gigi Baldassini (I), Michael Atiyeh (C), and Benjamin Carré (Cover)
On sale Apr 11
FC, 32 pages
$3.50
Miniseries
The battle for the future of the Republic is on!
The Republic, the Mandalorians, and even some of the Jedi are corrupt—so Zayne Carrick is going to take matters fully into his own lightsaber-wielding hands. It's high risk and utterly insane, and the allies Zayne has to work with aren't exactly what you'd call trustworthy . . . but at least this time he knows that up front!
STAR WARS OMNIBUS: DROIDS AND EWOKS TP
David Manak (W), George Caragonne (W), Warren Kremer (P), Ernie Colon (P), John Romita (P), Mary Wilshire (P), Jon D'Agostino (I), Carlos Garzón (I), Jacqueline Roettcher (I), Marie Severin (I/C), Joe Sinnott (I), Al Williamson (I), and George Roussos (C)
On sale June 20
FC, 528 pages
$24.99
TP, 6" x 9"
Based on the children's television cartoon series of the same names, Ewoks and Droids explores further adventures in the lives of the Ewoks on Endor and the droids R2-D2 and C-3PO. The Ewoks become embroiled in the dangers of their planet—lizard warriors, underwater kingdoms, magic spells—and the outside world—pirates, invaders, and more! The droids encounter more than one new master, war droids, megaweapons, time travel, and even Ewoks! This omnibus collects all the issues of the Ewoks and Star Wars: Droids comics series, released in the 1980s by Marvel's imprint Star Comics.
• Collected for the first time!
TALES OF THE BEANWORLD VOLUME 3.5 HC
Larry Marder (W/A)
On sale June 27
HC, 64 pages
$14.99
HC, 6˝ x 9˝
A most peculiar mini-volume experience! Larry Marder presents his extraordinary creation in extraordinary color! Collecting the recent color Beanworld stories with long- out-of-print tales from Asylum, and newly colored by Marder, this volume not only answers burning questions about the process of the Beanworld, but also includes brand new pages that begin the highly anticipated "Summer" cycle of stories! Tales of the Beanworld is the perfect primer for readers old and new to Marder's one-of-a-kind comics experience! Collecting never-before-reprinted stories from the Beanworld Holiday Special, MySpace Dark Horse Presents #14, and Asylum #1–#6, with new material!
• Special, full-color volume!
• Perfect jumping-on point!
• Kid friendly!
"I have yet to find a comic book as challenging and inventive and downright fun as Beanworld." —Scott McCloud, creator of Understanding Comics