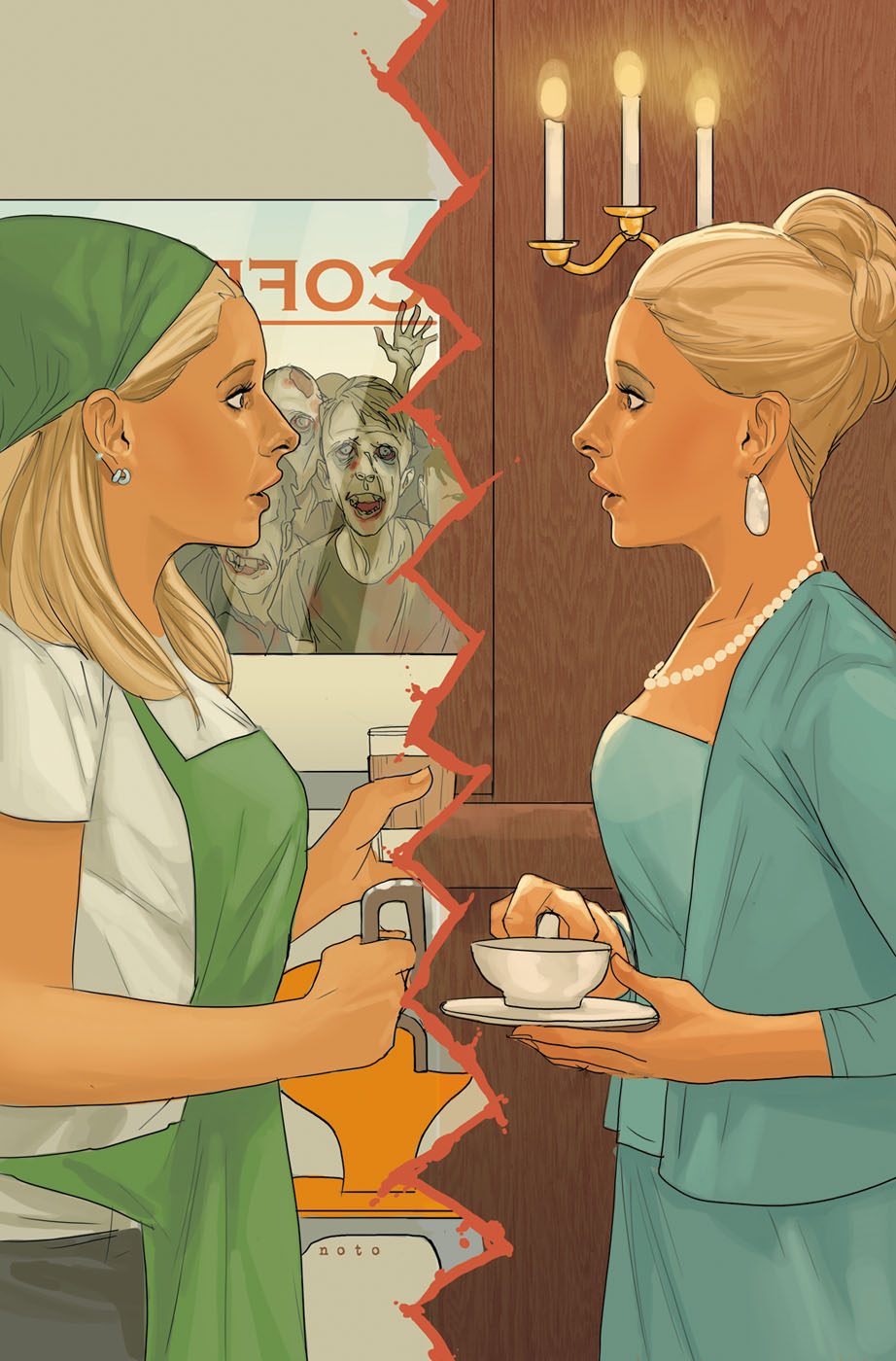 Dark Horse ouvre le bal pour les sollicitations ce mois-ci !
Caitlin R. Kiernan (W), Steve Lieber (A), Rachelle Rosenberg (C), and Greg Ruth (Cover)
With her would-be assassin dead, Dancy retreats to lick her wounds — only to discover that her would-be refuge has been corrupted by the town's twisted secret.
32 pages, $3.50, in stores on May 9. 

Christos Gage (W), Chris Samnee (A), Jordie Bellaire (C), Steve Morris (Cover), and Rebekah Isaacs (Variant cover)
Angel and Faith are forced into battle, less by choice and more by circumstance, when two mysterious women from Giles's past call on the unlikely duo for help. But that's only the beginning of Angel and Faith's troubles as the ladies settle in for the night! Gage and Samnee reveal more about Giles' past and further Angel's quest in bringing the Watcher back from the dead!
32 pages, $2.99. 

B.P.R.D. HELL ON EARTH: THE DEVIL'S ENGINE #1
Mike Mignola (W), John Arcudi (W), Tyler Crook (A), Dave Stewart (C), and Duncan Fegredo (Cover)
Caught between bat-faced monsters, a devastating earthquake, and the mad science experiments of Zinco, Devon and Fenix form an uneasy alliance in order to get to safety!
32 pages, $3.50, in stores on May 16. 

B.P.R.D. HELL ON EARTH: THE TRANSFORMATION OF J. H. O'DONNELL
Mike Mignola (W/Variant cover), Scott Allie (W), Max Fiumara (A/Cover), and Dave Stewart (C)
Twenty-four years ago, Hellboy took mild-mannered Professor O'Donnell to the secret library of a recently dead necromancer. Since that day, O'Donnell has been the Bureau's expert on the powerful ancient forces intent on ending the age of man. Find out what O'Donnell saw in this supernatural thrill ride.
32 pages, $3.50, in stores on May 30. 

BLACKSAD: A SILENT HELL HC
Juan Díaz Canales (W) and Juanjo Guarnido (A/Cover)
Detective John Blacksad returns, with a new case that takes him to a 1950s New Orleans filled with hot jazz and cold-blooded murder! Hired to discover the fate of a celebrated pianist, Blacksad finds his most dangerous mystery yet in the midst of drugs, voodoo, the rollicking atmosphere of Mardi Gras, and the dark underbelly that it hides! Â Features an extensive making-of section, with tons of prelim sketches and watercolor studies.
96 pages, $19.99, in stores on July 11. 

BLADE OF THE IMMORTAL VOLUME 25: SNOWFALL AT DAWN TP
Hiroaki Samura (W/A)
The showdown that fans have been waiting for begins here, as Manji and Shira finally cross paths! Although he's missing an arm, Manji's mystical healing powers still ensure that he's a formidable opponent — but his greatest foe, the masochistic Shira, has a few depraved tricks up his own sleeves! With Shira deadlier than ever, having had plenty of time to plot twisted revenge schemes, will Manji be able to protect Rin from his deranged nemesis? Plus — an Ittö-ryü warrior dies, in typically dramatic Hiroaki Samura fashion. Samura's widely acclaimed Blade of the Immortal manga series has won awards across the globe, including the Eisner Award in America, the prestigious Media Arts Award of Japan, and multiple British Eagle Awards.
224 pages, black and white, $19.99, in stores on July 25. 

BUFFY THE VAMPIRE SLAYER SEASON 9 #9
Andrew Chambliss (W), Scott Allie (W), Cliff Richards (P), Andy Owens (I), Michelle Madsen (C), Phil Noto (Cover), and Georges Jeanty (Variant cover)
Andrew doesn't always make the best choices (see Season 6). And now Buffy finds herself and the very course of her life profoundly affected by one of Andrew's over-the-top, idiotic . . . hair-brained . . . schemes. Together with Andrew and Spike, the worried Slayer will have to confront herself and her comrades, as well as a long-standing annoyance, the number-one Buffy hater of all Buffy haters: Simone, the gun-toting Slayer.
32 pages, $2.99, in stores on May 9. 

CAMILLA D'ERRICO NO ORDINARY LOVE BUST
Canadian artist, designer, and graphic storyteller Camilla d'Errico is winning a legion of fans as her career explodes worldwide in paintings, graphic stories, designer toys, apparel, and commercial assignments. Dark Horse is very proud to bring forward her first deluxe sculptural piece, a bust based on her painting No Ordinary Love.
Approximately 8″ tall and 5″ wide, limited to 950 numbered statues, $125, in stores on June 27. 

CRIME DOES NOT PAY ARCHIVES VOLUME 2 HC
Various (W/A)
The celebrated pre-Code Crime Does Not Pay comics are finally collected into a series of unflinching and uncensored deluxe hardcovers! The infamous Crime Does Not Pay stories, focusing on criminal scum, nefarious mobsters, and urban legends, made Crime Does Not Pay one of the most popular comics of the 1940s. This series was a favorite target of censors and is partially responsible for the creation of the stifling Comics Code Authority! Revered, influential, and very hard to find, Crime Does Not Pay issues #26 to #29 are collected for your enjoyment and education!
264 pages, $49.99, in stores on July 11. 

THE CHRONICLES OF CONAN VOLUME 22 TP
Michael Fleisher (W), Jim Owsley (W), John Buscema (P), Ernie Chan (P/I), Val Mayerik (P/I), Bob Camp (I), Armando Gil (I), George Roussos (C), Christie Scheele (C), and Steven Mellor (C)
Legends say that even demons fear to tread the Pictish wilderness after the sun has set. But the threat of hordes of savage Picts is not enough to keep Conan the Barbarian from the lure of a king's treasure . . . and Tetra, the beautiful daughter of a Brythunian nobleman. While seemingly lost without Conan's protection, Tetra will show Pict and Cimmerian alike that she is far, far more than she seems! Collects Conan the Barbarian #168–#173 and Conan the Barbarian Annual #8 and #9.
232 pages, $18.99, in stores on July 4. 

CONAN THE BARBARIAN #4
Brian Wood (W), James Harren (A), Dave Stewart (C), and Massimo Carnevale (Cover)
Conan's adventures in Messantia ended with the Cimmerian nearly losing his head, but now that he has an entire pirate crew backing him up, returning to take a city's worth of gold is just too tempting — and pirate queen Belit has a plan!
32 pages, $3.99, in stores on May 16. 

CREEPY PRESENTS RICHARD CORBEN HC
Richard Corben (W/A/Cover), Donald F. McGregor (W), Greg Potter (W), Doug Moench (W), Bill DuBay (W), Steve Skeates (W), Rich Margopoulos (W), Jim Stenstrum (W), Gerry Boudreau (W), Budd Lewis (W), Bruce Jones (W), Roger McKenzie (W), Gerald Conway (W), Al Hewetson (W), Jack Butterworth (W), and Greg Potter (W)
Over 300 pages of timeless terror from a master storyteller! Horror comics visionary and coloring pioneer Richard Corben has been a voice of creativity and change for over four decades. For the first time ever, Corben's legendary Creepy and Eerie short stories and cover illustrations are being collected into one deluxe hardcover! With an informative foreword by artist and comic book colorist José Villarrubia — who also provides color restoration — this volume features Richard Corben's original stories, Edgar Allan Poe adaptations, and collaborations with cast of comic-book writers.
320 pages, $29.99, in stores on July 18. 

DRAGON AGE VOLUME 1: THE SILENT GROVE HC
David Gaider (W), Alexander Freed (W), Chad Hardin (A), Michael Atiyeh (C), and Anthony Palumbo (Cover)
Available in print for the first time, Dragon Age: The Silent Grove is the perfect introduction to BioWare's dark fantasy universe! In this essential, canonical story from David Gaider, lead writer of the games, King Alistair, accompanied only by rogues Isabela and Varric, embarks on a quest deep inside the borders of Antiva — a nation of assassins! Together, they will encounter a prison break, dragons, the mysterious Witch of the Wilds, and one of the greatest secrets in the history of the world! Collecting Dragon Age #1–#6, previously available only on the Dark Horse digital store!
80 pages, $14.99, in stores on July 25. 

John Layman (W), John Arcudi (W), Carla Speed McNeil (W/A), Steve Niles (W), Evan Dorkin (W/A), Tim Seeley (W), Francesco Francavilla (W/A), Dean Motter (W/A/Variant cover), Jim Valentino (W/A) , Mike Baron (W), Harlan Ellison (W), Sam Kieth (A/Cover), Christopher Mitten (A), Victor Drujiniu (A), Steve Rude (A), and Jonathan Case (A)
This issue is packing a brand-new Aliens story by Chew's John Layman and legendary artist Sam Kieth, the return of Jim Valentino's Normalman and Dean Motter's Mister X, and last but not least, the reemergence of Mike Baron and Steve Rude's intergalactic fighting force, Nexus!
80 pages, $7.99, in stores on May 23. 

DRIFTERS VOLUME 2 TP
Kohta Hirano (W/A)
Heroes from Earth's history are deposited in an enchanted land where humans subjugate the nonhuman races. Samurai warriors Shimazu Toyohisa and Oda Nobunaga aid the elves in their struggle, but a greater threat grows in the north, where the Black King and his Ends have set out to decimate the planet. But chaos creates opportunity, and Nobunaga has his own visions of conquest! From Hellsing creator Kohta Hirano, Drifters is an all-out fantasy slugfest of epic proportion!
216 pages, black and white, $12.99, in stores on July 25. 

Felicia Day (W), Wil Wheaton (W), Jamie McKelvie (A), Matthew Wilson (C), Paul Duffield (Cover), and Emma Rios (Variant cover)
Felicia Day and The Guild are back, along with costar Wil Wheaton, for a brand-new story spotlighting Fawkes, the dashing, debonair, and douchey leader of the evil guild Axis of Anarchy! His relationship with Codex threatened to tear the Knights of Good apart until he was thrown off a balcony for his treatment of her. Set after season 4 of the show, this issue reveals how Fawkes deals with his split from Codex and navigates the aggressive personalities of the Axis, and follows his journey to his surprising state when he returns in season 5!
32 pages, $3.50, in stores on May 23. 

THE GUILD VOLUME 2 TP
Felicia Day (W), Jeff Lewis (W), Sean Becker (W), Kim Evey (W), Sandeep Parikh (W), Darick Robertson (P), Kristian Donaldson (P), Ron Chan (P/I/C), Becky Cloonan (P/I), Tim Seeley (P/I), Dave Stewart (C), Georges Jeanty (Cover), and others
Set before the first season of the show, these hilarious stories delighted fans and newbies alike and introduced plots that influenced the show itself, including season 5's backstory of Tink, originally hinted at in these pages. Featuring a huge variety of comics' best artists as well as many of the talents key to the web series, and leading directly to the moment Zaboo unexpectedly appears at a startled Codex's front door in episode 1, this collection comprises a true « season 0 » of The Guild! Collects the one-shots The Guild: Vork, The Guild: Tink, The Guild: Bladezz, The Guild: Clara, and The Guild: Zaboo.
144 pages, $14.99, in stores on July 4. 

HELLBOY LIBRARY EDITION VOLUME 5 HC
Mike Mignola (W/Cover), Duncan Fegredo (A), and Dave Stewart (C)
Hellboy has racked up multiple Eisner Awards, numerous spinoffs, a novel line, video games, cartoons, and two feature films. Hellboy Library Volume 5 collects two complete trade paperbacks, Darkness Calls and The Wild Hunt; the short story The Mole; and an extensive selection of previously unreleased sketches and designs.
408 pages, $49.99, in stores on July 11. 

HELMETGIRLS: THE ART OF CAMILLA D'ERRICO VOLUME 2 HC
Camilla d'Errico (W/A)
Camilla d'Errico is a powerful voice in pop surrealism, her work combining diverse influences in imagery both singular and hauntingly familiar. Compelling and deeply personal, Helmetgirls documents Camilla's art and lifestyle brand that fuses manga, steampunk, and fine art into an original and meaningful aggregate. Gargantuan biomechanical headgear adorns beautiful, wide-eyed, and seemingly fragile girls. More than just decoration, the helmets express each girl's character, needs, and desires. Look deeply into the Helmetgirls' eyes — they have a story to tell.
112 pages, $24.99, in stores on July 18. 

HOUSE OF NIGHT HC
P. C. Cast (W), Kristin Cast (W), Kent Dalian (W), Joëlle Jones (P), Karl Kerschl (P), Joshua Covey (P), Daniel Krall (P/C), Jonathan Case (P/C), Eric Canete (P/C), Ryan Hill (C), Dan Jackson (C), and Steve Morris (Cover)
Until recently, Zoey Redbird was an average high-school student worrying about grades, boys, and breakouts. But priorities have a way of changing when you're Marked as a vampyre, enroll in the vampyre academy House of Night, and have to figure out a whole new social hierarchy, affinities for elemental magic, and physiological changes that make you crave blood! Collects issues #1-#5 of the series.
Follow Zoey, and her group of devoted friends, as they turn to The Fledgling Handbook, a historical vampyre tome, in hopes of better understanding this big, new world of vampyrism.
128 pages, $12.99, in stores on July 4. 

KULL VOLUME 3: THE CAT AND THE SKULL TP
David Lapham (W), Gabriel Guzman (A), Garry Henderson (C), and Jo Chen (Cover)
Kull's uneasy rule is again threatened by the serpent cult determined to destroy him, as it seeks aid from his most frightening foe, the immortal Thulsa Doom!
104 pages, $15.99, in stores on July 25. 

LOBSTER JOHNSON: THE BURNING HAND #5
Mike Mignola (W), John Arcudi (W), Tonci Zonjic (A), Dave Stewart (C), and Dave Johnson (Cover)
Lobster Johnson blasts his way through an army of mad sewer cannibals in order to get to the greedy mob boss Wald!
32 pages, $3.50, in stores on May 9. 

Patrick Weekes (W), Jeremy Barlow (W), Chris Staggs (A), Michael Atiyeh (C), Anthony Palumbo (Cover), and Mike Hawthorne (Variant cover)
Mass Effect: Homeworlds turns the focus onto Commander Shepard's ally Tali'Zorah in a story from Tali's Mass Effect 3 writer Patrick Weekes! On a mission to end her people's generations-long exile, Tali uncovers the treachery of a central Mass Effect figure and finds herself hunted by assassins. Fleeing to the Citadel for help, she instead encounters disgust and discrimination in the most « civilized » place in the galaxy!
32 pages, $3.50, in stores on May 30. 

MIKE NORTON'S BATTLEPUG VOLUME 1 HC
Mike Norton (W/A) and Allen Passalaqua (C)
The epic tale of blood and drool begins here! Join Molly and her dogs Mingo and Colfax, as she recounts the legend of « The Warrior and the Battlepug » — a tale of a fearless barbarian, his trusty and freakishly large pug, and evil baby harp seals. This volume collects the first year of Mike Norton's Battlepug — the perfect opportunity to get in on the ground floor of the fan-favorite webcomic by Mike Norton, Allen Passalaqua, and Crank!
72 pages, $14.99, in stores on July 5. 

Matt Kindt (W/A/Cover) and Gilbert Hernandez (Variant cover)
Reporting on a commercial flight where everyone aboard lost their memories, a young journalist stumbles onto a much bigger story, the top-secret Mind Management program. Her ensuing journey involves weaponized psychics, hypnotic advertising, talking dolphins, and seemingly immortal pursuers, as she attempts to find the flight's missing passenger, the man who was Mind MGMT's greatest success — and its most devastating failure. But in a world where people can rewrite reality itself, can she trust anything she sees?
24 pages, $3.99, in stores on May 23. 

THE OCCULTIST VOLUME 1 TP
Tim Seeley (W), Mike Richardson (W), Victor Drujiniu (P), Jason Gorder (I), Andrew Dalhouse (C), and Steve Morris (Cover)
Rob Bailey must balance responsibilities as a boyfriend, as a college student, and as the new wielder of the Sword, an ancient book of spells that has binded itself to him. With a team of hit mages hired by a powerful sorcerer after him, it's trial by fire for the new Occultist, as he learns to handle his powerful magical tome, or suffer at the hands of these deadly enemies. But as he fights for his life, our hero wonders whether he's wielding this enigmatic weapon, or if it's the one in control. 
136 pages, $16.99, in stores on July 18. 

ORCHID #7
Tom Morello (W), Scott Hepburn (A), Dan Jackson (C), and Massimo Carnevale (Cover)
Engaging the enemy always comes with a price, a lesson Orchid has learned more than once. After barely escaping her first true confrontation with the detestable dictator Tomo Wolfe and his deadly lieutenants, a glimmer of hope remains within the most unlikely hero.
32 pages, $3.50, in stores on May 9. 

ORCHID VOLUME 1 TP
Tom Morello (W), Scott Hepburn (A), Dan Jackson (C), and Massimo Carnevale (Cover)
When the seas rose, genetic codes were smashed. Human settlements are ringed by a dense wilderness from which ferocious new animal species prey on the helpless. The high ground belongs to the rich and powerful that overlook swampland shantytowns from their fortress-like cities. Iron-fisted rule ensures order and allows the wealthy to harvest the poor as slaves. Delve into the first chapter of Orchid, the tale of a teenage prostitute who learns that she is more than the role society has imposed upon her.
112 pages, $17.99, in stores on July 11. 

RAGEMOOR #3
Jan Strnad (W) and Richard Corben (A/Cover)
From the creators of Mutant World! The mad owner of the Ragemoor mansion seeks an heir for his throne. Unfortunately the woman he loves would rather die than subject herself to him, his crazy apes, and his living castle!
32 pages, black and white, $3.50, in stores on May 23. 

RESET #2
Peter Bagge (W/A/Cover)
Washed-up actor Guy Krause is an unsure participant in a strange psychological study that uses experimental virtual-reality equipment to force its subjects to relive certain moments in their lives. Will Guy have a chance to reset key blunders and fix major life mistakes — or will these « second-chance » visits throughout his past just create more havoc in his psyche? Will he drive the team that's studying him insane? And what's really going on behind the scenes of this fishy experiment?
24 pages, black and white, $3.50, in stores on May 16. 

RESIDENT ALIEN #1
Peter Hogan (W) and Steve Parkhouse (A/Cover)
A stranded alien seeks refuge in the small town of Patience, USA, where he hides undercover as a semiretired doctor, masking his appearance using his unique mental abilities. Now known as Dr. Harry Vanderspeigle, all the alien wants is to be left alone until he's rescued. However, when the town's real doctor dies, « Dr. Harry » is pulled into medical service — and also finds himself smack dab in the middle of a murder mystery! He'd rather be fishing. Acclaimed creators Peter Hogan (2000 AD, Tom Strong) and Steve Parkhouse (The Milkman Murders, Doctor Who) deliver a truly unique sci-fi adventure tale!
32 pages, $3.50, in stores on May 23. 

SKELETON KEY COLOR SPECIAL
Andi Watson (W/A)
One of the greatest all-ages comics of all time, Andi Watson's Skeleton Key is back — and in color! Using the magical Skeleton Key, schoolgirl Tamsin and fox spirit Kitsune can turn any door into a portal to an endless multiverse. Lost somewhere in space and time and trying to get home, the two friends encounter a band using the undead in a music video, check into a haunted hotel, and become catalogued in the vast Museum of the Lost! Collecting all three new stories from Dark Horse Presents, this is the perfect introduction.
32 pages, $3.50, in stores on May 2. 

STAR WARS: BLOOD TIES — BOBA FETT IS DEAD #2
Tom Taylor (W) and Chris Scalf (A/Cover)
Boba Fett is dead, and whoever hired the hit squad had better run — as fast and as far as possible! A mysterious avenger is on the trail of Boba Fett's killers. Connor Freeman — a clone relation to Fett — has been drawn into the whodunit. Freeman, who feels like he could use some protection himself, has been recruited against his will to find and protect a particular bounty hunter on a distant world — in Mandalorian space!
32 pages, $3.50, in stores on May 30. 

STAR WARS: DARTH VADER AND THE GHOST PRISON #1
Haden Blackman (W), Agustin Alessio (A), Dave Wilkins (Cover), and Tsuneo Sanda (Variant cover)
The graduation celebration for the first class of Imperial cadets is disrupted by a sudden terrorist strike! But the real targets of the attack are the new Emperor and his second in command, Darth Vader. Only one man — a disabled, brilliant cadet who, up until the moment of the attack, was experiencing the best moment of his life — stands ready to fight alongside Vader for the life of his Emperor!
40 pages, $3.50, in stores on May 23. 

STAR WARS: DAWN OF THE JEDI — FORCE STORM #4
John Ostrander (W), Jan Duursema (P/Cover), Dan Parsons (I), and Wes Dzioba (C)
For millennia, the Je'daii Masters have protected the planet Tython and maintained a balance within the Force. But now a stranger from another world has come, destroying the balance and engulfing the world in a Force storm that threatens every inhabitant!
The ancient Je'daii Order stands on the brink of a powerful discovery. But will this knowledge bring wisdom . . . or peril? Three young Je'daii students may hold the fate of the world in their hands!
32 pages, $3.50, in stores on May 16. 

STAR WARS: KNIGHTS OF THE OLD REPUBLIC — WAR #5
John Jackson Miller (W), Andrea Mutti (P), Gigi Baldassini (I), Michael Atiyeh (C), and Benjamin Carre (Cover)
Pacifist Jedi Zayne Carrick is both saving and fighting Jedi in this final issue! Part one of Zayne's plan to foil the Mandalorian Knights and their misguided leader is complete — but the battle is not yet won. Taking on the Mandalorians face to face is still on the agenda, and Zayne's questionable team could blow the operation at any moment . . . With everything on the line, all Zayne can do is have faith!
32 pages, $3.50. 

TARZAN: THE JESSE MARSH YEARS VOLUME 11 HC
Gaylord DuBois (W) and Jesse Marsh (A)
Jesse Marsh continues revolutionizing comics art, imbuing these action-packed adventures with a blend of grace and power that has rarely been matched! Whether swinging through Marsh's beautifully rendered jungle, flying through the air atop his giant eagle, or battling marauders alongside his friends from all over Africa's land of Pal-ul-don, Tarzan proves one of comics' greatest heroes. And fifty issues in, Jesse Marsh keeps getting better! Reprinting Dell's Tarzan #52–#56 and March of Comics #125, from 1954, for the first time. Introduction by Ron Marz!
224 pages, $49.99, in stores on July 4. 

USAGI YOJIMBO VOLUME 26: TRAITORS OF THE EARTH TP & HC
Stan Sakai (W/A).
The rabbit ronin faces a horde of the undead when a harmless-looking but powerful charm brings a betrayed army back to life. With hundreds of zombies and an evil wizard to contend with, Usagi finds himself far out of his depth! Fortunately, he has the aid of fan-favorite character Sasuke the Demon Queller, most recently seen in the Yokai graphic novel. This volume also features several action-packed short stories, including the Eisner-nominated « Death of Lord Hikiji »! Collects Usagi Yojimbo #117–#123 and stories from Dark Horse Maverick 2001 and MySpace Dark Horse Presents #35. Introduction by Walter Simonson.
Trade paperback, 200 pages, black and white, $16.99, in stores on July 4. Hardcover, 200 pages, black and white, $59.99, in stores on August 15.