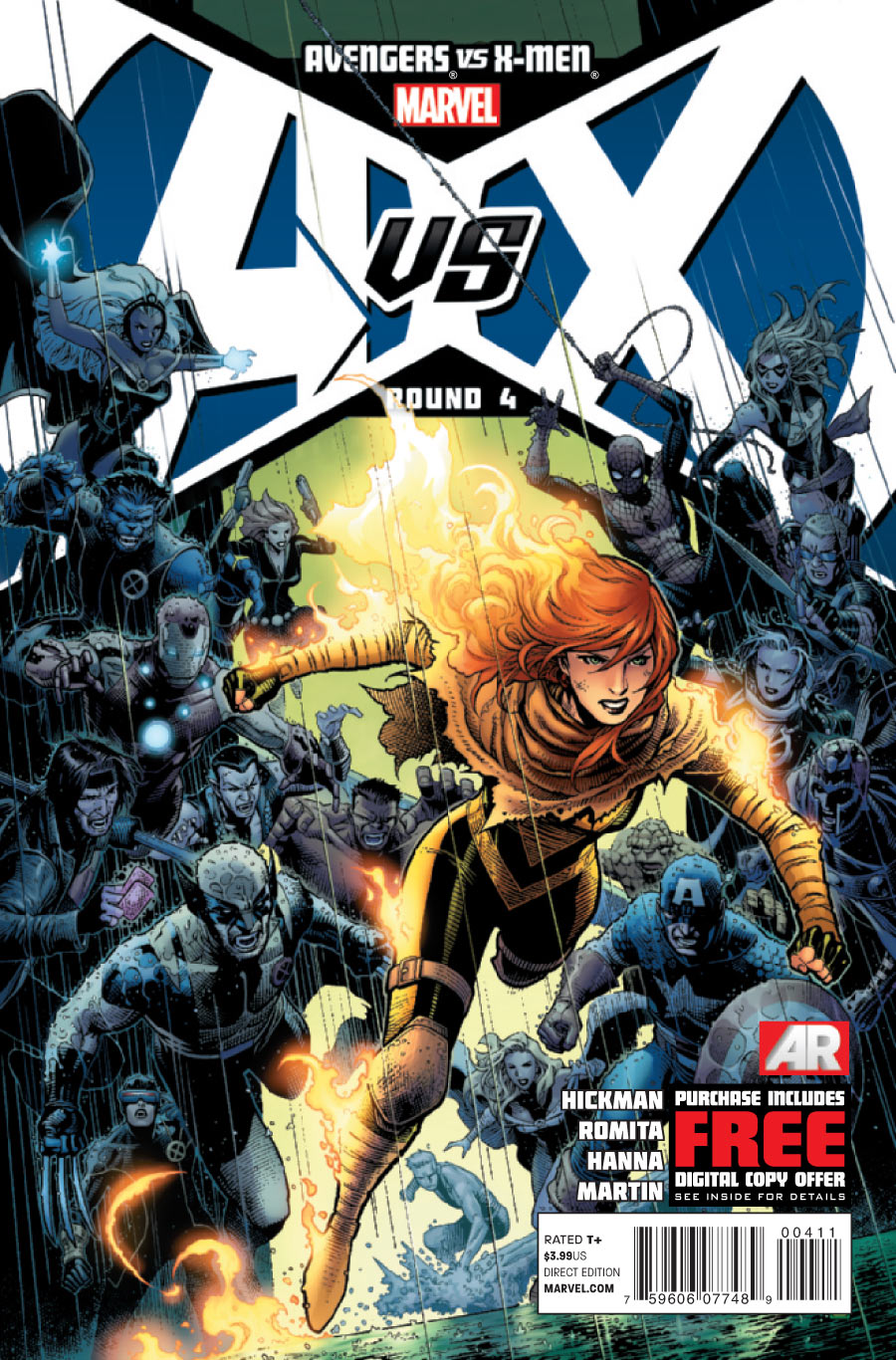 Autant le dire tout de suite, et comme tout le monde je pense, je suis tombé sur mon joli cul potelé lorsque j'ai vu les données du marché de comics pour le mois de mai :
– le marché des singles a cru de 42% par rapport à mai 2011 (qui il est vrai donnait des envies de suicide aux éditeurs vu les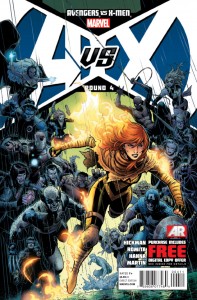 niveaux de ventes de l'époque)
– le marché des graphics novels a cru de 41%, porté essentiellement par l'arrivée des premiers TPB du relaunch DC
– AvX, bien que conspué par la critique, se vend comme des petits pains. Après il ne faut être étonné que Marvel nous reponde des crossovers tous les 6 mois, ils produisent ce qui se vend, et la majorité des lecteurs de comics leur disent « envoyez le crossover suivant…même si c'est de la daube on achètera… »
Des données qui donc redonnent espoir et en même temps nous fait nous poser des questions sur la viabilité de l'humanité en tant qu'espèce, après tout voulons nous vraiment vivre dans un monde où AvX ou Fear Itself sont des grosses ventes ?…Le monde est donc rempli de gens qui ont les goûts de Nono et ça, ça fait peur !
Le marché des comics : la crise ? nous on connaît pas, du moins ce mois-ci, le mois prochain on sait pas trop…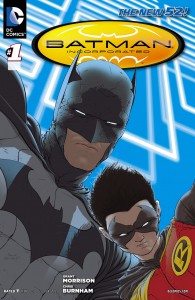 Avec une augmentation de plus de 40% du marché par rapport à l'année dernière on peut penser que les éditeurs, principalement DC et Marvel ont passé un bon mois de mai !
Chez DC, c'est Batman, comme d'habitude, qui mène la dance avec l'event qui traverse tous les titres de la franchise à savoir Night of Owls. Si Snyder s'était imposé comme un auteur phare de chez DC depuis un an, ce succès supplémentaire en fait désormais un des têtes pensantes du nouvel univers DC. Il a même été rapporté que les éditeurs DC étaient surpris par le succès de cet event qui a permis de relancer les ventes de pas mal de titres à la traîne comme Catwoman ou Birds of Prey. Autre succès bien mérité, le premier numéro de Batman Incorporated, qui avec quelques tirages supplémentaires devrait aisément dépasser les 100 000ex.
A noter les bons démarrages des titres Earth 2 et World Finest.
Chez Marvel le sursaut des ventes tient essentiellement à AvX, qui pour le moment se traduit assez faiblement dans les tie ins. Si l'on peut noter un léger accroissement des titres mères, on ne peut pas dire que les fans se jètent dessus. De plus à mon sens Marvel est passé à côté d'une immense occasion avec le succès du film avengers, qui va atteindre les 1.4 milliards de dollars de recettes. L'éditeur a bien lancé Avengers Assemble pour essayer de capter le public, mais force est de constater l'échec de cette stratégie alors que le titre s'effondre après un bon démarrage.
Et ce défaut révèle un grave problème pour Marvel : que faire après AvX, car si le crossover obtient de bons résultats commerciaux, les retours critiques sont très moyens et il sera difficile de repondre AvX 2 l'année prochaine ! et alors Marvel sera confronté au même problème, problème que la maison d'édition est incapable de résoudre depuis des années : comment attirer le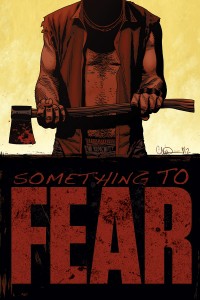 public sur les titres réguliers marvel en dehors de crossovers ou de relaunch ? Car si l'on regarde le classement des ventes depuis des mois, oui AvX se vend à plus de 100 000ex, mais c'est bien le seul chez Marvel ! je ne me souviens pas  d'une seul titre qui ait réussi chez Marvel atteindre ce seuil en dehors des crossovers et de quelques numéros 1 ces dernières années !
Ces difficultés se traduisent aussi au niveau des parts de marché puisque même si Marvel reste en première place, l'écart avec DC, qui n'a pas de crossover global en cours en ce moment (Night of Owls étant limité aux titres Batman), est quasiment nul. Les deux compagnies tournant autour de 35% de part de marché.
Chez Image alors là on a du sabrer le champagne devant les chiffres de ventes de Walking Dead ! en effet le titre de Kirkman a réussi l'exploit de rentrer dans le Top 30 et de passer les barre des 50 000ex ! qui arrêtera WD, perso je dirai le manque d'inspiration mais ce n'est que moi…Derrière Saga de Vaughan continue de très bien s'écouler.
Côté TPB : Merci le relaunch DC
Si on continue de retrouver des TPB Walking Dead un peu partout dans les meilleures, la croissance de ce marché en mai est essentiellement dû à la sortie des premiers recueils du relaunch DC : entre Justice League, Batman, Animal Man (qui se vend donc aussi très bien en TPB),Wonder Woman et d'autres, on peut constater que le succès du relaunch DC continue à faire des vagues.
| | | | | | |
| --- | --- | --- | --- | --- | --- |
| | | TOP 300 COMICS — May 2012 | | | |
| Rank | Index | Title | Price | Pub | Est.Qty |
| 1 | 132.48 | AVENGERS VS X-MEN #4 | $3.99 | MAR |   178,330 |
| 2 | 130.53 | AVENGERS VS X-MEN #3 | $3.99 | MAR |   175,695 |
| 3 | 100.00 | BATMAN #9 | $3.99 | DC |   134,605 |
| 4 | 97.57 | JUSTICE LEAGUE #9 | $3.99 | DC |   131,332 |
| 5 | 75.33 | BATMAN ANNUAL #1 | $4.99 | DC |   101,394 |
| 6 | 73.41 | AVX VS #2 | $3.99 | MAR |     98,819 |
| 7 | 71.68 | BATMAN INCORPORATED #1 | $2.99 | DC |     96,486 |
| 8 | 71.33 | DETECTIVE COMICS #9 | $3.99 | DC |     96,016 |
| 9 | 65.97 | ACTION COMICS #9 | $3.99 | DC |     88,796 |
| 10 | 65.08 | GREEN LANTERN #9 | $2.99 | DC |     87,601 |
| 11 | 64.02 | EARTH 2 #1 [*] | $3.99 | DC |     86,168 |
| 12 | 61.04 | BATMAN THE DARK KNIGHT #9 | $2.99 | DC |     82,169 |
| 13 | 56.44 | BATMAN AND ROBIN #9 | $2.99 | DC |     75,967 |
| 14 | 51.46 | UNCANNY X-MEN #12 | $3.99 | MAR |     69,265 |
| 15 | 50.33 | AVENGERS #26 | $3.99 | MAR |     67,744 |
| 16 | 48.24 | WOLVERINE AND X-MEN #11 | $3.99 | MAR |     64,936 |
| 17 | 47.79 | NEW AVENGERS #26 | $3.99 | MAR |     64,326 |
| 18 | 47.29 | WOLVERINE AND X-MEN #10 | $3.99 | MAR |     63,650 |
| 19 | 46.66 | FLASH #9 | $2.99 | DC |     62,807 |
| 20 | 46.49 | WORLDS FINEST #1 [*] | $2.99 | DC |     62,578 |
| 21 | 46.23 | SUPERMAN #9 | $2.99 | DC |     62,232 |
| 22 | 45.61 | NIGHTWING #9 | $2.99 | DC |     61,395 |
| 23 | 44.97 | AQUAMAN #9 | $2.99 | DC |     60,527 |
| 24 | 43.62 | BATGIRL #9 | $2.99 | DC |     58,710 |
| 25 | 43.34 | AMAZING SPIDER-MAN #686 | $3.99 | MAR |     58,337 |
| 26 | 43.18 | AMAZING SPIDER-MAN #685 | $3.99 | MAR |     58,121 |
| 27 | 43.04 | ASTONISHING X-MEN #50 | $3.99 | MAR |     57,931 |
| 28 | 39.92 | WALKING DEAD #97 (MR) | $2.99 | IMA |     53,733 |
| 29 | 37.78 | UNCANNY X-FORCE #25 | $4.99 | MAR |     50,851 |
| 30 | 37.34 | TEEN TITANS #9 | $2.99 | DC |     50,261 |
| 31 | 37.13 | WALKING DEAD #98 (MR) | $2.99 | IMA |     49,974 |
| 32 | 37.04 | SECRET AVENGERS #27 | $3.99 | MAR |     49,851 |
| 33 | 36.94 | CATWOMAN #9 | $2.99 | DC |     49,726 |
| 34 | 36.25 | RED HOOD AND THE OUTLAWS #9 | $2.99 | DC |     48,798 |
| 35 | 36.22 | WONDER WOMAN #9 | $2.99 | DC |     48,750 |
| 36 | 34.42 | GREEN LANTERN CORPS #9 | $2.99 | DC |     46,336 |
| 37 | 34.38 | X-MEN LEGACY #267 | $2.99 | MAR |     46,279 |
| 38 | 34.35 | GREEN LANTERN NEW GUARDIANS #9 | $2.99 | DC |     46,237 |
| 39 | 33.00 | TEEN TITANS ANNUAL #1 | $4.99 | DC |     44,415 |
| 40 | 32.65 | BATWOMAN #9 | $2.99 | DC |     43,942 |
| 41 | 32.60 | AVENGERS ASSEMBLE #3 | $3.99 | MAR |     43,886 |
| 42 | 32.09 | X-MEN LEGACY #266 | $2.99 | MAR |     43,199 |
| 43 | 31.73 | X-O MANOWAR #1 | $3.99 | VAL |     42,708 |
| 44 | 31.47 | ULTIMATE COMICS SPIDER-MAN #10 | $3.99 | MAR |     42,356 |
| 45 | 31.26 | INCREDIBLE HULK #8 | $3.99 | MAR |     42,076 |
| 46 | 31.11 | AMAZING SPIDER-MAN ANNUAL #39 | $3.99 | MAR |     41,879 |
| 47 | 30.85 | BIRDS OF PREY #9 | $2.99 | DC |     41,521 |
| 48 | 30.29 | DIAL H #1 [*] | $2.99 | DC |     40,777 |
| 49 | 29.65 | FANTASTIC FOUR #606 | $2.99 | MAR |     39,914 |
| 50 | 29.57 | RAVAGERS #1 [*] | $2.99 | DC |     39,807 |
| 51 | 29.33 | FANTASTIC FOUR #605.1 | $2.99 | MAR |     39,475 |
| 52 | 29.26 | SWAMP THING #9 | $2.99 | DC |     39,385 |
| 53 | 29.15 | DAREDEVIL #12 | $2.99 | MAR |     39,231 |
| 54 | 29.13 | RED LANTERNS #9 | $2.99 | DC |     39,215 |
| 55 | 29.02 | DAREDEVIL #13 | $2.99 | MAR |     39,056 |
| 56 | 28.98 | CAPTAIN AMERICA #11 | $3.99 | MAR |     39,012 |
| 57 | 28.90 | SAGA #3 (MR) [*] | $2.99 | IMA |     38,895 |
| 58 | 28.83 | CAPTAIN AMERICA #12 | $3.99 | MAR |     38,800 |
| 59 | 28.58 | INCREDIBLE HULK #7.1 | $2.99 | MAR |     38,472 |
| 60 | 28.24 | AVENGING SPIDER-MAN #7 | $3.99 | MAR |     38,012 |
| 61 | 26.62 | X-MEN #28 | $3.99 | MAR |     35,838 |
| 62 | 26.55 | BATWING #9 | $2.99 | DC |     35,731 |
| 63 | 26.52 | ANIMAL MAN #9 | $2.99 | DC |     35,699 |
| 64 | 26.36 | X-MEN #29 | $3.99 | MAR |     35,483 |
| 65 | 26.10 | SUPERGIRL #9 | $2.99 | DC |     35,129 |
| 66 | 25.91 | WOLVERINE #306 | $3.99 | MAR |     34,873 |
| 67 | 25.88 | SUPERBOY #9 | $2.99 | DC |     34,838 |
| 68 | 25.74 | JUSTICE LEAGUE DARK #9 | $2.99 | DC |     34,649 |
| 69 | 25.67 | FF #18 | $2.99 | MAR |     34,555 |
| 70 | 25.62 | WOLVERINE #307 | $3.99 | MAR |     34,485 |
| 71 | 24.20 | SUICIDE SQUAD #9 | $2.99 | DC |     32,581 |
| 72 | 24.19 | JUSTICE LEAGUE INTERNATIONAL #9 | $2.99 | DC |     32,558 |
| 73 | 24.18 | MIGHTY THOR #14 | $3.99 | MAR |     32,550 |
| 74 | 23.84 | AGE OF APOCALYPSE #3 | $2.99 | MAR |     32,085 |
| 75 | 23.56 | ANIMAL MAN ANNUAL #1 | $4.99 | DC |     31,710 |
| 76 | 23.43 | INVINCIBLE IRON MAN #517 | $3.99 | MAR |     31,536 |
| 77 | 23.34 | ALL STAR WESTERN #9 | $3.99 | DC |     31,413 |
| 78 | 23.31 | INVINCIBLE IRON MAN #516 | $3.99 | MAR |     31,374 |
| 79 | 23.29 | ULTIMATE COMICS ULTIMATES #11 | $3.99 | MAR |     31,344 |
| 80 | 23.22 | ULTIMATE COMICS ULTIMATES #10 | $3.99 | MAR |     31,257 |
| 81 | 22.98 | SCARLET SPIDER #5 | $2.99 | MAR |     30,932 |
| 82 | 22.77 | WINTER SOLDIER #5 | $2.99 | MAR |     30,646 |
| 83 | 22.56 | GI COMBAT #1 [*] | $3.99 | DC |     30,366 |
| 84 | 22.40 | VENOM #17 | $2.99 | MAR |     30,157 |
| 85 | 22.02 | DEADPOOL #54 | $2.99 | MAR |     29,644 |
| 86 | 21.89 | AVENGERS ACADEMY #29 | $2.99 | MAR |     29,460 |
| 87 | 21.70 | AVENGERS ACADEMY #30 | $2.99 | MAR |     29,213 |
| 88 | 21.56 | DEADPOOL #55 | $2.99 | MAR |     29,022 |
| 89 | 21.42 | ULTIMATE COMICS X-MEN #12 | $3.99 | MAR |     28,839 |
| 90 | 21.33 | ULTIMATE COMICS X-MEN #11 | $3.99 | MAR |     28,711 |
| 91 | 21.25 | WOLVERINE AND X-MEN ALPHA AND #5 | $3.99 | MAR |     28,609 |
| 92 | 21.03 | VENOM #18 | $2.99 | MAR |     28,309 |
| 93 | 21.00 | SECRET SERVICE #2 (MR) | $2.99 | MAR |     28,265 |
| 94 | 20.97 | BTVS SEASON 9 FREEFALL #9 | $2.99 | DAR |     28,229 |
| 95 | 20.32 | AMAZING SPIDER-MAN OF EARTH #1 | $3.99 | MAR |     27,347 |
| 96 | 20.06 | SMALLVILLE SEASON 11 #1 | $3.99 | DC |     27,004 |
| 97 | 20.04 | SUPERCROOKS #3 (MR) | $2.99 | MAR |     26,969 |
| 98 | 20.03 | GREEN ARROW #9 | $2.99 | DC |     26,966 |
| 99 | 18.96 | DEFENDERS #6 | $3.99 | MAR |     25,518 |
| 100 | 18.73 | BATMAN ARKHAM UNHINGED #2 | $2.99 | DC |     25,215 |
| 101 | 18.34 | EXILED #1 | $2.99 | MAR |     24,686 |
| 102 | 18.25 | NEW MUTANTS #42 | $2.99 | MAR |     24,572 |
| 103 | 18.11 | JOURNEY INTO MYSTERY #637 | $2.99 | MAR |     24,378 |
| 104 | 18.09 | BATMAN BEYOND UNLIMITED #4 | $3.99 | DC |     24,356 |
| 105 | 17.95 | NEW MUTANTS #43 | $2.99 | MAR |     24,160 |
| 106 | 17.87 | X-FACTOR #235 | $2.99 | MAR |     24,051 |
| 107 | 17.85 | X-FACTOR #236 | $2.99 | MAR |     24,031 |
| 108 | 17.68 | LEGION LOST #9 | $2.99 | DC |     23,794 |
| 109 | 17.66 | CAPTAIN AMERICA AND HAWKEYE #630 | $2.99 | MAR |     23,774 |
| 110 | 17.66 | JOURNEY INTO MYSTERY #638 | $2.99 | MAR |     23,766 |
| 111 | 17.33 | AVENGERS VS X-MEN #2 | $3.99 | MAR |     23,323 |
| 112 | 17.31 | PUNISHER #11 | $2.99 | MAR |     23,303 |
| 113 | 16.85 | CAPTAIN AMERICA AND HAWKEYE #631 | $2.99 | MAR |     22,684 |
| 114 | 16.70 | FATALE #5 (MR) | $3.50 | IMA |     22,484 |
| 115 | 16.68 | STORMWATCH #9 | $2.99 | DC |     22,448 |
| 116 | 16.59 | FAIREST #3 (MR) | $2.99 | DC |     22,329 |
| 117 | 16.41 | HULK #51 | $2.99 | MAR |     22,085 |
| 118 | 16.36 | STAR WARS DARTH VADER GHOST PRISON #1 | $3.50 | DAR |     22,026 |
| 119 | 16.33 | SHADOW #2 | $3.99 | DE |     21,982 |
| 120 | 16.26 | HULK #52 | $2.99 | MAR |     21,882 |
| 121 | 15.56 | STAR TREK TNG DOCTOR WHO ASSIMILATION #1 | $3.99 | IDW |     20,940 |
| 122 | 15.51 | DEATHSTROKE #9 | $2.99 | DC |     20,878 |
| 123 | 15.49 | LEGION OF SUPER HEROES #9 | $2.99 | DC |     20,854 |
| 124 | 15.32 | FURY MAX #1 (MR) | $3.99 | MAR |     20,620 |
| 125 | 15.07 | ADVENTURE TIME #4 | $3.99 | BOO |     20,289 |
| 126 | 15.00 | DEMON KNIGHTS #9 | $2.99 | DC |     20,196 |
| 127 | 14.89 | MIND THE GAP #1 [*] | $2.99 | IMA |     20,038 |
| 128 | 14.68 | STAR WARS DAWN O/T JEDI FORCE STORM #4 | $3.50 | DAR |     19,756 |
| 129 | 14.30 | TEENAGE MUTANT NINJA TURTLES #10 | $3.99 | IDW |     19,254 |
| 130 | 14.13 | FURY MAX #2 (MR) | $3.99 | MAR |     19,021 |
| 131 | 13.96 | THUNDERBOLTS #174 | $2.99 | MAR |     18,792 |
| 132 | 13.95 | MAGIC THE GATHERING #4 | $3.99 | IDW |     18,779 |
| 133 | 13.95 | HIGHER EARTH #1 | $1.00 | BOO |     18,775 |
| 134 | 13.78 | STAR WARS BLOOD TIES BOBA FETT IS DEAD #2 | $3.50 | DAR |     18,544 |
| 135 | 13.39 | RESURRECTION MAN #9 | $2.99 | DC |     18,018 |
| 136 | 13.37 | MANHATTAN PROJECTS #3 | $3.50 | IMA |     18,001 |
| 137 | 13.20 | THIEF OF THIEVES #4 | $2.99 | IMA |     17,774 |
| 138 | 13.09 | SAVAGE HAWKMAN #9 | $2.99 | DC |     17,626 |
| 139 | 12.99 | FABLES #117 (MR) | $2.99 | DC |     17,484 |
| 140 | 12.95 | HULK SMASH AVENGERS #1 | $2.99 | MAR |     17,434 |
| 141 | 12.83 | FRANKENSTEIN AGENT OF SHADE #9 | $2.99 | DC |     17,266 |
| 142 | 12.81 | FURY OF FIRESTORM THE NUCLEAR MEN #9 | $2.99 | DC |     17,240 |
| 143 | 12.78 | ANGEL & FAITH #10 | $2.99 | DAR |     17,206 |
| 144 | 12.76 | I VAMPIRE #9 | $2.99 | DC |     17,175 |
| 145 | 12.34 | BLUE BEETLE #9 | $2.99 | DC |     16,607 |
| 146 | 12.27 | BOYS #66 (MR) | $3.99 | DE |     16,514 |
| 147 | 12.23 | AVENGERS VS X-MEN #1 | $3.99 | MAR |     16,462 |
| 148 | 12.17 | MARVEL ZOMBIES DESTROY #1 | $3.99 | MAR |     16,375 |
| 149 | 12.09 | AMERICAS GOT POWERS #2 | $2.99 | IMA |     16,273 |
| 150 | 11.72 | DC UNIVERSE PRESENTS #9 | $2.99 | DC |     15,776 |
| 151 | 11.70 | HULK SMASH AVENGERS #3 | $2.99 | MAR |     15,750 |
| 152 | 11.66 | CONAN THE BARBARIAN #4 | $3.50 | DAR |     15,689 |
| 153 | 11.40 | HULK SMASH AVENGERS #2 | $2.99 | MAR |     15,342 |
| 154 | 11.31 | GRIFTER #9 | $2.99 | DC |     15,228 |
| 155 | 11.20 | MARVEL ZOMBIES DESTROY #2 | $3.99 | MAR |     15,072 |
| 156 | 11.18 | SHADE #8 | $2.99 | DC |     15,051 |
| 157 | 10.91 | FRANKENSTEIN ALIVE ALIVE #1 | $3.99 | IDW |     14,692 |
| 158 | 10.87 | HULK SMASH AVENGERS #4 | $2.99 | MAR |     14,625 |
| 159 | 10.81 | INVINCIBLE #91 | $2.99 | IMA |     14,556 |
| 160 | 10.73 | MARVELS AVENGERS AVENGERS INITIATIVE | $2.99 | MAR |     14,440 |
| 161 | 10.71 | AMERICAN VAMPIRE #27 (MR) | $2.99 | DC |     14,420 |
| 162 | 10.69 | HULK SMASH AVENGERS #5 | $2.99 | MAR |     14,387 |
| 163 | 10.24 | EPIC KILL #1 | $2.99 | IMA |     13,784 |
| 164 | 10.22 | VOODOO #9 | $2.99 | DC |     13,762 |
| 165 | 10.16 | AVENGERS BLACK WIDOW STRIKES #1 | $2.99 | MAR |     13,682 |
| 166 | 9.88 | SUPERMAN FAMILY ADVENTURES #1 | $2.99 | DC |     13,303 |
| 167 | 9.85 | STAR WARS KNIGHTS OF THE OLD REPUBLIC WAR #5 | $3.50 | DAR |     13,260 |
| 168 | 9.51 | SPAWN #219 | $2.99 | IMA |     12,804 |
| 169 | 9.32 | THE SPIDER #1 | $3.99 | DE |     12,547 |
| 170 | 9.27 | POWERS #10 (MR) | $3.95 | MAR |     12,484 |
| 171 | 9.22 | AVENGERS BLACK WIDOW STRIKES #2 | $2.99 | MAR |     12,404 |
| 172 | 9.11 | CAPTAIN ATOM #9 | $2.99 | DC |     12,264 |
| 173 | 9.11 | BPRD HELL ON EARTH TRANSFORMATION ODONNELL #1 | $3.50 | DAR |     12,261 |
| 174 | 9.05 | CHEW #26 (MR) | $2.99 | IMA |     12,187 |
| 175 | 8.91 | GODZILLA #1 | $3.99 | IDW |     11,994 |
| 176 | 8.62 | TRANSFORMERS MORE THAN MEETS EYE #5 | $3.99 | IDW |     11,602 |
| 177 | 8.61 | STAR TREK #8 | $3.99 | IDW |     11,590 |
| 178 | 8.55 | TRANSFORMERS ROBOTS IN DISGUISE #5 | $3.99 | IDW |     11,506 |
| 179 | 8.47 | BPRD HELL ON EARTH DEVILS ENGINE #1 | $3.50 | DAR |     11,395 |
| 180 | 8.31 | MYSTERY IN SPACE #1 (MR) | $7.99 | DC |     11,184 |
| 181 | 8.30 | STAR TREK #9 | $3.99 | IDW |     11,171 |
| 182 | 8.26 | HARDCORE #1 | $2.99 | IMA |     11,112 |
| 183 | 8.13 | ROCKETEER ADVENTURES 2 #3 | $3.99 | IDW |     10,942 |
| 184 | 8.02 | GAME OF THRONES #8 (MR) | $3.99 | DE |     10,797 |
| 185 | 7.97 | TEENAGE MUTANT NINJA TURTLES COLOR CLASSICS #1 | $3.99 | IDW |     10,732 |
| 186 | 7.92 | SAUCER COUNTRY #3 (MR) | $2.99 | DC |     10,656 |
| 187 | 7.89 | TRUE BLOOD #1 | $3.99 | IDW |     10,615 |
| 188 | 7.47 | GARFIELD #1 | $3.99 | BOO |     10,057 |
| 189 | 7.28 | TAKIO #1 | $3.95 | MAR |       9,793 |
| 190 | 7.24 | CROSSED BADLANDS #5 (MR) | $3.99 | AVA |       9,746 |
| 191 | 7.17 | NIGHTWING #8 | $2.99 | DC |       9,648 |
| 192 | 7.15 | WARLORD OF MARS DEJAH THORIS #12 (MR) | $3.99 | DE |       9,620 |
| 193 | 7.14 | GREEN LANTERN THE ANIMATED SERIES #2 | $2.99 | DC |       9,615 |
| 194 | 7.13 | NEW DEADWARDIANS #3 (MR) | $2.99 | DC |       9,594 |
| 195 | 7.09 | UNWRITTEN #37 (MR) | $2.99 | DC |       9,549 |
| 196 | 7.06 | LOBSTER JOHNSON THE BURNING HAND #5 | $3.50 | DAR |       9,506 |
| 197 | 7.01 | TEENAGE MUTANT NINJA TURTLES #9 | $3.99 | IDW |       9,438 |
| 198 | 7.00 | HELLBLAZER #291 (MR) | $2.99 | DC |       9,426 |
| 199 | 6.98 | GI JOE VOL 2 #13 | $3.99 | IDW |       9,391 |
| 200 | 6.96 | AVENGERS VS X-MEN #0 | $3.99 | MAR |       9,372 |
| 201 | 6.95 | TRIO #1 | $3.99 | IDW |       9,353 |
| 202 | 6.94 | STEPHEN KING JOE HILL ROAD RAGE #4 | $3.99 | IDW |       9,335 |
| 203 | 6.90 | CROSSED BADLANDS #6 (MR) | $3.99 | AVA |       9,285 |
| 204 | 6.79 | GHOSTBUSTERS #9 | $3.99 | IDW |       9,133 |
| 205 | 6.74 | GUILD FAWKES #1 | $3.50 | DAR |       9,067 |
| 206 | 6.69 | DUNGEONS & DRAGONS FORGOTTEN REALMS #1 | $3.99 | IDW |       9,005 |
| 207 | 6.65 | MORNING GLORIES #18 (MR) | $2.99 | IMA |       8,953 |
| 208 | 6.64 | FANBOYS VS ZOMBIES #2 | $3.99 | BOO |       8,942 |
| 209 | 6.59 | VAMPIRELLA #17 | $3.99 | DE |       8,873 |
| 210 | 6.59 | SONIC THE HEDGEHOG #236 | $2.99 | ARC |       8,864 |
| 211 | 6.56 | WITCHBLADE #156 | $2.99 | IMA |       8,835 |
| 212 | 6.56 | LORD OF THE JUNGLE #4 (MR) | $3.99 | DE |       8,829 |
| 213 | 6.54 | GI JOE A REAL AMERICAN HERO #178 | $3.99 | IDW |       8,804 |
| 214 | 6.48 | DANCER #1 | $3.50 | IMA |       8,727 |
| 215 | 6.43 | DEJAH THORIS & WHITE APES OF MARS #2 (MR) | $3.99 | DE |       8,649 |
| 216 | 6.38 | SONIC THE HEDGEHOG #237 | $2.99 | ARC |       8,586 |
| 217 | 6.36 | SNAKE EYES & STORM SHADOW #13 | $3.99 | IDW |       8,567 |
| 218 | 6.34 | KEVIN SMITH BIONIC MAN #9 | $3.99 | DE |       8,540 |
| 219 | 6.31 | GFT ALICE IN WONDERLAND #6 (MR) | $5.99 | ZEN |       8,492 |
| 220 | 6.30 | AVX VS #1 | $3.99 | MAR |       8,477 |
| 221 | 6.28 | NIGHT FORCE #3 | $2.99 | DC |       8,458 |
| 222 | 6.27 | LOCKE & KEY CLOCKWORKS #6 | $3.99 | IDW |       8,436 |
| 223 | 6.03 | COBRA #13 | $3.99 | IDW |       8,115 |
| 224 | 6.02 | RACHEL RISING #8 | $3.99 | ABS |       8,103 |
| 225 | 5.94 | GARTH ENNIS JENNIFER BLOOD #13 (MR) | $3.99 | DE |       7,997 |
| 226 | 5.92 | IZOMBIE #25 (MR) | $2.99 | DC |       7,974 |
| 227 | 5.84 | BART SIMPSONS PAL MILHOUSE #1 | $2.99 | BON |       7,862 |
| 228 | 5.83 | CALL OF WONDERLAND #1 (MR) | $3.99 | ZEN |       7,852 |
| 229 | 5.79 | MASS EFFECT HOMEWORLDS #2 | $3.50 | DAR |       7,789 |
| 230 | 5.78 | GRIM LEAPER #1 (MR) | $3.50 | IMA |       7,779 |
| 231 | 5.67 | SWEET TOOTH #33 (MR) | $2.99 | DC |       7,631 |
| 232 | 5.65 | YOUNGBLOOD #71 | $2.99 | IMA |       7,611 |
| 233 | 5.65 | IRREDEEMABLE #37 | $3.99 | BOO |       7,609 |
| 234 | 5.65 | HERO COMICS 2012 | $3.99 | IDW |       7,601 |
| 235 | 5.63 | MARVEL UNIVERSE ULTIMATE SPIDER-MAN #2 | $2.99 | MAR |       7,581 |
| 236 | 5.60 | MIND MGMT #1 | $3.99 | DAR |       7,537 |
| 237 | 5.57 | HELL YEAH #3 | $2.99 | IMA |       7,504 |
| 238 | 5.55 | DOROTHY AND WIZARD IN OZ #6 | $3.99 | MAR |       7,475 |
| 239 | 5.55 | YOUNG JUSTICE #16 | $2.99 | DC |       7,466 |
| 240 | 5.54 | LADY DEATH #17 (MR) | $3.99 | AVA |       7,453 |
| 241 | 5.49 | DOROTHY AND WIZARD IN OZ #7 | $3.99 | MAR |       7,391 |
| 242 | 5.41 | DARK HORSE PRESENTS #12 | $7.99 | DAR |       7,281 |
| 243 | 5.36 | DANGER CLUB #2 | $2.99 | IMA |       7,210 |
| 244 | 5.26 | SONIC UNIVERSE #40 | $2.99 | ARC |       7,077 |
| 245 | 5.24 | BIONIC WOMAN #2 | $3.99 | DE |       7,053 |
| 246 | 5.18 | TAROT WITCH OF THE BLACK ROSE #74 (MR) | $2.95 | BRO |       6,970 |
| 247 | 5.12 | RED SONJA WITCHBLADE #3 | $3.99 | DE |       6,896 |
| 248 | 5.12 | ARTIFACTS #17 | $3.99 | IMA |       6,887 |
| 249 | 5.11 | DOMINIQUE LAVEAU VOODOO CHILD #3 (MR) | $2.99 | DC |       6,873 |
| 250 | 5.04 | SIMPSONS COMICS #190 | $2.99 | BON |       6,779 |
| 251 | 5.02 | GRIMM FAIRY TALES #73 (MR) | $2.99 | ZEN |       6,757 |
| 252 | 5.00 | MARVEL UNIVERSE AVENGERS EARTHS HEROES #2 | $2.99 | MAR |       6,733 |
| 253 | 4.98 | HELLRAISER #14 (MR) | $3.99 | BOO |       6,707 |
| 254 | 4.94 | RED SONJA #66 | $3.99 | DE |       6,650 |
| 255 | 4.93 | GREEN HORNET #25 | $3.99 | DE |       6,641 |
| 256 | 4.75 | INCORRUPTIBLE #29 | $3.99 | BOO |       6,400 |
| 257 | 4.75 | PROPHET #25 | $2.99 | IMA |       6,390 |
| 258 | 4.72 | SUPREME #64 | $2.99 | IMA |       6,353 |
| 259 | 4.71 | VOLTRON #5 | $3.99 | DE |       6,337 |
| 260 | 4.69 | HACK SLASH #15 (MR) | $3.50 | IMA |       6,310 |
| 261 | 4.68 | AMAZING SPIDER-MAN PARALLEL LIVES #1 | $4.99 | MAR |       6,304 |
| 262 | 4.66 | MEGA MAN #13 | $2.99 | ARC |       6,273 |
| 263 | 4.66 | FUTURAMA COMICS #61 | $2.99 | BON |       6,271 |
| 264 | 4.64 | SAGA #2 (MR) | $2.99 | IMA |       6,252 |
| 265 | 4.61 | RASL #14 (MR) | $3.50 | CAR |       6,208 |
| 266 | 4.58 | RAGEMOOR #3 | $3.50 | DAR |       6,167 |
| 267 | 4.56 | DARKNESS #103 (MR) | $2.99 | IMA |       6,140 |
| 268 | 4.53 | SCALPED #58 (MR) | $2.99 | DC |       6,098 |
| 269 | 4.50 | GFT JUNGLE BOOK #3 (MR) | $2.99 | ZEN |       6,054 |
| 270 | 4.49 | THE LONE RANGER #5 | $3.99 | DE |       6,044 |
| 271 | 4.44 | ARMY OF DARKNESS #4 | $3.99 | DE |       5,972 |
| 272 | 4.43 | VAMPIRELLA VS DRACULA #4 | $3.99 | DE |       5,962 |
| 273 | 4.37 | LADY DEATH ORIGINS CURSED #2 (MR) | $3.99 | AVA |       5,884 |
| 274 | 4.36 | LORD OF THE JUNGLE ANNUAL #1 (MR) | $4.99 | DE |       5,874 |
| 275 | 4.35 | QUEEN SONJA #29 | $3.99 | DE |       5,861 |
| 276 | 4.30 | ULTIMATE COMICS FALLOUT #4 | $3.99 | MAR |       5,791 |
| 277 | 4.28 | GFT MYTHS & LEGENDS #17 (MR) | $2.99 | ZEN |       5,761 |
| 278 | 4.27 | DARK SHADOWS #5 | $3.99 | DE |       5,746 |
| 279 | 4.24 | RESIDENT ALIEN #1 | $3.50 | DAR |       5,705 |
| 280 | 4.20 | NEXT MEN AFTERMATH #43 | $3.99 | IDW |       5,655 |
| 281 | 4.18 | FERALS #5 (MR) | $3.99 | AVA |       5,624 |
| 282 | 4.17 | BATMAN #8 | $3.99 | DC |       5,616 |
| 283 | 4.15 | GFT MYTHS & LEGENDS #16 (MR) | $2.99 | ZEN |       5,591 |
| 284 | 4.15 | AVENGING SPIDER-MAN #2 | $3.99 | MAR |       5,584 |
| 285 | 4.10 | GFT OVERSIZED COSPLAY SPECIAL (MR) | $4.99 | ZEN |       5,516 |
| 286 | 4.08 | FATHOM KIANI VOL 2 #2 | $3.50 | ASP |       5,496 |
| 287 | 4.03 | BART SIMPSON COMICS #71 | $2.99 | BON |       5,418 |
| 288 | 3.96 | DAN THE UNHARMABLE #1 (MR) | $3.99 | AVA |       5,333 |
| 289 | 3.91 | SCOOBY DOO WHERE ARE YOU #21 | $2.99 | DC |       5,269 |
| 290 | 3.89 | UNCANNY X-MEN #11 | $3.99 | MAR |       5,234 |
| 291 | 3.85 | JOHN CARTER GODS OF MARS #3 | $2.99 | MAR |       5,180 |
| 292 | 3.85 | PETER PANZERFAUST #4 (MR) | $3.50 | IMA |       5,177 |
| 293 | 3.76 | PLANET OF THE APES #14 | $3.99 | BOO |       5,058 |
| 294 | 3.75 | GFT PRESENTS NEVERLAND HOOK #5 | $2.99 | ZEN |       5,045 |
| 295 | 3.72 | SECRET AVENGERS #26 | $3.99 | MAR |       5,012 |
| 296 | 3.70 | NIGHT OF 1000 WOLVES #1 | $3.99 | IDW |       4,985 |
| 297 | 3.70 | MAGDALENA #12 | $3.99 | IMA |       4,978 |
| 298 | 3.67 | NINJETTES #4 (MR) | $3.99 | DE |       4,946 |
| 299 | 3.59 | VOLTRON YEAR ONE #2 | $3.99 | DE |       4,828 |
| 300 | 3.58 | ALABASTER WOLVES #2 | $3.50 | DAR |       4,817 |
| | | | | | |
| --- | --- | --- | --- | --- | --- |
| | | Top 300 GNs — May 2012 | | | |
| Rank | Index | Title | Price | Pub | Est.Qty |
| 1 | 6.58 | JUSTICE LEAGUE HC VOL 01 ORIGIN | $24.99 | DC |       8,855 |
| 2 | 6.07 | BATMAN HC VOL 01 THE COURT OF OWLS | $24.99 | DC |       8,173 |
| 3 | 5.57 | WALKING DEAD TP VOL 01 DAYS GONE BYE | $9.99 | IMA |       7,494 |
| 4 | 5.43 | BATMAN DEATH BY DESIGN DELUXE ED HC | $24.99 | DC |       7,309 |
| 5 | 4.41 | ANIMAL MAN TP VOL 01 THE HUNT | $14.99 | DC |       5,930 |
| 6 | 3.52 | WALKING DEAD TP VOL 04 HEARTS DESIRE | $14.99 | IMA |       4,735 |
| 7 | 3.42 | KICK-ASS 2 PREM HC (MR) | $24.99 | MAR |       4,609 |
| 8 | 3.36 | WALKING DEAD TP VOL 02 MILES BEHIND US | $14.99 | IMA |       4,529 |
| 9 | 3.33 | WATCHMEN HC | $39.99 | DC |       4,489 |
| 10 | 3.29 | GREEN LANTERN HC VOL 01 SINESTRO | $22.99 | DC |       4,429 |
| 11 | 3.12 | AVATAR LAST AIRBENDER TP VOL 02 PROMISE PART 2 | $10.99 | DAR |       4,193 |
| 12 | 2.95 | WALKING DEAD TP VOL 03 SAFETY BEHIND BARS | $14.99 | IMA |       3,971 |
| 13 | 2.94 | SPIDER-MAN SEASON ONE PREM HC | $24.99 | MAR |       3,961 |
| 14 | 2.90 | CATWOMAN TP VOL 01 THE GAME | $14.99 | DC |       3,900 |
| 15 | 2.87 | BATMAN AND ROBIN TP VOL 03 BATMAN ROBIN MUST DIE | $17.99 | DC |       3,858 |
| 16 | 2.75 | WONDER WOMAN HC VOL 01 BLOOD | $22.99 | DC |       3,697 |
| 17 | 2.69 | EMPOWERED TP VOL 07 (MR) | $16.99 | DAR |       3,620 |
| 18 | 2.65 | LOCKE & KEY TP VOL 04 KEYS TO THE KINGDOM | $19.99 | IDW |       3,567 |
| 19 | 2.50 | AMERICAN VAMPIRE TP VOL 02 (MR) | $17.99 | DC |       3,363 |
| 20 | 2.46 | NARUTO TP VOL 56 | $9.99 | VIZ |       3,317 |
| 21 | 2.43 | UNCANNY X-FORCE TP VOL 03 DARK ANGEL SAGA BOOK 01 | $19.99 | MAR |       3,275 |
| 22 | 2.38 | PRO ONE SHOT (MR) | $7.99 | IMA |       3,208 |
| 23 | 2.19 | WALKING DEAD TP VOL 05 BEST DEFENSE | $14.99 | IMA |       2,944 |
| 24 | 2.13 | SAILOR MOON TP KODANSHA ED VOL 05 | $10.99 | RAN |       2,870 |
| 25 | 2.11 | WALKING DEAD TP VOL 15 WE FIND OURSELVES (MR) | $14.99 | IMA |       2,841 |
| 26 | 2.09 | JUSTICE LEAGUE INTERNATIONAL TP VOL 01 SIGNAL MASTERS | $14.99 | DC |       2,812 |
| 27 | 2.01 | GREEN LANTERN BRIGHTEST DAY TP | $19.99 | DC |       2,703 |
| 28 | 1.99 | BRIGHTEST DAY TP VOL 02 | $19.99 | DC |       2,678 |
| 29 | 1.98 | ULTIMATE COMICS SPIDER-MAN DOSM FALLOUT TP | $19.99 | MAR |       2,662 |
| 30 | 1.96 | AVENGERS X-SANCTION HC | $24.99 | MAR |       2,632 |
| 31 | 1.90 | SAVAGE SWORD OF CONAN TP VOL 11 | $19.99 | DAR |       2,554 |
| 32 | 1.84 | MIGHTY THOR BY MATT FRACTION TP VOL 01 | $19.99 | MAR |       2,478 |
| 33 | 1.84 | WALKING DEAD TP VOL 06 SORROWFUL LIFE | $14.99 | IMA |       2,473 |
| 34 | 1.80 | FABLES TP VOL 01 LEGENDS IN EXILE NEW ED (MR) | $12.99 | DC |       2,421 |
| 35 | 1.77 | STORMWATCH TP VOL 01 THE DARK SIDE | $14.99 | DC |       2,380 |
| 36 | 1.76 | GREEN ARROW TP VOL 01 THE MIDAS TOUCH | $14.99 | DC |       2,373 |
| 37 | 1.75 | WALKING DEAD TP VOL 09 HERE WE REMAIN (MR) | $14.99 | IMA |       2,357 |
| 38 | 1.74 | WALKING DEAD TP VOL 07 THE CALM BEFORE | $14.99 | IMA |       2,339 |
| 39 | 1.71 | IRREDEEMABLE TP VOL 09 | $16.99 | BOO |       2,299 |
| 40 | 1.69 | BATMAN KNIGHTFALL NEW ED TP VOL 02 KNIGHTQUEST | $29.99 | DC |       2,279 |
| 41 | 1.69 | BATMAN BRUCE WAYNE THE ROAD HOME TP | $17.99 | DC |       2,272 |
| 42 | 1.67 | ASTONISHING X-MEN TP VOL 07 MONSTROUS | $16.99 | MAR |       2,248 |
| 43 | 1.67 | WALKING DEAD TP VOL 10 WHAT WE BECOME | $14.99 | IMA |       2,242 |
| 44 | 1.66 | WALKING DEAD TP VOL 08 MADE TO SUFFER (MR) | $14.99 | IMA |       2,233 |
| 45 | 1.66 | WALKING DEAD TP VOL 14 NO WAY OUT (MR) | $14.99 | IMA |       2,229 |
| 46 | 1.60 | WALKING DEAD TP VOL 11 FEAR THE HUNTERS (MR) | $14.99 | IMA |       2,155 |
| 47 | 1.60 | WALKING DEAD TP VOL 13 TOO FAR GONE (MR) | $14.99 | IMA |       2,154 |
| 48 | 1.54 | INFINITY GAUNTLET TP | $24.99 | MAR |       2,067 |
| 49 | 1.49 | MAGNETO NOT A HERO TP | $14.99 | MAR |       2,004 |
| 50 | 1.48 | WALKING DEAD TP VOL 12 LIFE AMONG THEM | $14.99 | IMA |       1,992 |
| 51 | 1.46 | CHANNEL ZERO TP COMPLETE COLLECTION | $19.99 | DAR |       1,962 |
| 52 | 1.45 | BATMAN PREY TP | $24.99 | DC |       1,952 |
| 53 | 1.41 | UNCANNY X-FORCE OTHERWORLD PREM HC | $24.99 | MAR |       1,903 |
| 54 | 1.36 | OZ OZMA OF OZ GN TP | $19.99 | MAR |       1,836 |
| 55 | 1.36 | FABLES DELUXE EDITION HC VOL 05 (MR) | $29.99 | DC |       1,831 |
| 56 | 1.35 | BTVS SEASON 8 LIBRARY HC VOL 01 LONG WAY HOME | $29.99 | DAR |       1,814 |
| 57 | 1.35 | JOE HILL THE CAPE HC | $24.99 | IDW |       1,813 |
| 58 | 1.34 | GENERATION HOPE END OF A GENERATION TP | $15.99 | MAR |       1,808 |
| 59 | 1.32 | HAUNT TP VOL 03 | $14.99 | IMA |       1,772 |
| 60 | 1.31 | WALKING DEAD COMPENDIUM TP VOL 01 (MR) | $59.99 | IMA |       1,766 |
| 61 | 1.30 | INCORRUPTIBLE TP VOL 06 | $16.99 | BOO |       1,753 |
| 62 | 1.28 | STAND TP VOL 03 SOUL SURVIVORS | $19.99 | MAR |       1,725 |
| 63 | 1.28 | MARVELS AVENGERS PRELUDE TP | $14.99 | MAR |       1,723 |
| 64 | 1.28 | DEADENDERS TP (MR) | $29.99 | DC |       1,722 |
| 65 | 1.27 | GRIMM FAIRY TALES TP VOL 11 (MR) | $15.99 | ZEN |       1,716 |
| 66 | 1.26 | SILVER SURFER PARABLE PREM HC | $24.99 | MAR |       1,700 |
| 67 | 1.26 | SUPERMAN GROUNDED TP VOL 01 | $17.99 | DC |       1,697 |
| 68 | 1.22 | STAR WARS KNIGHT ERRANT TP VOL 02 DELUGE | $18.99 | DAR |       1,646 |
| 69 | 1.20 | BATMAN DARK KNIGHT RETURNS TP | $19.99 | DC |       1,615 |
| 70 | 1.20 | AMAZING SPIDER-MAN SECRET ORIGINS TP | $14.99 | MAR |       1,610 |
| 71 | 1.19 | SANDMAN TP VOL 09 THE KINDLY ONES NEW ED (MR) | $19.99 | DC |       1,603 |
| 72 | 1.19 | ATOMIC ROBO TP VOL 06 GHOST OF STATION X | $18.95 | RED |       1,596 |
| 73 | 1.17 | AVENGERS CONTEST TP | $16.99 | MAR |       1,575 |
| 74 | 1.16 | BIBLE HC | $29.99 | DC |       1,561 |
| 75 | 1.16 | SPIRIT WORLD HC | $39.99 | DC |       1,557 |
| 76 | 1.15 | BALTIMORE HC VOL 02 CURSE BELLS | $24.99 | DAR |       1,553 |
| 77 | 1.12 | ONE PIECE TP VOL 62 | $9.99 | VIZ |       1,503 |
| 78 | 1.09 | VENOM CIRCLE OF FOUR PREM HC | $29.99 | MAR |       1,472 |
| 79 | 1.09 | NEGIMA GN VOL 34 (MR) | $10.99 | RAN |       1,466 |
| 80 | 1.07 | COMIC BOOK HISTORY OF COMICS GN | $21.99 | IDW |       1,439 |
| 81 | 1.06 | SHOWCASE PRESENTS SEA DEVILS TP VOL 01 | $19.99 | DC |       1,433 |
| 82 | 1.05 | DEADPOOL MAX TP INVOLUNTARY ARMAGEDDON | $19.99 | MAR |       1,419 |
| 83 | 1.03 | CAPTAIN AMERICA BY ED BRUBAKER PREM HC VOL 02 | $19.99 | MAR |       1,391 |
| 84 | 1.03 | FLCL OMNIBUS GN | $19.99 | DAR |       1,384 |
| 85 | 1.03 | ARE YOU MY MOTHER A COMIC DRAMA HC | $22.00 | HOU |       1,382 |
| 86 | 1.02 | ESSENTIAL BLACK PANTHER TP VOL 01 | $19.99 | MAR |       1,376 |
| 87 | 1.02 | WATCHMEN TP | $19.99 | DC |       1,374 |
| 88 | 1.01 | MMW AVENGERS HC VOL 12 | $59.99 | MAR |       1,363 |
| 89 | 1.00 | BATMAN HUSH COMPLETE TP | $24.99 | DC |       1,343 |
| 90 | 1.00 | AVENGERS BY BRIAN MICHAEL BENDIS PREM HC VOL 03 | $29.99 | MAR |       1,343 |
| 91 | 1.00 | HACK SLASH OMNIBUS TP VOL 04 | $34.99 | IMA |       1,342 |
| 92 | 1.00 | VILLAINS FOR HIRE TP KNIGHT TAKES KING | $14.99 | MAR |       1,341 |
| 93 | 0.99 | WOLVERINE AND BLACK CAT CLAWS 2 TP | $14.99 | MAR |       1,334 |
| 94 | 0.96 | STARMAN OMNIBUS TP VOL 01 | $29.99 | DC |       1,296 |
| 95 | 0.96 | DC UNIVERSE LEGACIES TP | $24.99 | DC |       1,289 |
| 96 | 0.95 | NEW AVENGERS BY BRIAN MICHAEL BENDIS PREM HC VOL 03 | $29.99 | MAR |       1,278 |
| 97 | 0.95 | AVENGERS ART OF AVENGERS HC SLIPCASE | $49.99 | MAR |       1,277 |
| 98 | 0.95 | AVENGERS ACADEMY PREM HC SECOND SEMESTER | $24.99 | MAR |       1,273 |
| 99 | 0.94 | CHOKER TP VOL 01 (MR) | $16.99 | IMA |       1,272 |
| 100 | 0.94 | HALO FALL OF REACH COVENANT TP | $16.99 | MAR |       1,269 |
| 101 | 0.94 | AVENGERS MANY FACES OF HENRY PYM TP | $19.99 | MAR |       1,268 |
| 102 | 0.92 | CAPTAIN AMERICA AND BUCKY OLD WOUNDS PREM HC | $19.99 | MAR |       1,235 |
| 103 | 0.92 | SECRET SOCIETY OF SUPER VILLAINS HC VOL 02 | $39.99 | DC |       1,234 |
| 104 | 0.90 | MMW AMAZING SPIDER-MAN TP VOL 07 | $24.99 | MAR |       1,213 |
| 105 | 0.90 | BATMAN THE KILLING JOKE SPECIAL ED HC | $17.99 | DC |       1,209 |
| 106 | 0.89 | MMW ATLAS ERA JOURNEY INTO MYSTERY HC VOL 04 | $64.99 | MAR |       1,201 |
| 107 | 0.88 | X-MEN PHOENIX TP ENDSONG WARSONG ULT COLL | $29.99 | MAR |       1,182 |
| 108 | 0.87 | MARVEL UNIVERSE VS WOLVERINE TP | $14.99 | MAR |       1,177 |
| 109 | 0.87 | SOUL EATER TP VOL 09 | $11.99 | HAC |       1,173 |
| 110 | 0.87 | ZOMBIES HC | $24.99 | IDW |       1,171 |
| 111 | 0.87 | CIVIL WAR TP | $24.99 | MAR |       1,171 |
| 112 | 0.86 | LEGION OF SUPER HEROES ARCHIVES HC VOL 13 | $59.99 | DC |       1,160 |
| 113 | 0.86 | POKEMON BLACK & WHITE GN VOL 07 | $4.99 | VIZ |       1,155 |
| 114 | 0.84 | AVATAR LAST AIRBENDER TP VOL 01 PROMISE PART 1 | $10.99 | DAR |       1,133 |
| 115 | 0.82 | AVENGERS KREE SKRULL WAR HC | $34.99 | MAR |       1,101 |
| 116 | 0.81 | GRIMM FAIRY TALES THE LIBRARY TP | $15.99 | ZEN |       1,084 |
| 117 | 0.80 | DAKEN DARK WOLVERINE PREM HC NO MORE HEROES | $19.99 | MAR |       1,071 |
| 118 | 0.78 | ABSOLUTE BATMAN DARK VICTORY HC | $99.99 | DC |       1,056 |
| 119 | 0.77 | EPIC MAD TP | $12.99 | DC |       1,036 |
| 120 | 0.76 | MOON KNIGHT BY BENDIS AND MALEEV PREM HC VOL 02 | $24.99 | MAR |       1,025 |
| 121 | 0.76 | DAREDEVIL BY BRUBAKER AND LARK ULT COLL TP BOOK 02 | $29.99 | MAR |       1,022 |
| 122 | 0.76 | DEADPOOL MAX PREM HC SECOND CUT | $24.99 | MAR |       1,018 |
| 123 | 0.73 | BATMAN THE LONG HALLOWEEN TP | $24.99 | DC |          981 |
| 124 | 0.73 | CALIGULA TP VOL 01 (MR) | $19.99 | AVA |          980 |
| 125 | 0.73 | MIGHTY THOR BY MATT FRACTION PREM HC VOL 02 | $24.99 | MAR |          979 |
| 126 | 0.73 | V FOR VENDETTA NEW EDITION TP (MR) | $19.99 | DC |          978 |
| 127 | 0.72 | WALKING DEAD HC VOL 01 (MR) | $34.99 | IMA |          963 |
| 128 | 0.71 | GFT MYTHS & LEGENDS TP VOL 03 (MR) | $15.99 | ZEN |          954 |
| 129 | 0.71 | AVENGERS PRIVATE WAR OF DR DOOM PREM HC | $29.99 | MAR |          952 |
| 130 | 0.70 | SANDMAN TP VOL 01 PRELUDES & NOCTURNES NEW ED (MR) | $19.99 | DC |          945 |
| 131 | 0.69 | LOCKE & KEY TP VOL 01 WELCOME TO LOVECRAFT | $19.99 | IDW |          929 |
| 132 | 0.69 | PLANET OF THE APES TP VOL 02 | $14.99 | BOO |          927 |
| 133 | 0.69 | BLACKEST NIGHT TP | $19.99 | DC |          926 |
| 134 | 0.69 | CHEW TP VOL 01 (MR) | $9.99 | IMA |          926 |
| 135 | 0.69 | MARVEL FIRSTS 1970S TP VOL 03 | $29.99 | MAR |          925 |
| 136 | 0.67 | GODZILLA KINGDOM OF MONSTERS TP VOL 03 | $17.99 | IDW |          907 |
| 137 | 0.67 | KING CITY TP (MR) | $19.99 | IMA |          902 |
| 138 | 0.67 | AMAZING SPIDER-MAN YOUNG READERS TP VOL 01 BEHIND MASK | $6.99 | MAR |          901 |
| 139 | 0.67 | LOEG III CENTURY #2 1969 (MR) | $9.95 | TOP |          898 |
| 140 | 0.67 | AVENGERS ASSEMBLE TP VOL 03 | $34.99 | MAR |          896 |
| 141 | 0.65 | BATMAN KNIGHTFALL NEW ED TP VOL 01 | $29.99 | DC |          881 |
| 142 | 0.65 | PRINCELESS TP VOL 01 | $14.95 | ACT |          869 |
| 143 | 0.64 | ULTIMATE SPIDER-MAN HC VOL 12 | $39.99 | MAR |          866 |
| 144 | 0.64 | X-23 PREM HC VOL 03 DONT LOOK BACK | $19.99 | MAR |          866 |
| 145 | 0.64 | STRAWBERRY SHORTCAKE TP VOL 01 BERRY FUN | $14.99 | APE |          864 |
| 146 | 0.63 | PUELLA MAGI MADOKA MAGICA GN VOL 01 | $11.99 | HAC |          844 |
| 147 | 0.62 | MANARA EROTICA HC VOL 01 (A) | $59.99 | DAR |          836 |
| 148 | 0.61 | FLEX MENTALLO MAN OF MUSCLE MYSTERY DLX HC (MR) | $22.99 | DC |          826 |
| 149 | 0.61 | GI JOE A REAL AMERICAN HERO TP VOL 04 | $19.99 | IDW |          821 |
| 150 | 0.61 | GREEN WAKE TP VOL 02 LOST CHILDREN (MR) | $14.99 | IMA |          819 |
| 151 | 0.61 | CHEW TP VOL 05 MAJOR LEAGUE CHEW (MR) | $12.99 | IMA |          818 |
| 152 | 0.60 | BATMAN YEAR ONE DELUXE SC | $14.99 | DC |          814 |
| 153 | 0.60 | NINJAGO GN VOL 03 RISE O/T SERPENTINE | $6.99 | NBM |          807 |
| 154 | 0.60 | PANDORA HEARTS GN VOL 10 | $11.99 | HAC |          805 |
| 155 | 0.60 | HULK RETURN OF MONSTER PREM HC | $29.99 | MAR |          804 |
| 156 | 0.59 | Y THE LAST MAN TP VOL 01 UNMANNED | $14.99 | DC |          793 |
| 157 | 0.58 | BATMAN THE BLACK MIRROR HC | $29.99 | DC |          783 |
| 158 | 0.58 | BEST OF SONIC THE HEDGEHOG HC | $24.99 | ARC |          777 |
| 159 | 0.57 | MELANCHOLY OF HARUHI SUZUMIYA GN VOL 12 | $11.99 | HAC |          772 |
| 160 | 0.57 | WALKING DEAD HC VOL 04 (MR) | $34.99 | IMA |          764 |
| 161 | 0.56 | LOEG III CENTURY #1 1910 (MR) | $7.95 | TOP |          760 |
| 162 | 0.56 | ROGER LANGRIDGES SNARKED TP VOL 01 | $14.99 | BOO |          754 |
| 163 | 0.56 | EERIE ARCHIVES HC VOL 10 | $49.99 | DAR |          750 |
| 164 | 0.55 | MEGALEX COMPLETE STORY HC (MR) | $29.95 | HUM |          746 |
| 165 | 0.55 | DUNGEONS & DRAGONS FORGOTTEN REALMS TP VOL 03 | $19.99 | IDW |          745 |
| 166 | 0.55 | FALLEN WORDS GN (MR) | $19.95 | DRA |          742 |
| 167 | 0.55 | BLOOD BLOCKADE BATTLEFRONT TP VOL 02 | $10.99 | DAR |          740 |
| 168 | 0.55 | X-FACTOR PREM HC THEY KEEP KILLING MADROX | $19.99 | MAR |          739 |
| 169 | 0.55 | BRIDE OF THE WATER GOD TP VOL 11 | $9.99 | DAR |          736 |
| 170 | 0.55 | COMPLETE CHESTER GOULDS DICK TRACY HC VOL 13 | $39.99 | IDW |          734 |
| 171 | 0.54 | TANPOPO COLLECTION HC VOL 01 | $24.99 | BOO |          727 |
| 172 | 0.54 | KUNG FU PANDA DIGEST GN VOL 02 ELEMENTAL | $6.95 | APE |          723 |
| 173 | 0.54 | AVENGERS VS X-MEN ITS COMING TP | $19.99 | MAR |          722 |
| 174 | 0.53 | ELEPHANTMEN TP VOL 00 (MR) | $24.99 | IMA |          713 |
| 175 | 0.53 | BATMAN INCORPORATED DELUXE HC VOL 01 | $29.99 | DC |          712 |
| 176 | 0.53 | ULTIMATES TP VOL 01 | $12.99 | MAR |          712 |
| 177 | 0.53 | STEVE DITKO ARCHIVES HC VOL 03 MYSTERIOUS TRAVELER | $39.99 | FAN |          710 |
| 178 | 0.53 | WOLVERINE OLD MAN LOGAN TP | $29.99 | MAR |          710 |
| 179 | 0.53 | FABLES TP VOL 16 SUPER TEAM (MR) | $14.99 | DC |          708 |
| 180 | 0.53 | PREACHER TP VOL 01 GONE TO TEXAS NEW EDITION | $14.99 | DC |          707 |
| 181 | 0.52 | SUPERMAN RED SON TP | $17.99 | DC |          703 |
| 182 | 0.52 | GI JOE 2 RETALIATION MOVIE PREQUEL TP | $17.99 | IDW |          703 |
| 183 | 0.52 | ARTIFACTS ORIGINS FIRST BORN TP | $19.99 | IMA |          696 |
| 184 | 0.51 | THING SERPENT CROWN AFFAIR PREM HC | $24.99 | MAR |          691 |
| 185 | 0.51 | THREE STOOGES GN VOL 01 BED BUGGED | $6.99 | NBM |          688 |
| 186 | 0.51 | KINGDOM COME TP NEW EDITION | $17.99 | DC |          686 |
| 187 | 0.51 | AMORY WARS SECRETS OF SILENT EARTH 3 HC ULT ED | $29.99 | BOO |          683 |
| 188 | 0.51 | ANNE RICE SERVANT OF THE BONES HC | $24.99 | IDW |          683 |
| 189 | 0.51 | MARVEL UNIVERSE SPIDER-MAN AMAZING FANTASY DIGEST TP | $9.99 | MAR |          681 |
| 190 | 0.51 | X-MEN MUTANT GENESIS 2.0 HC | $49.99 | MAR |          681 |
| 191 | 0.50 | SUPERMAN EARTH ONE HC VOL 01 | $19.99 | DC |          673 |
| 192 | 0.50 | WALKING DEAD HC VOL 02 (MR) | $34.99 | IMA |          671 |
| 193 | 0.49 | ARKHAM ASYLUM ANNIVERSARY ED SC (MR) | $17.99 | DC |          666 |
| 194 | 0.49 | DEADPOOL CLASSIC TP VOL 01 | $29.99 | MAR |          659 |
| 195 | 0.48 | TEENAGE MUTANT NINJA TURTLES ONGOING TP VOL 01 | $17.99 | IDW |          642 |
| 196 | 0.48 | ADVENTURES OF DOG MENDONCA PIZZABOY TP | $12.99 | DAR |          641 |
| 197 | 0.48 | NEW MUTANTS CLASSIC TP VOL 07 | $29.99 | MAR |          640 |
| 198 | 0.47 | LOCKE & KEY TP VOL 02 HEAD GAMES | $19.99 | IDW |          639 |
| 199 | 0.47 | ULTIMATES 2 TP ULTIMATE COLLECTION | $34.99 | MAR |          637 |
| 200 | 0.47 | COLDEST CITY HC | $19.99 | ONI |          636 |
| 201 | 0.47 | ASTONISHING X-MEN BY WHEDON & CASSADAY OMNIBUS HC | $75.00 | MAR |          634 |
| 202 | 0.47 | SPIDER-MAN IDENTITY CRISIS TP NEW PTG | $24.99 | MAR |          630 |
| 203 | 0.46 | BATMAN GATES OF GOTHAM TP | $14.99 | DC |          624 |
| 204 | 0.46 | AMERICAN VAMPIRE TP VOL 01 (MR) | $19.99 | DC |          622 |
| 205 | 0.46 | CINDERELLA FABLES ARE FOREVER TP (MR) | $14.99 | DC |          622 |
| 206 | 0.46 | MEDITERRANEA TP VOL 01 | $18.99 | GG |          622 |
| 207 | 0.45 | FORGETLESS TP LIVE TO SEE LAST CALL (MR) | $14.99 | IMA |          611 |
| 208 | 0.45 | FLASHPOINT TP | $14.99 | DC |          610 |
| 209 | 0.45 | SERENITY THOSE LEFT BEHIND TP | $9.99 | DAR |          605 |
| 210 | 0.45 | LOCKE & KEY HC VOL 01 WELCOME TO LOVECRAFT | $24.99 | IDW |          603 |
| 211 | 0.44 | STRANGE TALENT OF LUTHER STRODE TP VOL 01 (MR) | $14.99 | IMA |          595 |
| 212 | 0.44 | OFF HANDBOOK OF MARVEL UNIVERSE A TO Z TP VOL 05 | $24.99 | MAR |          593 |
| 213 | 0.44 | SERENITY BETTER DAYS TP | $9.99 | DAR |          592 |
| 214 | 0.44 | CERTAIN SCIENTIFIC RAILGUN GN VOL 04 | $11.99 | ST. |          591 |
| 215 | 0.44 | SANDMAN TP VOL 02 THE DOLLS HOUSE NEW ED (MR) | $19.99 | DC |          590 |
| 216 | 0.43 | UNCANNY X-FORCE TP VOL 01 APOCALYPSE SOLUTION | $15.99 | MAR |          584 |
| 217 | 0.43 | TRANSMETROPOLITAN TP VOL 01 BACK ON THE STREET (MR) | $14.99 | DC |          581 |
| 218 | 0.43 | ADVENTURES INTO THE UNKNOWN ARCHIVES HC VOL 01 | $49.99 | DAR |          575 |
| 219 | 0.43 | POWERS PREM HC VOL 06 SELLOUTS (MR) | $24.99 | MAR |          575 |
| 220 | 0.43 | MAD ARCHIVES HC VOL 03 | $59.99 | DC |          574 |
| 221 | 0.43 | MAKESHIFT MIRACLE HC VOL 01 GIRL FROM NOWHERE | $19.99 | UDO |          573 |
| 222 | 0.42 | DOGS OF MARS TP (MR) | $15.99 | IMA |          572 |
| 223 | 0.42 | AVATAR LAST AIRBENDER LOST ADVENTURES TP VOL 01 | $14.99 | DAR |          571 |
| 224 | 0.42 | AVENGERS BY BRIAN MICHAEL BENDIS TP VOL 01 | $19.99 | MAR |          571 |
| 225 | 0.42 | BATMAN DARK VICTORY TP | $19.99 | DC |          566 |
| 226 | 0.42 | BTVS SEASON 8 TP VOL 01 LONG WAY HOME | $15.99 | DAR |          563 |
| 227 | 0.41 | FAIRY TALES OF OSCAR WILDE HC VOL 05 HAPPY PRINCE | $16.99 | NBM |          557 |
| 228 | 0.41 | SCOTT PILGRIM GN VOL 01 PRECIOUS LITTLE LIFE | $11.99 | ONI |          554 |
| 229 | 0.41 | CHEW TP VOL 04 FLAMBE (MR) | $12.99 | IMA |          546 |
| 230 | 0.40 | HELLBOY TP VOL 02 WAKE THE DEVIL | $17.99 | DAR |          544 |
| 231 | 0.40 | ALL STAR SUPERMAN TP | $29.99 | DC |          544 |
| 232 | 0.40 | SPAWN COMPENDIUM TP VOL 01 | $59.99 | IMA |          542 |
| 233 | 0.40 | CROGANS LOYALTY HC | $14.99 | ONI |          537 |
| 234 | 0.40 | OMAMORI HIMARI GN VOL 07 (MR) | $11.99 | HAC |          532 |
| 235 | 0.39 | Y THE LAST MAN TP VOL 02 CYCLES (MR) | $12.99 | DC |          526 |
| 236 | 0.39 | THANOS IMPERATIVE TP | $19.99 | MAR |          525 |
| 237 | 0.39 | AVENGERS CHILDRENS CRUSADE HC | $34.99 | MAR |          520 |
| 238 | 0.38 | CHEW TP VOL 02 INTERNATIONAL FLAVOR (MR) | $12.99 | IMA |          506 |
| 239 | 0.38 | HOUSE OF M TP | $24.99 | MAR |          505 |
| 240 | 0.37 | DOCTOR SOLAR MAN OF THE ATOM TP VOL 02 REVELATION | $15.99 | DAR |          500 |
| 241 | 0.37 | NAUSICAA OF VALLEY OF WIND TP VOL 01 2ND ED | $9.95 | VIZ |          500 |
| 242 | 0.37 | WALKING DEAD HC VOL 03 (MR) | $34.99 | IMA |          496 |
| 243 | 0.37 | STRIKEFORCE MORITURI TP VOL 03 | $34.99 | MAR |          495 |
| 244 | 0.37 | BATMAN VENOM TP NEW EDITION | $14.99 | DC |          493 |
| 245 | 0.37 | AMAZING SPIDER-MAN OMNIBUS HC | $99.99 | MAR |          493 |
| 246 | 0.37 | BABYS IN BLACK HC | $24.99 | ST. |          493 |
| 247 | 0.36 | BATMAN RIP TP | $14.99 | DC |          490 |
| 248 | 0.36 | AXE COP TP VOL 01 | $14.99 | DAR |          489 |
| 249 | 0.36 | FROM HELL TP | $35.00 | TOP |          487 |
| 250 | 0.36 | JUDGE DREDD CRUSADE TP | $16.99 | POC |          486 |
| 251 | 0.36 | UNTIL DEATH DO US PART GN VOL 01 | $18.99 | HAC |          484 |
| 252 | 0.36 | STAR TREK CLASSICS TP VOL 03 ENCOUNTERS W/ UNKNOWN | $21.99 | IDW |          484 |
| 253 | 0.36 | 27 (TWENTY SEVEN) TP VOL 02 SECOND SET | $12.99 | IMA |          484 |
| 254 | 0.36 | CHEW TP VOL 03 JUST DESSERTS (MR) | $12.99 | IMA |          484 |
| 255 | 0.35 | NINJAGO GN VOL 02 MASK OF THE SENSEI | $6.99 | NBM |          476 |
| 256 | 0.35 | ZORRO RIDES AGAIN TP VOL 01 | $19.99 | DE |          474 |
| 257 | 0.35 | JOKER HC | $19.99 | DC |          473 |
| 258 | 0.35 | NINJAGO GN VOL 01 CHALLENGE OF SAMUKAI | $6.99 | NBM |          473 |
| 259 | 0.35 | QUEEN SONJA TP VOL 03 COMING OF AGE | $19.99 | DE |          471 |
| 260 | 0.35 | POPEYE HC VOL 06 ME LIL SWEE PEA | $29.99 | FAN |          469 |
| 261 | 0.34 | BATMAN VS BANE TP | $12.99 | DC |          464 |
| 262 | 0.34 | XENOHOLICS TP VOL 01 (MR) | $14.99 | IMA |          463 |
| 263 | 0.34 | PSYREN GN VOL 04 | $9.99 | VIZ |          462 |
| 264 | 0.34 | INVINCIBLE TP VOL 01 FAMILY MATTERS | $12.99 | IMA |          460 |
| 265 | 0.34 | ULTIMATES TP VOL 02 HOMELAND SECURITY | $17.99 | MAR |          460 |
| 266 | 0.34 | RICHIE RICH TP VOL 01 WELCOME TO RICH RESCUE | $14.99 | APE |          459 |
| 267 | 0.34 | NONNONBA GN (MR) | $26.95 | DRA |          459 |
| 268 | 0.34 | TRANSFORMERS IDW COLLECTION HC VOL 06 | $49.99 | IDW |          452 |
| 269 | 0.33 | COW BOY A BOY AND HIS HORSE HC | $19.95 | ARA |          449 |
| 270 | 0.33 | BATMAN AND ROBIN TP VOL 01 BATMAN REBORN | $14.99 | DC |          449 |
| 271 | 0.33 | BOYS TP VOL 10 BUTCHER BAKER CANDLESTICKMAKER (MR) | $19.99 | DE |          448 |
| 272 | 0.33 | TEGAMI BACHI GN VOL 09 | $9.99 | VIZ |          447 |
| 273 | 0.33 | FABLES TP VOL 02 ANIMAL FARM | $12.99 | DC |          443 |
| 274 | 0.33 | STARRY SKY GN VOL 01 | $12.95 | DIG |          439 |
| 275 | 0.32 | INCAL CLASSIC COLLECTION HC (HUMANOIDS ED) (MR) | $44.95 | HUM |          436 |
| 276 | 0.32 | LOVE HINA OMNIBUS TP KODANSHA ED VOL 03 | $19.99 | RAN |          431 |
| 277 | 0.32 | ARCHIE SUNDAYS FINEST HC | $49.99 | IDW |          430 |
| 278 | 0.32 | LOCKE & KEY HC VOL 02 HEAD GAMES | $24.99 | IDW |          430 |
| 279 | 0.32 | BATMAN BROKEN CITY TP | $14.99 | DC |          429 |
| 280 | 0.32 | YO GABBA GABBA COMIC BOOK TIME HC | $24.99 | ONI |          427 |
| 281 | 0.31 | RICHIE RICH DIGEST GN VOL 02 PURSUIT OF PESOS | $6.99 | APE |          422 |
| 282 | 0.31 | THOR BY WALTER SIMONSON OMNIBUS HC | $125.00 | MAR |          422 |
| 283 | 0.31 | WALKING DEAD HC VOL 05 | $34.99 | IMA |          421 |
| 284 | 0.31 | SERENITY HC VOL 02 BETTER DAYS & OTHER STORIES | $19.99 | DAR |          420 |
| 285 | 0.31 | CROSSED TP VOL 01 (MR) | $24.99 | AVA |          419 |
| 286 | 0.31 | TYRANT FALLS IN LOVE GN VOL 06 (MR) | $12.95 | DIG |          415 |
| 287 | 0.31 | LAST UNICORN HC DLX ED | $50.00 | IDW |          414 |
| 288 | 0.31 | SAMEJIMA KUN & SASAHARA KUN GN (MR) | $12.95 | DIG |          413 |
| 289 | 0.30 | FINAL CRISIS TP | $19.99 | DC |          410 |
| 290 | 0.30 | GOOD MORNING GN (MR) | $12.95 | DIG |          407 |
| 291 | 0.30 | BEST OF THE THREE STOOGES | $19.99 | NBM |          407 |
| 292 | 0.30 | FEAR ITSELF PREM HC | $34.99 | MAR |          404 |
| 293 | 0.30 | UMBRELLA ACADEMY TP VOL 01 APOCALYPSE SUITE | $17.99 | DAR |          402 |
| 294 | 0.30 | BATWOMAN TP VOL 01 ELEGY | $17.99 | DC |          398 |
| 295 | 0.29 | Y THE LAST MAN TP VOL 03 ONE SMALL STEP (MR) | $14.99 | DC |          395 |
| 296 | 0.29 | AI ORE GN VOL 05 | $9.99 | VIZ |          395 |
| 297 | 0.29 | WALKING DEAD HC VOL 07 (MR) | $34.99 | IMA |          394 |
| 298 | 0.29 | HOLLIDAY GN (MR) | $19.99 | ONI |          392 |
| 299 | 0.29 | HELLBOY TP VOL 12 THE STORM AND THE FURY | $19.99 | DAR |          389 |
| 300 | 0.29 | CASTLE MANGO GN VOL 01 | $12.95 | DIG |          389 |