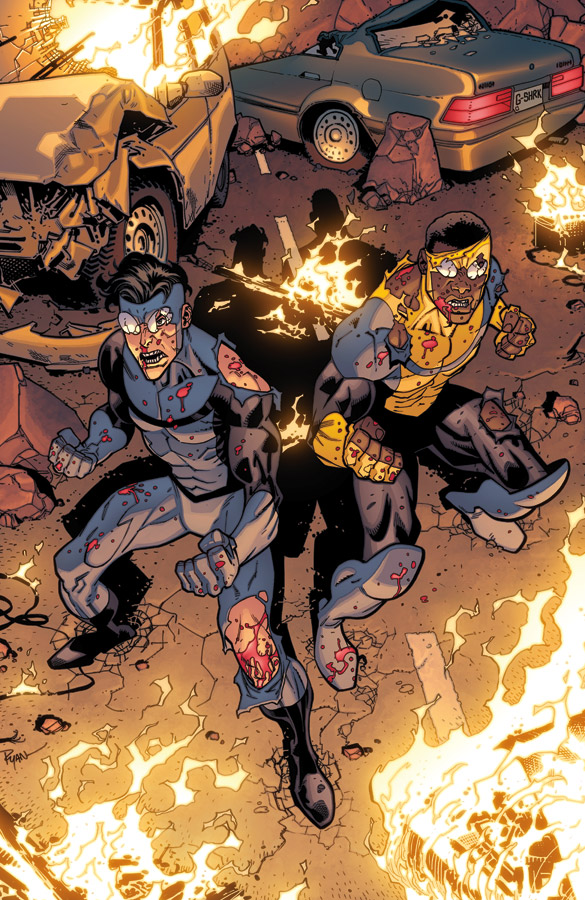 Et voici les sollicitations des sorties Image pour le mois de novembre. Comme d'habitude maintenant, l'éditeur lance pas mal de nouveaux titres avec des concepts tous très originaux.
Du côté des titres historiques, la sollicitation de Spawn m'a bien fait marrer entre l'hommage à Watchmen et la prise en compte des résultats de l'élection américaine. Cela fait maintenant quelques mois que l'on note que Todd McFarlane fait tout pour faire bouger sa création et surtout pour qu'on parle d'elle.
On note aussi le retour de Saga après une pause de quelques mois avec la sortie du numéro 7 et inutile de dire que l'attente va être longue pour nous tous !
CLONE #1 – GEM OF THE MONTH
story DAVID SCHULNER
art / cover JUAN JOSE RYP & FELIX SERRANO
NOVEMBER 14
32 PAGES / FC / T+
$2.99
From ROBERT KIRKMAN's Skybound imprint, comes a sci-fi story like you've never seen before! Dr. Luke Taylor's perfect life comes to a dramatic halt when an identical, bloodied version of himself arrives at his doorstep with news that he is one of many clones… and they're all after his pregnant wife and their unborn child!
GREAT PACIFIC #1 – GEM OF THE MONTH
story JOE HARRIS
art / cover  MARTÌN MORAZZO
NOVEMBER 7
32 PAGES / FC / M
$2.99
"TRASHED!", Part One
Chas Worthington dreams of big things, solving bigger problems, and making his mark on the world. Only no one takes the twenty-one year-old heir to one of the biggest oil fortunes in history very seriously. That is, until he turns his back on his cushy life of wealth and prestige, and seeks to solve an environmental disaster twice the size of his native Texas known as the Great Pacific Garbage Patch. The epic sci-fi adventure and survival tale begins!
COMEBACK #1 (of 5)
story ED BRISSON
art / cover MICHAEL WALSH
NOVEMBER 21
32 PAGES / FC / M
$3.50
Reconnect is more than a company – it's an opportunity for good. Reconnect can reverse tragedy by sending agents into the past to rescue your mother, your wife, your brother or father or child moments before their untimely death. Mark is one of these agents. He brings the rescued from the past to the present, to a blessed reunion with their loved ones. He saves lives…or does he?
NOWHERE MEN #1
story ERIC STEPHENSON
art NATE BELLEGARDE & JORDIE BELLAIRE
cover NATE BELLEGARDE & FONOGRAFIKS
NOVEMBER 21
32 PAGES / FC / T+
$2.99
« SCIENCE IS THE NEW ROCK 'N' ROLL. » So said Dade Ellis, Simon Grimshaw, Emerson Strange and Thomas Walker at the dawn of a new age of enlightenment that ushered in a boom in scientific advancement. As the research supergroup World Corp., they became the most celebrated scientists of all time. They changed the world – and we loved them for it. But where did it all go wrong? And when progress is made at any and all cost, who ultimately pays the price?
STORM DOGS #1 (of 6)
story DAVID HINE
art DOUG BRAITHWAITE & ULISES ARREOLA
cover DOUG BRAITHWAITE
NOVEMBER 7
32 PAGES / FC / M
$3.50
DAVID HINE and DOUG BRAITHWAITE are re-united for Season One of this science-fiction crime thriller. A uniquely skilled team arrives on a frontier planet to investigate a series of bizarre and violent deaths. Forced to rely on primitive technology, they soon learn what it means to be aliens in a hostile environment. If they are to unravel the mysteries of Amaranth they will also have to learn what it is to be human.
PERHAPANAUTS: DANGER DOWN UNDER! #1 (of 5)
story TODD DEZAGO
art CRAIG ROUSSEAU
cover A CRAIG ROUSSEAU
cover B JIM STARLIN
NOVEMBER 7
32 PAGES / FC/ E
$3.50
When an Australian contingent of Bedlam goes missing, the remaining agents from the American teams join forces to find them. But what foul Beast lurks beneath the billabongs?
Plus: Requiem for a gremlin.
WHERE IS JAKE ELLIS? #1 (of 5)
story NATHAN EDMONDSON
art / cover  TONCI ZONJIC
NOVEMBER 14
32 PAGES / FC / T+
$3.50
« CHAPTER SIX, »
Jon is in hiding.  For almost a year, he has survived on his own in a remote corner of the world, but the powers behind the Facility have not forgotten him.  The most wanted man in the world is soon in the crosshairs of powerful and mysterious people, and he will not be able to stop them on his own.
WITCH DOCTOR: MALPRACTICE #1 (of 6)
story BRANDON SEIFERT
art / cover LUKAS KETNER
NOVEMBER 28
32 PAGES / FC / T
$2.99
The breakout medical horror hit from ROBERT KIRKMAN's Skybound imprint is back on call!
Even the world's leading expert in supernatural disease needs to unwind sometimes. But when Dr. Morrow wakes up with no memory of what – and who! – he did last night, is it just a case of partying too hard… or something more malignant? (Hint: It's the malignant one!)
"Terrifying, hilarious, and above all else, smart." – The A.V. Club
STAR BRIGHT AND THE LOOKING GLASS HC
story / art / cover JONATHAN LUNA
NOVEMBER 14
72 PAGES / FC / OVERSIZED / E
$19.99
When Star Bright, a forest maiden, encounters an evil sorceress who steals her beauty, she must embark on a dangerous journey with her animal friends – Toad, Owl and Capybara – to retrieve it.
JONATHAN LUNA, of THE LUNA BROTHERS (GIRLS, THE SWORD, ULTRA), makes his solo debut, writing and illustrating an original fairy-tale picture book of prose and 33 full-page watercolor illustrations in a 9×12" hardcover format.
RETROVIRUS HC
story JIMMY PALMIOTTI & JUSTIN GRAY
art NORBERTO FERNANDEZ
cover AMANDA CONNER
NOVEMBER 21
64 PAGES / FC / M
12.99
When Zoe, a brilliant young scientist who specializes in identifying extinct viruses, is offered a job at a remote research facility in Antarctica, she soon discovers her employer has unearthed a perfectly preserved Neanderthal. That is only one of the many dark secrets lurking at the facility as Zoe races against time to stop a global pandemic.
In the vein of Andromeda Strain, Altered States and Jurassic Park, RETROVIRUS seamlessly blends human drama, action, science fiction and horror in a 64 page graphic novel written by JIMMY PALMIOTTI & JUSTIN GRAY (QUEEN CRAB, JONAH HEX, CREATOR-OWNED HEROES) and illustrated by NORBERTO FERNANDEZ (THE TATTERED MAN).
THOUGHT BUBBLE ANTHOLOGY 2012
story WARREN ELLIS, RICHARD STARKINGS, GAIL SIMONE & IVAN BRANDON
art SKOTTIE YOUNG, DAVE JOHNSON, SEAN PHILLIPS, FIONA STAPLES, TONY HARRIS, BARRY KITSON, BOO COOK, EMMA VIECELI & LEIGH GALLAGHER
cover TRAN NGUYEN
NOVEMBER 7
32 PAGES / FC / E
$3.99
A collection of new short stories by some of the best in the business for the UK's Thought Bubble Festival which takes place in Leeds, Northern England from the 11th to 18th November 2012. All profits go to the charity Barnardos.
SPAWN #225
story TODD MCFARLANE
art SZYMON KUDRANSKI
cover TODD MCFARLANE
NOVEMBER 7
32 PAGES / FC / T+
$2.99
"DE-PROGRAMMED," Part One
MILESTONE 225th issue!  AND…FOR THE FIRST TIME…the results of a Presidential Election will directly affect the events to come.
On November 6th, the citizens of the United States of America will select their Commander In Chief. The winner, and his goals and agendas, will play a role in shaping the next stage in Jim Downing's evolution.
Meanwhile…Jim's long search for answers about his past comes to an end in this two-part story, featuring the return of fan-favorite villain, Jason Wynn.
Wynn, the master puppeteer whose manipulations led to Al Simmons' original fall from grace, now lays bare the full truth regarding Jim's role in « The Project. » But what are Wynn's true intentions? And what ramifications do they have on global events.
RETAILERS: This issue contains two alternate endings – one featuring Barack Obama, the other Mitt Romney. Both are available to order using the unique product codes listed in the order form.
SPAWN: ORIGINS COLLECTION DELUXE EDITION THREE
story TODD McFARLANE, BRIAN HOLGUIN
art GREG CAPULLO, TODD McFARLANE, DANNY MIKI
NOVEMBER 14
712 PG / FC / T+
$100
S/N ED $150
SPAWN: ORIGINS COLLECTION DELUXE EDITION THREE features the iconic stories of Spawn creator Todd McFarlane and is chock full of superstar artist Greg Capullo's pencil work.
This limited edition, deluxe, oversized, slip cased, hardcover book presents 25 previously released sold-out issues of classic Spawn stories in all-new size and format. Additional material includes color and black and white cover galleries, never-before-seen art and all bonus material from the six-issue trade paperbacks and 12-issue hardcovers as well! This is the absolute top tier of the SPAWN: ORIGINS family of books! It doesn't get any better than this!
Collects SPAWN 51-75.
SPAWN 20th ANNIVERSARY POSTER #4 (of 4)
art CLAYTON CRAIN
NOVEMBER 14
24" x 36" / FC / $9.99
Finish Todd McFarlane Productions' yearlong celebration of 20 years of Spawn in style! The final installment of our 2012 quarterly poster program is going out with a bang! Fan-favorite artist CLAYTON CRAIN offers up this memorable digitally painted masterpiece for your walls. Sized perfectly for framing, you don't want to miss the last installment of the 20th Anniversary poster series!
THE COURIERS COMPLETE COLLECTION TP
story BRIAN WOOD
art ROB G & BRET WELDELE
cover ROB G
NOVEMBER 21
360 PAGES / BW / M
$24.99
Collecting the complete four-volume saga, including the prequel graphic novel, Couscous Express, this epic story from 2002-2005 is the hyper-violent, tongue-in-cheek tale of mercenary bike messengers in New York City who do the jobs no one else will: the black market runs, the smuggling, the hits and the double crosses.  THE COURIERS COMPLETE COLLECTION represents the bulk of creator-writer BRIAN WOOD's (DMZ, Demo, The Massive, The X-Men) early-'00s work, and with artwork by ROB G (Teenagers From Mars, REPO, Detective Comics) and BRETT WELDELE (The Surrogates, Southland Tales) it's a crucial addition to any reader's bookshelf.
SCENE OF THE CRIME DELUXE HC
writer ED BRUBAKER
art /cover MICHAEL LARK & SEAN PHILLIPS
NOVEMBER 14
128 PAGES / FC / OVERDIZED / M
$24.99
From the co-creators of Gotham Central and FATALE comes a lost crime noir masterpiece. Long out of print, and presented here for the first time in an oversized hardback edition, SCENE OF THE CRIME was the first time ED BRUBAKER and MICHAEL LARK worked together – before their acclaimed runs on Daredevil and Gotham Central – and it was inked by SEAN PHILLIPS, who also designed this deluxe edition.
This is where it all began, with a hard-hitting mystery story, a modern day « Chinatown » that garnered nominations for Best Miniseries and Best Writer in the 2000 Eisner Awards. Also included in this new collection are behind the scenes art and stories, a new foreword by BRUBAKER, and many other extras. This is the book you'll want on your shelves.
ALPHA GIRL VOL. 1 TP 
story JEAN-PAUL BONJOUR & JEFF ROENNING
cover  DIEGO SIMONE
art DIEGO SIMONE, ROBERT LOVE & DANA SHUKARTSI
NOVEMBER 7
136 PAGES / FC / M
$14.99
What happens when a third rate cosmetics company accidentally creates a pheromone that transforms the female population into man eating monsters? Enter the world of Alpha Girl, and follow Judith Meyers on her quest to survive and rescue her little brother from the vaginapocalypse.
Collects ALPHA GIRL #1-5, as well as pin-ups and more!
DANGER CLUB, VOL. 1 TP 
story LANDRY Q. WALKER
art / cover  ERIC JONES
NOVEMBER 7
102 PAGES / FC / T+
$9.99
Faced with the deadliest peril the universe has ever known, the world's greatest heroes left the Earth to battle a nightmarish evil… and they never came back. Now only their teenage sidekicks remain. Will the Danger Club unite against this unknown cosmic menace, or will their struggle for dominance destroy them?
Collects DANGER CLUB #1-4 and includes a special never before seen sketchbook section
ENORMOUS DELUXE EDITION HC
story TIM DANIEL
art & cover MEHDI CHEGGOUR
DECEMBER 12
96 PAGES / FC / T+
$16.99
TREASURY SIZE HARDCOVER
In the midst of a planetary collapse, a vast ecological cataclysm spawns THE ENORMOUS, massive beasts unlike anything ever witnessed. Humankind struggles to stave off extinction and the only law is to hunt or be hunted! Presenting the original 64 page story, and scores of extra materials including: original creature concepts, character designs, the unpublished prequel « It's The Little Things, » promotional art, pinups, and more.
RETAILER NOTE: This book is ADVANCE SOLICITED for a December 12 release.
FRANK CHO: WOMEN BOOK 2 HC
art / cover  FRANK CHO
NOVEMBER 7
80 PAGES / FC / M
$24.99
This is the second art collection book by the internationally renowned and Emmy Award-winning master artist, FRANK CHO. This book highlights the latest covers, pin-ups, illustrations, paintings and sketches by FRANK CHO, including art from his recent Liberty Meadows project. This book contains the images of women in various states of undress and in full cheesecake glory. Definitely not for the faint of heart and Tea-bag Republicans.
WITCHBLADE: REBIRTH, VOL. 2 TP
story TIM SEELEY
art DIEGO BERNARD, FRED BENES & ARIF PRIANTO
cover JOHN TYLER CHRISTOPHER
NOVEMBER 14
160 PAGES / FC / T+
$16.99
THE REBIRTH OF WITCHBLADE CONTINUES!
The upstart creative team of TIM SEELEY (HACK/SLASH, BLOODSTRIKE) and DIEGO BERNARD (The Man With No Name) continues their hot run on Top Cow's flagship title! Even as Sara Pezzini tries to settle into her new life in Chicago, the Witchblade's talent for seeking out weirdness pulls her into bizarre case after bizarre case. This volume sees Pezzini dealing with mercenary mana-hunters, spirit realms, fantastical steampunk warriors, and the most distilled embodiment of evil she's ever encountered. And that's before the local cops and corrupt political system complicates her life…
Featuring a complete cover gallery alongside a host of bonus content and extras, this trade is a must for anyone curious about Top Cow's REBIRTH!
Collects WITCHBLADE #156-#160.
SOHO DIVES, SOHO DIVAS TP
art / cover  RIAN HUGHES
NOVEMBER 7
360 PAGES / FC / 6×9 INCHES / M
$29.99
LIMITED EDITION HC $49.99
RIAN HUGHES (YESTERDAY'S TOMORROWS, TALES FROM BEYOND SCIENCE, design work for Marvel and DC) has created a unique series of portraits of London's underworld burlesque artists. Collected here are stylish and erotic sketches from life, bold graphic illustrations and beautiful paintings in an eclectic variety of media and styles. Contains mild nudity.
TALES FROM BEYOND SCIENCE HC
story MARK MILLAR, ALAN MCKENZIE & JOHN SMITH
art / cover RIAN HUGHES
NOVEMBER 14
88 PAGES / FC / T
$16.99
Follow your host Hilary Tremayne on eight surreal journeys into the unknown. Discover the truth behind the mysteries of spontaneous human combustion, the Bermuda Triangle, the lost 13th month, and the real reason men have nipples.
Drawn by RIAN HUGHES and written by a Rogue's Gallery of Britain's finest comic writers that includes MARK MILLAR (KICK ASS, WANTED), ALAN MCKENZIE (THE HARRISON FORD STORY) and JOHN SMITH (DEVIN WAUGH), this hardcover volume collects the complete series.
THE WALKING DEAD, VOL. 17: SOMETHING TO FEAR TP
story ROBERT KIRKMAN
art & cover CHARLIE ADLARD & CLIFF RATHBURN
NOVEMBER 21
144 PAGES / BW / M
$14.99
In this volume of the NYT bestselling survival horror, Rick and his band of survivors work to build a larger network of thriving communities, and soon discover that Negan's « Saviors » prove to be a larger threat than they could have fathomed.  Crossing Negan will lead to serious, dire consequences for the group; it seems that for the first time since the Governor's reign of terror that Rick may have Something to Fear.
Collects THE WALKING DEAD 97-102
THE WALKING DEAD COVERS, VOL. 2 HC
story ROBERT KIRKMAN
art / cover CHARLIE ADLARD
OCTOBER 3
144 PAGES / BW / M
$24.99
In the build-up to the 10th Anniversary of THE WALKING DEAD, Image Comics and Skybound presents this full-color hardback collection of the second 50 covers of the series, as well as covers for the various collected editions of the series, with added sketch material and commentary by series creator/writer Robert Kirkman, and artist, CHARLIE ADLARD.
THE WALKING DEAD "KILL THEM ALL" T-SHIRT
art CHARLIE ADLARD
NOVEMBER 7
S-XL $19.99 XXL $22.99
Just in time for his debut in Season 3 on AMC – an all-new t-shirt featuring everyone's favorite bad guy from ROBERT KIRKMAN's THE WALKING DEAD, the Governor! Featuring artwork by CHARLIE ADLARD. Available as a black shirt or a white shirt.
SUPER DINOSAUR "DYNAMO" T-SHIRT
art JASON HOWARD
NOVEMBER 7
S-XL $19.99 XXL $22.99
Youth S-L $19.99
Super Dinosaur and Derek Dynamo are ready to jump into action in this dynamic T-shirt. Featuring artwork by JASON HOWARD. Available in both youth and adult sizes.
THE ACTIVITY #11
story NATHAN EDMONDSON
art / cover MITCH GERADS
NOVEMBER 21
32 PAGES / FC / T+
$3.50
« BUTTERFLY EFFECT »
There is a bomb in Minneapolis, and Team Omaha finds themselves poised to stop it – while back at the ISA headquarters, a grave revelation is about to come to light.
ARTIFACTS #24
story RON MARZ
art / cover STJEPAN SEJIC
NOVEMBER 28
32 PAGES / FC / T+
$3.99
Tom Judge knows the world around him is not the world that should exist. He also knows that Darkness bearer Jackie Estacado is responsible for perverting the universe. Tom is determined to confront Jackie to set things right, but first he will need Sara, bearer of the Witchblade, to back him up.
BEDLAM #2
story NICK SPENCER
art RILEY ROSSMO
cover FRAZER IRVING
NOVEMBER 28
32 PAGES / FC / M
$3.50
« Swing Low. »
BLACK KISS #4 (of 6)
story / art / cover HOWARD CHAYKIN
NOVEMBER 7
24 PAGES / BW / M
$2.99
Our spiritual twins, united by a bridge of flesh, careen through Mardi Gras in 1962…
…And a mirrored ball is all the light Beverly needs as New York goes pitch black –with a smear of red – in 1977.
BLOODSTRIKE #34
story / art /cover ROB LIEFELD
NOVEMBER 28
32 PAGES / FC / M
$3.99
Cabbot awakens on a mysterious island – prisoner of a powerful foe. Meanwhile, back home, a new Bloodstrike Force is assembled to deal with a dangerous rogue group that is dealing vigilante justice on a global scale. A deadly Brigade has arrived and nothing can be the same again. Shaft! Bloodwulf! Foreplay! Bloodstrike: Assassin! Die-Bold! Shogun! A more mature comic than you might expect from ROB LIEFELD. Rated mature for sexual content and extremely violent situations!
CREATOR OWNED HEROES #6 
story STEVE NILES & JAY RUSSELL, JIMMY PALMIOTTI & JUSTIN GRAY
art ANDREW RITCHIE , JERRY LANDO, PAUL MOUNTS & DARWYN COOKE
cover A  ANDREW RITCHIE
cover B  DAVE JOHNSON
NOVEMBER 7
48 PAGES / FC / M
$3.99
STARTING: a monthly feature featuring graphic strips and material by DARWYN COOKE.
"KILLSWITCH," Part Two
Locked in a Peruvian Prison, Kill Switch awaits a Mexican hit squad as he tries to discover who put a bounty on his head and why. The bullets fly as our hero is led into a deadly game of death against the world's best and most eccentric assassins, but the gloves come off when they threaten his family.
"BLACK SPARROW" Part Two
His only son is dead, tried and hung for crimes the boy may or may not have committed. Now a father waits by the graveside. All he can do is pray and hope that his only son is not the evil the townspeople claim.
Plus: Interviews, contests, art galleries, con photos, and original articles all celebrating the creator-owned spirit.
CYBER FORCE #2
story MARC SILVESTRI & MATT HAWKINS
art KHOI PHAM & SUNNY GHO
cover MARC SILVESTRI
NOVEMBER 7
32 PAGES / FC / T+
FREE (A $2.99 VALUE!)
TOP COW'S TOP-SELLING SERIES OF ALL TIME CONTINUES IN ITS GROUND-BREAKING RELAUNCH! APHRODITE V DEBUTS!
For the first time in history, mankind is outpacing evolution. It takes nature thousands of years to adapt to changes and the things humanity has accomplished technologically in just the past 100 years has thrown its ability to evolve, and in turn survive, completely out of whack. In other words, a world full of wonders and conveniences is being created that none will hope to survive. This dilemma is at the heart of what CYBER FORCE is all about.
The massive corporation CDI continues to engineer technologically enhanced humans. Cyber Force, terrorists or resistance fighters depending on your point of view, try and regroup and reveal the conspiracy that is behind the heart of CDI and its mission. Aphrodite V and Stryker make their debut!
DANGER CLUB #6
story LANDRY Q. WALKER
art / cover ERIC JONES
NOVEMBER 28
32 PAGES / FC / T+
$2.99
As all of reality collapses, Kid Vigilante travels through the land of the dead in search of salvation.
THE DARKNESS #109
story DAVID HINE
art / cover JEREMY HAUN
NOVEMBER 21
32 PAGES / FC / M
$2.99
"BREAKING DARK," Part Four
Jackie Estacado has made a lot of enemies, but he has no idea how powerful the gangster Balakov has become. Without the Darkness at his command, will Jackie be able to protect his family? DAVID HINE (THE DARKNESS: FOUR HORSEMEN, THE BULLETPROOF COFFIN) and JEREMY HAUN (ARTIFACTS, Detective Comics) conclude their second story arc that will question everything you think you know about the Top Cow universe.
ELEPHANTMEN #46
story RICHARD STARKINGS
art SHAKY KANE
cover SHAKY KANE & BOO COOK
NOVEMBER 7
40 PAGES / FC / M
$3.99
"BIOHAZARD »
The artist behind BULLETPROOF COFFIN returns to ELEPHANTMEN to tell the disturbing tale of Harry Hazard — a man will quite probably fill you with his disease.
EPIC KILL #6
story / art / cover RAFFAELE IENCO
NOVEMBER 7
32 PAGES / FC / T+
$2.99
NOW AN ONGOING SERIES!
Song's body lies lifeless on the morgue table but her Uncle planned for this outcome and summons her back to the living. Returning from the edge of death is the hardest fight Song has ever faced as her inner demons struggle to keep her in the land of the dead.
GLORY #30
story JOE KEATINGE
art ROSS CAMPBELL & ROMAN MURADOV
cover KRIS ANKA
NOVEMBER 21
32 PAGES / FC / T+
$3.99
« BLOODSHADOW, » Part Two
A battle over one hundred years in the making – sister vs. sister! No one gets out unscathed! Not every bodily limb survives! PLUS: In 1920s Paris, Glory teams up with Ernest Hemingway to take down the greatest villain the city has ever known, illustrated by New Yorker cartoonist ROMAN MURADOV!
GUARDING THE GLOBE #3
story PHIL HESTER
art / cover TODD NAUCK & JOHN RAUCH
NOVEMBER 7
32 PAGES / FC / T+
$2.99
The Guardians continue their routine of defending the world and repairing the damage Set caused in Paris… meanwhile, El Chupacabra runs into a familiar face… but it may not be on friendly terms! Guest starring THE ASTOUNDING WOLF-MAN!
HACK/SLASH #22
story TIM SEELEY
art ELENA CASAGRANDE
cover A TIM SEELEY & CARLOS BADILLA
cover B ELENA CASAGRANDE
NOVEMBER 28
32 PAGES / FC / M MATURE
$3.50
"FINAL ," Part Three
Cassie and Vlad have lost old friends to the unified slashers attack. Now, they have to gather an army to stop Samhain and his Black Lamp Society…an army of FINAL GIRLS!
HAPPY! #3 (of 4)
story GRANT MORRISON
art / cover  DARICK ROBERTSON
NOVEMBER 21
32 PAGES / FC / M
$2.99
With a day left until Christmas, and time running out for Santa's innocent victims, Happy the Horse learns what turned Nick Sax from golden cop to broken-down hitman. But can he convince Nick to do the right thing or is it Happy's turn to face some uncomfortable home truths?
HARVEST #4 (of 5)
story A.J. LIEBERMAN
art / cover COLIN LORIMER
NOVEMBER 7
32 PAGES / FC / M
$3.50
Livers, kidney and lungs oh my!  Dr. Benjamin Crane is up to his elbows in blood and guts (literally) when Jason Craven finally tracks him down.  Ben grabs the kidney he's repossessed only to learn that Craven is far more sadistic and vindictive then Ben ever imagined when it comes to protecting his empire.
HOAX HUNTERS #5
story MICHAEL MORECI & STEVE SEELEY
art EMILIO LAISO
cover JOE EISMA
NOVEMBER 14
32 PAGES / FC / T +
$2.99
"TAG"
In 1984 New Jersey, a young woman runs from her hidden, devilish past – and the monster that may be hunting her down. Special guest artist EMILIO LAISO (HACK/SLASH) delivers this chilling tale from the Hoax Hunters archives!
INVINCIBLE #98
story ROBERT KIRKMAN
art RYAN OTTLEY
cover RYAN OTTLEY & JOHN RAUCH
NOVEMBER 21
32 PAGES / FC / T+
$2.99
"THE DEATH OF EVERYONE," Part One
The countdown to issue #100 begins here – with the story that will change EVERYTHING for Invincible! Mark's powers have finally returned, just in time for every life on Earth to rest in his hands. But what will happen when everyone learns that what is happening… is Mark's fault?
IT GIRL & THE ATOMICS #4
story JAMIE S. RICH
art MIKE NORTON
cover MICHAEL & LAURA ALLRED
NOVEMBER 21
32 PAGES / FC / E
$2.99
"DARK STREETS, SNAP CITY" Part Four
LaLa Wah Wah has It Girl right where she wants her: under her boot! The truth about who this mysterious inter-dimensional villain really is comes to light, and the Atomics will have to rally everything they have to stop her. Featuring art from the Eisner-winning team behind Battlepug!
MACGYVER: FUGITIVE GAUNTLET #2 (of 5)
story LEE DAVID ZLOTOFF & TONY LEE
art WILL SLINEY & CIARAN LUCAS
cover ANDIE TONG
NOVEMBER 28
32 PAGES / FC / T+
$3.50
The new comic series continues, co-written by MacGyver creator Lee David Zlotoff! Trapped in Cairo and hunted by both Chinese Intelligence and an army of hitmen for a crime they didn't commit, MacGyver and Kari race against the clock to find a traitor before their time runs out!
THE MANHATTAN PROJECTS #9
story JONATHAN HICKMAN
art NICK PITARRA & JORDIE BELLAIRE
NOVEMBER 28
32 PAGES / FC / T+
$3.50
"BRAVE NEW WORLD", Part One
Everything clicks into place as we learn about the competing plans of Oppenheimer, Groves, Einstein and von Braun for world domination. Part one of two.
The thrilling FEEL GOOD, BAD SCIENCE series continues in THE MANHATTAN PROJECTS #9: BRAVE NEW WORLD!
MIND THE GAP #6
story JIM McCANN
art RODIN ESQUEJO
cover A RODIN ESQUEJO
cover B SONIA OBACK
NOVEMBER 7
32 PAGES / FC / T+
$2.99
"WISH YOU WERE HERE," Part One
New Arc! Great Jumping on point! Join the mystery everyone is talking about!!
As one person sits in a jail cell for the crime of attacking Elle Peterssen, the accuser is running free. Is a pawn about to become pain? Meanwhile, Elle is on the brink of contacting the physical world, but will resurfacing memories drive her further away? This issue begins the ending of many relationships as you know them, secrets laid bare, and not everyone will make it out in one piece…
MULTIPLE WARHEADS: ALPHABET TO INFINITY #2 (of 4)
story / art / cover BRANDON GRAHAM
NOVEMBER 28
32 PAGES / FC / T+
$2.99
Sexica and her Werewolf boyfriend run into trouble on their way to the Whaling wall while Nura keeps running into different versions of the man she was sent to kill.
NON-HUMANS #2 (of 4)
story GLEN BRUNSWICK
art / cover WHILCE PORTACIO
NOVEMBER 7
32 PAGES / FC / T+
S2.99
Detective Aimes has finally caught up with Humphrey—the ventriloquist's puppet and vicious serial killer that murdered his partner. But if he can't figure out how to get along with Eden, an overly attractive young detective who's every word seems to crawl under his skin, they're both going to wind up dead.
PETER PANZERFAUST #8
story KURTIS J. WIEBE
art / cover TYLER JENKINS
NOVEMBER 14
32 PAGES / FC / T
$3.50
"PARIS" Part Three
Time is against the Lost Boys and they only have one shot to save Felix before he's shipped to Germany. Only one problem: how do you stop a speeding train?
« One of the most consistent books right now, PETER PANZERFAUST continues to amaze. » – Comixosity
PLANETOID #5
story / art / cover KEN GARING
NOVEMBER 7
32 PAGES / FC / T+
$2.99
Warfare ensues as the tyrannical forces of the Ono Mao attempt to wipe out the planetoid's only hope for civilization!
POINT OF IMPACT #2 (of 4)
story JAY FAERBER
art / cover KORAY KURANEL
NOVEMBER 14
32 PAGES / BW / M
$2.99
Chapter Two of JAY FAERBER's thrilling murder mystery! The victim's secret boyfriend is the prime suspect in her murder – and the cop leading the investigation will stop at nothing to catch him. Meanwhile, the victim's husband learns there's a lot about his wife he didn't know.
PROPHET #31
story BRANDON GRAHAM, SIMON ROY & GIANNIS MILONOGIANNIS
art GIANNIS MILONOGIANNIS
cover BOO COOK
NOVEMBER 21
32 PAGES / FC / T+
$3.99
Old Man Prophet goes to meet with a lost matriarchal tribe of humanity to try to form an alliance.
REVIVAL #5
story TIM SEELEY
art MIKE NORTON
cover by JENNY FRISON
NOVEMBER 21
32 PAGES / FC / T+
$2.99
Em is going to need her ability to NOT DIE to save May Tao from Blaine's garage. But something lurks in the forest nearby, and it wants IN.
SAGA #7
story BRIAN K. VAUGHAN
art / cover  FIONA STAPLES
NOVEMBER 14
32 PAGES / FC / M
$2.99
Brian K. Vaughan and Fiona Staples' smash-hit ongoing series returns! An all-new adventure begins, as new parents Marko and Alana make an unexpected discovery in the vast emptiness of outer space.
SUPER DINOSAUR #16
story ROBERT KIRKMAN
art / cover JASON HOWARD
NOVEMBER 28
32 PAGES/FC/ E
$2.99
Why are Super Dinosaur and Derek Dynamo on the moon? Why not?! There's a dark secret deep below the surface that could spell doom for our heroes… what is "Inner-Moon?"
THIEF OF THIEVES # 10
story ROBERT KIRKMAN & JAMES ASMUS
art / cover SHAWN MARTINBROUGH & FELIX SERRANO
NOVEMBER 7
32 PAGES / FC / T+
$2.99
As Augustus tries his best to save his kidnapped girlfriend from the cartel, Agent Cohen begins to lean in on him for a lead on Redmond. You'll never guess who he turns to for help with his current situation. Hint: it's not his father.
THINK TANK #4
story MATT HAWKINS
art / cover RAHSAN EKEDAL & BRIAN REBER
NOVEMBER 7
32 PAGES / BW / T+
$3.99
The conclusion to the first arc of THINK TANK! Dr. David Loren, slacker genius, must escape the most secure facility in the world and then escape from Fort Meade in the heart of the Washington DC power corridor. The ultimate story of brains versus brawn and a commentary on America's so-called exceptionalism and military industrial complex.
"THINK TANK grabs you from the very beginning and has you begging for more by the end.  A great introduction to a new character and a new world.  A must-have for anyone who wants something cool… and who doesn't want that?" – ROBERT KIRKMAN (THE WALKING DEAD, THIEF OF THIEVES, INVINCIBLE)
THE WALKING DEAD #104
story ROBERT KIRKMAN
art / cover CHARLIE ADLARD & CLIFF RATHBURN
NOVEMBER 14
32 PAGES / BW / M
$2.99
If you won't handle this… I will.