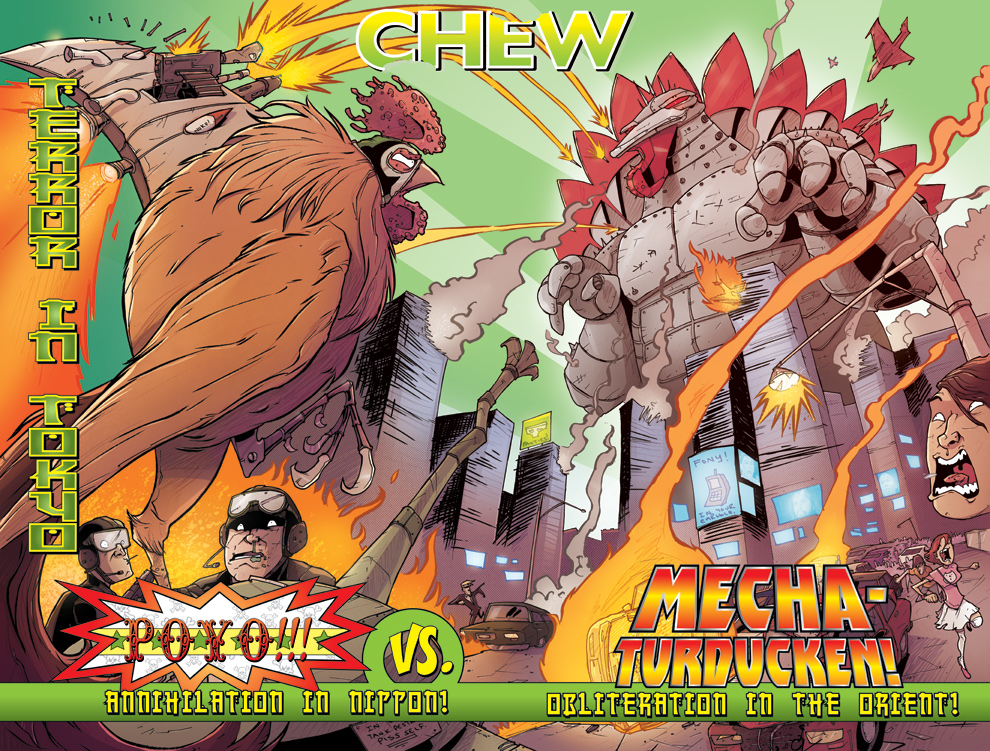 Et voici les sollicitations Image Comics pour le mois de février prochain, comme d'hab Image présente son lot de nouveautés, notamment la très attendue mini série de Diggle et Jock, bon perso Diggle je n'aime pas du tout, mais comme j'ai tendance à vouloir lire tout ce que fait Jock je vais me jeter dessus !
On a aussi Sejic qui s'est illustré sur Witchblade et Artifacts ces dernières années qui nous pond un bon gros tome d'aventures de 128 pages pour à peine 10$ ! il y a aussi l'hilarant relaunch de SkullKickers qui se sont rebaptisés les … Uncanny SkullKickers ! et les séries habituelles à suivre : Chew, Fatale, Great Pacific, …
SNAPSHOT 1 (of 4)
story ANDY DIGGLE
art / cover JOCK
FEBRUARY 6
32 PAGES / FC / T+
$2.99
Jake Dobson is your typical nerd; works at the Near-Mint Rhino comic-book store in San Francisco. But when he finds a lost cell phone, he's horrified to discover it's full of snapshots of a murder victim. Suddenly he finds himself hunted by a vengeful hitman who wants his phone back… and Jake in a body bag! And then things start to get *really* complicated…
Don't miss the first ever creator-owned thriller from the team behind THE LOSERS and GREEN ARROW: YEAR ONE!
ZED: A COSMIC TALES GN
story/art/cover MICHEL GAGNÉ
FEBRUARY 13
280 PAGES / BW / T
$19.99
When a cute little alien named ZED demonstrates his invention to the Hierarchy of the Galaxy, something goes wrong – terribly wrong! Before long, ZED's universe is thrown into complete turmoil and our little hero must face nearly insurmountable odds trying to survive and save the very fate of his home world.
Imbued with a dark edge, peppered with pure silliness, and wrapped up in a childlike sense of wonder, ZED's adventures will keep readers tickled and captivated from start to finish.
Originally published in comic book form over a period of eleven years, ZED has been completely revised and remastered for this definitive edition.
FIVE WEAPONS 1 (of 5)
story / art / cover JIMMIE ROBINSON
FEBRUARY 27
32 PAGES/FC/ T
$3.50
13-year-old Tyler finds himself in a specialized school where assassins send their kids for education and training in one of the five deadly weapons.  Tyler doesn't have a weapon or any fighting skills, but he still plans to graduate by beating every weapon master in the school because he has a powerful ability that nobody can match: his razor-sharp mind! JIMMIE ROBINSON twists the insanity of BOMB QUEEN in a fun new series that will keep you guessing to the end.
RAVINE 1
story / art / cover STJEPAN SEJIC
FEBRUARY 13
128 PAGES / FC / T+
$9.99
« THEY ARE A POWERFUL FOE, BUT THEY WILL FALL! »
In a fantastic world far from our own, an ancient magic spell almost split the world in two and left an endless ravine in the north. One man, Nebezial Asheri, driven by the deaths of his wife and daughters will attempt to reclaim that magic and bring his loved ones back to life. The forces of an entire city, Paladia, will rise to oppose him, but his greatest foes will be a ragtag band of an outcast wizard, a dragonrider, and their allies.
Artist extraordinaire STJEPAN SEJIC (ARTIFACTS, WITCHBLADE) branches out into his first ever creator-owned and original property for Top Cow! Presented in a perfect-bound, dramatically oversized issue format, RAVINE is an epic about the lengths one man will go to to reconstruct his family, and the forces of good who must stop him at all costs.
SON OF MERLIN 1
story ROBERT NAPTON
art ZID
cover A ZID
cover B STJEPAN SEJIC
FEBRUARY 6
32 PAGES / FC / T+
$0.99
THE BATTLE BEGINS ANEW
Simon Ambrose is a brilliant young professor at MIT. Always somewhat out of sync with the rest of the world, Simon is a man of science and does not put much stock in faith. When he discovers that he is the bastard son of the world's greatest wizard Merlin, he is forced to put his skepticism aside and embrace a world of magic and the mayhem it embodies.
Science and magic collide in this introductory priced first issue! For $1, you can't afford to miss this next step in a battle that has been waged for ages!
UNCANNY SKULLKICKERS 1
story JIM ZUB
art EDWIN HUANG
cover CHRIS STEVENS
FEBRUARY 27
32 PAGES / FC / T
$3.50
The UNCANNY SKULLKICKERS: Two hard-headed mercenaries kill monsters and cause havoc in their search for money, fame and adventure! A bold new
direction! A perfect jumping-on point! A newly added adjective! Our nineteeth issue, but also a new issue #1! It's all here, people! Don't make us use more exclamation marks!!
P.S. Retailers: Rack this comic beside other « Uncanny » comics you may have hanging around and sell a ton of copies. Do it.
THE MANHATTAN PROJECTS #11
story JONATHAN HICKMAN
art NICK PITARRA
FEBRUARY 27
32 PAGES / FC / T+
$3.50
« BUILDING »
Following the dramatic events of The LOGIC REVOLUTION, what will the Science Lords of the Manhattan Projects do with an Earth they now completely control? NOTHING GOOD.
The thrilling FEEL GOOD, BAD SCIENCE series continues in THE MANHATTAN PROJECTS #11: BUILDING!
THE DARKNESS: REBIRTH, VOL. 2 TP
story DAVID HINE
art / cover JEREMY HAUN
FEBRUARY 27
160 PAGES / FC / M
$14.99
« BREAKING DARK »
Jackie Estacado never feared much of anything, except the Darkness itself. Then the rules changed. Rival Bulgarian gangs are starting to encroach upon his turf. Jackie's wife, Jenny, is losing her mind. Jackie is no longer the host to the Darkness and with everything cracking at the seams he has neglected to notice that his daughter, Hope, has something terribly, terribly wrong with her. Jackie thought he was invincible, but he will soon learn that there are things in this world that even the Darkness should fear.
Collects THE DARKNESS #106-110
DEBRIS TP
story KURTIS J. WIEBE
art / cover RILEY ROSSMO & OWEN GIENI
FEBRUARY 6
PAGES 128 / FC / T
$14.99
In the far future, humanity has doomed planet Earth to rot and decay, covering her surface with garbage. Now, ancient spirits called the Colossals rise from the debris and attack the remaining survivors, forcing the human race to the brink of extinction. After an attack leaves their people without water, Maya, the last Protector, sets out on a journey for pure water, to save the world before the monsters bring it all to an end.
SUPER DINOSAUR, VOL. 3 TP
story ROBERT KIRKMAN
art & cover JASON HOWARD
FEBRUARY 6
112 PAGES/FC
$12.99
Escape from Inner-Earth! Derek Dynamo is a prisoner of The Exile – who has taken him deep into Inner-Earth. Now Super Dinosaur must assemble a team to save his best friend, but along the way, he will learn the secret of Inner-Earth – something that could bring about the fall of human civilization!
Collects SUPER DINOSAUR #12-17
CHEW POSTER #1: SECRET AGENT POYO
art ROB GUILLORY
FEBRUARY 6
24 x 36
$9.99
The epic CHEW #29 appearance of comics' favorite cybernetic, homicidal rooster, Poyo, is now available as THE GREATEST POSTER IN THE HISTORY OF ALL HUMANITY!!!! Suitable for framing, suitable for adoration. Place it on your favorite wall, or buy multiple copies and plaster it over every square inch of your room. You'll be glad you did!
THE ACTIVITY #13
story NATHAN EDMONDSON
art / cover MITCH GERADS
FEBRUARY 6
32 PAGES / FC / T
$3.50
« SOLIDAO »
THE ACTIVITY continues into Volume III! After the stunning events in Minneapolis, the team is on stand-down pending an investigation.  A call from one of Switchfoot's friends in the Israeli Defense Force, however, turns into an unsanctioned mission with dire consequences.  Meanwhile, there is trouble at Fort Belvoir.
ARTIFACTS #26
story RON MARZ
art / cover STJEPAN SEJIC
FEBRUARY 27
32 PAGES / FC / T+
$3.99
« THE FESTERING OF EREWHON »
Tom Judge's plans to recruit Witchblade bearer Sara Pezzini in his quest to overthrow Darkness bearer Jackie Estacado didn't pan out quite the way he expected. In a desperate grasp to turn his fortunes in battle, Tom has turned his attention to attacking the perversion of the universe Jackie created at its core. But will Tom do what needs to be done when he brace himself to end the life of an innocent bystander?
BEDLAM 5
story NICK SPENCER
art RILEY ROSSMO
cover FRAZER IRVING
FEBRUARY 20
32 PAGES / FC / M
$3.50
« A great weeping. »
BLACKACRE 3
story DUFFY BOUDREAU
art WENDELL CAVALCANTI
cover BRIAN CHURILLA
FEBRUARY 6
32 PAGES / FC / M
$2.99
Bird, Sinclair's chief operative in the Hinterlands, welcomes a battered Hull into his circle of mercenaries – but a terrible realization has shaken Hull to the core, and now there's no one left to trust. Meanwhile, a dark army approaches, tightening its grip on the countryside.
CHANGE 3 (of 4)
Story ALES KOT
art / cover MORGAN JESKE
FEBRUARY 13
32 PAGES / FC / M
$2.99
Did you ever wake up to find / A day that broke up your mind?
The astronaut is falling. Someone is dead. Someone is dying. Someone needs saving. NOW.
CHEW 32
story JOHN LAYMAN
art & cover ROB GUILLORY
FEBRUARY 20
32 PAGES / FC / M
$2.99
Revelations! Fights! Milkshakes!
CLONE 4
story DAVID SCHULNER
art / cover JUAN JOSE RYP & FELIX SERRANO
FEBRUARY 13
32 PAGES / FC / T+
$2.99
Luke Taylor is about to be a father any day now, but who is his « father »? The scientist behind the cloning project is the most wanted man in America, but where is he? And what will the rebels do when they get their hands on him?
CREATOR OWNED HEROES 9
story / art  STEVE NILES, JIMMY PALMIOTTI & JUSTIN GRAY, SCOTT MORSE , GIANCARLO CARACUZZO & DARWYN COOKE
cover  AMANDA CONNER / PAUL MOUNTS  & SCOTT MORSE
FEBRUARY 6
48 PAGES STORY/ARTICLES / FC / M
$3.99
« WEAPON OF GOD, » Part One
Generations have gone by and now evil has shown its face and only one man can put a stop to it. Training his entire life, the man living in seclusion known only as « the weapon of God » is sent on a mission to track down and destroy his mortal enemy, but not before making sure his legacy will live on with a gift from the holy ones.
« THEY COME BACK, » Part One
Being a cop you get used to things being a certain way, a thief is a thief and dead is dead. When those certainties start to fade, Lou Vector's world and career start to crumble. It's tough enough being a cop. It's even tougher when THEY COME BACK.
Interviews, contests, art galleries, con photos, and original articles, all celebrating the creator-owned spirit.
CYBER FORCE 5
story MARC SILVESTRI & MATT HAWKINS
art KHOI PHAM & SUNNY GHO
cover MARC SILVESTRI
FEBRUARY 20
32 PAGES / FC / T+
FREE (A $2.99 VALUE!)
THE END OF THE NEW BEGINNING!
The Chairwoman of the massive CDI corporation will stop at nothing to get back her runaway daughter, Velocity. In her rampage, she has ordered the execution of every member of the rogue Cyber Force faction who stands in her way. But Velocity has turned and, faced to confront her mother, she doesn't know what's worse – being annihilated alongside her compatriots, or having her memory wiped clean with a brain box implant.
If you haven't already joined the party, don't miss the fifth issue of Top Cow's 20th Anniversary relaunch of CYBER FORCE to be distributed for FREE!
THE DARKNESS 112
story DAVID HINE
art & cover STJEPAN SEJIC
FEBRUARY 27
32 PAGES / FC / M
$2.99
« TWISTED TALES OF HOPE! »
On the verge of adolescence, Jackie's daughter Hope is following in her father's footsteps and is starting to grow into the young lady that she was always destined to become. But there is Darkness in her blood. And when she wanders into the woods alone, surrounded by things that go bump in the night, Hope wonders if she is the creature to actually fear. Guest artist STJEPAN SEJIC (ARTIFACTS, WITCHBLADE) joins series writer DAVID HINE on the goriest, most unchained storyline of THE DARKNESS to date!
ELEPHANTMEN #47
story RICHARD STARKINGS
art AXEL MEDELLIN
cover CAMILLA D'ERRICO
FEBRUARY 27
32 PAGES / FC / M
$3.99
« SLEEPING PARTNERS, » Part Six
Sahara must give up her baby, before it is even born.
THE END TIMES OF BRAM & BEN 2 (of 4)
story JAMES ASMUS & JIM FESTANTE
art REM BROO
cover JIM MAHFOOD
FEBRUARY 13
40 PAGES / FC / M
$2.99
Bram's wild and very public response to the Apocalypse brings a cult of followers to his door – and warring agents of the End Times! Ben, meanwhile, gets blue balls and a trip to Hell. Destruction! Betrayal!
Crotch-grabbing! And the violence kicks into high gear!
EPIC KILL 8
story / art / cover RAFFAELE IENCO
FEBRUARY 6
32 PAGES / FC / T+
$2.99
Secret Ops director Hugo Paxton gives Song her first mission: take down another out of control super-powered operative – code-named Red-Hand – or see her uncle killed!
FATALE 13
story ED BRUBAKER
art SEAN PHILLIPS & DAVE STEWART
cover SEAN PHILLIPS
FEBRUARY 20
32 PGS / FC / M
$3.50
It's the curse of the Femme Fatale in the old west, for those who like horror and noir in their spaghetti western. Another standalone FATALE FLASHBACK issue, and a perfect place for new readers to jump on board!
And remember each issue of FATALE contains extra content, articles and artwork that are not available anywhere but the printed single issues.
GLORY 33
story JOE KEATINGE
art / cover ROSS CAMPBELL
FEBRUARY 27
32 PAGES / FC / T+
$3.99
« WAR TORN, » Part Three
In final battle.
The penultimate issue of ROSS CAMPBELL and JOE KEATINGE 's GLORY saga ties threads together from its very beginning amidst the most brutal war Glory has ever fought.
Destines will be realized. Lives will be destroyed. The end begins here.
GREAT PACIFIC 4
story JOE HARRIS
art / cover  MARTÍN MORAZZO
FEBRUARY 6
32 PAGES / FC / M
$2.99
« TRASHED! » Part Four
Settling the Great Pacific Garbage Patch has led Chas Worthington down an insanely dangerous path. But when the lovely and mysterious French aviator, Zoe crashes onto his island nation, things only get worse. Meanwhile, the corporation and the government Chas fled conspire to drag his fugitive hide back to Texas!
GUARDING THE GLOBE 6
story PHIL HESTER
art / cover TODD NAUCK & JOHN RAUCH
FEBRUARY 6
32 PAGES / FC / T+
$2.99
This is IT! Set's plan for world domination has been building since issue #1, but who is this new challenger? This battle between titans will destroy the world if the Guardians don't stop them, but not every Guardian is walking away from this one…
HACK/SLASH 24
story TIM SEELEY
art ELENA CASAGRANDE
covers A TIM SEELEY & NATE LOVETT
cover B FRANCESCO GASTON
FEBRUARY 27
32 PAGES / FC / M
$3.50
« FINAL, » Part Five
Samhain pits the girls against each other in the oltimate battle to see who is the TRUE « Final Girl. » Betrayals and beheadings galore as the penultimate chapter of « Final » arrives!
HAUNT 31
story JOE CASEY
art / cover NATHAN FOX
FEBRUARY 13
32 PAGES / FC / T+
$2.99
Showdown in Mexico!  Kurt Kilgore is determined to rescue Mirage – no matter what it takes!  But when she becomes the target for violent insecticide, is the power of the Haunt enough to protect her?  But the biggest question remains: where is Daniel Kilgore?! Doesn't it take TWO brothers to create a Haunt?!
HELL YEAH 7 (RES)
story JOE KEATINGE
art ANDRE SZYMANOWICZ & FABIO REDIVO
cover RICKEN
FEBRUARY 13
32 PAGES / FC / T+
$3.50
« THE LOST SUPER-VILLAINS OF MARS, » Part Two
Ben Day, the secret assassin for the superheroes of Earth, is on a mission to Mars. Everything has come undone. His failure unleashes something far worse than he could have ever comprehended. Humankind will suffer the consequences.
HOAX HUNTERS 7
story MICHAEL MORECI & STEVE SEELEY
art / cover AXEL MEDELLIN
FEBRUARY 13
32 PAGES / FC / T +
$2.99
« HAUNCHYVILLE, »  Part Two
With one of their own held captive by the albino king and his army of gnomes, the Hoax Hunters forge an uneasy alliance with Donovan and the Hoax Hunters Hunters to uncover the secrets of Haunchyville.
I LOVE TROUBLE 3
story KEL SYMONS
art/cover MARK A. ROBINSON
FEBRUARY 6
24 PAGES / FC / M
$2.99
« LIFE ON MARS »
Thomas, a blind telepath, recruits Felicia to work with him at the Mars Corporation.  Mars is a huge global conglomerate, with their dirty fingers in a lot of pies, most notably the emerging field of nation-building.  With her unique talent – able to get to anyone, anywhere – Mars is looking to turn Felicia into an assassin capable of paving the way for new business opportunities.
IT GIRL & THE ATOMICS 7
story JAMIE S. RICH
art MIKE NORTON
cover MICHAEL & LAURA ALLRED
FEBRUARY 20
32 PAGES / FC / E
$2.99
« THE WORLD IS FLAT » Part 1 of 2
REVIVAL's MIKE NORTON returns for an It Girl solo adventure. Our heroine has gone to the Alps to rescue a kidnapped scientist and keep his game-changing secret invention out of the wrong hands. Prepare for super-powered spies, mechanical men, and international intrigue in the start of our second story arc.
THE LEGEND OF LUTHER STRODE 3 (of 6)
story JUSTIN JORDAN
art / cover TRADD MOORE
FEBRUARY 6
32 PAGES / FC / M
$3.50
The true enemy has been revealed, leaving Luther and Petra to fight against foes they don't have a chance of beating. As the brawl continues, an ancient evil says hello. The hit series continues.
MacGYVER: FUGITIVE GAUNTLET 5 (of 5)
story LEE DAVID ZLOTOFF & TONY LEE
art WILL SLINEY & OWEN JOLLANDS
cover ANDIE TONG & CIARAN LUCAS
FEBRUARY 27
32 PAGES / FC / T+
$3.50
MINISERIES CONCLUSION
The hit comic series draws to an end, co-written by MacGyver creator Lee David Zlotoff! MacGyver! Moscone! Moscow! A fight to the death to save the world! Who will make it out alive? And who will never be the same again?
MARA 3 (of 6)
story BRIAN WOOD
art MING DOYLE & JORDIE BELLAIRE
cover MING DOYLE
FEBRUARY 27
32 PAGES / FC / T
$2.99
Seeing her friends and supporters abandon her, and instead of trying to suppress her newfound powers, Mara goes public.  Openly displaying her rapidly developing abilities, she challenges the bais and discrimination.  People start to see her as not a freak, but rather someone who can't be stopped, and that starts to make a lot of very serious people very concerned.  Socially-aware superheroics in a world we've never seen.  Brian Wood, Ming Doyle, and Jordie Bellaire bring the goods.
MIND THE GAP 9
story JIM McCANN
art RODIN ESQUEJO & DAN McDAID
cover A RODIN ESQUEJO
cover B SONIA OBACK
FEBRUARY 13
32 PAGES / FC / T+
$2.99
« WISH YOU WERE HERE, » Part Four
A loss of life! A loss of innocence! A terrifying return! Actions are taken and consequences are so far reaching in this SILENT issue that will have you holding your breath & leave you speechless.
NOWHERE MEN 4
story ERIC STEPHENSON
art NATE BELLEGARDE & JORDIE BELLAIRE
cover NATE BELLEGARDE & FONOGRAFIKS
FEBRUARY 27
32 PAGES / FC /T+
$2.99
Everybody's on the run.
THE PERHAPANAUTS: DANGER DOWN UNDER! 4 (of 5)
story TODD DEZAGO
art / cover CRAIG ROUSSEAU
cover A CRAIG ROUSSEAU
cover B MIKE MAIHACK
FEBRUARY 6
32 PAGES / FC / E
$3.50
« The AUSTRALIAN ADVENTURE, » Part Four
More and more members of the Team go missing as The Perhapanauts become desperate, battling a Monster that preys on FEAR! …And would someone please tell this talking mongoose to SHUT UP?!
Also: Molly and her Team are desperate as well, as El Cuero proves to be a cryptid that cannot be corralled!
PROPHET 33
story BRANDON GRAHAM & SIMON ROY
art SIMON ROY
aover MALACHI WARD & MATT SHEEAN
FEBRUARY 22
32 PAGES / FC / T+
$3.99
New father Prophet survives an assassination attempt while an unseen 13,000-year-old creature from Old Earth manipulates the Empire council.
REPOSSESSED 2 (of 4)
story/ art / cover JM RINGUET
FEBRUARY 6
32 PAGES / FC / T+
$2.99
In this explosive new issue the repo crew heads to Death Valley and Miami, closing in on the possessed Sarah. But some traps are laid in their path and powerful Demons ambush them. Is there more to Sarah than they know? Who wants her and who's protecting her?
REVIVAL 7
story TIM SEELEY
art MIKE NORTON
cover by JENNY FRISON
FEBRUARY 20
32 PAGES / FC / T+
$2.99
Dana tracks down a wolf in sheep's clothing serial killer. Talk show pundit, Clyde Birch comes to down and all hell breaks loose. And, those Check boys are up to something nasty.
SAGA 10
story BRIAN K. VAUGHAN
art / cover  FIONA STAPLES
FEBRUARY 13
32 PAGES / FC / M
$2.99
Marko and Alana's long-lost babysitter Izabel finally returns to the fold, but at what cost?
SPAWN 228
story TODD MCFARLANE
art SZYMON KUDRANSKI
cover TODD MCFARLANE
FEBRUARY 6
32 PAGES / FC / T+
$2.99
« COLLATERAL DAMAGE »
DEATH! BETRYAL! PARANOIA! THE CURSE OF THE SPAWN SPREADS!
As Jim Downing has violently sought answers to the many mysteries surrounding his work with The Program, those closest to him have gone about their lives. And while the darkness within Jim continues to grow, he is not the only one haunted by the curse of the Spawn.
Witness the dark realities of those whose lives have been touched by Jim's rebirth, as the shadows of damnationbegin to take hold. Changing lives. Threatening lives. Taking lives!
STORM DOGS 4 (of 6)
story DAVID HINE
art DOUG BRAITHWAITE & ULISES ARREOLA
cover DOUG BRAITHWAITE
FEBRUARY 27
32 PAGES / FC / M MATURE
$3.50
What are the Wireheads? And why is a godforsaken frontier planet so important to the future of the human race? The stakes are raised as the murder team heads into the forbidden lands of the Elohi.
THIEF OF THIEVES 13
story ROBERT KIRKMAN & JAMES ASMUS
art / cover SHAWN MARTINBROUGH & FELIX SERRANO
FEBRUARY 6
32 PAGES / FC / T+
$2.99
Conrad and Augustus are trapped with nowhere to run from the cartel and FBI. Can father and son's first heist together end in any way but death or capture? Find out in the conclusion to THIEF OF THIEVES second arc!
THINK TANK 6
story MATT HAWKINS
art RAHSAN EKEDAL
cover RAHSAN EKEDAL & BRIAN REBER
FEBRUARY 6
32 PAGES / BW / T+
$3.99
Slacker Genius Dr. David Loren can hack into the military industrial complex computer network to reclassify 3-Quinuclidinyl Benzilate from a class 2 pathogen to a class 5 pathogen. He can disassemble the micro-power device of Dr. Sejic to appropriate its extensive battery life for his surface thought reader. But can he save himself from the confines of his own mind?
TODD, THE UGLIEST KID ON EARTH 2 (of 4)
story MK PERKER & KEN KRISTENSEN
art / cover MK PERKER
FEBRUARY 13
32 PAGES / FC/ T+
$2.99
« CANDY WITH STRANGERS, » Part Two
Todd, imprisoned for a murder he didn't commit, falls into the crosshairs of the Aryan Nation. Meanwhile, his father stalks a celebrity Scientologist, his mom gets laid in a parking lot, and a headless Girl Scout is mauled by junkyard dogs.
THE WALKING DEAD 107
story ROBERT KIRKMAN
art / cover CHARLIE ADLARD & CLIFF RATHBURN
FEBRUARY 13
32 PAGES / BW / M
$2.99
Rick is, once again, pushed BEYOND his breaking point.
WHERE IS JAKE ELLIS? 4 (of 5)
story NATHAN EDMONDSON
art / cover TONCI ZONJIC
FEBRUARY 13
32 PAGES / FC / T
$3.50
« CHAPTER NINE »
Together, Jon and Jake will face a realization neither of them is prepared for.  Does Jon have what it takes to  save Jake and himself?
WITCHBLADE 164
story TIM SEELEY
art DIEGO BERNARD & FRED BENES
cover A JOHN TYLER CHRISTOPHER
cover B DIEGO BERNARD & FRED BENES
FEBRUARY 6
32 PAGES / FC / T+
$2.99
« HOPE THROUGH THE DARKNESS »
Sara Pezzini moved to Chicago to escape her failures and to leave her demons behind her in New York. Her new life in the Windy City has been far more difficult and far stranger than she ever expected. Until now, her past has stayed buried. But when Rapture bearer Tom Judge and Darkness bearer Jackie Estacado come a knocking, Sara risks the discovery that her new life in Chi-town may not have been a decision that she made for herself.
WITCH DOCTOR: MAL PRACTICE 4 (of 6)
story BRANDON SEIFERT
art / cover LUKAS KETNER
FEBRUARY 27
32 PAGES / FC / T
$2.99
When you have a magical disease, you go to the Witch Doctor. But where do you take the Witch Doctor when he's the one who needs help? And how far will Doc Morrow's assistant go… to save his boss' life?
« WITCH DOCTOR has emerged as an immediate hit. » — L.A. Weekly