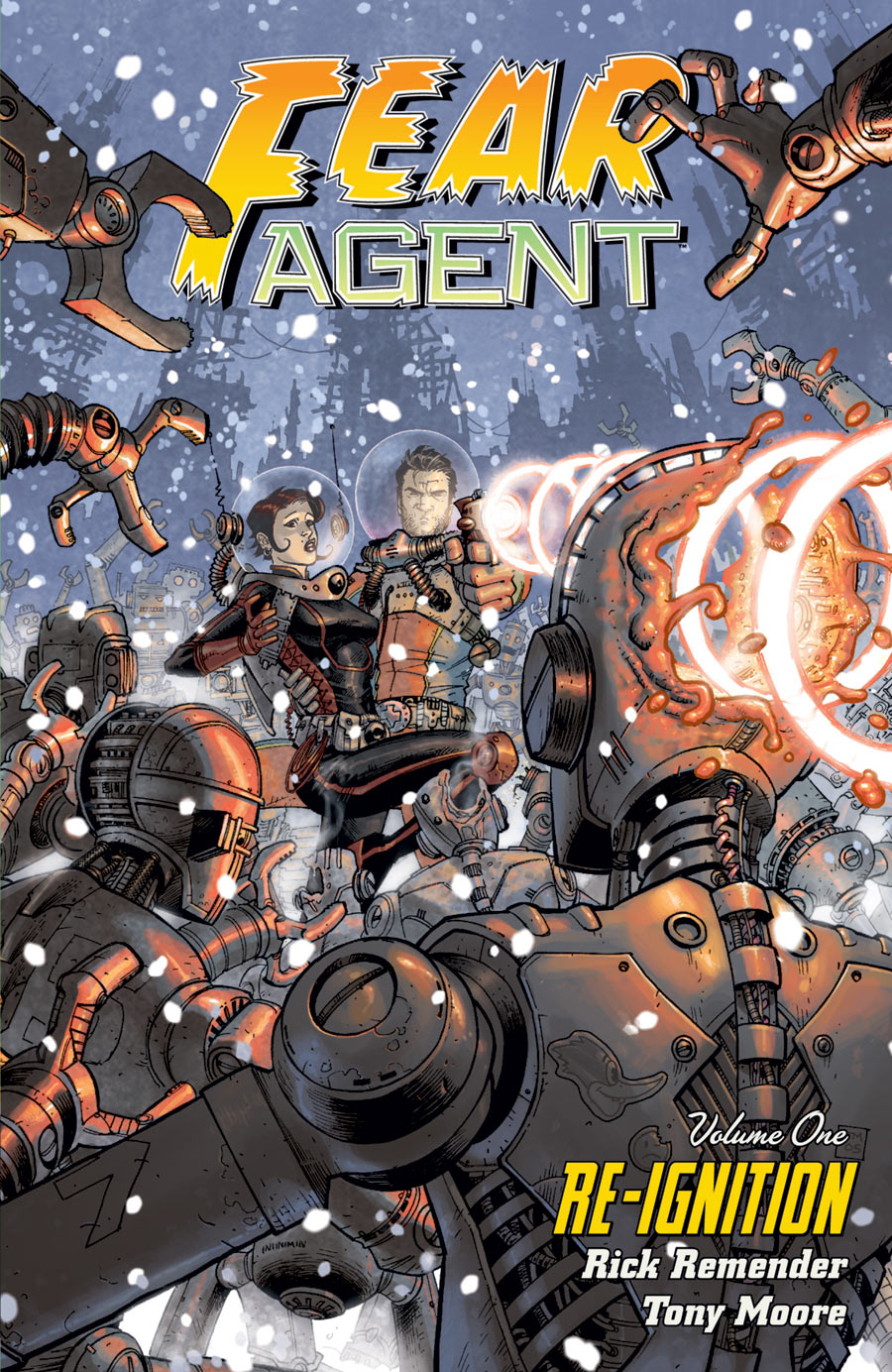 Et voici les sollicitations Dark Horse Comics pour le mois d'avril prochain.
1 FOR $1: THE MASSIVE #1
Brian Wood (W/Cover), Kristian Donaldson (A), and Dave Stewart (C)
On sale Apr 3
FC, 32 pages
$1.00
One-shot
In a post-war, post-Crash, post-disaster, post-everything world, the environmental action trawler Kapital scours the earth's oceans for its missing sister ship, The Massive, while struggling to redefine its core mission. Captain Callum Israel, a man who dedicated his life to the ocean, now must ask himself—as our planet dies—what it means to be an environmentalist after the world's already ended.
• It's the perfect intro to The Massive Volume 1!
• A great buy for new readers!
1 FOR $1: MIND MGMT #1
Matt Kindt (W/A/Cover)
On sale Apr 3
FC, 24 pages
$1.00
One-shot
Just in time for the first collection, the sold-out MIND MGMT #1 is back in print—for $1! Now's your chance to catch up with Matt Kindt's brilliant tale of lost memories, the Mind Management psychic spy agency, its most infamous defector, and the journalist who uncovers their incredible secrets!
• Try MIND MGMT for just $1!
• Named one of the top ten comics of 2012 by MTV Geek!
ABE SAPIEN: DARK AND TERRIBLE #1 (of 3)
Mike Mignola (W), Scott Allie (W), Dave Stewart (C), Sebastián Fiumara (A/Cover), and Max Fiumara (Variant cover)
On sale Apr 3
FC, 32 pages
$3.50
Miniseries
On the run from the B.P.R.D., a mutated Abe Sapien traverses a devastated America, with monster corpses scattered around and cities in ruin.
• Sebastián Fiumara (Loki, Mystery in Space) joins the Mignolaverse.
• Abe's most defining moments in a new long-running series.
• Special variant cover featuring Hellboy!
THE ADVENTURES OF DR. MCNINJA OMNIBUS TP
Christopher Hastings (W/A/Cover)
On sale June 12
b&w, 504 pages
$24.99
TP, 6" x 9"
He's a doctor! He's a ninja! And now, his earliest exploits are collected in one mighty omnibus volume! Featuring stories from the very beginnings of the Dr. McNinja webcomic, This book offers a hefty dose of science, action, and outrageous comedy. This omnibus presents more than five hundred pages of hilarious strips, some of them long out of print.
• All of the earliest Dr. McNinja stories, collected into a single omnibus volume!
AMALA'S BLADE #1 (of 4)
Steve Horton (W), Michael Dialynas (A/C/Cover), and Guy Davis (Variant cover)
On sale Apr 24
FC, 32 pages
$3.50
Miniseries
The kingdom of Naamaron is bitterly divided into warring factions: the low-tech Purifiers and the high-tech Modifiers. Both fear the great vizier's deadliest assassin, Amala. But for all her lethal skills, Amala's drawing too much attention for the vizier's taste. So what better way to deal with a troublesome cutthroat than to send her on a suicide mission?
• Nonstop, kickass fun!
• For fans of Avatar: The Last Airbender, Trigun, and Naruto.
Final arc begins!

ANGEL & FAITH #21
Christos Gage (W), Rebekah Isaacs (A/Variant cover), Dan Jackson (C), and Steve Morris (Cover)
On sale Apr 24
FC, 32 pages
$2.99
Ongoing
The time has come for Angel to make good on his promise to resurrect Giles—but at the same time, Season 9's Big Bads, Pearl and Nash, together with Angel's own mentor, Whistler, gather the final pieces needed to harness the last magical powers on Earth for their own apocalyptic plan.
• Executive produced by Joss Whedon!
• Angel's moment of truth!
• Showdown with this season's Big Bads!
• Distrust and accusations among the heroes!
THE ANSWER! #4 (of 4)
Mike Norton (W/A), Dennis Hopeless (W), and Mark Englert (C)
On sale Apr 24
FC, 32 pages
$3.99
Miniseries
A mind is a terrible thing to waste. Can Devin and the Answer think their way free of the Brain Trust before CHEMICAL X breaks their brains for good? The explosive conclusion of this superhero mystery!
• Written by Dennis Hopeless (Cable and X-Force, Avengers Arena) and Mike Norton (Battlepug, Revival)!
• Super Mysterious!
B.P.R.D. HELL ON EARTH #106: A COLD DAY IN HELL PART 2 (of 2)
Mike Mignola (W), John Arcudi (W), Peter Snejbjerg (A), Dave Stewart (C), and Dave Johnson (Cover)
On sale Apr 17
FC, 32 pages
$3.50
Ongoing
Paranormal activity in Russia heats up as demons from Hell participate in the battle against the zombie director of the Russian occult sciences service in order to free a high-ranking devil imprisoned on Earth.
• Peter Snejbjerg (Abe Sapien: The Abyssal Plain, A God Somewhere) returns to the B.P.R.D.!
• Demons cut off from hell grow desperate on Earth!
B.P.R.D.: VAMPIRE #2 (of 5)
Mike Mignola (W), Fábio Moon (W/A/Cover), Gabriel Bá (W/A), and Dave Stewart (C)
On sale Apr 24
FC, 32 pages
$3.50
Miniseries
On the hunt for the vampire clan that cursed him, Simon Anders finds his answers in a small Czech town plagued by a horrific family's past.
• A direct sequel to the critically acclaimed B.P.R.D.: 1948!
• From the Eisner Award-winning creators of Daytripper!
• From the pages of Hellboy!
THE BLACK BEETLE: NO WAY OUT #4 (of 4)
Francesco Francavilla (W/A/Cover)
On sale Apr 17
FC, 32 pages
$3.99
Miniseries
The epic conclusion to Black Beetle's first series! Colt City's caped crusader goes head to head with the mysterious villain Labyrinto! Can Black Beetle make it out of this maze of matched wits and matched blows alive?!
• An all-new superhero tale from 2012 Eisner Award winner Francesco Francavilla!
• Super Noir!
BLOOD-C VOLUME 2 TP
Clamp (W) and Ranmaru Kotone (A)
On sale June 5
b&w, 184 pages
$12.99
TP, 5 1/8″ x 7 1/4″
Saya promised to use her sword fighting skills to protect her classmates. When man-eating monsters start snatching away her friends, though, can she persevere? This manga series is based on an anime collaboration between CLAMP and Production I.G and continues the story line that began in the Blood+ anime and manga worlds!
• Prequel to Production I.G's Blood-C: The Last Dark feature film!
• Based on CLAMP's original story line and character designs!
• Dark Horse has sold over 70,000 copies of previous Blood+ volumes!
BLOODHOUND TP
Dan Jolley (W), Leonard Kirk (P), Eddy Barrows (P), Robin Riggs (I), Moose Baumann (C), and Dave Johnson (Cover)
On sale June 19
FC, 232 pages
$19.99
TP, 7″ x 10″
Superpowered criminals don't stand a chance when the FBI unleashes the bloodhound! Ex-cop Travis Clevenger was the most effective tracker of superhumans in the country, until he was sentenced to twenty years in a maximum-security prison for killing his partner. Offered a reduced sentence in exchange for helping the FBI capture a superpowered serial killer, Clevenger agrees when he learns that the killer's next intended victim is his dead partner's daughter. Can the disgraced hero redeem himself, and can the FBI control him once they've let him loose? Collecting the acclaimed DC series from Dan Jolley, Leonard Kirk, and Robin Riggs!
• From fan-favorite creators Dan Jolley (Prototype 2, JSA: The Liberty File) and Leonard Kirk (JSA, Ultimates, Agents of Atlas)!
• Foreword by Kurt Busiek!
BUFFY THE VAMPIRE SLAYER SEASON 9 #20
Andrew Chambliss (W), Karl Moline (P), Andy Owens (I), Dexter Vines (I), Michelle Madsen (C), Phil Noto (Cover), and Georges Jeanty (Variant cover)
On sale Apr 10
FC, 32 pages
$2.99
Ongoing
The loss of the world's magic has finally hit Buffy. Hard. As friends and family continue to fall, Buffy is helpless. . . and Xander is beyond fed up with helplessness—and Buffy! He is so finally ready to do something about it!
• Special guest artist Karl Moline!
• Season 9 continues!
• Xander's secret revealed!
BUFFY THE VAMPIRE SLAYER: SPIKE—A DARK PLACE TP
Victor Gischler (W), Paul Lee (P), Andy Owens (I), Cris Peter (C), and Jo Chen (Cover)
On sale June 5
FC, 136 pages
$18.99
TP, 6 5/8" x 10 3/16"
Fresh from his latest attempt to get Buffy to act on her feelings for him, Spike has fled to the dark side of the moon. His trip leads him to a group of dangerous demons and a rude awakening from his reverie, which in turn leads him on an unexpected adventure to . . . Sunnydale! Collecting Buffy the Vampire Slayer: Spike—A Dark Place #1–#5.
• Cover by Jo Chen!
• A crucial episode in Season 9!
THE CHRONICLES OF CONAN VOLUME 24: BLOOD DAWN AND OTHER STORIES TP
Jim Owsley (W), Don Kraar (W), John Buscema (P/Cover), Ernie Chan (P/I), Mike Docherty (P), Dave Simons (I), George Roussos (C), and Ken Feduniewicz (C)
On sale June 26
FC, 240 pages
$18.99
TP, 7" x 10"
Conan, now a warlord of Koth, is sent by his jealous and spiteful king on a doomed foray into the territory of bloodthirsty Kushite marauders. But greater perils await as Conan and his men again encounter Imhotep, demon from beyond the stars, who seeks Conan's life and the enchanted amulet the barbarian carries. Collects Conan the Barbarian #182–#189 and Conan the Barbarian Annual #11.
CONAN VOLUME 13: QUEEN OF THE BLACK COAST TP
Brian Wood (W), Becky Cloonan (A), James Harren (A), Dave Stewart (C), and Massimo Carnevale (Cover)
On sale June 19
FC, 152 pages
$19.99
TP, 7″ x 10″
Kicking off Dark Horse's sweeping adaptation of Robert E. Howard's "Queen of the Black Coast," Conan turns his back on the civilized world and takes to the Western Ocean. Finding first danger and then passion in the arms of the pirate queen Bêlit, the Cimmerian begins a new life of pleasure and pillage along the Black Coast, in this epic of romance and terror!
• A perfect jumping-on point for new readers!
CONAN THE BARBARIAN #15
Brian Wood (W), Andrea Mutti (A), Dave Stewart (C), and Massimo Carnevale (Cover)
On sale Apr 17
FC, 32 pages
$3.50
Ongoing
Conan's army has infiltrated the Shemite fortress protected by Bêlit! Can their love for each other survive the battle—and can they?
• "The Woman on the Wall" concludes!
• Brian Wood (The Massive, Star Wars) and Andrea Mutti (Girl with the Dragon Tattoo).
"Wood is the first writer in a long time that has made the character feel fresh and exciting. As long as he is at the helm, this series is a must buy." —IGN.com
CREEPY ARCHIVES VOLUME 16 HC
Bruce Bezaire (W), Bill DuBay (W), Gerry Boudreau (W), Budd Lewis (W), Rich Margopoulos (W), Doug Moench (W), Jim Strenstrum (W), Jan Strnad (W), Alex Toth (W/A), Neal Adams (A), Vincente Alcazar (A), Luis Bermejo (A), Rich Buckler (A), Richard Corben (A), Ken Kelly (A), Esteban Maroto (A), Paul Neary (A), Jose Ortiz (A), Martin Salvador (A), Sanjulian (A), John Severin (A), Wally Wood (A), and Bernie Wrightson (A)
On sale June 19
b&w, 256 pages
$49.99
HC, 8 3/8" x 10 7/8"
Showcasing art from a pantheon of comic industry greats—including Alex Toth, Wally Wood, Neal Adams, Bernie Wrightson, and Richard Corben—our latest deluxe hardcover volume collects issues #73 to #77 and features an interview between comics historian S. C. Ringgenberg and John Severin, all of the magazines' original letters columns, and lush painted covers by Ken Kelly and Sanjulian!
DARK HORSE PRESENTS #23
Dan Jolley (W), Caitlín R. Kiernan (W), Geoffrey Thorne (W), Fred Van Lente (W), Denis Medri (W/A), Peter Hogan (W), Simon Roy (W), Jason Wordie (W/A), Mike Baron (W), Shannon Wheeler (W/A), Leonard Kirk (A), Steve Lieber (A), Todd Harris (A), Freddie Williams II (A), Phil Winslade (A), Geof Darrow (A), Simon Roy (A), Steve Rude (A), and Dave Johnson (Cover
On sale Apr 24
FC, 80 pages
$7.99
Ongoing
Another issue of 2012's best anthology—another collection of amazing comics, natch! Premiering this issue: Dan Jolley and Leonard Kirk's supervillain tracker Clev is back out of prison to help the FBI hunt an invisible killer, Fred Van Lente and Freddie Williams II delve into a world of psychic espionage in Brain Boy, and Peter Hogan and Phil Winslade pull you into another magical dimension with King's Road.
• Dan Jolley's Bloodhound comes to Dark Horse!
"Dark Horse's prestigious anthology series . . . showcases emerging talent alongside some of the greatest writers, artists and cartoonists comics has to offer, as well as promising new and underground talents."—ComicsAlliance
DRAGON AGE: UNTIL WE SLEEP #2 (of 3)
David Gaider (W), Alexander Freed (W), Chad Hardin (A), Michael Atiyeh (C), and Anthony Palumbo (Cover)
On sale Apr 24
FC, 32 pages
$3.99
Miniseries
Enter the Fade, where the life you always imagined is yours—as long as you never wake up!
Dwarven rogue Varric Tethras travels through the realm of magic and fantasy rescuing his companions from the dreams—and nightmares—that have imprisoned their minds. Will our heroes remember the truth in time to stop the most evil of mages from making his dream a reality?
• Story by David Gaider, lead writer of the Dragon Age games and novels!
• An essential addition to the Dragon Age canon!
• Perfect entry point into this epic fantasy!
EVERYBODY GETS IT WRONG! AND OTHER STORIES: DAVID CHELSEA'S 24-HOUR COMICS VOLUME 1 HC
David Chelsea (W/A/Cover)
On sale June 5
b&w, 152 pages
$14.99
HC, 6″ x 9″
Writer/artist David Chelsea's first six 24-Hour Comics are collected into one volume! Following rules devised by comics legend Scott McCloud, the acclaimed graphic novelist and commercial artist has created six inspired improvisations—each drawn in a single day! This hardcover collection is filled with experimentation, witty pun play, and hilarious literary allusions!
• Surreal fiction from longtime New York Observer illustrator and frequent DHP contributor!
FEAR AGENT VOLUME 1 2ND EDITION TP
Rick Remender (W), Tony Moore (P/Cover), Sean Parsons (I), Mike Manley (I), and Lee Loughridge (C)
On sale June 5
FC, 112 pages
$16.99
TP, 7″ x 10″
When down-and-out alien exterminator Heath Huston stumbles upon an extraterrestrial plot to commit genocide against the human species, he must put down the bottle and resume his roll as a peacekeeper . . . as the last Fear Agent. This volume collects Fear Agent #1 – #4 and sports new cover art!
• A brand new edition from Rick Remender!
"Fear Agent is absolutely everything I love about comics in one fantastic package." – Matt Fraction, Casanova, Iron Fist, The Punisher
FORBIDDEN WORLDS ARCHIVES VOLUME 2 HC
Richard E. Hughes (W), Al Williamson (P), Sam Cooper (P), Harry Lazarus (P), George Wilhelms (P), Paul Gattuso (P), Pete Riss (P), King Ward (P), Al Camy (P), Lou Cameron (P), Lin Streeter (P), Art Gates (P), Roy Krenkel (I), King Ward (I), Sam Cooper (I), Harry Lazarus (I), Art Gates (I), Al Camy (I), Lou Cameron (I), Paul Gattuso (I), and Ken Bald (Cover)
On sale June 12
FC, 192 pages
$49.99
HC, 6 5/8" x 10 3/16"
What do a fifty-foot-tall telepathic merman, a typewriter possessed by Satan, and a demented ringmaster who attaches human heads to circus animals have in common? Nothing, perhaps? Well, except that they all appeared in Forbidden Worlds, the weird and wonderful anthology of science fiction and supernatural fantasy that ran from the early 1950s into the late 1960s. Collects issues #5-#8 of the series.
• Foreword by comics historian Dan Nadel (Art Out of Time).
GARY BASEMAN
On sale Apr 24
Gary Baseman "Veritas" Hand Sign Pin
$14.99
Artist Gary Baseman prepares for a career retrospective, slated for March at the Skirball Cultural Center in LA, and Dark Horse is supporting it with a new line of sculpted metal pins.
GRENDEL OMNIBUS VOLUME 3: ORION'S REIGN TP
Matt Wagner (W/A), Tim Sale (A), John K. Snyder (A), Jay Geldhof (A), Bernie Mireault (A), Hannibal King (A), Matthew Hollingsworth (C), Giulia Brusco (C), Jeromy Cox (C), and Joe Matt (C)
On sale June 5
FC, 564 pages
$24.99
TP, 6″ x 9″
No longer content to inhabit one host at a time, the Grendel entity goes viral, in a new phase of Wagner's epic spanning centuries and culminating with the rise of a new kind of host—the Grendel-Khan! This volume collects the never-before-reprinted "Incubation Years" tales from Grendel #20–#22 and the mammoth God and the Devil and Devil's Reign story lines, featuring art by Tim Sale and John K. Snyder and collected in order for the first time!
• Futuristic tales by artists Tim Sale, John K. Snyder, and more!
• Over 500 pages!
HELLBOY LIBRARY EDITION VOLUME 6 HC
Mike Mignola (W/Cover), Duncan Fegredo (A), Richard Corben (A), Kevin Nowlan (A/C), Scott Hampton (A), and Dave Stewart (C)
On sale June 12
FC, 376 pages
$49.99
HC, 9″ x 12″
The oversized Hellboy hardcover series continues, collecting the climactic death of Hellboy storyline from Mike Mignola and Duncan Fegredo, and one-shots by some of the greatest talents in comics! Hellboy Library Volume 6 collects two complete trade-paperbacks: The Storm and the Fury and The Bride of Hell and Others, as well as an extensive selection of previously unreleased art.
• An extensive selection of new sketchbook material.
• A New York Times bestseller!
• Includes the death of Hellboy!
"Every Hellboy story, whether short or long form, contributes to a larger tapestry that is not only entertaining but, as I can personally attest, offers you more bang for your buck in the form of numerous re-reads as the Hellboy saga grows ever larger." — Comics Alliance
Stone Sour and Slipknot's Corey Taylor turns nightmare to reality!

HOUSE OF GOLD & BONES #1 (of 4)
Corey Taylor (W), Richard Clark (A/Variant cover), Dan Jackson (C), and Jason Shawn Alexander (Cover)
On sale Apr 17
FC, 32 pages
$3.99
Miniseries
Trapped in an alternate reality, the Human must make his way to the House of Gold & Bones as he is chased by a crazed mob, and taunted by mysterious ally, Allen. What the Human discovers on his journey will be his salvation . . . or his destruction.
• Inspired by the Stone Sour album House of Gold & Bones.
• Cover art by Jason Shawn Alexander.
THE LAST OF US: AMERICAN DREAMS #1 (of 4)
Faith Erin Hicks (W/A), Neil Druckmann (W), Christina Strain (C), and Julian Totino Tedesco (Cover)
On sale April 24
FC, 32 pages
$3.99
Miniseries
The comics-exclusive prequel to the new game from Naughty Dog! Creative director Neil Druckmann teams with breakout comics star Faith Erin Hicks to present the story of thirteen-year-old Ellie's life in a violent, postpandemic world. A newcomer at a military boarding school, Ellie is reluctant to toe the line, which earns her new enemies—and her first glimpse of the world outside.
• Must-read tie-in to the upcoming release from Naughty Dog Games!
• Coscripted by The Last of Us art director and lead writer Neil Druckmann.
LONE WOLF 2100 OMNIBUS TP
Mike Kennedy (W), Francisco Ruiz Velasco (A/C/Cover), and Studio F (C)
On sale June 12
FC, 296 pages
$24.99
TP, 6″ x 9″
Daisy Ogami holds the key to a dying future's salvation. Powerful interests will stop at nothing to obtain Daisy, but her android bodyguard will do anything to protect her . . . and the promise of a brighter day. Collects Lone Wolf 2100: Shadow on Saplings; Lone Wolf 2100: The Language of Chaos; and Lone Wolf 2100: Pattern Storm.
• Reimagining the classic manga, produced in association with creator Kazuo Koike.
• Dark Horse editions of the original Lone Wolf and Cub have sold over a million copies!
MARVEL CLASSIC CHARACTER: X-MEN #1—CYCLOPS STATUE 
On sale May 15
Limited to 950 numbered pieces. Packaged in its own tin box, with a pin-back button and character booklet
$49.95
Dark Horse announces Uncanny X-Men limited-edition « syroco »-style statuette series.
Our officially-licensed Marvel Classic Character series, the latest addition to the long-running line of collectible statuettes, is back again.
The forthcoming series commemorates one of the most significant launches in comics history—The X-Men. Created by Stan Lee and Jack Kirby, the series kicks off with none other than Cyclops. Watch for the rest of the line-up, along with arch-villian Magneto, in coming months. Sculpted by Yoe! Studio.
THE MASSIVE #11
Brian Wood (W), Declan Shalvey (A), Dave Stewart (C), J. P. Leon (Cover)
On sale Apr 24
FC, 32 pages
$3.50
Ongoing
Following a mutiny, the crew of the Kapital are in a race against time to catch their increasingly elusive sister ship, The Massive, when a school of aggressive great white sharks cross their path!
"Provocative, original, and fiercely intelligent."—Comic Book Resources
"Much like DMZ, the glimpses of savagery [in The Massive] are unsettling because this world isn't as divorced from ours as we'd like it to be."—IGN
MICHAEL AVON OEMING'S THE VICTORIES VOLUME 1 TP
Michael Avon Oeming (W/A/Cover) and Nick Filardi (C)
On sale June 12
FC, 136 pages
$9.99
TP, 7″ x 10″
Not long from now, all that will stand between you and evil are THE VICTORIES: heroes sworn to protect us from crime, corruption, and the weird designer drug known as Float. As one member hits the streets looking for blood, he discovers himself touched by a painful past through the powers of a psychic. Will this trauma cause him to self-destruct or to rejoin the good fight? Collects the five-issue miniseries.
• Adult superhero adventure!
• Super Powers!
• Full-length graphic novel only $9.99!
MIND MGMT #10
Matt Kindt (W/A)
On sale Apr 24
FC, 24 pages
$3.99
Ongoing
Only the Futurist can help Lyme and Meru find Mind Management's hidden training ground, Shangri-la. But how can they track a man who knows their every move before they do?
• From rising star Matt Kindt (Frankenstein: Agent of S.H.A.D.E., 3 Story, Super Spy)!
• Best-reviewed comic of 2012!
"A triumph of character, idea, design, and plot throughout."—MTV Geek
OREIMO VOLUME 3 TP
Tsukasa Fushimi (W) and Sakura Ikeda (A)
On sale June 26
b&w, 176 pages
$10.99
TP, 5 1/8" x 7 1/4"
Things get even weirder for Kyousuke and his vexing little sister Kirino—and all their friends! Crushes, misunderstandings, jealousy, meddling relatives, beautiful girls . . . looks like Kyousuke is going to have to ask for advice from his sister. She might just help him, but only if he does her a big favor in return, and if he can stop saying just the wrong thing at the wrong time!
• The original "light novels" have sold over 950,000 copies in Japan.
• A second season of the popular anime is planned for April 2013!
THE ORIGINAL DAREDEVIL ARCHIVES VOLUME 1 HC
Dick Wood (W), Bob Wood (W/A/Cover), Richard "Dick" Briefer (W/A), Charles Biro (W/A/Cover), Edd Ashe (W), Jerry Robinson (W), Jack Cole (A), Reed Crandall (A), Bob Davis (A), J. Gahr (A), Bernard Klein (A), Jerry Robinson (A), George Roussos (A), Victor E. Pazmiño (A), and Edd Ashe (A)
On sale June 26
FC, 280 pages
$49.99
HC, 6 5/8" x 10 3/16"
Beginning with the rare Golden Age Daredevil #1, this hardcover reproduces the adventures of the original Daredevil, who famously gave ol' Adolf what for! Along with Nightro, Pat Patriot, and the Bronze Terror, Daredevil dishes out justice to Nazis, mobsters, mummies, and the sorcerous Claw! This volume collects issues #1-#4 of the Golden Age Daredevil.
• Introduction by Michael T. Gilbert!
THE SKY: THE ART OF FINAL FANTASY SLIPCASED EDITION
Yoshitaka Amano (W/A)
On sale June 19
FC, 640 pages
$89.99
HC, 11″ x 12″
Previously available only as a part of the now sold-out The Sky: The Art of Final Fantasy Boxed Set, Dark Horse is pleased to offer fans another chance to own the three-book hardcover set The Sky I, II, and III, included in the new The Sky: The Art of Final Fantasy Slipcased Edition!
The Sky I, II, and III showcase Amano's ethereal illustrations for the first ten Final Fantasy games! Each hardcover book in The Sky Slipcased Edition is 11 5/8″ high by 10 5/8″ wide, and printed on glossy stock. Volume 1 contains Amano's work for Final Fantasy I-III. Volume 2 contains his contributions for Final Fantasy IV-VI, and volume 3 features his art for Final Fantasy VII-X.
The slipcase containing The Sky I, II, and III features the same wraparound exterior artwork as The Sky Boxed Set, with a double-hinged flap that folds around the open edge and is held flat to the back side with a hidden magnetic closure, making it easy both to remove the books and to display the set closed.
SLEDGEHAMMER 44 #2 (of 2)
Mike Mignola (W/Cover), John Arcudi (W), Jason Latour (A), and Dave Stewart (C)
On sale Apr 10
FC, 32 pages
$3.50
Miniseries
Outgunned and outnumbered by an army of Nazis, a group of GIs must band together and unleash the Hyperborean power of the mysterious man in the iron suit in order to make it home safely.
• Super Soldier!
• The Iron Prometheus returns!
• From B.P.R.D. Hell on Earth: The Pickens County Horror and Dejango Unchained artist Jason Latour.
SNOW ANGEL
David Chelsea (W/A/Cover)
On sale Apr 3
FC, 32 pages
$3.50
One-shot
David Chelsea creates a superhero like no other: an ordinary little girl who becomes a crime-fighting cherub whenever she makes an angel in the snow! Snow Angel faces jaywalkers, bicycle thieves, menacing dogs, and other dangers! This special, all-ages one-shot also includes "The Kids' Movie"—an all-new, four-page masterpiece!
• All-ages adventure from longtime New York Observer illustrator!
• Fantasy and humor from frequent Dark Horse Presents contributor!
STAR WARS #4
Brian Wood (W), Carlos D'Anda (A), Gabe Eltaeb (C), and Alex Ross (Cover)
On sale Apr 10
FC, 32 pages
$2.99
Ongoing
As Princess Leia's stealth squadron lays a trap for the spy within their ranks, she soon realizes that the Rebels are ill prepared for the Empire's zealous pursuit. Meanwhile, Han Solo flees from the Empire through the lower levels of Coruscant, and Luke Skywalker enjoys being grounded with a female friend . . .
• Classic era characters!
• Brian Wood! Alex Ross!
• Ask your retailer about the Alex Ross Star Wars #1 sketch variant!
STAR WARS: THE CLONE WARS—THE SMUGGLER'S CODE TP
Justin Aclin (W), Eduardo Ferrara (A), and Michael Atiyeh (I)
On sale June 26
FC, 80 pages
$7.99
TP, 5 1/4" x 7 1/2"
When he encounters a criminal from his past, Jedi Master Obi-Wan Kenobi strikes out, determined to fulfill a promise he made to himself as a young Jedi: to bring in this fugitive on his own! While on the trail, Obi-Wan earns a favor from a local smuggler, but her devotion to working for her own benefit may be more trouble for Obi-Wan than her help is actually worth!
• Fan-favorite Jedi Obi-Wan Kenobi stars!
Into the Valley of Death! 

STAR WARS: DARK TIMES—FIRE CARRIER #3 (of 5)
Randy Stradley (W), Gabriel Guzman (A), Garry Henderson (C), and Douglas Wheatley (Cover)
On sale Apr 3
FC, 32 pages
$2.99
Miniseries
As Jedi Master K'Kruhk and a band of Padawans distance themselves from the Empire's refugee camp, they discover a deadly secret the local militia is keeping from their Imperial masters!
Now, marked for death by both factions, they must find a place of safety. But how does one escape the dark times?
The Hunt for Darth Vader is on!

STAR WARS: DARTH VADER AND THE NINTH ASSASSIN #1 (of 5)
Tim Siedell (W), Stephen Thompson (P), Mark Irwin (I), Michael Atiyeh (C), and Ariel Olivetti (Cover)
On sale Apr 17
FC, 32 pages
$3.50
Miniseries
Eight assassins hired to murder Darth Vader—eight assassins dead. Now the man who enlisted them seeks a ninth assassin. The price? A cost higher than all the credits in his bottomless coffers. But when it comes to avenging his son, no sacrifice is too great to acquire the one man who can kill the Dark Lord of the Sith . . .
• All-new series starring Darth Vader!
• Tim Siedell (@badbanana) has one of Time's 140 Best Twitter Feeds!
STAR WARS: LEGACY— PRISONER OF THE FLOATING WORLD #2
Corinna Bechko (W), Gabriel Hardman (W/A), Rachelle Rosenberg (C), and Dave Wilkins (Cover)
On sale Apr 24
FC, 32 pages
$2.99
Ongoing
Ania Solo found a lightsaber inside a broken Imperial communications droid. Now she's being pursued by the local police—and a determined Imperial Knight who is willing to kill to get the weapon!
Fortunately, as a black-market salvage dealer, Ania has made some formidable friends of her own . . .
• The Solo family 138 years after Return of the Jedi!
STAR WARS: LEGACY VOLUME 1 HC
John Ostrander (W), Jan Duursema (W/P), Adam DeKraker (P), Travel Foreman (P), Colin Wilson (A), Dan Parsons (I), Brad Anderson (C), Ronda Pattison (C), and Adam Hughes (Cover)
On sale June 12
FC, 440 pages
$34.99
HC, 6" x 9"
The future of Star Wars and the future of the Skywalkers is told in John Ostrander and Jan Duursema's acclaimed Star Wars: Legacy. A Sith legion has conquered the Empire, the Jedi have been scattered, and the galaxy is divided. Into this comes Cade Skywalker, heir to the Skywalker legacy . . .
• The heir of the Skywalkers!
• The most popular Star Wars series now in a deluxe hardcover.
STAR WARS: LOST TRIBE OF THE SITH—SPIRAL TP
John Jackson Miller (W), Andrea Mutti (P), Pierluigi Baldassini (I), Michael Heisler (C), and Paul Renaud (Cover)
On sale June 19
FC, 120 pages
$18.99
TP, 7" x 10"
An ambitious Sith rebel, Spinner, is about to upset the balance of a lost tribe of Sith. When he is arrested for treason and sent away on a prisoner vessel, thoughts of overcoming his station, destroying the Tribe, and even finding a way to escape into the galaxy lead Spinner to a powerful, long-forgotten weapon. A rival stowaway Sith on that same vessel has her own ideas about the future of the Tribe. They don't need eradication; they need a new leader—her! Collects Star Wars: Lost Tribe of the Sith #1–#5.
• Based on the popular e-books from Del Rey Books!
• From the author of the nationally best-selling novel Knight Errant from Del Rey Books!
THE STRAIN VOLUME 2 TP
David Lapham (W), Mike Huddleston (A), Dan Jackson (C), and E. M. Gist (Cover)
On sale June 12
FC, 144 pages
$19.99
TP, 7″ x 10″
A vast conspiracy has made it nearly impossible for the CDC's Dr. Ephraim Goodweather to convince the world that there's a vampiric epidemic spreading across Manhattan. His only hope is to go head to head with the ancient evil responsible for the wave of bloodthirsty vamps set to drown the Big Apple . . . but can the strain be stopped?!
• Based on the trilogy of novels by Guillermo del Toro and Chuck Hogan.
• Soon to be an FX TV show!
TO HELL YOU RIDE #5 (of 5)
Lance Henriksen (W), Joseph Maddrey (W), Tom Mandrake (A/Cover), and Cris Peter (C)
On sale Apr 10
FC, 32 pages
$3.99
Miniseries
In a small town plagued by a vicious Indian curse and twisted environmental science, an angry, self-destructive man must come to terms with his haunted past to preserve what is left of his home.
• From horror movie icon Lance Henriksen (Millennium, Aliens, Near Dark)!
• Drawing on your nightmares!
USAGI YOJIMBO VOLUME 27: A TOWN CALLED HELL TP & HC
Stan Sakai (W/A)
On sale June 19
b&w, 208 pages
$16.99
TP, 6" x 9"
On sale June 26
b&w, 208 pages
$59.99
Ltd. HC, 6" x 9"
The rabbit ronin's wanderings find him caught between competing gang lords fighting for control of A Town Called Hell. With the help of master swordsman Kato, Usagi takes on one gangster, while the other stirs up even more trouble! Now, with Kato on his trail, Usagi continues his travels, confronting a nukekubi—a flying cannibal head—aiding a disgraced samurai seeking redemption, and even crossing paths with the demon Jei! All the while, Kato awaits a rematch and a return to Hell! Collects Usagi Yojimbo #124–#131.
• Introduction by Geof Darrow (Shaolin Cowboy, Hard Boiled)!
• 2012 Eisner nominee for Best Continuing Series!
• Available in a limited edition, signed and numbered hardcover!
• Don't miss the new Usagi Yojimbo game for iOS!
X #0
Duane Swierczynski (W), Eric Nguyen (A), Michelle Madsen (C), and Raymond Swanland (Cover)
On sale Apr 10
FC, 32 pages
$2.99
One-shot
Three crime lords in the decaying city of Arcadia have received photographic death sentences from the mysterious "X Killer." Their cunning defenses won't stop Arcadia's vigilante from making sure each one of them suffers. From the pages of Dark Horse Presents.
• Duane Swierczynski (Punisher, Godzilla) and Eric Nguyen brutally relaunch Dark Horse's classic vigilante!
• Super Violent!