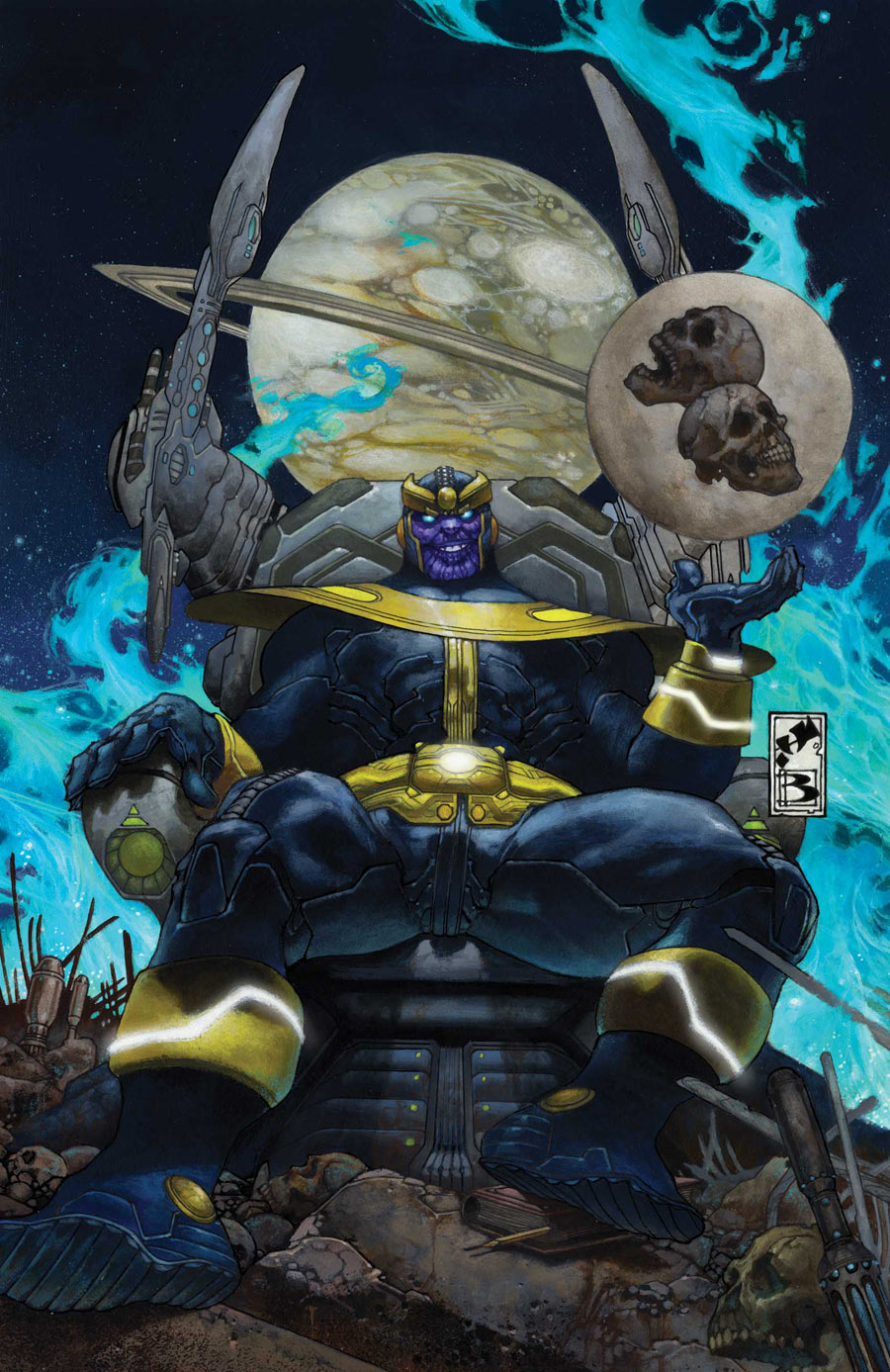 Et voici les sollicitations Marvel pour le mois de mai, avec la suite de l'Ere Bendis sur les Vengeurs …euhhh je veux dire l'Age of Apo…euhhh non euuhh Ultron War…non attendez…ah oui Age of Ultron désormais sans Brian Hitch, donc sans la seule et unique bonne raison d'aller lire ça …
 La bonne nouvelle est bien sûr aussi : PAS DE NOUVELLE SERIE !!!!! et oui en attendant l'inévitable relaunch de Amazing Spider-Man, nous avons droit à une petite pause dans le Marvel Now (mais je suis sûr que Marvel s'en garde encore d'autres sous la manche, après tout il y a encore des séries qui ont plus de 10 épisodes au compteur, donc va falloir les relancer dans pas longtemps…)
AGE OF ULTRON #7 (of 10)
BRIAN MICHAEL BENDIS (W)
BRANDON PETERSON & CARLOS PACHECO (A/C)
Cover by BRANDON PETERSON
Variant cover by LEINIL YU
Ultron Variant by ROCK-HE KIM
In an attempt to defeat Ultron two Marvel Heroes take it upon themselves to create an all-new Marvel Universe. But is the one they have created better or worse than the one they left behind? The event of the year just got INSANE!!
32 PGS./Rated T+ …$3.99
AGE OF ULTRON #8 (OF 10)
BRIAN MICHAEL BENDIS (W)
BRANDON PETERSON & CARLOS PACHECO (A/C)
Cover by BRANDON PETERSON
Variant cover by 7TH ORANGE
Ultron Variant by ROCK-HE KIM
With the Marvel Universe turned inside out, who will take responsibility for breaking the world? And is there any way to put it back? Wait until you see who is in charge of the new world order and how they got there…! A reality-spanning choice is made this issue that will affect the Marvel Universe for years and years to come.
32 PGS./Rated T+ …$3.99
FEARLESS DEFENDERS #4AU
CULLEN BUNN (W) • PHIL JIMENEZ (A/C)
AGE OF 
ULTRON TIE IN!
• In a world where some villains became heroes instead Warrior Woman teams up with…Caroline LeFay?
• The connection between the Fearless Defenders greatest foe and Morgan LeFay is finally revealed!
• (And it's true in our world too!)
32 PGS./Rated T+ …$3.99
AVENGERS ASSEMBLE #15AU
AL EWING (W) • BUTCH GUICE (A)
Cover by NIC KLEIN
AGE OF ULTRON TIE-IN
ULTRON RULES OK! The AGE OF ULTRON hits Britain, and Captain Britain hits back with a little help from his friends – including a vacationing Captain Marvel! Fighting a guerilla war in the ruins of London, AGGRO! is a way of life for Avengers UK – but when they might just be the last super heroes left alive, can there still be hope? Or is England dreaming?
32 PGS./Rated T+ …$3.99
UNCANNY AVENGERS #8AU
RICK REMENDER & GERRY DUGGAN (W) • Adam Kubert (A)
Cover by JIM CHEUNG
• Kang and the The Apocalypse Twins enter the Age of Ultron, but what do they want?
• Havok and Rogue, leaders of the Morlocks, must fight to save the man who condemned their people!
• What secret will Rogue unearth about the Twins hidden past?
32 PGS./Rated T+ …$3.99
UNCANNY AVENGERS #8
RICK REMENDER (W) • DANIEL ACUÑA (A)
Cover by JOHN CASSADAY
Ragnarök Now part 2!
• Xavier is dead, now begins the age of The Apocalypse Twins! Now begins Ragnarök and it's all Thor's fault!
• S.W.O.R.D. Peak station is attacked by Apocalypse's Ship! A Celestial's fate so shocking, so impossible, it will rock the Marvel Universe to its core.
• This is it, Ragnarök is now and not even the Uncanny Avengers can hold it back!
32 PGS./Rated T+ …$3.99
AVENGERS #11
JONATHAN HICKMAN (W) • MIKE DEODATO (A)
Cover by DUSTIN WEAVER
"WAKE THE DRAGON"
• As Shang-Chi battles an ancient enemy, the Avengers hang out in Hong Kong's swankiest casino.
• Captain Marvel, Black Widow and Spider-Woman find out it doesn't pay to gamble in the spy business.
• Cannonball and Sunspot play craps with a bunch of AIM Agents. AND WIN!
32 PGS./Rated T …$3.99
AVENGERS #12
JONATHAN HICKMAN & NICK SPENCER (W) • MIKE DEODATO (A)
Cover by DUSTIN WEAVER
50th Anniversary Variant by Daniel ACUÑA
"CHILDREN OF THE SUN"
• A day in the life of the Avengers…in the Savage Land.
• The boys go hunting for dinosaurs and end up catching something else entirely.
• Hyperion and Captain Universe begin the godlike education of the transformed Savage Land children.
32 PGS./Rated T …$3.99
ALL-NEW X-MEN #11
Brian Michael Bendis (W) • Stuart Immonen (A/C)
• One of the ALL-NEW X-MEN leaves to join Cyclops and his crew!
• Jean Grey pushes her power to the limit, shaking her and the rest of the X-Men to the core.
32 PGS./Rated T+ …$3.99
SUPERIOR SPIDER-MAN #9
DAN SLOTT (W) • Ryan Stegman (A)
Cover by MARCOS MARTIN
Variant Cover by Ryan Stegman
IT ENDS HERE! "SUPERIOR NO MORE!"
• The hottest comic in comics comes to a turning point that will get you angrier than you were after Spidey #700!
• The time has come to see who will live, who will die, and who will emerge as the one, true Superior Spider-Man!
32 PGS./Rated T+ …$3.99
SUPERIOR SPIDER-MAN #10
DAN SLOTT (W) • GIUSEPPE Camunicoli (A)
Cover by MARCOS MARTIN
IT BEGINS HERE!!
• A perfect jumping on point as The Green Goblin returns…and Spider-Man is nowhere to be found!
32 PGS./Rated T+ …$3.99
NOVA #4
JEPH LOEB (W) • ED MCGUINNESS (A/C)
Variant Cover by Stephen Platt
The comic everyone is taLking about continues!
• The mysteries surrounding the disappearance of Sam's dad deepen and the helmet leads Nova into intergalactic conflict that will affect the entire Marvel Universe!
32 PGS./Rated T+ …$3.99
GUARDIANS OF THE GALAXY #3
BRIAN MICHAEL BENDIS (W) • STEVE MCNIVEN (A/C)
Variant COVER BY Leinil Yu
Variant Cover by Ed McGuinness
MOVIE VARIANT ALSO AVAILABLE
THE BIGGEST NEW BOOK OF THE YEAR CONTINUES!
• As the Guardians first story wraps up, the mysteries leading to the next great Marvel event become clearer.
32 PGS./Rated T+ …$3.99
IRON MAN #9 & 10
KIERON GILLEN (W) • DALE EAGLESHAM (A)
CoverS by GREG LAND
Issue #9 – Deadpool Variant by Greg Land
Issue #9 & 10 – Iron Man MOVIE VARIANT ALSO AVailAble
THE SECRET ORIGIN OF TONY STARK
• Death's Head and Iron Man team-up to hunt down a genocidal criminal. Not the problem.
• A shipful of dead badoon. Not the problem.
• What Tony finds in the depths of that ship: the problem. Big problem.
• The lead into the biggest Tony Stark story of the year.
32 PGS./Rated T+ …$3.99
• Many years ago, Howard and Maria Stark had a baby. There's something you don't know.
• Learn the truth about Las Vegas and Area 51 as the two great myths of Nevada collide.
• Meanwhile, in a distant galaxy, Tony Stark screams!
• The story that will shake Iron Man to his very core starts here!!!
32 PGS./Rated T+ …$3.99
YOUNG AVENGERS #5
KIERON GILLEN (W) • JAMIE MCKELVIE (A & C)
Variant cover by JIM CHEUNG
• The book where when a character says "I did it half an hour ago" normally means doing "it" half an hour ago reaches its first epic conclusion.
• Why Did Loki Do It? No one kno… okay, we'll tell you…Well, part of it.
• Miss America probably punches someone. She usually does.
32 PGS./Rated T+ …$2.99
Secret Avengers #4
NICK SPENCER (W) • LUKE ROSS (A)
Cover by TOMM COKER
Variant Cover by MARK BROOKS
"Tehran"
• The Scientist Supreme and the new High Council of AIM ignite global war!
• The Secret Avengers welcome their newest recruit: The Indestructible Hulk!
32 PGS./Rated T+ …$3.99
NEW AVENGERS #6
JONATHAN HICKMAN (W) • STEVE EPTING (A)
Cover by JOCK
"BLUE"
• Using the knowledge gained from the Black Swan, the Illuminati rework all their plans and cross the uncrossable line.
• The first secret alliance is formed.
• If an incursion is normally RED, what does a BLUE one mean?
32 PGS./Rated T …$3.99
AVENGERS ARENA #9
DENNIS HOPELESS (W)
KEV WALKER (A)
Cover by DAVE JOHNSON
SECRETS EXPLODE & ALLIANCES SHATTER IN "GAME ON" PART 2 OF 5!
• Apex—the mean girl you love to hate—makes her move!
• Issues #2 and #3 both sold out and needed 2nd printings – don't miss out again!
32 PGS./Rated T+ …$2.99
A+X #8
NATHAN EDMONDSON & CHRIS HASTINGS (W)
HUMBERTO RAMOS & REILLY BROWN (A)
Cover by HUMBERTO RAMOS
• Captain America and Wolverine fight a villain unlike any you've ever seen!
• Deadpool and Hawkeye do not see eye-to-eye!
32 PGS./Rated T …$3.99
THANOS RISING #2
JASON AARON (W) • SIMONE BIANCHI (A/C)
Variant COVER BY ED MCGUINNESS
THE RISE OF MARVEL'S GREATEST EVIL CONTINUES BY TWO OF THE MOST ACCLAIMED CREATORS IN COMICS!!
• Continuing the jaw-dropping origin of the mad Titan who will soon change the face of the Galaxy!
• Death follows young Thanos as his inner darkness grows.
32 PGS./Rated T+ …$3.99
UNCANNY X-MEN #6
BRIAN MICHAEL BENDIS (W) • FRAZER IRVING (A/C)
• The Uncanny X-Men face evil sorcerer DORMAMMU! Don't miss this new take on the evil sorcerer demon courtesy of Bendis and Irving.
• Discover the secrets Magik has been hiding since the Phoenix Force left her in AVENGERS VS. X-MEN.
32 PGS./Rated T+ …$3.99
X-MEN #2
BRIAN WOOD (W) • OLIVIER COIPEL (A/C)
Variant COVER BY AMANDA CONNOR
• The school is on lockdown…but if the bad guys can't get out, neither can the X-Men!
• John Sublime is back, but is one of the X-Men's scariest villains not who we should be afraid of?
• Who or what is Arkea?
32 PGS./Rated T+ …$3.99
X-MEN LEGACY #10 &11
SIMON SPURRIER (W) • PAUL DAVIDSON (A)
Cover by MIKE DEL MUNDO
• Fated to destroy mutantkind, Legion is desperate to learn if the predictions are true, so he makes a deal with the devil in his own mind to find answers.
• But what terrifying truth would drive David to take extreme measures…and undergo a procedure that would remove his mutant powers?
32 PGS. (EACH)/Rated T+ …$2.99 (EACH)
DEADPOOL #9-10
GERRY DUGGAN & BRIAN POSEHN (W) • MIKE HAWTHORNE (A)
Cover by ART ADAMS (#9) & TONY MOORE (#10)
• Deadpool targets a MAN with AQUATIC powers!
• Then he teams-up with your SUPERIOR Neighborhood SPIDER-MAN!
• I PROMISE HE KILLS ONE OF THOSE TWO!
32 PGS. (EACH)/Parental Advisory …$2.99 (EACH)
SAVAGE WOLVERINE #5
FRANK CHO (W) • FRANK CHO (A/C)
Variant COVER BY DAVE JOHNSON
• Dinosaurs aren't the only green giants roaming the Savage Land jungles!
• As the dust settles, the secrets of the Forbidden Island stand revealed!
32 PGS./Parental Advisory …$3.99
WOLVERINE #3
PAUL CORNELL (W) • ALAN DAVIS (A/C)
Variant COVER BY ED MCGUINNESS
• Guest-starring Nick Fury, Agent of S.H.I.E.L.D.!
• How will Logan take down a foe with no permanent body to slash and claw?
• And what does the Watcher have to do with all of this?
32 PGS./Parental Advisory …$3.99
THOR: GOD OF THUNDER #8
JASON AARON (W) • ESAD RIBIC (A & C)
GODBOMB Part Two of Five
• Thor in chains. Gorr transcendent. All hope for divinity lost. As the clock ticks down on one very large bomb, as enslaved gods look to the skies for a savior, enter…the Girls of Thunder?
32 PGS./Rated T+ …$3.99
CAPTAIN AMERICA #7
RICK REMENDER (W) • JOHN ROMITA JR (A & C)
• Zola's master plan revealed!
• Ian's fate decided!
• Captain Zola's quest for lies and injustice!
32 PGS./Rated T …$3.99
INDESTRUCTIBLE HULK #7
MARK WAID (W) • WALT SIMONSON (A & C)
"GODS AND MONSTER" CONTINUES!!! FEATURING THOR!
• Hulk and Thor–together versus the Frost Giants!
• But what's wrong with Thor–and why doesn't he recognize Hulk?
• And Bruce Banner lands a bombshell surprise on his assistants!
32 PGS./Rated T+ …$3.99
INDESTRUCTIBLE HULK #8
MARK WAID (W) • WALT SIMONSON (A & C)
THE STARTLING CONCLUSION OF "GODS AND MONSTER"!!! FEATURING THOR!
• The Frost Giants prepare to invade Earth!
• Not even Hulk and Thor can stand in their way–so they'll have to call in some help!
• Plus–the secret of the Portal to Jotunheim is revealed!
32 PGS./Rated T+ …$3.99
FF #7 & 8
MATT FRACTION (W) • MICHAEL ALLRED (A & C)
• Field trip…into the heart of the Negative Zone!
• Scott Lang has already lost a daughter… watch what happens when he puts it all on the line to save… Bentley-23?
• The shocking reveal of the villain pulling the strings and pitting family against family — and a rescue mission unlike anything you've ever seen — FF vs FF!
32 PGS. (EACH)/Rated T …$2.99 (EACH)
FANTASTIC FOUR #8
MATT FRACTION (W) • MARK BAGLEY (A & C)
• One day a year, The Thing reverts to his human form. This year… Ben Grimm is going to go home again — as Ben Grimm!
• What was Yancy Street REALLY like back in the day? And how long until the ever-loving' THING makes his appearance?
• And meanwhile, the tables get turned in Franklin and Val's relationship… and when these two siblings have a rivalry, all bets are off.
32 PGS./Rated T …$2.99
JOURNEY INTO MYSTERY #652
KATHRYN IMMONEN (W)
VALERIO SCHITI (A)
Cover by JEFF DEKAL
HE'S BACK, BABY!
BETA RAY BILL RETURNS!
• After her most recent (mis?)adventures, Sif's working on getting her, let's just call them feelings…under control.
• However, when a certain hammer-wielding, space-faring ex shows up…all bets are off!
32 PGS./Rated T+ …$2.99
RED SHE-HULK #65
JEFF PARKER (W)
CARLO PAGULAYAN & WELLINTON ALVES (A)
Cover by FRANCESCO FRANCAVILLA
RED SHE-HULK RACES AGAINST TIME IN "ROUTE 616"
• The SHE-HULK Jen Walters strikes a deal with the military!
• And Betty finds others have taken her path before her…
• …others named DR. DOOM, THE RED SKULL, ULTRON and LOKI!
32 PGS./Rated T+ …$2.99
FEARLESS DEFENDERS #4
CULLEN BUNN (W) • WILLIAM SLINEY (A)
Cover by MARK BROOKS
Variant Cover by STEPHANIE HANS
ARTIST VARIANT BY TBD
• Come for the banter, stay for the surprises!
• Everything Valkyrie knows about her origin is wrong!
• And Caroline LeFay unleashes her Doom Maidens upon the world!
32 PGS./Rated T+ …$2.99
THUNDERBOLTS #9
DANIEL WAY (W)
PHIL NOTO (A)
Cover by JULIAN TOTINO TEDESCO
• Deadpool is not happy.
• It's no laughing matter.
32 PGS./Parental Advisory …$2.99
MORBIUS: THE LIVING VAMPIRE #5
JOE KEATINGE (W)
RICHARD ELSON (A)
Cover by DAVID LOPEZ
VIVA LA REVOLUCION!
• As Brownsville gets more treacherous, Morbius takes matters into his own hands!
• Which Morbius will survive? The man or the vampire?
• Find out why Morbius is the breakout hit of Marvel Now!
32 PGS./Rated T+ …$2.99
UNCANNY X-FORCE #5
SAM HUMPHRIES (W) • ADRIAN ALPHONA (A)
Cover by KRIS ANKA
Variant COVER BY ED MCGUINNESS
• Guest-penciler ADRIAN ALPHONA (co-creator of RUNAWAYS) joins UXF!
• Psylocke digs deep into Bishop's head and what she finds will shock you!
• One of the biggest X-Villains of the past 20 years threatens the Uncanny X-Force!
32 PGS./Parental Advisory …$3.99
CABLE AND X-FORCE #8
DENNIS HOPELESS (W) • SALVADOR LARROCA (A/C)
50TH ANNIVERSARY VARIANT ALSO AVAILABLE
• Cable and his team go into space facing down an armada!
• Will this put them face-to-face with the UNCANNY AVENGERS, who are still hot in pursuit?
32 PGS./Parental Advisory …$3.99
SCARLET SPIDER #17
CHRISTOPHER YOST (W) • CARLO BARBERI (A)
Cover by RYAN STEGMAN
Variant COVER BY
GABRIELLE DELL'OTTO
• Chris Yost, Kaine and the Scarlet Spider family welcome superstar artist CARLO BARBERI to the book — and it's just in time for SCARLET SPIDER vs. WOLVERINE!
• Kaine owes a favor to the Assassins Guild… one murder. And guess who they want dead? Hint: SNIKT!
• Guest starring the faculty and students of the Jean Grey School, aka the X-MEN.
32 PGS./Rated T+ …$2.99
VENOM #35
CULLEN BUNN (W)
DECLAN SHALVEY (A/C)
NIGHT OF THE SYMBIOTE SLAYERS!
• It's Eddie Brock and Flash Thompson fighting side by side for the city of Philadelphia!
• Lives are at stake, a conspiracy revealed – and two lunatics with Alien parasites to the rescue!
32 PGS./Rated T+ …$2.99
ALPHA: BIG TIME #4 (OF 5)
JOSHUA FIALKOV (W)
NUNO PLATI (A)
Cover by HUMBERTO RAMOS
• Alpha and Thor team up to have a totally EXCELLENT adventure!
• Superior Spider-Man informs Andy that his actions have 'consequences' whatever THAT means!
• Josh Fialkov & Nuno Plati (Amazing Spider-Man) continue the greatest story of the greatest superhero ever known!
32 PGS./Rated T+ …$2.99
AVENGING SPIDER-MAN #20 & 21
CHRISTOPHER YOST (W) • MARCO CHECCHETTO (A)
CoverS by PAOLO RIVERA
ISSUE #20 – THE CHAMELEON SANCTION PART 1 of 2
• Can Spider-Man keep his secrets while facing off with the Secret Avengers?
• SHIELD has the Chameleon. The Superior Spider-Man wants him. Time to break into the SHIELD Helicarrier!
ISSUE #21 – THE CHAMELEON SANCTION PART 2 of 2
• Chameleon is loose onboard the SHIELD Helicarrier, and it's all Spider-Man's fault.
• And then there's a little matter of SHIELD's newest resident. Big. Green. Angry. Hulk-y.
32 PGS. (EACH)/Rated T+ …$3.99 (EACH)
IRON MAN 258.1 – 258.4
DAVID MICHELINIE (W) • DAVE ROSS & BOB LAYTON (A)
Covers BY DAVE ROSS
ISSUE #258.1 VARIANT COVER BY BOB LAYTON
• Micheline. Layton. Two voices that defined Iron Man come together to tell the untold story of his most dire hour – Armor Wars 2!
32 PGS./Rated T+ …$3.99
IRON MAN: THE COMING OF THE MELTER!
CHRISTOS GAGE (W) • RON LIM (A/C)
Variant Cover by Gil Kane
• Iron Man meets his match with the Malevolent Melter!
• With technology similar to Iron Man's, will the Melter bring the downfall of Stark Industries?
• It's a battle of wits and might with Iron Man and War Machine leading the charge!
• Relive an old battle between Iron Man and the Melter in the classic reprinting of Iron Man #72!
40 PGS./All Ages …$3.99
ULTIMATE COMICS ULTIMATES #24
SAM HUMPHRIES (W) • JOE BENNETT (A)
Cover by MIKE DEODATO
THE PULSE-POUNDING FINALE OF "RECONSTRUCTION"!
• Ultimates vs. West Coast Ultimates!
• Can America survive a super-powered battle royale?
• A momentous decision changes the Ultimates — and the country — FOREVER!
32 PGS./Rated T+ …$3.99
ULTIMATE COMICS WOLVERINE #4
CULLEN BUNN (W)
DAVID MESSINA (A)
Cover by AXEL TORVENIUS
THE SHOCKING CONCLUSION TO "LEGACIES"
• A new villain is born!
• Jimmy Hudson's loyalties are put to the test.
• What is the secret that Wolverine never shared with his son?
32 PGS./Rated T+ …$3.99
ULTIMATE COMICS X-MEN #26
BRIAN WOOD (W)
MAHMUD ASRAR (A)
Cover by DAVE JOHNSON
"NATURAL RESOURCES" CONTINUES!
• Fortress Utopia!
• The Mutant Nation is Under Siege! And General Ross is leading the charge!!
• Can Kitty and Mach Two work together for the good of mutantkind?!
• Jimmy Hudson prepares for war!!
32 PGS./Rated T+ …$3.99
ULTIMATE COMICS SPIDER-MAN #23
BRIAN MICHAEL BENDIS (W) • DAVID MARQUEZ (A & C)
"SPIDER-MAN NO MORE!"
• Will tragedy force Miles to quit?!
• Bombshell is back!
• An all new Cloak and Dagger!!!
32 PGS./Rated T+ …$3.99
Avengers: The Enemy Within #1
KELLY SUE DECONNICK (W) • SCOTT HEPBURN (A)
Cover BY JOE QUINONES
Variant Cover by Milo Manara
THE OPENING SALVO TO THE HOTLY ANTICIPATED AVENGERS/CAPTAIN MARVEL FOUR PART EVENT!
• Can't keep a good Captain down!
• Vicious echoes of the Avengers' past are cropping up all over Manhattan…and a grounded Captain Marvel refuses to be left behind.
• Who is the sinister figure behind these incursions and what does it have to do with Carol Danvers' mysterious condition?
• But is this villain real or just a figment of Captain Marvel's increasingly deadly imagination?
32 PGS./One-Shot/Rated T+ …$2.99
DAREDEVIL: END OF DAYS #8 (of 8)
BRIAN MICHAEL BENDIS (W) • KLAUS JANSON (A)
Cover by ALEX MALEEV
Variant COVER BY DAVID MACK
Variant COVER BY BILL SIENKIEWICZ
• The stunning conclusion to Daredevil's final story!
• The mystery of Daredevil's final words are revealed – and Ben Urich's life will never be the same!
• Some of the Man Without Fear's greatest artists bring you the conclusion of his life story!
32 PGS./Rated T+ …$3.99
DAREDEVIL #26
MARK WAID (W) • CHRIS SAMNEE (A/C)
Variant Cover by Paolo Rivera
A DOUBLE-SIZED EXTRA-vanagnza celebrating the third-year of the acclaimed series!
• Face to face with his opposite number–a foe Daredevil cannot beat!
• What is his connection to the accident that created Daredevil?
• PLUS: As Foggy deals with his cancer, Matt turns to one of the brightest guys in the galaxy for help. • Here comes…Iron Man!
40 PGS./Rated T+ …$3.99
WINTER SOLDIER #18
JASON LATOUR (W)
NIC KLEIN (A)
Cover by DECLAN SHALVEY
Variant cover by DAVE JOHNSON
• Jason Latour (Loose Ends, Wolverine) and artist Nic Klein (Dancer, Viking, Doc Savage) bring to life the penultimate chapter of THE WINTER SOLDIER'S newest deadly mission.
• Seated high above Earth in a S.H.I.E.L.D. satellite, The ELECTRIC GHOST has set her world-shattering plan in motion. A plan that only Bucky knows the truth behind.
• But what good can he do while at death's door?
• Plus: the origin of Tesla Tarasova revealed
32 PGS./Rated T+ …$2.99
DARK AVENGERS #190
JEFF PARKER (W)
NEIL EDWARDS (A)
Cover by JOE QUINONES
FINAL ISSUE!
• The secret of the dark Earth are revealed!
• Who will live? Who will die? Will anyone get back to Earth alive?
• Jeff Parker wraps up his acclaimed run on Earth's Deadliest Heroes!
32 PGS./Rated T+ …$2.99
HAWKEYE #11
MATT FRACTION (W) • DAVID AJA (A/C)
• THE breakout character of 2012… becomes the breakout character of 2013… as PIZZA DOG gets his own issue.
• Literally… the entire issue… it's all from the dog's point-of-view.
• Pizza Dog gets hired to solve a crime — the grizzly murder that shocked Team Hawkguy — and the only thing more shocking than THAT… is what happens the end of THIS.
• Seriously. This is not a joke! Even the coloring. Dog issue. We're all gettin' fired. PLEASE READ…
"Pizza is my Business" …before it's too late for us.
32 PGS./Rated T+ …$2.99
DARK TOWER: THE GUNSLINGER – EVIL GROUND #2 (of 2)
ROBIN FURTH and PETER DAVID (W)
RICHARD ISANOVE (A/C)
• The conclusion to the all-new story set during Roland's fan-favorite early adventures!
• How will the young Gunslinger and his loyal ka-tet survive the sinister assault by supernatural enemies? And how does it relate to his current quest?
• This prequel to THE LITTLE SISTERS OF ELURIA is a must-read for DARK TOWER completists!
32 PGS./Parental AdvisorySLC …$3.99
CAPTAIN UNIVERSE: THE HERO WHO COULD BE YOU #1
BILL MANTLO, GERRY CONWAY, TONY ISABELLA & GLENN HERDLING (W)
STEVE DITKO, JUNE BRIGMAN & SCOTT MCDANIEL (A)
Cover by STEVE DITKO
• Captain Universe has joined the Avengers! But who — or what — is this cosmic hero?
• In times of crisis, the Enigma Force manifests, empowering an innocent bystander to avert the catastrophe!
• See Captain Universe touch the lives of an astronaut, twin sisters, a burglar, a troubled teen, a toddler, Spider-Man's college professor…and a dog?!
• It's an all-star assemblage of the Uni-Power's earliest appearances!
• Collecting MARVEL SPOTLIGHT (1979) #9-11, and material from MARVEL FANFARE (1982) #25, WEB OF SPIDER-MAN ANNUAL #5-6, and WHAT IF? (1989) #31.
104 PGS./Rated T …$7.99
PRINCESS MAGAZINE #13
• This issue of Disney Princess Magazine is full of magical stories, a collectible pull-out poster, activities, games and much, much more. Great for any princess.
44 PGS./AGES 3 – 6/$4.99
TRIM: 8 X 10.8125 in.
Cars Magazine #14
•This issue of the magazine contains brand new stories, classic adventures, puzzles, a pull-out poster, games and more.
44 PGS./AGES 3 – 6/$4.99
TRIM: 8 X 10.8125 in.
FAIRIES MAGAZINE #14
• This issue of Disney Fairies Magazine includes stories, games, puzzles, counting and coloring activities.
44 PGS./AGES 3 – 6/$4.99
TRIM: 8 X 10.8125 in.
Marvel Universe ULTIMATE SPIDER-MAN #14
Adapted by Joe Caramagna
Cover by TY TEMPLETON
• SPIDER-MAN VS. HULK VS. ZZZAX!
• The hit DisneyXD TV Show bursts off the screen and into your hands with this screen capture adaptation from Ultimate Spider-Man season 1!
32 PGS./All Ages …$2.9
Marvel Universe AVENGERS: EARTH'S MIGHTIEST HEROES #14
Adapted by Chris Eliopoulos
Cover by TIM LEVINS
• IRON MAN VS. TECHNOVORE!
• AVENGERS VS. AIM!!
• The hit DisneyXD TV Show bursts off the screen and into your hands with this screen capture adaptation from Avengers: Earth's Mightiest Heroes season 2.
32 PGS./All Ages …$2.99
WOLVERINE & THE X-MEN #29
JASON AARON (W) • RAMON PEREZ (A/C)
• See the Jean Grey School of the future!
• The students of JGS put a time-capsule together that you can follow into the future and see what happened to all your favorite X-Men.
32 PGS./Rated T+ …$3.99
WOLVERINE & THE X-MEN #30
JASON AARON (W) • PASQUAL FERRY (A)
Cover by NICK BRADSHAW
• PRELUDE TO THE HELLFIRE SAGA!
• Students are missing and Wolverine and Rachel Summers intensify their search for the Hellfire Club.
• Beast goes to the SWORD orbital HQ to ask an X-Villain for help with Broo's sad state.
32 PGS./Rated T+ …$3.99
GAMBIT #12 & 13
JAMES ASMUS (W)
#12: CLAY MANN (A) • #13: DIOGENES NEVES (A)
Cover by CLAY MANN
• GAMBIT may be in over his head…
• JOELLE, the woman he's fighting to save, the one he may be falling for, is on the brink of death. But could the secret she's been keeping be the key to her survival?
• Meanwhile, Gambit's former flame and current Uncanny Avenger ROGUE must decide whether she'll help him save Joelle or bring him in.
• And the villainous TOMBSTONE? Well, he's willing to cut down any and all of 'em to get what he wants…
32 PGS. (EACH)/Rated T+ …$2.99 (EACH)
X-FACTOR #255 & 256
PETER DAVID (W) • LEONARD KIRK (A)
Cover by DAVID YARDIN
"HELL ON EARTH WAR" comes to its senses-shattering conclusion!
• One Hell Lord stands victorious as the Earth is consumed in fire and brimstone.
• The few remaining members of X-Factor make one last ditch effort to save the world from its grim future. Not all will survive the final battle.
• And the last person you would expect winds up sitting on the throne of Hell…
32 PGS. (EACH)/Rated T+ …$2.99 (EACH)
ASTONISHING X-MEN #62
MARJORIE LIU (W) • GABRIEL HERNANDEZ WALTA (A)
Cover by PHIL NOTO
The Aftermath of X-Termination!
• Iceman is changed after his multi-dimensional ordeal. What aftershocks will this have in his life?
• What is left of the Astonishing X-Men, The X-Treme X-Men and the Age of Apocalypse?
32 PGS./Rated T+ …$3.99
FURY MAX #12
GARTH ENNIS (W)
GORAN PARLOV (A)
Cover by DAVE JOHNSON
• The penultimate issue of the critically acclaimed masterpiece!
• Fury faces down Barracuda in Nicaragua.
32 PGS./Explicit Content …$3.99
THERE IS A STRICT NO OVERPRINT POLICY ON ALL MAX TITLES.
WOLVERINE MAX #7
JASON STARR (W)
LEO FERNANDEZ (A)
Cover by JOCK
• Logan plants roots in the City of Angels, hoping to lie low and rebuild his life, but a mysterious figure from his forgotten past refuses to let sleeping dogs lie.
32 PGS./Explicit Content …$3.99
THERE IS A STRICT NO OVERPRINT POLICY ON ALL MAX TITLES.
POWERS BUREAU #4
Brian Michael Bendis (W) • MICHAEL AVON OEMING (A/C)
The Eisner Award-winning creator-owned series that shows cops and capes like you've never seen them before! With all superpowered cases now federal cases, Walker and Deana are up to their necks in the most dangerous chase of their careers. Also, Deena is pregnant! So there's that. Plus: another look behind the scenes at the POWERS TV show!
40 PGS./Mature …$3.95
© 2012 Jinxworld Inc.
SCARLET #8
BRIAN MICHAEL BENDIS (W) • ALEX MALEEV (A/C)
The most controversial and best-reviewed comic book on the stands today is back! From the Eisner Award-winning team of Bendis and Maleev (DAREDEVIL) comes the latest chapter in Scarlet's one-woman American Revolution. Scarlet makes her boldest move yet, taking City Hall hostage while the entire country watches. How will the public react to her list of demands?
40 PGS./Mature …$3.95
© 2012 Jinxworld Inc.
KICK-ASS 3 #1 (of 8)
MARK MILLAR (W) • JOHN ROMITA JR. (A)
Covers by JOHN ROMITA JR, ADAM HUGHES, PASQUAL FERRY, MARC SILVESTRI, CULLY HAMNER & ADAM KUBERT
Kick-Ass and Hit-Girl's blockbuster return for the LAST EVER story arc of Mark Millar and John Romita Jr's mega-selling series. Hit-Girl's in jail, leaving Kick-Ass to lead the superhero team of Justice Forever. Their first mission: Bust Hit-Girl out of the clink. But superheroes have now been outlawed, leaving Kick-Ass to dodge both cops AND criminals. For the first time since donning the costume, Kick-Ass is beginning to have his doubts. Is he now in too deep to get out? The phenomenal follow-up to the Kick-Ass 2 movie coming this June. Issue #1 features six different covers by the industry's biggest artists, all available for order. Each cover will feature a different character, and when all six covers are linked, a special message will be revealed.
32 PGS./Mature …$2.99
PACIFIC RIM: TALES FROM YEAR ZERO PREMIERE HC
Written by Travis Beacham
Penciled by Yvel Guichet, Pericles Junior, Chris Batista & Sean Chen
Cover by Alex Ross
Don't miss this exciting sci-fi prequel graphic novel of the highly anticipated motion picture, Warner Bros. & Legendary's Pacific Rim directed by Guillermo del Toro! Chronicling the very first time Earth is menaced by incredible monsters known as Kaiju, these inhuman beasts rise from the ocean depths and threaten to extinquish all mankind! Witness the race to develop massive robot fighting machines called Jaegers, each one controlled simultaneously by two pilots whose minds are locked in a neural bridge. This action-packed tale features many of the key characters from the the film as we follow them in their early careers. Witten by Pacific Rim screenwriter himself, Travis Beacham, and with del Toro's hands-on supervision, this volume is beautifully illustrated by Sean Chen, Yvel Guichet, Chris Batista and Pericles Junior; inks by Matt Banning, Steve Bird and Mark McKenna; and fully-painted cover by superstar artist Alex Ross!
112 PGS./Rated T+ …$24.99
ISBN: 978-0-7851-5394-8
Trim size: standard
THE MIGHTY THOR OMNIBUS VOL. 2 HC
Written by STAN LEE
Penciled by JACK KIRBY
Covers by ESAD RIBIC & JACK KIRBY
A masterpiece of immortal action, cosmic scope and boundless drama, Stan and Jack's THOR collaborations mark a cornerstone of the Marvel Universe — and that's no small accomplishment coming from the imaginations of the most celebrated creators in comics! This second Omnibus edition brings you milestone stories including the first appearances of Ego the Living Planet, Ulik the Troll and the Wrecker; battles with the Absorbing Man, the Destroyer and the Super-Skrull; adventures into Pluto's underworld and atop the High Evolutionary's Wundagore Mountain; the debut of Lady Sif as Thor's love interest; and classic tales featuring Thor and Hercules. Backed up by "Tales of Asgard" and featuring each issue's original letters page, it's an extravaganza on an Asgardian scale! Collecting JOURNEY INTO MYSTERY (1952) #121-125, THOR (1966) #126-152, THOR ANNUAL #2 and NOT BRAND ECHH #3.
768 PGS./Rated T …$99.99
ISBN: 978-0-7851-6783-9
Trim size: oversized
THE MIGHTY THOR OMNIBUS VOL. 2 HC KIRBY COVER (DM ONLY)
768 PGS./Rated T …$99.99
ISBN: 978-0-7851-6813-3
ALL-NEW X-MEN VOL. 2: HERE TO STAY PREMIERE HC
Written by BRIAN MICHAEL BENDIS
Penciled by DAVID MARQUEZ & STUART IMMONEN
Cover by STUART IMMONEN
Yesterday's X-Men continue to adjust to a present day that's simultaneously more awe-inspiring and more disturbing than any future the young heroes had ever imagined for themselves. And things get even more dangerous when the villainous duo Mystique and Sabretooth target our young time-travelers — starting with Cyclops! Plus: How will Earth's Mightiest Heroes react to the time-swept X-Men? Find out when the Avengers visit the Jean Grey School! But they're not the only ones to do so, as the outlaw Uncanny X-Men drop by for a recruiting session. Who will join the adult Cyclops and his revolutionary crew? The answer will shock you! All this — and the original five X-Men get new costumes! Acclaimed writer Brian Michael Bendis further defines the future — and the past — of the X-Men! Collecting ALL-NEW X-MEN #6-10.
136 PGS./Rated T+ …$24.99
ISBN: 978-0-7851-6821-8
Trim size: standard
CAPTAIN AMERICA VOL. 1: CASTAWAY IN DIMENSION Z BOOK 1 PREMIERE HC
Written by RICK REMENDER
Penciled by JOHN ROMITA JR.
Cover by JOHN ROMITA JR.
Thrust into a bizarre, inhospitable world far from home, the all-new, high-adventure, mind-melting, tough-as-nails, sci-fi, pulp-fantasy era of Captain America starts NOW! Arnim Zola's ambitions leave Captain America stranded in the upside-down territory known as Dimension Z. With no country and no allies, what's left for the Sentinel of Liberty to protect? Just the one thing his foe values most: Zola's son! Steve has saved the boy's life, but can he keep him alive against the savage barbarians of Phrox — with the fate of a world hinging on his victory? And when Zola's terrible experiments on the indigenous creatures give birth to a terrible new foe, the Odd War of Dimension Z begins! No flesh escapes the Patchwork! Collecting CAPTAIN AMERICA (2013) #1-5.
136 PGS./Rated T …$24.99
ISBN: 978-0-7851-6826-3
Trim size: standard
SUPERIOR SPIDER-MAN VOL. 1: MY OWN WORST ENEMY TPB
Written by DAN SLOTT
Penciled by RYAN STEGMAN & GIUSEPPE CAMUNCOLI
Cover by RYAN STEGMAN
Peter Parker spent a lifetime fighting to improve the world, but his story ended dramatically with a final, fatal sacrifice. Now, Peter's arch-enemy Dr. Octopus has taken control of his body — and his life. Otto Octavius is Spider-Man! And he's determined to prove himself Superior to his former foe in every way. But his baptism of fire will come when he faces down the new Sinister Six! Is the new Spider-Man in cahoots with J. Jonah Jameson? And has Carlie Cooper figured out his secret identity? Plus: Spider-Man and Mary Jane "reunited"! The return of the Vulture! And how many people must die before the Superior Spider-Man will kill a super villain? Find out as Otto battles Massacre, with hundreds of lives in the balance! A new era of web-slinging excitement starts NOW! Collecting SUPERIOR SPIDER-MAN #1-5.
112 PGS./Rated T+ …$17.99
ISBN: 978-0-7851-6704-4
THOR: GOD OF THUNDER VOL. 1 — THE GOD BUTCHER PREMIERE HC
Written by JASON AARON
Penciled by ESAD RIBIC
Cover by ESAD RIBIC
Throughout the ages, gods have been vanishing, their mortal worshippers left in chaos. NOW!, Thor follows a trail of blood that threatens to consume his past, present and future. The only hope for these ravaged worlds is for Thor to unravel the gruesome mystery of the God Butcher! In the distant past, Thor follows the bloody wake of murdered gods across the depths of space. In the present, the Thunder God discovers a forgotten cave that echoes with the cries of tortured gods — and is shocked to find himself among them! And thousands of years from now, the last god-king of ruined Asgard makes his final stand against the God Butcher's berserker legions. As three Thors from three eras race to stop the God Butcher, the full extent of his vicious scheme takes terrifying shape! Collecting THOR: GOD OF THUNDER #1-5.
136 PGS./Rated T+ …$24.99
ISBN: 978-0-7851-6842-3
Trim size: standard
HAWKEYE VOL. 2: LITTLE HITS TPB
Written by MATT FRACTION
Penciled by DAVID AJA with FRANCESCO FRANCAVILLA, JESSE HAMM, STEVE LIEBER & ANNIE WU
Cover by DAVID AJA
The year's most critically acclaimed comic! Ace archer Clint Barton battles Superstorm Sandy, digital doomsday, dog detectives, lady problems, murder for money and more as Matt Fraction and David Aja continuetheir exciting, adventurous reinvention of the arrowed Avenger! Plus: The tracksuits are back, and they're aiming to kill! Collecting HAWKEYE (2012) #6-11.
136 PGS./Rated T+ …$15.99
ISBN: 978-0-7851-6563-7
DEADPOOL VOL. 1: DEAD PRESIDENTS TPB
Written by GERRY DUGGAN & BRIAN POSEHN
Penciled by TONY MOORE
Cover by GEOF DARROW
Dead former United States presidents, from George Washington to Gerald Ford, have been resurrected — and that's bad. The Marvel heroes can't be the ones to stop them. Someone is needed with the reputation, skills and plausible deniability to take out these com-monsters in chief. Deadpool time is NOW! Be here as Deadpool de-un-deadifies ex-presidents left and right — matching wits with Tricky Dick Nixon, fighting a grudge match against Honest Abe Lincoln and battling Ronald Reagan — in space! Do you need more than that?! Fine, then: monkeys! And not everyone escapes the epic finale alive — besides the presidents, duh. This is the Deadpool series you will marry someday! In Wade We Trust! Collecting DEADPOOL (2013) #1-6.
136 PGS./Parental Advisory …$15.99
ISBN: 978-0-7851-6680-1
X-FORCE: PHALANX COVENANT PREMIERE HC
Written by SCOTT LOBDELL, TODD DEZAGO & FABIAN NICIEZA
Penciled by ROGER CRUZ, JAN DUURSEMA, TONY DANIEL, STEVE EPTING, KEN LASHLEY & TERRY DODSON
Cover by TONY DANIEL
The incredible conclusion to Fabian Nicieza's definitive X-FORCE run! When the techno-organic Phalanx kidnap the X-Men and establish a foothold on Earth, X-Force must team with X-Factor and Excalibur to battle the aliens — but who or what is Douglock? And how will X-Force react to fighting alongside what appears to be their late friend Doug Ramsey? Then: Cable's sentient computer the Professor has been granted a physical body! So why is Cable getting sicker by the day? Plus: The team moves into Arcade's Murderworld, Warpath visits Generation X's academy to settle matters with the White Queen, Rictor and Shatterstar hit the clubs, and disturbing truths come to light when X-Force learns Feral's gruesome family history and the true identity of Mutant Liberation Front leader Reignfire is revealed! Collecting X-FACTOR (1986) #106, X-FORCE (1991) #38-43 and EXCALIBUR (1988) #82.
256 PGS./Rated T …$39.99
ISBN: 978-0-7851-6271-1
Trim size: standard
X-FORCE: PHALANX COVENANT PREMIERE HC — VARIANT EDITION VOL. 107
256 PGS./Rated T …$39.99
ISBN: 978-0-7851-6272-8
MARVEL MASTERWORKS: THE FANTASTIC FOUR VOL. 15 HC
Written by ROY THOMAS with GERRY CONWAY, LEN WEIN, TONY ISABELLA, MARV WOLFMAN & CHRIS CLAREMONT
Penciled by RICH BUCKLER with BOB BROWN & JOHN BUSCEMA
Cover by RICH BUCKLER
It's a treasure trove of FF classics, courtesy of the Marvel Masterworks! First comes a battle of the sexes as the FF find themselves in the midst of the fight between Femizons and Mahkizmo the Nuclear Man. Then, the Silver Surfer returns with a vengeance! The Machiavellian Dr. Doom has captured the Surfer's beloved Shalla-Bal and used her to turn him against the FF. And that's just the warm up! The FF and Inhumans team up against Xemu, the Invisible Girl returns to the fold, and Arkon the Annihilator initiates an adventure featuring an inter-dimensional alternate Thing. Topped off with a giant-size battle against the Four Horsemen of the Apocalypse and the first appearance of Madrox the Multiple Man, they're Masterworks one and all! Collecting FANTASTIC FOUR (1961) #151-163, GIANT-SIZE FANTASTIC FOUR #3-4, and MARVEL TREASURY EDITION #2.
312 PGS./All Ages …$69.99
ISBN: 978-0-7851-6625-2
MARVEL MASTERWORKS: THE FANTASTIC FOUR VOL. 15 HC — VARIANT EDITION VOL. 197 (DM ONLY)
312 PGS./All Ages …$69.99
ISBN: 978-0-7851-6626-9
ASTONISHING X-MEN: GIFTED PROSE NOVEL MASS MARKET PAPERBACK
Written by PETER DAVID
Adapted from the graphic novel by JOSS WHEDON & JOHN CASSADAY
Cover by JOHN CASSADAY
The astonishing X-Men are outcast heroes, banded together and dedicated to protecting the rights of mutants everywhere. But when breaking news regarding a "cure" for the mutant gene unexpectedly hits the airwaves, how will the world react? What if no one had to be a mutant anymore? Would that be a curse, or a blessing? And what price would mutantkind pay for this cure? Cyclops and Wolverine believe it's dangerous — but the blue-furred Beast finds himself tempted. And Dr. Kavita Rao, the serum's inventor, has an ally: a deadly creature whose plans extend far beyond this world. This full-length novel by New York Times bestselling author Peter David, based on the acclaimed comics series by Joss Whedon (writer/director of Marvel's The Avengers) and John Cassaday, takes Marvel's uncanny mutant team to a whole new level!
304 PGS./No Rating …$7.99
ISBN: 978-0-7851-6515-6
MARVEL 1602: 10TH ANNIVERSARY EDITION HC
Written by NEIL GAIMAN
Penciled by ANDY KUBERT
New Cover by Scott Mckowen
Award-winning writer Neil Gaiman presents a unique vision of the Marvel Universe — set four hundred years in the past! Classic Marvel icons such as the X-Men, Spider-Man, the Fantastic Four and Daredevil are re-imagined in this intriguing world of 17th-century science and sorcery — instantly familiar to readers, yet subtly different in this new time. 1602 combines classic Marvel action and adventure with the historically accurate setting of Queen Elizabeth's reign to create a unique series unlike any other published by Marvel Comics. Neil Gaiman's daringly different tale has stood the test of time and spawned an entire universe of sequels — now, celebrate the 10th anniversary of the story that started it all with this lush oversized hardcover! Collecting MARVEL 1602 #1-8.
264 PGS./Rated T+ …$29.99
ISBN: 978-0-7851-5368-9
Trim size: oversized
AVENGERS BY BRIAN MICHAEL BENDIS VOL. 4 TPB
Written by BRIAN MICHAEL BENDIS
Penciled by WALT SIMONSON
Cover by MIKE DEODATO JR.
AVX tie-in! When the cosmic Phoenix Force threatens the planet, it's up to Earth's Mightiest Heroes to stop it — but the X-Men have a different plan. The struggle between the two teams becomes a battle unlike any the Avengers have ever faced — and every Avenger will be challenged like never before. For Captain America, an encounter with A.I.M. could provide a win he sorely needs, even if the accompanying morale boost proves to be tragically short-lived. For Red Hulk, following his brilliant strategic instincts against his team's wishes could prove to be a miscalculation — one that could cost him his life. For Wolverine, taking sides means fighting old friends and recruiting an unlikely ally. And for one Avenger, the war against the Phoenix will lead to betrayal! Collecting AVENGERS (2010) #25-30.
136 PGS./Rated T+ …$19.99
ISBN: 978-0-7851-6080-9
DEADPOOL KILLUSTRATED TPB
Written by CULLEN BUNN
Penciled by MATTEO LOLLI
Cover by MICHAEL DEL MUNDO
Deadpool has already killed every hero in the Marvel Universe, but he isn't through. This time…Deadpool's gonna take down the most famous characters in classic literature! Why read a book when you can watch a book die?! Tom Sawyer gets slashed in TWAIN! The Little Women's throats MAY get ALL-CUT! Scrooge gets a visit from THREE BULLETS! Gulliver gets a SWIFT DEATH! The Three Musketeers are all for DONE! Sherlock Holmes gets to the bottom of HIS OWN GRAVE! And more book-related puns! Can Deadpool rid the universe of the scourge of classical literature? Throw away your library card and buy this book! You never knew how badly you needed this! Collecting DEADPOOL KILLUSTRATED #1-4.
96 PGS./Parental Advisory …$14.99
ISBN: 978-0-7851-8402-7
INCREDIBLE HULK BY JASON AARON VOL. 2 TPB
Written by JASON AARON
Penciled by JEFTE PALO, STEVE DILLON, PASQUAL FERRY, TOM RANEY, DALIBOR TALAJIC & CARLOS PACHECO
Cover by MICHAEL KOMARCK
The Hulk thought he was finally rid of Bruce Banner, his puny alter ego split from him and incinerated in the blast of a Gamma bomb. But somehow, buried deep in the Hulk's mind, a twisted, insane Banner is back. And when the Hulk calms down, the maniacal doctor comes out to play. As Banner uses every opportunity to further his intricate plot, the Hulk fights to stay in the game in ever more bizarre locales. In a desperate bid to keep Banner at bay, the Hulk must stay angry! Writer Jason Aaron's paradigm-shifting run roars to a conclusion as the Hulk faces drug-dealing dogs, backwater Atlanteans, Russian bears in space and a hidden city of sasquatches — not to mention Kraven the Hunter, the Punisher, the Thing, Wolverine and Dr. Doom! Collecting INCREDIBLE HULK (2011) #7.1 & #8-15.
200 PGS./Parental Advisory …$24.99
ISBN: 978-0-7851-6113-4
MARVEL UNIVERSE WOLVERINE DIGEST
Written by FRED VAN LENTE, LEN WEIN, PETER DAVID & PAUL TOBIN
Penciled by GURIHIRU, HERB TRIMPE, SCOTT KOBLISH & MATTEO LOLLI
Cover by ED MCGUINNESS
Four all-ages adventures featuring the most popular X-Man!
• Before he joined the X-Men, Wolverine was a secret agent, skilled in espionage and combat. But when he's ordered to deal with a town being slowly covered by metal, Logan must use his greatest weapon to survive: his brain!
• Experience Wolverine's first-ever appearance as he battles the Incredible Hulk! But who or what is the Wendigo?
• Kitty Pryde's got a crush, and she's depending on Wolvie to help her get the hook-up. But what happens when that crush is Thor, God of Thunder?
• All Spider-Man has to do is follow Wolverine for one day and report what he does. What could possibly go wrong?
Collecting FREE COMIC BOOK DAY 2009 — WOLVERINE: ORIGIN OF AN X-MAN, INCREDIBLE HULK (1968) #181, WOLVERINE: FIRST CLASS #15 and SPIDER-MAN (2010) #3.
96 PGS./All Ages …$9.99
ISBN: 978-0-7851-6795-2
WOLVERINE: FIRST CUTS TPB
Written by CHRIS YOST & CHRIS CLAREMONT
Penciled by MARK TEXEIRA, JOHN BYRNE, MARSHALL ROGERS, FRANK MILLER & SAL BUSCEMA
Cover by FRANK MILLER
Get ready for the upcoming cinematic blockbuster The Wolverine with this fact-packed volume spotlighting the film's principal players! Witness the experiment that bonded Adamantium to Logan's bones and claws, and learn the true story of how he joined the X-Men! Relive Wolverine's first meeting and star-crossed romance with the beautiful Mariko Yashida, his duel of honor with Mariko's criminal father Lord Shingen, and the introduction of the wandering ronin Yukio! Also featuring the first teaming between criminal duo Viper and the Silver Samurai as they clash with Black Widow, Nick Fury, S.H.I.E.L.D. and the Amazing Spider-Man! Wolverine's greatest adventure begins here! Collecting X-MEN ORIGINS: WOLVERINE #1, UNCANNY X-MEN (1963) #118-119, WOLVERINE (1982) #1-2, MARVEL TEAM-UP (1972) #83-85 and material from the BEST OF MARVEL COMICS HC.
192 PGS./Rated T+ …$19.99
ISBN: 978-0-7851-8427-0
ESSENTIAL WOLVERINE VOL. 7 TPB
Written by TODD DEZAGO, FABIAN NICIEZA, ERIK LARSEN & ERIC STEPHENSON
Penciled by LEINIL FRANCIS YU, CARY NORD, JEFF MATSUDA, MIKE MILLER, ROGER CRUZ & RON GARNEY
Cover by LEINIL FRANCIS YU
Brace yourself for intense action as Wolverine faces down the Wendigo, deals with his deadly new bride Viper, is possessed by a body-hopping fugitive and gets shanghaied into space to save an entire planet from…Galactus?! Back on Earth, Wolverine battles robots; teams up with Nightcrawler, Jubilee and Alpha Flight; and confronts the ever-incredible Hulk — but Logan isn't quite himself, and there's a more sinister reason for it than you'd think! It all leads up to the ol' Canucklehead's 25th-anniversary bonanza, the twin threats of Apocalypse and Sabretooth, the identity of Death revealed — and the return of a certain unbreakable metal that's been near and dear to Wolvie since his debut. SNIKT! Guest-starring Ms. Marvel, the Starjammers, Cable, the X-Men, the New Fantastic Four and a horde of Marvel heroes! Collecting WOLVERINE (1988) #129-148 and HULK (1999) #8.
520 PGS./Rated T …$19.99
ISBN: 978-0-7851-8408-9
ULTIMATE COMICS X-MEN BY BRIAN WOOD VOL. 1 TPB
Written by BRIAN WOOD & NATHAN EDMONDSON
Penciled by FILIPE ANDRADE, PACO MEDINA & CARLO BARBERI
Cover by DAVE JOHNSON
Brian Wood (DMZ, Star Wars, X-MEN) takes the helm as "Reservation X" begins, and a brave new world for the nation's surviving mutants starts here! Kitty Pryde tries to lead a nation of mutants, but someone close to her has different plans! Meet Mach Two, former Morlock tunnel refugee turned mutant resistance fighter! Will she side with Kitty, or become a dangerous new enemy? The mutants might hold the key to solving world hunger, but what is the deadly cost? And as the Iron Patriot guest-stars, Mach Two's play for power takes a new turn — and leads to a fatal showdown! Collecting ULTIMATE COMICS X-MEN #18.1 & #19-22.
112 PGS./Rated T+ …$19.99
ISBN: 978-0-7851-6136-3
UNCANNY X-MEN: THE COMPLETE COLLECTION BY MATT FRACTION VOL. 3 TPB
Written by MATT FRACTION & KIERON GILLEN
Penciled by GREG LAND, WHILCE PORTACIO, PHIL JIMENEZ, STEVEN SANDERS & JAMIE MCKELVIE
Cover by TERRY DODSON
As Cyclops struggles to create a safe haven for mutants on Utopia, Magneto suddenly arrives —offering to join the X-Men! And to prove his good intentions, the Master of Magnetism undertakes a painful feat that might save another lost X-Man's life — or might just kill him. Then, after the events of "Second Coming," the mutant race has Hope again — literally! Witness the stunning emergence of a new generation of heroes! Plus: Things between Kitty Pryde, Emma Frost and Sebastian Shaw come to a head! And why are the X-Men all getting sick at once? The Sublime are back, and they've unleashed a contagion on Utopia. Can the mutants fight a microscopic foe, or will this be their final battleground? Matt Fraction's blockbuster X-Men run concludes! Collecting UNCANNY X-MEN (1963) #520-522 and #526-534, and UNCANNY X-MEN: THE HEROIC AGE #1.
336 PGS./Rated T+ …$29.99
ISBN: 978-0-7851-8450-8
FANTASTIC FOUR BY JONATHAN HICKMAN VOL. 6 TPB
Written by JONATHAN HICKMAN
Penciled by RON GARNEY, MIKE CHOI, GIUSEPPE CAMUNCOLI & RYAN STEGMAN
Cover by RYAN STEGMAN
No matter the obstacles, the Fantastic Four deal in miracles. Whether it's a trip thousands of years into the future or past, an expedition to the fantastical African nation of Wakanda or a mission to help one of their oldest friends, Marvel's First Family strives against the unknown and the unthinkable. And now, the stakes are higher than ever. The FF must save the world 4,000 years from now, defeat Egyptian zombies, battle a future Hulk and even pierce the veil of death itself. And they'll need every bit of cunning and strength they have to win the day! Jonathan Hickman's sprawling, epic run comes to its end here! Don't miss out on the finale of the most groundbreaking FF era in years! Collecting FANTASTIC FOUR (1961) #605.1 & #605-611.
184 PGS./Rated T+ …$24.99
ISBN: 978-0-7851-6155-4
INVINCIBLE IRON MAN VOL. 11: THE FUTURE TPB
Written by MATT FRACTION
Penciled by SALVADOR LARROCA
Cover by SALVADOR LARROCA
Tony Stark has always been obsessed with the future. Whether starting his first company, designing the Mark I Iron Man armor or launching Stark Resilient, his optimism has always been guided by the question, "What comes next?" Six months after quitting Resilient, he's found the answer. The sanctity of his mind violated by the Mandarin, he is a man beaten down to his knees, a prisoner within his own body, an indentured servant to an insane cause known only to his captor. For Tony Stark, this is the future — and there's no way out. Collecting INVINCIBLE IRON MAN #521-527.
152 PGS./Rated T+ …$19.99
ISBN: 978-0-7851-6522-4
MONSTERS, INC.: SCARY STORIES DIGEST
Written by CHARLES BAZALDUA & ALESSANDRO FERRARI
Art by CLAUDIO SCIARRONE, ELISABETTA MELARANCI, ANNA MERLI, DAVIDE ZANNETTI, SONIA MATRONE, MARA DAMIANI, ELENA M. NAGGI, FEDERICA SALFO, MICHELA FRARE, PACO DESIATO, ANDREA GREPPI & PAOLO CAMPINOTI
Cover by SCIARRONE, MELARANCI, MERLI, ZANNETTI, MATRONE, DAMIANI & NAGGI
The story of the movie in comics! When they're not hiding under the bed or lurking in the closet, the monsters that scare human children live and work in the city of Monstropolis. When monsters Mike and Sulley accidentally let a human girl sneak into Monstropolis, they must return her home before anyone notices — or they might lose their jobs at Monsters, Inc.! Plus: Two all-new Monsters, Inc. tales! First, it's that time of year again: Humanween, Mike's and Sulley's annual costume party — where monsters dress up as humans! But Mike panics when he learns of an unplanned visit from…his mother! Then, when Mike forgets a special date he promised his girlfriend, can he get his relationship off the rocks with a little help from his pal Sulley? Collecting MONSTERS, INC. #1-2, MONSTERS, INC.: THE HUMANWEEN PARTY #1 and MONSTERS, INC.: A PERFECT DATE #1.
88 PGS./All Ages …$9.99
ISBN: 978-0-7851-6561-3
PUNISHER: ENTER THE WAR ZONE TPB
Written by GREG RUCKA
Penciled by MARCO CHECCHETTO & CARMINE DI GIANDOMENICO
Cover by MARCO CHECCHETTO
Welcome to the war zone. The Punisher faces off against the Avengers, but it's going to take more than bullets to take down Earth's Mightiest Heroes. It's the matchups you never thought you'd see — Frank Castle vs. Thor, Captain America, Iron Man and more — with his protégé, Rachel Cole, caught in the middle. Does the Punisher have one last trick up his sleeve, or will the Avengers stomp him? A lot? It's time for the Punisher to take his punishment as writer Greg Rucka's powerful run comes to an end. Collecting PUNISHER: WAR ZONE (2012) #1-5.
112 PGS./Parental Advisory …$16.99
ISBN: 978-0-7851-6742-6
SPIDER-MAN 2099 VOL. 1 TPB (NEW PRINTING)
Written by PETER DAVID
Penciled by RICK LEONARDI & KELLEY JONES
Cover by RICK LEONARDI
The year is 2099 — the ultra-rich are above the law, and megacorporations rule. Venture, the Specialist, the Vulture — the future is full of menaces, but none so vile as a corrupt government and the corporations behind it! A scary future needs a hero who's just as creepy — perhaps a wall-crawler of some kind? See the world of tomorrow and the cast who inhabit it as the Spider-Man of 2099 battles evil in both high and low society in the 2099 imprint's flagship title, written by industry legend Peter Da id! Collecting SPIDER-MAN 2099 #1-10.
240 PGS./Rated T …$24.99
ISBN: 978-0-7851-8478-2
MARVEL NOIR: DAREDEVIL/CAGE/IRON MAN TPB
Written by ALEXANDER IRVINE, MIKE BENSON, ADAM GLASS & SCOTT SNYDER
Penciled by TOMM COKER, SHAWN MARTINBROUGH & MANUEL GARCIA
Cover by DENNIS CALERO
Three gritty tales in one hard-hitting collection!
• When you play poker with a liar, you'll always lose — and in Hell's Kitchen during the Great Depression, a town where justice is a game, blind Matt Murdock is about to learn that painful lesson.
• Wealthy adventurer Tony Stark has a deadly addiction to danger. Obsession and a need for fortune and glory ignite his genius mind to find new ways to put himself at risk, but what secret is driving him toward almost certain death?
• Urban legend Luke Cage has been released from Riker's, but he soon finds out there's one hell of a price to being free. Is Luke destined to be a hero for hire? Or just a chump for a double-crossing set-up?
Collecting DAREDEVIL NOIR #1-4, LUKE CAGE NOIR #1-4 and IRON MAN NOIR #1-4.
328 PGS./Parental Advisory …$34.99
ISBN: 978-0-7851-8404-1
MARVEL NOIR: SPIDER-MAN/PUNISHER TPB
Written by DAVID HINE, FABRICE SAPOLSKY & FRANK TIERI
Penciled by CARMINE DI GIANDOMENICO, PAUL AZACETA & ANTONIO FUSO
Cover by PATRICK ZIRCHER
Along came a spider — and an unstoppable, unyielding, merciless force of nature!
• Corrupt mob boss the Goblin and his gang of circus freaks rule 1930s New York. Peter Parker is an embittered young man searching for justice. After the life-changing bite of a mystical arachnid, Peter inherits the force to change the city he loves — but when one crimelord falls, another always rises to take his place. And what's going on in Otto Octavius' lab? The Spider-Man must find out fast, before his friend Robbie Robertson is lost forever.
• The merciless vigilante named the Punisher targets mob boss Dutch Schultz, who calls in big guns Barracuda and Jigsaw to protect him — but the violence is about to engulf the souls of a small-time grocer and his impressionable young boy. Collecting SPIDER-MAN NOIR #1-4, SPIDER-MAN NOIR: EYES WITHOUT A FACE #1-4 and PUNISHER NOIR #1-4.
320 PGS./Parental Advisory …$34.99
ISBN: 978-0-7851-8386-0
X-MEN: GHOSTS TPB
Written by CHRIS CLAREMONT
Penciled by JOHN ROMITA JR., RICK LEONARDI, JUNE BRIGMAN, BARRY WINDSOR-SMITH & ARTHUR ADAMS
Cover by RICK LEONARDI
Banished to the mysterious and dangerous Crossroads by Dr. Strange, the Hulk fights his way back from the edge of insanity; battles the U-Foes, the N'Garai, Klaatu, the Puffball Collective and more; fights alongside newfound friends like the Lady of Life in the City of Death; and comes face to face with three aspects of his own shattered psyche as Bruce Banner struggles to reassert control over his savage alter ego and come to terms with his haunted past! Plus: The story of Banner's birth, and how his tragic childhood shaped the monster within, is revealed! And longtime INCREDIBLE HULK artist Sal Buscema wraps up his decade-long run! The Jade Giant is truly at the crossroads of his life! Collecting INCREDIBLE HULK (1968) #301-313 and ANNUAL #13, and ALPHA FLIGHT (1983) #29.
360 PGS./Rated T …$34.99
ISBN: 978-0-7851-8449-2
AVENGERS: THE COMPLETE COLLECTION BY GEOFF JOHNS VOL. 1 TPB
Written by GEOFF JOHNS
Penciled by KIERON DWYER, GARY FRANK, IVAN REIS & ALAN DAVIS
Cover by GARY FRANK
Superstar writer Geoff Johns takes on the Avengers! They can defeat any super villain — but can the Avengers govern the world? When the capital cities of every country on Earth vanish, the floundering nations turn to the only organization capable of helping them: the Avengers! Then: Thor ascends to Asgard's throne and decides to start answering his worshippers' pleas for help. But not everyone's in favor of divine intervention, and it's Secretary of Defense Iron Man's job to stop the Thunder God's interference — leaving Captain America to play referee between two of the world's biggest super powers! Plus: His memories stolen, an amnesiac Vision must seek help from his creator's reluctant granddaughter to defeat a technological terror left over from WWII! Collecting AVENGERS (1998) #57-63, VISION (2002) #1-4, THOR (1998) #58 and IRON MAN (1998) #64.
312 PGS./Rated T+ …$29.99
ISBN: 978-0-7851-8433-1