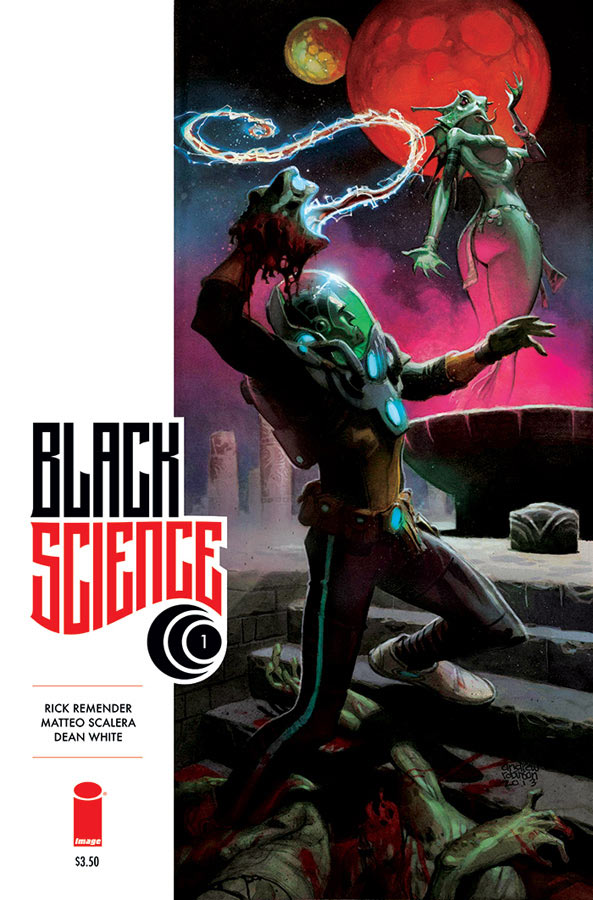 Et voici les sollicitations d'Image pour le mois de novembre prochain, encore marquées par le lancement de nouveaux titres ! on peut se demander s'il ne va pas y avoir surchauffe à un moment. Plus sérieusement on se rend compte que seuls les titres lancés par des gros noms, comme ce mois-ci :
– Rick Remender avec Black Science, nouveau projet SF
– JMS et Protector Inc,
Seuls ces titres ont vraiment une chance de capter l'attention du public dans la masse immense de sorties mensuelles. Pour les autres il y a de grandes chances, sauf grosse surprise de type Revival l'année dernière, qu'il parvienne à s'extraire du fin fond du classement des ventes…C'est dommage et c'est un point qu'il faudrait qu'Image corrige, ainsi que les autres éditeurs, en arrêtant de lancer autant de séries à la fois. Le lectorat est limité et le noyer ne va rien aider.
BLACK SCIENCE #1 — GEM OF THE MONTH
story RICK REMENDER
art MATTEO SCALERA & DEAN WHITE
cover A MATTEO SCALERA & DEAN WHITE
cover B ANDREW ROBINSON
NOVEMBER 27
32 PAGES / FC / M
$3.50
Grant McKay, former member of The Anarchistic Order of Scientists, has finally done the impossible: He has deciphered Black Science and punched through the barriers of reality. But what lies beyond the veil is not epiphany, but chaos. Now Grant and his team are lost, living ghosts shipwrecked on an infinite ocean of alien worlds, barreling through the long-forgotten, ancient, and unimaginable dark realms. The only way is forward. The only question is how far are they willing to go, and how much can they endure, to get home again?
Join writer RICK REMENDER and the superstar art team of MATTEO SCALERA & DEAN WHITE for this face-melting science fiction epic spanning the lifetimes of a cast of dimensional castaways lead by the man who caused it all.
UMBRAL #1 — GEM OF THE MONTH
story ANTONY JOHNSTON
art / cover CHRISTOPHER MITTEN
NOVEMBER 13
40 PAGES / FC / M
$2.99
« THE DAY DAWNED TWICE »
A NEW DARK FANTASY FROM THE CREATORS OF WASTELAND! The young thief called Rascal witnesses the horrific murder of the royal family — now the world's dark legends will be relived, and only Rascal even knows it's happening!
Master worldbuilder ANTONY JOHNSTON (Dead Space, Daredevil) and his Wasteland co-creator CHRISTOPHER MITTEN (Batman, Criminal Macabre) bring you a new fantasy world rich in mythology, history, and blood! Extra-long first issue for the regular price of $2.99!
ALEX + ADA #1
story JONATHAN LUNA & SARAH VAUGHN
art / cover JONATHAN LUNA
NOVEMBER 6
32 PAGES / FC / T+
$2.99
From JONATHAN LUNA (GIRLS, THE SWORD, Spider-Woman, ULTRA) and SARAH VAUGHN (Sparkshooter) comes ALEX + ADA, a sci-fi drama set in the near future. The last thing in the world Alex wanted was an X5, the latest in realistic androids. But when Ada is dropped into his life, will Alex keep her?
This will be JONATHAN LUNA's return to comics after three years off since the end of THE SWORD!
MANIFEST DESTINY #1
story CHRIS DINGESS
art / cover MATTHEW ROBERTS & OWEN GIENI
NOVEMBER 13
32 PAGES / FC / T+
$2.99
In 1804, Captain Meriwether Lewis and Second Lieutenant William Clark set out on an expedition to explore the uncharted American frontier. This is the story of what they discovered lurking in the wilds…
Skybound's newest original series unveils the monsters of the western frontier in the adventure of a lifetime by writer CHRIS DINGESS (Being Human) and up-and-coming artist MATTHEW ROBERTS.
PROTECTORS, INC. #1
story J. MICHAEL STRACZYNSKI
art GORDON PURCELL & MIKE ATIYEH
cover A GORDON PURCELL & MIKE ATIYEH
cover B WHILCE PORTACIO & MIKE ATIYEH
NOVEMBER 6
32 PAGES / FC / M
$2.99
Protectors, Inc.: Heroes in a world without super-powered bad guys. Heroes with corporate sponsors and far too polite rivalries and sporting franchises. Heroes without anything or anyone to fight…until one of them is murdered in ways that could only have been accomplished by someone with equal powers.
Solving the mystery falls to Lieutenant Detective John Riley, an ordinary man whose investigation takes him into a strange and dangerous world light years beyond his abilities to understand and very likely far beyond his capacity to survive. The trail leads to a fifty-year-old secret that could threaten the very existence of Protectors, Inc., an impossible love affair, and a serial killer whose work is not yet finished.
STRANGEWAYS #1 
story ALEX LINK
art RILEY ROSSMO
cover A RILEY ROSSMO
cover B ROC UPCHURCH
NOVEMBER 6
32 PAGES / FC / M
$3.50
When shock-induced visions drive a detective specializing in the paranormal to a small town in South Dakota, he finds himself up against flesh-hungry bog-men, his ex-girlfriend, their mutual ex-girlfriend (did we mention she's a werewolf?), and a demon that's stolen his arsenal of psychedelics. Then things start to get weird. We live in strange times. They call for strange ways!
A VOICE IN THE DARK #1
story / art / cover LARIME TAYLOR
NOVEMBER 20
48 PAGES / BW / T+
$3.99
"BLOOD MAKES NOISE"
It's been 72 days since Zoey killed someone. With her recent move to college, Zoey is eager to start a fresh chapter of her life — one where she can control her dark urges the way she has before. But when she becomes the host of a late-night campus radio show, Zoey must consider if she has given a voice to something far more troubled than her anonymous callers.
'68: HALLOWED GROUND (ONE-SHOT)
story MARK KIDWELL
art JOSH MEDORS, KYLE CHARLES & JAY FOTOS
cover A JOSH MEDORS, NAT JONES & JAY FOTOS
cover B BERNIE WRIGHTSON, NAT JONES & JAY FOTOS
NOVEMBER 6
32 PAGES / FC / M
$3.99
THIS SPECIAL ONE-SHOT IS DEDICATED TO THE LATE JOSH MEDORS AND HIS FAMILY — A SPECIAL STORY FOR A SPECIAL FRIEND.
On February 13, 1968, a passenger train derails in Streiner, Mississippi when a rotting mass of the living dead blocks the tracks. Hundreds are killed and the few desperate survivors are forced to hole up within the confines of the small rural town. Trapped in a tiny church, two soldiers fresh from the killing fields of Vietnam must do their best to defend a handful of civilians from the oncoming horde of flesh-eating cadavers. While a man named for the devil holds the barricaded sanctuary, a sniper in the belfry above practices his deadly trade, slaying the "disciples" of hell from a hundred yards away. Together, they must brave the living nightmares of 1968 and fight to hold their tiny piece of HALLOWED GROUND.
BAD DOG #5
story JOE KELLY
art /cover DIEGO GRECO
NOVEMBER 27
32 PAGES / FC / M
$2.99
« WHAT HAPPENS, STAY, » Part Two
It's a Thanksgiving Miracle! Bad Dog's triumphant return! Lou and Wendell try to survive Vegas, Baker, and the evil Dairy Queen while Lou searches for the meaning of life in Milk.
GØDLAND FINALE 
story JOE CASEY
art / cover TOM SCIOLI
NOVEMBER 27
72 PAGES / FC / T+
$6.99
AT LONG LAST — THE FINALE IS HERE! 72 PAGES OF GIANT GØD-COMICS!
What began eight long years ago comes to its cosmic conclusion! Will all questions be answered? Let's just put it this way: THIS IS IT! The single issue where comic books are changed forever is finally dropping! Buy this book and take the next step!
LAZARUS #5
story GREG RUCKA
art /cover MICHAEL LARK
NOVEMBER 13
32 PAGES / FC / M
$2.99
NEW STORY ARC!
"LIFT," Part One
Following Jonah's betrayal, Forever is beginning to question the nature of family, in particular her own. Waste from all over the Carlyle domain travel to Denver in hopes of improving their lives.
THE ART OF MILLARWORLD HC
introduction MARK MILLAR
cover JOCK
featured artwork and interviews JOHN ROMITA JR., J.G. JONES, LEINIL YU, FRANK QUITELY, DAVE GIBBONS, STEVE MCNIVEN, PETER GROSS, TONY HARRIS, & DUNCAN FEGREDO
NOVEMBER 20
184 PAGES / FC / T+
STANDARD EDITION: $39.99
LIMITED SIGNED & NUMBERED EDITION: $99.99
In the '40s, it was DC. In the '60s, it was Marvel. Now Millarworld has reshaped comics in the 21st century and turned into a powerhouse force to be reckoned with. Riding a wave of grand slam properties ranging from comics to box office smash hits like Wanted, starring Angelina Jolie, and Kick-Ass and Kick-Ass 2, Mark Millar has built an empire by collaborating with the industry's finest artists. In honor of its tenth anniversary, and for the first time, Millarworld collects all the cover artwork from Kick-Ass, WANTED, Superior, The Secret Service, Nemesis, Supercrooks, CHOSEN, WAR HEROES, JUPITER'S LEGACY, and its newest title, MPH. Features behind-the-scenes interviews by the main artist for each title and includes rare, stunning variants by special guest artists like BILL SIENKIEWICZ, ADAM HUGHES, MARC SILVESTRI, BRYAN HITCH, ADAM KUBERT, GEOF DARROW, PHIL NOTO, JOCK, DAVE JOHNSON, and more!
APHRODITE IX: REBIRTH, VOL. 1 TP
story MATT HAWKINS
art / cover STJEPAN SEJIC
NOVEMBER 6
144 PAGES / FC / T+
$9.99
TOP COW'S FAVORITE EMERALD-HAIRED ASSASSIN RETURNS!
Hundreds of years after a cataclysmic event scorched the surface, Earth and its inhabitants have been forever altered and a new landscape and political struggle has taken hold between two distinct factions fighting for control. Aphrodite IX is both anachronism and advanced technology in a world that she no longer recognizes. To survive in this future, she must choose sides in a war that she wants no part in.
Collects APHRODITE IX #1-6
BLACKACRE, VOL. 2 TP
story DUFFY BOUDREAU
art WENDELL CAVALCANTI & ANTONIO FABELA
cover BRIAN CHURILLA
NOVEMBER 6
152 PAGES / FC / M
$14.99
"FAMILY PLANNING"
After finding an unlikely home amongst the holy warriors of Sacred Yoke, Hull and Lee must prove their loyalty — and when Hull's sent on a reconstruction mission, he learns the true price of the church's charity. Meanwhile, two assassins approach from the south, seeking to track down the BlackAcre deserters and eliminate the evidence of the original mission once and for all.
Collects BLACKACRE #6-11
CLONE, VOL. 2 TP
story DAVID SCHULNER, AARON GINSBURG & WADE MCINTYRE
art / cover JUAN JOSE RYP & ANDY TROY
NOVEMBER 27
128 PAGES / FC / T+
$12.99
Luke Taylor's true nature has been revealed, but his fight to rescue his wife and newborn daughter is just beginning. Now that Beta and the second generation of clones have been unleashed, can Luke survive against his younger, stronger, and more ruthless selves?
Collects CLONE #6-10
THE DARKNESS: THE DEATH OF JACKIE ESTACADO GN
story DAVID HINE
art STJEPAN SEJIC
cover DALE KEOWN
NOVEMBER 13
128 PAGES / FC / M
$9.99
THE DARKNESS FALLS!
Darkness-bearer Jackie Estacado perverted reality for his own selfish purposes and now his transgressions have allowed an older, more terrible evil to re-enter our world. Jackie is the only thing standing in the way of Witchblade-bearer Sara Pezzini and her fight to save the universe — and it is time for Jackie to die.
INVINCIBLE UNIVERSE, VOL. 1 TP
story PHIL HESTER
art/ cover TODD NAUCK & GABE ELTAEB
NOVEMBER 6
144 PAGES / FC / T+
$16.99
In the aftermath of INVINCIBLE: THE DEATH OF EVERYONE, Dinosaurus has left his mark on the world. Can heroes from across the universe — Invincible, the Guardians of the Globe, Tech Jacket, the Astounding Wolf-Man, and more — contain the damage? Or are the end times of the Invincible Universe ahead?
Collects INVINCIBLE UNIVERSE #1-6
THE LAST CHRISTMAS HC
story GERRY DUGGAN & BRIAN POSEHN
art RICK REMENDER, HILARY BARTA & MICHELLE MADSEN
cover GEOF DARROW
NOVEMBER 20
176 PAGES / FC / T+
$24.99
The writers behind the hit series Deadpool present the sad, funny, and true story of Santa Claus after the apocalypse. After tragedy strikes the North Pole, Santa turns his back on humanity and gives up on Christmas. Even though the world has been completely overrun by naughty men, there's still one boy that believes in Santa. But could that be the biggest mistake of his life?
Enjoy this modern action-comedy Christmas classic in hardcover for the first time. It's illustrated with love by comic star RICK REMENDER and inked in a wonderful style reminiscent of Mad magazine by HILARY BARTA. This edition has a foreword from PATTON OSWALT and new commentary from the creators, plus the original covers from GEOF DARROW, RICK REMENDER, KIERON DWYER, and TONY MOORE.
Collects THE LAST CHRISTMAS #1-5
MICE TEMPLAR VOLUME 4.1 HC
story BRYAN J.L. GLASS & MICHAEL AVON OEMING
art MICHAEL AVON OEMING & VICTOR SANTOS
cover MICHAEL AVON OEMING
NOVEMBER 20
248 PAGES / FC / T
$29.99
"LEGEND," Part One
The Legend of Karic grows…but its legacy is both greater and darker than the noble young mouse it is said to embody. As every victory is turned against him, Karic confronts his own past and demands answers. And the mad king Icarus launches his great war against creation.
Collects MICE TEMPLAR: LEGEND #1-8
MINIATURE JESUS TP
story / art / cover TED McKEEVER
NOVEMBER 20
136 PAGES / BW / M
$16.99
GOLDEN-AGE SIZE
Critically-acclaimed writer/artist TED McKEEVER returns to the theater of the bizarre, as a small town pastor thinks that the eight-inch Jesus that descended from a cross on the church's wall is the work of the Devil!
Meanwhile, Chomsky, our recovering alcoholic, is about to find out that the constant barrage of screaming voices in his head are not ALL imaginary.
Collets MINIATURE JESUS #1-5
MORNING GLORIES, VOL. 6 TP
story NICK SPENCER
art JOE EISMA
cover RODIN ESQUEJO
NOVEMBER 20
144 PAGES / FC / T+
$14.99
After the climactic events of the Season Two premiere, the Glories and the Truants find themselves more lost than ever before, haunted by the things they've seen and done. Collecting the supense and heartbreak-filled arc DEMERITS.
Collects MORNING GLORIES #30-34
PETER PANZERFAUST DELUXE HC
story KURTIS J. WIEBE
art / cover TYLER JENKINS
DECEMBER 4
264 PAGES / FC / T+
$39.99
OVER-SIZED
ADVANCE SOLICITATION FOR DECEMBER RELEASE!
A coming-of-age tale told through the eyes of a group of French orphans during World War II who are saved by a brave and daring American boy named Peter. As they travel together, they get tangled up in the French Resistance and their efforts against a growing German presence under the leadership of a fanatical hook-handed SS officer hellbent on wiping them out!
Collecting the first 10 issues of this Peter Pan re-imagining, the Deluxe Hardcover contains never before seen illustrations by TYLER JENKINS and reveals the Peter Pan Easter eggs as written by KURTIS J. WIEBE.
SEX, VOL 1: THE SUMMER OF HARD TP
story JOE CASEY
art PIOTR KOWALSKI
NOVEMBER 27
168 PAGES / FC / M
$9.99
DO YOU WANNA BUY TEN BUCKS WORTH OF SEX?
SPECIAL LOW INTRODUCTORY PRICE!
Retired superhero Simon Cooke has returned to Saturn City to live life as a « normal » civilian. Easier said than done! You might've heard about SEX, but nothing beats the real thing!
Collects SEX #1-8
SPAWN: ORIGINS DELUXE EDITION, VOL. 4 HC
story TODD McFARLANE & BRIAN HOLGUIN
art GREG CAPULLO, DANNY MIKI & DWAYNE TURNER
NOVEMBER 13
712 PG / FC / T+
STANDARD EDITION: $100
LIMITED SIGNED & NUMBERED EDITION: $150
SPAWN: ORIGINS DELUXE EDITION, VOL. 4 features iconic stories from SPAWN creator TODD McFARLANE and is chock-full of issues pencilled by superstar artist GREG CAPULLO.
This limited, deluxe, oversized, and slipcased hardcover edition presents 25 previously-released sold-out issues of classic SPAWN stories in an all-new size and format. Additional material includes color and black-and-white cover galleries, never-before-seen art, and all the bonus material from the six-issue TPBs and 12-issue hardcovers as well. This is the absolute top tier of the SPAWN: ORIGINS family of books! It doesn't get any better than this!
Collects SPAWN #76-100.
STORM DOGS, VOL. 1 TP
story DAVID HINE
art DOUG BRAITHWAITE & ULISES ARREOLA
cover DOUG BRAITHWAITE
NOVEMBER 20
160 PAGES / FC / M
$16.99
When a crime team arrives on the frontier planet of Amaranth to investigate a series of mysterious deaths, they begin to uncover secrets that could unravel the fabric of the universe. With elements of westerns, mysteries, and political thrillers, this critically-acclaimed series is far more than just « CSI in Space. » The first season builds an enigmatic and complex world that will surprise and horrify you.
Collects STORM DOGS #1-6
TEN GRAND, VOL. 1 TP
story J. MICHAEL STRACZYNSKI
art / cover BEN TEMPLESMITH
NOVEMBER 13
160 PAGES / FC / M
$12.99
TEN GRAND charts former mob enforcer Joe Fitzgerald's journey into the world of demonology and the ancient powers that threaten to tear down the pillars of Heaven itself in a new war between the forces of light and dark. Can the man willing to die a thousand deaths so he can be with his love for just a few minutes in-between save the lives of an entire world? Or will this be the end of…well, everything? Here's your chance to catch up on the story before leaping into the exciting second half of TEN GRAND's epic story.
Collects TEN GRAND #1-6
THE WALKING DEAD, VOL. 19: MARCH TO WAR TP 
story ROBERT KIRKMAN
art / cover CHARLIE ADLARD
NOVEMBER 13
136 PAGES / BW / M
$14.99
Rick. Ezekiel. Gregory. Negan. Each man holds the fate of their community in their hands… and WAR is on the horizon.
Collects THE WALKING DEAD #109-114
APHRODITE IX #7
story MATT HAWKINS
art / cover STJEPAN SEJIC
NOVEMBER 13
32 PAGES / FC / T+
$2.99
BATTLE OF THE APHRODITES!
Aphrodite IX awoke in a future unfamiliar to her amidst warring civilizations battling over divergent ideologies. In the ruins of this constant strife, Aphrodite has stumbled upon her successor: Aphrodite XV! Will the lethal upgrades of this late-model Aphrodite prove Aphrodite IX's obsolescence?
THE BOUNCE #7
story JOE CASEY
art / cover DAVID MESSINA
NOVEMBER 13
32 PAGES / FC / M
$2.99
THE BOUNCE AND THE VAMP — A MATCH MADE IN HEAVEN!
But how does her sordid history tie in with his? Is the world really as dirty as it feels? Only the Darling knows for sure! Watch out — this issue is live like a suicide!
CHEW #39
story JOHN LAYMAN
art / cover ROB GUILLORY
NOVEMBER 6
32 PAGES / FC / M
$2.99
"FAMILY RECIPES," Part Four
Amelia's been writing again!
CLONE #12
story DAVID SCHULNER, AARON GINSBURG & WADE MCINTYRE
art & cover JUAN JOSE RYP & ANDY TROY
NOVEMBER 20
32 PAGES / FC / T+
$2.99
Who is the leader of the grassroots anti-clone organization that's growing in America? What could drive them to kill the same man again and again?
CYBER FORCE #9
story MARC SILVESTRI
art MARCO TURINI & STJEPAN SEJIC
cover MARC SILVESTRI
NOVEMBER 20
32 PAGES / FC / T+
$2.99
RIPCLAW UNTAMED!
Ripclaw had a wife, a son, and his anonymity before Velocity stumbled into his life with a trigger-happy convoy of S.H.O.C.s on her tail. Now it's time for payback.
EAST OF WEST #8
story JONATHAN HICKMAN
art / cover NICK DRAGOTTA
NOVEMBER 20
32 PAGES / FC / T+
$3.50
"THREE"
We catch up with the three horsemen and gain insight as to what their greater mission is and what plans they have for the Chosen.
ELEPHANTMEN #53
story RICHARD STARKINGS
art AXEL MEDELLIN
cover BOO COOK
NOVEMBER 20
32 PAGES / FC / M
$3.99
« PICKING UP THE PIECES, » Part Three
Farrell and Hip Flask are getting closer to the truth… but will Farrell's past catch up with him?
FIVE GHOSTS #7
story FRANK J. BARBIERE
art / cover CHRIS MOONEYHAM
NOVEMBER 20
32 PAGES / FC / T+
$2.99
NEW STORY ARC!
"LOST COASTLINES," Part One
An all-new pulp adventure begins here!
GHOSTED #5
story JOSHUA WILLIAMSON
art GORAN SUDZUKA & MIROSLAV MRVA
cover SEAN PHILLIPS
NOVEMBER 6
32 PAGES / FC / M
$2.99
Winters escaped one prison only to find himself trapped in the Trask Mansion with the last of his team of ghost thieves. Will their first score also be their last? The first arc ends here!
GREAT PACIFIC #12
story JOE HARRIS
art / cover MARTÍN MORAZZO
NOVEMBER 13
32 PAGES / FC / M
$2.99
"NATION BUILDING," Conclusion
Chas Worthington has survived terrorist attacks, outlaw regimes, enemies abroad, and even more enemies at home. But if New Texas is to become the sustainable plastic nation of his dreams, he'll need to figure out just who his friends truly are.
HOAX HUNTERS #12
story MICHAEL MORECI & STEVE SEELEY
art T-REX JONES
cover CHRISTIAN DIBARI
NOVEMBER 6
32 PAGES / FC / T
$3.50
"THE BOOK OF MOTHMAN," Part Three
The Hoax Hunters' pursuit of cryptids across the Midwest has left them exhausted and ragged. But their work continues as packs of feral chupacabras continue to surge, a new monster poses a deadly threat, and Mothman appears with a warning of doom.
In Argentina, Donovan and Regan come face-to-face with the demon and learn the true power of the Book of All Futures.
INVINCIBLE #108
story ROBERT KIRKMAN
art / cover RYAN OTTLEY & JOHN RAUCH
NOVEMBER 20
32 PAGES / FC / T+
$2.99
Angstrom Levy's life hangs in the balance. Invincible to the rescue?
THE MANHATTAN PROJECTS #18
story JONATHAN HICKMAN
art NICK PITARRA
NOVEMBER 27
32 PAGES / FC / T+
$3.50
"GAME THEORY"
The Manhattan Projects are in peril as the Great Game of the Infinite Oppenheimers is revealed.
MORNING GLORIES #35
story NICK SPENCER
art JOE EISMA
cover RODIN ESQUEJO
NOVEMBER 20
32 PAGES / FC / M
$3.50
« What Faith Is. »
PRETTY DEADLY #2
story KELLY SUE DeCONNICK
art EMMA RÍOS & JORDIE BELLAIRE
cover EMMA RÍOS
NOVEMBER 27
32 PAGES / FC / M
$3.50
The Old West is steeped in violence and strange magic in this macabre tale from the team behind the cult-hit miniseries Osborn, KELLY SUE DeCONNICK (Captain Marvel) and EMMA RÍOS (Dr. Strange). Gunfighters have it out with swords as the whole world burns. There will be blood, blood, blood.
PROPHET #43
story BRANDON GRAHAM
art DAVE TAYLOR
cover SIMON ROY
NOVEMBER 20
32 PAGES / FC / T+
$3.99
BATMAN: DEATH BY DESIGN ARTIST DAVE TAYLOR DRAWS PROPHET!
An Empire Red-Mother is sent to investigate a fallen Prophet arc.
RAT QUEENS #3
story KURTIS J. WIEBE
art / covers ROC UPCHURCH
NOVEMBER 27
32 PAGES / FC / M
$3.50
"GOLD, GUTS AND GROG," Part Three
One tablespoon of cayenne peppers, 2 ounces of 100 proof vodka, and 3 ounces of tomato juice makes one fantastic Bloody Murder. So does double-crossing the Rat Queens and foolishly thinking you can get away with it. Drink up!
SHIPS WITH TWO COVERS THAT CAN BE ORDERED SEPARATELY!
REALITY CHECK #3
story GLEN BRUNSWICK
art / cover VIKTOR BOGDANOVIC
NOVEMBER 6
32 PAGES / FC / T+
$2.99
The evil Devil-Inside has captured Will, Alison, and Dark Hour — and his mood is good — which only means that he plans to kill again. Is it really possible for your worst nightmare to come to life… and murder you?
REVIVAL #15
story TIM SEELEY
art MIKE NORTON
cover JENNY FRISON
NOVEMBER 27
32 PAGES / FC / M
$2.99
Since Revival Day, Dana Cypress has been busy chasing down criminals, undead and alive. But she's spent every spare moment on one special case… finding the murderer of her sister Em. Now, if only Em would stop getting in her way…
ROCKET GIRL #2
story BRANDON MONTCLARE
art / cover AMY REEDER
NOVEMBER 13
32 PAGES / FC / T
$3.50
« BODIES IN MOTION TEND TO STAY IN MOTION…"
Teen future-cop DaYoung Johansson hits 1980s NYC like a meteor. People can't get enough of the Rocket Girl: she's fighting crime, saving citizens, and causing a sensation. But she's also trying to right a wrong in a mystery so deep it could change the future forever. There's a lot more going on here than anyone knows about — and it might be more than the 15-year-old super detective can handle.
« A time-travelling teen police force is the stuff my dreams are made of. It's drawn elegantly and masterfully by Amy Reeder. It looks like she and Brandon Montclare came up with the perfect story to go wild on. »
—FIONA STAPLES, artist of the Eisner Award-winning ongoing series SAGA
SAGA #16
story BRIAN K. VAUGHAN
art / cover FIONA STAPLES
NOVEMBER 13
32 PAGES / FC / M
$2.99
WINNER OF THREE 2013 EISNER AWARDS!
Two war correspondents stumble onto the biggest story in the universe.
SATELLITE SAM #5
story MATT FRACTION
art / cover HOWARD CHAYKIN
NOVEMBER 6
32 PAGES / BW / M
$3.50
The plot sickens as Michael and Kara descend into some dark, DARK places together all in the name of discovering the truth behind Carlyle White's death. The only truth they're going to find is that some hungers never go away. Meanwhile, Guy finds himself between a rock and a hard place as his secret threatens to sneak out. It's sex, death, and live TV the way YOU demanded it from this summer's dark noir smash.
SAVAGE DRAGON #194
story / art / cover ERIK LARSEN
NOVEMBER 20
32 PAGES / FC / T+
$3.99
SAVAGE DRAGON: THE NEXT GENERATION!
Malcolm Dragon has big shoes to fill. His father saved the world on a few occasions and kept Chicago's notorious criminal organization the Vicious Circle at bay for decades — can the younger Dragon hope to live up to the legacy of his famous father? Not if the new nemesis Torment has anything to say about it! With a benevolent voice in one ear and a sadistic one in the other, he may just be the most conflicted killer of them all, and Malcolm Dragon is the only one standing in the path of this fearsome new foe!
SECRET #6
story JONATHAN HICKMAN
art RYAN BODENHEIM & MICHAEL GARLAND
NOVEMBER 20
32 PAGES / FC / T+
$3.50
"KODIAK"
The secrets behind the hidden connection tying the CIA, KGB, and modern Security Companies are finally revealed.
SEX CRIMINALS #3
story MATT FRACTION
art / cover CHIP ZDARSKY
NOVEMBER 13
32 PAGES / FC / M
$3.50
How did these two end up in that bank, with those guns? Because they seemed like such nice kids, right? Well, THE SEX POLICE have the same questions and descend on Susie and Jon. And we get the rest of Jon's gory story — if you read ONE weird sex and time comedy comic this year, make sure it's « My Sexual Errors 1998 — Present! »
SHELTERED #5
story ED BRISSON
art / cover JOHNNIE CHRISTMAS
NOVEMBER 13
32 PAGES / FC / T+
$2.99
Still reeling from the events leading to the death of one of their own, Safe Haven receives an unexpected visit from a group of outsiders. Friends? Or have these outsiders come to take everything that the kids have fought to save?
SIDEKICK #4
story J. MICHAEL STRACZYNSKI
art TOM MANDRAKE & HiFi
cover A TOM MANDRAKE & HiFi
cover B ALINA URUSOV
NOVEMBER 27
32 PAGES / FC / M
$2.99
Barry Chase, a.k.a. Flyboy, returns in shame to Sol City after his failed attempt to start a new career elsewhere under a different name. He finds himself a man without a home, ridiculed by the press and abandoned by those he thought were his friends. Alone… until the notorious female villain Moonglow makes him an offer he may find too good to refuse. Will Flyboy cross the line from hero to villain, and is he prepared to pay the ultimate price for that decision?
SPAWN #237
story TODD McFARLANE
art SZYMON KUDRANSKI
cover TODD McFARLANE
NOVEMBER 6
32 PAGES / FC / T+
$2.99
COGLIOSTRO RETURNS!!!
But is it too late to save Jim Downing from his fate?
Al Simmons' old mentor returns to guide Jim in his journey to control the vast powers that haunt him. But Cog has already betrayed one Spawn. Is he sinister enough to do it again, or is there more to his motivations than simple greed?
The lessons that will shape Jim's future BEGIN HERE! Secrets that rest at the very core of the Spawn mythos are set to be revealed!
THINK TANK #11
story MATT HAWKINS
art / cover RAHSAN EKEDAL
NOVEMBER 27
32 PAGES / BW / T+
$3.99
"OUTBREAK," Part Three
World War III is imminent! And the only person stepping forward to prevent it is the slacker genius Dr. David Loren! Can a lab rat who has never even fired a handgun stop a weapon of mass destruction?
THREE #2
story KIERON GILLEN
art / cover RYAN KELLY & JORDIE BELLAIRE
NOVEMBER 13
32 PAGES / FC / M
$2.99
Three slaughter survivors race towards the free city of Messene. Pursuing them are 300 Spartans. Why? What makes Sparta think that unleashing this isn't massive overkill? What makes a Spartan king agree to lead them? And what secrets do the Helot workers hold that changes everything…
TODD, THE UGLIEST KID ON EARTH #7
story KEN KRISTENSEN
art / cover M.K. PERKER
NOVEMBER 13
32 PAGES / FC / T+
$2.99
« CHARLIE ROSE'S TABLE: PUBLIC BROADCASTING SATAN, » Part Three
Charlie Rose's insidious brainwashing scheme turns Gus and the town into mindless PBS-starved zombies, with Todd and Marxman-the-demon-hunter helpless to stop him. And when the world's most dangerous cosmetologist fails to improve Peggy's looks, there's nowhere to go but down. Meanwhile, Satan's son, Craig, has a breakthrough during family counseling.
VELVET #2
story ED BRUBAKER
art STEVE EPTING & ELIZABETH BREITWEISER
cover STEVE EPTING
NOVEMBER 20
32 PAGES / FC / M
$2.99
On the run from her own agency, Velvet must find out what really got Agent X-14 killed, and the only way to do that is retrace his steps… and that's a pathway of dead bodies, ruined lives, and angry mercenary soldiers. And along the way, one of Velvet's darkest secrets is revealed.
Don't miss the second issue of this white-hot new series, from the hit creators of the CAPTAIN AMERICA: WINTER SOLDIER saga!
THE WALKING DEAD #116
story ROBERT KIRKMAN
art CHARLIE ADLARD, STEFANO GAUDIANO & CLIFF RATHBURN
cover CHARLIE ADLARD & DAVE STEWART
NOVEMBER 13
32 PAGES / BW / M
$2.99
"ALL OUT WAR" continues!
The first battle of the war rages on!
THE WALKING DEAD #117
story ROBERT KIRKMAN
art CHARLIE ADLARD, STEFANO GAUDIANO & CLIFF RATHBURN
cover CHARLIE ADLARD & DAVE STEWART
NOVEMBER 27
32 PAGES / BW / M
$2.99
"ALL OUT WAR" continues!
In the aftermath of the battle of Sanctuary, Ezekiel must survive on his own.
WITCHBLADE #171
story RON MARZ
art LAURA BRAGA
cover A JOHN TYLER CHRISTOPHER
cover B STJEPAN SEJIC
NOVEMBER 6
32 PAGES / FC / T+
$2.99
WITCHBLADE NO MORE!
Sara Pezzini violently ripped the Witchblade from her body and abandoned it. For Sara to begin her life anew, the Witchblade must find and bond with a new host. But not all who wield the Witchblade are worthy to bear the burden of the gauntlet.
ZERO #3
story ALES KOT
art MORGAN JESKE & JORDIE BELLAIRE
cover MORGAN JESKE & TOM MULLER
NOVEMBER 20
32 PAGES / FC / M
$2.99
Rio, 2019. Edward Zero looks in a mirror and the mirror gives him unsettling answers. The mirror being Carlyle, ex-Agency spy, holed up in a favela, running his own gang.