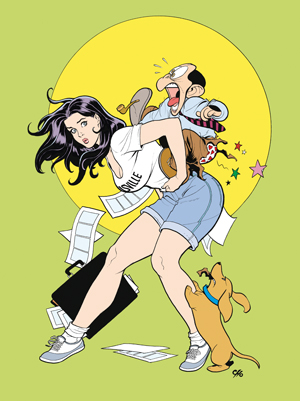 Liberty Meadows revient en France 
Depuis bientôt 15 ans l'auteur Frank Cho produit un strip humoristique du nom de Liberty Meadows. On peut d'ailleurs le suivre gratuitement  sur le site de Frank Cho, de manière quotidienne. Pour ne rien vous cacher je commence chaque journée avant d'aller  travail avec le strip du jour, si bien que je pars au boulot le sourire au lèvres. Un éditeur français avait bien tenté de les adapter il y a quelques années mais sans rencontrer le succès escompté. Cependant il faut admettre que c'était avant que Cho ne bosse pour Marvel et du coup se fasse un nom que la plupart des lecteurs connaissent maintenant.
C'est avec pas mal de retard que j'ai appris aujourd'hui que les éditions Canto allaient retenter l'aventure à la fin de cette année.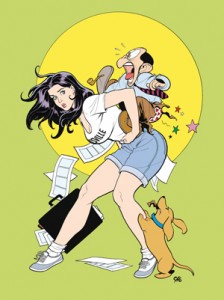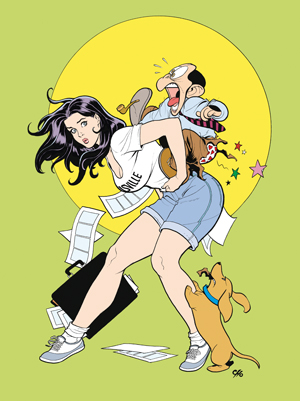 Liberty Meadows raconta la vie un peu dingue d'une ferme pour animaux un peu spéciale, entre Brandy la sculpturale véto, Frank, un bon vieux nerd à lunette, qui bien sûr tombe amoureux de Brandy dans la seconde et une tripotée d'animaux parlants aussi dingues les uns que les autres ! Maintenant il reste à savoir comment ce sera édité, et surtout à quel prix !En tout cas si vous voulez m'offrir quelque chose pour Nöel, sachez que je veux ça …
Spider-island : ça tease sur la fin 
Spider-island est l'évènement du moment dans les séries spider, et comme d'hab Marvel essaye de faire monter un peu plus la sauce, et surtout l'intérêt, avec un nouveau teaser sur la fin de l'arc, et ce alors que le scénariste Dan Slott a déjà promis pas mal de changements :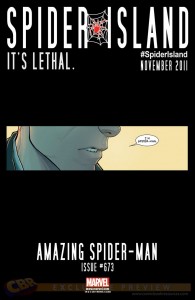 Fearless : Valkyrie contre les FF
Valkyrie est un personnage que Marvel semble décidé à mettre en avant dans les prochains mois, et notamment au travers de la mini-série Fearless, qui fera suite à Fear Itself. A l'origine c'est Ed Brubaker qui avait décidé de l'intégrer dans son cast pour secret avengers, mais nous avons pu voir que comme les autres personnages de cette série, il n'en a pas fait grand chose. C'est Nick Spencer qui a vraiment mis en lumière le perso dans un épisode qui lui entièrement consacré lors de son très court run sur Secret Avengers. L'épisode qui était tie-in à Fear Itself, était sans aucun doute le meilleur de Spencer sur la série, et éclairait de manière innovante le passé de Valkyrie.
Et que fait Marvel pour donner un peu plus d'exposition au personnage, c'est simple, il lui fait rencontrer l'équipe qui marche en ce moment, je parle bien sur des FF :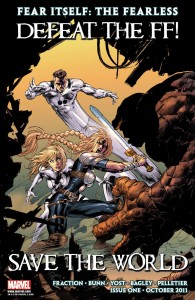 Panini 2012 : une réédition dans la collection Marvel select 
Panini a fait l'annonce suivante :
NEWS ! La saga Marvel Knights de Spider-Man (Millar / Dodson) sera rééditée en février dans la collection Marvel Select (304 pages)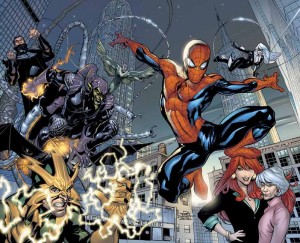 Très sincèrement je ne vois pas l'intérêt de le ressortir cet arc :
– alors que c'est déjà sorti en Deluxe
– que c'est une très mauvaise histoire de Millar,
– que ce n'est même plus dans la continuité après One more day.
Sollicitations DC pour décembre 2011 : Justice League et co
Avec cette nouvelle fournée il ne reste plus grand chose à DC à révéler pour le mois de décémbre !
JUSTICE LEAGUE #4
Written by GEOFF JOHNS
Art and cover by JIM LEE and SCOTT WILLIAMS
1:25 Variant cover by ANDY KUBERT
1:200 B&W Variant cover by JIM LEE
On sale DECEMBER 21 • 40 pg, FC, $3.99 US • RATED T
Combo pack edition: $4.99 US
The superstar team of Geoff Johns and Jim Lee continue the origin of the Justice League as The World's Greatest Heroes face the might of Apokolips – and find aid in an unlikely hero, as Cyborg is created!
Plus, Andy Kubert returns an amazing variant cover – his first new work after the smash-hit FLASHPOINT!
This issue is also offered as a special combo pack edition, polybagged with a redemption code for a digital download of the issue.
AQUAMAN #4
Written by GEOFF JOHNS
Art and cover by IVAN REIS and JOE PRADO
On sale DECEMBER 28 • 32 pg, FC, $2.99 US • RATED T
There are parts of the ocean even Aquaman should not enter. Now Aquaman and Mera must descend into uncharted territory: the smoky black crevice at the bottom of the Atlantic Ocean, home of the cannibalistic creatures known only as the Trench. One last secret behind these loathsome creatures will be revealed as "The Trench" thunders toward its bloodcurdling conclusion!
JUSTICE LEAGUE INTERNATIONAL #4
Written by DAN JURGENS
Art by AARON LOPRESTI and MATT RYAN
Cover by DAVID FINCH and RICHARD FRIEND
On sale DECEMBER 7 • 32 pg, FC, $2.99 US • RATED T
On their first mission, the team has been separated and defeated – or so it seems! But when a new, galactic threat shows its face, will our heroes be able to defeat it or will the whole world suffer destruction on a cosmic scale?
WONDER WOMAN #4
Written by BRIAN AZZARELLO
Art and cover by CLIFF CHIANG
On sale DECEMBER 21 • 32 pg, FC, $2.99 US • RATED T
Wonder Woman has left Paradise Island behind, but Hera is just arriving. Without the Amazons' most powerful daughter to protect them, can they withstand the wrath of a God who once favored them? And why would Zola want Diana to march right back into the eye of the storm?
THE FLASH #4
Written by FRANCIS MANAPUL and BRIAN BUCCELLATO
Art and cover by FRANCIS MANAPUL
Variant cover by ERIC BASALDUA
1:200 B&W Variant cover by FRANCIS MANAPUL
On sale DECEMBER 28 • 32 pg, FC, $2.99 US • RATED T
As Central City remains dark from the recent EMP blast, The Fastest Man Alive remains in hot pursuit of the one who set it off: Mob Rule! What does Mob Rule really want? Learn the rest of his origin right here!
CAPTAIN ATOM #4
Written by J.T. KRUL
Art by FREDDIE WILLIAMS II
Cover by STANLEY "ARTGERM" LAU
On sale DECEMBER 21 • 32 pg, FC, $2.99 US • RATED T
Before he received his godlike powers, Captain Atom was a military man – an Air Force pilot. Now, he's being recruited again to serve his country as only he can. But will Captain Atom go along with his new role as a weapon of mass destruction?

THE FURY OF FIRESTORM: THE NUCLEAR MEN #4
Written by GAIL SIMONE and ETHAN VAN SCIVER
Art by YILDIRAY CINAR
Cover by ETHAN VAN SCIVER
On sale DECEMBER 28 • 32 pg, FC, $2.99 US • RATED T
This issue, the spotlight turns toward the Middle East and sinister forces that wish to get their hands on their very own Nuclear Men! But what is the mysterious connection to Ronnie and Jason? Plus, as the action explodes into all-out meltdown, the boys will have to deal with a wounded friend before time runs out!
GREEN ARROW #4
Written by KEITH GIFFEN and DAN JURGENS
Art by DAN JURGENS and GEORGE PEREZ
Cover by DAVE WILKINS
On sale DECEMBER 7 • 32 pg, FC, $2.99 US • RATED T
It's a Tokyo showdown! At an international tech expo that caters to the likes of WayneTech and Queen Industries, party crasher Green Arrow finds himself in the sights of a mystery woman bent on taking down "evil" corporations – like the one Green Arrow owns!
(Cover #3 shown)
DC UNIVERSE PRESENTS #4
Written by PAUL JENKINS
Art by BERNARD CHANG
Cover by RYAN SOOK
On sale DECEMBER 21 • 32 pg, FC, $2.99 US • RATED T
Step right up, step right up! Watch as Deadman plays "20 Questions" with the enigmatic Son of the Morning on a roller coaster ride like no other! Plus: Ever wonder why good things happen to bad people? Why banks put Braille writing on drive-through ATMs? And just what exactly is the nature of your relationship with God? Then you must read DC UNIVERSE PRESENTS #4!
THE SAVAGE HAWKMAN #4
Written by TONY S. DANIEL
Art and cover by PHILIP TAN
On sale DECEMBER 28 • 32 pg, FC, $2.99 US • RATED T
The exciting conclusion to the Savage Hawkman's first adventure is here! Hawkman battles his way through Dr. Kane's compound, where the alien monstrosity known as Morphicius is sheltered. But in his quest for alien knowledge, Dr. Kane unknowingly jumpstarts what Morphicius refers to as the Black Plague. Can Hawkman contain this deadly outbreak, or will New York soon become infected with lethal, fast-spreading alien organisms?
MISTER TERRIFIC #4
Written by ERIC WALLACE
Art by GIANLUCA GUGLIOTTA and WAYNE FAUCHER
Cover by J.G. JONES
On sale DECEMBER 14 • 32 pg, FC, $2.99 US • RATED T
An alien S.O.S. draws Mister Terrific into the ninth dimension. But what begins as scientific exploration quickly turns deadly when he is taken prisoner by the villainous Kryl. Now the world's third-smartest man must engineer an extraterrestrial jailbreak! Easy, right? But even if he succeeds, how can Mister Terrific escape the inner demons that haunt him?