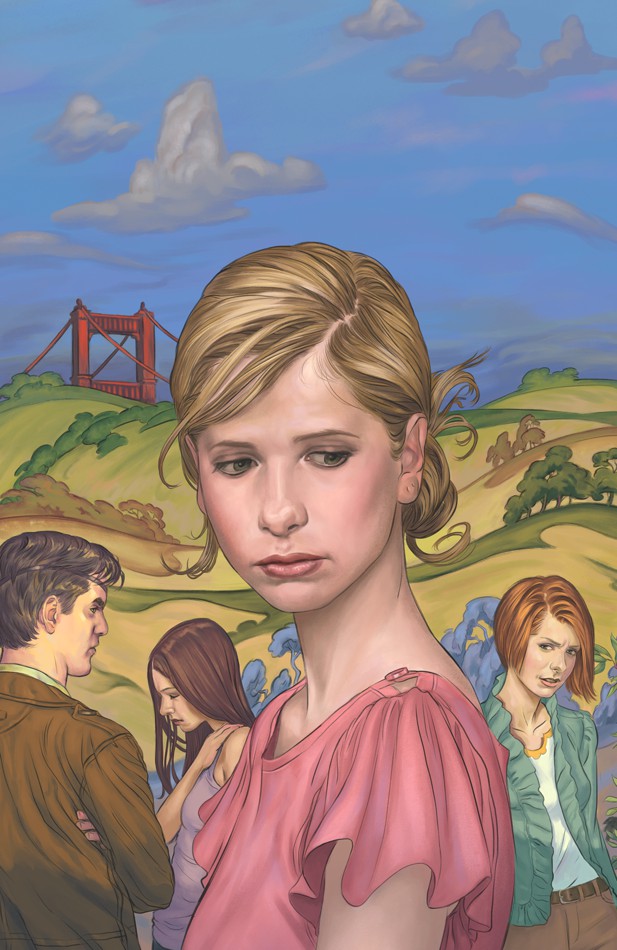 Voici enfin les sollicitations Dark Horse Comics pour le mois de novembre (source Newsrama). Un mois qui à priori s'annonce plus calme, puisque les titres Hellboy sont moins présents, avec une seule mini-série consacrée au BPRD en cours. Comme annoncé, Hellboy ne reviendra pas avant minimum 2012, et étant donné que c'est Mike Mignola qui reprend les crayons, ce sera sans doute plutôt vers fin 2012 qu'en début d'année.
Comme d'habitude les titres du Whedonverse m'intéresse, entre :
– Buffy, mais sans le nom de Whedon au scénario, ce qui m'inquiète un peu. Je sais qu'il a défini la trame générale de cette nouvelle saison, mais bon.. il est vrai qu'il dirige un petit film d'auteur sans prétention en ce moment.
– Angel & Faith et bien sur Dollhouse qui arrive à sa conclusion. Verrons nous dans l'avenir une série régulière sur Dollhouse, ou Firefly ?
ANGEL & FAITH #4
Christos Gage (W), Rebekah Isaacs (A/Variant cover), Dan Jackson (C), and Steve Morris (Cover)
On sale Nov 30
FC, 40 pages
$2.99
Ongoing
As Angel continues his quest to resurrect the dead by following leads he digs out of the Watcher's Files, Faith has second thoughts about supporting his seemingly impossible venture. A new ally warns her to weigh the consequences—good and bad—of Angel's endeavor. Meanwhile, amidst clubbing, mentoring, and slaying, Faith has her own concerns counseling a damaged and vengeance-seeking Slayer! There's pressure from all sides. Can Faith handle it?
• The blood-soaked first-arc finale!
• The Big Bads are here!
BALTIMORE: THE CURSE BELLS #4 (of 5)
Mike Mignola (W/Cover), Christopher Golden (W), Ben Stenbeck (A), and Dave Stewart (C)
On sale Nov 9
FC, 32 pages
$3.50
Miniseries
With the diminutive devil Madame Blavatsky preparing to curse the bells and damn thousands, will Baltimore choose to save the many or be blinded by his personal lust for revenge? Jailbreaks, our hero face to face with the horrific Haigus, teenage torture at the hands of an inquisitor, and more in the penultimate issue of Curse Bells!
• A horrifying take on the vampire genre!
• Scariest vampire nuns EVER!
"Stenbeck's here, cowboys, hide your pencils and brushes. There's a new sheriff in town."—Newsarama
BRIDE OF THE WATER GOD VOLUME 10 TP
Mi-Kyung Yun (W/A)
On sale Jan 18
B&w, 184 pages
$9.99
TP, 5 7/8″ x 8 1/4″
Trapped in a luxurious castle on the moon, Soah's still separated from her husband, Habaek, who's dealing with his own troubles in the Emperor's fortress on Earth. Cursed to live in the body of a child during the day—when his elemental powers are weaker—Habaek is also being manipulated by the Emperor of the gods, who wishes to use Habaek's powers over water to turn the tide in an escalating civil war! The ghost of Habaek's former human bride, his deceptive mother, and a host of bickering, elemental gods are also in the mix, complicating Soah's efforts to be reunited with the one she loves.
• Best-selling series in the United States and Korea—where it's begun a run as a television series.
• Winner of Best New Artist from the Dokja-manhwa-daesang organization!
BROTHERS OF THE SPEAR ARCHIVES VOLUME 1 HC
Gaylord DuBois (W), Russ Manning (A), and Jesse Marsh (A)
On sale Jan 18
FC, 272 pages
$49.99
HC, 7″ x 10″
Young Natongo and his adopted brother Dan-El share a bond much stronger than blood, so when they learn of Dan-El's true father and his lost people, they pledge to discover the secret of his birthright together. Their journey across Africa reveals danger at every turn, but nothing to match the shock of finding Dan-El's home enslaved by an evil witch doctor. With only each other to fall back on, can the brothers of the spear survive battle, exile, shipwreck, and more to overthrow the usurper so Dan-El can take his rightful place as king? Collecting the backup stories from Tarzan #25–#67! Featuring art by comics masters Jesse Marsh and Russ Manning!
• A never-before-reprinted epic from comics' golden age!
BUFFY THE VAMPIRE SLAYER SEASON 9 #3
Andrew Chambliss (W), Georges Jeanty (P/Variant cover), Dexter Vines (I), Michelle Madsen (C), and Steve Morris (Cover)
On sale Nov 9
FC, 40 pages
$2.99
Ongoing
Spike has heard rumblings. Someone, or something, is coming for Buffy—and now, after she recklessly slipped out of police custody, the SFPD is certainly looking. When Buffy's family and friends deny her refuge from the cops, she turns to the streets and slaying, where she discovers there's a new kind of vampire slayer in town . . .
• Buffy stakes her way into a new kind of trouble!
B.P.R.D. HELL ON EARTH: RUSSIA #3 (of 5)
Mike Mignola (W), John Arcudi (W), Tyler Crook (A), Dave Stewart (C), Dave Johnson (Cover)
On sale Nov 23
32 pages
$3.50
Miniseries
While Johann is locked in spectral combat with the spirit of a possessed prisoner of Russia's Special Sciences Service, Kate learns about the deserted town of Rampayedik and its mysterious zombie looters.
"[B.P.R.D. Hell On Earth] is too much fun to go unnoticed."
—Comic Book Resources
B.P.R.D. HELL ON EARTH VOLUME 2: GODS AND MONSTERS TP
Mike Mignola (W/Cover), John Arcudi (W), Guy Davis (A), Tyler Crook (A), and Dave Stewart (C)
On sale Feb 1
FC, 144 pages
$19.99
TP, 7″ x 10″
Between tracking down the vagrant followers of a prescient teen pursued by crablike beasts and dealing with a redneck priest who preaches by way of human mutilation to a trailer park populated by a cult of hillbillies, the B.P.R.D. certainly have their hands full. Can a fractured team wage a winnable war or are they fighting a battle of attrition? B.P.R.D. Hell on Earth: Gods and Monsters continues the series Comics Alliance calls "one of the best books on the stands." Collects B.P.R.D. Hell on Earth: Gods #1-#3 and B.P.R.D. Hell on Earth: Monsters #1-#2.
« The acronym 'B.P.R.D.' has become for us synonymous for a good read. »—MTV Geek
CLASSIC MARVEL CHARACTERS: THE FANTASTIC FOUR #1—MR. FANTASTIC
On sale Nov 23
5 1/2″ tall, limited to 1,000 numbered pieces
Packaged in its own tin box, with a pin-back button and character booklet
$49.95
Appearing in 1961, the Fantastic Four was the first superhero team created by writer-editor Stan Lee and artist and co-plotter Jack Kirby. It ushered in the "Marvel Age" of comics and was an immediate success.
The first statuette in the Fantastic Four Classic Character series is none other than Reed Richards as Mr. Fantastic. The ongoing character lineup will present these characters as they originally appeared, but they are deliberately different than what is common with a modern Marvel collectible sculpture, with features like a rougher surface texture, visible seam lines, and other slightly "distressed" aspects, such as paint application. Sculpted by Yoe! Studio.
CONAN: ROAD OF KINGS #10
Roy Thomas (W), Dan Panosian (A), Dan Jackson (C), and Aleksi Briclot (Cover)
On sale Nov 16
FC, 32 pages
$3.50
Ongoing
With Tarantia under siege, Conan just wants to get out of town, but the promise of a reward wins out. Drafted into an assassination plot, the Cimmerian becomes part of the struggle over who will rule Aquilonia, while still protecting the mother and child in his care. But when the plan falls apart, Conan finds himself up against both an army and the palace dragon!
• Conan the king maker!
• Guest art by Dan Panosian (The Savage Sword of Conan, Ultimate X-Men)!
• "Perfectly accessible for new readers to jump right in to. There's no time like the present to read a good Conan adventure." —IGN
CONAN VOLUME 11: ROAD OF KINGS HC
Roy Thomas (W), Mike Hawthorne (P), John Lucas (I), Jason Gorder (I), Dave Stewart (C), Dan Jackson (C), and Doug Wheatley (Cover)
On sale Feb 1
FC, 152 pages
$24.99
HC, 7″ x 10″
The journey down the legendary Road of Kings is no walk in the park. Being a skilled fighter will only get you so far; you'll also need plenty of gold to keep you going. Luckily, Conan and his companions are skilled at separating the wealthy from their spare treasure! But they'll have to brave monsters, pursuing guards, and the sword-handed Gamesh if they're to reach their final destination. Collects Conan: Road of Kings #1-#6.
"Dark Horse can do next to no wrong when it comes to handling the Conan franchise. Add Roy Thomas, veteran Conan scribe, and you've pretty much got a formula for a quality barbarian yarn." —Comics Bulletin
CRIMINAL MACABRE OMNIBUS VOLUME 2 TP
Steve Niles (W), Kyle Hotz (A), Nick Stakal (A), Casey Jones (A), Michelle Madsen (C), and Fiona Staples (Cover)
On sale Jan 18
FC, 368 pages
$24.99
TP, 6″ x 9″
Cal McDonald, the pill-popping, alcoholic antihero of the hit Criminal Macabre series, is back! Teamed with his undead partner Mo'Lock, Cal protects the sin-infested streets of Los Angeles against a growing horde of zombies, vampires, and occultists!
This trade collects Criminal Macabre Volumes 4-6, the one-shot story Feat of Clay, "The Creepy Tree" and "The Trouble with Brains" from MySpace Dark Horse Presents, and "Hairball" from Dark Horse Presents #102-#105, featured in color for the first time!
• From the creator of 30 Days of Night.
"I literally screamed HOLY $#@% when I put this book down. It is that good . . . Cal McDonald is truly one of the coolest characters in comics."—Ain't it Cool News
DARK HORSE PRESENTS #6
Fábio Moon (W/A/Cover), Peter Hogan (W), Carla Speed McNeil (W/A), Filipe Melo (W), Evan Dorkin (W), Jill Thompson (A), Neal Adams (W/A), Steve Niles (W), Robert Love (W/A/Variant cover), and David Walker (W)
On sale Nov 23
FC, 80 pages
$7.99
Ongoing
Just when you thought it was safe to go back in the comic shop, Dark Horse unleashes another monstrous volume of comics from today's greatest creators! Boasting a brand- new story by Brazilian wunderkind Fábio Moon, this volume also features the second of three new Beasts of Burden stories by Evan Dorkin and Jill Thompson! Throw in continuing stories by Steve Niles, Robert Love, David Walker, Carla Speed McNeil, Filipe Melo, Peter Hogan and Steve Parkhouse, and Howard Chaykin, and you'll find yourself on the receiving end of another eighty-page dose of ad-free thrills!
• A brand new Beasts of Burden story and a new short by Fábio Moon!
DISNEY COMICS & STORIES CLASSIC CHARACTERS #5: THE PHANTOM BLOT
On sale Jan 17
6 1/4″ tall, limited to 750 numbered pieces
Packaged in its own tin box, with a pin-back button and character booklet
$49.95
The fifth character in the Disney Comics & Stories series is a classic villain and longtime nemesis of Mickey Mouse, the Phantom Blot. This sculpture is based on the cover of "Mickey Mouse Outwits the Phantom Blot."
The Disney Comics & Stories series depicts the characters as they were originally presented in the comics, but they are also somewhat more rough-hewn than is common, with features including rough surface textures, visible seam lines, and other slightly "distressed" aspects. Sculpting by Yoe! Studio.
DOLLHOUSE: EPITAPHS #5 (of 5)
Andrew Chambliss (W), Maurissa Tancharoen (W), Jed Whedon (W), Cliff Richards (P), Andy Owens (I), Michelle Madsen (C), Phil Noto (Cover), and Frank Stockton (Variant cover)
On sale Nov 9
FC, 40 pages
$3.50
Miniseries
The Rossum Corporation's tech-induced apocalypse has spread worldwide. Now that the majority of the population is either a mindless killer or a mindless member of a makeshift army, Rossum is once again directing their attention to capturing Echo.
At the edge of Rossum's HQ, Alpha's small army of "dolls" are also attempting to find Echo—she's humanity's only hope for survival. Meanwhile, in Los Angeles, Mag, Griff, and Zone organize their new recruits to take down a radio tower that broadcasts Rossum's Wielder imprint.
• Eliza Dushku's Echo joins the adventure!
EERIE ARCHIVES VOLUME 9 HC
Various (W/A)
On sale Jan 25
b&w, 264 pages
$49.99
HC, 8 3/8″ x 10 7/8″
Eerie Archives Volume 9 collects issues #42-#46 of the original Eerie magazine run. This volume features classic stories from comic-book legends Richard Corben, Doug Moench, Reed Crandall, and Paul Neary, color covers by Luis Dominguez and Sanjulian, as well as mind-melting contributions from Eerie regulars Tom Sutton, Steve Skeates, Esteban Maroto, and Jerry Grandenetti. Whether traveling through space in "Someday" or trapped in a mad scientist's greenhouse in "The Root of Evil," you'll be mesmerized by these timeless tales of horror! This collection also reprints all color stories, letters pages, and articles from the original magazines and features a new foreword by Timothy Truman (modern Creepy, King Conan).
BROTHERS OF THE SPEAR TM and Copyright © 2011 by Random House, Inc.  Under license to Classic Media, LLC.  All rights reserved. Eerie © 2011 New Comic Company.
HOUSE OF NIGHT #1 (of 5)
Kent Dalian (W), P. C. Cast (W), Kristin Cast (W), Joëlle Jones (A), Karl Kerschl (A), Jenny Frison (Cover), and Steve Morris (Variant cover)
On sale Nov 9
FC, 32 pages
$1.00
Miniseries
Until recently, Zoey Redbird was an average high-school student worrying about grades, boys, and breakouts. But priorities have a way of changing when you are marked as a vampyre, enroll in the vampyre academy House of Night, and have to figure out a whole new social hierarchy, affinities for elemental magic, and physiological changes that make you crave blood.
• The magical world of New York Times best-selling authors P. C. Cast and Kristin Cast comes to comics!
• Five million novels sold and legions of loyal fans!
KULL: THE CAT AND THE SKULL #2 (of 4)
David Lapham (W), Gabriel Guzman (P), Dan Jackson (C), and Jo Chen (Cover)
On sale Nov 9
FC, 32 pages
$3.50
Miniseries
With unparalleled military might and the diligent King Kull on the throne, there are few threats to the mighty Valusian empire, but among the top are the snake-men. They have the ability to change their shape to blend in with the populace, striking from the familiar. What, then, could terrify a snake-man? The greatest threats to civilization are just the pawns of a horrible wizard with powers that dwarf the considerable magics of the snake-men. What chance does Kull, a mortal man, stand against a seemingly all-powerful, immortal foe?
• From Stray Bullets creator David Lapham!
• Thulsa Doom attacks!
MASS EFFECT: INVASION #2 (of 4)
Mac Walters (W), John Jackson Miller (W), Omar Francia (A), Michael Atiyeh (C), and Massimo Carnevale (Cover), and Paul Renaud (Variant cover)
On sale Nov 16
FC, 32 pages
$3.50
Miniseries
Space station Omega is under attack by bizarre creatures from the center of the galaxy! Aria T'Loak, pirate queen of Omega, leads the charge against the grotesque invaders, but when the true threat behind them is revealed, Aria is forced to regroup and form a new strategy—or risk losing everything!
• An essential lead-in to Mass Effect 3!
• Preview Mass Effect 3 at MassEffect.com!
THE MIGHTY SKULLBOY ARMY VOLUME 2 TP
Jacob Chabot (W/A)
On sale Jan 25
b&w, 128 pages
$14.99
TP, 6″ x 9″
Skullboy is back with a second volume of manic fun, and the robotic, rascally Unit 1 and super-smart, simian Unit 2 await his orders. They're ready to face any challenge that comes Skullboy's way, from dodge balls to monster brawls—but are you ready? Are you ready for necktie-wearing bears in thinking caps, ninjas in tuxedos, police chases, giant squid battles, time-travel showdowns, not-so-evil duplicates, vengeful pigeons, flying dogs, wrestlers, jungle commando clashes, and more? Well, are you?! That dull expression on your face doesn't fill me with much hope. Well, when you can finally muster the courage and buck up, fill out that Skull Co. application and wait right here. Our secretary will be with you shortly.
•  Jacob Chabot returns with another hilarious collection of Skullboy short stories!
• 2008 Eisner Award-nominee for Best Publication for Teens!
NEON GENESIS EVANGELION: THE SHINJI IKARI RAISING PROJECT VOLUME 10 TP
Osamu Takahashi (W/A)
On sale Jan 11
b&w, 192 pages
$9.99
TP, 5 1/8″ x 7 1/4″
Don't say "crazy"! The campus culture festival is coming up for the students of Class 2-A, and in manga these days that means not only cosplay, but starting an all-girl band! But what are they supposed to do about the fact that the keyboardist, Shinji, isn't, um, a girl? Well, that's when it's time for a little crossplay! Plus, a special bonus 4-koma (four-panel gag strip) feature! Each volume contains four opening pages in full color, fan art, letters, and giveaways!
• The most famous anime franchise of the last twenty years.
• The new anime movie is available from Funimation.
NEON GENESIS EVANGELION IKARI-SHINJI IKUSEI KEIKAKU volume 10
© OSAMU TAKAHASHI 2011.  © GAINAX • khara. First published in Japan by KADOKAWA SHOTEN Publishing Co., Ltd., Tokyo. English translation rights arranged with KADOKAWA SHOTEN Publishing Co., Ltd., Tokyo, through TOHAN CORPORATION, Tokyo.
THE OCCULTIST #1 (of 3)
Tim Seeley (W), Victor Drujiniu (P), Andrew Dalhouse (C), Steve Morris (Cover), and Jenny Frison (25th anniversary variant cover)
On sale Nov 9
FC, 32 pages
$3.50
Miniseries
While harnessing his new powers as the Occultist, college student Rob Bailey must defend himself and those around him from a series of hired Hit mages with unique magical abilities and a serpentine demon known as the Swordbreaker, all determined to kill him and to possess the powerful spell book known as the Sword!
• From the mind of Dark Horse founder Mike Richardson (The Secret, Cut, The Mask)!
• Written by Hack/Slash's Tim Seeley!
• Cover by Steve Morris (Serenity, Dollhouse).
ORCHID #2
Tom Morello (W), Scott Hepburn (A), Dan Jackson (C), and Massimo Carnevale (Cover)
On sale Nov 9
FC, 32 pages
$3.50
Ongoing
Orchid, along with her little brother and an unexpected ally named Simon, find themselves in unknown territory after they're captured and sold by slave traders. Headed toward the feared Fortress Penuel, Simon must mount an escape plan if he's going to rescue his rebel comrades and return the mysterious and powerful mask of General China to its rightful owner—a saint believed to save the oppressed from the wicked Tomo Wolfe.
• A violent, revolutionary fantasy with a soundtrack by Tom Morello (Rage Against the Machine).
SERENITY: THOSE LEFT BEHIND 2ND EDITION HC
Joss Whedon (W), Brett Matthews (W), Will Conrad (A), Laura Martin (C), and Adam Hughes (Cover)
On sale Jan 11
FC, 96 pages
$17.99
HC, 7″ x 10″
The ragtag crew of Serenity—mercenaries, fugitives, and one law-abiding prostitute pursue fast cash and a little peace along the fringes of space. On a scavenger mission that promises a big payoff, they realize too late that they are being played by an old enemy with a grudge.
• A new hardcover edition, featuring the extras previously only available in the limited deluxe edition!
• Written by series creator Joss Whedon and show writer Brett Matthews!
SOLOMON KANE VOLUME 3:  RED SHADOWS TP
Bruce Jones (W), Rahsan Ekedal (P), Dan Jackson (C), and Gregory Manchess (Cover)
On sale Jan 11
FC, 104 pages
$17.99
TP, 7″ x 10″
Solomon Kane faces two of his greatest foes in Africa! Seeking to avenge the horrible murder of a young girl, Solomon Kane chases the feared swordsman Le Loup across the globe, where he finds the villain in league with Songa, the powerful leader of a deceived jungle tribe. Kane finds an ally in the frail, ancient form of magic man N'Longa—but will the old, deposed witch doctor really be able to challenge Songa and save Solomon's life? Collects the four-issue miniseries.
• Comics legend Bruce Jones reenergizes Solomon Kane!
Solomon Kane: Red Shadows © 2011 Solomon Kane Inc. ("SKI"). SOLOMON KANE, and related logos, characters, names, and distinctive likenesses thereof are trademarks or registered trademarks of SKI. All rights reserved.
STAR WARS: CRIMSON EMPIRE III—EMPIRE LOST #2 (of 6)
Mike Richardson (W), Paul Gulacy (A), Michael Bartolo (C), and Dave Dorman (Cover)
On sale Nov 30
FC, 32 pages
$3.50
Miniseries
Kir Kanos, the last surviving member of Emperor Palpatine's Royal Guards, has been "invited" to join a cadre of Imperial officers intent on returning the Empire to its former glory.
Meanwhile, the rising New Republic comes under fire when assassins put Kanos's adversary (and occasional romantic interest) Mirith Sinn in the crosshairs!
• Kir Kanos, Royal Guard and Imperial badass!
STAR WARS: DARK TIMES—OUT OF THE WILDERNESS #5 (of 5)
Randy Stradley (W), Douglas Wheatley (A), Dan Jackson (C), and Pablo Correa (Cover)
On sale Dec 7
FC, 32 pages
$2.99
Miniseries
In a desert wasteland, it comes to a showdown. Using Jedi Dass Jennir's friend Ember Chankeli as a pawn and his own tracking droid as a secret weapon, cold-blooded assassin Falco Sang believes he has the contest rigged. But what he hasn't counted on is not one, but three willing sacrifices. How can you win against opponents who will risk everything?
And even if Sang wins, he still has one big problem: Darth Vader!
• Duel in the desert!
STAR WARS: INVASION—REVELATIONS #5 (of 5)
Tom Taylor (W), Colin Wilson (A), Wes Dzioba (C), and Chris Scalf (Cover)
On sale Nov 16
FC, 32 pages
$3.50
Miniseries
Queen Nina and Princess Kaye have successfully rescued the refugees from the Battle of Shramar, but the Yuuzhan Vong invaders may still have another win for their tally. Or is there another revelation in store?
Meanwhile, on Coruscant, Jedi-in-training Finn Galfridian finds that in trying to prevent an assassination, he may be complicit in one! The next revelation may be about Finn's new mentor!
• Ties directly into the New Jedi Order novels from Del Rey!
STAR WARS: KNIGHT ERRANT—DELUGE #4 (of 5)
John Jackson Miller (W), Iban Coello (P), Sergio Abad (I), Michael Atiyeh (C), and Joe Quinones (Cover)
On sale Nov 16
FC, 32 pages
$3.50
Miniseries
Kerra Holt has her Jedi work cut out for her! As crime lord Zodah the Hutt's massive Stormbringer vessels flood Kerra's homeworld with rain, she does her utmost to herd the listless inhabitants to the safety of higher ground. Meanwhile, Sith Lord Daiman doesn't appreciate Zodah destroying a world that belongs to him! Soon, Kerra will have two armies to fight!
• Double the action! Double the Deluge!
• John Jackson Miller's Knight Errant novel is a New York Times bestseller!
STAR WARS: LEGACY—WAR TP
John Ostrander (W), Jan Duursema (P/Cover), Dan Parsons (I), and Brad Anderson (C)
On sale Jan 11
FC, 144 pages
$19.99
TP, 7″ x 10″
It's an all-out war as the Sith emperor returns from the dead—stronger, more evil, more determined, and prepared to unleash a new secret weapon upon the galaxy! Roan Fel's loyalist Imperials, the Galactic Alliance, and the Jedi are all on the defensive—reeling from the attacks by the unified Sith.
But Cade Skywalker has his own plans for this war—all this time spent running from his legacy has finally shown him that he can't run . . . and he must stand alone against Darth Krayt! Collects the six-issue miniseries.
"It's the sort of epic Star Wars story that you've come to expect from the comic run that introduced us to The Old Republic, only this time it's set in the far future of the Star Wars universe. Legacy: War is highly recommended." —Furious Fanboys
USAGI YOJIMBO #142
Stan Sakai (W/A)
On sale Nov 23
b&w, 24 pages
$3.50
Ongoing
The rabbit ronin becomes an unsuspecting participant as two lords engage in a dangerous, high-stakes gamble. With a state visit from Lord Hikiji nearing, the lords engage in a game of death and honor in which the whole countryside is the playing field.
What a time for Usagi to be in the area . . .
• A tale involving Lord Hikiji, the murderer of Usagi's master!
"Humbly presented but a paragon of its art." —Booklist
WITCHFINDER VOLUME 2: LOST AND GONE FOREVER TP
Mike Mignola (W/Cover), John Arcudi (W), John Severin (A), and Dave Stewart (C)
On sale Jan 25
FC, 136 pages
$17.99
TP, 7″ x 10″
In the hellish frontiers of the American Wild West, nineteenth-century occult investigator Edward Grey finds himself caught in a showdown with an evil witch, bloodthirsty criminals, and zombie cowboys!
EC Comics legend John Severin (Two-Fisted Tales) rejoins the Hellboy line after his stellar debut in B.P.R.D.: War on Frogs! Collects the five-issue miniseries.
• Cover art by Mike Mignola!
• John Severin's weirdest western yet!