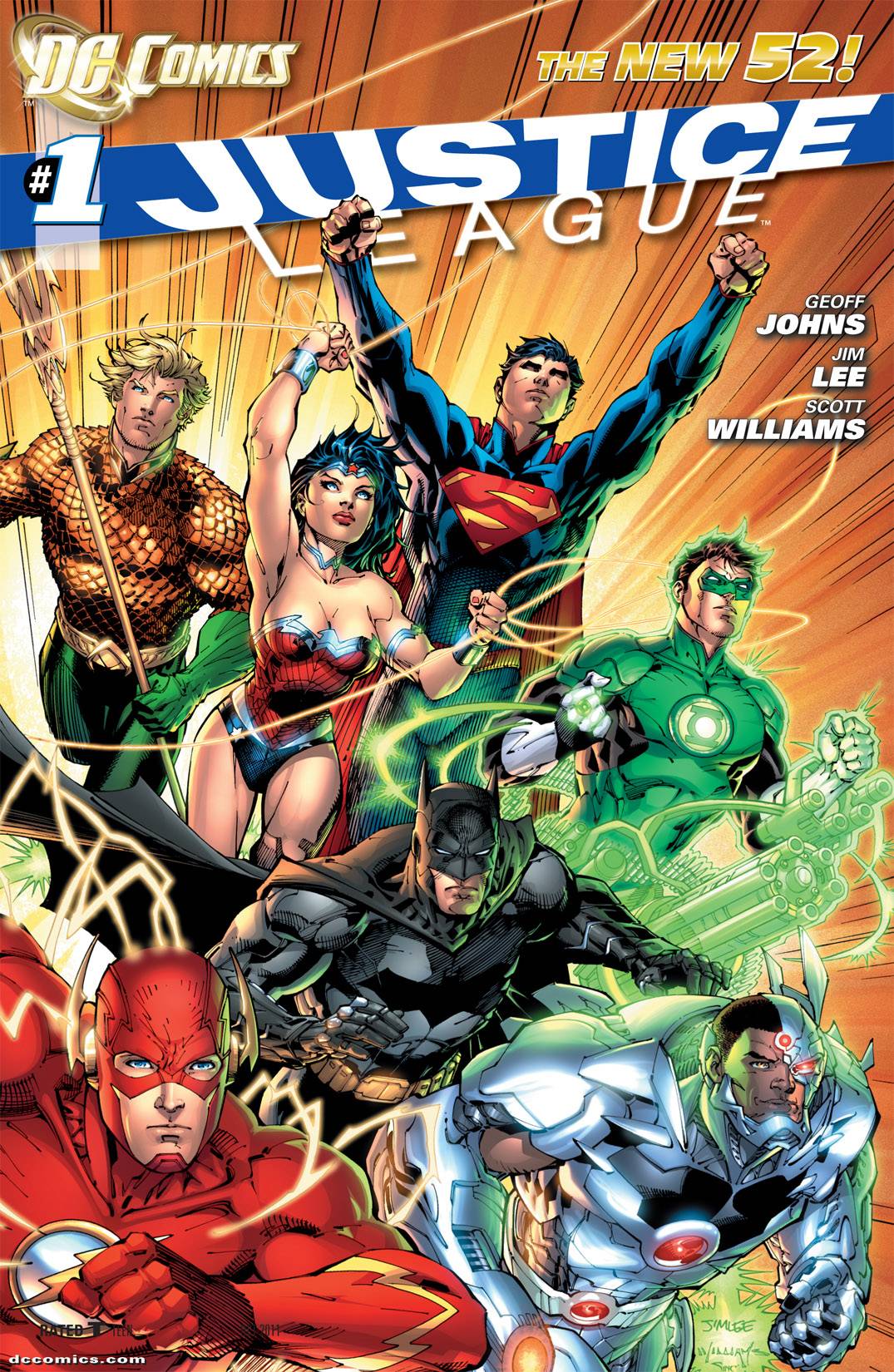 Bien entendu ce sont les ventes de septembre que nous attendons tous avec impatience, mais il faudra patienter jusqu'au mois prochain pour disposer des données. En attendant nous avons les premiers indices pour savoir si la greffe du relaunch DC prend. Comme vous le savez sans doute si vous suivez mes chroniques sur le sujet, ou que vous suivez l'actu, les ventes de comics plongent depuis maintenant plus d'un an à des niveaux tristement bas. Il semblerait que le mois d'août annonce un retournement de tendance. Il ne faut cependant pas s'emballer, si les premières informations indiquent que les titres du relaunch DC s'arrachent, on ne pourra vraiment juger de l'effet positif sur le marché que dans 6 mois à 1 an, quand l'effet du relaunch sera estompé.
Dans l'intervalle on ne va pas goûter notre plaisir, ainsi selon les informations disponibles :
– par rapport à août 2010, les ventes de singles ont augmenté de 14 %, et les ventes de TPB suivent la même tendance !
Plusieurs facteurs dans ce sursaut :
– le mois d'août 2010 était un mois très calme en terme de ventes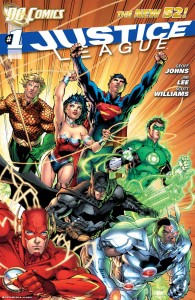 – l'effet Justice League 1, comme vous le voyez le chiffre apparaît à 171 000 précommandes, alors que DC en revendique plus de
200 000. L'estimation de l'éditeur est juste, car il faut ajouter aux 171 000, les ventes du combo qui était un article spécial contenant l'exemplaire papier et digital, qui sont comptabilisées à part. A cela il faut ajouter les ventes en Grande Bretagne, et effectivement on atteint les 200 000.
Il y a quelques jours, le patron du marketing DC a d'ailleurs indiqué que les retours qu'il avait montraient que les chiffres de Justice League seraient supérieurs aux 250 000ex écoulés du précédent relaunch de la JL en 2006, alors que le marché se portait bien mieux. Il ne faut pas oublier que la Justice League en est à sa 3e réimpression, une telle déclaration pourrait donc s'avérer exacte.
– les effets crossovers, même si Fear Itself et Flashpoint semblent souffrir d'une indifférence accrue, bien que j'ai l'impression que les ventes soient stables, ça n'a pas l'air de passionner grand monde.
Parts de marchés : Marvel toujours en tête
Share of Overall Units
Marvel
42.47%
DC
34.84%
Dark Horse
3.79%
IDW
3.74%
Image
4.64%
Dynamic Forces
2.24%
Boom
1.21%
Viz
0.53%
Eaglemoss
0.25%
Archie
1.04%
Zenescope
0.76%
Avatar
0.61%
Fantagraphics
0.14%
Cartoon
0.01%
Top Shelf
0.12%
Random House
0.11%
Oni
0.16%
Hachette
0.13%
Aspen
0.52%
Abstract
0.18%
 DC Comics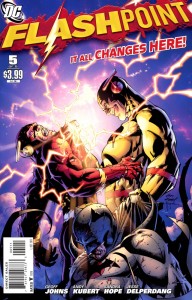 Si DC prendra sans aucun doute la tête du marché en septembre, ce n'est pas le cas en août, mais on peut constater que l'éditeur s'est considérablement rapproché de Marvel, à moins de 8 points. Il s'agit là du meilleur score de DC depuis des années, qui depuis quelques temps ne parvenaient même plus à dépasser les 25 % de parts de marché. Par contre si on étudie les chiffres on constate que l'augmentation de la part de marché de DC est essentiellement dû Justice League, puisque tous les autres titres de l'éditeur connaissent des ventes stables.
Le seul titre a bénéficié d'une hausse est Flashpoint 5 qui pour la première fois passe devant Fear Itself.
Marvel Comics 
Malgré le début de l'offensive DC, Marvel conserve la tête en terme de part de marché. Mais il semble évident que cela va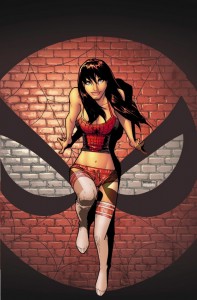 changer dans les mois à venir. Si l'on parle des titres en eux mêmes, on constate un relatif un statut quo, en gros aucun titre ne  connaît de modification. La franchise Vengeurs reste en tête, avec des ventes qui ne sont pas exceptionnelles, et qui en fait semble plus souffrir du crossover Fear Itself que d'en bénéficier. Il faut quand même admettre que Bendis n'a pas l'ait impliqué et du coup fait un peu le service minimum
Le titre qui améliore ses ventes serait plutôt Spider-man, avec le lancement de Spider-island. Le mois dernier le 1er numéro de cet arc prenait la tête des ventes avec des ventes bien au délà des 100 000ex. Je dirais bien retour à la normale, sauf que si le titre perd une grande partie de ces nouveaux lecteurs, il ne perd pas tout, bien que l'on constate une chute étrange entre le 667 et 668 qui revient aux niveaux de ventes de ces derniers mois.
C'est avec une certaine tristesse que l'on peut continuer à suivre le déclin de la franchise X avec des ventes qui restent assez peu reluisantes, pour ce qui était il y a moins de 10 ans la franchise dominant tout et tout le monde. L'évent Schism n'est pas un échec en terme de ventes, mais on constate qu'il s'écoule au même niveau que les autres titres mutants. je me demande vraiment pourquoi Marvel continue de charger la barque en terme de titres comme ils le font alors qu'il faudrait mieux se reconcentrer sur certains. En outre je reste désespéré de voir que des titres que j'adore comme x-23 ou X-Factor restent au fin fond du Top 100…
Image Comics et les indépendants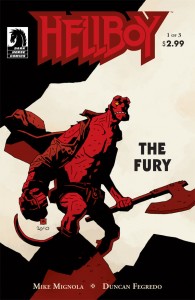 Image perd en part de marché en repassant sous la barre des 5%, mais reprend la 3e place du marché, mais essentiellement en raison de la faiblesse des ses concurrents Dark Horse en tête.
Image qui continue de s'appuyer essentiellement sur Robert Kirkman pour vendre ses comics, puisque les deux seuls titres Image présents dans le TOP 100 sont Walking Dead, stable autour de 30 000ex, et son nouveau titre Infinite avec Rob Liefeld qui démarre assez bien avec plus de 27 000ex !
Au titre des bonnes nouvelles on constate que hellboy : the fury, qui est une merveille, termine très bien avec presque 20 000ex écoulés. De même Rachel Rising, nouvelle série de Tony Moore démarre au dessus en terme de ventes que sa précédente série. Le 1er numéro s'écoule à plus de 10 000ex, là où Echo était stable aux alentours de 8000ex.
Par contre j'ai l'impression que le titre historique d'Image Spawn est sur une phase très dangereuses avec à peine 13 000ex, de même pour Haunt, autre série TMP, qui continue de baisser.
TPB 
Après avoir connu plusieurs mois avec de grosses sorties qui tiraient le marché (comme Walking Dead), le 1er des ventes ce mois-ci est un titre bien plus raisonnable : Serenity, défunte série TV de Joss Whedon, qui a connu des adaptations comics chez Dark Horse.
On notera tout de même les bons scores de la nouvelle édition deluxe de W3, comi-book de grant Morrison et Frank Quitely, alors qu'il s'agit là d'une réédition. De même le 1er TPB de FF de Jonathan Hickman, et encore Walking Dead dont le dernier volume reste dans le Top 10, alors qu'il s'était écoulé à plus de 20 000ex le mois de sa sortie.
Pour voir l'ensemble des ventes TPB 
Comic-book Title
Issue
Price
Publisher
Est. sales
1
Justice League
1
$3.99
DC
171,344
2
Flashpoint
5
$3.99
DC
94,547
3
Fear Itself
5
$3.99
Marvel
90,914
4
Flashpoint
4
$3.99
DC
86,216
5
Ultimate Comics Fallout
4
$3.99
Marvel
73,764
6
Amazing Spider-Man
667
$3.99
Marvel
71,235
7
Avengers
16
$3.99
Marvel
60,295
8
War of the Green Lanterns Aftermath
2
$3.99
DC
57,707
9
Amazing Spider-Man
668
$3.99
Marvel
57,533
10
New Avengers
15
$3.99
Marvel
56,035
11
Uncanny X-Men
542
$3.99
Marvel
54,840
12
Captain America
2
$3.99
Marvel
54,384
13
Kick-Ass 2
3
$2.99
Marvel
54,270
14
Uncanny X-Force
13
$3.99
Marvel
53,904
15
Batman Incorporated
8
$2.99
DC
53,481
16
Green Lantern Corps
63
$2.99
DC
53,372
17
Batman the Dark Knight
5
$2.99
DC
52,908
18
Batman And Robin
26
$2.99
DC
52,704
19
FF
8
$2.99
Marvel
51,917
20
Batman
713
$2.99
DC
51,760
21
Uncanny X-Force
14
$3.99
Marvel
50,770
22
X-Men Schism
3
$3.99
Marvel
50,147
23
Ultimate Comics Ultimates
1
$3.99
Marvel
47,630
24
Secret Avengers
16
$3.99
Marvel
46,317
25
Punisher
1
$3.99
Marvel
44,725
26
Mighty Thor
5
$3.99
Marvel
44,594
27
Green Lantern Emerald Warriors
13
$2.99
DC
44,228
28
X-Men
16
$3.99
Marvel
43,161
29
Justice League of America
60
$2.99
DC
42,587
30
Punisher
2
$2.99
Marvel
42,459
31
Ultimate Comics Fallout
5
$3.99
Marvel
41,336
32
Daredevil
2
$2.99
Marvel
40,990
33
X-Men Legacy
253
$2.99
Marvel
40,466
34
Flashpoint Batman Knight of Vengeance
3
$2.99
DC
40,275
35
Invincible Iron Man
507
$3.99
Marvel
40,082
36
X-Men Legacy
254
$2.99
Marvel
39,896
37
Detective Comics
881
$3.99
DC
39,729
38
Action Comics
904
$2.99
DC
39,323
39
Wolverine
13
$3.99
Marvel
39,296
40
Ultimate Comics Fallout
6
$3.99
Marvel
39,190
41
Wolverine
14
$3.99
Marvel
38,869
42
Incredible Hulks
635
$3.99
Marvel
38,223
43
X-Men
15.1
$2.99
Marvel
38,078
44
Brightest Day Aftermath Search for Swam
3
$2.99
DC
37,509
45
Captain America And Bucky
621
$2.99
Marvel
36,069
46
Superman
714
$2.99
DC
35,919
47
Venom
6
$2.99
Marvel
35,033
48
Teenage Mutant Ninja Turtles Ongoing
1
$3.99
IDW
34,803
49
Fear Itself Uncanny X-Force
2
$2.99
Marvel
34,640
50
Astonishing X-Men
41
$3.99
Marvel
33,470
51
Walking Dead
88
$2.99
Image
31,839
52
Flashpoint Abin Sur the Green Lantern
3
$2.99
DC
31,820
53
Journey Into Mystery
626
$2.99
Marvel
31,549
54
Flashpoint Project Superman
3
$2.99
DC
30,565
55
Ultimate Comics Hawkeye
1
$3.99
Marvel
30,469
56
Moon Knight
4
$3.99
Marvel
30,237
57
Flashpoint Wonder Woman And the Furies
3
$2.99
DC
29,492
58
Flashpoint Emperor Aquaman
3
$2.99
DC
29,491
59
Generation Hope
10
$2.99
Marvel
29,245
60
Wonder Woman
614
$2.99
DC
29,223
61
Hulk
38
$2.99
Marvel
29,059
62
Flashpoint Hal Jordan
3
$2.99
DC
28,911
63
Batman Arkham City
4
$2.99
DC
28,573
64
Booster Gold
47
$2.99
DC
28,295
65
Batman Arkham City
5
$2.99
DC
28,042
66
Journey Into Mystery
626.1
$2.99
Marvel
27,877
67
Flashpoint the World of Flashpoint
3
$2.99
DC
27,743
68
Teen Titans
100
$4.99
DC
27,459
69
Infinite
1
$2.99
Image
27,434
70
Incredible Hulks
634
$2.99
Marvel
27,310
71
New Mutants
29
$2.99
Marvel
27,205
72
Red Robin
26
$2.99
DC
26,939
73
Hulk
39
$2.99
Marvel
26,895
74
Deadpool
42
$2.99
Marvel
26,794
75
Deadpool
41
$2.99
Marvel
26,766
76
New Mutants
30
$2.99
Marvel
26,678
77
Batman Gates of Gotham
4
$2.99
DC
26,533
78
Thunderbolts
161
$2.99
Marvel
26,439
79
Superman Batman
87
$2.99
DC
26,425
80
Birds of Prey
15
$2.99
DC
26,043
81
Flashpoint Deadman and the Flying Grayso
3
$2.99
DC
25,991
82
Thunderbolts
162
$2.99
Marvel
25,990
83
Flashpoint Kid Flash Lost
3
$2.99
DC
25,978
84
Superman Beyond
0
$3.99
DC
25,793
85
Justice Society of America
54
$2.99
DC
25,584
86
Batman Gates of Gotham
5
$2.99
DC
25,376
87
Fear Itself Wolverine
2
$2.99
Marvel
25,268
88
Flashpoint Citizen Cold
3
$2.99
DC
25,009
89
Avengers Academy
17
$2.99
Marvel
24,898
90
Alpha Flight
3
$2.99
Marvel
24,872
91
Flashpoint Deathstroke the Curse of Ravag
3
$2.99
DC
24,634
92
Avengers Academy
18
$2.99
Marvel
24,538
93
Ghost Rider
2
$2.99
Marvel
24,440
94
Flashpoint Lois Lane and the Resistance
3
$2.99
DC
24,060
95
X-23
13
$2.99
Marvel
23,976
96
Green Arrow
15
$2.99
DC
23,883
97
X-Factor
223
$2.99
Marvel
23,854
98
Teen Titans
99
$2.99
DC
23,756
99
Flashpoint Secret Seven
3
$2.99
DC
23,747
100
X-Factor
224
$2.99
Marvel
23,681
101
Flashpoint Frankenstein Creatures of Unkn
3
$2.99
DC
23,131
102
Flashpoint Legion of Doom
3
$2.99
DC
23,088
103
Shield
2
$2.99
Marvel
22,877
104
Angel & Faith
1 Morris Cvr
$2.99
Dark Horse
22,813
105
Fear Itself Deadpool
3
$2.99
Marvel
22,725
106
Batgirl
24
$2.99
DC
22,695
107
Flashpoint the Outsider
3
$2.99
DC
21,839
108
Batman Beyond
8
$2.99
DC
21,838
109
Daken Dark Wolverine
12
$2.99
Marvel
21,734
110
Batman 80 Page Giant 2011
1
$5.99
DC
21,681
111
Legion of Super Heroes
16
$2.99
DC
21,373
112
Daken Dark Wolverine
13
$2.99
Marvel
21,302
113
Superboy
10
$2.99
DC
20,563
114
Spider-Island Cloak And Dagger
1
$2.99
Marvel
20,348
115
Black Panther Man Without Fear
522
$2.99
Marvel
20,342
116
Superboy
11
$2.99
DC
20,317
117
Gotham City Sirens
26
$2.99
DC
20,216
118
Fear Itself Home Front
5
$3.99
Marvel
19,956
119
Spider-Island Deadly Foes
1
$4.99
Marvel
19,956
120
Supergirl
67
$2.99
DC
19,764
121
Hellboy the Fury
3
$2.99
Dark Horse
19,674
122
Wolverine Best There Is
9
$3.99
Marvel
19,476
123
Adventure Comics
529
$2.99
DC
19,227
124
Secret Six
36
$2.99
DC
19,104
125
Green Lantern Movie Prequel Sinestro
1
$2.99
DC
18,918
126
Mystic
1
$2.99
Marvel
18,783
127
Star Wars Dark Times Out of the Wildernes
1
$2.99
Dark Horse
18,548
128
Spider-Island Amazing Spider-Girl
1
$2.99
Marvel
18,394
129
Fables
108
$2.99
DC
18,390
130
Heroes For Hire
10
$2.99
Marvel
18,374
131
Titans
38
$2.99
DC
18,035
132
Boys
57
$3.99
Dynamic Forces
17,884
133
Punishermax
16
$3.99
Marvel
17,625
134
Kevin Smith Bionic Man
1
$3.99
Dynamic Forces
17,187
135
Zatanna
16
$2.99
DC
17,076
136
Iron Man 2.0
7.1
$2.99
Marvel
16,984
137
Fear Itself Deep
3
$2.99
Marvel
16,918
138
Vengeance
2
$3.99
Marvel
16,895
139
Herc
6
$2.99
Marvel
16,730
140
DC Universe Online Legends
13
$2.99
DC
16,540
141
Power Girl
27
$2.99
DC
16,491
142
Fear Itself Youth In Revolt
4
$2.99
Marvel
16,478
143
Iron Man 2.0
8
$2.99
Marvel
16,455
144
Dark Tower Gunslinger Battle of Tull
3
$3.99
Marvel
16,337
145
Red Skull
2
$2.99
Marvel
16,166
146
Fear Itself Fearsome Four
3
$2.99
Marvel
16,099
147
DC Universe Online Legends
14
$2.99
DC
16,018
148
Spider-Island Deadly Hands of Kung Fu
1
$2.99
Marvel
15,907
149
Marvel Universe Vs Wolverine
3
$3.99
Marvel
15,583
150
Star Wars Knight Errant Deluge
1
$3.50
Dark Horse
15,448
151
American Vampire
18
$2.99
DC
15,423
152
Boys Butcher Baker Candlestickmaker
2
$3.99
Dynamic Forces
15,168
153
Invincible
82
$2.99
Image
15,105
154
Star Wars Invasion Revelations
2
$3.50
Dark Horse
14,829
155
Rocketeer Adventures
4
$3.99
IDW
14,749
156
Star Wars Old Republic
3
$3.50
Dark Horse
14,741
157
American Vampire Survival of the Fittest
3
$2.99
DC
14,696
158
Deadpoolmax
11
$3.99
Marvel
14,626
159
Stand Night Has Come
1
$3.99
Marvel
14,510
160
Justice League
1 Combo Pack
$4.99
DC
14,432
161
Star Wars Jedi Dark Side
4
$2.99
Dark Horse
14,425
162
Spawn
210
$2.99
Image
14,100
163
Herc
6.1
$2.99
Marvel
13,990
164
Haunt
17
$2.99
Image
13,443
165
Warlord of Mars Dejah Thoris
5
$3.99
Dynamic Forces
13,331
166
Criminal Last of Innocent
3
$3.50
Marvel
13,265
167
Iron Age
3
$4.99
Marvel
13,036
168
Thor Heaven And Earth
2
$2.99
Marvel
12,696
169
Hero Comics 2011
$3.99
IDW
12,668
170
Wolverine And Black Cat Claws 2
2
$3.99
Marvel
12,668
171
DC Retroactive Batman the 80s
1
$4.99
DC
12,534
172
Godzilla Kingdom of Monsters
6
$3.99
IDW
12,524
173
Vampirella
9
$3.99
Dynamic Forces
12,459
174
Red Wing
2
$3.50
Image
12,368
175
Dollhouse Epitaphs
2
$3.50
Dark Horse
12,366
176
Chew
20
$2.99
Image
12,202
177
Iron Age Omega
1
$2.99
Marvel
12,144
178
Conan Road of Kings
7
$3.50
Dark Horse
11,955
179
DC Retroactive Batman the 90s
1
$4.99
DC
11,609
180
DC Retroactive Green Lantern the 80s
1
$4.99
DC
11,398
181
Captain America Corps
3
$2.99
Marvel
11,394
182
BPRD Hell On Earth Monsters
2
$3.50
Dark Horse
11,221
183
DC Retroactive Justice League America th
1
$4.99
DC
11,205
184
Hellraiser
4
$3.99
Boom
11,096
185
DC Retroactive Superman the 80s
1
$4.99
DC
11,072
186
Rachel Rising
1
$3.99
Abstract
10,989
187
Thor Heaven And Earth
3
$2.99
Marvel
10,948
188
Artifacts
9
$3.99
Image
10,942
189
G.I. Joe Vol. 2 Ongoing
4
$3.99
IDW
10,824
190
Baltimore Curse Bells
1
$3.50
Dark Horse
10,797
191
Unwritten
28
$2.99
DC
10,731
192
Morning Glories
11
$2.99
Image
10,653
193
DC Retroactive Justice League America th
1
$4.99
DC
10,583
194
Severed
1
$2.99
Image
10,573
195
DC Retroactive Green Lantern the 90s
1
$4.99
DC
10,527
196
Godzilla Gangsters & Goliaths
3
$3.99
IDW
10,525
197
Fear Itself Fellowship of Fear Fear
$3.99
Marvel
10,448
198
DC Retroactive the Flash the 80s
1
$4.99
DC
10,446
199
Jonah Hex
70
$2.99
DC
10,369
200
Transformers Ongoing
23
$3.99
IDW
10,327
201
Transformers Ongoing
24
$3.99
IDW
10,097
202
DC Retroactive Wonder Woman the 80s
1
$4.99
DC
10,079
203
Supreme Power
3
$3.99
Marvel
10,040
204
Dungeons & Dragons Drizzt
1
$3.99
IDW
9,855
205
Warlord of Mars Fall of Barsoom
2
$3.99
Dynamic Forces
9,812
206
G.I. Joe A Real American Hero
169
$3.99
IDW
9,670
207
Izombie
16
$2.99
DC
9,568
208
DC Retroactive the Flash the 90s
1
$4.99
DC
9,512
209
Sonic the Hedgehog
228
$2.99
Archie
9,444
210
DC Retroactive Superman the 90s
1
$4.99
DC
9,443
211
Sonic the Hedgehog
227
$2.99
Archie
9,419
212
Hellblazer
282
$2.99
DC
9,372
213
Mystery Men
4
$2.99
Marvel
9,300
214
DC Retroactive Wonder Woman the 90s
1
$4.99
DC
9,290
215
Snake Eyes Ongoing
4
$3.99
IDW
9,288
216
Dungeons And Dragons
9
$3.99
IDW
8,987
217
Dark Horse Presents
3 Gibbons Cvr
$7.99
Dark Horse
8,931
218
Mega Man
4 Spaz Cvr
$2.99
Archie
8,900
219
Irredeemable
28
$3.99
Boom
8,820
220
All Winners Squad Band of Heroes
3
$2.99
Marvel
8,766
221
Lady Death
8
$3.99
Avatar
8,681
222
Dungeons And Dragons
10
$3.99
IDW
8,546
223
Goon
35
$3.50
Dark Horse
8,528
224
Zombies Christmas Carol
4
$3.99
Marvel
8,513
225
Witchblade
147
$3.99
Image
8,487
226
Thunder Agents
10
$2.99
DC
8,453
227
Gambit From the Marvel Vault
1
$2.99
Marvel
8,441
228
War Goddess
0
$3.99
Avatar
8,427
229
Planet of the Apes
5
$1.00
Boom
8,386
230
Grimm Fairy Tales
63
$2.99
Zenescope
8,086
231
Young Justice
7
$2.99
DC
8,062
232
Sweet Tooth
24
$2.99
DC
7,948
233
Suicide Girls
4
$3.99
IDW
7,902
234
Spongebob Comics
4
$2.99
United Plankton
7,889
235
Red Sonja
57
$3.99
Dynamic Forces
7,888
236
X-Men Schism
1
$4.99
Marvel
7,792
237
Locke & Key Clockworks
2
$3.99
IDW
7,686
238
John Byrne Next Men
9
$3.99
IDW
7,651
239
Tiny Titans
43
$2.99
DC
7,534
240
Zombies Christmas Carol
5
$3.99
Marvel
7,514
241
Doctor Who Ongoing Vol. 2
8
$3.99
IDW
7,480
242
Sergio Aragones Funnies
2
$3.50
Bongo
7,439
243
X-Men Schism
2
$3.99
Marvel
7,346
244
Roger Langridge Snarked
0
$1.00
Boom
7,159
245
Sonic Universe
31
$2.99
Archie
7,038
246
Spirit
17
$2.99
DC
7,032
247
Incorruptible
21
$3.99
Boom
7,015
248
Northlanders
43
$2.99
DC
6,901
249
Anne Rice Servant of the Bones
1
$3.99
IDW
6,884
250
Green Hornet Year One
11
$3.99
Dynamic Forces
6,839
251
Queen Sonja
19
$3.99
Dynamic Forces
6,816
252
Simpsons Comics
181
$2.99
Bongo
6,796
253
Anita Blake Circus of Damned Ingenue
5
$3.99
Marvel
6,712
254
Amazing Spider-Man Infested
1
$3.99
Marvel
6,692
255
Xombi
6
$2.99
DC
6,669
256
Elric the Balance Lost
2
$3.99
Boom
6,643
257
Zorro Rides Again
1
$3.99
Dynamic Forces
6,569
258
Caligula
3
$3.99
Avatar
6,560
259
Tales From Neverland
3
$3.99
Zenescope
6,531
260
House of Mystery
40
$2.99
DC
6,512
261
Ka-Zar
3
$2.99
Marvel
6,475
262
Doctor Who Annual 2011
$7.99
IDW
6,453
263
Grimm Fairy Tales
62
$2.99
Zenescope
6,452
264
Scalped
51
$2.99
DC
6,409
265
Fathom Blue Descent
3 Cvr A Alex Sanchez
$2.99
Aspen
6,398
266
All New Batman the Brave And the Bold
10
$2.99
DC
6,351
267
Doc Savage
17
$2.99
DC
6,312
268
Last Phantom
8
$3.99
Dynamic Forces
6,172
269
Fly
3 A Cvr Ebas
$2.99
Zenescope
6,133
270
50 Girls 50
3
$2.99
Image
6,127
271
Sinbad Gft Dream Eater One Shot
$2.99
Zenescope
6,059
272
Veronica
208
$2.99
Archie
5,981
273
68 (Sixty Eight)
3
$3.99
Image
5,954
274
Soulfire Vol. 3
3 Cvr A Fabok
$2.99
Aspen
5,895
275
Executive Assistant Iris Vol. 2
2 Cvr A Francisco
$3.50
Aspen
5,843
276
The Rinse
1
$1.00
Boom
5,819
277
War Goddess
1
$3.99
Avatar
5,789
278
Zorro Rides Again
2
$3.99
Dynamic Forces
5,740
279
Hack Slash Eva Monsters Ball
3
$3.99
Dynamic Forces
5,726
280
Dmz
68
$2.99
DC
5,668
281
Spider-Man Emergence Evil Jackal And Hob
1
$4.99
Marvel
5,666
282
Night of the Living Dead Death Valley
3
$3.99
Avatar
5,527
283
Bart Simpson Comics
62
$2.99
Bongo
5,462
284
Warehouse 13
1
$3.99
Dynamic Forces
5,380
285
Grimm Fairy Tales Annual 2011
$5.99
Zenescope
5,349
286
Darkwing Duck
15
$3.99
Boom
5,312
287
Butcher Baker Righteous Maker
6
$2.99
Image
5,256
288
Salems Daughter Haunting
1 A Cvr Artgerm
$2.99
Zenescope
5,171
289
30 Days of Night Night Again
4
$3.99
IDW
5,157
290
Vescell
1
$2.99
Image
5,094
291
Damaged
1
$3.99
Radical
4,977
292
Usagi Yojimbo
139
$3.50
Dark Horse
4,769
293
Savage Dragon
172
$3.50
Image
4,717
294
Savage Dragon
173
$3.50
Image
4,712
295
Avengelyne
2
$2.99
Image
4,710
296
Scooby Doo Where Are You
12
$2.99
DC
4,686
297
Spider-Man
17
$2.99
Marvel
4,675
298
Strawberry Shortcake Berry Fun
1
$3.95
Ape
4,581
299
Chronicles of Wormwood Last Battle
6
$4.99
Avatar
4,532
300
Blue Estate
5
$2.99
Image
4,514