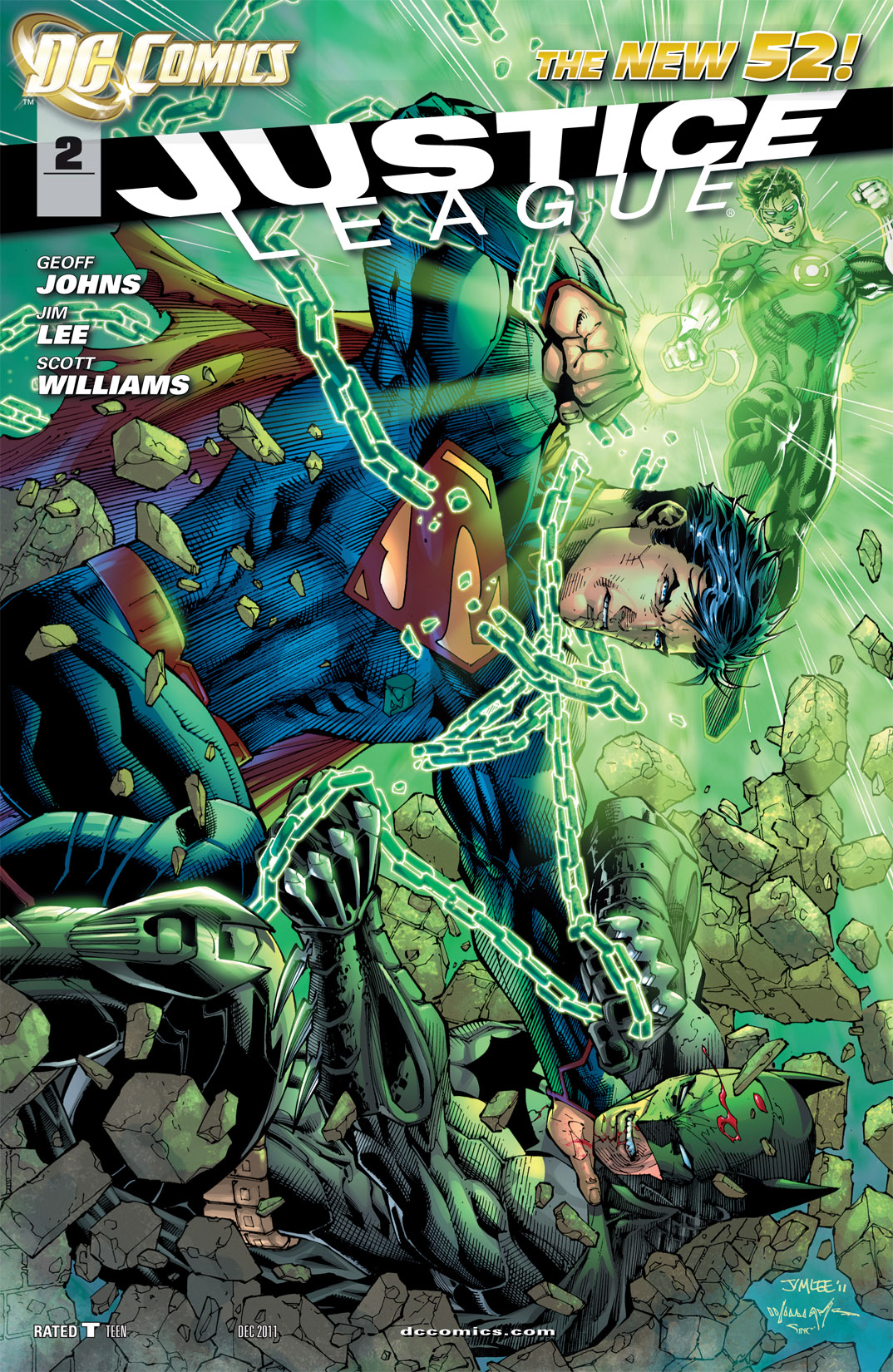 Voici donc les données sur les ventes de comics pour le mois d'octobre. Comme le mois précédent, ces informations étaient assez attendues. Après un départ canon, nous nous demandions tous si l'effet du relaunch s'épuiserait dès l'épisode 2 pour DC. Et bien il semblerait que non
 Une progression gobale des ventes 
Je pense que c'est là la plus grande surprise de ce mois d'octobre. On se doutait bien que les ventes seraient supérieures à celles d'Octovre 2010 ( +12%), mais on ne s'attendait pas à ce que les ventes progressent entre septembre et octobre 2011 (+2,67%).  Voilà quelque chose que j'avais pas vu venir. Le scénario habituel des relaunch, en tout cas ces dernières années, est une hausse des ventes pour le numéro 1, puis une baisse avec le numéro 2 et dans les 6 mois un retour au niveau précédent le relaunch.
C'est en tout cas le cas de figure de tous les relaunch DC ou marvel de ces dernières années. Mais dans le cas présent le caractère massif du relaunch DC semble avoir crée un effet d'entrainement. Non seulement les lecteurs traditionnels sont restés, mais les nouveaux lecteurs aussi…
DC toujours au top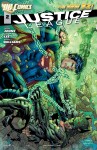 C'est bien simple avec son opération DC a complètement inversé la hiérarchie du monde des comics,  puisque avec plus de 42% de part de marché, DC s'adjuge le niveau habituel de … marvel. Pour la première fois depuis … des décennies je pense, DC domine largement son concurrent.
L'autre surprise est la stabilité assez incroyable de l'ensemble des titres DC. C'est bien simple, à certains moments on pourrait reprendre très exactement le classement de septembre et on ne verrait pas la différence. En fait si il y a une différence, les titres qui se sont distingués par leur qualité ont augmenté leurs ventes entre septembre et octobre. Les meilleurs exemples sont des chouchous comme
– Animal Man. Il n'était même pas dans le Top 50 le mois dernier (57e), exploit qu'il accomplit en octobre (42e pour 48 000ex écoulés)
– idem pour Swamp Thing, ou Wonder Woman, Demon Knights, Frankenstein, Resurrection Man.
Les autres titres sont d'une étonnante stabilité, seul certains titres semblent vraiment perdre des lecteurs comme Superman qui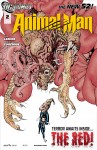 sort carrément du TOP 10, et quelques dizaines de milliers de lecteurs (ce qui est dommage). Mais on peut voir le même phénomène pour Action Comics qui devançait Batman le mois dernier et en octobre passe derrière et pas qu'un peu.Dans la même veine les titres erreintés par la critiques comme Firestorm, Hawk and Dove, Captain Atom
En fait ça marche tellement bien que même certains retirages de premiers épisodes se vendent mieux que certains titres marvel ! ainsi Aquaman, Detective Comics et Green Lantern, sont dans le Top 100, bien avant des titres comme X-Factor ou X-23…
Par contre les nouveaux titres lancés en octobre semblent avoir moins de succès, comme Shade (82e pour 30 000ex), Huntress (66e pour 36 000ex) ou la mini Penguin (96e pour 26 000ex). En même temps on peut voir qu'il ne s'agit pas de gros titres.
Marvel est le nouveau DC ?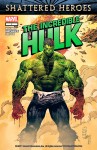 Avec « à peine » un peu plus de 29% de part de marché, marvel a la part de marché de … DC il y a quelques mois ! Et il faut bien dire que la compagnie a l'air de tirer un peu la langue derrière et semble avoir beaucoup de mal à attirer l'attention sur ses titres, qui ont l'air de stagner là où les titres DC se sont largement renouvelés. Ainsi si l'on observe le Top 25, on voit que marvel ne détient que 6 places ! Les titres du milieu comme on pourrait les appeler, et qui ont longtemps permis à Marvel de dominer le marché, là où DC n'avaient que quelques grosses ventes, puis un gros vide entre la 10e et 30e place, sont maintenant surclassés.
C'est bien simple ceux qui auparavant constituaient  les meilleures ventes de marvel, sont aujourd'hui relégués vers la 20e place. Ainsi Avengers, encore il y a quelque mois la meilleure vente marvel est 26e, mais l'on peut voir que les ventes avec 58 000ex sont stables. En fait ce qui a changé est simple.
Le niveau des ventes générales s'est élevé, mais pas Marvel. Dans un marché déprimé ils étaient en tête, mais aujourd'hui avec le regain de vigueur que nous connaissons, ils sont largement distancés. Cela ne signifie qu'une chose : marvel n'attire plus de nouveaux lecteurs, et ne fait que conserver la même base de fidèles.
On pourrait penser que comme l'éditeur arrive à placer deux titres à un haut niveau, Hulk et Wolverine and the X-Men, la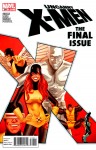 maison des idées a sonné la contre offensive. Oui mais non. Marvel souffre aujourd'hui de son nombre trop grand de relaunch. Oui je sais c'est ironique vu l'opération de DC. Mais en réalité, si l'on observe les relaunch Marvel de ces dernières années, on s'aperçoit qu'une fois l'effet collector du numéro 1 passé, les séries reviennent assez vite à leur niveau pré relaunch.
En fait il y a quand même une surprise, le fait que Hulk se vende plus que la nouvelle série Wolverine and the X-Men. Je pense qu'il faudra voir une fois passé l'effet Marc Silvestri dessine d'un côté, et le bouche à oreille très favorable pour WATXM, si la tendance ne s'inverse pas. En tout cas cela faisait très longtemps que des titres X-men n'avaient pas dépassés les titres vengeurs, en effet tant Uncanny que sa série soeur dépassent Avengers. A voir si cela dure une fois le relaunch loin derrière.
Les indépendants résistent 
En terme de part de marché ils résistent bien, sans doute parce que les parts de marché des deux gros n'ont pas varié, aux alentours de 70%. En gros ils se partagent encore la même petite part du gâteau.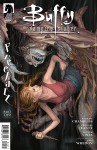 Ainsi chez Dark Horse les nouvelles séries Buffy ont fait du bien à la part de marché ! je suis ravi de voir que le second épisode de la nouvelle saison de Buffy resiste encore bien avec 36 000ex, et ne perd que peu de lecteurs par rapport au 1. Par contre pourquoi Angel & Faith est loin derrière ? elle est bien cette série  les gens !!!
Côté Image toujours Walking Dead en tête des ventes, et plutôt stable en plus malgré la plus grande concurrence. Sinon le reste du troupeau reste loin derrière, et complètement absent du Top 100…
Les premières données sur le digital
Bien que pour le moment les chiffres de ventes digitales restent top secrètes, on se demande bien pourquoi … un des responsables DC a donné un premier indice sur leur importance. Il semblerait qu'elles représentent aujourd'hui l'équivalent de 10% des ventes papier de DC. Cela peut paraître modeste, mais étant donné les ventes papier actuelles de DC c'est très bien.
Il serait cependant temps de nous donner les vrais chiffres.
TPB
Côté TPB ce n'est pas vraiment la joie, avec une baisse des ventes de 9%. Il faudra sans doute attendre les recueils des séries du
relaunch DC, pour les retardataires, pour voir à nouveau une progression des ventes.
En tête on retrouve en petit leader le TPB de flashpoint, quelle surprise ! acheté par ceux qui veulent sans doute comprendre la mise en place du relaunch. Suivi pas loin par le 7e HC de Walking Dead. Et oh autre surprise Unwritten et American Vampire sont juste derrière ! En gros toutes les séries les plus acclamées par les lecteurs et la critiques.
| | | | | | |
| --- | --- | --- | --- | --- | --- |
| | | TOP 300 COMICS — October 2011 | | | |
| Rank | Index | Title | Price | Pub | Est.Qty |
| 1 | 104.80 | JUSTICE LEAGUE #2 | $3.99 | DC |   180,709 |
| 2 | 100.00 | BATMAN #2 | $2.99 | DC |   172,428 |
| 3 | 89.23 | ACTION COMICS #2 | $3.99 | DC |   153,855 |
| 4 | 82.55 | GREEN LANTERN #2 | $2.99 | DC |   142,344 |
| 5 | 66.19 | FLASH #2 | $2.99 | DC |   114,137 |
| 6 | 64.25 | DETECTIVE COMICS #2 [*] | $2.99 | DC |   110,789 |
| 7 | 61.75 | INCREDIBLE HULK #1 | $3.99 | MAR |   106,472 |
| 8 | 55.59 | WOLVERINE AND X-MEN #1 | $3.99 | MAR |     95,855 |
| 9 | 55.44 | FEAR ITSELF #7 | $4.99 | MAR |     95,599 |
| 10 | 54.65 | SUPERMAN #2 [*] | $2.99 | DC |     94,233 |
| 11 | 52.45 | BATMAN THE DARK KNIGHT #2 [*] | $2.99 | DC |     90,445 |
| 12 | 51.57 | BATMAN AND ROBIN #2 [*] | $2.99 | DC |     88,926 |
| 13 | 45.85 | WONDER WOMAN #2 | $2.99 | DC |     79,060 |
| 14 | 43.63 | BATGIRL #2 [*] | $2.99 | DC |     75,227 |
| 15 | 43.14 | BATWOMAN #2 | $2.99 | DC |     74,392 |
| 16 | 41.82 | TEEN TITANS #2 [*] | $2.99 | DC |     72,107 |
| 17 | 41.59 | GREEN LANTERN NEW GUARDIANS #2 | $2.99 | DC |     71,713 |
| 18 | 41.32 | AQUAMAN #2 [*] | $2.99 | DC |     71,240 |
| 19 | 40.97 | GREEN LANTERN CORPS #2 [*] | $2.99 | DC |     70,651 |
| 20 | 38.71 | RED LANTERNS #2 [*] | $2.99 | DC |     66,747 |
| 21 | 38.13 | NIGHTWING #2 [*] | $2.99 | DC |     65,749 |
| 22 | 34.92 | UNCANNY X-MEN #544 | $3.99 | MAR |     60,212 |
| 23 | 34.50 | JUSTICE LEAGUE INTERNATIONAL #2 [*] | $2.99 | DC |     59,490 |
| 24 | 34.49 | FEAR ITSELF FEARLESS #1 | $2.99 | MAR |     59,464 |
| 25 | 34.46 | AMAZING SPIDER-MAN #671 | $3.99 | MAR |     59,426 |
| 26 | 34.16 | AVENGERS #18 | $3.99 | MAR |     58,897 |
| 27 | 34.00 | SWAMP THING #2 | $2.99 | DC |     58,634 |
| 28 | 33.56 | AMAZING SPIDER-MAN #672 | $3.99 | MAR |     57,860 |
| 29 | 33.18 | CATWOMAN #2 [*] | $2.99 | DC |     57,216 |
| 30 | 33.09 | JUSTICE LEAGUE DARK #2 [*] | $2.99 | DC |     57,053 |
| 31 | 32.35 | X-MEN REGENESIS #1 | $3.99 | MAR |     55,787 |
| 32 | 32.32 | NEW AVENGERS #17 | $3.99 | MAR |     55,732 |
| 33 | 32.04 | SUPERGIRL #2 [*] | $2.99 | DC |     55,249 |
| 34 | 31.94 | X-MEN SCHISM #5 | $3.99 | MAR |     55,081 |
| 35 | 30.99 | RED HOOD AND THE OUTLAWS #2 [*] | $2.99 | DC |     53,444 |
| 36 | 30.64 | GREEN ARROW #2 [*] | $2.99 | DC |     52,837 |
| 37 | 30.46 | ULTIMATE COMICS SPIDER-MAN #3 | $3.99 | MAR |     52,521 |
| 38 | 30.39 | UNCANNY X-FORCE #16 | $3.99 | MAR |     52,398 |
| 39 | 29.97 | SUPERBOY #2 [*] | $2.99 | DC |     51,682 |
| 40 | 28.79 | FF #10 | $2.99 | MAR |     49,642 |
| 41 | 28.09 | FF #11 | $2.99 | MAR |     48,433 |
| 42 | 27.89 | ANIMAL MAN #2 [*] | $2.99 | DC |     48,089 |
| 43 | 27.74 | BIRDS OF PREY #2 [*] | $2.99 | DC |     47,840 |
| 44 | 27.56 | STORMWATCH #2 | $2.99 | DC |     47,520 |
| 45 | 25.87 | SUICIDE SQUAD #2 [*] | $2.99 | DC |     44,613 |
| 46 | 25.75 | ULTIMATE COMICS X-MEN #2 | $3.99 | MAR |     44,399 |
| 47 | 25.53 | MIGHTY THOR #7 | $3.99 | MAR |     44,017 |
| 48 | 25.10 | SECRET AVENGERS #18 | $3.99 | MAR |     43,280 |
| 49 | 24.93 | SAVAGE HAWKMAN #2 [*] | $2.99 | DC |     42,987 |
| 50 | 24.65 | LEGION OF SUPER HEROES #2 [*] | $2.99 | DC |     42,504 |
| 51 | 23.72 | X-MEN #19 | $3.99 | MAR |     40,906 |
| 52 | 23.66 | ULTIMATE COMICS ULTIMATES #3 | $3.99 | MAR |     40,792 |
| 53 | 23.30 | DEATHSTROKE #2 [*] | $2.99 | DC |     40,182 |
| 54 | 22.96 | FURY OF FIRESTORM THE NUCLEAR MEN #2 [*] | $2.99 | DC |     39,591 |
| 55 | 22.86 | DAREDEVIL #5 | $2.99 | MAR |     39,413 |
| 56 | 22.85 | WOLVERINE #17 XREGG | $3.99 | MAR |     39,405 |
| 57 | 22.46 | INVINCIBLE IRON MAN #509 | $3.99 | MAR |     38,721 |
| 58 | 22.31 | BATWING #2 [*] | $2.99 | DC |     38,475 |
| 59 | 22.26 | LEGION LOST #2 [*] | $2.99 | DC |     38,385 |
| 60 | 22.18 | LEGION SECRET ORIGIN #1 | $2.99 | DC |     38,248 |
| 61 | 22.08 | X-MEN LEGACY #257 | $2.99 | MAR |     38,070 |
| 62 | 22.04 | DEMON KNIGHTS #2 [*] | $2.99 | DC |     38,007 |
| 63 | 21.71 | DC UNIVERSE PRESENTS #2 [*] | $2.99 | DC |     37,426 |
| 64 | 21.14 | BTVS SEASON 9 FREEFALL #2 | $2.99 | DAR |     36,448 |
| 65 | 21.10 | FRANKENSTEIN AGENT OF SHADE #2 [*] | $2.99 | DC |     36,381 |
| 66 | 20.94 | HUNTRESS #1 | $2.99 | DC |     36,099 |
| 67 | 20.83 | GRIFTER #2 [*] | $2.99 | DC |     35,910 |
| 68 | 20.80 | ALL STAR WESTERN #2 [*] | $3.99 | DC |     35,871 |
| 69 | 20.56 | BLUE BEETLE #2 [*] | $2.99 | DC |     35,456 |
| 70 | 20.13 | RESURRECTION MAN #2 [*] | $2.99 | DC |     34,704 |
| 71 | 20.00 | CAPTAIN ATOM #2 [*] | $2.99 | DC |     34,478 |
| 72 | 18.92 | ASTONISHING X-MEN #43 | $3.99 | MAR |     32,620 |
| 73 | 18.83 | HAWK AND DOVE #2 [*] | $2.99 | DC |     32,461 |
| 74 | 18.80 | AVENGERS 1959 #1 | $2.99 | MAR |     32,418 |
| 75 | 18.77 | MISTER TERRIFIC #2 [*] | $2.99 | DC |     32,367 |
| 76 | 18.71 | VENOM #8 | $2.99 | MAR |     32,266 |
| 77 | 18.58 | CAPTAIN AMERICA AND BUCKY #623 | $2.99 | MAR |     32,041 |
| 78 | 18.43 | WALKING DEAD #90 (MR) | $2.99 | IMA |     31,778 |
| 79 | 18.18 | WALKING DEAD #89 (MR) | $2.99 | IMA |     31,351 |
| 80 | 18.11 | VOODOO #2 | $2.99 | DC |     31,221 |
| 81 | 18.06 | I VAMPIRE #2 [*] | $2.99 | DC |     31,139 |
| 82 | 17.77 | SHADE #1 | $2.99 | DC |     30,648 |
| 83 | 17.64 | BATMAN ODYSSEY VOL 2 #1 | $3.99 | DC |     30,410 |
| 84 | 17.07 | OMAC #2 [*] | $2.99 | DC |     29,434 |
| 85 | 16.89 | STATIC SHOCK #2 [*] | $2.99 | DC |     29,124 |
| 86 | 16.55 | BLACKHAWKS #2 [*] | $2.99 | DC |     28,534 |
| 87 | 16.41 | MEN OF WAR #2 [*] | $3.99 | DC |     28,301 |
| 88 | 16.38 | AQUAMAN #1 | $2.99 | DC |     28,243 |
| 89 | 16.27 | JOURNEY INTO MYSTERY #629 | $2.99 | MAR |     28,054 |
| 90 | 16.07 | JOURNEY INTO MYSTERY #630 | $2.99 | MAR |     27,701 |
| 91 | 15.98 | DEADPOOL #45 | $2.99 | MAR |     27,552 |
| 92 | 15.94 | MOON KNIGHT #6 | $3.99 | MAR |     27,493 |
| 93 | 15.94 | GREEN LANTERN #1 | $2.99 | DC |     27,477 |
| 94 | 15.67 | HULK #42 | $2.99 | MAR |     27,025 |
| 95 | 15.59 | DEADPOOL #44 | $2.99 | MAR |     26,878 |
| 96 | 15.30 | PENGUIN PAIN AND PREJUDICE #1 | $2.99 | DC |     26,380 |
| 97 | 15.29 | SUPERIOR #5 (MR) | $2.99 | MAR |     26,361 |
| 98 | 15.22 | DETECTIVE COMICS #1 | $2.99 | DC |     26,235 |
| 99 | 14.99 | PUNISHER #4 | $2.99 | MAR |     25,847 |
| 100 | 14.91 | SUPERIOR #6 (MR) | $2.99 | MAR |     25,707 |
| 101 | 14.80 | HULK #43 | $2.99 | MAR |     25,514 |
| 102 | 14.71 | NEW MUTANTS #32 | $2.99 | MAR |     25,364 |
| 103 | 14.36 | ULTIMATE COMICS HAWKEYE #3 | $3.99 | MAR |     24,762 |
| 104 | 13.94 | X-23 #15 | $2.99 | MAR |     24,043 |
| 105 | 13.75 | THUNDERBOLTS #164 | $2.99 | MAR |     23,712 |
| 106 | 13.67 | X-FACTOR #226 | $2.99 | MAR |     23,569 |
| 107 | 13.58 | AVENGERS ACADEMY #20 | $2.99 | MAR |     23,412 |
| 108 | 13.40 | BATMAN #1 | $2.99 | DC |     23,100 |
| 109 | 13.25 | TEENAGE MUTANT NINJA TURTLES ONGOING #3 | $3.99 | IDW |     22,855 |
| 110 | 12.96 | SPACEMAN #1 (MR) | $1.00 | DC |     22,355 |
| 111 | 12.38 | BATMAN AND ROBIN #1 | $2.99 | DC |     21,340 |
| 112 | 12.21 | SHIELD #3 | $2.99 | MAR |     21,060 |
| 113 | 12.19 | GHOST RIDER #4 | $2.99 | MAR |     21,012 |
| 114 | 12.15 | STAR TREK LEGION OF SUPERHEROES #1 | $3.99 | IDW |     20,950 |
| 115 | 12.02 | ALPHA FLIGHT #5 | $2.99 | MAR |     20,731 |
| 116 | 11.46 | DAKEN DARK WOLVERINE #15 | $2.99 | MAR |     19,759 |
| 117 | 11.42 | WONDER WOMAN #1 | $2.99 | DC |     19,688 |
| 118 | 11.29 | DAKEN DARK WOLVERINE #16 | $2.99 | MAR |     19,472 |
| 119 | 11.27 | ANGEL & FAITH #3 | $2.99 | DAR |     19,437 |
| 120 | 11.23 | BATMAN THE DARK KNIGHT #1 | $2.99 | DC |     19,368 |
| 121 | 11.07 | STAR WARS CRIMSON EMPIRE III EMPIRE LOST #1 | $3.50 | DAR |     19,095 |
| 122 | 11.06 | ANNIHILATORS EARTHFALL #2 | $3.99 | MAR |     19,068 |
| 123 | 11.01 | AVENGERS 1959 #2 | $2.99 | MAR |     18,989 |
| 124 | 10.99 | ORCHID #1 CARNEVALE CVR | $1.00 | DAR |     18,942 |
| 125 | 10.79 | SUPERMAN #1 | $2.99 | DC |     18,599 |
| 126 | 10.76 | FLASH #1 | $2.99 | DC |     18,558 |
| 127 | 10.69 | AVENGERS SOLO #1 | $3.99 | MAR |     18,427 |
| 128 | 10.69 | GENERATION HOPE #12 | $2.99 | MAR |     18,424 |
| 129 | 10.58 | BLACK PANTHER MOST DANGEROUS MAN ALIVE #524 | $2.99 | MAR |     18,248 |
| 130 | 10.55 | ACTION COMICS #1 | $3.99 | DC |     18,199 |
| 131 | 10.50 | FABLES #110 (MR) | $2.99 | DC |     18,109 |
| 132 | 10.37 | NIGHTWING #1 | $2.99 | DC |     17,875 |
| 133 | 10.17 | PUNISHERMAX #18 (MR) | $3.99 | MAR |     17,541 |
| 134 | 10.17 | BOYS #59 (MR) | $3.99 | DYN |     17,533 |
| 135 | 10.06 | FEAR ITSELF HOME FRONT #7 | $3.99 | MAR |     17,339 |
| 136 | 9.99 | MY GREATEST ADVENTURE #1 | $3.99 | DC |     17,222 |
| 137 | 9.73 | LEGION OF MONSTERS #1 | $3.99 | MAR |     16,785 |
| 138 | 9.71 | FEAR ITSELF HULK VS DRACULA #3 | $2.99 | MAR |     16,740 |
| 139 | 9.58 | BATGIRL #1 | $2.99 | DC |     16,512 |
| 140 | 9.33 | GAME OF THRONES #2 (MR) | $3.99 | DYN |     16,094 |
| 141 | 9.24 | CATWOMAN #1 | $2.99 | DC |     15,933 |
| 142 | 9.20 | DEADPOOL MAX 2 #1 (MR) | $3.99 | MAR |     15,865 |
| 143 | 9.20 | JUSTICE LEAGUE #2 COMBO PACK | $4.99 | DC |     15,860 |
| 144 | 9.12 | BATWOMAN #1 | $2.99 | DC |     15,724 |
| 145 | 9.05 | DARK TOWER GUNSLINGER BATTLE OF TULL #5 | $3.99 | MAR |     15,613 |
| 146 | 9.04 | JUSTICE LEAGUE #1 | $3.99 | DC |     15,593 |
| 147 | 9.02 | JOHN CARTER OF MARS WORLD OF MARS #1 | $3.99 | MAR |     15,550 |
| 148 | 8.97 | DC UNIVERSE ONLINE LEGENDS #15 | $2.99 | DC |     15,460 |
| 149 | 8.92 | TEEN TITANS #1 | $2.99 | DC |     15,381 |
| 150 | 8.84 | INVINCIBLE #83 | $2.99 | IMA |     15,249 |
| 151 | 8.84 | DC UNIVERSE ONLINE LEGENDS #16 | $2.99 | DC |     15,238 |
| 152 | 8.83 | RED LANTERNS #1 | $2.99 | DC |     15,230 |
| 153 | 8.75 | SPIDER-ISLAND HEROES FOR HIRE #1 | $2.99 | MAR |     15,079 |
| 154 | 8.66 | SPIDER-ISLAND CLOAK AND DAGGER #3 | $2.99 | MAR |     14,929 |
| 155 | 8.41 | ANIMAL MAN #1 | $2.99 | DC |     14,502 |
| 156 | 8.41 | FEAR ITSELF YOUTH IN REVOLT #6 | $2.99 | MAR |     14,493 |
| 157 | 8.30 | BOYS BUTCHER BAKER CANDLESTICKMAKER #4 (MR) | $3.99 | DYN |     14,303 |
| 158 | 8.26 | SPIDER-ISLAND AMAZING SPIDER-GIRL #3 | $2.99 | MAR |     14,248 |
| 159 | 8.23 | AMERICAN VAMPIRE SURVIVAL OT FITTEST #5 (MR) | $2.99 | DC |     14,186 |
| 160 | 8.21 | SUPERGIRL #1 | $2.99 | DC |     14,160 |
| 161 | 8.20 | RED HOOD AND THE OUTLAWS #1 | $2.99 | DC |     14,132 |
| 162 | 8.14 | KIRBY GENESIS #4 | $3.99 | DYN |     14,030 |
| 163 | 8.11 | SWAMP THING #1 | $2.99 | DC |     13,985 |
| 164 | 8.07 | RED SKULL #4 | $2.99 | MAR |     13,919 |
| 165 | 7.93 | SUPERBOY #1 | $2.99 | DC |     13,675 |
| 166 | 7.88 | STAR WARS OLD REPUBLIC #5 LOST SUNS | $3.50 | DAR |     13,580 |
| 167 | 7.82 | SPAWN #212 | $2.99 | IMA |     13,483 |
| 168 | 7.78 | STAND NIGHT HAS COME #3 | $3.99 | MAR |     13,423 |
| 169 | 7.72 | STAR WARS INVASION REVELATIONS #4 | $3.50 | DAR |     13,313 |
| 170 | 7.65 | STAR TREK ONGOING #2 | $3.99 | IDW |     13,198 |
| 171 | 7.65 | HERC #9 | $2.99 | MAR |     13,190 |
| 172 | 7.49 | SPIDER-ISLAND DEADLY HANDS OF KUNG FU #3 | $2.99 | MAR |     12,920 |
| 173 | 7.29 | GREEN LANTERN NEW GUARDIANS #1 | $2.99 | DC |     12,563 |
| 174 | 7.24 | WARLORD OF MARS #11 | $3.99 | DYN |     12,491 |
| 175 | 7.15 | GARTH ENNIS JENNIFER BLOOD #5 (MR) | $3.99 | DYN |     12,337 |
| 176 | 7.14 | CHEW #21 (MR) | $2.99 | IMA |     12,310 |
| 177 | 7.13 | WARLORD OF MARS DEJAH THORIS #7 | $3.99 | DYN |     12,296 |
| 178 | 7.03 | JUSTICE LEAGUE DARK #1 | $2.99 | DC |     12,115 |
| 179 | 6.93 | VENGEANCE #4 | $3.99 | MAR |     11,948 |
| 180 | 6.92 | STAR WARS KNIGHT ERRANT DELUGE #3 | $3.50 | DAR |     11,937 |
| 181 | 6.86 | SUICIDE SQUAD #1 | $2.99 | DC |     11,836 |
| 182 | 6.80 | GREEN LANTERN CORPS #1 | $2.99 | DC |     11,723 |
| 183 | 6.75 | RED WING #4 | $3.50 | IMA |     11,638 |
| 184 | 6.72 | VAMPIRELLA #10 | $3.99 | DYN |     11,581 |
| 185 | 6.70 | X-MEN #1 20TH ANNIVERSARY EDITION | $3.99 | MAR |     11,552 |
| 186 | 6.70 | CONAN ROAD OF KINGS #9 | $3.50 | DAR |     11,546 |
| 187 | 6.56 | ALL STAR WESTERN #1 | $3.99 | DC |     11,311 |
| 188 | 6.51 | KEVIN SMITH BIONIC MAN #3 | $3.99 | DYN |     11,229 |
| 189 | 6.43 | BPRD HELL ON EARTH RUSSIA #2 | $3.50 | DAR |     11,093 |
| 190 | 6.38 | JUSTICE LEAGUE INTERNATIONAL #1 | $2.99 | DC |     11,003 |
| 191 | 6.35 | STITCHED #1 (MR) | $3.99 | AVA |     10,949 |
| 192 | 6.32 | STORMWATCH #1 | $2.99 | DC |     10,890 |
| 193 | 6.31 | DOLLHOUSE EPITAPHS #4 | $3.50 | DAR |     10,888 |
| 194 | 6.22 | DEMON KNIGHTS #1 | $2.99 | DC |     10,727 |
| 195 | 6.19 | GREEN ARROW #1 | $2.99 | DC |     10,679 |
| 196 | 6.17 | VAMPIRELLA #11 | $3.99 | DYN |     10,644 |
| 197 | 6.17 | GODZILLA KINGDOM OF MONSTERS #8 | $3.99 | IDW |     10,637 |
| 198 | 6.11 | FURY OF FIRESTORM THE NUCLEAR MEN #1 | $2.99 | DC |     10,539 |
| 199 | 6.08 | UNWRITTEN #30 (MR) | $2.99 | DC |     10,481 |
| 200 | 6.07 | TRANSFORMERS ONGOING #28 | $3.99 | IDW |     10,469 |
| 201 | 6.04 | UNEXPECTED #1 (MR) | $7.99 | DC |     10,416 |
| 202 | 6.00 | BIRDS OF PREY #1 | $2.99 | DC |     10,350 |
| 203 | 5.94 | TRANSFORMERS ONGOING #27 | $3.99 | IDW |     10,242 |
| 204 | 5.94 | GI JOE VOL 2 ONGOING #6 | $3.99 | IDW |     10,241 |
| 205 | 5.85 | MORNING GLORIES #13 (MR) | $2.99 | IMA |     10,094 |
| 206 | 5.83 | ABE SAPIEN DEVIL DOES NOT JEST #2 | $3.50 | DAR |     10,056 |
| 207 | 5.79 | CAPTAIN AMERICA CORPS #5 | $2.99 | MAR |       9,981 |
| 208 | 5.68 | DEATHSTROKE #1 | $2.99 | DC |       9,792 |
| 209 | 5.66 | SONIC THE HEDGEHOG #229 | $2.99 | ARC |       9,768 |
| 210 | 5.65 | GRIFTER #1 | $2.99 | DC |       9,737 |
| 211 | 5.63 | HELLRAISER #6 (MR) | $3.99 | BOO |       9,715 |
| 212 | 5.62 | GI JOE A REAL AMERICAN HERO #171 | $3.99 | IDW |       9,686 |
| 213 | 5.57 | HELLBLAZER #284 | $2.99 | DC |       9,608 |
| 214 | 5.52 | GHOSTBUSTERS ONGOING #2 | $3.99 | IDW |       9,514 |
| 215 | 5.41 | INFINITE #3 | $2.99 | IMA |       9,322 |
| 216 | 5.37 | FRANKENSTEIN AGENT OF SHADE #1 | $2.99 | DC |       9,266 |
| 217 | 5.36 | SEVERED #3 (MR) | $2.99 | IMA |       9,240 |
| 218 | 5.36 | IZOMBIE #18 (MR) | $2.99 | DC |       9,237 |
| 219 | 5.26 | SNAKE EYES ONGOING (IDW) #6 | $3.99 | IDW |       9,073 |
| 220 | 5.20 | WARLORD OF MARS FALL OF BARSOOM #3 | $3.99 | DYN |       8,962 |
| 221 | 5.18 | COBRA ONGOING #6 | $3.99 | IDW |       8,927 |
| 222 | 5.16 | SUPERNATURAL #1 | $2.99 | DC |       8,896 |
| 223 | 5.06 | GODZILLA GANGSTERS & GOLIATHS #5 | $3.99 | IDW |       8,725 |
| 224 | 5.05 | BALTIMORE CURSE BELLS #3 | $3.50 | DAR |       8,716 |
| 225 | 5.03 | ULTIMATE COMICS FALLOUT #4 | $3.99 | MAR |       8,679 |
| 226 | 4.99 | MASS EFFECT INVASION #1 | $3.50 | DAR |       8,607 |
| 227 | 4.93 | DOROTHY AND WIZARD IN OZ #2 | $3.99 | MAR |       8,504 |
| 228 | 4.92 | RESURRECTION MAN #1 | $2.99 | DC |       8,490 |
| 229 | 4.88 | IRREDEEMABLE #30 | $3.99 | BOO |       8,419 |
| 230 | 4.84 | STRANGE TALENT OF LUTHER STRODE #1 | $2.99 | IMA |       8,338 |
| 231 | 4.83 | 30 DAYS OF NIGHT ONGOING #1 | $3.99 | IDW |       8,326 |
| 232 | 4.81 | JOE HILL THE CAPE #2 | $3.99 | IDW |       8,300 |
| 233 | 4.80 | DUNGEONS AND DRAGONS #12 | $3.99 | IDW |       8,274 |
| 234 | 4.78 | ULTIMATE COMICS SPIDER-MAN #1 | $3.99 | MAR |       8,246 |
| 235 | 4.77 | LEGION LOST #1 | $2.99 | DC |       8,226 |
| 236 | 4.64 | SAVAGE HAWKMAN #1 | $2.99 | DC |       8,005 |
| 237 | 4.64 | LADY DEATH (ONGOING) #10 (MR) | $3.99 | AVA |       7,997 |
| 238 | 4.62 | SWEET TOOTH #26 (MR) | $2.99 | DC |       7,963 |
| 239 | 4.60 | COLD WAR #1 | $3.99 | IDW |       7,934 |
| 240 | 4.59 | LEGION OF SUPER HEROES #1 | $2.99 | DC |       7,923 |
| 241 | 4.57 | SPONGEBOB COMICS #5 | $2.99 | UNI |       7,874 |
| 242 | 4.55 | BLUE BEETLE #1 | $2.99 | DC |       7,840 |
| 243 | 4.54 | TINY TITANS #45 | $2.99 | DC |       7,836 |
| 244 | 4.49 | BATWING #1 | $2.99 | DC |       7,741 |
| 245 | 4.49 | YOUNG JUSTICE #9 | $2.99 | DC |       7,737 |
| 246 | 4.43 | VAMPIRELLA SCARLET LEGION #5 | $3.99 | DYN |       7,640 |
| 247 | 4.37 | DARK HORSE PRESENTS #5 | $7.99 | DAR |       7,539 |
| 248 | 4.37 | JUSTICE LEAGUE #1 COMBO PACK | $4.99 | DC |       7,537 |
| 249 | 4.36 | GFT DREAM EATER CROSSOVER CONCLUSION (PT 12) | $5.99 | ZEN |       7,517 |
| 250 | 4.35 | ALL WINNERS SQUAD BAND OF HEROES #5 | $2.99 | MAR |       7,497 |
| 251 | 4.34 | DOCTOR WHO ONGOING VOL 2 #10 | $3.99 | IDW |       7,481 |
| 252 | 4.33 | MEGA MAN #6 | $2.99 | ARC |       7,474 |
| 253 | 4.29 | DC UNIVERSE PRESENTS #1 | $2.99 | DC |       7,402 |
| 254 | 4.28 | SUPER DINOSAUR #5 | $2.99 | IMA |       7,380 |
| 255 | 4.26 | LAST OF THE GREATS #1 | $3.99 | IMA |       7,338 |
| 256 | 4.25 | GUARDING THE GLOBE #6 | $3.50 | IMA |       7,321 |
| 257 | 4.24 | I VAMPIRE #1 | $2.99 | DC |       7,310 |
| 258 | 4.20 | SONIC UNIVERSE #33 | $2.99 | ARC |       7,244 |
| 259 | 4.18 | CAPTAIN ATOM #1 | $2.99 | DC |       7,204 |
| 260 | 4.14 | HALO FALL OF REACH COVENANT #4 (MR) | $3.99 | MAR |       7,142 |
| 261 | 4.05 | GFT MYTHS & LEGENDS #8 (MR) | $2.99 | ZEN |       6,983 |
| 262 | 4.04 | NORTHLANDERS #45 (MR) | $2.99 | DC |       6,973 |
| 263 | 4.00 | MISTER TERRIFIC #1 | $2.99 | DC |       6,902 |
| 264 | 4.00 | SIMPSONS COMICS #183 | $2.99 | BON |       6,893 |
| 265 | 4.00 | PLANET OF THE APES #7 | $3.99 | BOO |       6,889 |
| 266 | 3.97 | CBLDF LIBERTY ANNUAL 2011 #4 | $4.99 | IMA |       6,846 |
| 267 | 3.95 | VOODOO #1 | $2.99 | DC |       6,811 |
| 268 | 3.95 | QUEEN SONJA #21 | $3.99 | DYN |       6,809 |
| 269 | 3.93 | ALL NEW BATMAN THE BRAVE AND THE BOLD #12 | $2.99 | DC |       6,771 |
| 270 | 3.91 | JOHN CARTER A PRINCESS OF MARS #2 | $2.99 | MAR |       6,742 |
| 271 | 3.81 | HOUSE OF MYSTERY #42 (MR) | $2.99 | DC |       6,570 |
| 272 | 3.77 | QUEEN SONJA #22 | $3.99 | DYN |       6,501 |
| 273 | 3.76 | CASANOVA AVARITIA #2 (MR) | $4.99 | MAR |       6,483 |
| 274 | 3.76 | SERGIO ARAGONES FUNNIES #4 | $3.50 | BON |       6,482 |
| 275 | 3.75 | MYSTIC #3 | $2.99 | MAR |       6,471 |
| 276 | 3.75 | INCORRUPTIBLE #23 | $3.99 | BOO |       6,466 |
| 277 | 3.73 | GFT HALLOWEEN SPECIAL 2011 | $5.99 | ZEN |       6,428 |
| 278 | 3.72 | BLACKHAWKS #1 | $2.99 | DC |       6,421 |
| 279 | 3.64 | CAPTAIN SWING #4 (MR) | $3.99 | AVA |       6,281 |
| 280 | 3.63 | TUROK SON OF STONE #4 | $3.50 | DAR |       6,257 |
| 281 | 3.62 | KULL THE CAT & THE SKULL #1 | $3.50 | DAR |       6,249 |
| 282 | 3.60 | SCALPED #53 (MR) | $2.99 | DC |       6,203 |
| 283 | 3.54 | ULTIMATE COMICS SPIDER-MAN #2 | $3.99 | MAR |       6,103 |
| 284 | 3.42 | CALIGULA #4 (MR) | $3.99 | AVA |       5,895 |
| 285 | 3.36 | HP LOVECRAFT THE DUNWICH HORROR #1 | $3.99 | IDW |       5,802 |
| 286 | 3.34 | ELRIC THE BALANCE LOST #4 | $3.99 | BOO |       5,758 |
| 287 | 3.31 | HAWK AND DOVE #1 | $2.99 | DC |       5,705 |
| 288 | 3.29 | GRIMM FAIRY TALES THE LIBRARY #2 | $2.99 | ZEN |       5,679 |
| 289 | 3.28 | MAGDALENA #9 | $3.99 | IMA |       5,664 |
| 290 | 3.27 | DARKNESS #94 (MR) | $2.99 | IMA |       5,632 |
| 291 | 3.25 | DMZ #70 (MR) | $2.99 | DC |       5,610 |
| 292 | 3.22 | OMAC #1 | $2.99 | DC |       5,559 |
| 293 | 3.22 | ULTIMATE COMICS X-MEN #1 | $3.99 | MAR |       5,545 |
| 294 | 3.17 | THEATER #1 (MR) | $3.99 | ZEN |       5,469 |
| 295 | 3.16 | BART SIMPSON COMICS #64 | $2.99 | BON |       5,451 |
| 296 | 3.10 | KA-ZAR #5 | $2.99 | MAR |       5,352 |
| 297 | 3.08 | EXECUTIVE ASSISTANT IRIS VOL 2 #4 | $3.50 | ASP |       5,309 |
| 298 | 3.05 | STATIC SHOCK #1 | $2.99 | DC |       5,264 |
| 299 | 3.03 | VAMPIRES MARVEL UNDEAD #1 | $3.99 | MAR |       5,220 |
| 300 | 3.00 | ROBERT E HOWARDS SAVAGE SWORD #3 | $7.99 | DAR |       5,167 |
Ventes de TPB 
| | | | | | |
| --- | --- | --- | --- | --- | --- |
|   |   | Top 300 GNs — October 2011 |   |   |   |
| Rank | Index | Title | Price | Pub | Est.Qty |
| 1 | 3.27 | FLASHPOINT HC | $22.99 | DC |       5,646 |
| 2 | 2.71 | WALKING DEAD HC VOL 07 (MR) | $34.99 | IMA |       4,674 |
| 3 | 2.50 | BATMAN ARKHAM CITY HC | $22.99 | DC |       4,310 |
| 4 | 2.40 | UNWRITTEN TP VOL 04 LEVIATHAN (MR) | $14.99 | DC |       4,144 |
| 5 | 2.04 | STAR WARS THE CLONE WARS STRANGE ALLIES TP | $7.99 | DAR |       3,520 |
| 6 | 1.94 | AMERICAN VAMPIRE TP VOL 01 (MR) | $19.99 | DC |       3,347 |
| 7 | 1.93 | WALKING DEAD SURVIVORS GUIDE TP | $12.99 | IMA |       3,333 |
| 8 | 1.81 | ALL STAR SUPERMAN TP | $29.99 | DC |       3,121 |
| 9 | 1.72 | ALAN MOORE NEONOMICON TP (MR) | $19.99 | AVA |       2,972 |
| 10 | 1.65 | ULT COMICS SPIDER-MAN DOSM PREM HC | $24.99 | MAR |       2,841 |
| 11 | 1.64 | DANIEL CLOWES DEATH-RAY HC (MR) | $19.95 | DRA |       2,832 |
| 12 | 1.60 | AXE COP TP VOL 02 BAD GUY EARTH | $12.99 | DAR |       2,764 |
| 13 | 1.50 | CAPTAIN AMERICA TRIAL OF CAPTAIN AMERICA TP | $19.99 | MAR |       2,583 |
| 14 | 1.49 | INVINCIBLE IRON MAN TP VOL 07 MY MONSTERS | $15.99 | MAR |       2,567 |
| 15 | 1.43 | X-23 TP VOL 01 KILLING DREAM | $16.99 | MAR |       2,474 |
| 16 | 1.35 | ULTIMATE COMICS AVENGERS BLADE VS AVENGERS TP | $19.99 | MAR |       2,327 |
| 17 | 1.31 | TWILIGHT MANGA GN VOL 02 | $19.99 | HAC |       2,265 |
| 18 | 1.31 | VENOM TP LETHAL PROTECTOR | $16.99 | MAR |       2,262 |
| 19 | 1.28 | FREAKANGELS TP VOL 06 (MR) | $19.99 | AVA |       2,211 |
| 20 | 1.28 | BLADE OF THE IMMORTAL TP VOL 24 MASSACRE | $19.99 | DAR |       2,208 |
| 21 | 1.28 | FANTASTIC FOUR BY JONATHAN HICKMAN TP VOL 04 | $19.99 | MAR |       2,199 |
| 22 | 1.27 | WALKING DEAD TP VOL 01 DAYS GONE BYE | $9.99 | IMA |       2,198 |
| 23 | 1.27 | BATMAN THE LONG HALLOWEEN TP | $24.99 | DC |       2,194 |
| 24 | 1.26 | RED HULK PLANET RED HULK TP | $19.99 | MAR |       2,180 |
| 25 | 1.23 | BATMAN LIFE AFTER DEATH TP | $14.99 | DC |       2,116 |
| 26 | 1.17 | SONIC THE HEDGEHOG ARCHIVES TP VOL 16 | $7.95 | ARC |       2,025 |
| 27 | 1.15 | SHIELD TP ARCHITECTS OF FOREVER | $19.99 | MAR |       1,980 |
| 28 | 1.14 | BATMAN EYE OF THE BEHOLDER HC | $22.99 | DC |       1,974 |
| 29 | 1.08 | INCORRUPTIBLE TP VOL 05 | $16.99 | BOO |       1,854 |
| 30 | 1.06 | GOTHAM CENTRAL TP BOOK 03 ON THE FREAK | $19.99 | DC |       1,822 |
| 31 | 1.05 | GATE 7 TP VOL 01 | $10.99 | DAR |       1,803 |
| 32 | 1.04 | YOTSUBA & ! GN VOL 10 | $11.99 | HAC |       1,796 |
| 33 | 1.03 | 100 BULLETS HC BOOK 01 (MR) | $49.99 | DC |       1,783 |
| 34 | 1.01 | ULTIMATE COMICS X ORIGINS PREM HC | $24.99 | MAR |       1,736 |
| 35 | 0.97 | SONIC THE HEDGEHOG LEGACY VOL 01 | $14.95 | ARC |       1,678 |
| 36 | 0.94 | BLACK BUTLER TP VOL 07 | $11.99 | HAC |       1,617 |
| 37 | 0.92 | DARK TOWER FALL OF GILEAD TP | $19.99 | MAR |       1,582 |
| 38 | 0.90 | GANTZ TP VOL 19 | $12.99 | DAR |       1,552 |
| 39 | 0.89 | SAVAGE SWORD OF KULL TP VOL 02 | $19.99 | DAR |       1,534 |
| 40 | 0.88 | WARLORD OF MARS TP | $24.99 | DYN |       1,521 |
| 41 | 0.87 | BATTLE ANGEL ALITA LAST ORDER TP VOL 15 | $9.99 | VIZ |       1,500 |
| 42 | 0.87 | MARVEL FIRSTS 1960S TP | $29.99 | MAR |       1,492 |
| 43 | 0.86 | JUSTICE LEAGUE GENERATION LOST HC VOL 02 | $39.99 | DC |       1,491 |
| 44 | 0.86 | THOR TRIALS OF LOKI TP | $16.99 | MAR |       1,480 |
| 45 | 0.86 | VAMPIRE KNIGHT TP VOL 13 | $9.99 | VIZ |       1,477 |
| 46 | 0.83 | DOCTOR STRANGE TP STRANGE TALES | $29.99 | MAR |       1,437 |
| 47 | 0.81 | WALKING DEAD TP VOL 14 NO WAY OUT (MR) | $14.99 | IMA |       1,390 |
| 48 | 0.80 | FANTASTIC FOUR 1234 PREM HC | $19.99 | MAR |       1,372 |
| 49 | 0.76 | SPIDER-MAN RETURN OF ANTI-VENOM PREM HC | $19.99 | MAR |       1,316 |
| 50 | 0.76 | BIRDS OF PREY HC VOL 02 DEATH OF ORACLE | $24.99 | DC |       1,307 |
| 51 | 0.75 | NEW TEEN TITANS GAMES HC | $24.99 | DC |       1,300 |
| 52 | 0.75 | MMW INCREDIBLE HULK HC VOL 06 | $59.99 | MAR |       1,291 |
| 53 | 0.75 | ROSARIO VAMPIRE SEASON II TP VOL 06 | $9.99 | VIZ |       1,290 |
| 54 | 0.74 | PUNISHERMAX PREM HC FRANK | $24.99 | MAR |       1,276 |
| 55 | 0.73 | MARZI TP | $17.99 | DC |       1,265 |
| 56 | 0.73 | SOUL EATER TP VOL 07 | $11.99 | HAC |       1,256 |
| 57 | 0.72 | WALKING DEAD TP VOL 02 MILES BEHIND US (NEW PTG) | $14.99 | IMA |       1,238 |
| 58 | 0.71 | SUPERMAN BATMAN SORCERER KINGS HC | $22.99 | DC |       1,232 |
| 59 | 0.71 | MMW ATLAS ERA STRANGE TALES HC VOL 05 | $64.99 | MAR |       1,222 |
| 60 | 0.71 | MMW AMAZING SPIDER-MAN TP VOL 06 | $24.99 | MAR |       1,219 |
| 61 | 0.70 | BLOOM COUNTY COMPLETE LIBRARY HC VOL 05 | $39.99 | IDW |       1,203 |
| 62 | 0.69 | BAKUMAN TP VOL 07 | $9.99 | VIZ |       1,189 |
| 63 | 0.68 | HARK A VAGRANT HC (MR) | $19.95 | DRA |       1,181 |
| 64 | 0.68 | WARLORD OF MARS DEJAH THORIS TP VOL 01 COLOSSUS OF MARS (MR) | $16.99 | DYN |       1,172 |
| 65 | 0.67 | BATMAN DARK KNIGHT RETURNS TP | $14.99 | DC |       1,160 |
| 66 | 0.67 | WARRIORS THREE TP DOG DAY AFTERNOON | $15.99 | MAR |       1,158 |
| 67 | 0.67 | LEGION OF SUPER HEROES THE CURSE DELUXE ED | $49.99 | DC |       1,155 |
| 68 | 0.67 | PRINCE VALIANT HC VOL 04 1943-1944 | $29.99 | FAN |       1,150 |
| 69 | 0.66 | ABSOLUTE IDENTITY CRISIS HC | $99.99 | DC |       1,141 |
| 70 | 0.66 | SUPERMAN MON EL TP VOL 02 MAN OF VALOR | $17.99 | DC |       1,139 |
| 71 | 0.65 | SMURFS GN VOL 08 SMURF APPRENTICE | $5.99 | NBM |       1,125 |
| 72 | 0.65 | WORLD OF WARCRAFT CURSE OF THE WORGEN HC | $22.99 | DC |       1,124 |
| 73 | 0.64 | VICTORIAN UNDEAD II TP SHERLOCK HOLMES VS DRACULA | $14.99 | DC |       1,112 |
| 74 | 0.64 | WOLVERINE WOLVERINES REVENGE PREM HC | $24.99 | MAR |       1,109 |
| 75 | 0.64 | X-MEN CLAREMONT AND LEE OMNIBUS HC VOL 01 | $125.00 | MAR |       1,104 |
| 76 | 0.61 | HOLY TERROR HC (MR) | $29.99 | LEG |       1,058 |
| 77 | 0.61 | NAOKI URASAWA 20TH CENTURY BOYS GN VOL 17 | $12.99 | VIZ |       1,054 |
| 78 | 0.61 | WITCHBLADE REDEMPTION TP VOL 03 | $19.99 | IMA |       1,053 |
| 79 | 0.60 | GREEN LANTERN THE MOVIE PREQUELS TP | $14.99 | DC |       1,032 |
| 80 | 0.60 | DANGER GIRL DLX ED TP | $29.99 | IDW |       1,029 |
| 81 | 0.59 | DISNEY MICKEY MOUSE HC VOL 02 TREASURE ISLAND | $29.99 | FAN |       1,020 |
| 82 | 0.59 | MMW FANTASTIC FOUR TP VOL 07 | $24.99 | MAR |       1,020 |
| 83 | 0.59 | CAPTAIN AMERICA RED GLARE PREM HC | $29.99 | MAR |       1,014 |
| 84 | 0.59 | HIGH SCHOOL OF DEAD GN VOL 04 (MR) | $13.99 | HAC |       1,014 |
| 85 | 0.59 | X-MEN X-CUTIONERS SONG HC | $49.99 | MAR |       1,013 |
| 86 | 0.58 | INVADERS NOW TP | $19.99 | MAR |       1,004 |
| 87 | 0.57 | POKEMON ADVENTURES PLATINUM GN VOL 03 | $7.99 | VIZ |          980 |
| 88 | 0.56 | BATMAN YEAR ONE DELUXE SC | $14.99 | DC |          972 |
| 89 | 0.56 | SPIDER-MAN COMPLETE BEN REILLY EPIC TP BOOK 02 | $39.99 | MAR |          957 |
| 90 | 0.55 | MANARA LIBRARY HC VOL 01 | $59.99 | DAR |          956 |
| 91 | 0.54 | X-MEN LEGACY LOST LEGIONS PREM HC | $19.99 | MAR |          936 |
| 92 | 0.54 | GI JOE V2 ONGOING TP VOL 01 COBRA CIVIL WAR | $17.99 | IDW |          935 |
| 93 | 0.54 | GREEN WOMAN TP (MR) | $17.99 | DC |          932 |
| 94 | 0.53 | DARKWING DUCK TP VOL 03 FOWL DISPOSITION | $14.99 | BOO |          916 |
| 95 | 0.53 | NEW X-MEN BY GRANT MORRISON GN TP BOOK 06 | $14.99 | MAR |          907 |
| 96 | 0.52 | ANGEL AFTER THE FALL TP VOL 03 | $19.99 | IDW |          900 |
| 97 | 0.51 | BLUE EXORCIST GN VOL 04 | $9.99 | VIZ |          888 |
| 98 | 0.51 | SPICE AND WOLF GN VOL 05 (MR) | $12.99 | HAC |          880 |
| 99 | 0.51 | SUPERMAN NIGHTWING AND FLAMEBIRD TP VOL 02 | $17.99 | DC |          872 |
| 100 | 0.50 | CHEW TP VOL 04 FLAMBE (MR) | $12.99 | IMA |          869 |
| 101 | 0.50 | WALKING DEAD TP VOL 03 SAFETY BEHIND BARS | $14.99 | IMA |          865 |
| 102 | 0.49 | TEZUKA BOOK OF HUMAN INSECTS HC (MR) | 21.95 | RAN |          844 |
| 103 | 0.49 | ESSENTIAL FANTASTIC FOUR TP VOL 05 | $16.99 | MAR |          840 |
| 104 | 0.49 | OH MY GODDESS RTL TP VOL 19 | $11.99 | DAR |          838 |
| 105 | 0.48 | 30 DAYS OF NIGHT OMNIBUS TP | $24.99 | IDW |          830 |
| 106 | 0.48 | GREAT NORTHERN BROTHERHOOD CANADIAN CARTOONISTS HC (MR) | $24.95 | DRA |          826 |
| 107 | 0.48 | BLACK METAL GN VOL 02 | $11.99 | ONI |          825 |
| 108 | 0.47 | PANDORA HEARTS GN VOL 07 | $11.99 | HAC |          817 |
| 109 | 0.47 | DUNGEONS & DRAGONS CLASSICS TP VOL 02 | $24.99 | IDW |          812 |
| 110 | 0.47 | FAIRY TAIL GN VOL 15 | $10.99 | RAN |          809 |
| 111 | 0.46 | 28 DAYS LATER TP VOL 05 GHOST TOWN | $12.99 | BOO |          799 |
| 112 | 0.46 | SHERLOCK HOLMES YEAR ONE TP | $19.99 | DYN |          789 |
| 113 | 0.45 | X-FACTOR HARD LABOR PREM HC | $19.99 | MAR |          780 |
| 114 | 0.45 | SPIDER-MAN DEADLY FOES OF SPIDER-MAN TP | $24.99 | MAR |          774 |
| 115 | 0.45 | WALKING DEAD COMPENDIUM TP VOL 01 (MR) | $59.99 | IMA |          770 |
| 116 | 0.44 | BRIDE OF THE WATER GOD TP VOL 09 | $9.99 | DAR |          767 |
| 117 | 0.44 | COMPLETE CHESTER GOULDS DICK TRACY HC VOL 12 | $39.99 | IDW |          762 |
| 118 | 0.44 | TENJO TENGE GN VOL 03 (MR) | $17.99 | VIZ |          761 |
| 119 | 0.44 | NEW MUTANTS PREM HC UNFINISHED BUSINESS | $19.99 | MAR |          751 |
| 120 | 0.43 | BATMAN HUSH COMPLETE TP | $24.99 | DC |          747 |
| 121 | 0.43 | ARCHIE OBAMA & PALIN IN RIVERDALE TP | $12.95 | ARC |          745 |
| 122 | 0.43 | BLACKEST NIGHT TP | $19.99 | DC |          742 |
| 123 | 0.43 | SCIENCE DOG OVERSIZED HC | $19.99 | IMA |          740 |
| 124 | 0.43 | MORNING GLORIES TP VOL 02 | $12.99 | IMA |          738 |
| 125 | 0.43 | PHINEAS & FERB EARLY COMIC READER #6 BEAK STRIKES | $4.99 | HAR |          736 |
| 126 | 0.43 | WALKING DEAD TP VOL 04 HEARTS DESIRE (NEW PTG) | $14.99 | IMA |          736 |
| 127 | 0.42 | BATMAN THE KILLING JOKE SPECIAL ED HC | $17.99 | DC |          729 |
| 128 | 0.42 | WALKING DEAD TP VOL 13 TOO FAR GONE (MR) | $14.99 | IMA |          726 |
| 129 | 0.42 | MORNING GLORIES TP VOL 01 FOR A BETTER FUTURE | $9.99 | IMA |          725 |
| 130 | 0.42 | TRANSFORMERS CLASSICS UK TP VOL 01 | $29.99 | IDW |          722 |
| 131 | 0.41 | GI JOE OMNIBUS TP VOL 01 | $24.99 | IDW |          706 |
| 132 | 0.41 | CHI SWEET HOME GN VOL 07 | $13.95 | RAN |          705 |
| 133 | 0.40 | WALKING DEAD TP VOL 05 BEST DEFENSE (NEW PTG) | $14.99 | IMA |          689 |
| 134 | 0.40 | ALAN MOORE NEONOMICON HC (MR) | $27.99 | AVA |          687 |
| 135 | 0.40 | FANTASTIC FOUR BY WAID & WIERINGO ULT COLL TP BOOK 03 | $24.99 | MAR |          683 |
| 136 | 0.40 | ROGER LANGRIDGE THE SHOW MUST GO ON TP | $19.99 | BOO |          683 |
| 137 | 0.39 | CHEW TP VOL 01 (MR) | $9.99 | IMA |          680 |
| 138 | 0.39 | 100 BULLETS TP VOL 01 FIRST SHOT LAST CALL | $9.99 | DC |          676 |
| 139 | 0.39 | DAKEN DARK WOLVERINE PREM HC BIG BREAK | $19.99 | MAR |          669 |
| 140 | 0.38 | ARCHIE AMERICANA HC VOL 02 BEST OF THE 50S (IDW) | $24.99 | IDW |          648 |
| 141 | 0.38 | BILLY MAJESTIC HUMPTY DUMPTY TP | $14.99 | IDW |          648 |
| 142 | 0.38 | ANITA BLAKE VH GUILTY PLEASURES ULT COLL TP (MR) | $34.99 | MAR |          647 |
| 143 | 0.37 | AMELIA RULES TP VOL 07 MEANING OF LIFE | $10.99 | POC |          641 |
| 144 | 0.37 | WALKING DEAD TP VOL 09 HERE WE REMAIN (MR) | $14.99 | IMA |          638 |
| 145 | 0.36 | WALKING DEAD TP VOL 11 FEAR THE HUNTERS (MR) | $14.99 | IMA |          624 |
| 146 | 0.36 | ARCHIE BEST OF HARRY LUCEY HC VOL 01 | $24.99 | IDW |          621 |
| 147 | 0.36 | NINJA GIRLS GN VOL 07 (MR) | $10.99 | RAN |          620 |
| 148 | 0.36 | WATCHMEN TP | $19.99 | DC |          619 |
| 149 | 0.36 | WOLVERINE BY JASON AARON OMNIBUS HC VOL 01 | $99.99 | MAR |          619 |
| 150 | 0.36 | PSYREN GN VOL 01 | $9.99 | VIZ |          618 |
| 151 | 0.36 | WALKING DEAD TP VOL 06 SORROWFUL LIFE (MR) | $14.99 | IMA |          618 |
| 152 | 0.36 | CODE GEASS QUEEN GN VOL 03 | $10.99 | BAN |          617 |
| 153 | 0.36 | VAMPIRELLA MASTERS SERIES TP VOL 06 JAMES ROBINSON | $16.99 | DYN |          616 |
| 154 | 0.36 | SCOTT PILGRIM GN VOL 01 PRECIOUS LITTLE LIFE | $11.99 | ONI |          614 |
| 155 | 0.36 | SAILOR MOON TP KODANSHA ED VOL 01 | $10.99 | RAN |          613 |
| 156 | 0.35 | DUCKTALES RIGHTFUL OWNERS TP | $14.99 | BOO |          608 |
| 157 | 0.35 | HIGURASHI WHEN THEY CRY GN VOL 15 ATONEMENT ARC PT 1 | $11.99 | HAC |          604 |
| 158 | 0.35 | HAPPINESS IS A WARM BLANKET CHARLIE BROWN TP | $9.99 | BOO |          601 |
| 159 | 0.35 | STAR GAZING DOG GN | $11.99 | NBM |          600 |
| 160 | 0.35 | SANDMAN TP VOL 01 PRELUDES & NOCTURNES NEW ED (MR) | $19.99 | DC |          597 |
| 161 | 0.35 | TEZUKAS BLACK JACK TP VOL 16 | $16.95 | RAN |          597 |
| 162 | 0.35 | DO ANDROIDS DREAM OF ELECTRIC SHEEP HC VOL 06 | $24.99 | BOO |          596 |
| 163 | 0.35 | FABLES TP VOL 01 LEGENDS IN EXILE | $12.99 | DC |          596 |
| 164 | 0.34 | DARKWING DUCK TP VOL 01 DUCK KNIGHT RETURNS | $14.99 | BOO |          592 |
| 165 | 0.34 | TINTIN YOUNG READERS ED GN BROKEN EAR | $8.99 | HAC |          587 |
| 166 | 0.34 | RAGE AFTER THE IMPACT TP | $10.99 | DAR |          586 |
| 167 | 0.34 | WALKING DEAD TP VOL 12 LIFE AMONG THEM | $14.99 | IMA |          583 |
| 168 | 0.34 | UMBRELLA ACADEMY TP VOL 01 APOCALYPSE SUITE | $17.99 | DAR |          581 |
| 169 | 0.34 | FABLES TP VOL 15 ROSE RED (MR) | $17.99 | DC |          580 |
| 170 | 0.33 | DC SUPER-PETS YR TP HEROES O/T HIGH SEAS | $4.95 | CAP |          574 |
| 171 | 0.33 | IRON AGE HC | $29.99 | MAR |          572 |
| 172 | 0.33 | LOCKE & KEY TP VOL 01 WELCOME TO LOVECRAFT | $19.99 | IDW |          567 |
| 173 | 0.33 | WALKING DEAD TP VOL 10 WHAT WE BECOME | $14.99 | IMA |          562 |
| 174 | 0.32 | WALKING DEAD TP VOL 08 MADE TO SUFFER (MR) | $14.99 | IMA |          557 |
| 175 | 0.32 | V FOR VENDETTA NEW EDITION TP (MR) | $19.99 | DC |          552 |
| 176 | 0.32 | UNCANNY X-FORCE TP VOL 01 APOCALYPSE SOLUTION | $15.99 | MAR |          549 |
| 177 | 0.32 | FARSCAPE TP VOL 05 RED SKY AT MORNING | $12.99 | BOO |          547 |
| 178 | 0.32 | SKIP BEAT TP VOL 25 | $9.99 | VIZ |          547 |
| 179 | 0.32 | DR HORRIBLE TP | $9.99 | DAR |          544 |
| 180 | 0.31 | BATWOMAN TP VOL 01 ELEGY | $17.99 | DC |          533 |
| 181 | 0.31 | ART OF COMIC BOOK INKING TP VOL 01 | $29.99 | DAR |          530 |
| 182 | 0.31 | MMW GOLDEN AGE MARVEL COMICS HC VOL 06 | $59.99 | MAR |          530 |
| 183 | 0.30 | BLEACH 3-IN-1 ED VOL 03 | $14.99 | VIZ |          518 |
| 184 | 0.30 | WALKING DEAD TP VOL 07 THE CALM BEFORE | $14.99 | IMA |          517 |
| 185 | 0.30 | ZOMBIES VS ROBOTS UNDERCITY HC | $24.99 | IDW |          516 |
| 186 | 0.30 | FULLMETAL ALCHEMIST 3-IN-1 ED VOL 03 | $14.99 | VIZ |          515 |
| 187 | 0.30 | CHIP N DALE RESCUE RANGERS TP SLIPPIN THROUGH THE CRACKS | $14.99 | BOO |          513 |
| 188 | 0.30 | ARCHIE ARCHIVES HC VOL 03 | $49.99 | DAR |          512 |
| 189 | 0.29 | NEW WARRIORS CLASSIC TP VOL 03 | $24.99 | MAR |          506 |
| 190 | 0.29 | HABIBI GN (MR) | $35.00 | RAN |          503 |
| 191 | 0.29 | FROM MARVEL VAULT TP | $14.99 | MAR |          500 |
| 192 | 0.29 | ARKHAM ASYLUM ANNIVERSARY ED SC (MR) | $17.99 | DC |          495 |
| 193 | 0.29 | IMMORTALS GODS AND HEROES HC (MR) | $19.95 | ARA |          493 |
| 194 | 0.28 | CTHULHU TALES OMNIBUS MADNESS TP | $19.99 | BOO |          480 |
| 195 | 0.28 | POWER LUNCH GN VOL 01 | $12.99 | ONI |          478 |
| 196 | 0.28 | BOYS TP VOL 08 HIGHLAND LADDIE | $19.99 | DYN |          477 |
| 197 | 0.28 | SAYONARA ZETSUBOU SENSEI GN VOL 11 | $10.99 | RAN |          477 |
| 198 | 0.27 | CHEW TP VOL 03 JUST DESSERTS (MR) | $12.99 | IMA |          465 |
| 199 | 0.27 | SKETCH MONSTERS HC VOL 01 | $12.99 | ONI |          460 |
| 200 | 0.26 | WALLFLOWER GN VOL 26 (MR) | $10.99 | RAN |          456 |
| 201 | 0.26 | JOKER HC | $19.99 | DC |          452 |
| 202 | 0.26 | NEGIMA OMNIBUS GN VOL 02 (MR) | $19.99 | RAN |          451 |
| 203 | 0.26 | ABSOLUTE ALL STAR SUPERMAN HC | $99.99 | DC |          450 |
| 204 | 0.26 | WOLVERINE OLD MAN LOGAN TP | $29.99 | MAR |          445 |
| 205 | 0.26 | ZOMBIES VS CHEERLEADERS TP | $16.95 | MOO |          441 |
| 206 | 0.26 | SAKURA HIME LEGEND OF PRINCESS SAKURA GN VOL 04 | $9.99 | VIZ |          440 |
| 207 | 0.25 | SPACE FAMILY ROBINSON ARCHIVES HC VOL 02 | $49.99 | DAR |          438 |
| 208 | 0.25 | EYESHIELD 21 TP VOL 37 | $9.99 | VIZ |          435 |
| 209 | 0.25 | NURA RISE O/T YOKAI CLAN GN VOL 05 | $9.99 | VIZ |          434 |
| 210 | 0.25 | TUROK SON OF STONE ARCHIVES HC VOL 09 | $49.99 | DAR |          432 |
| 211 | 0.25 | BRIDES STORY HC GN BOOK 02 | $16.99 | HAC |          431 |
| 212 | 0.25 | BOYS TP VOL 01 NAME OF THE GAME (MR) | $16.99 | DYN |          430 |
| 213 | 0.25 | NUTS HC | $19.99 | FAN |          428 |
| 214 | 0.25 | CHEW TP VOL 02 INTERNATIONAL FLAVOR (MR) | $12.99 | IMA |          423 |
| 215 | 0.24 | FRANK BOOK SC | $34.99 | FAN |          421 |
| 216 | 0.24 | CIVIL WAR TP | $24.99 | MAR |          420 |
| 217 | 0.24 | Y THE LAST MAN TP VOL 01 UNMANNED | $14.99 | DC |          420 |
| 218 | 0.24 | STAN LEE SOLDIER ZERO TP VOL 02 | $14.99 | BOO |          416 |
| 219 | 0.24 | UNDERWIRE GN | $9.95 | TOP |          408 |
| 220 | 0.24 | DROPS OF GOD VOL 01 | $14.95 | RAN |          407 |
| 221 | 0.24 | LOEG III CENTURY #2 1969 (MR) | $9.95 | TOP |          407 |
| 222 | 0.24 | DISNEY MICKEY MOUSE BOX SET VOL 01 & 02 | $49.99 | FAN |          406 |
| 223 | 0.24 | STAN LEE TRAVELER TP VOL 02 | $14.99 | BOO |          406 |
| 224 | 0.23 | HELLBOY TP VOL 11 BRIDE OF HELL & OTHERS | $19.99 | DAR |          403 |
| 225 | 0.23 | ZORRO TP VOL 03 TALES OF THE FOX | $19.99 | DYN |          401 |
| 226 | 0.23 | KEEP HC | $24.99 | IDW |          400 |
| 227 | 0.23 | ZOMNIBUS GN VOL 02 | $24.99 | IDW |          400 |
| 228 | 0.23 | NURSERY RHYME COMICS 50 TIMELESS RHYMES HC | $18.99 | ST. |          395 |
| 229 | 0.23 | ALL GHOUL SCHOOL GN | $19.99 | IDW |          394 |
| 230 | 0.23 | KAMISAMA KISS TP VOL 05 | $9.99 | VIZ |          392 |
| 231 | 0.23 | AFTERSCHOOL CHARISMA TP VOL 04 | $12.99 | VIZ |          390 |
| 232 | 0.23 | KINGDOM COME TP NEW EDITION | $17.99 | DC |          389 |
| 233 | 0.23 | ORCS GN VOL 01 FORGED FOR WAR | $17.99 | ST. |          389 |
| 234 | 0.22 | DRACULA COMPANY OF MONSTERS TP VOL 03 | $12.99 | BOO |          386 |
| 235 | 0.22 | JUDGE DREDD COMPLETE CASE FILES TP VOL 18 | $35.99 | DIA |          385 |
| 236 | 0.22 | ARKHAM ASYLUM MADNESS TP | $14.99 | DC |          381 |
| 237 | 0.22 | SCOTT PILGRIM GN VOL 02 VS THE WORLD | $11.99 | ONI |          381 |
| 238 | 0.22 | WALKING DEAD HC VOL 01 (MR) | $34.99 | IMA |          381 |
| 239 | 0.22 | FABLES TP VOL 02 ANIMAL FARM | $12.99 | DC |          379 |
| 240 | 0.22 | BEST AMERICAN COMICS HC 2011 | $25.00 | HOU |          377 |
| 241 | 0.21 | BATMAN RIP TP | $14.99 | DC |          370 |
| 242 | 0.21 | CASTLE PREM HC RICHARD CASTLES DEADLY STORM | $19.99 | MAR |          370 |
| 243 | 0.21 | SUPERMAN RED SON TP | $17.99 | DC |          367 |
| 244 | 0.21 | METABARONS ULTIMATE COLL SLIP CASE (MR) | $129.95 | HUM |          366 |
| 245 | 0.21 | GON GN KODANSHA ED VOL 02 | $10.99 | RAN |          365 |
| 246 | 0.21 | THE CABBIE HC VOL 01 (MR) | $19.99 | FAN |          363 |
| 247 | 0.21 | BRIGHTEST DAY HC VOL 03 | $29.99 | DC |          362 |
| 248 | 0.21 | CLASSIC JURASSIC PARK TP VOL 03 AMAZON ADVENTURE | $19.99 | IDW |          361 |
| 249 | 0.21 | LOCKE & KEY TP VOL 02 HEAD GAMES | $19.99 | IDW |          360 |
| 250 | 0.21 | NATSUMES BOOK OF FRIENDS TP VOL 09 | $9.99 | VIZ |          359 |
| 251 | 0.21 | GREEN LANTERN BRIGHTEST DAY HC | $22.99 | DC |          355 |
| 252 | 0.21 | BATMAN KNIGHTFALL TP PART 01 BROKEN BAT | $19.99 | DC |          354 |
| 253 | 0.21 | PREACHER TP VOL 01 GONE TO TEXAS NEW EDITION (MR) | $17.99 | DC |          354 |
| 254 | 0.20 | BATMAN DARK VICTORY TP | $19.99 | DC |          350 |
| 255 | 0.20 | Y THE LAST MAN TP VOL 02 CYCLES (MR) | $12.99 | DC |          347 |
| 256 | 0.20 | STAR WARS OMNIBUS EPISODES I-VI COMP SAGA TP | $24.99 | DAR |          341 |
| 257 | 0.20 | UMBRELLA ACADEMY TP VOL 02 DALLAS | $17.99 | DAR |          341 |
| 258 | 0.20 | CROSS GAME TP VOL 05 | $14.99 | VIZ |          339 |
| 259 | 0.20 | HELLBLAZER TP VOL 01 ORIGINAL SINS NEW ED (MR) | $19.99 | DC |          337 |
| 260 | 0.19 | 15 LOVE GN TP | $14.99 | MAR |          335 |
| 261 | 0.19 | SUPERMAN EARTH ONE HC | $19.99 | DC |          335 |
| 262 | 0.19 | SUPERGOD TP VOL 01 (MR) | $17.99 | AVA |          334 |
| 263 | 0.19 | UNWRITTEN TP VOL 01 TOMMY TAYLOR AND BOGUS IDENTITY (MR) | $12.99 | DC |          331 |
| 264 | 0.19 | LOEG VOL ONE TP | $14.99 | DC |          328 |
| 265 | 0.19 | CASE CLOSED GN VOL 40 | $9.99 | VIZ |          327 |
| 266 | 0.19 | FINAL CRISIS TP | $19.99 | DC |          323 |
| 267 | 0.19 | SWEET TOOTH TP VOL 01 OUT OF THE WOODS (MR) | $12.99 | DC |          323 |
| 268 | 0.19 | UNDYING LOVE TP (MR) | $14.99 | IMA |          323 |
| 269 | 0.19 | FLESH AND BLOOD GN VOL 01 (MR) | $14.99 | MON |          322 |
| 270 | 0.19 | MAUS SURVIVORS TALE COMPLETE HC | $35.00 | RAW |          320 |
| 271 | 0.19 | MARCH STORY TP VOL 03 (MR) | $12.99 | VIZ |          319 |
| 272 | 0.19 | MEOW HC VOL 01 | $21.00 | KET |          319 |
| 273 | 0.18 | HELLBOY TP VOL 01 SEED OF DESTRUCTION | $17.95 | DAR |          318 |
| 274 | 0.18 | SANDMAN TP VOL 02 THE DOLLS HOUSE NEW ED (MR) | $19.99 | DC |          318 |
| 275 | 0.18 | SERENITY SHEPHERDS TALE HC | $14.99 | DAR |          317 |
| 276 | 0.18 | ROCKETEER COMPLETE COLLECTION HC VOL 01 | $29.99 | IDW |          316 |
| 277 | 0.18 | DEFINITIVE IRREDEEMABLE HC VOL 01 | $74.99 | BOO |          313 |
| 278 | 0.18 | DMZ TP VOL 01 ON THE GROUND (MR) | $9.99 | DC |          312 |
| 279 | 0.18 | LOCKE & KEY HC VOL 04 KEYS TO THE KINGDOM | $24.99 | IDW |          310 |
| 280 | 0.18 | LOCKE & KEY TP VOL 03 CROWN OF SHADOWS | $19.99 | IDW |          309 |
| 281 | 0.18 | JAMES PATTERSONS WITCH & WIZARD HC VOL 02 OPERATION ZERO | $17.99 | IDW |          308 |
| 282 | 0.18 | SQUEE TP | $15.95 | SLA |          307 |
| 283 | 0.18 | MARDOCK SCRAMBLE GN VOL 02 | $10.99 | RAN |          306 |
| 284 | 0.18 | IRREDEEMABLE TP VOL 01 | $9.99 | BOO |          305 |
| 285 | 0.18 | JOHN STANLEY LIBRARY NANCY HC VOL 03 | $29.95 | DRA |          304 |
| 286 | 0.18 | SKY DOLL SPACE SHIP PREM HC (MR) | $24.99 | MAR |          304 |
| 287 | 0.18 | TRANSMETROPOLITAN TP VOL 01 BACK ON THE STREET (MR) | $14.99 | DC |          304 |
| 288 | 0.18 | TWO GENERALS SC | $19.99 | RAN |          304 |
| 289 | 0.18 | AFRODISIAC HC (MR) | $14.95 | ADH |          303 |
| 290 | 0.17 | SCOTT PILGRIM GN VOL 03 INFINITE SADNESS | $11.99 | ONI |          299 |
| 291 | 0.17 | ATOMIC ROBO TP VOL 01 | $18.95 | RED |          294 |
| 292 | 0.17 | SCOTT PILGRIM GN VOL 05 VS THE UNIVERSE | $11.99 | ONI |          292 |
| 293 | 0.17 | FREAKANGELS HC VOL 06 (MR) | $27.99 | AVA |          291 |
| 294 | 0.17 | BTVS SEASON 8 TP VOL 08 LAST GLEAMING | $16.99 | DAR |          290 |
| 295 | 0.17 | DAGAR THE INVINCIBLE ARCHIVES HC VOL 01 | $49.99 | DAR |          290 |
| 296 | 0.17 | ROBERT BLOCH THAT HELLBOUND TRAIN TP | $17.99 | IDW |          290 |
| 297 | 0.17 | FABLES TP VOL 03 STORYBOOK LOVE (MR) | $14.99 | DC |          289 |
| 298 | 0.17 | PLANETARY TP VOL 01 ALL OVER THE WORLD AND OTHER STORIES | $14.99 | DC |          288 |
| 299 | 0.17 | SCOTT PILGRIM GN VOL 04 GETS IT TOGETHER | $11.99 | ONI |          286 |
| 300 | 0.16 | BOYS TP VOL 07 THE INNOCENTS (MR) | $19.99 | DYN |          284 |