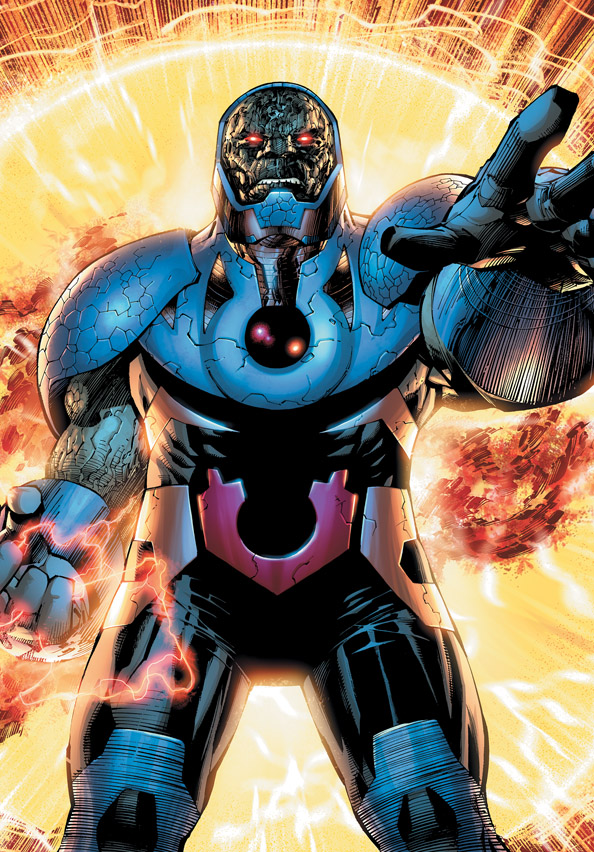 Panini 2012 : il va y a voir du sang en avril !
Nouvelle série de Dynamite qui arrive en France en avril :
NEWS ! Jennifer Blood, de Garth Ennis, arrive chez Panini en avril !
J'avais lu les deux premiers épisodes, et n'avait pas été vraiment convaincu, j'ai plus senti que c'était un boulot de commande pour Garth Ennis, qui d'ailleurs ne signe que le premier arc (les 6 premiers épisodes). Ce n'était pas franchement mauvais, mais loin de la qualité des autres productions de l'auteur.
Justice League : nouveau design de Darkseid 
Ceux qui me suivent sur Facebook ou twitter ont eu en avant première ma réaction au nouveau design de Darkseid signé par Jim Lee qui fera son apparition dans Justice League 4 :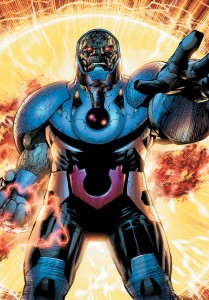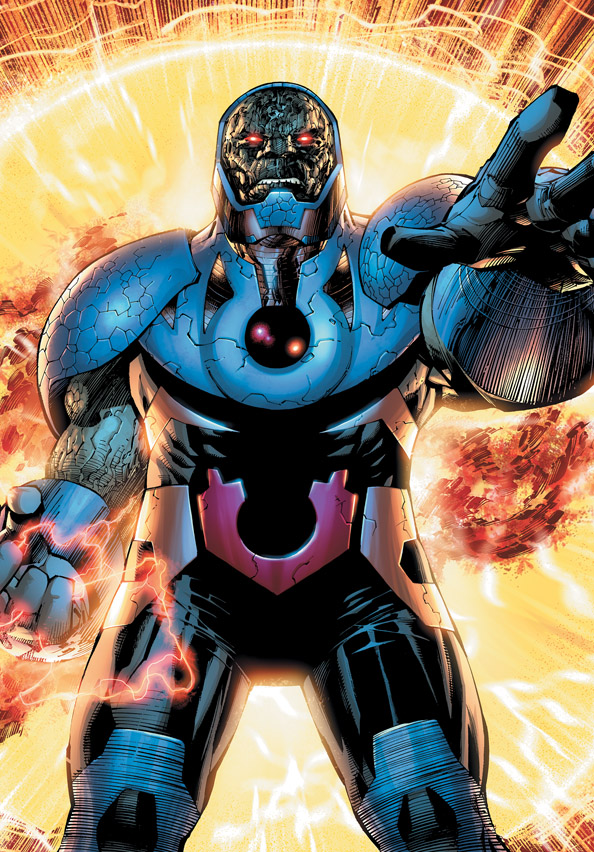 Pour ceux qui s'interrogent sur mon sentiment, le voici : « noooooooooooooooonnnnnnnnnnnnnnnnnnn, pourquoi ? mais pourquoi ???? arghhhh mes yeux,….  » ça continue comme ça pendant un moment …sans doute le pire design signé par Jim Lee, et pourtant certains autres du relaunch DC étaient déjà  horribles.
Pourquoi je crie au crime, je rappelle qu'avant Darkseid version Jack Kirby c'était ça, et c'était plus mieux :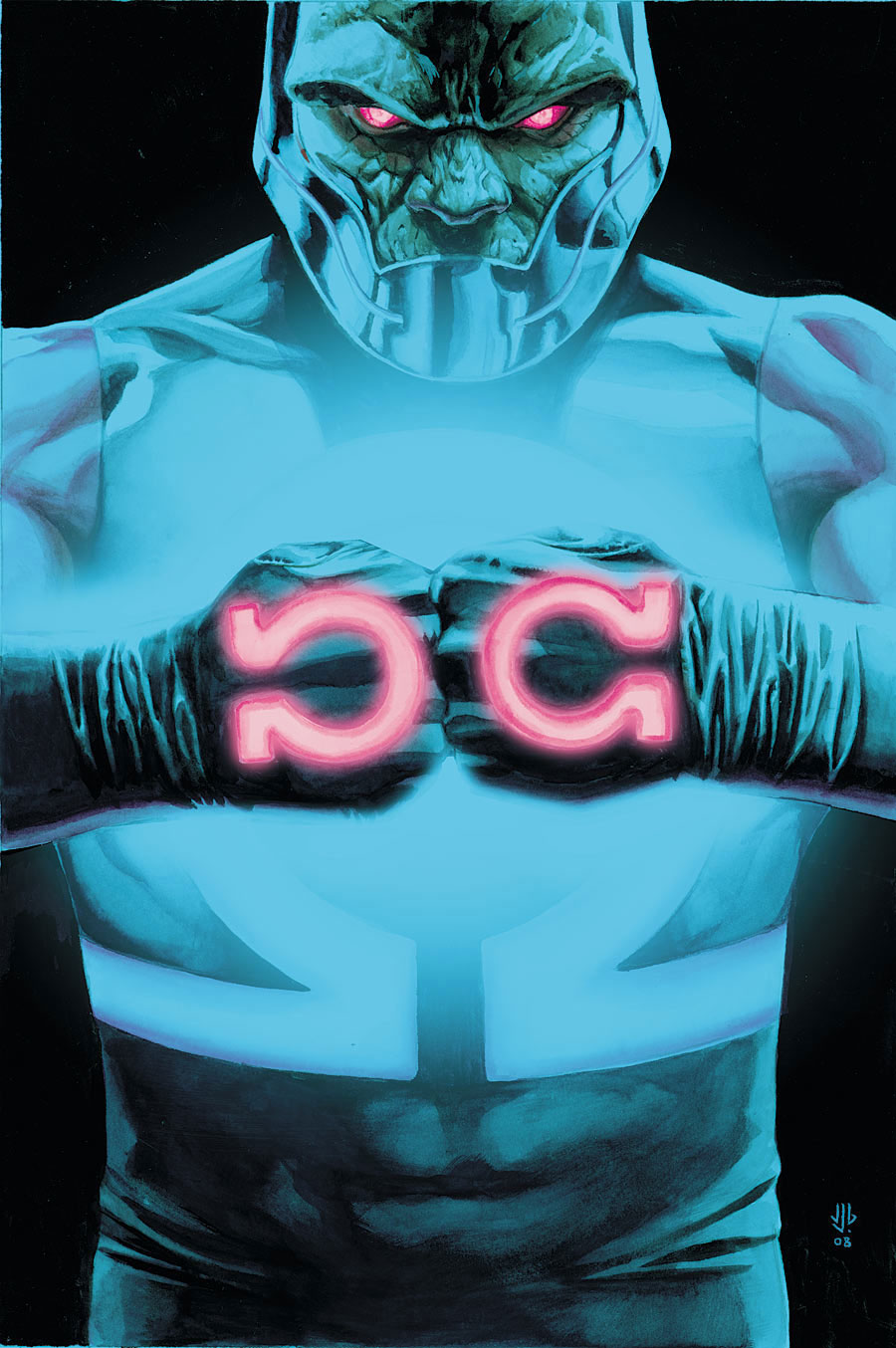 Sollicitations Février 2012 : les titres superman en premier
Normalement il n'y en a plus pour longtemps avant que nous disposions des sollicitations DC pour le mois de février 2012, oui je sais ça passe à une vitesse de dingue, mais fidèle à ses habitudes DC les dévoile morceau par morceau avec aujourd'hui celles de Superman avec notamment la fin du run de Georges Perez au bout de 6 épisodes (sniff) :

ACTION COMICS #6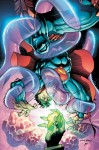 Written by GRANT MORRISON
Backup story written by SHOLLY FISCH
Art by ANDY KUBERT and JESSE DELPERDANG
Backup story art by CHRISCROSS
Cover by ANDY KUBERT
Variant cover by RAGS MORALES
1:200 B&W Variant cover by ANDY KUBERT
On sale FEBRUARY 1 • 40 pg, FC, $3.99 US • RATED T
Combo pack edition: $4.99 US
The breakneck pace of Grant Morrison's run on ACTION COMICS continues as the Superman of the present day must team up with suspiciously different versions of the Legion of Super-Heroes to save the jeans-wearing Superman of five years ago! Whose hand is that on the cover? Why, the leader of the Anti-Superman Army, of course!
Plus, a backup by Sholly Fisch and ChrisCross that spins directly out of the lead story!
This issue is also offered as a special combo pack edition, polybagged with a redemption code for a digital download of the issue.
SUPERMAN #6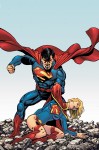 Written by GEORGE PEREZ
Art by NICOLA SCOTT and TREVOR SCOTT
Cover by GEORGE PEREZ
1:25 Variant cover by GEORGE PEREZ
On sale FEBRUARY 22 • 32 pg, FC, $2.99 US • RATED T
Recently, an onslaught of creatures has targeted Superman, nearly destroying Metropolis in the process. And now…Superman is helping them finish the job?! Guest-starring Supergirl!

SUPERBOY #6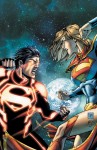 Written by SCOTT LOBDELL
Art by R.B. SILVA and ROB LEAN
Cover by SHANE DAVIS and JONATHAN GLAPION
On sale FEBRUARY 8 • 32 pg, FC, $2.99 US RATED T
Superboy wants answers about his Kryptonian heritage, and he intends to track down Superman to get them – unfortunately, Supergirl's going to find him first, and she's horrified by what she sees! Their encounter will leave her even more troubled by life on Earth, and leave him wondering why even his own people think he's a monster!

SUPERGIRL #6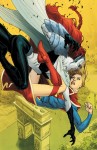 Written by MICHAEL GREEN and MIKE JOHNSON
Art and cover by MAHMUD ASRAR
On sale FEBRUARY 15 • 32 pg, FC, $2.99 US RATED T
A powerful new alien foe bent on the conquest of mankind is crushing New York City beneath her boot heel. But where is Supergirl, who led her to Earth in the first place? Why, she's trapped on a meteorite that's plummeting straight into a blue sun. And she's lost her powers! So, good luck, NYC!
Je trouve assez bizarre que l'on voit Supergirl dans 3 des 4 titres superman en février, bon vous me direz le titre Supergirl c'est normal, mais il est étonnant qu'elle apparaisse le même mois dans Superboy et Superman…
Et après Superman, du Green lantern 
GREEN LANTERN #6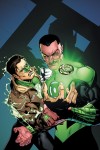 Written by GEOFF JOHNS
Art by DOUG MAHNKE and CHRISTIAN ALAMY
Cover by DOUG MAHNKE
Variant cover by IVAN REIS
1:200 B&W variant cover by DOUG MAHNKE
On sale FEBRUARY 8 • 32 pg, FC, $2.99 US • RATED T
With the tumultuous battle for Korugar past them, Sinestro and Hal are left at a crossroads. They must pick up the pieces of their lives. The question is, will they do it alone…or together?
GREEN LANTERN CORPS #6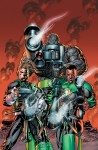 Written by PETER J. TOMASI
Art by FERNANDO PASARIN and SCOTT HANNA
Cover by ANDY KUBERT
On sale FEBRUARY 15 • 32 pg, FC, $2.99 US • RATED T
It's the stunning conclusion to the war between the Corps and their new nemeses, the Keepers! Now that we know a GL power ring isn't the most effective weapon against them, Guy and John take the battle to the Keepers' front door…without their rings! Not everyone will make it home in one piece.

GREEN LANTERN: NEW GUARDIANS #6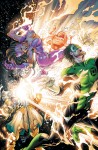 Written by TONY BEDARD
Art and cover by TYLER KIRKHAM and BATT
1:25 Variant cover by TYLER KIRKHAM and BATT
On sale FEBRUARY 22 • 32 pg, FC, $2.99 US • RATED T
The sleeper in the sun has awakened! Green Lantern Kyle Rayner and his renegade team of Lanterns are all that stands between the creature Invictus and planetary genocide. But in this battle, how did Fatality and the rest of the Lanterns end up being the bad guys?

RED LANTERNS #6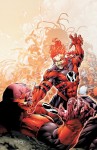 Written by PETER MILLIGAN
Art by ED BENES and ROB HUNTER
Cover by ED BENES
On sale FEBRUARY 1 • 32 pg, FC, $2.99 US • RATED T+
Rankorr, the newest Red Lantern, is here – and he's pissed! Find out what happens when the red ring selects a human host overcome with rage and grief. Plus: Atrocitus and Bleez face off against each other, and an old enemy stands revealed.