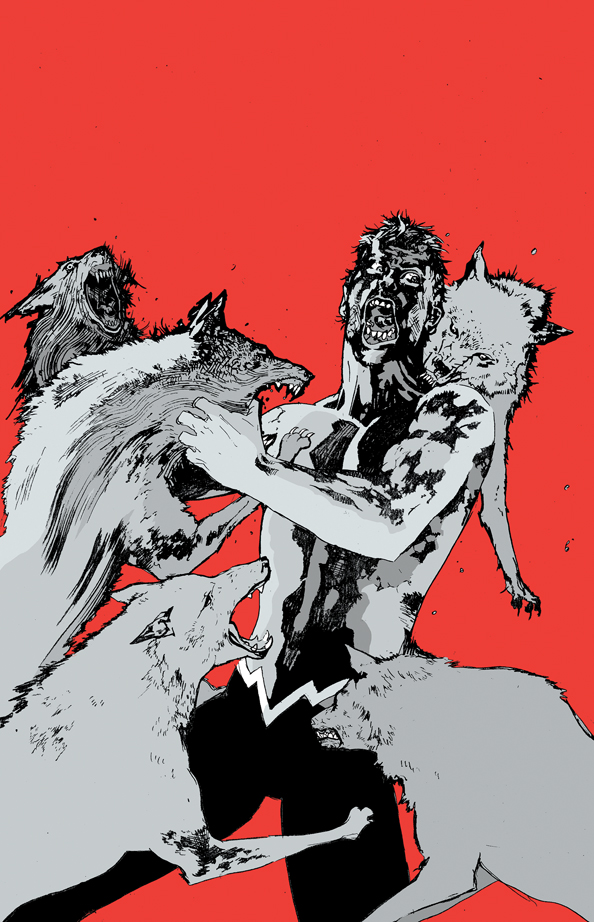 Et pour finir la journée voici les sollicitations pour les titres Green Lantern et Dark ! que de bonnes choses en perspective, à part les titres signés Tony Bedard ! Mais pourquoi suis-je aussi méchant ? parce quuuuueeeeeee c'est pas bon ce qu'il fait …
Par contre Swamp Thing et Animal Man s'annoncent encore plus incontournables que d'habitude.

GREEN LANTERN #8
Written by GEOFF JOHNS
Art by DOUG MAHNKE and CHRISTIAN ALAMY
Cover by DOUG MAHNKE
Variant cover by DALE KEOWN
1:200 B&W variant cover by DOUG MAHNKE
On sale APRIL 11 • 32 pg, FC, $2.99 US • RATED T
Combo pack edition: $3.99 US
"Secret of the Indigo Tribe" Part 2! On the Indigo homeworld, Hal Jordan and Sinestro are trapped, powerless and on the run – with the entire Indigo Tribe in hot pursuit! Their situation grows even more dire when we learn the Indigos' deadly secret! Plus: Why Indigo-1 is so interested in Hal's predecessor, Abin Sur?
This issue is also offered as a special combo pack edition, polybagged with a redemption code for a digital download of this issue.

GREEN LANTERN CORPS #8
Written by PETER J. TOMASI
Art and cover by FERNANDO PASARIN and SCOTT HANNA
On sale APRIL 18 • 32 pg, FC, $2.99 US • RATED T
The Guardians' plan to replace the Corps continues to move forward as John Stewart is arrested by the Alpha Lanterns! The terrible truth of John Stewart's crime has been uncovered by the Corps – and unfortunately for them, John refuses to go quietly.

GREEN LANTERN: NEW GUARDIANS #8
Written by TONY BEDARD
Art and cover by TYLER KIRKHAM and BATT
1:25 B&W Variant cover by TYLER KIRKHAM and BATT
On sale APRIL 25 • 32 pg, FC, $2.99 US • RATED T
Betrayed by Sinestro! Arkillo, the most loyal of all the yellow ring wielders, has returned to Korugar only to find the Sinestro Corps is no more! The members of the corps have been rounded up and executed, and the yellow power battery is gone – all at Sinestro's command! Armed with the dwindling energy of a ring he can no longer recharge, it's a race against time as Arkillo slaughters his way toward a desperate goal: the birth of a new type of yellow power ring!

RED LANTERNS #8
Written by PETER MILLIGAN
Art by ED BENES and ROB HUNTER
Cover by ED BENES
On sale APRIL 4 • 32 pg, FC, $2.99 US • RATED T+
Who is it that brings death to all on Ysmault? Jack Moore could not have become a Red Lantern at a more apocalyptic time. But what's worse: being caught in Atrocitus and Bleez's civil war, or taking the blame for the infection spreading throughout the Red Lantern Corps? Facing extinction, how long until all the Red Lanterns burn out?
SWAMP THING #8
Written by SCOTT SNYDER
Art and cover by YANICK PAQUETTE
1:25 B&W Variant cover by YANICK PAQUETTE
On sale APRIL 4 • 32 pg, FC, $2.99 US • RATED T+
Behold the terrifying true potential of the Swamp Thing – a form so fearsome we couldn't put it on the cover! The Green sought a warrior king, and now they have one…but will they regret unleashing a being this powerful? And can all that strength save Abigail Arcane from her destiny in the Rot's clutches?
JUSTICE LEAGUE DARK #8
Written by PETER MILLIGAN
Art and cover by MIKEL JANIN
On sale APRIL 25 • 32 pg, FC, $2.99 US • RATED T
The crossover with I, VAMPIRE heats up as Zatanna and Shade stand alone against an army of single-minded vampires, with their most powerful teammates out of the action! Plus: Constantine and Deadman have gone to the ends of the earth and beyond in search of the only two powers who can put a stop to the bloody rise of Cain – but what they bring back will change the face of sorcery forever! To be concluded in this month's I, VAMPIRE #8!

I, VAMPIRE #8
Written by JOSHUA HALE FIALKOV
Art and cover by ANDREA SORRENTINO
On sale APRIL 25 • 32 pg, FC, $2.99 US • RATED T+
As the Justice League Dark team faces the end of all magic – and perhaps life itself – only one man can challenge the dark force known as Cain: Andrew Bennett. He's back from the dead, but whose side is he on? Regardless of the answer, nothing will be the same for either series when "Rise of the Vampires" is over!

FRANKENSTEIN, AGENT OF S.H.A.D.E. #8
Written by JEFF LEMIRE
Art and cover by ALBERTO PONTICELLI and WALDEN WONG
On sale APRIL 11 • 32 pg, FC, $2.99 US • RATED T
Enter: The Spawn of Frankenstein! As Frankenstein and his estranged wife hunt their demonic offspring across Europe, the secrets that tore them apart are revealed. But when Frank finally comes face to face with his long lost son, the fallout may mean the end of S.H.A.D.E.!

ANIMAL MAN #8
Written by JEFF LEMIRE
Art by TRAVEL FOREMAN, STEVE PUGH and JEFF HUET
Cover by TRAVEL FOREMAN
On sale APRIL 4 • 32 pg, FC, $2.99 US • RATED T+
"Animal vs. Man" Part 2! Buddy takes a stand as the horde of Rot-infested animals continues to grow and close in on the Baker family. But the results are disastrous, setting up a chain of events that may lead Maxine right to the Hunters.

RESURRECTION MAN #8
Written by DAN ABNETT and ANDY LANNING
Art by FERNANDO DAGNINO
Cover by RAFAEL ALBUQUERQUE
On sale APRIL 11 • 32 pg, FC, $2.99 US • RATED T+
Someone has been following Mitch Shelley, the Resurrection Man, everywhere he goes. Someone has been keeping tabs on where he's been and what he's doing. But who? This story serves as a lead-in to next month's crossover with SUICIDE SQUAD – and you don't want to miss that!

DEMON KNIGHTS #8
Written by PAUL CORNELL
Art by BERNARD CHANG, DIOGENES NEVES and OCLAIR ALBERT
Cover by MIKE CHOI
On sale APRIL 11 • 32 pg, FC, $2.99 US • RATED T
Just how exactly did Madame Xanadu become the paramour of both Jason Blood and Etrigan, the foul demon trapped inside him? On the road to Alba Sarum, there's nothing but time for tall tales…and this one's as unbelievable as they come! Featuring guest art by Bernard Chang (DC UNIVERSE PRESENTS)!