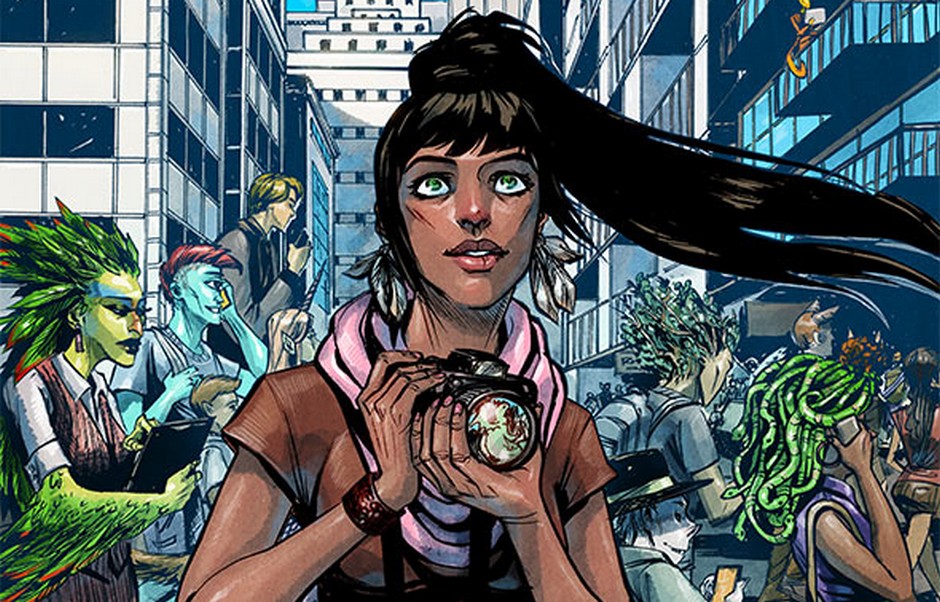 Et voici les sollicitations Image pour le mois d'avril prochain, comme d'habitude avec de nouvelles séries qui nous font saliver :
– Southern Bastards, le premier creator owned de Jason Aaron depuis Scalped débarque enfin ! Annoncé de longue date, il nous promet encore une fois de nous plonger dans les entrailles de l'Amérique. Après les indiens, ce sont les rednecks qui sont au programme ! Pour ceux qui l'ignorent, les rednecks sont en gros les bouseux sudistes des USA…
– Shutter la nouvelle série de Joe Keatinge. A noter d'ailleurs que la série qui a rendu célèbre Keatinge, Glory, ressort en format HC avec les 12 épisodes de cette série géniale. Mais pas la peine de vous précipitez, car il me semble que la série Glory sera traduite en VF dans peu de temps ! En tout cas je suis pressé de découvrir ce nouveau titre.
– Dream Police, encore de JMS qui devient un mini Marvel à lui seul au vu du nombre de séries qu'il a en cours …
Niveau TPB c'est bien garni là, Manhattan Projects, Lazaru, Pretty Deadly, Velvet ! Et bien entendu toutes les séries régulières que l'on adore ! toute cette génialitude au même endroit, ça donne le tournis ! choisissez votre poison les gens (pour votre portefeuille !!!).
SOUTHERN BASTARDS #1
story: JASON AARON
ar / cover: JASON LATOUR
APRIL 30 / 32 PAGES / FC / M / $3.50
Welcome to Craw County, Alabama, home of Boss BBQ, the state champion Runnin' Rebs football team…and more bastards than you've ever seen. When you're an angry old man like Earl Tubb, the only way to survive a place like this…is to carry a really big stick.
From the acclaimed team of JASON AARON and JASON LATOUR, the same bastards who brought you Scalped and Wolverine: Japan's Most Wanted, comes a southern fried crime series that's like the Dukes of Hazzard meets the Coen Brothers…on meth.
INVINCIBLE #111
story: ROBERT KIRKMAN
art / cover: RYAN OTTLEY
APRIL 16 / 32 PAGES / FC / M / $2.99
THE WALKING DEAD CREATOR ROBERT KIRKMAN WRITES INVINCIBLE!!!
A new beginning for INVINCIBLE as things take a turn down a dark path. Everything changes as Invincible is betrayed by one of his own. You won't want to miss this explosive issue #1… 1… 1! It packs the punch of THREE relaunched number one issues! IN ONE BOOK!
THE FIELD #1 (of 4)
story: ED BRISSON
art / cover: SIMON ROY
APRIL 2 / 32 PAGES / FC / M / $3.50
A man wakes in a field wearing nothing but his underwear. He's got no idea who he is or how he got there. His only connection to the outside world a cell phone on which he receives mysterious texts warning him of impending danger. Danger like Christian, an ex-bible sales-man in the middle of crime spree fueled by Christian Rock, dirty sex, meth, murder and keeping this underwear clad, nameless and pastless man close by his side.
SHUTTER #1
story: JOE KEATINGE
art / cover A: LEILA DEL DUCA
cover B: DUSTIN WEAVER
cover C: BRANDON GRAHAM
cover D: EMMA RÍOS
APRIL 9 / 32 PAGES / FC / M / $3.50
INDIANA JONES FOR THE 21ST CENTURY!
Marvel Knights: Hulk and GLORY writer JOE KEATINGE teams up with artist extraordinaire LEILA DEL DUCA for her Image Comics debut in an all-new ongoing series combining the urban fantasy of Fables and the globe-spanning adventure of Y: The Last Man. Kate Kristopher, once the most famous explorer of an Earth far more fantastic than the one we know, is forced to return to the adventurous life she left behind when a family secret threatens to destroy everything she spent her life protecting.
DREAM POLICE #1
story: J. MICHAEL STRACZYNSKI
art / cover A: SID KOTIAN & BILL FARMER
cover B: RENAE DELIZ & RAY DILLON
APRIL 30 / 32 PAGES / FC / M / $2.99
Dream Police Detectives Joe Thursday and Frank Stanford have been partners for as long as they can remember, patrolling the alternate universe of dreams, nightmares, and the great void beyond, an alternate but very real dimension of changelings, echoes, wisps, ethers, and nightwalkers, those who died in their sleep and wander the dreamscape forever. They've seen it all. But when Frank steps away and disappears…and the woman who returns says she's Joe's partner, that she's always been Joe's partner…he begins a journey into the unknown that will shake the dreaming down to its very foundations.
'68: RULE OF WAR #1 (of 4)
story: MARK KIDWELL
art: JEFF ZORNOW & JAY FOTOS
cover A: NAT JONES
cover B: CLAYTON CRAIN
cover C: BLANK SKETCH COVER
APRIL 2 / 32 PAGES / FC / M / $3.99
In a doom-shadowed Cambodia infested with the living dead, CIA Special Agent Declan Rule and his canine companion Nero stalk a human monster, a neurosurgeon bent on carrying out grisly experiments that turn P.O.W.s into vicious instruments of war. In Vietnam, Private Kuen Yam and his ragtag band of survivors battle their way across a murderous no-man's-land in a desperate search for a ticket to the skies. The war is over, but the battle for humanity's survival has just begun. Courage will be tested, sanity will be pushed to the breaking point and the rules of war…will be broken.
GENESIS (ONE-SHOT)
story: NATHAN EDMONDSON
art / cover: ALISON SAMPSON
APRIL 16 / 56 PAGES / FC / T / $6.99
A trippy journey of creation and destruction as one man finds himself with the ability to manifest anything by thinking it — only to learn that with seemingly unlimited power comes unstoppable terror.
SELF-OBSESSED ONE-SHOT
story / art / cover: SINA GRACE
APRIL 2 / 40 PAGES / BW / T+ / $3.99
For fans of his gothic-tinged retail hell graphic novel NOT MY BAG, SINA GRACE (LI'L DEPRESSED BOY, BURN THE ORPHANAGE) presents a collection of rare and never-before-seen autobiographical strips! Packed with new stories for this edition, SELF-OBSESSED is packed with quirky and humorous insights about comics, love, dreams, and, of course, frenemies.
SHOTGUN WEDDING #1
SHOTGUN WEDDING #2
SHOTGUN WEDDING #3
SHOTGUN WEDDING #4
story: WILLIAM HARMS
art / cover: EDWARD PUN
APRIL 2 / 32 PAGES / BW / M / $3.99
Mike Stone wants nothing more than to marry the woman of his dreams. Denise is smart, sexy, teaches the second grade, and loves Mike more than anything in the world. What she doesn't know is that Mike is one of the world's top assassins and was once engaged to a fellow assassin named Chloe. And when Mike abandoned Chloe on their wedding day, she vowed revenge…
This April, treat yourself to an issue of SHOTGUN WEDDING each Wednesday! All FOUR issues of Minotaur Press's latest miniseries will be released in April, and the covers for all four issues connect to form one larger image.
APHRODITE IX: REBIRTH, VOL. 2 TP
story: MATT HAWKINS
art / cover: STJEPAN SEJIC
APRIL 30 / 160 PAGES / FC / T+ / $16.99
Collects APHRODITE IX # 6-10 and APHRODITE IX: HIDDEN FILES #1
Determined to never be controlled by outside forces again, Aphrodite IX seeks revenge against those who manipulated her. Plus the secrets behind the generational models revealed by Aphrodite XV and Artemis IX.
ELEPHANTMEN: 2260 BOOK ONE TP
story: RICHARD STARKINGS
art: AXEL MEDELLIN
cover: BOO COOK
APRIL 2 / 120 PAGES / FC / M / $9.99
Collects ELEPHANTMEN #51-55
A new arc, a new slim trade paperback format for ELEPHANTMEN, and, at $9.99, a great opportunity for new readers to start reading the book they've heard so much about! Jack Farrell is a private detective who never gave a second thought to the Elephantmen — until he was paid to.
GLORY: THE COMPLETE SAGA HC
story: JOE KEATINGE
art / cover: ROSS CAMPBELL
APRIL 23 / 352 PAGES / FC / T+ / $34.99
Collects GLORY #23-34
THE ACCLAIMED APOCALYPTIC WAR SAGA COLLECTED IN ITS ENTIRETY!
ROSS CAMPBELL (Wet Moon, Teenage Mutant Ninja Turtles) and JOE KEATINGE (Marvel Knights: Hulk) finally collect their critically-acclaimed and brutally told saga of one warrior and her family torn apart by a millennia-old intergalactic war. This is the complete story, collected in its entirety for the very first time in a deluxe oversized hardcover edition. Includes never-before-seen sketchbook material, scripts, commentary, and interviews.
LAZARUS, VOL. 2: LIFT TP
story: GREG RUCKA
art / cover: MICHAEL LARK
APRIL 23 / 128 PAGES / FC / M / $14.99
Collects LAZARUS #5-9
The second story arc in the New York Times bestselling series. Forever uncovers rebellion brewing in LA, and the Barrets, a family of « Waste, » undertake a 500-mile journey to Denver in the hope that one of their family will be noticed by the Carlyles and « lifted » to Serf status.
THE MANHATTAN PROJECTS, VOL. 4: THE FOUR DISCIPLINES TP
story: JONATHAN HICKMAN
art / cover: NICK PITARRA
APRIL 16 / 144 PAGES / FC / T+ / $14.99
Collects THE MANHATTAN PROJECTS #16-20
It's the fourth volume of the world's greatest secret science history, THE MANHATTAN PROJECTS. « The Four Disciplines » follows our fractured cast as they focus on their own diverse, secret experiments and global power plays resulting in inevitable betrayal.
PRETTY DEADLY, VOL. 1 TP
story: KELLY SUE DeCONNICK
art: EMMA RÍOS & JORDIE BELLAIRE
cover: EMMA RÍOS
APRIL 30 / 120 PAGES / FC / M / $9.99
Collects PRETTY DEADLY #1-5
SPECIAL LOW INTRODUCTORY PRICE!
KELLY SUE DeCONNICK (Avengers Assemble, Captain Marvel) and EMMA RÍOS (Dr. Strange, Osborn) present the collected opening arc of their surprise-hit series that marries the magical realism of Sandman with the western brutality of Preacher. Death's daughter rides the wind on a horse made of smoke and her face bears the skull marks of her father. Her origin story is a tale of retribution as beautifully lush as it is unflinchingly savage.
THREE TP
story: KIERON GILLEN
art / cover: RYAN KELLY & JORDIE BELLAIRE
HISTORICAL CONSULTANT: PROF. STEPHEN HODKINSON
APRIL 9 / 144 PAGES / FC / M / $14.99
Collects THREE #1-5
In ancient Sparta, three Helot slaves run for their lives. Pursuing them are three hundred of their Spartan masters. KIERON GILLEN (PHONOGRAM, Iron Man), RYAN KELLY (Local, Saucer Country), and JORDIE BELLAIRE (THE MANHATTAN PROJECTS, NOWHERE MEN) join forces to tell a legend for our times. Includes cover gallery, making of material, and annotations.
VELVET, VOL. 1: BEFORE THE LIVING END TP
story: ED BRUBAKER
art / cover: STEVE EPTING & BETTIE BREITWEISER
cover: STEVE EPTING
APRIL 2 / 128 PAGES / FC / M / $9.99
Collects VELVET #1-5
SPECIAL LOW INTRODUCTORY PRICE!
From the bestselling creators of « Captain America: The Winter Soldier » comes this smash-hit spy thriller with a unique new twist!
When the world's greatest secret agent is killed, all evidence points to Velvet Templeton, the personal secretary to the Director of the Agency. But Velvet's got a dark secret buried in her past…because she's also the most dangerous woman alive.
IMAGE "i" LIMITED EDITION GOLD T-SHIRT
$19.99 S-XL MEN'S/WOMEN'S
$22.99 XXL MEN'S
Show your love for Image Comics with an audacious color and classic design!
RAT QUEENS « HANNAH » T-SHIRT
$19.99 S-XL MEN'S/WOMEN'S
$22.99 XXL MEN'S
Want to tell your friends about your love of the Rat Queens? Do it with style and flip them off at the same time!
THE WALKING DEAD « NEGAN » T-SHIRT
$19.99 S-XL MEN'S/WOMEN'S
$22.99 XXL MEN'S
This t-shirt features Negan, leader of the Saviors and villain of « All Out War. »
APOCALYPSE AL #3 (of 4)
story: J. MICHAEL STRACZYNSKI
art / cover A: SID KOTIAN & BILL FARMER
cover B: ARIEL OLIVETTI
APRIL 2 / 32 PAGES / FC / M / $2.99
The life of private investigator Allison Carter is complicated enough just preventing the end of the world on a regular basis. But in the midst of her latest case she gets an unexpected call from her mostly-dead ex-boyfriend, who has a tip that may prove helpful or push the world further toward its destruction. Along the way, she encounters a closet troll with a stun-gun fetish, a theme park filled with demonic creatures in happy costumes, and unravels a secret that will change her life forever.
APOCALYPSE AL #4 (of 4)
story: J. MICHAEL STRACZYNSKI
art / cover A: SID KOTIAN & BILL FARMER
cover B: ARIEL OLIVETTI
APRIL 30 / 32 PAGES / FC / M / $2.99
In the fiery conclusion to Allison Carter's investigation, she at last comes face-to-face with the man trying to bring about the end of the world…who has been working in secret with someone close to her the whole time. If love can be a reason to live, can it also be a reason to destroy…everything? This time saving the world may require the ultimate sacrifice. Does Al have what it takes? Or must we all confront the possibility that there is an ominous reason that this is only a four-part series?
ARTIFACTS #36
story: DAN WICKLINE
art / cover: -ROM-
APRIL 2 / 32 PAGES / FC / M / $3.99
Tom Judge and Tilly track down students who used a math equation to open up a portal to the Ancient Ones (featured in THE DARKNESS: REBIRTH). Former Angelus and Witchblade bearer Daniel Baptiste investigates related murders.
BLACK SCIENCE #6
story: RICK REMENDER
art / cover: MATTEO SCALERA & DEAN WHITE
APRIL 30 / 32 PAGES / FC / M / $3.50
Stranded in the most dangerous dimension yet, Grant McKay's rage at his onetime boss boils over. Ignoring the chaos all around them, the two finally come to blows! Only one thing is certain: before the Pillar makes its next jump…one of them must die!
Don't miss the conclusion to the first arc of the world's most mind-melting sci-fi comic!
THE BOUNCE #12
story: JOE CASEY
art / cover: DAVID MESSINA
APRIL 30 / 32 PAGES / FC / M / $2.99
GET READY FOR THE END OF THE WORLD!
Nothing you've seen so far could prepare you for the event that occurs in this issue! And the Bounce is at ground zero! After this, NOTHING will ever be the same! BUY IT AND LOVE IT!
CHEW #41
story: JOHN LAYMAN
art / cover: ROB GUILLORY
APRIL 30 / 32 PAGES / FC / M / $2.99
Vegas!
DEAD BODY ROAD #5
story: JUSTIN JORDAN
art / cover: MATTEO SCALERA & MORENO DINISIO
APRIL 23 / 32 PAGES / FC / M / $2.99
Holed up and under siege, Gage and his accomplices may have run out of road…but not bullets. Or heads to put them through.
DEADLY CLASS #4
story: RICK REMENDER
art / cover: WESLEY CRAIG & LEE LOUGHRIDGE
APRIL 2 / 32 PAGES / FC / M / $3.50
Class trip! Marcus, Willie, and Saya tear through a neon-soaked Las Vegas, high on life…oh, and a bunch of acid too. And when you're a teenage killer-on-the-run, stalked by a mutilated psycho with a raging hard-on for revenge, you're in for one baaad trip.
EAST OF WEST #12
story: JONATHAN HICKMAN
art / cover: NICK DRAGOTTA
APRIL 23 / 32 PAGES / FC / T+ / $3.50
« THE NIGHT BEFORE »
A last ditch effort is undertaken to avoid a war between the nations by the most unlikely person on the planet. The remains of the Chosen reassemble.
EGOs #4
story: STUART MOORE
art / cover: GUS STORMS
APRIL 16 / 32 PAGES / FC / T+ / $2.99
STANDALONE ISSUE!
Three rookie EGOs members go on an unauthorized adventure through time and space. Plus: marital strife! Quantum physics! Inadvisable sex! And the origin of the Universe (maybe)!
FATALE #23
story: ED BRUBAKER
art: SEAN PHILLIPS & BETTIE BREITWEISER
cover: SEAN PHILLIPS
APRIL 23 / 32 PAGES / FC / M / $3.50
The strangest issue of FATALE yet, as Nicolas Lash finally learns the last of Josephine's secrets, and the universe will never look the same.
Don't forget that every issue of FATALE contains extra art and articles not available anywhere but the single issues!
FIVE GHOSTS #12
story: FRANK J. BARBIERE
art / cover: CHRIS MOONEYHAM
APRIL 30 / 32 PAGES / FC / T+ / $2.99
« LOST COASTLINES, » Conclusion
In the midst of a battle against his greatest foe, Fabian is faced with an impossible decision! Who will survive the Island of Dreams?
FIVE WEAPONS #9
story / art / cover: JIMMIE ROBINSON
APRIL 23 / 32 PAGES / FC / T / $3.50
« BACK TO CLASS, » Part Four
Enrique, Principal O, and the Nurse unleash a full assault against Tyler in order to regain power of the school clubs. But Tyler isn't going down without a fight because he has a secret weapon of his own: the fastest animal on earth…Principal Z's cheetah.
THE FUSE #3
story: ANTONY JOHNSTON
art / cover: JUSTIN GREENWOOD
APRIL 23 / 32 PAGES / FC / M / $3.50
« THE RUSSIA SHIFT, » Part Three
Whoever thought two dead bums could be such a pain in the ass? Now even the Mayor's office is under scrutiny, but even an old Muscovite like Klem Ristovych knows that's a whole new bag of hurt to be poking.
And why the hell is Ralph researching terrorist groups?
GHOSTED #9
story: JOSHUA WILLIAMSON
art: DAVIDE GIANFELICE & MIROSLAV MRVA
cover: MATTEO SCALERA
APRIL 23 / 32 PAGES / FC / M / $2.99
Jackson Winters may think he knows everything about the supernatural world, but the jungles are filled with all sorts of ghosts…
GREAT PACIFIC #15
story: JOE HARRIS
art / cover A: MARTÍN MORAZZO
cover B: STEVE ROLSTON
APRIL 2 / 32 PAGES / FC / M / $2.99
« BIG GAME HUNTER, » Part One
New Texas is growing, along with tensions between Chas Worthington's people and the nuclear-armed 'Little Chief,' whose mysterious band of outlaw tribesmen also call 'The Pack' their home. But when a hunter of weapons and men comes hunting both, Chas will have to pick sides…and risk a civil war!
Special « Yalafi » variant cover by STEVE ROLSTON!
INVINCIBLE UNIVERSE #12
story: PHIL HESTER
art / cover: TODD NAUCK & GABE ELTAEB
APRIL 2 / 32 PAGES / FC / M / $2.99
King Lizard's plan has been unleashed and split the Guardians in two! When the smoke clears, will anyone be left to save the day?
KRAMPUS! #5
story: BRIAN JOINES
art / cover: DEAN KOTZ
APRIL 30 / 32 PAGES / FC / T+ / $2.99
The bad news: as blizzards rage across the globe, humanity's fate rests with the Krampus deciding who he stands with — his oppressors in the Society of Santa Clauses or the mastermind who rendered them powerless. The worse news: the Krampus is no fan of humanity. The first storyline concludes here!
MANIFEST DESTINY #6
story: CHRIS DINGESS
art / cover: MATTHEW ROBERTS & OWEN GIENI
APRIL 9 / 32 PAGES / FC / T+ / $2.99
With the flora infestation overrunning their outpost, can Lewis and Clark deliver frontier justice to a savage, savage world? The first chapter of their thrilling ongoing adventure ends here!
THE MERCENARY SEA #3
story: KEL SYMONS
art / cover: MATHEW REYNOLDS
APRIL 16 / 32 PAGES / FC / T+ / $2.99
« BETWEEN THE DEVIL AND THE DEEP BLUE SEA »
Jack Harper and the crew of the Venture slip into enemy waters to rescue a British spy, code-named « Top Hat. » Only their old adversary, Captain Tono of the Imperial Japanese Navy, spoils the party.
THE MICE TEMPLAR IV: LEGEND #9
story: BRYAN J.L. GLASS
art: VICTOR SANTOS
cover A: MICHAEL AVON OEMING
cover B: VICTOR SANTOS & CHANDRA FREE
APRIL 16 / 32 PAGES / FC / T / $3.50
Mad king Icarus's destruction of the Great Ash Tree has galvanized the entire Templar remnant around the legend of Karic, for both good…and ill. While the charismatic Field Marshal Payton seeks control of the young mouse's legacy, the schemes of Ronan enlist intervention by the Bats of Meave to restore his own fading leadership no matter the cost!
MIND THE GAP #20
story: JIM McCANN
art: SAMI BASRI
cover A: RODIN ESQUEJO
cover B: JENNY FRISON
APRIL 23 / 32 PAGES / FC / T+ / $2.99
« ACT II: EXPOSED, » Conclusion!
The return of a fan-favorite! A NEW Hoodie?! And a character's true colors are revealed… in blood.
MINIMUM WAGE #4
story / art / cover: BOB FINGERMAN
APRIL 16 / 32 PAGES / FC / M / $3.50
It's hard to tell if it's celebarting or medicating, but on the heels of Rob signing a new lease, he and the boys hit the town hard in an alcohol-fueld swirl. Goth girls, trench coat Mafiosi, jock thugs, and more populate the fourth chapter of BOB FINGERMAN's so-real-it-hurts series.
MORNING GLORIES #40
story: NICK SPENCER
art: JOE EISMA
cover: RODIN ESQUEJO
APRIL 9 / 32 PAGES / FC / M / $3.50
« Science. »
NOWHERE MEN #9
story: ERIC STEPHENSON
art: MÖRITAT, JORDIE BELLAIRE, & EMI LENOX
cover: MÖRITAT & FONOGRAFIKS
APRIL 23 / 32 PAGES / FC / M / $2.99
The world is changing.
ONE-HIT WONDER #3 (of 5)
story: FABRICE SAPOLSKY
art / cover: ARIEL OLIVETTI
APRIL 30 / 32 PAGES / FC / M / $3.50
The shocking events of last issue have left Richie angrier than ever. He's determined to find who has targeted someone very close to him. His journey only begins and on the way, he'll cross paths with an old friend, a pretender, a dead guy with weird tattoos, and a human bomb!
PETER PANZERFAUST #19
story: KURTIS J. WIEBE
art / cover: TYLER JENKINS
APRIL 9 / 32 PAGES / FC / T / $3.50
« THE HUNT, » Part Four
A hunt turns deadly when Lily's prey discovers her plan and unleashes hell. Trapped, alone, and massively outnumbered, she has only one trick up her sleeve…
…A magic bullet!
PROTECTORS, INC. #6
story: J. MICHAEL STRACZYNSKI
art / cover: GORDON PURCELL & MIKE ATIYEH
APRIL 23 / 32 PAGES / FC / M / $2.99
It began with two seemingly unconnected deaths: a young woman, washed up on the shore of Lake Michigan, and the Huntsman, whose death Protectors, Inc. insisted was an accident. But now the lines connecting those two events are becoming clear, and Lieutenant Detective John Riley finds himself on the edge of a conspiracy that may shatter everything the public believes about their heroes…assuming he can survive the investigation.
REAL HEROES #2
story / art / cover A: BRYAN HITCH
cover B: KEVIN NOWLAN
cover C: JOCK
APRIL 30 / 32 PAGES / FC / T+ / $3.99
The cast of The Olympians superhero movie franchise has been asked to save the world. It can't end well.
REVENGE #3 (of 4)
story: JONATHAN ROSS
art / cover: IAN CHURCHILL
APRIL 30 / 32 PAGES / FC / M / $2.99
With Ignatio the surgically enhanced dwarf as an unexpected ally and a new face stolen from a dead dog, Griffin Franks' luck is finally looking up! But he still has to fight his way past a gang of corrupt killer cops and get back to Hollywood if he is going to get what he wants most in the world: REVENGE!
REVIVAL #20
story: TIM SEELEY
art: MIKE NORTON
cover: JENNY FRISON
APRIL 30 / 32 PAGES / FC / M / $2.99
Dana sends Ibrahaim after an elusive prey. Em makes a new friend who shares her passion for pain and guilt.
SATELLITE SAM #8
story: MATT FRACTION
art / cover: HOWARD CHAYKIN
APRIL 2 / 32 PAGES / BW / M / $3.50
SEX! DEATH! LIVE TV!
Michael and Kara make a major breakthrough in their unofficial investigation into the death of the man that played « Satellite Sam » as everyone's kinks and obsessions go into overdrive — and scandal threatens to tear the show and the network apart.
SAVIORS #5
story: JAMES ROBINSON
art / cover: J. BONE
APRIL 30 / 32 PAGES / FC / T+ / $2.99
Tomas and fellow freedom fighter Kurt have escaped the horror of the Mexican town La Calma and the aliens who hunted them. Or so they think. However, now at adrift at sea, a greater alien horror awaits them, with no way to destroy it and nowhere to run.
SHELTERED #9
story: ED BRISSON
art / cover: JOHNNIE CHRISTMAS
APRIL 23 / 32 PAGES / FC / T+ / $2.99
Internal struggles at Safe Haven result in a splitting of the group. The two factions come head-to-head as Victoria attempts to dethrone Lucas.
SKULLKICKERS #26
story: JIM ZUB
art: EDWIN HUANG & MISTY COATS
cover: JAMES GHIO
APRIL 23 / 32 PAGES / FC / T / $3.50
« A DOZEN COUSINS AND A CRUMPLED CROWN, » Part Two
In this special issue (they're all special, but whatever): The HiSTORY: of Dwarves (The 'Short' Version).
SOVEREIGN #2
story: CHRIS ROBERSON
art / cover: PAUL MAYBURY
APRIL 23 / 32 PAGES / FC / M / $2.99
An emperor lays dead, with no successor named for his vacated throne. Visitors from a distant land discover that there is more in the world than their philosophies know. And three masked outcasts come bearing word of a coming apocalypse…
SPAWN #242
story / cover: TODD McFARLANE
art : SZYMON KUDRANSKI
APRIL 2 / 32 PAGES / FC / T+ / $2.99
After the annihilation at the construction site Bludd tries to figure out his next move. Clown is the last place he'd seek help, but may have no alternative. Sara begins having excruciatingly demonic nightmares, but, unfortunately for Sara, her visions my not be a dream.
STARLIGHT #2
story: MARK MILLAR
art / cover B: GORAN PARLOV
cover A: BILL SIENKIEWICZ
APRIL 2 / 32 PAGES / FC / M / $2.99
Duke McQueen once saved an alien world from destruction — but it happened in a place nobody believes in, during a time nobody remembers. Surrounded by memories of his late wife and his happier past, Duke's days as a hero are long gone…or so he thinks! Now, a young visitor from the world Duke once saved is coming to him with a desperate plea for help. It's one last chance at adventure for Duke, and another chapter to unfold in the ever-expanding Millarworld Universe!
STRAY BULLETS: KILLERS #2
story / art / cover: DAVID LAPHAM
APRIL 16 / 32 PAGES / BW / M / $3.50
When her niece, missing for almost a year, shows up on her doorstep with a horrifying secret, Carol Hogarth will find out that people can be poison…especially if that person is named Virginia Applejack. Find out what best friends, worst enemies, an artificial leg, and a bottle of rum all have to do with « THE KILLER WHO AWOKE BEFORE DAWN. »
TALES OF HONOR #2
story: MATT HAWKINS
art: JUNG-GEUN YOON & SANG-IL JEONG
cover A: SANG-IL JEONG
cover B: PATRICK TATAPOULOUS
APRIL 9 / 32 PAGES / FC / T+ / $2.99
THE HONORVERSE EXPANDS TO COMICS!
Based on the bestselling military science fiction novels by David Weber, this original comic book series continues the story of Honor Harrington as she investigates the threat to Basilisk Station by the Republic of Haven. This series is part of a new multi-platform story world that includes a mobile game app to be released with the first issue and a feature film currently in development.
TEN GRAND #10
story: J. MICHAEL STRACZYNSKI
art / cover A: C.P. SMITH
cover B: KALMAN ANDRASOFSZKY
APRIL 16 / 32 PAGES / FC / M / $2.99
Joe has penetrated into the depths of Hell to save Laura, the woman he loves more than life itself, from a horrific fate beyond description. He's learned the Enemy's plans to bring down Heaven. They think he's cornered, trapped, neutralized. They're wrong, and by the end of this issue, the ultimate war between heaven and hell will begin…with Joe Fitzgerald right at the center of the biggest fight since the dawn of Creation.
THIEF OF THIEVES #20
story: ANDY DIGGLE
art / cover: SHAWN MARTINBROUGH & FELIX SERRANO
APRIL 23 / 32 PAGES / FC / M / $2.99
« THE HIT LIST » starts here!
Conrad may have pulled off his last heist, but not without making some new enemies. Is anyone in his life safe?
UMBRAL #6
story: ANTONY JOHNSTON
art / cover: CHRISTOPHER MITTEN
APRIL 30 / 32 PAGES / FC / M / $2.99
« CHASING SHADOWS »
THE CONCLUSION TO BOOK ONE! Rascal runs from the Redguard's clutches — but it will cost her more than she can imagine! Where can she go? Who can she trust? Are you sure? Because nothing seems certain any more. And by the end of this issue, nobody will be above suspicion!
UNDERTOW #3 (of 6)
story: STEVE ORLANDO
art / cover: ARTYOM TRAKHANOV
APRIL 23 / 32 PAGES / FC / M / $2.99
Surrounded by bloodthirsty humans, boiling in their landsuits as the sun rises, Redum Anshargal and Ukinnu Alal's team comes face to face with a primordial god. He's never killed a god before, but that doesn't mean Anshargal isn't up for trying.
The dry frontier takes another life as the pulp monster adventure continues!
A VOICE IN THE DARK #6
story / art / cover: LARIME TAYLOR
APRIL 16 / 32 PAGES / BW / M / $3.99
« KILLING GAME, » Part Four
With Zoey plotting murder once again, she needs to get close to her prey and learn all she can. That means going undercover to the Sorority Halloween party. But is Zoey the only killer in costume?
THE WALKING DEAD #125
story: ROBERT KIRKMAN
art: CHARLIE ADLARD & STEFANO GAUDIANO
cover: CHARLIE ADLARD & DAVE STEWART
APRIL 9 / 32 PAGES / BW / M / $2.99
« ALL OUT WAR, » Part 11
The f*ck f*cking f*ckity f*cking penultimate chapter of All Out Motherf*cking War!
THE WALKING DEAD #126
story: ROBERT KIRKMAN
art: CHARLIE ADLARD & STEFANO GAUDIANO
cover: CHARLIE ADLARD & DAVE STEWART
APRIL 23 / 32 PAGES / BW / M / $2.99
« ALL OUT WAR, » Conclusion
This changes everything.
ZERO #7
story: ALES KOT
art: MATT TAYLOR & JORDIE BELLAIRE
cover A: MATT TAYLOR & TOM MULLER
cover B: SEAN PHILLIPS & TOM MULLER
APRIL 23 / 32 PAGES / FC / M / $2.99
Zero and Zizek come to a place fifty-six miles away from Juarez, Mexico. There is business to be made in human misery.