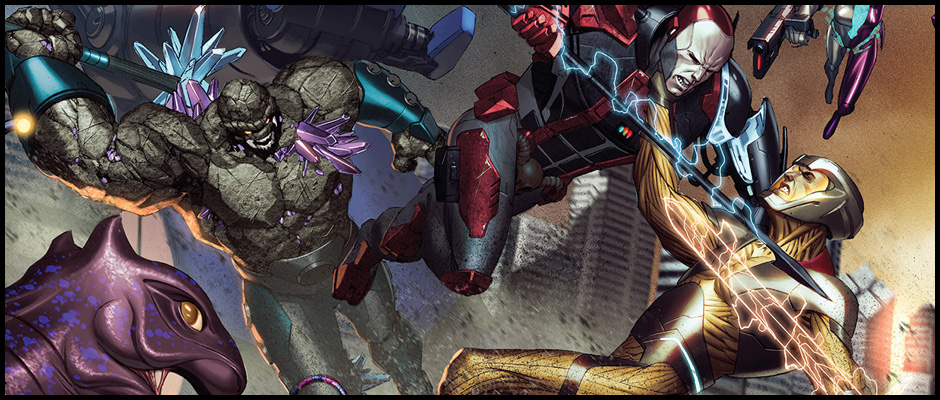 Bonjour! Suite à vos demandes incessantes (c'est-à-dire une personne dans un commentaire il y a plus d'un mois), voici les sollicitations du mois de juin pour l'éditeur Valiant Entertainement. Et non, je ne vais pas vous répéter encore une fois à quel point le travail de l'éditeur et des équipes créatives est formidable. Non, non, à vous maintenant de nous remercier de vous avoir convaincu de lire ces excellentes séries.
Au programme, le début de l'event estival Armor Hunters, qui s'intéressera à des aliens qui débarquent sur Terre et en veulent beaucoup à Aric, notre wisigoth en armure favori. Une attaque commanditée par les Vine? Mystère. C'est écrit par Robert Venditti, l'auteur aux commandes de la série X-O Manowar qui n'avait pas encore eu l'occasion d'écrire un event chez Valiant. Dessiné par Doug Braithwaite qui avait déjà fait des merveilles récemment sur le premier arc de l'event / série régulière Unity. Un événement majeur, qui s'étalera sur 4 mois et 18 parties en comptant les tie-ins. A ne rater sous aucun prétexte!
Suivent les premiers tie-ins, soit XO-Manowar (qui voit le départ de Cary Nord remplacé pour le moment par Diego Bernard, pas un manchot non plus…) et Unity (Où le très bon Stephen Segovia remplace Cafu). Normal, ce sont les deux séries où apparait Aric.
Un mot sur Raï, nouvelle série centrée sur un personnage historique de Valiant, un guerrier japonais de l'an 4000, écrite par Matt Kindt et par peinte par Clayton « oh la vache ça claque » Crain. Une série donc a priori qui n'interagira pas avec le reste de l'univers (comme Eternal Warrior actuellement qui se passe à la même époque…humm…). L'occasion pour Matt Kindt de donner le meilleur de lui-même, c'est à dire lorsqu'il a une liberté créative totale.
Accéssoirement, Armor Hunters et ses tie-ins seront gratifiées de très belles couvertures incentives ainsi que d'une version « Chromium » avec couverture chromée, donc, pour 2 dollars de plus. Comme Valiant est un petit éditeur et que ça fait joli, ça passe pour cette fois, mais attention avec les attrape-couillons marketing… Heureusement, les versions standards seront la norme pour les précommandes et les Chromium disponibles en quantités limitées.
Enjoy!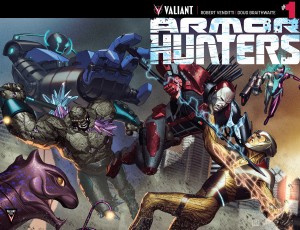 ARMOR HUNTERS #1 (of 4)
Written by ROBERT VENDITTI
Art by DOUG BRAITHWAITE
Chromium & Standard Edition Covers by JORGE MOLINA*
Character Design Variant by CLAYTON CRAIN
Armor Hunters Variant by TREVOR HAIRSINE
Artist Variant by DOUG BRAITHWAITE
Blank Cover also available
This summer, Earth will be the greatest hunt of all when VALIANT FIRST unleashes the first issue of 2014's must-read crossover event – ARMOR HUNTERS – from superstar creators Robert Venditti (X-O Manowar, Green Lantern) and Doug Braithwaite (Unity)!
A relentless and surgical strike team from the farthest reaches of space – sworn to exterminate the X-O Manowar armor and all like it – have finally found their last target. They will hunt. They will trap. They will kill. And they will rid the universe of the X-O Manowar's incalculable destructive power…even if it means taking the Earth with it.
In the tradition of the universe-shaking HARBINGER WARS, Valiant's biggest heroes begin the summer's blockbuster 18-issue crossover event right here in Armor Hunters #1 (of 4) – and then launch the resistance against the world's first full-scale cosmic threat with new arcs beginning in Unity #8 andX-O Manowar #26 in June; and Armor Hunters: Bloodshot #1 (of 3) and Armor Hunters: Harbinger #1 (of 3) beginning in July!
CHROMIUM EDITION: $5.99 | STANDARD EDITION: $3.99
32 pages, full color | T+ | ON SALE JUNE 11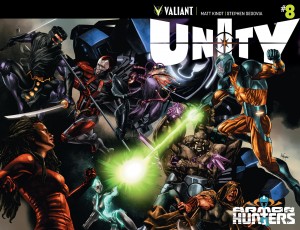 UNITY #8 (ARMOR HUNTERS)
Written by MATT KINDT
Art by STEPHEN SEGOVIA
Chromium & Standard Edition Covers by MICO SUAYAN*
Character Design Variant by CLAYTON CRAIN
Armor Hunters Variant by TREVOR HAIRSINE
ARMOR HUNTERS descends on Valiant's all-star superteam in an all-new story arc from New York Times best-selling writer Matt Kindt (Mind MGMT) and red-hot artist Stephen Segovia (Superior Carnage)!
When an ultra-powerful threat from deep space begins brutalizing Earth, humanity's first response is – who else? – the fearless team of heroes, soldiers, and short fuses called Unity! Now it's down to Ninjak, Eternal Warrior and Livewire – plus some special surprise recruits – to lead the assault on the ARMOR HUNTERS' frontline…even if they die trying!
CHROMIUM EDITION: $5.99 | STANDARD EDITION: $3.99
32 pages, full color | T+ | ON SALE JUNE 18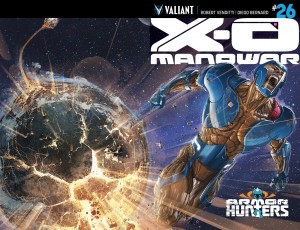 X-O MANOWAR #26
Written by ROBERT VENDITTI
Art by DIEGO BERNARD
Chromium & Standard Covers by CLAYTON CRAIN*
Character Design Variant by CLAYTON CRAIN
Armor Hunters Variant by TREVOR HAIRSINE
ARMOR HUNTERS unleashes an all-new starting point for the world's most wanted hero – X-O Manowar – right here with a brand new story arc by Robert Venditti (Green Lantern, The Flash) and Diego Bernard (Eternal Warrior)!
Abducted from his own time by a vicious alien race, the courageous Visigoth warrior known as Aric of Dacia spent years in slavery among the stars before escaping with his captors' most feared weapon – the X-O Manowar armor. Now, stranded in the modern day, the world's most primitive man also just happens to wield its most powerful weapon. But what is the X-O Manowar armor? And who before Aric of Dacia dared to wield its incalculable power? The ARMOR HUNTERS hold the key to the armor's untold history and – one way or another – they'll crush anything that dares threaten their secret.
CHROMIUM EDITION: $5.99 | STANDARD EDITION: $3.99
32 pages, full color | T+ | On sale JUNE 25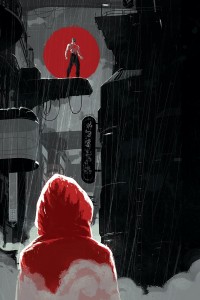 RAI #2
Written by MATT KINDT
Art by CLAYTON CRAIN
Covers by RAUL ALLEN and MICO SUAYAN
Mask Cover by RIAN HUGHES
Variant Cover by BART SEARS
Variant Cover by PAOLO RIVERA
In the far future of 4001 A.D., Japan is a single endless city-state, governed by a benevolent artificial intelligence and policed by one lone enforcer – the mysterious Rai, spirit guardian of the rising sun. But, soon, a single bullet will shatter the peace it has taken 2,000 years to secure…
$3.99 | 32 pages, full color | T+ | On sale JUNE 4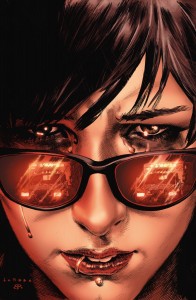 HARBINGER #24
Written by JOSHUA DYSART
Art by CLAYTON HENRY
Cover by LEWIS LAROSA
Variant Cover by CLAYTON HENRY
One of the Renegades is dead…but the battle isn't over yet.
The penultimate issue of the most important Harbinger story ever told is almost here, and the countdown to the "EVERYTHING CHANGES," mind-shattering spectacular of Harbinger #25 is heading toward you like a freight train. Hold on tight!
$3.99 | 32 pages, full color | T+ | On sale JUNE 18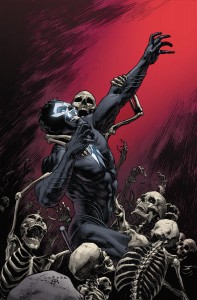 SHADOWMAN: END TIMES #3 (of 3)
Written by PETER MILLIGAN
Art by VALENTINE DE LANDRO
Cover by LEWIS LAROSA
Variant Cover by RUSSELL DAUTERMAN
The curse of the shadow loa is a terrible cross to bear…and Jack Boniface is about to be crushed by it.
As an army of voodoo invisibles makes war on Shadowman, the tortured spirit inside Jack will begin to consume his soul – and force a final confrontation with his greatest enemy, Master Darque…once and for all.
$3.99 | 32 pages, full color | T+ | On sale JUNE 25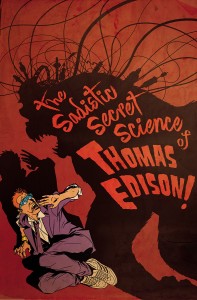 QUANTUM AND WOODY #11
Written by JAMES ASMUS
Art by WILFREDO TORRES
Covers by KANO and WILFREDO TORRES
Q+W=DEAD MEAT!
The mad super-scientists of Edison's Radical Acquisitions are BACK! Well…the ones who aren't dead, anyway. (Or the ones who were dead and…uh, came back?) WHO?! is the mysterious new leader calling the shots? And HOW?! will Quantum and Woody survive a second fight against the 1980s robots, mad vivisectionists, and evil astronomers who almost offed them the first time?! Wilfredo Torres (The Shadow: Year One) joins Team QW for this hilarious new two-parter!
$3.99 | 32 pages, full color | T+ | On sale JUNE 4
ARCHER & ARMSTRONG #21
Written by FRED VAN LENTE
Art by PERE PEREZ
Covers by SHAWN CRYSTAL and MICHAEL WALSH
Living it up at the Hotel California!
Dead celebrities, an extra-dimensional hotel, the truth about The Doors…and that was all in our first issue! Fred Van Lente's ground-breaking run continues as Archer & Armstrong face off against their greatest foe, The Lizard King, as the fate of reality itself hangs in the balance!
$3.99 | 32 pages, full color | T+ | On sale JUNE 11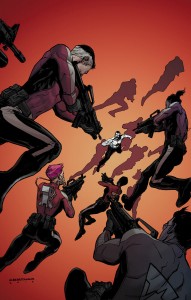 BLOODSHOT AND H.A.R.D. CORPS #23
Written by CHRISTOS GAGE & JOSHUA DYSART
Art by AL BARRIONUEVO
Covers by AL BARRIONUEVO and PERE PEREZ
BLOODSHOT VS. H.A.R.D. CORPS – ROUND II!
The six men and women of H.A.R.D. Corps are all that stand between Bloodshot and everything he's ever wanted – the total destruction of Project Rising Spirit. The clock is ticking down to zero, the stakes are life-or-death…and no one in this fight has anything left to lose.
$3.99 | 32 pages, full color | T+ | On sale JUNE 11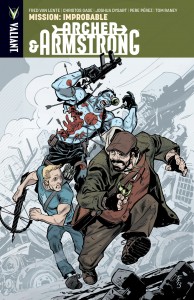 ARCHER & ARMSTRONG VOL. 5: MISSION: IMPROBABLE
Written by FRED VAN LENTE, CHRISTOS GAGE, and JOSHUA DYSART
Art by PERE PEREZ and TOM RANEY
Cover by TOM FOWLER
Archer & Armstrong are going to war with Bloodshot and H.A.R.D Corps! (GULP!)
That's right, Valiant's globetrotting adventure duo have been targeted for elimination by Project Rising Spirit's most elite kill crew. Their mission? Assassinate the the newly appointed leader of a homegrown fundamentalist terror sect named…Obadiah Archer?! And if they could take out his mentally ill, alcoholic bodyguard who just happens to think he's a 10,000-year-old immortal, that'd be swell, too!
It's an improbable mission with impossible odds. Do Bloodshot and the steely killers of the H.A.R.D. Corps stand a chance against two conspiracy-smashing heroes that never go down without a fight? Find out right here with the complete collection of the mayhem-soaked « Mission: Improbable" crossover, collecting ARCHER & ARMSTRONG: ARCHER #0, ARCHER & ARMSTRONG #18-19 and BLOODSHOT AND H.A.R.D. CORPS #20-21 by acclaimed writers Fred Van Lente, Christos Gage and Joshua Dysart, and all-star artists Pere Pérez and Tom Raney!
$14.99 | 128 pages, full color | T+ | On sale JUNE 11
TRADE PAPERBACK | ISBN: 9781939346353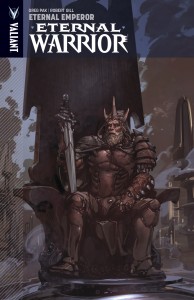 ETERNAL WARRIOR VOL. 2: ETERNAL EMPEROR TPB
Written by GREG PAK
Art by ROBERT GILL
Cover by CLAYTON CRAIN
Long live the Eternal Emperor!
Two thousand years from today, the planet has been transformed by science, technology…and war. The centuries have not been kind to the Earth's own undying warrior, but a battle that could change everything is only just beginning for the Eternal Emperor and the tattered remnant of humanity under his protection. Will this be a new dawn for the age of heroes – or its death knell? And what uncanny confluence of science, myth, and magic has rendered the world – and its own Eternal Warrior – into war-ravaged remnants of their former selves?
Collecting ETERNAL WARRIOR #5-8, the Fist and Steel's battle continues right here as New York Times bestselling writer Greg Pak (Batman/Superman) and rising star Robert Gill (Batgirl) build a bridge to the year 4001…and unearth a brand-new era for the heroes of the Valiant Universe.
$14.99 | 112 pages, full color | T+ | On sale JUNE 18
TRADE PAPERBACK | ISBN: 9781939346292