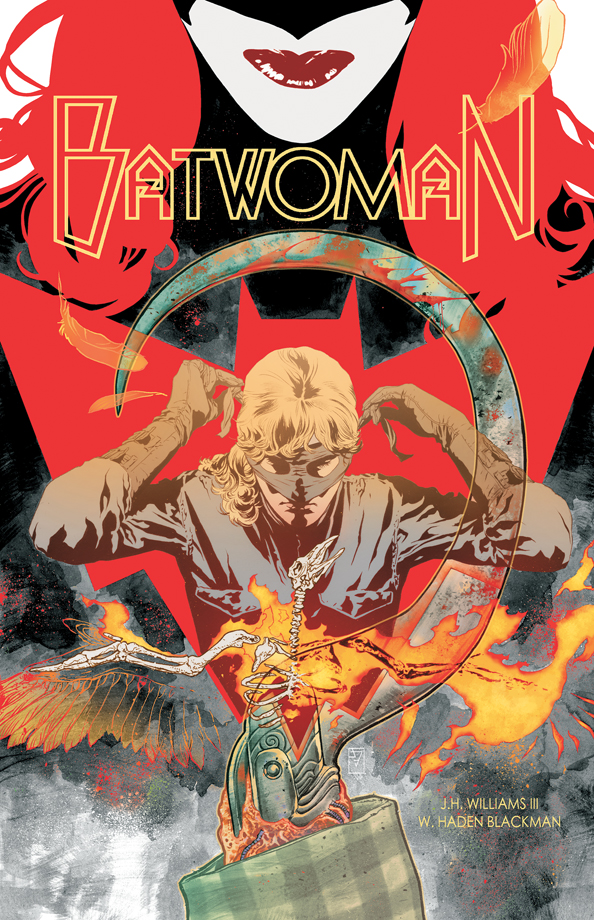 Les séries Batman en décembre 2011
Fidèle à son habitude, DC révèle ses sollicitations par morceau, aujourd'hui ce sont les titres Batman, Superman et Green Lantern  pour le mois de décembre qui sont dévoilées, (source CBR et Newsrama) :
BATMAN #4
Written by SCOTT SNYDER
Art by GREG CAPULLO and JONATHAN GLAPION
Cover by MIKE CHOI
Variant cover by ANDY KUBERT
1:200 B&W variant cover by GREG CAPULLO
On sale DECEMBER 21 • 32 pg, FC, $2.99 US • RATED T
Shocking discoveries lead Batman deeper into the mystery of the Court of Owls and its secret and bloody ties to both Gotham City and the Wayne family. But an even deadlier threat awaits Batman: a trap set hundreds of years ago, far beneath his city. The war for Gotham's soul begins here!
DETECTIVE COMICS #4
Written by TONY S. DANIEL
Art and cover by TONY S. DANIEL and SANDU FLOREA
On sale DECEMBER 7 • 32 pg, FC, $2.99 US • RATED T
As Batman uncovers a deranged plot with far-reaching tentacles that touch some of the city's most elite citizens, he finds himself facing off against his newest and most fearsome foes: Dollmaker and his twisted family of killers!
BATMAN: THE DARK KNIGHT #4
Written by PAUL JENKINS and DAVID FINCH
Art and cover by DAVID FINCH and RICHARD FRIEND
On sale DECEMBER 28 • 32 pg, FC, $2.99 US • RATED T
Batman must race against time to save a friend's life. But his mission may prove impossible as he reels under the weight of three hundred chemically enhanced super-criminals who stand against him. All clues point to one psychotic criminal, and all roads to a solution that will lead to one secret location… but will Batman arrive too late to stop the rage let loose on his city?
BATWING #4
Written by JUDD WINICK
Art by CHRISCROSS
Cover by BEN OLIVER
On sale DECEMBER 7 • 32 pg, FC, $2.99 US • RATED T
As Massacre's bloody reign of murder continues and more heroes fall, Batwing closes in on this mad villain. But with his memories stirring, Batwing's dark past begins to emerge… At last, the truth of his past will come to light.
BATMAN AND ROBIN #4
Written by PETER J. TOMASI
Art and cover by PATRICK GLEASON and MICK GRAY
On sale DECEMBER 14 • 32 pg, FC, $2.99 US • RATED T
Batman and Robin are at the mercy of NoBody as he forces them to embrace a new way to battle crime and injustice. But Batman has other ideas! Plus: Don't miss the origin of NoBody!
BIRDS OF PREY #4
Written by DUANE SWIERCZYNSKI
Art by JESUS SAIZ
Cover by DAVID FINCH and RICHARD FRIEND
On sale DECEMBER 21 • 32 pg, FC, $2.99 US • RATED T
The only thing worse than a bomb on a speeding train is three bombs. Hidden inside the skulls of three different people. All on the same speeding train. And the Birds of Prey – Black Canary, Starling, Katana and Poison Ivy – know the names of only two of these walking bombs. Don't miss the shocking revelation that will rewrite the rules of the team forever! Yes, we know it's only issue #4! Guest starring Batgirl!
CATWOMAN #4
Written by JUDD WINICK
Art and cover by GUILLEM MARCH
On sale DECEMBER 21 • 32 pg, FC, $2.99 US • RATED T+
Catwoman pays a call on Wayne Manor, but those who live there prefer that you call first. Then Selina Kyle says goodbye to an old friend, says hello to an older one, and resolves more firmly than ever to strike out on her own. Only one of those things almost gets her killed.
BATWOMAN #4
Written by J.H. WILLIAMS III and W. HADEN BLACKMAN
Art and cover by J.H. WILLIAMS III
On sale DECEMBER 14 • 32 pg, FC, $2.99 US • RATED T
Blood drenches the back alleys of Gotham City in Part four of "Hydrology" – and Batwoman's life begins to burn!
BATGIRL #4
Written by GAIL SIMONE
Art by ARDIAN SYAF and VICENTE CIFUENTES
Cover by ADAM HUGHES
On sale DECEMBER 14 • 32 pg, FC, $2.99 US • RATED T
Batgirl's secret past finally catches up to her as she races to a final confrontation with the deadly sociopath Mirror! All the answers start right here in this thrilling issue!
RED HOOD AND THE OUTLAWS #4
Written by SCOTT LOBDELL
Art and cover by KENNETH ROCAFORT
On sale DECEMBER 21 • 32 pg, FC, $2.99 US • RATED T
The man who has pursued Starfire all the way to the wilds of Colorado has only one thing on his mind: her slow and painful death. His name is Crux – and he's done some dark and dangerous work on his DNA to reach his goal of ridding the Earth of every alien on the planet! And Kori's about to learn that Red Hood and Roy Harper have their hands full with the ancient evil known as The Untitled!
NIGHTWING #4
Written by KYLE HIGGINS
Art by TREVOR McCARTHY
Cover by EDDY BARROWS
On sale DECEMBER 21 • 32 pg, FC, $2.99 US • RATED T
As Haly's continues to travel the east coast, Dick's search for answers take him – and the circus – to Miami! But when a case from Gotham City brings Barbara Gordon to Florida, Nightwing and Batgirl must work together to bring a thief to justice. Be here as Nightwing and Batgirl tackle South Beach – and discover the true nature of the circus! The answers start this issue!
SUPERMAN #4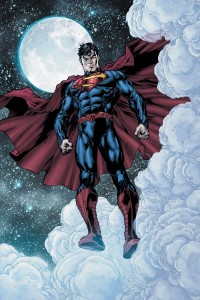 Written by GEORGE PEREZ
Art by JESUS MERINO
Breakdowns and cover by GEORGE PEREZ
On sale DECEMBER 28 • 32 pg, FC, $2.99 US • RATED T
Discover the origin of the new foes who have been making The Man of Steel's life so painful and chaotic lately. What are their ties to the current ACTION COMICS epic? Plus, Lois Lane uncovers a tragic secret from Superman's past!
** Not final cov
SUPERGIRL #4
Written by MICHAEL GREEN and MIKE JOHNSON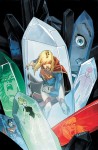 Art and cover by MAHMUD ASRAR
On sale DECEMBER 21 • 32 pg, FC, $2.99 US • RATED T
Trapped and powerless aboard a space station, Supergirl is at the mercy of an ingenious new foe who wants to learn everything there is to know about her. But Supergirl is more than just her powers, and she'll soon show this foe – and all of Earth – what's she truly capable of! Plus, more on the Girl of Steel's mysterious origin!
SUPERBOY #4

Written by SCOTT LOBDELL
Art by R.B. SILVA and ROB LEAN
Cover by SHANE DAVIS and JONATHAN GLAPION
On sale DECEMBER 14 • 32 pg, FC, $2.99 US • RATED T
Superboy has learned the truth about what he really is…and he's not taking it well. Alone in New York and surrounded by holiday cheer, it's a struggle to keep his emotions and his powers in check…and he's on a crash course with a dangerous pair of murderous young metahumans who are more like him than he might want to admit!
** Not final cover
ACTION COMICS #4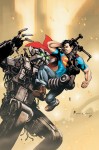 Written by GRANT MORRISON and JOSHUA HALE FIALKOV
Art by RAGS MORALES, GENE HA, RICK BRYANT and MATT CAMP
Cover by RAGS MORALES
Variant cover by GREG CAPULLO
1:200 B&W Variant cover by RAGS MORALES
On sale DECEMBER 7 • 40 pg, FC, $3.99 US • RATED T
Is your mind prepared for an encounter with the deadly Terminauts? What awful master do they serve? What horrible fate awaits Superman and the city of Metropolis? The true scope of Grant Morrison and Rags Morales' ACTION COMICS run begins to come into view, so get those sunglasses ready, 'cause it is gonna be blinding!
And in a backup story from writer Joshua Hale Fialkov and artist Matt Camp that spins out of ACTION COMICS #2, John Henry Irons takes his first steps toward becoming the hero known as Steel!
RED LANTERNS #4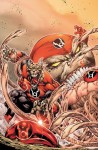 Written by PETER MILLIGAN
Art by ED BENES, DIEGO BERNARD and ROB HUNTER
Cover by ED BENES and ROB HUNTER
On sale DECEMBER 7 • 32 pg, FC, $2.99 US • RATED T+
A Red Lantern's tale never has a happy ending, so brace yourself for the tragic tales of Skallox, Zillius Zox and Ratchet. Their violent destinies set the stage for their
new life as seekers of bloody vengeance!
GREEN LANTERN: NEW GUARDIANS #4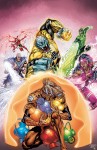 Written by TONY BEDARD
Art and cover by TYLER KIRKHAM and BATT
On sale DECEMBER 28 • 32 pg, FC, $2.99 US • RATED T
The Green Lanterns' homeworld is under attack! Members of each of the Lantern Corps have laid siege to the powerful Guardians of the Universe to reclaim their stolen power rings, but only now has the Orange Lantern Larfleeze entered the fray…and he's not alone. The secret behind the stolen rings will be revealed and the status of Kyle Rayner within the Green Lantern Corps will be changed – forever!
GREEN LANTERN CORPS #4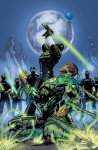 Written by PETER J. TOMASI
Art by FERNANDO PASARIN and SCOTT HANNA
Cover by ANDY KUBERT
On sale DECEMBER 21 • 32 pg, FC, $2.99 US • RATED T
John Stewart has gone from being a Green Lantern soldier to prisoner of war! And in the process, he learns who the Corps' mysterious enemy truly is and what they really want. The truth will rock the Corps to its foundation!
GREEN LANTERN #4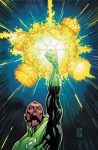 Written by GEOFF JOHNS
Art by DOUG MAHNKE and CHRISTIAN ALAMY
Cover by DOUG MAHNKE and KEITH CHAMPAGNE
Variant cover by FRANCIS MANAPUL
1:200 B&W Variant cover by DOUG MAHNKE
On sale DECEMBER 14 • 32 pg, FC, $2.99 US • RATED T
They've pillaged and enslaved his homeworld. Now the fear-mongering Sinestro Corps must face newly reinstated Green Lantern Sinestro. Can the renegade GL liberate Korugar from the army he assembled?
Et une nouvelle fournée de Marvel Best
Panini vient de révéler l'information suivante :
NEWS ! Trois nouveaux albums Best Comics en février ! Ils seront consacrés à Thor (Blood Oath), les Vengeurs (Red Zone) et Captain America (Jurgens / Kubert) !
Je suis très content de la réédition de Red Zone en Best Comics, c'est, selon moi, le meilleur boulot de Geoff Johns chez Marvel, et aussi le 1er de Olivier Coipel sur le Vengeurs. Si vous ne l'avez pas lu, je le recommande.