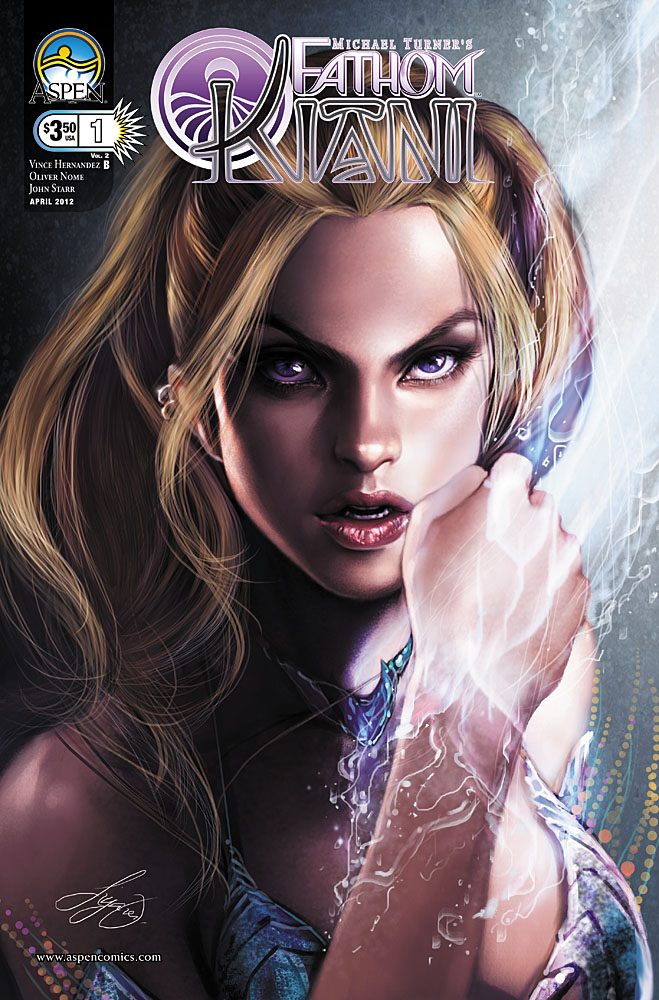 Superman : Earth One volume 2 arrive bientôt ! 
Après un premier volume dont le succès a été tel qu'il a sans doute fallu abattre la moitié de la forêt équatoriale pour imprimer tous les exemplaires vendus, Superman : Earth One va revenir comme promis pour un second tome cette année.
Au programme : une nouvelle version du parasite, Clark dans son premier appart, une romance avec la voisine, et surtout en enfin on verra un peu de Loïs se demandant ce que c'est que ce gus du Kansas…Perso je ne vais pas manquer ça ! Et j'espère que Urban Comics aussi, surtout que Panini était passé à côté du volume 1, pour une raison que j'ignore …
One of the most critically acclaimed original graphic novels of the last few years, SUPERMAN: EARTH ONE will be getting a highly anticipated sequel in 2012. Considered by some to be "Superman for the TWILIGHT crowd," the original was a standalone story which re-examined the early mythology of the classic character. SUPERMAN: EARTH ONE – VOLUME TWO continues the fresh take on the youthful struggles of Krypton's superpowered survivor.
Featuring the return of the fan favorite creative team of J. Michael Straczynski and Shane Davis, SUPERMAN: EARTH ONE – VOLUME TWO features an even greater threat.
"The overwhelming success of volume one of SUPERMAN: EARTH ONE – 37 weeks on the New York Times Bestseller list for graphic novels – meant we had to ensure that Volume Two was even better," said Straczynski. "We couldn't just rest on our laurels. (And does anyone actually rest on laurels? Are there gatherings of laurel-resters? If so, why haven't I been invited? These are the questions that keep me up at night while the rest of the world dreams.)
Thematically, if Volume One was about Clark figuring out where he belongs, then Volume Two is about Superman trying to figure out where he belongs in all this, even as the world does the same at their end. How far can he push his power before he becomes something other than what he intended to become? In the midst of all this Clark gets his first apartment, becoming entangled with a beautiful woman next door, Lois starts trying to figure out what it is about Clark that doesn't add up, and a new and terrifyingly strong version of the Parasite is born from what was previously a serial killer…and now Superman has to confront someone who is not only as strong as he is, but can drain his power completely. In the aftermath of one of the massive battles that threatens to tear apart Metropolis, Clark for the first time feels what it's like to be normal, to be mortal, to be vulnerable…to be us. In the end, Volume Two is about power: its use and abuse, and its place in the world, to be used for good or for evil."
"Working on VOLUME TWO gave me a chance to re-create one of Superman's villains, the Parasite," said Davis. "In doing so, I decided to develop the character in stages as the fights progress throughout the book. There are three stages of evolution: going from frail to the strongest villain Superman has ever faced. EARTH ONE Parasite is one of the most complicated and disgustingly beautiful characters I have ever designed! I came at VOLUME TWO in more of a movie sense, choreographing the fight scenes differently from one another, adding a little more muscle to Superman this time around as he is a practicing superhero, while drawing the "Geek" Clark Kent, who loves a sweater! I always kept the old in mind while bringing in the new. SUPERMAN: EARTH ONE – VOLUME TWO is the book of 2012, so save those pennies!"
Avengers VS X-Men : oh génial des tie in qui servent à rien !
Bravo à Marvel qui reconnaît que le tie-in à son futur crossover intitulé AVX Vs sera le moins essentiel à AVX … c'est bien de reconnaître que ça sert à rien. Donc on aura pour commencer :
– Magneto Vs Iron Man par Jason Aaron et Adam Kubert (qui ne se quittent plus depuis Astonishing Spider-man & Wolverine)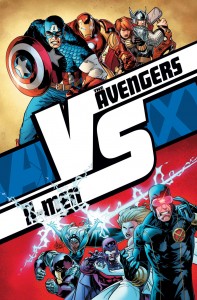 – Namor Vs The Thing par Katherine et Stuart Immonen. Mmmm je sais pas pourquoi mais pour moi tout ça tourne au scénario de jeu vidéo, où l'on verra un peu tout le monde se battre contre n'importe qui. Vraiment Marvel, vous avez vraiment plus d'idées là…
Bon vous l'aurez compris, on a bouffé du Fear Itself dans tous les titres marvel en 2011, on bouffera du AVX en 2012…
Kiani revient en 2012 !
Ceux qui lisent encore fathom connaissent bien le personnage de Kiani, un des derniers crées par Turner avant son décès, et bien elle aura droit à son volume 2 en avril. Bon la vraie raison pour laquelle je présente cette sollicitation est la couverture de Siya Oum, artiste que je connais pas, qui m'a tapé dans l'oeil. Par contre attention, si comme moi vous ne suivez Fathom qu'en VF, chez Delcourt, la sollicitation spoile pas mal (voire complètement…)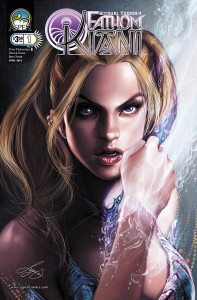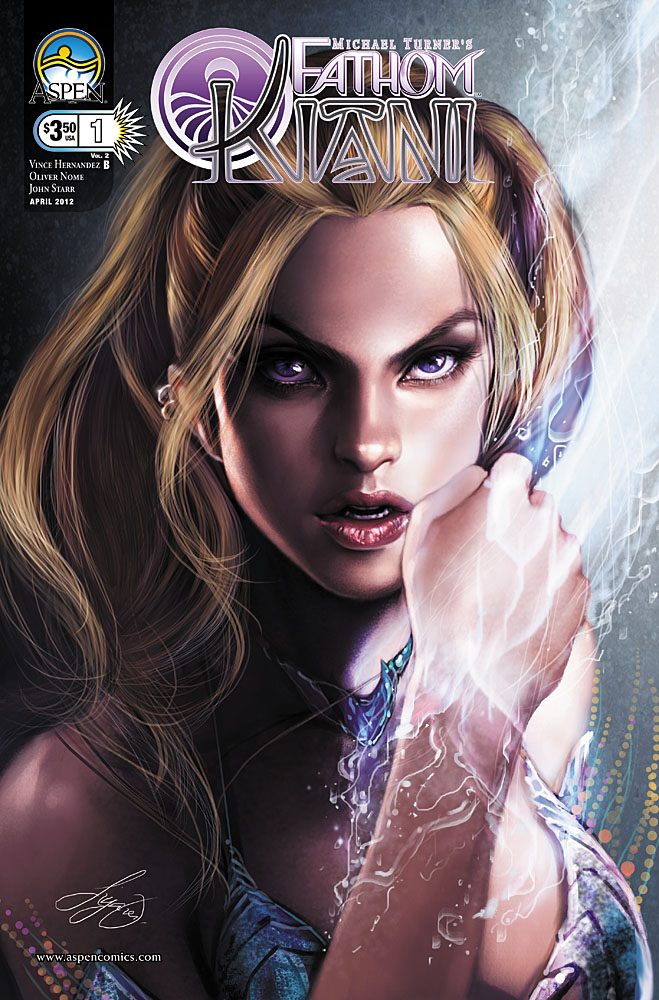 FATHOM: KIANI (vol 2) #1
Vince Hernandez ­ writer / Oliver Nome ­ art / John Starr – colors
Cover A: Oliver Nome and Peter Steigerwald
Cover B: Siya Oum
The Blue's fiercest warrior returns as FATHOM: KIANI vol 2 begins!
In Volume One, she discovered her true identity. Later, she was labeled a dissident by her own people. Finally, she was killed by Aspen Matthews.
Now, Kiani is back, and she's pissed!
The searing wrath of Kiani starts now as one of the most popular, and dangerous, heroines in the Aspen Universe returns in this all new epic mini-series! The tides of war have settled between the race of Humans and the underwater race known as the Blue, however, the pact between the two civilizations is not without dissent and retaliatory violence deep below the tides. Amidst this chaotic uncertainty within the cities of the Blue, Kiani shockingly returns with her own vengeance in mind against those who sought to end her goal of a unified and superior race. Now, with her sudden arrival all bets are off, as her powerful Elite Blue powers have not only returned, but now, they are even stronger!
Brought to you by the creative team of Vince Hernandez, Oliver Nome and John Starr, FATHOM: KIANI vol 2 #1 is a must have for any Fathom fan!
FATHOM: KIANI (vol 2) #1 is in stores April 11th, 2012!
Classement de ventes Décembre 2011 : marvel reprend la tête 
Comme annoncé précédemment Marvel a repris la tête du marché des comics au mois de décembre. Mais pas de grand chose, puisque les deux grand éditeurs se tiennent dans un mouchoir de poche avec à peine 1% de part de marché de différence, 39% pour Marvel et 37% pour DC.
Mais dans le même temps on peut constater que DC a repris une position dominante dans le Top 10 des ventes avec 8 titres placés ! On peut voir que le relaunch a surtout bénéficier au grosses machines de DC, à savoir les têtes d'affiche comme Superman ou Wonder Woman qui n'avaient pas connus de tels classements depuis bien des années. Pour vous donner une idée, le 4e épisode de Wonder Woman gagne des places par rapport au mois dernier et se classe 16e, alors qu'encore en août le titre était en dehors du Top 50 des ventes !!
Comme d'habitude une analyse plus fine lors de la sortie des chiffres de ventes.
Single :
QTY
RANK
DOLLAR
RANK
INDEX
ITEM CODE
DESCRIPTION
PRICE
VENDOR
1
1
106.33
OCT110159-M
JUSTICE LEAGUE #4
$3.99
DC
2
3
100.00
OCT110184-M
BATMAN #4
$2.99
DC
3
2
84.35
OCT110178-M
ACTION COMICS #4
$3.99
DC
4
5
77.89
OCT110202-M
GREEN LANTERN #4
$2.99
DC
5
4
69.80
OCT110606-M
AVENGERS X-SANCTION #1
$3.99
MAR
6
7
66.85
OCT110188
DETECTIVE COMICS #4 [*]
$2.99
DC
7
12
64.26
OCT110587-M
DEFENDERS #1
$3.99
MAR
8
11
57.81
OCT110166-M
FLASH #4
$2.99
DC
9
10
52.94
OCT110189
BATMAN THE DARK KNIGHT #4 [*]
$2.99
DC
10
13
51.49
OCT110181
SUPERMAN #4 [*]
$2.99
DC
11
14
51.13
OCT110192
BATMAN AND ROBIN #4 [*]
$2.99
DC
12
8
47.92
OCT110671
UNCANNY X-MEN #3
$3.99
MAR
13
9
45.36
OCT110628-M
AVENGING SPIDER-MAN #2
$3.99
MAR
14
22
43.70
OCT110163
AQUAMAN #4 [*]
$2.99
DC
15
21
43.68
OCT110672
WOLVERINE AND X-MEN #3
$3.99
MAR
16
53
43.11
OCT110165
WONDER WOMAN #4
$2.99
DC
17
15
42.72
OCT110597-M
AVENGERS #20
$3.99
MAR
18
16
41.36
OCT110678-M
UNCANNY X-FORCE #19
$3.99
MAR
19
57
41.06
OCT110228
TEEN TITANS #4
$2.99
DC
20
17
40.85
OCT110630
AMAZING SPIDER-MAN #675
$3.99
MAR
21
18
40.57
OCT110676-M
UNCANNY X-FORCE #18
$3.99
MAR
22
19
40.37
OCT110631
AMAZING SPIDER-MAN #676
$3.99
MAR
23
26
40.35
OCT110198
BATGIRL #4 [*]
$2.99
DC
24
58
39.84
OCT110206
GREEN LANTERN NEW GUARDIANS #4
$2.99
DC
25
20
39.55
OCT110604
NEW AVENGERS #19
$3.99
MAR
26
59
39.44
OCT110197
BATWOMAN #4
$2.99
DC
27
28
38.62
OCT110200
NIGHTWING #4 [*]
$2.99
DC
28
29
38.47
OCT110205
GREEN LANTERN CORPS #4 [*]
$2.99
DC
29
31
38.18
OCT110648-M
FANTASTIC FOUR #601
$2.99
MAR
30
23
36.11
OCT110620
ULTIMATE COMICS SPIDER-MAN #5
$3.99
MAR
31
24
35.69
OCT110599-M
CAPTAIN AMERICA #6
$3.99
MAR
32
25
35.38
SEP110546
CAPTAIN AMERICA #5
$3.99
MAR
33
27
34.72
OCT110595
INCREDIBLE HULK #3
$3.99
MAR
34
42
33.93
OCT110695-M
KICK-ASS 2 #6 (MR)
$2.99
MAR
35
34
33.82
OCT110207
RED LANTERNS #4 [*]
$2.99
DC
36
43
33.61
OCT110651-M
FF #13
$2.99
MAR
37
67
33.38
OCT110211
SWAMP THING #4
$2.99
DC
38
6
32.18
OCT110190
BATMAN INCORPORATED LEVIATHAN STRIKES #1
$6.99
DC
39
41
30.66
OCT110196
CATWOMAN #4 [*]
$2.99
DC
40
44
30.11
OCT110210
JUSTICE LEAGUE DARK #4 [*]
$2.99
DC
41
45
29.79
OCT110199
RED HOOD AND THE OUTLAWS #4 [*]
$2.99
DC
42
46
29.72
OCT110183
SUPERGIRL #4 [*]
$2.99
DC
43
47
29.64
OCT110164
JUSTICE LEAGUE INTERNATIONAL #4 [*]
$2.99
DC
44
30
29.24
OCT110675
X-MEN #22
$3.99
MAR
45
54
29.02
OCT110644-M
DAREDEVIL #7
$2.99
MAR
46
48
28.68
OCT110212
ANIMAL MAN #4 [*]
$2.99
DC
47
32
28.56
OCT110605
SECRET AVENGERS #20
$3.99
MAR
48
33
28.40
OCT110594
MIGHTY THOR #9
$3.99
MAR
49
55
28.36
OCT110674
X-MEN LEGACY #260
$2.99
MAR
50
35
28.12
OCT110632-M
CARNAGE USA #1
$3.99
MAR
51
36
27.93
OCT110685
WOLVERINE #20
$3.99
MAR
52
37
27.74
OCT110625
ULTIMATE COMICS X-MEN #4
$3.99
MAR
53
38
27.21
OCT110623
ULTIMATE COMICS ULTIMATES #5
$3.99
MAR
54
50
26.91
OCT110182
SUPERBOY #4 [*]
$2.99
DC
55
39
26.46
OCT110596
INVINCIBLE IRON MAN #511
$3.99
MAR
56
40
26.28
OCT110626
ULTIMATE COMICS X-MEN #5
$3.99
MAR
57
56
24.97
OCT110171
GREEN ARROW #4 [*]
$2.99
DC
58
63
23.54
OCT110574
WALKING DEAD #92 (MR)
$2.99
IMA
59
65
23.54
OCT110583
FEAR ITSELF FEARLESS #4
$2.99
MAR
60
49
23.47
OCT110689
ASTONISHING X-MEN #45
$3.99
MAR
61
64
23.29
OCT110018-M
BTVS SEASON 9 FREEFALL #4
$2.99
DAR
62
60
23.24
OCT110222
SUICIDE SQUAD #4 [*]
$2.99
DC
63
61
23.18
OCT110193
BIRDS OF PREY #4 [*]
$2.99
DC
64
115
23.16
OCT110217
STORMWATCH #4
$2.99
DC
65
52
22.13
AUG110613
AVENGERS CHILDRENS CRUSADE #8
$3.99
MAR
66
68
22.02
OCT110634
VENOM #10
$2.99
MAR
67
69
21.93
OCT110584
FEAR ITSELF FEARLESS #5
$2.99
MAR
68
71
21.42
OCT110635
VENOM #11
$2.99
MAR
69
72
21.42
OCT110636
CAPTAIN AMERICA AND BUCKY #625
$2.99
MAR
70
51
19.74
OCT110226
ALL STAR WESTERN #4 [*]
$3.99
DC
71
79
19.37
OCT110669
DEADPOOL #47
$2.99
MAR
72
82
19.11
OCT110683-M
NEW MUTANTS #35
$2.99
MAR
73
81
19.03
OCT110670
DEADPOOL #48
$2.99
MAR
74
73
19.01
OCT110175
SAVAGE HAWKMAN #4 [*]
$2.99
DC
75
74
18.91
OCT110216
DEMON KNIGHTS #4 [*]
$2.99
DC
76
83
18.85
OCT110201
HUNTRESS #3
$2.99
DC
77
75
18.72
OCT110233
LEGION OF SUPER HEROES #4 [*]
$2.99
DC
78
62
18.41
OCT110643
MOON KNIGHT #8
$3.99
MAR
79
89
18.06
OCT110592
JOURNEY INTO MYSTERY #632
$2.99
MAR
80
77
17.98
OCT110191
BATWING #4 [*]
$2.99
DC
81
90
17.92
OCT110646
PUNISHER #6
$2.99
MAR
82
78
17.74
OCT110220
DEATHSTROKE #4 [*]
$2.99
DC
83
93
17.69
OCT110682
X-FACTOR #229
$2.99
MAR
84
97
17.54
OCT110681
X-FACTOR #228
$2.99
MAR
85
98
17.40
OCT110653
HULK #45
$2.99
MAR
86
66
17.26
OCT110194-M
BATMAN ODYSSEY VOL 2 #3
$3.99
DC
87
80
17.23
OCT110170
FURY OF FIRESTORM THE NUCLEAR MEN #4 [*]
$2.99
DC
88
100
17.17
OCT110654
HULK #46
$2.99
MAR
89
103
16.76
OCT110593
AVENGERS ACADEMY #23
$2.99
MAR
90
85
16.69
OCT110213
FRANKENSTEIN AGENT OF SHADE #4 [*]
$2.99
DC
91
107
16.44
OCT110687
X-23 #18
$2.99
MAR
92
86
16.41
OCT110172
DC UNIVERSE PRESENTS #4 [*]
$2.99
DC
93
108
16.22
OCT110582
BATTLE SCARS #2
$2.99
MAR
94
88
16.16
OCT110232
LEGION LOST #4 [*]
$2.99
DC
95
92
15.96
FEB110773-M
LADY MECHANIKA #3
$2.99
ASP
96
112
15.96
OCT110688
X-23 #19
$2.99
MAR
97
114
15.82
OCT110667
THUNDERBOLTS #167
$2.99
MAR
98
785
15.61
JUN110611-M
ULTIMATE COMICS FALLOUT #4
$3.99
MAR
99
99
15.51
OCT110215
RESURRECTION MAN #4 [*]
$2.99
DC
100
102
15.13
OCT110219
GRIFTER #4 [*]
$2.99
DC
TPB :
QTY
RANK
DOLLAR
RANK
INDEX
ITEM CODE
DESCRIPTION
PRICE
VENDOR
1
1
16.33
OCT110502
WALKING DEAD TP VOL 15 (MR)
$14.99
IMA
2
3
8.32
SEP110221
FABLES TP VOL 16 SUPER TEAM (MR)
$14.99
DC
3
24
3.87
JUL068351
WALKING DEAD TP VOL 01 DAYS GONE BYE
$9.99
IMA
4
58
2.75
OCT110442
LAST BATTLE ONE SHOT
$7.99
IMA
5
16
2.70
OCT110698
CRIMINAL TP VOL 06 LAST OF INNOCENT (MR)
$14.99
MAR
6
42
2.54
SEP111276
NARUTO TP VOL 53
$9.99
VIZ
7
11
2.45
SEP110177
BRIGHTEST DAY TP VOL 01
$19.99
DC
8
29
2.41
SEP088204
WALKING DEAD TP VOL 02 MILES BEHIND US
$14.99
IMA
9
7
2.30
OCT110711
X-MEN SCHISM HC
$24.99
MAR
10
19
2.29
OCT110733-M
ULT COMICS SPIDER-MAN TP VOL 03 DOSM PRELUDE
$19.99
MAR
11
32
2.10
OCT110470
RED WING TP
$14.99
IMA
12
18
1.99
SEP110188
SUPERMAN SECRET ORIGIN TP
$19.99
DC
13
14
1.96
OCT110740
X-MEN AGE OF X TP
$24.99
MAR
14
13
1.92
JUL110245
BATMAN NOEL DELUXE EDITION HC
$22.99
DC
15
31
1.87
OCT110741
X-MEN DAYS OF FUTURE PAST TP
$19.99
MAR
16
8
1.87
AUG110242
BATMAN NO MANS LAND TP VOL 01
$29.99
DC
17
23
1.78
AUG110039
BALTIMORE VOL 01 THE PLAGUE SHIPS TP
$18.99
DAR
18
65
1.77
SEP111272
BLEACH TP VOL 37
$9.99
VIZ
19
56
1.68
NOV082245
WALKING DEAD TP VOL 03 SAFETY BEHIND BARS
$14.99
IMA
20
43
1.65
OCT110729
SECRET AVENGERS TP VOL 02 EYES OF DRAGON
$19.99
MAR
21
30
1.61
AUG110253
SHOWCASE PRESENTS BATMAN TP VOL 05
$19.99
DC
22
62
1.59
SEP110204
TINY TITANS TP VOL 06 THE TREEHOUSE AND BEYOND
$12.99
DC
23
54
1.55
SEP110224
HOUSE OF MYSTERY TP VOL 07 CONCEPTION (MR)
$14.99
DC
24
75
1.52
SEP111285
FULLMETAL ALCHEMIST TP VOL 27
$9.99
VIZ
25
67
1.47
OCT110522
WITCH DOCTOR TP VOL 01
$12.99
IMA
26
10
1.46
OCT110735
SECRET WARS TP
$34.99
MAR
27
15
1.45
JAN120411-M
ROCKETEER ADVENTURES HC VOL 01
$24.99
IDW
28
66
1.42
OCT110726
GENERATION HOPE SCHISM TP
$16.99
MAR
29
72
1.32
SEP088205
WALKING DEAD TP VOL 04 HEARTS DESIRE
$14.99
IMA
30
45
1.30
SEP110218
HELLBLAZER TP VOL 02 THE DEVIL YOU KNOW NEW ED (MR)
$19.99
DC
31
28
1.30
OCT110731
SPIDER-MAN BY MARK MILLAR ULTIMATE COLLECTION TP
$34.99
MAR
32
48
1.26
OCT110722
DEADPOOL MAX TP NUTJOB (MR)
$19.99
MAR
33
50
1.25
SEP110675
X-MEN WITH GREAT POWER TP
$19.99
MAR
34
22
1.24
SEP110179
CHASE TP
$29.99
DC
35
59
1.21
SEP110184
LOBO UNBOUND TP (MR)
$17.99
DC
36
83
1.19
APR110444
WALKING DEAD TP VOL 14 NO WAY OUT (MR)
$14.99
IMA
37
97
1.18
OCT110728
WOLVERINE AND JUBILEE CURSE OF MUTANTS TP
$14.99
MAR
38
39
1.17
SEP110189
SUPERBOY SMALLVILLE ATTACKS TP
$24.99
DC
39
2
1.15
AUG110243
DC COMICS THE NEW 52 HC
$150.00
DC
40
55
1.14
SEP110192
SHOWCASE PRESENTS WONDER WOMAN TP VOL 04
$19.99
DC
41
92
1.14
AUG110047
GANTZ TP VOL 20
$12.99
DAR
42
44
1.14
AUG110261
SUPERMAN GROUNDED HC VOL 02
$22.99
DC
43
5
1.13
JUL110711-M
MMW NICK FURY AGENT OF SHIELD HC VOL 03
$59.99
MAR
44
93
1.12
SEP088206
WALKING DEAD TP VOL 05 BEST DEFENSE
$14.99
IMA
45
163
1.12
AUG110021
STAR WARS EPISODE I ADVENTURES TP
$7.99
DAR
46
108
1.11
AUG110048
OH MY GODDESS RTL TP VOL 40
$10.99
DAR
47
57
1.11
SEP110227
SANDMAN TP VOL 07 BRIEF LIVES NEW ED (MR)
$19.99
DC
48
85
1.11
DEC058055
BATMAN DARK KNIGHT RETURNS TP
$14.99
DC
49
86
1.09
OCT110730
SECRET WARRIORS TP VOL 05 NIGHT
$14.99
MAR
50
117
1.09
SEP111273
ONE PIECE TP VOL 59
$9.99
VIZ
51
21
1.09
OCT110450
CHEW OMNIVORE ED HC VOL 02 (MR)
$34.99
IMA
52
73
1.08
AUG111285
GFT DREAM EATER SAGA TP VOL 01
$15.99
ZEN
53
35
1.06
JUL110249
BATMAN THE BLACK MIRROR HC
$29.99
DC
54
104
1.05
OCT110721
CAPTAIN AMERICA CORPS TP
$16.99
MAR
55
47
1.04
OCT110714
MOON KNIGHT BY BENDIS AND MALEEV PREM HC VOL 01
$24.99
MAR
56
34
1.03
SEP110191
ROOTS OF THE SWAMP THING TP
$29.99
DC
57
36
1.03
OCT110736
SECRET WARS 2 TP
$29.99
MAR
58
63
1.03
SEP110658
DEADPOOL PREM HC VOL 09 INSTITUTIONALIZED
$19.99
MAR
59
20
1.01
JUL110719
SIEGE HC
$39.99
MAR
60
40
0.96
SEP110183
HITMAN TP VOL 05 TOMMYS HEROES
$29.99
DC
61
106
0.95
SEP088207
WALKING DEAD TP VOL 06 SORROWFUL LIFE (MR)
$14.99
IMA
62
142
0.93
SEP111271
BAKUMAN TP VOL 08
$9.99
VIZ
63
6
0.93
JUL110713-M
MMW GOLDEN AGE USA COMICS HC VOL 02
$64.99
MAR
64
114
0.91
NOV082242
WALKING DEAD TP VOL 09 HERE WE REMAIN (MR)
$14.99
IMA
65
153
0.86
SEP111274
BLUE EXORCIST GN VOL 05
$9.99
VIZ
66
197
0.86
AUG110022
STAR WARS EPISODE I THE PHANTOM MENACE TP
$7.99
DAR
67
84
0.85
SEP110031
SOLOMON KANE TP VOL 03 RED SHADOWS
$17.99
DAR
68
169
0.85
OCT110456
INFINITE TP VOL 01
$9.99
IMA
69
100
0.85
OCT110737
SPIDER-MAN THROUGH DECADES TP
$26.99
MAR
70
68
0.85
JUN110266
BATMAN ARKHAM CITY HC
$22.99
DC
71
158
0.85
SEP111267
OURAN HIGH SCHOOL HOST CLUB TP VOL 17
$9.99
VIZ
72
129
0.84
OCT110965
XXXHOLIC GN VOL 18
$10.99
RAN
73
64
0.84
MAY090178
BATMAN HUSH COMPLETE TP
$24.99
DC
74
27
0.83
AUG110250
JACK KIRBYS FOURTH WORLD OMNIBUS TP VOL 01
$39.99
DC
75
124
0.83
SEP088208
WALKING DEAD TP VOL 07 THE CALM BEFORE
$14.99
IMA
76
128
0.82
SEP100413
WALKING DEAD TP VOL 13 TOO FAR GONE (MR)
$14.99
IMA
77
131
0.82
JUN090332
WALKING DEAD TP VOL 10 WHAT WE BECOME
$14.99
IMA
78
81
0.81
OCT110367
DOCTOR WHO ONGOING 2 TP VOL 02 WHEN WORLDS COLLIDE
$17.99
IDW
79
17
0.80
JUL110285
BAD DOINGS BIG IDEAS A BILL WILLINGHAM DLX HC (MR)
$49.99
DC
80
33
0.79
OCT110732
WOLVERINE BY GREG RUCKA ULTIMATE COLLECTION TP
$39.99
MAR
81
135
0.79
APR100438
WALKING DEAD TP VOL 12 LIFE AMONG THEM
$14.99
IMA
82
90
0.79
OCT110742
ESSENTIAL RAWHIDE KID TP VOL 01
$19.99
MAR
83
127
0.79
SEP111289
NAOKI URASAWA 20TH CENTURY BOYS GN VOL 18
$12.99
VIZ
84
138
0.78
OCT090390
WALKING DEAD TP VOL 11 FEAR THE HUNTERS (MR)
$14.99
IMA
85
139
0.77
FEB082136
WALKING DEAD TP VOL 08 MADE TO SUFFER (MR)
$14.99
IMA
86
183
0.75
OCT110459
LIL DEPRESSED BOY TP VOL 00
$9.99
IMA
87
12
0.73
MAY110250
SUPERMANS GIRL FRIEND LOIS LANE ARCHIVES HC VOL 01
$59.99
DC
88
121
0.73
OCT110720
AVENGERS DEFENDERS WAR TP NEW PTG
$19.99
MAR
89
96
0.73
OCT110715
CAPTAIN AMERICA AND BUCKY PREM HC LIFE OF BUCKY BARNES
$19.99
MAR
90
115
0.73
OCT110727
JUBILEE BY ROBERT KIRKMAN TP
$16.99
MAR
91
41
0.73
AUG110254
TALES OF THE BATMAN DON NEWTON HC VOL 01
$39.99
DC
92
134
0.72
OCT110486
SPAWN ORIGINS TP VOL 13
$14.99
IMA
93
155
0.71
SEP111137
GHOST IN SHELL STAND ALONE COMPLEX GN VOL 02 (MR)
$10.99
RAN
94
110
0.70
OCT110910
ELRIC THE BALANCE LOST TP VOL 01
$14.99
BOO
95
107
0.69
SEP088030
V FOR VENDETTA NEW EDITION TP (MR)
$19.99
DC
96
102
0.68
OCT110335
GI JOE COBRA ONGOING TP VOL 01 COBRA CIVIL WAR
$17.99
IDW
97
60
0.68
JUL108203-M
WALKING DEAD HC VOL 01 (MR)
$34.99
IMA
98
145
0.67
OCT111274
K ON GN VOL 04
$11.99
HAC
99
151
0.67
OCT060163
BATMAN YEAR ONE DELUXE SC
$14.99
DC
100
146
0.65
OCT110717
NEW X-MEN BY GRANT MORRISON GN TP BOOK 08
$14.99
MAR