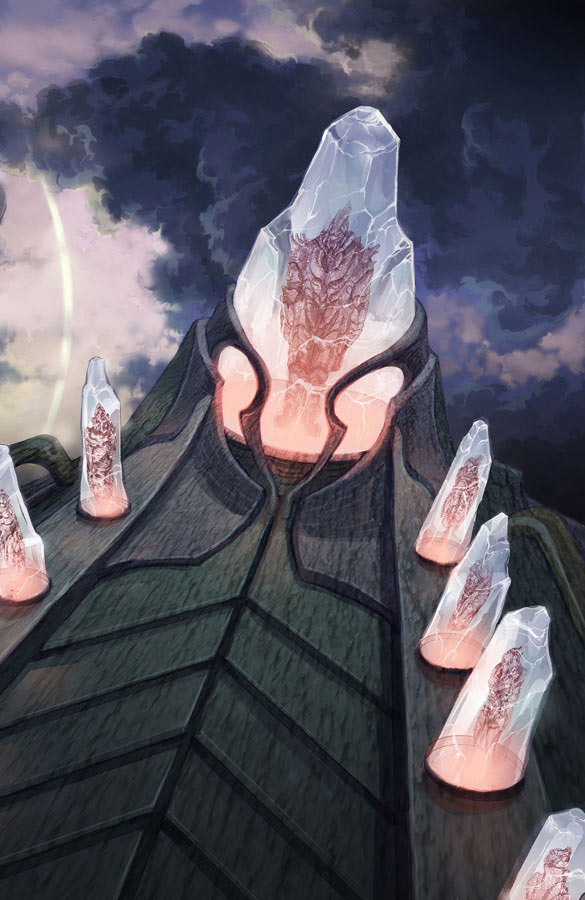 Et voici les sollicitations du mois d'Image pour le mois de mai prochain.
A noter de très intéressant la nouvelle série de JMS, Ten Grand. Le scénariste de Rising Stars et Midnight Nation revient donc au creator owned après une décennie passée dans les comics mainstreams. Pour l'occasion il s'est trouvé un dessinateur d'exception  à savoir Ben Templesmith (Fell, Wormwood,…), et un pitch tordu bien dans l'esprit de JMS ! En tout cas ça donne envie tout ça.
TEN GRAND 1 – GEM OF THE MONTH
story J. MICHAEL STRACZYNSKI
art / cover BEN TEMPLESMITH
variant cover BILL SIENKIEWICZ
MAY 1
32 PAGES / FC / M
$2.99
Joe Fitzgerald was a mob enforcer until the day he met Laura, who convinced him to leave that world behind.  Before quitting, Joe agreed to one last job, little realizing that the man he'd been sent to kill was deeply involved in demonlogy.  He survived Joe's attempt and came after him, fatally wounding Joe and killing Laura.  As he lay dying, an angelic force (who may or may not be what she appears) pointed out that where she is going, he can't follow, and where he is going, he wouldn't want her to follow.  But if he will agree to work for them as a different kind of enforcer, they will bring him to life and keep on bringing him to life every time he is killed in a righteous cause.  The reward: for those five minutes of death, he will be with Laura again.  Would you endure an eternity of pain and death, dying over and over, to be with the woman you love for just five minutes each time you died?  Most people might say no.  But Joe Fitzgerald isn't most people.
A bold new era begins with the long-anticipated return of Joe's Comics, the imprint that brought you MIDNIGHT NATION and RISING STARS.  All-new stories from J. MICHAEL STRACZYNSKI (Babylon 5, Jeremiah, Thor, Amazing Spider-Man, Superman: Earth One) return in 2013 with an action packed line up featuring everything from superhero action to supernatural thrillers. Watch this space as a new wave of exciting, challenging and experimental stories begins!
THE BOUNCE 1 – GEM OF THE MONTH
written by JOE CASEY
art and cover by DAVID MESSINA
MAY 22
32 PAGES/FC/M
$2.99
FIRST ISSUE SPECTACULAR!
Meet the ultimate slacker superhero for the 21st Century! Jasper Jenkins is a super-head AND a super-hero! He's relatable AND reliable and he's embarking on the adventure of a lifetime! The sensational debut of the new feel-good hero of the decade! You can't afford to miss it!
THE DREAM MERCHANT 1 (of 6)
story NATHAN EDMONDSON
art/cover KONSTANTIN NOVOSADOV
MAY 15
52 PAGES / FC / T
$3.50
« PART ONE. »
A double-size issue to kick off a new sci-fi series from Nathan Edmondson and newcomer Konstantin Novosadov.  Haunted by recurring dreams, a boy named Winslow is hunted by mysterious beings and protected by an old traveler.  Soon Winslow will realize that what is in his dreams is what the rest of the world has been made to forget–and what strange entities will stop at nothing to erase from his mind.
ALL-NEW SECRET SKULLKICKERS 1
story JIM ZUB
art EDWIN HUANG
cover A EDWIN HUANG & ROSS A. CAMPBELL
cover B SAEJIN OH
MAY 29
32 PAGES / FC / T
$3.50
THE ALL-NEW SECRET SKULLKICKERS: We can't hide the secret any longer!
SKULLKICKERS is the most fun adventure comic in the entire industry.
Jump on board with this unbooted new first issue and see why!
And, for those of you wishing comics kept the original numbering: No problem! Our B cover variant is a legacy-tastic issue twenty-two.
P.S. Retailers: Rack this comic beside other "All-New" or "Secret" comics you may have at your shop and tell people it's a crossover or alternate universe title.
AMERICA'S GOT POWERS 7 (of 7)
story JONATHAN ROSS
art / cover BRYAN HITCH
MAY 22
32 PAGES / FC / T+
$2.99
Too many Americans with too many powers…so the government decides it's time to wipe them all out and start from scratch. Nobody ever said it would be easy.
BEDLAM 7
story NICK SPENCER
art RYAN BROWNE
cover FRAZER IRVING
MAY 15
32 PAGES / FC / T+
$2.99
« Way Back When. »
BEDLAM, VOL. 1 TP
story NICK SPENCER
art RILEY ROSSMO
cover FRAZER IRVING
MAY 1
178 PAGES / FC / T+
$9.99
One of the hottest new series of the year gets its first, new reader friendly-priced collection!
Fillmore Press was once Madder Red, a homicidal maniac and criminal overlord who ruled the city of Bedlam. Now he's been cured of his mania, and says he wants to help protect the place he once terrorized – but can he be trusted?
Collects BEDLAM 1-6
BLACKACRE 6
story DUFFY BOUDREAU
art WENDELL CAVALCANTI & ANTONIO FABELA
cover BRIAN CHURILLA
MAY 1
32 PAGES / FC / M
$2.99
A special stand-alone issue taking you to the darkest corners of the Hinterlands. Visions of heaven, the reality of hell… and a secret buried deep in the woods.
BLACKACRE,VOL. 1 TP
story DUFFY BOUDREAU
art WENDELL CAVALCANTI & ANTONIO FABELA
cover MICHAEL AVON OEMING
MAY 1
124 PAGES / FC /M
STANDARD SIZE
$9.99
"AN ERRAND INTO THE WILDERNESS"
A walled utopia conceived by the elites of the former United States. A barbaric wilderness engulfed in the perpetual strife of tribal warfare. A crack soldier tasked with a clandestine mission to recover a lost comrade. Welcome to the American dark age of the 22nd Century.
The first arc of Image's dystopian espionage thriller is collected here! Already acclaimed by some of comics' top creators and released just in time for readers to jump on board with issue 6!
IT GIRL & THE ATOMICS 10
story JAMIE S. RICH
art NATALIE NOURIGAT
cover MICHAEL & LAURA ALLRED
MAY 15
32 PAGES / FC / E EVERYONE
$2.99
"TWEENAGE FBI" Part One
BETWEEN GEARS creator NATALIE NOURIGAT joins the Atomics team! Someone broke into Flem's lab and stole a dangerous invention. It Girl picks up the crooks' trail, only to discover it leads to a team of underage secret agents – though the real criminal mastermind is centuries older than all of them.
MORNING GLORIES 27
story NICK SPENCER
art JOE EISMA
cover VARIOUS
MAY 29
48 PAGES/FC
$3.99
« THERE IS NO BEGINNING"
The double-sized Season 2 premiere! With an astonishing array of covers by some of the hottest artists working today: JENNY FRISSON, ROB GUILLORY, SHAWN MARTINBROUGH, JAMIE McKELVIE, EMMA RIOS and MORNING GLORIES' own JOE EISMA!
THIEF OF THIEVES 14
story ANDY DIGGLE & ROBERT KIRKMAN
art & cover SHAWN MARTINBROUGH & FELIX SERRANO
MAY 29
32 PAGES / FC / T+
$2.99
Heist master Andy Diggle joins the THIEF OF THIEVES team for the start of a brand new arc! Meet Lola, the Cartel boss. And what Lola wants, Lola gets – and Conrad's going to learn that the hard way. Get ready for the most EXPLOSIVE story arc of THIEF OF THIEVES yet!
G-MAN, VOL. 3: COMING HOME TP
story CHRIS GIARRUSSO
art / cover  CHRIS GIARRUSSO
MAY 1
128 PAGES / FC / E
$9.99
Chris Giarrusso's critically-acclaimed kid superhero series continues with volume three! The brothers G-Man and Great Man have finally returned from their Cape Crisis adventure, only to discover that not everybody is happy that they're back. Will they be allowed to keep their superpowers? What has Wizard Glendolf made for lunch this time?
ARTIFACTS, VOL. 5 TP
story RON MARZ
art / cover STJEPAN SEJIC
MAY 15
160 PAGES / FC / T+
$16.99
Tom Judge was once a priest, responsible for lost souls. Now he is the bearer of the ancient, powerful Artifact called the Rapture, and responsible for the survival of the entire universe. Tom's only hope of preserving all creation is to gather the other Artifact bearers, and make a stand against the Darkness. It's a battle could cost Tom his own soul.
Collects ARTIFACTS 19-24
CLONE, VOL. 1 TP
story DAVID SCHULNER
art / cover JUAN JOSE RYP & FELIX SERRANO
MAY 22
128 PAGES / FC / T+
$12.99
From ROBERT KIRKMAN's Skybound imprint comes a sci-fi story like you've never seen before! Dr. Luke Taylor's perfect life comes to a dramatic halt when an identical, bloodied version of himself arrives at his doorstep with news that he is one of many clones… and they're all after his pregnant wife and their unborn child!
Collects CLONE 1-5
COMEBACK TP 
story ED BRISSON
art & cover  MICHAEL WALSH
MAY 8
136 PAGES/ FC/ T+
$14.99
Reconnect agents Mark and Seth go back in time to save people from their untimely demise – for a fee. But, when a rescue mission goes awry, both agents find themselves trapped in the past and on the run from both the FBI, who want to jail them, and their own employers who want to kill them to protect their own dark and deadly secrets.
Collects COMEBACK 1-5, plus never-seen-before extras.
ELEPHANTMEN, VOL. 1 REVISED & EXPANDED HC
story RICHARD STARKINGS with JOE CASEY & JOE KELLY
art LADRONN, MORITAT, HENRY FLINT, TOM SCIOLI, DAVE HINE & CHRIS BACHALO
cover  BOO COOK
MAY 1
312 PAGES / FC / M
$39.99
The sold out first hardcover volume of ELEPHANTMEN is back in print and now includes the sold out ZERO issue with art by LADRÖNN, as well as a sketchbook section, the English & Media Studies back matter from the single issues, and an introduction by JONATHAN ROSS!
Collects ELEPHANTMEN 0-7
GRAVEYARD OF EMPIRES, VOL. 1
story MARK SABLE
art & cover PAUL AZACETA
MAY 2013
128 PAGES / FC /
$14.99
Afghanistan.  U.S. Marines face a never-ending onslaught of Taliban.  But even hell can get worse.  The dead are coming back to life in The Graveyard of Empires, and only together can both sides of the today's conflict survive tomorrow's undead assault.  Writer MARK SABLE (Unthinkable, Two-Face Year One) reunites with his GROUNDED co-creator, PAUL AZACETA (Amazing Spider-Man) to tell this critically claimed, controversial tale of terror.  Featuring an all-new story created by Paul Azaceta in his comics writing debut!
Collects GRAVEYARD OF EMPIRES 1-4
GREAT PACIFIC, VOL. 1: TRASHED! TP
story JOE HARRIS
art / cover  MARTÍN MORAZZO
MAY 1
168 PAGES / FC / M – MATURE
$9.99
When fugitive oil heir Chas Worthington settles the infamous Great Pacific Garbage Patch and declares it his own sovereign nation, the reality of the environmental catastrophe is only the beginning of his odyssey. Collects the first arc of this breakout hit series – a sprawling adventure across earth's newest, strangest frontier!
Collects GREAT PACIFIC 1-6
HACK/SLASH OMNIBUS, VOL. 5 TP
story TIM SEELEY & VARIOUS
art DAN LEISTER, ELENA CASAGRANDE & VARIOUS
cover STEFANO CASELLI
MAY 22
300 PAGES / FC / T+
$34.99
The last volume in the HACK/SLASH horror saga collects the epic FINALE and the acclaimed bloodsoaked tales that lead up to it! When Cassie discovers a potential cure for slashers, she accidently kickstarts a chain of events that will lead to the ultimate betrayal at the hands of a man she thought she could trust! Giant monsters, Vlad's man-eating family, the secret life of Cat Curio, and the finale showdown fans have waited years to see!
Collects HACK/SLASH. VOL. 2 12 -25 & HACK/SLASH vs. MERCY SPARX
HOAX HUNTERS, VOL. 2: SECRETS AND LIES TP
story MICHAEL MORECI & STEVE SEELEY
art AXEL MEDELLIN & BRENT SCHOONOVER
cover JOE EISMA
MAY 1
112 PAGES / FC / T+
$9.99
The recipient of numerous "best of" accolades in 2012, HOAX HUNTERS continues  its critically acclaimed run! In this collection, the Hoax Hunters visit Haunchyville to bust the myth of the gnomes and their albino king while trying to prevent the Hoax Hunters Hunters from blowing their cover. Also included is the fan-favorite flip issue spoofing a certain ghost-hunting reality show and two all-new shorts!
Collects HOAX HUNTERS 6-9
SPAWN: ORIGINS, VOL. 18 TP
story TODD MCFARLANE & BRIAN HOLGUIN
art ANGEL MEDINA
cover CLAYTON CRAIN
MAY 15
176 PAGES / FC / T+
$14.99
In 1992, legendary writer and artist TODD MCFARLANE unleashed his iconic antihero, Spawn, on the world. In so doing, he launched the most successful independent comic book in history – and the world would never be the same.
SPAWN: ORIGINS, VOL. 18 features the stories and artwork that helped cement the Spawn legacy. Relive the excitement of this groundbreaking series – collected in this accessibly priced format with exclusive bonus content, including cover galleries, black and white art, classic quotes and an exclusive digitally painted cover by CLAYTON CRAIN.
Collects SPAWN 105-110
WITCHBLADE: REBIRTH, VOL. 3 TP
story TIM SEELEY
art DIEGO BERNARD
cover JOHN TYLER CHRISTOPHER
MAY 15
160 PAGES / FC / T+
$16.99
"APPARITIONS"
Sara Pezzini moved to Chicago and started a new life as a private investigator to escape her past in New York. But instead of getting settled into her new career, Sara has felt like she has been running in circles chasing ghosts… or, is it the ghosts that have been chasing her? Sara will have to contend against mercenaries, gangsters, and power hungry leprechauns, all while suffering the drudgeries of trying to stay profitable. Maybe black cats really do bring quantifiable amounts of bad luck.
Collects WITCHBLADE 161-165
'68 JUNGLE JIM 2 (OF 4)
story MARK KIDWELL
art / cover JEFF ZORNOW & JAY FOTOS
variant cover NATE VAN DYKE JAY FOTOS
MAY 1
32 PAGES / FC / M
$3.99
The skies over Vietnam rain liquid fire as Brian Curliss, AKA Jungle Jim continues his epic quest to find the rotting, undead remains of Sergeant Jim Asher. Jim's search carries him across the border into war-torn Cambodia, where the struggling occupants of an isolated French mission hold their own against hunger, madness and the ravenous dead.
In the dripping shadows of the rainforest, human life hangs on a hair trigger and to save himself and those who need him, Jim will have to face more than the living dead and swarms of vengeful Viet Cong… because here there be tigers.
THE ACTIVITY 16
story NATHAN EDMONDSON
art / cover MITCH GERADS
MAY 29
52 PAGES / FC / T+
$4.50
« WARFARE WITHOUT WARNING »
Special double-size issue.  The Activity is going to war.
ARTIFACTS 29
story RON MARZ
art NELSON BLAKE II
cover STJEPAN SEJIC
MAY 15
32 PAGES / FC / T+
$3.99
Who is Tilly Grimes? A goth? A punk? A numeromancer? Partner to FBI Profiler and Rapture bearer Tom Judge? She's all those and more, gifted or perhaps cursed with the ability to glean the future from mathematical equations. Learn the truth about Tilly in a stand-alone issue unlike any other you've ever seen.
CHEW 35
story JOHN LAYMAN
art / cover ROB GUILLORY
MAY
32 PAGES / FC / M
$2.99
Dietary restrictions.
CHIN MUSIC 2
story STEVE NILES
art / cover  TONY HARRIS
MAY 15
22 PAGES / C / M
$2.99
Al Capone is dead. Shot through the skull by Shaws cursed slug, the gangland legend lies dead before Eliot Ness could drag him to court of tax evasion. Shaw's interference has uprooted history and now Ness wants it set straight. The shot also alerted Shaw's enemies of his presence in Capone era Chicago, and they are coming for him. They took his skin last time. This time they'll have his eternal soul.
CLONE 7
story DAVID SCHULNER, AARON GINSBURG & WADE MCINTYRE
art / cover JUAN JOSE RYP & FELIX SERRANO
MAY 22
32 PAGES / FC / T+
$2.99
What do you do after you kill one clone? Kill the rest. Beta is hell bent on exterminating his predecessors from the face of the planet. But has he also unlocked the killer within Luke?
THE DARKNESS 114
story DAVID HINE
art / cover JEREMY HAUN & JOHN RAUCH
MAY 22
48 PAGES / FC / M
$4.99
"THE AGE OF REASON," Part One
Jackie Estacado is no longer lord over The Darkness. His Doppelganger has usurped his place at the head of his crime organization and his daughter Hope is quickly maturing and growing in her abilities to inherit the Darkness power for herself. Jump on board in the first part of this special, oversized issue of The Darkness that unveils the horrors that come to life when Hope's nightmares are allowed to roam free.
DIA DE LOS MUERTOS 3
story ALEXANDER GRECIAN, KURTIS WIEBE & JOE KEATINGE
art / cover RILEY ROSSMO
MAY 22
40 PAGES / FC / M
$4.99
GOLDEN-AGE FORMAT
Inspired by the Mexican Day of the Dead, artist extraordinaire, RILEY ROSSMO, interprets stories from three of today's top writers. From KURTIS WIEBE (PETER PANZERFAUST) comes a heartbreaking love story–in this world or the next. JOE KEATINGE (GLORY, HELL YEAH) offers up Day of the Dead 3000. As Ultra Muertos falls at the hands of Mother Slaughter, his grandson takes over the mantle with a death wish for all-out apocalypse! And New York Times bestselling author ALEXANDER GRECIAN (PROOF) tells a tale of ghost children.
A DISTANT SOIL 40
story / art /cover COLLEEN DORAN
MAY 29
32 PAGES / BW / T
$3.50
The final chapter of the A DISTANT SOIL saga continues as fifteen-year-old Liana, the ultimate psionic weapon of mass destruction, loses control of her power and threatens to destroy everyone and everything in her path.
EAST OF WEST 3
story JONATHAN HICKMAN
art NICK DRAGOTTA
MAY 29
32 PAGES / FC / T+
$3.50
"THE DRAGON"
Death's reign of terror over THOSE WHO RULE continues, as the forces of the END TIMES continue to work to bring about the Apocalypse. It's the END OF THE WORLD: Someone dies, someone lives, and someone falls in love.
ELEPHANTMEN 48
story RICHARD STARKINGS
art AXEL MEDELLIN
cover BOO COOK
MAY 29
40 PAGES / FC / M
$3.99
"SLEEPING PARTNERS," Part Seven
There's a price on Gabbatha's head and the Silencer means to collect.
FIVE GHOSTS: THE HAUNTING OF FABIAN GRAY 3 (of 5)
story FRANK J. BARBIERE
art / cover CHRIS MOONEYHAM
MAY 22
32 PAGES / FC / T+
$2.99
"ENTER: THE FORGOTTEN CITY!"
In a fantastic valley…far from the eyes of man…Fabian Gray meets THE GUARDIAN OF DREAMS!
FIVE WEAPONS 4 (of 5)
story / art / cover JIMMIE ROBINSON
MAY 29
32 PAGES / FC / T
$3.50
Tyler has to battle the Gun Club, beat the faculty's scheme to expel him and keep his secret identity safe at the school of Five Weapons.  Not a problem for Tyler's devious calculations – except this time he doesn't have a plan.
HELL YEAH 10
story JOE KEATINGE
art ANDRE SZYMANOWICZ & FABIO REDIVO
cover RICKEN
MAY 22
32 PAGES / FC / T+
$3.50
« DEATH OF PLANET EARTH, » Conclusion
2013'S SUPERSPLOITATION REVENGE EPIC REACHES ITS GRAND FINALE (for now)!
Planets are blown up. Destinies are realized. The good guys don't win.
BONUS: WHAT IS JOE KEATINGE & JAMES HARVEY'S NULL/VOID?! (Find out!)
SERIES ONE CONCLUDES
I LOVE TROUBLE 6 (of 6)
story KEL SYMONS
art/cover MARK A. ROBINSON
MAY 1
32 PAGES / FC / M
$2.99
"AN APPOINTMENT IN SAMARRA"
You can't outrun your troubles.
INVINCIBLE 103
story ROBERT KIRKMAN
art / cover RYAN OTTLEY & JOHN RAUCH
MAY 15
32 PAGES / FC / T+
$2.99
Angstrom Levy returns.
INVINCIBLE UNIVERSE 2
story PHIL HESTER
art / cover TODD NAUCK & JOHN RAUCH
MAY 1
32 PAGES / FC / T+
$2.99
Cecil Steadman's bargain with Mr. Liu has taken a turn for the worst – and now the greatest heroes of the Invincible Universe must defeat the dragon unleashed! But who will pay the cost for Cecil's choice?
THE LEGEND OF LUTHER STRODE 6 (of 6)
story JUSTIN JORDAN
art / cover TRADD MOORE
MAY 29
32 PAGES / FC / M
3.50
MINISERIES CONCLUSION!
Jack is loose in the world, and Luther isn't strong enough to stop him. But Petra might be.
LOST VEGAS 3 (of 4)
story JIM McCANN
art / cover JANET LEE
cover A JANET LEE
cover B TONY FLEECS
1:10 incentive cover FRANCESCO FRANCAVILLA
MAY 1
32 PAGES / FC / T+
$3.50
The stakes have never been higher. It all comes down to one hand.  And if that doesn't work, how do you create a Plan B on the fly with the galaxy's most treacherous race has discovered you and your handful of allies?  The last-page solution will shock you as Roland and his crew must make a major sacrifice.
THE MANHATTAN PROJECTS 14
story JONATHAN HICKMAN
art NICK PITARRA
MAY 22
32 PAGES / FC / T+
$3.50
"UPWARD BOUND"
Lines are drawn as the Manhattan Projects fractures. Who is on which side? Where are the lines drawn? Can anyone trust anyone? The great game called FUTURE begins!
The thrilling FEEL GOOD, BAD SCIENCE series continues in THE MANHATTAN PROJECTS 13: UPWARD BOUND!
MICE TEMPLAR IV: LEGEND 2
story BRYAN J.L. GLASS & MICHAEL AVON OEMING
art / cover VICTOR SANTOS
variant cover MICHAEL AVON OEMING
MAY 1
32 PAGES / FC / T
$2.99
"DESPERATE SEASON"
Karic and his cause have been betrayed, and the fragile alliance he forged crumbles before him. Faced with ever-increasing loss, the courageous mouse makes a daring decision! Meanwhile, his surviving family and friends in hiding at the capital city face an even greater betrayal by one of their own; and Karic's mother Mornae comes face-to-face with the wrath of the mad king Icarus!
MIND THE GAP 11
story JIM McCANN
art SAMI BASRI
cover A RODIN ESQUEJO
cover B by MICHAEL GAYDOS
MAY 1
32 PAGES / FC / T+
$2.99
"OUT OF BODIES," Part One
As the Hoodie revelation sinks in, lines are drawn in the sand, friendships are torn apart, and new mysteries come to light.  Can what was said be the truth? Who is a pawn and who is a player?  Meanwhile, Elle is finding her own mental world being overwhelmed now that her secret has come to light to the rest of the spirits in the Garden. But that's not going to stop her from getting answers from someone who has betrayed her!
Special guest artist SAMI BASRI
(Voodoo, Power Girl) joins us for a thrilling two-part arc, as well as the amazing MICHAEL GAYDOS (Alias) killing it on alternate covers! With the first two volumes out, this is a great jumping on point! Join the mystery everyone is talking about!
MINIATURE JESUS 2 (of 5)
story / art / cover TED McKEEVER
MAY 22
24 PAGES / BW / M
$3.99
GOLDEN-AGE FORMAT
Critically acclaimed writer/artist TED McKEEVER returns to the theater of the bizarre, as a small-town Pastor thinks the eight-inch Jesus that descended from a cross on the church's wall is the devil's work. Meanwhile, a recovering alcoholic's fractured reality battling his own demons is becoming all too literal.
NOWHERE MEN 6
story ERIC STEPHENSON
art NATE BELLEGARDE & JORDIE BELLAIRE
cover NATE BELLEGARDE & FONOGRAFIKS
MAY 29
32 PAGES / FC / T+
$2.99
Thinking the unthinkable.
PROPHET 37
story BRANDON GRAHAM & SIMON ROY
art SIMON ROY & GIANNIS MILONOGIANNIS
cover  FIL BARLOW
MAY 22
32 PAGES / FC / T+
$3.99
New father must finish the job that his lifebomb brother failed at (in Issue 31) and destroy the dismembered body city of Ixpoliniox.
REVIVAL 10
story TIM SEELEY
art MIKE NORTON
cover by JENNY FRISON
MAY 15
32 PAGES / FC / T+ TEEN PLUS
$2.99
Ibrahaim's first door-to-door inspection goes badly when he's sent to the Holt farm. The Check brothers have Cooper hostage, and unfortunately for them, it's Em Cypress to the rescue.
SAVAGE DRAGON 188
story / art / cover ERIK LARSEN
MAY 29
32 PAGES / FC / T
$3.99
« THE CLAW »
The Claw returns! the legendary villain from the Golden Age of comics strikes again! Malcolm Dragon joins forces with the Claw's most hated enemy–the Golden Age Daredevil in an effort to stop the notorious menace! Plus, we continue to look into the lives of the sons and daughters of Chicago's Vicious Circle. It's a tantalizing glimpse at the crime family they were born to inherit and the forces who oppose them.
SEX 3
story JOE CASEY
art / cover PIOTR KOWALSKI
MAY 22
32 PAGES / FC / M
$2.99
There are a million stories in Saturn City, and Simon Cooke's is just one of them! His future may be wide open, but the past is hot on his tail! The Old Man can still get it up! No two ways about it -– this is the perfect time to pay for SEX! It's even better than you think!
SNAPSHOT 4 (of 4)
script ANDY DIGGLE
art / cover  JOCK
MAY 1
32 PAGES / BW / T+
$2.99
MINISERIES CONCLUSION!
It all ends here as the awful truth behind a multi-million dollar conspiracy is revealed, with deadly consequences. If young Jake is to survive , what kind of man must he become? And is it worth the price?
SON OF MERLIN 4
story ROBERT NAPTON
art / cover ZID
MAY 1
32 PAGES / FC / T+
$2.99
OSCAILT AMACH!
Morgana has found the brilliant M.I.T. professor and heir to Merlin's magic, Dr. Simon Ambrose, and will stop at nothing to seize Merlin's power from his grasp. Simon, however, is untrained in magic and until he is better versed in casting Druid spells, he will need to rely on the safeguards Merlin planned in advance for him to flee Morgana's wrath. But will it be enough?
SPAWN 231
story TODD MCFARLANE
art SZYMON KUDRANSKI
cover TODD MCFARLANE
MAY 1
32 PAGES / FC / T+
$2.99
« COMPLEX MESSIAH » Part Three
Who Is In Control? The Man? Or the Monster?
« Complex Messiah » is an epic new story arc, serving as a jumping on point for new readers, as well as the next phase in Spawn's evolution. As the worldwide fervor around Jim Downing's miraculous gifts continues to grow, the darkness that lives within him begins to threaten his newfound fame.
Meanwhile, a small group of online friends gain insight into their understanding of the Hellspawn, slowly piecing together a dangerous new theory about the world's newest « messiah. »
And, somewhere in the shadows, an old enemy lurks.
Also featured: Detective Craig Rowand came to New York looking for clues. That journey brought him face-to-face with evil in the form of the demonic temptress, Hel. Haunted by the encounter, a good man's steady spiral into madness begins here.
SUPER DINOSAUR 20
story ROBERT KIRKMAN
art JASON HOWARD & CLIFF RATHBURN
cover JASON HOWARD
MAY 29
32 PAGES / FC / E
$2.99
The search for the cure for Derek's mother takes him and Super Dinosaur to some interesting… and DANGEROUS places. Will they find it in time?
THE WALKING DEAD 110
story ROBERT KIRKMAN
art / cover CHARLIE ADLARD & CLIFF RATHBURN
MAY 8
32 PAGES / BW / M
$2.99
Ezekiel vs. Michonne?
WITCHBLADE 166
story TIM SEELEY
art / cover DIEGO BERNARD
variant cover JOHN TYLER CHRISTOPHER
MAY 8
32 PAGES / FC / T+
$2.99
"SKELETONS"
Sara Pezzini's world has become increasingly gray since she became a private investigator. Without the laws and regulations that being a cop used to provide, Sara has no idea whether her actions have been for the greater good or not. But to both put food on the table and stop a more powerful evil, Sara will need to dig up enough dirt to destroy the career of the only decent and honest politician left in Chicago.
YOUNGBLOOD 78
story Rob Liefeld
art Jon Malin
COVER Rob Liefeld
MAY 29
32 PAGES / FC / T+
3.99
"DARK RISING"
In the wake of Lord Chapel's return, the Youngblood Corps. assembles en masse to combat the dark lord's terrible plan to converge with another dimension. Guest starring every Youngblood member featured in the history of Youngblood.