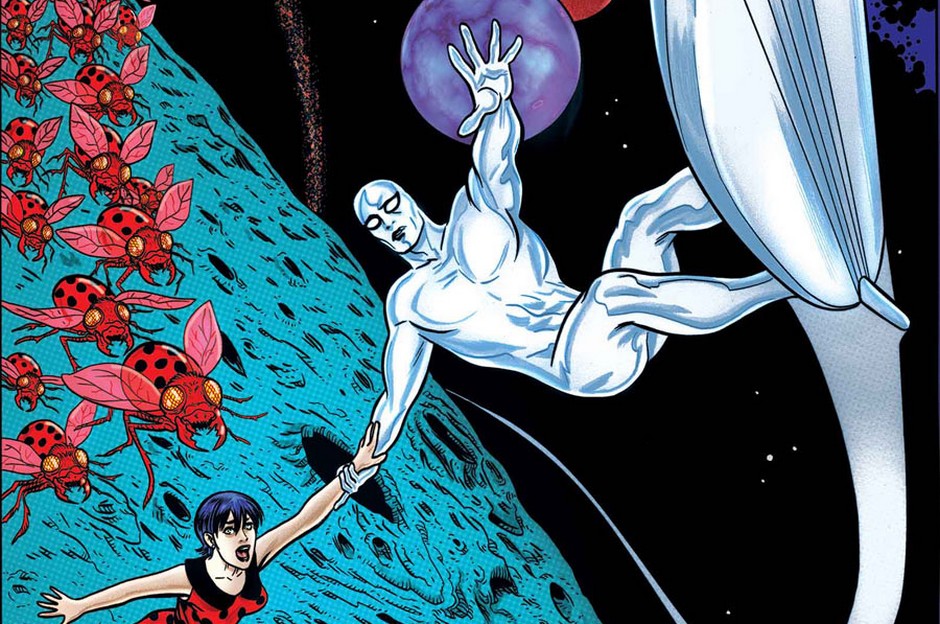 Et voici les sollicitations Marvel Comics pour le mois de mars prochain ! toujours marquées par le lancement d'un paquet de séries, vraiment beaucoup, beaucoup de séries, trop de séries !!! on arrive à presque une dizaine de nouveaux titres ce qui est juste ridicule. Malheureusement et même si je souhaite le plus grand succès possible à Marvel, il est fort probable que la plupart se casse la gueule assez vite, non pas par manque de qualité, mais tout simplement parce que les lecteurs ne pourront pas suivre, noyés dans la masse.
DAREDEVIL #1
MARK WAID (W) • CHRIS SAMNEE (A/C)
VARIANT COVER BY PAOLO RIVERA
75TH ANNIVERARY VARIANT BY ALEX ROSS
75TH ANNIVERSARY SKETCH VARIANT BY ALEX ROSS
ANIMAL VARIANT BY CHRIS SAMNEE
YOUNG VARIANT BY SKOTTIE YOUNG
BECAUSE YOU DEMANDED IT!
Join Marvel's fearless hero as he begins his most awe-inspiring adventure yet in the sunny city of San Francisco! Gifted with an imperceptible radar sense and a passion for justice, blind lawyer Matt Murdock—a.k.a. DAREDEVIL—protects the Golden City's streets from all manner of evil. But big changes are in store for Matt Murdock as old haunts and familiar faces rise to give the devil his due. Hold on tight, because here comes Daredevil…the Man Without Fear!
32 PGS./Rated T+ …$3.99
NEW AVENGERS #16.NOW
JONATHAN HICKMAN (W)
Rags Morales (A)
Cover by Mike Deodato
VARIANT COVER by Rags Morales
"THE NIGHT BEFORE THE WORLD ENDED"
No more bloodshed. To save their nations, the proud Black Panther and the arrogant Namor have sued for peace. As members of the Illuminati, the secret organization made up of the Marvel Universe's most powerful heroes, they must work together to stop the extinction of the entire universe! But are their amends too little too late? There's no turning back for the Illuminati after this issue – and they'll pay the price for their sins.
32 PGS./Rated T+ …$3.99
MOON KNIGHT #1
WARREN ELLIS (W)
DECLAN SHALVEY (A/C)
VARIANT cover by Adi Granov
VARIANT cover by Bill Sienkienwicz
ANIMAL VARIANT BY KATIE COOK
YOUNG VARIANT BY SKOTTIE YOUNG
Marc Spector is Moon Knight!…Or is he? It's hard to tell these days, especially when New York's wildest vigilante protects the street with two-fisted justice and three—that's right, count 'em—different personalities! But even with the mystical force of Khonshu fueling his crusade, how does the night's greatest detective save a city that's as twisted as he is? The road to victory is going to hurt. A lot. Marvel's most mind-bending adventure begins NOW as Moon Knight sleuths his way to the rotten core of New York's most bizarre mysteries!
32 PGS./Rated T+ …$3.99
IRON MAN #23.NOW
KIERON GILLEN (W) • LUKE ROSS (A)
Cover by MIKE DEL MUNDO
ARTIST VARIANT COVER BY JOE QUINONES
ANIMAL VARiant BY JENNY PARKS
AN ALL-NEW EPIC BEGINS, "RINGS OF THE MANDARINS"
MALEKITH THE ACCURSED has a problem with IRON MAN. Malekith the Accursed has a problem with pretty much EVERYONE. Cutting edge science versus the most arcane science imaginable, all in a bath of blood. Which classic MARVEL UK character returns in a reinvented form after the REVOLUTIONARY WAR?
32 PGS./Rated T+ …$3.99
SILVER SURFER #1
DAN SLOTT (W)
MICHAEL ALLRED (A/C)
VARIANT COVER BY FRANCESCO FRANCAVILLA
ANIMAL VARIANT BY CHRIS SAMNEE
YOUNG VARIANT BY SKOTTIE YOUNG
"NEW DAWN"
The universe is big. Bigger than you could ever imagine. And the SILVER SURFER, the lone sentinel of the skyways, is about to discover that the best way to see it… is with someone else.
Meet the Earth Girl who's challenged the Surfer to go beyond the boundaries of the known Marvel U– into the strange, the new, and the utterly fantastic!
Anywhere and Everywhere… Hang On! THE SILVER SURFER
32 PGS./Rated T+ …$3.99
DEADPOOL #25.NOW!
GERRY DUGGAN & Brian Posehn (W)
MIKE HAWTHORNE (A)
Cover by MARK BROOKS
VARIANT COVER BY PHIL NOTO
ANIMAL VARIANT BY COOK
DEADPOOL REACHES RECORD-BREAKING ISSUE #25!
First Marvel NOW! title to reach the landmark 25th issue! Avengers doesn't count. Because. When Deadpool re-killed the reanimated dead Presidents of the United States, Agent Gorman of S.H.I.E.L.D. stiffed him on his well-earned pay. Now, his vengeance is finally wrought! But now that former S.H.I.E.L.D Agent Preston's consciousness is stuck inside his head, will she be ok with this wreaking? And is all this SHIELD stuff a shameless cash in because of the TV show? Ask guest-star AGENT COULSON!
5 of 5 Deadpool vs. S.H.I.E.L.D.
32 PGS./Parental Advisory …$2.99
DEADPOOL #26
GERRY DUGGAN (W)
SCOTT KOBLISH (A)
Cover by PHIL NOTO
Variant Cover by HOWARD CHAYKIN
Another Deadpool FLASHBACK issue! This time…back in the 1950s?!
That's right – Deadpool has gone back in time to save Nick Fury…
…From the menace of TIME-TRAVELING HITLER!
32 PGS/Parental Advisory…$2.99
ALL-NEW GHOST RIDER #1
FELIPE SMITH (W) • TRADD MOORE (A/C)
VARIANT COVER BY TBA
VARIANT by Felipe Smith
ANIMAL Variant by Mike DelMundo
YOUNG VARIANT BY SKOTTIE YOUNG
"ENGINES OF VENGEANCE" PART 1
A street race leads a young man on the FAST and FURIOUS road of destiny. Amid an East Los Angeles neighborhood running wild with gang violence and drug trafficking, a war brews in the criminal underworld! With four on the floor, Marvel's newest GHOST RIDER puts vengeance in overdrive!!!
32 PGS./Rated T+ …$3.99
UNCANNY X-MEN #19.NOW!
BRIAN MICHAEL BENDIS (W)
CHRIS BACHALO (A/C)
VARIANT COVER BY J. SCOTT CAMPBELL
SKETCH VARIANT BY J. SCOTT CAMPBELL
ANIMAL VARIANT BY GIUSEPPE CAMUNCOLI
The next stage in humankind is here, and the Uncanny X-Men are leading the way! With original X-Man Cyclops at the revolution's helm, Emma Frost, Magik and a new generation of mutants defend and educate all homo-superior as warriors of the atom! But after relentless persecution from a society that fears and hates them, the Uncanny X-Men are going on the offensive! Their target? The international spy organization S.H.I.E.L.D! However, as Cyclops' team fights to save their species, are they only digging themselves into a deeper and more dangerous hole?
32 PGS./Rated T+ …$3.99
CAPTAIN MARVEL #1
KELLY SUE DECONNICK (W)
DAVID LOPEZ (A/C)
VARIANT COVER BY JOHN CASSADAY
ANIMAL VARIANT BY DAVID LOPEZ
YOUNG VARIANT BY SKOTTIE YOUNG
HIGHER, FURTHER, FASTER, MORE begins!
Hero! Pilot! Avenger! Captain Marvel, Earth's Mightiest Hero with death-defying powers and an attitude to match, is back and launching headfirst into an all-new ongoing series! As Captain Marvel, a.k.a. Carol Danvers, comes to a crossroads with a new life and new romance, she makes a dramatic decision that will alter the course of her life and the entire Marvel Universe in the months to come. It's time to go HIGHER, FURTHER, FASTER and more in the most super-powered comic around!
32 PGS./Rated T+ …$3.99
IRON PATRIOT #1
ALES KOT (W) GARRY BROWN (A)
Cover by Garry Brown
VARIANT by Mike Perkins
"UNBREAKABLE" PART 1
Jim Rhodes has quit the SECRET AVENGERS!!! As the IRON PATRIOT, he's bringing his fight against the bad guys to the home front. But a new villain emerges with a brutal plan that could turn Iron Patriot into America's most wanted!!!
32 PGS./Rated T+ …$3.99
MAGNETO #1
CULLEN BUNN (W)
GABRIEL HERNANDEZ WALTA (A)
Cover by PAOLO RIVERA
VARIANT COVER BY JOHN CASSADAY
ANIMAL VARIANT BY MIKE DEL MUNDO
YOUNG VARIANT BY SKOTTIE YOUNG
Once the deadliest, most feared mutant mastermind on the planet, MAGNETO is no longer the man he once was. After falling in with Cyclops and the X-Men, Erik Lehnsherr became just one more pawn in another man's war. But now, determined to fight the war for mutantkind's survival on his own terms, Magneto sets out to regain what he's lost…and show the world exactly why it should tremble at the sound of his name. Magneto will safeguard the future of the mutant race by hunting down each and every threat that would see his kind extinguished—and bloody his hands that they may never be a threat again.
32 PGS./Rated PARENTAL ADVISORY …$3.99
SECRET AVENGERS #1
ALES KOT (W)
MICHAEL WALSH (A)
Cover by TRADD MOORE
VARIANT COVER BY MIKE DEODATO
ANIMAL VARIANT BY Katie Cook
SAVE THE EMPIRE, Part One
The all-new Secret Avengers are ready to get started. Are they going to be the world's most effective secret squad? Or will their personal issues tear them apart? U-DECIDE! Three missions kick off at the same time: one in the space, one on the ground…and one in the air. And no one's ready. Except for the attackers. Russian spa. Helicarrier. Space station. Falling satellites. A hired hitman with nothing to lose. The Fury. WAIT. Yes. THE FURY. Why is Hawkeye still around? And why are these people chasing him? Why are Black Widow and Spider Woman in a Russian spa? Do questions in teasers excite you? RUN THE MISSION, DON'T GET SEEN, SAVE THE WORLD. NOW!
32 PGS./Rated T+ …$3.99
WOLVERINE AND THE X-MEN #1 & 2
Jason Latour (W) • Mahmud Asrar (A/C)
VARIANT COVER BY MARK BROOKS
ANIMAL VARIANT BY Jenny Parks
Issue #2 – ARTIST VARIANT BY TBA
WELCOME TO THE JEAN GREY SCHOOL OF HIGHER LEARNING! The ALL NEW MARVEL NOW smash hit series schools with Jason Latour (WINTER SOLDIER) and Mahmud Asrar (X-MEN) leading the charge with drama, action and homework(?)! World-famous X-Men Wolverine, Storm, and a star-studded faculty must educate the next generation all-powerful, but inexperienced mutants! But with their own lives steeped in deadly enemies and personal crises, how can the X-Men guide and educate—let alone defend—the school? At the Jean Grey School, you never know who will enroll…or who will lead the class! And what mysterious organization waits in the shadows to destroy Wolverine's mutant sanctuary? These questions and more are answered in the All-New Marvel Now sure-to-be-smash, WOLVERINE AND THE X-MEN #1!
32 PGS. (EACH)/Rated T+ …$3.99 (EACH)
Uncanny Avengers #18.NOW!
RICK REMENDER (W) • DANIEL ACUÑA (A/C)
VARIANT COVER BY IN-HYUK LEE
DEADPOOL VARIANT BY ROB GUILLORY
ANIMAL VARIANT BY KATIE COOK
CAPTAIN AMERICA VARIANT ALSO AVAILABLE
"AVENGE THE EARTH" Part One
Welcome to Planet X, the new mutant homeworld, where everything is great—presuming that you possess the mutant gene! Janet Van Dyne, the Wasp, is the last human being alive, relentlessly pursued by Magneto and his All-New X-Force and their "No More Humans" campaign, and protected by her husband, Havok! Witness the fate of the Uncanny Avengers–who survived the Apocalypse Twins' plot, and how?
32 PGS./Rated T+ …$3.99
AVENGERS UNDERCOVER #1
DENNIS HOPELESS (W) • KEV WALKER (A)
Cover by FRANCESCO MATTINA
VARIANT cover by Mark Brooks
WHEN TEEN HEROES INFILTRATE THE MASTERS OF EVIL, WHO WILL BREAK BAD?
Damaged by their experience in Murder World, five conflicted young superhumans go rogue and infiltrate the Masters of Evil, planning to bring the Avengers' rivals down from within. But the longer the teens spend undercover, the more they descend into darkness, and as they start to build relationships with these multi-layered criminals, the line between good and evil blurs. What will happen first…joining the Masters for real, or getting exposed and killed? If you thought Murder World was dangerous, just wait until "Most Promising New Talent" Harvey award-winner Dennis Hopeless and acclaimed artist Kev Walker surround you with Evil!
32 PGS./Rated T+ …$2.99
THE PUNISHER #3
NATHAN EDMONDSON (W) • MITCH GERADS (A/C)
Cover by Mitch Gerads
VARIANT Cover by Alex Maleev
• Frank discovers the Dos Sols gang's newest weapon. Bad news for Frank.
• The Punisher dukes it out with one of the Marvel U's BIG BADS!
• A daring raid on the Dos Sols compound goes absolutely NOT according to plan!
32 PGS./Parental Advisory …$3.99
AVENGERS WORLD #4
JONATHAN HICKMAN & NICK SPENCER (W)
STEFANO CASELLI (A)
Cover by MIKE DEODATO
• The City of The Dead will rise.
• StarBrand must confront the ghosts of his past.
32 PGS./Rated T+ …$3.99
MS. MARVEL #2
G. WILLOW WILSON (W) • ADRIAN ALPHONA (A)
Cover by Jamie McKelvie
ARTIST VARIANT COVER BY JORGE MOLINA
• As seen in the New York Times, CNN and other media outlets the world-over, the all-new Ms. Marvel has made her thunderous debut!
• Kamala Khan's very ordinary life has suddenly become extraordinary. Is she ready to wield these strange and immense new gifts? Or will the weight of the legacy before her be too much to handle?
• Critically acclaimed writer G. Willow Wilson (Air, Cairo) and fan-beloved artist Adrian Alphona (Runaways, Uncanny X-Force) bring you the groundbreaking Marvel series that has set the world abuzz. Don't miss history in the making.
32 PGS./Rated T+ …$2.99
NEW WARRIORS #2
CHRISTOPHER YOST (W) • MARCUS TO (A)
Cover by RAMON PEREZ
VARIANT Cover by Mark Bagley
• The Evolutionaries are on the war path! If it's not human, it DIES.
• What does the High Evolutionary want with Nova?
• All across the world, the New Warriors come together… SEE! Sun Girl and Haechi deal with Morlocks! WITNESS! Justice and Speedball fight to save magic! CRINGE! As Scarlet Spider refuses to play well with others.
32 PGS./Rated T+ …$3.99
NOVA #14 & 15
GERRY DUGGAN (W) • DAVID BALDEON (A)
CoverS by PACO MEDINA
Issue #14 – ARTIST VARIANT COVER BY JORGE MOLINA
Issue #15 – Variant Cover by Dale Keown
ISSUE #14 –
• IT'S A BAD TIME TO BE A NOVA!
• David Baldeon (Scarlet Spider) joins Gerry Duggan for an interstellar adventure with Beta Ray Bill begins with a bang (and a massive robotic battle)!
• It's clean-up time as Sam and Bill ride through the cosmos attempting to right the wrongs that Sam caused!
32 PGS./Rated T …$3.99
ISSUE #15 –
• Sam leads an intergalactic exodus off an orbiting slum.
• Can he rescue Beta Ray Bill's people before they're sold into slavery, and will he catch up to Captain Skaarn before he can hurt anyone else?
32 PGS./Rated T …$3.99
LOKI: AGENT OF ASGARD #2
AL EWING (W) • LEE GARBETT (A)
Cover by JENNY FRISON
Artist Variant by Jaime Mckelvie
• Loki vs. Lorelei!
• It's the battle of the Asgardian younger siblings – from the casinos of Monte Carlo to a speed date in New York!
• Loki goes speed dating. We should have mentioned that earlier, really.
32 PGS./Rated T+ …$2.99
THOR: GOD OF THUNDER #20
JASON AARON (W) • ESAD RIBIC (A/C)
VARIANT COVER BY Nic Klein
THE LAST DAYS OF MIDGARD Part Two
• Thor battles to save the Earth on two fronts.
• In the present day, Thor takes on Roxxon, the world's most powerful and nefarious super-corporation. While in the far future, King Thor is all that stands between Old Galactus and the planet he's been dying to eat for a very long time.
• Even if King Thor wins, is the Earth still doomed?
32 PGS./Rated T+ …$3.99
ALL-NEW INVADERS #3
JAMES ROBINSON (W) • STEVE PUGH (A)
Cover by MUKESH SINGH
ARTIST Variant by JEROME OPEÑA
CAPTAIN AMERICA VARIANT ALSO AVAILABLE
"GODS AND SOLDIERS" PART THREE
• The plans are drawn, the task is clear — to save their ally NAMOR, the remaining INVADERS must live up to their name and take the fight to Hala, the Kree homeworld!
• But his how does AARKUS, THE ORIGINAL VISION, figure into this strategy? And how will the WINTER SOLDIER track him down in the first place?
• Plus, Namor in battle with Tanalth and her elite Pursuer Corps!
• And a guest star no one will expect — especially not the Invaders themselves!
32 PGS./Rated T+ …$3.99
CAPTAIN AMERICA #18
RICK REMENDER (W) • NIC KLEIN (A/C)
VARIANT COVER BY Glenn Fabry
CAPTIAN AMERICA VARIANT ALSO AVAILABLE
• Will Dr. Mindbubble shatter Captain America's already fragile psyche?
• The Iron Nail rises.
• SHIELD's greatest secrets revealed to the world's most dangerous man.
32 PGS./Rated T …$3.99
ALL-NEW X-MEN #24
BRIAN MICHAEL BENDIS (W) • STUART IMMONEN (A/C)
VARIANT COVER BY DALE KEOWN
THE TRIAL OF JEAN GREY PART 5!
• X-Men and Guardians vs. Gladiator and Jean Grey's fate lies in the balance!
• One of the X-Men's lives will be forever changed!
32 PGS./Rated T …$3.99
GUARDIANS OF THE GALAXY #13
BRIAN MICHAEL BENDIS (W) • SARA PICHELLI (A/C)
VARIANT COVER BY DALE KEOWN
MOVIE VARIANT ALSO AVAILABLE
The conclusion of THE TRIAL OF JEAN GREY leaves two teams devastated!
32 PGS./Rated T+ …$3.99
SUPERIOR SPIDER-MAN #29
DAN SLOTT (W) • GIUSEPPE CAMUNCOLI (A/C)
ARTIST VARIANT COVER BY JORGE MOLINA
"Goblin Nation" – Part 3 of 5
• The Spider-Slayer Squadron were supposed to be under Mayor J. Jonah Jameson's control…
• …but now they've been drafted into The Goblin Nation!
• Guest Starring: Spider-Man 2099!
32 PGS./Rated T …$3.99
SUPERIOR SPIDER-MAN #30
DAN SLOTT (W) • GIUSEPPE CAMUNCOLI (A/C)
"Goblin Nation" – Part 4 of 5
• Since the start of DYING WISH, it has ALL been building to this.
• One of the most important moments of the ENTIRE Superior Spider-Man Saga!
• Once this happens, it CANNOT be undone!
• DO NOT MISS THIS ISSUE!
32 PGS./Rated T …$3.99
SHE-HULK #2
CHARLES SOULE (W)
JAVIER PULIDO (A)
Cover by KEVIN WADA
VARIANT by AMANDA CONNER
• Jennifer opens her own practice, but things aren't going as smoothly as she'd like.
• A new client rides into town…but is he hero or villain?
• Guest-starring Patsy Walker, Hellcat!
32 PGS./Rated T+ …$2.99
FANTASTIC FOUR #2
JAMES ROBINSON (W) • LEONARD KIRK (A/C)
ARTIST VARIANT COVER BY ARTHUR ADAMS
"THE FALL OF THE FANTASTIC FOUR" PART 2
• Manhattan is under attack by a monstrous killer swarm from a corrupted pocket universe, and in order to defeat it the FANTASTIC FOUR will need all their courage, powers and skill…as well as those of every other hero in New York!
• But to attain final victory one of the First Family will must make a TERRIBLE SACRIFICE!
• And so the first strings are pulled and the first pieces are put in place…
• …On the Fantastic Four's DOWNFALL!
32 PGS./Rated T+ …$3.99
SAVAGE WOLVERINE #16
RICHARD J. ISANOVE (W/A/C)
ARTIST VARIANT COVER BY JOHN CASSADAY
WRATH part 3 of 4
• In a race against time, Logan must keep the children in his care away from the Enforcer.
• As the first of the dust storms to ravage the country bears down on South Dakota, Logan must decide which he can survive: his enemies or the black blizzard.
32 PGS./Parental Advisory …$3.99
WOLVERINE #3
PAUL CORNELL (W) • RYAN STEGMAN (A/C)
ARTIST VARIANT COVER BY ARTHUR ADAMS
PAYBACK part 3!
• Logan's training continues…and he's got his sights set on Sabretooth.
• What could make Logan turn his back on the school and his friends?
32 PGS./Parental Advisory …$3.99
X-FORCE #2
SIMON SPURRIER (W) • ROCK-HE KIM (A/C)
ARTIST VARIANT COVER BY ADI GRANOV
• Cable. Psylocke. Fantomex. Marrow. They are mutantkind's protectors, spies, assassins and torturers!
• But just what has driven each of them to join the most deadly incarnation of X-FORCE yet? Yes, Marrow is back! • But how has she regained her mutant powers and what does it have to do with X-Force's first target?
32 PGS./Parental Advisory …$3.99
X-MEN #12
BRIAN WOOD (W) • KRIS ANKA (A)
COVER BY TERRY DODSON
VARIANT COVER BY J.G. Jones
Conclusion to GHOSTS
• The Sisterhood is fully formed, and the battle for leadership begins!
• The X-Men must choose…take down the Arkea Sentinels or go after the Sisterhood.
32 PGS./Rated T+ …$3.99
Winter Soldier: The Bitter March #2 (of 5)
RICK REMENDER (W) • Roland Boschi (A)
Cover by Andrew Robinson
VARIANT Cover by Agustin Alessio
• Shield agent Ran Shen is responsible for escorting the two most important humans on the planet to the United States.
• The only thing in his way is Winter Soldier. And the only thing in the Winter Soldier's way is an elite Hydra squad run by Chancellor Cassandra and Madam Worm.
• Rate pace, high adventure, sex, murder, intrigue, in this 1960's spy action story that will have ramification echoing to the modern Marvel Universe!
32 PGS./Rated T+ …$3.99
AVENGERS A.I. #10
Sam Humphries (W) • André Lima Araüjo (A)
Cover by David Marquez
VARIANT cover by KEVIN TONG
• S.H.I.E.L.D. priority alert: Monica Chang and her robot-hunting partner Jocasta (?!) have been ordered to confiscate and/or eliminate unregistered artificial intelligences on sight.
• UNAUTHORIZED ENTRY: Hank Pym, Vision and the Uncanny Avengers have been spotted in the Diamond. All citizens are advised to be cautious of this rebel element.
• WARNING: All hail Dimitrios OR ELSE!
32 PGS./Rated T+ …$2.99
DEXTER DOWN UNDER #2 (OF 5)
JEFF LINDSAY (W) • DALIBOR TALAJIC (A)
Cover by MICHAEL DEL MUNDO
DEXTER'S BACK IN AN ALL-NEW ADVENTURE
WRITTEN BY HIS CREATOR JEFF LINDSAY!
• When Dexter Morgan—the serial killer of serial killers—travels down under, he quickly discovers that sharks aren't Australia's only deadly predator!
• Who is setting up illegal hunting safaris in the Outback—and are humans in the crosshairs?
32 PGS./Parental Advisory …$3.99
MIRACLEMAN #4
THE ORIGINAL WRITER (W) • GARRY LEACH & ALAN DAVIS (A)
COVER BY ALAN DAVIS
VARIANT COVER BY BRYAN HITCH
VARIANT COVER BY John Tyler Christopher
VARIANT COVER BY GERALD PAREL
• Origins and revelations bring the first chapter in the MIRACLEMAN saga to its shocking conclusion!
• An unexpected ally leads Miracleman to Project Zarathustra, the site of the secret British operation that gave birth to the Miracleman Family.
• After last issue's battle, the Warpsmiths regroup to mourn their dead in "Ghostdance."
• Including material originally presented in WARRIOR #9-11 and A1 #1, plus bonus material.
48 PGS./Parental AdvisorySLC…$4.99
Disney Kingdoms: Seekers of the Weird #3 (OF 5)
BRANDON SEIFERT (W)
FILIPE ANDRADE (A)
Cover by MIKE DEL MUNDO
Imagineer Variant BY Brian Crosby
NOW YOU CAN FINALLY SEE IT: DISNEY'S LEGENDARY MUSEUM OF THE WEIRD!
• With their parents kidnapped, teens Maxwell and Melody leap into a thrilling race through the world's most strange—and treacherous—museum!
• In a catacomb of crawling Mushroom People and a Séance Room under glass, our teen heroes discover the truth about the Chaos Clock—and their own destinies!
• Designed – but never built – by famous Walt Disney Imagineer Rolly Crump, the Museum of the Weird at last comes to life!
32 PGS./All Ages …$3.99
GEORGE ROMERO EMPIRE OF THE DEAD: ACT ONE #3 (OF 5)
GEORGE ROMERO (W) • ALEX MALEEV (A/C)
NYC Variant Cover by ARTHUR SUYDAM
IT'S ZOMBIES VS VAMPIRES—WITH HUMANS CAUGHT IN THE CROSSFIRE—
AS THE LEGENDARY GEORGE ROMERO UNLEASHES HIS NEXT UNDEAD EPIC!
• Welcome to New York years after the eruption of an undead plague—a city not only teeming with roaming zombies, but also ruled by vampires!
• Who is plotting against the Mayor? Is there a zombie uprising afoot? And who in the firecracker known as Dixie Peach?
• Plus: It's a terrorizing team-up in variant cover form when the Zombie Godfather George Romero unites with the Zombie King Arthur Suydam!
32 PGS./Parental Advisory …$3.99
Avengers ASSEMBLE #25
KELLY SUE DECONNICK & WARREN ELLIS (W)
MATTEO BUFFAGNIX (A)
Cover by JORGE MOLINA
ALL-OUT WAR IN NEW YORK CITY!
• The demented Dr. June Covington has taken on A.I.M., and is winning. The Avengers are caught in the middle of this Mad Science War!
• But, now, this situation is more important — because there's a second Terrigen cocoon in New York, ticking like a time bomb, about to go off, Covington wants it and A.I.M. has it.
• SPIDER-GIRL, who has been mentored by the Avengers in her search for her teacher, abducted by Covington for Nefarious Genetic Purposes, now leads the charge, as the Avengers Assemble to end this conflict before the Terrigen cocoon explodes and New York is doooooomed.
32 PGS./Rated T+ …$3.99
A+X #18
BRIAN MICHAEL BENDIS & GERRY DUGGAN (W)
KEVIN NOWLAN & DAVID YARDIN (A)
Cover by KEVIN NOWLAN
A+X GOES OUT IN STYLE!
• Superstar BRIAN MICHAEL BENDIS and comics legend KEVIN NOWLAN tell a scintillating tale of KITTY PRYDE + VISION!
• Gerry Duggan (DEADPOOL) and David Yardin (X-FACTOR) finish their rip-roaring CAPTAIN AMERICA+CYCLOPS story!
32 PGS./Rated T …$3.99
MIGHTY AVENGERS #8
AL EWING (W) • VALERIO SCHITI (A)
Cover by GREG LAND
• Spectrum and She-Hulk join Blue Marvel on one of his global adventures – against a threat that could break Adam's heart!
• It's White Tiger versus Tiger God – with Ava Ayala's soul in the balance!
• We need to talk about Kevin.
32 PGS./Rated T+ …$3.99
AVENGERS #27
JONATHAN HICKMAN (W) • SALVADOR LARROCA (A)
Cover by MIKE DEODATO
"ADAPT OR DIE"
• The secret behind the All-New Avengers revealed!
• The science war overtakes the world(s).
• All the answers to the questions you wished remained hidden.
• The collision of Avengers and New Avengers is imminent.
32 PGS./Rated T+ …$3.99
MARVEL KNIGHTS: HULK #4 (OF 4)
JOE KEATINGE (W)
PIOTR KOWALSKI (A/C)
1 RAMPAGING MONSTER + 2 RISING STARS = MARVEL KNIGHTS MAGIC!
• What has brought Bruce Banner back to the launch pad of the original gamma bomb…and will the site of the Hulk's birth also be the location of his death?
• It's a brain-bending mystery and quirky cool Hulk action downloaded directly from the mad minds of Keatinge & Kowalski!
32 PGS./Rated T+ …$3.99
MARVEL KNIGHTS: X-MEN #5 (of 5)
BRAHM REVEL (W)
BRAHM REVEL (A/C)
• The X-Men conjure up old friends to help them subdue the ghosts from their pasts a two young mutants face tough decisions which could alter their lives forever.
• Past, present and future collide in the action-packed finale to this Marvel Knights limited series!
32 PGS./Rated T+ …$3.99
REVOLUTIONARY WAR: OMEGA #1
ANDY LANNING & ALAN COWSILL (W) • RICHARD ELSON (A)
Cover by MARK BROOKS
VARIANT COVER BY Jamie MCKELVIE
THE FINAL ISSUE IN AN 8-PART EPIC
• Marvel UK's triumphant return reaches its epic conclusion!
• Will the agents of MI:13 be able to stop whatever Mys-Tech has been planning?
32 PGS./Rated T+ …$3.99
REVOLUTIONARY WAR: MOTORMOUTH #1
GLENN DAKIN (W) • RONAN CLIQUET (A)
Cover by MARK BROOKS
VARIANT COVER BY Declan Shalvey
• When Mys-Tech returns and threatens the safety of Great Britain, MI:13 need to try to convince MOTORMOUTH to come out of retirement.
• Harley Davis' days of being a hero are over, though.  Now, her day job is being the mother of  her two children. Until an explosive Mys-Tech attack calls her out of retirement!
• Be there as Motormouth gets her mojo back!
32 PGS./Rated T+ …$3.99
REVOLUTIONARY WAR: WARHEADS #1
ANDY LANNING & ALAN COWSILL (W)
GARY ERSKINE (A)
Cover by MARK BROOKS
VARIANT COVER BY Gary Erskine
• Colonel Liger, formerly of the evil organization Mys-Tech, has started working as an agent of MI:13, Mys-Tech's rival agency.
• Not everything is as it appears, though – because Liger has just discovered that his old team, The Warheads, are still alive – and nothing's going to stop him from finding them.
32 PGS./Rated T+ …$3.99
MARVEL UNIVERSE AVENGERS ASSEMBLE #6
Adapted by Joe Caramagna
• The Avengers face the Super-Adaptoid, a powerful A.I. that can mimic their powers
32 PGS./All Ages …$2.99
MARVEL UNIVERSE ULTIMATE SPIDER-MAN #24
Adapted by Joe Caramagna
• Spidey has to find a way to fight the Juggernaut while also completing his science fair project!
• Guest starring Luke Cage.
32 PGS./All Ages …$2.99
SUPERIOR SPIDER-MAN ANNUAL #2
Christos Gage (W) • Javier Rodriguez (A)
COVER BY Mike DeMundo
• The last temptation of Green Goblin… Phil Urich!
• As Goblin Nation consumes New York, the Superior Spider-Man's world is in flames!
• Who will rise? Who will fall? NO ONE will be the same after this!
40 PGS./ONE-SHOT/ Rated T…$4.99
THE SUPERIOR FOES OF SPIDER-MAN #11
NICK SPENCER (W)
STEVE LIEBER (A)
Cover by JOE QUINONES
• They don't get NOW-er than the Superior Foes of Spider-Man!
• Is there a rat in the Sinister Six?* *=there's still only five members.
• Spencer & Lieber continue the sleeper hit of the NOW-lenium!
32 PGS./Rated T+ …$3.99
SUPERIOR SPIDER-MAN TEAM-UP #11
KEVIN SHINICK (W)
MARCO CHECCHETTO (A)
Cover by PAOLO RIVERA
• In the midst of GOBLIN NATION, the Superior Spider-Man thinks back on an ALL NEW never before seen team-up between Doctor Octopus and the Green Goblin!
• You've been missing the AMAZING SPIDER-MAN? HERE HE IS! Just as you remember him, facing off with his two greatest foes!
• Who will be the Superior Spider-Man? The Superior Spider-Villain? And what consequences will this flashback adventure have for the present day?
32 PGS./Rated T+ …$3.99
IRON MAN #22
KIERON GILLEN (W) • JOE BENNETT (A)
Cover by PAUL RIVOCHE
"IRON METROPOLITAN" CONCLUSION!
• MANDARIN CITY is aflame. Troy is in ruins. Who comes to help TONY STARK in his hour of need?
• Will Tony make the ultimate sacrifice to save the city?
• And WHO is hunting the ring-bearers?
32 PGS./Rated T+ …$3.99
BLACK WIDOW #4
NATHAN EDMONDSON (W) • Phil NOTO (A/C)
• From the cold streets of old Russia, the Hand of God reaches out to crush Black Widow—and it is merciless.
• Outmatched by the brute force of a powerful new villain, Natasha finds a deadly plot unfolding that spans the entire globe
• Jump on to the sensational new series as the most lethal The Avenger faces her deadliest test!
32 PGS./Rated T+ …$3.99
CAPTAIN AMERICA: HOMECOMING
FRED VAN LENTE (W)
TOM GRUMMETT (A)
Cover by MARK BAGLEY
• Captain America and the Black Widow leap into action in an all-new, cinematic-set adventure!
• What brings Steve Rogers back to tour his old Brooklyn neighborhood? Hint: It's not just the milk shakes!
• Plus: Reprinting the first appearance of Cap's #1 wingman, the high-flying Falcon!
48 PGS./ONE-SHOT//Rated T …$3.99
THUNDERBOLTS #23
CHARLES SOULE (W)
CARLO BARBERI (A)
Cover by JULIAN TOTINO TEDESCO
• It's Venom's turn to set the Thunderbolts' mission!
• So, why does he have them targeting…himself?
• That's right – VENOM vs. THE THUNDERBOLTS!
32 PGS./Parental Advisory …$2.99
HAWKEYE #18
MATT FRACTION (W) • CHRIS ELIOPOLOUS (A)
Cover by DAVID AJA
• Who could forget that time when Clint Barton let his neighbor's kids watched a holiday cartoon at his place?
• At long last THIS ISSUE is pretty much the cartoon they all watch. YOU'RE WELCOME.
• A very special holiday HAWKGUY that at long last lets legendary letterer CHRIS ELIOPOLOUS flex his astounding cartooning muscles in our pages. Matt and Matt do their regular jobs though. Maybe David will letter it? Probably not.
32 PGS./Rated T+ …$2.99
INDESTRUCTIBLE HULK #20
MARK WAID (W) • JHEREMY RAAPACK (A)
Cover by MAHMUD ASRAR
• BRUCE BANNER has had enough! He's mad–and that's not good!
• Banner blames MARIA HILL and S.H.I.E.L.D. for the tragic fate of his lab assistant and seeks revenge!
• There's more than enough blame to go around, however–and Banner's in the crosshairs of an assassin!
32 PGS./Rated T+ …$3.99
X-MEN LEGACY #300
MIKE CAREY, CHRISTOS GAGE & SIMON SPURRIER (W)
CLAY MANN & TAN ENG HUAT (A)
Cover by CLAY MANN
• In observance of the title's 300th issue, iconic X-MEN: LEGACY writers Mike Carey, Christos Gage and Simon Spurrier return to tell an all-new tale of the X-Men!
• Mike Carey brings us a story featuring Professor Xavi—oh wait, he's dead.
• Well, Christos Gage has penned a tale involving Rog—nope. She's dead too.
• And Simon! There's Simon Spurrier with a story led by Legion, who—oops. Can't spoil the ending of X-MEN: LEGACY #24.
• Well…erm…just read it!
40 PGS./Rated T+ …$4.99
UNCANNY X-MEN #18
BRIAN MICHAEL BENDIS (W) • MARCO RUDY (A)
COVER BY ALEXANDER LOZANO
• Cyclops finds himself in serious trouble.
• Who's got Scott Summers at gunpoint?
32 PGS. /Rated T …$3.99
ORIGIN II #4 (OF 5)
KIERON GILLEN (W) • ADAM KUBERT (A/C)
The penultimate issue!
• Logan, Clara and Creed are on the run from Sinister…but could Sinister offer Logan something he can't refuse?
• Creed's secret revealed!
32 PGS./Parental Advisory …$3.99
ALL-NEW X-FACTOR #4 & 5
PETER DAVID (W) • CARMINE DI GIANDOMENICO (A)
Cover by KRIS ANKA & JARED FLETCHER
• In issue #4, the team takes on their former frenemy, Danger!
• Then, in issue #5, learn the sinister secret of Techno Inc.!
• Brought to you by Serval Industries.
32 PGS. (EACH)/Rated T+ …$3.99 (EACH)
NIGHT OF THE LIVING DEADPOOL #4 (OF 4)
CULLEN BUNN (W) • RAMON ROSANAS (A)
Cover by JAY SHAW
• Deadpool's battle with the ambulatory dead comes to a close!
• This is going to be a dark series, my friends.
• Dark.
32 PGS./Parental Advisory …$3.99
AMAZING X-MEN #5
JASON AARON (W) • ED MCGUINNESS (A/C)
• Nightcrawler and his pirate band of X-Men take on Azazel and his hellish hordes!
• One of the X-Men must make the ultimate sacrifice!
32 PGS./Rated T+ …$3.99
PAINKILLER JANE: THE PRICE OF FREEDOM TPB
Story by JIMMY PALMIOTTI
Art by JUAN SANTACRUZ & SAM LOFTI
Cover by AMANDA CONNER & DAVE JOHNSON
Painkiller Jane is back in action on an adrenaline-filled adventure! Jane is protecting a Saudi Arabian princess visiting New York City, but it seems a number of people want her dead — and the only thing between this bizarre group of would-be killers and her royal highness is our gun-toting, out of control Painkiller Jane! Why has the princess been targeted for death? As a father and son make a shady deal with the mysterious government bounty hunter Churchill, the killers attack — but Jane strikes back with a vengeance. And even as the princess and her protector go on the run, losing themselves in America, a bloody showdown looms on the horizon — and even Painkiller Jane's skills may not be enough to guarantee victory! Collecting PAINKILLER JANE: THE PRICE OF FREEDOM #1-4.
120 PGS./Mature …$19.99
ISBN: 978-0-7851-5398-6
POWERS: BUREAU VOL. 2 — ICONS TPB
BRIAN MICHAEL BENDIS (W)
MICHAEL AVON OEMING (A/C)
From the Eisner Award-winning team of Bendis and Oeming comes another shocking chapter of one of the most successful independent comics of its generation! The Seven are an explosive new super team made of the world's most elite powers — with a secret that could rock the world! But one of the Seven has been brutally murdered, and no one is talking. Walker and Pilgrim travel to Hollywood to investigate this American icon's death — and uncover one of the darkest, most fascinating secrets of American superpower history. Plus: In a game-changer for the entire series, Walker must choose between his humanity and his powers — with a cost! Every once in a while something happens in this book that makes you say, "How are they going to get out of that one?" This is one of those times! Collecting POWERS: BUREAU #7-12.
200 PGS./Mature …$19.99
ISBN: 978-0-7851-8918-3
PUNISHER MAX BY JASON AARON OMNIBUS HC
Written by JASON AARON
Penciled by STEVE DILLON
Cover by Dave Johnson
The Mob has set a trap for Frank Castle, turning low-level enforcer Wilson Fisk into a fictional "Kingpin of Crime" for Frank to target. But Fisk decides he quite likes his new position — enough to kill his bosses to keep it. Suddenly, the Punisher finds himself in a one-on-one war with a deadly threat, and he must decide how far he is willing to go to take the Kingpin down! Contending with dirty cops, battling the Kingpin's henchmen Bullseye and Elektra, and suffering through a stint in prison, Frank Castle is brought lower than he has ever been. But as the Kingpin of Crime will soon find out, all that means is Frank has nothing left to lose! Jason Aaron's grisly, uncensored Punisher run is collected in one oversized volume! Collecting PUNISHERMAX (2010) #1-22 and PUNISHER MAX X-MAS SPECIAL.
544 PGS./Explicit Content …$99.99
ISBN: 978-0-7851-5429-7
Trim size: oversized
WOLVERINE AND THE X-MEN BY JASON AARON OMNIBUS HC
Written by JASON AARON
Penciled by CHRIS BACHALO, NICK BRADSHAW, JORGE MOLINA, MIKE ALLRED, STEVEN SANDERS, DAVID LOPEZ, RAMON PEREZ & PEPE LARRAZ
Cover by NICK BRADSHAW
Blockbuster writer Jason Aaron's incredible, hilarious and touching WOLVERINE & THE X-MEN run is collected in one oversized volume! Wolverine returns to Westchester to start over with a new school, a new student body and a lot of surprises! But can Logan — and a staff including Beast, Iceman, Rachel Grey, Kitty Pryde, Storm, Husk and Doop — really lead the Children of the Atom into the future? Only if they survive the newHellfire Club, Krakoa, Sabretooth, an army of mischievous Bamfs, war with the Avengers, the Phoenix Five and more! As new students join the school, including the time-displaced original X-Men, new threats emerge from Frankenstein's Murder Circus, Wolverine's half-brother Dog Logan, Mystique, the Hellfire Academy…and S.H.I.E.L.D.! Welcome to the Jean Grey School, Wolverine — hope you survive the experience! Collecting WOLVERINE AND THE X-MEN #1-35, #38-42 and ANNUAL #1.
928 PGS./Rated T+ …$99.99
ISBN: 978-0-7851-9024-0
Trim size: oversized
INHUMANITY HC
Written by MATT FRACTION, KELLY SUE DECONNICK, WARREN ELLIS, BRIAN MICHAEL BENDIS, MARK WAID, JONATHAN HICKMAN, KIERON GILLEN, MATT KINDT, SAM HUMPHRIES, AL EWING & CHRISTOS GAGE
Penciled by MATTEO BUFFAGNI, OLIVIER COIPEL, NICK BRADSHAW, KRIS ANKA, CLAY MANN, SIMONE BIANCHI, JOE BENNETT, PAUL DAVIDSON, ANDRÉ ARAÚJO, GREG LAND, JOE MADUREIRA & RICHARD ELSON
Cover by OLIVIER COIPEL
After the fall of Attilan and the Terrigen Bomb explosion, thousands of people across the globe have transformed into Inhumans! Their new powers are dangerous and terrifying, making them targets. With Black Bolt believed dead, who can these new Inhumans turn to? As the Avengers face Karnak, who has discovered the Inhumans' secret, Medusa struggles to rule her vastly increased population. And Marvel's heroes — including the Hulk, Spider-Girl, the X-Men, the new Illuminati, Iron Man, the Jean Grey School, the AvengersAcademy, Luke Cage and the Superior Spider-Man — must cope with the fallout! Collecting INHUMANITY #1, AVENGERS ASSEMBLE (2012) #21-23, INHUMANITY: MEDUSA #1, UNCANNY X-MEN (2013) #15, INDESTRUCTIBLE HULK #17-19, NEW AVENGERS (2013) #13, IRON MAN (2012) #20.INH, INHUMANITY: THE AWAKENING#1-2, AVENGERS AI #7, MIGHTY AVENGERS (2013) #4-5, INHUMAN #1 & INHUMANITY: SUPERIOR SPIDER-MAN #1.
384 PGS./Rated T+ …$49.99
ISBN: 978-0-7851-9033-2
Trim size: oversized
MARVEL'S CAPTAIN AMERICA: THE WINTER SOLDIER — THE ART OF THE MOVIE SLIPCASE HC
Written by MARIE JAVINS
Continuing their popular ART OF series of movie tie-in books, Marvel presents its latest blockbuster achievement! Featuring exclusive concept artwork, behind-the-scenes photographs, production stills, and in-depth interviews with the cast and crew, MARVEL'S CAPTAIN AMERICA: THE WINTER SOLDIER — THE ART OF THE MOVIE is a deluxe keepsake volume that provides an insider's look into the making of the highly anticipated film — directed by Joe and Anthony Russo; and starring Chris Evans, Scarlett Johansson, Samuel L. Jackson, Anthony Mackie, Robert Redford, Cobie Smulders and Sebastian Stan!
240 PGS./All Ages …$49.99
ISBN: 978-0-7851-8444-7
Trim size: landscape
CAPTAIN AMERICA VOL. 3: LOOSE NUKE PREMIERE HC
Written by RICK REMENDER
Penciled by CARLOS PACHECO & NIC KLEIN
Cover by CARLOS PACHECO
Captain America has returned home! But his years in Dimension Z have left him out of synch with the world he knows. And his return coincides with shocking news: Someone has set the deranged super-soldier Nuke loose in a foreign nation, and he's on a rampage! The disturbing existence of the Weapon Minus program is revealed, but who is the Iron Nail? What will make him Cap's newest arch-nemesis? And what secrets are held by Dr. Mindbubble, the unbelievable super-soldier created during the 1960s? Captain America takes on Nuke with the lives of thousands on the line — but as the Iron Nail's revenge takes form, Nuke's true mission is revealed! Captain America and the Falcon are in for the fight of their lives! Collecting CAPTAIN AMERICA (2012) #11-15.
136 PGS./Rated T …$24.99
ISBN: 978-0-7851-8951-0
Trim size: standard
MARVEL MASTERWORKS: CAPTAIN MARVEL VOL. 5 HC
Written by SCOTT EDELMAN with JIM STARLIN, GERRY CONWAY, BILL MANTLO, DOUG MOENCH, JIM SHOOTER & ROGER McKENZIE
Penciled by AL MILGROM, JIM STARLIN & PAT BRODERICK with GEORGE TUSKA & DAVE COCKRUM
Cover by AL MILGROM
Captain Marvel has returned to Earth, but the space-born super hero shouldn't expect a warm welcome. His enemies from the Kree Empire have followed him to our world, and a war is about to break out — the War of Three Galaxies! Teamed with the Inhumans and Kree agents on Earth, Captain Marvel must stop the Kree Science Council from escalating their struggle for genetic superiority and galactic empire. Meanwhile, Cap fights with the Avengers against the Super-Adaptoid, and he and Rick Jones are at long last separated. Each their own man for the first time in ages, Rick and Mar-Vell must search for a new purpose before it finds them — in the guise of Nitro and Thanos! Collecting CAPTAIN MARVEL (1968) #47-57, AVENGERS ANNUAL (1967) #7 and MARVEL TWO-IN-ONE ANNUAL (1976) #2.
288 PGS./Rated T …$69.99
ISBN: 978-0-7851-8892-6
MARVEL MASTERWORKS: CAPTAIN MARVEL VOL. 5 HC — VARIANT EDITION VOL. 207 (DM ONLY)
288 PGS./Rated T …$69.99
ISBN: 978-0-7851-8893-3
MARVEL MASTERWORKS: RAWHIDE KID VOL. 1 TPB
Written by STAN LEE
Penciled by JACK KIRBY with DON HECK, PAUL REINMAN, DICK AYERS & ROSS ANDRU
Cover by JACK KIRBY & RICHARD ISANOVE
The MARVEL MASTERWORKS tame the wild, wild West with the one and only Rawhide Kid! Before Stan "the Man" and "King" Kirby spun stories of sensational super heroes, they told the tale of a young frontiersman who bore two Colt six-shooters! After his Uncle Ben Bart was killed at the hands of outlaws, Johnny Bart made it his personal mission to bring justice to the town of Rawhide. Packed full of shootouts and showdowns, renegades and rustlers, guns and girls galore, these Western yarns will be sure to please you in the Mighty Marvel Manner! So hold on to your ten-gallon hat when you read tales of the Terrible Totem, the Kid's battle against the bank-robbing Bat, and the war with Wolf Waco! Lasso your copy today, True Believer! Collecting RAWHIDE KID (1955) #17-25.
248 PGS./All Ages …$24.99
ISBN: 978-0-7851-8848-3
MARVEL MASTERWORKS: RAWHIDE KID VOL. 1 TPB — VARIANT EDITION VOL. 63 (DM ONLY)
248 PGS./All Ages …$24.99
ISBN: 978-0-7851-8849-0
CASTLE: UNHOLY STORM PREMIERE HC
Written by CULLEN BUNN
Penciled by Robert Atkins
Cover by Carlo Pagulayan with Scott Hanna and Paul Mounts
The best-selling graphic novel saga, based on the world of ABC's hit primetime series, continues!
Derrick Storm is back. And he has a new, deadly case to solve.
When the daughters of four high-powered international businessmen are discovered dead in NY, the NYPD scrambles to bring the murderer to justice. But when a fifth girl is found mutilated in a pool of her own blood, her prestigious French family hires Derrick Storm to run his own investigation and find the real killer. Storm has only one lead – a strange symbol drawn in blood. Storm enlists the help of the beautiful and daring Clara Strike, his CIA handler. Together they uncover a deep web of deception under the guise of mysticism and devotion. And in a race against time, this most unlikely pair unlock a mystery capable of creating global catastrophe!
112 PGS./13 & Up …$24.99
ISBN: 978-0-7851-9029-5
Trim size: standard
ALL-NEW X-MEN VOL. 4: ALL-DIFFERENT PREMIERE HC
Written by BRIAN MICHAEL BENDIS with CHRIS CLAREMONT, STAN LEE, LOUISE SIMONSON, ROY THOMAS & FABIAN NICIEZA
Penciled by STUART IMMONEN & BRANDON PETERSON with WALTER SIMONSON, BOB MCLEOD, PAT OLIFFE & SALVADOR LARROCA
Cover by STUART IMMONEN
The X-Men are shaken to the core by the fallout from BATTLE OF THE ATOM! Kitty Pryde is particularly affected, and her faith in Wolverine's Jean Grey School is eroded. With her students gone, what is Kitty to do? Meanwhile, X-23 is back, joining the All-New X-Men and…kissing Cyclops?! What does this mean to Jean Grey? When Jean and X-23 are forced to team up against a mysterious force, she'd better figure it out fast! Plus: it's the 50th Anniversary of the X-Men, ring it inwith some of the greatest creators to ever work on the X-Men! Collecting ALL-NEW X-MEN #18-21, X-MEN GOLD #1 and material from A+X #18.
144 PGS./Rated T …$24.99
ISBN: 978-0-7851-8860-5
Trim size: standard
DAREDEVIL BY MARK WAID VOL. 7 PREMIERE HC
Written by MARK WAID
Penciled by CHRIS SAMNEE & JAVIER RODRIGUEZ
Cover by CHRIS SAMNEE
Something final is building, and building fast, as Daredevil finds himself wrapped up in an adventure that will send his life spiraling out of control — and bring about the end of everything Matt Murdock holds dear! When Daredevil becomes the self-appointed prosecutor of the Sons of the Serpent, the secret clan who owns and operates the city's justice system, the odds quickly turn against him. But that's just how he likes it! Daredevil pulls his allies together for an all-out assault before the Sons can infest the rest of the nation, but he's about to find out just how blind justice can be! Plus: The Jester! A monstrous nightmare! And an appearance by Elektra that sets the stage for a huge change in Matt's life! Collecting DAREDEVIL (2011) #31-36.
136 PGS./Rated T+ …$24.99
ISBN: 978-0-7851-5442-6
Trim size: standard
SECRET AVENGERS VOL. 3: HOW TO MA.I.M. A MOCKINGBIRD TPB
Written by NICK SPENCER & ALES KOT
Penciled by BUTCH GUICE
Cover by Butch Guice
Mockingbird is undercover, infiltrating Advanced Idea Mechanics…but as her deception crumbles, can she escape before the High Council of A.IM. discovers her true identity? As Maria Hill gets a mind-bending offer from a rogue A.I.M. operative that you'll probably recognize, Hawkeye, Black Widow and Fury plumb the organization's depths. But when A.I.M. strikes and takes out the team, Taskmaster and Mockingbird must go full stealth mode as the entire A.I.M. Island searches for them! As A.I.M.'s secrets are spilled, Forson's wild card is revealed, a traitor at the heart of the group comes to light…and Mockingbird faces a crossroads that threatens to tear her apart. Collecting SECRET AVENGERS (2013) #12-16.
112 PGS./Rated T+ …$17.99
ISBN: 978-0-7851-8482-9
X-MEN LEGACY VOL. 4: FOR WE ARE MANY TPB
Written by SIMON SPURRIER
Penciled by KHOI PHAM & TAN ENG HUAT
Cover by Mike Del Mundo
It's the climactic story to which this series has been building, guest-starring the allies Legion has made along the way — and not all of them will emerge unscathed! One of Legion's most troublesome personalities threatens to annihilate an alien species, and S.W.O.R.D. director Abigail Brand is on the case — but will she be able to work with David to solve this extraterrestrial conundrum? Legion prepares for a final showdown with the monster in his mind that wears his deceased father's face, but the demonic Professor X has escaped into the real world. What price will Legion pay to stop him from razing the Earth? And prophesied to stop Legion, will Young X-Man Blindfold take matters into her own hands and extinguish her first love? One thing's for sure: As this groundbreaking series concludes, anything is possible! Collecting X-MEN LEGACY (2013) #19-24.
136 PGS./Rated T+ …$15.99
ISBN: 978-0-7851-5432-7
AVENGERS VOL. 2: THE LAST WHITE EVENT TPB
Written by JONATHAN HICKMAN
Penciled by DUSTIN WEAVER & MIKE DEODATO JR.
Cover by DUSTIN WEAVER
The Avengers scramble to deal with the threat of another Universal System as the New Adam's true self is revealed — and the most dangerous hero on Earth is created! As the team faces the World Breaker and discover the imminent threat to the Avengers World, the hidden connections between the events of Avengers and New Avengers are slowly revealed. What good is a White Event if it destroys the planet it was meant to transform? Plus: Canadian super-team Omega Flight gets lost in a Garden Origin Site, and the Avengers learn why "adaptation" is the scariest word in the Marvel Universe! Then, as Shang-Chi battles an ancient enemy, the Avengers…hang out in Hong Kong's swankiest casino? But they soon find out it doesn't pay to gamble in the spy business! Collecting AVENGERS (2012) #7-11.
136 PGS./Rated T+ …$19.99
ISBN: 978-0-7851-6653-5
UNCANNY X-FORCE VOL. 3: THE GREAT CORRUPTION TPB
Written by SAM HUMPHRIES & DENNIS HOPELESS
Penciled by PHIL BRIONES, ANGEL UNZUETA & HARVEY TOLIBAO
Cover by Kris Anka
X-Force must battle their fiercest enemies yet as the truth about the revenant Owl Queen is revealed — and she's one of the X-Men's greatest foes! As Storm plays her trump card, the Queen and her army rampage through Los Angeles. What sacrifice will one X-Force member make to stop them? Then, classic X-Force villain Stryfe has returned! And he's eager to exact revenge on Cable! Meanwhile, Hope comes face-to-face with Bishop, the man who crusaded across centuries to exterminate her. But this time she's ready to retaliate, and they'll hold nothing back as they race to destroy one another. Don't miss this no-holds-barred, knock-down, drag-out X-Force event starring Cable's squad, and Psylocke and Storm's uncanny team! Because when the dust settles, only one X-Force will be left standing! Collecting UNCANNY X-FORCE (2013) #13-17 and CABLE AND X-FORCE #18-19.
160 PGS./Parental Advisory …$19.99
ISBN: 978-0-7851-8985-5
CABLE AND X-FORCE VOL. 4: VENDETTAS TPB
Written by DENNIS HOPELESS & SAM HUMPHRIES
Penciled by SALVADOR LARROCA, GERARDO SANDOVAL, ANGEL UNZUETA & HARVEY TOLIBAO
Cover by Salvador Larroca
Father and daughter are reunited, but there's no rest for the weary as Hope, Cable and X-Force converge to tackle an ominous new threat! What havoc will Forge, in the thrall of the Adversary, unleash upon Cable and X-Force? And can Cable control his drastically altered powers in time to save his daughter? Then, classic X-Force villain Stryfe has returned, and he's eager to exact revenge on Cable! Meanwhile, Hope comes face-to-face with Bishop, the man who crusaded across centuries to exterminate her. But this time she's ready to retaliate, and they'll hold nothing back as they race to destroy one another. Don't miss this no-holds-barred, knock-down, drag-out X-Force event starring Cable's squad, and Psylocke and Storm's uncanny team! Because when the dust settles, only one X-Force will be left standing! Collecting CABLE AND X-FORCE #15-19 and UNCANNY X-FORCE (2013) #16-17.
160 PGS./Parental Advisory …$19.99
ISBN: 978-0-7851-8946-6
GUARDIANS OF THE GALAXY VOL. 1: COSMIC AVENGERS TPB
Written by BRIAN MICHAEL BENDIS
Penciled by STEVE MCNIVEN, SARA PICHELLI, MICHAEL AVON OEMING, MING DOYLE, YVES BIGEREL & MICHAEL DEL MUNDO
Cover by STEVE MCNIVEN
There's a new rule in the galaxy: No one touches Earth! But why has Earth suddenly become the most important planet in the galaxy? That's what the Guardians of the Galaxy are going to find out! Join Star-Lord, Gamora, Drax, Rocket Raccoon, Groot and — wait for it — the Invincible Iron Man as they embark upon one of the most explosive and eye-opening chapters of Marvel NOW! The secrets these galactic Avengers discover will rattle Marvel readers for years to come! But while London deals with a brutal invasion by the Badoon, the fate of the Guardians may have already been decided millions of miles away! Why wait for the movie? It all starts here! Collecting GUARDIANS OF THE GALAXY (2013) #0.1 and #1-3, and GUARDIANS OF THE GALAXY: TOMORROW'S AVENGERS #1.
144 PGS./Rated T …$19.99
ISBN: 978-0-7851-6607-8
FANTOMEX MAX TPB
Written by ANDREW HOPE
Penciled by SHAWN CRYSTAL
Cover by Francesco Francavilla
The X-Men's own genetically engineered international super-thief takes center stage in his own MAX miniseries! Sexy secret agents, weird weaponry, vintage champagne and a damsel in distress. It's everything Fantomex lives for — unless it kills him first! Investigating vicious villains, a kidnapping and the end of the world, Fantomex finds himself at the bottom of the Antarctic ocean, fighting for his life against a deadly Kraken! Meanwhile, EVA gets a new look — and gains a terrible understanding. Can everyone's favorite faux-French adventurer overcome the lethal government agents of Grover Lane, or will he find this victory to be one thing he can't steal? It's all the nail-biting, edge-of-your-seat, uncensored action you could ever want in a comic — and more! Collecting FANTOMEX MAX #1-4.
96 PGS./Explicit Content …$16.99
ISBN: 978-0-7851-5390-0
SAVAGE WOLVERINE VOL. 1: KILL ISLAND TPB
Written by FRANK CHO
Penciled by FRANK CHO
Cover by FRANK CHO
Wolverine awakes to find himself transported to the Savage Land and labeled Public Enemy Number One! With no memory of how he got there, and Shanna the She-Devil his only ally, Logan must unravel the mystery that slumbers at the heart of the Savage Land before it finds a way to kill him first! In search of answers, the ferocious duo venture into the depths of the Forbidden Island, where they face a brutal gauntlet of battles with the Island natives, wild dinosaurs, giant apes and a deadly threat from another world. And when another hero crash lands on the island, he will turn the tide of battle…but is he friend or foe? Featuring guest appearances from Amadeus Cho, Man-Thing and the Incredible Hulk! Collecting SAVAGE WOLVERINE #1-5.
136 PGS./Parental Advisory …$19.99
ISBN: 978-0-7851-6722-8
SPIDER-MAN FIRSTS TPB
Written by STAN LEE, ROY THOMAS, LEN WEIN, GERRY CONWAY, LOUISE SIMONSON, TODD MCFARLANE, TOM DEFALCO, KURT BUSIEK, TOM PEYER, MARK WAID, DAN JURGENS, HOWARD MACKIE, JM DEMATTEIS, GARTH ENNIS, MARK MILLAR, PETER DAVID, SEAN MCKEEVER, ZEB WELLS, DAN SLOTT & CHRIS YOST
Penciled by STEVE DITKO, ROSS ANDRU, SAL BUSCEMA, GREG LAROCQUE, TODD MCFARLANE, RON LIM, PAT OLLIFFE, KEN LASHLEY, DAN JURGENS, JOHN ROMITA JR., MICHAEL ZULLI, JOHN MCCREA, TERRY DODSON, MIKE WIERINGO, TERRELL BOBETT, ALEX CAL, JOE MADUREIRA, RYAN STEGMAN & DAVID LOPEZ
Cover by TERRY DODSON & VARIOUS
Marvel's most titled hero has been amazing, spectacular, sensational — even giant-size! Follow the tangled web of Peter Parker and family through this superior collection of all the friendly neighborhood Spider-Man's series debuts! Unlimited team-ups, avenging exploits and untold tales — they're all in a Marvel Knight's work for a web-spinner that defies description! Collecting AMAZING SPIDER-MAN (1963) #1, MARVEL TEAM-UP (1972) #1, GIANT-SIZE SPIDER-MAN #1, SPECTACULAR SPIDER-MAN (1976) #1, WEB OF SPIDER-MAN (1985) #1, SPIDER-MAN (1990) #1, UNTOLD TALES OF SPIDER-MAN #1, SPIDER-MAN TEAM-UP #1, SENSATIONAL SPIDER-MAN (1996) #0, TANGLED WEB #1, MARVEL KNIGHTS SPIDER-MAN (2004) #1, FRIENDLY NEIGHBORHOOD SPIDER-MAN #1, AVENGING SPIDER-MAN #1, SUPERIOR SPIDER-MAN #1 and SUPERIOR SPIDER-MAN TEAM-UP #1 — plus material from SPIDER-MAN UNLIMITED (1993) #1, PETER PARKER: SPIDER-MAN (1999) #1, WEBSPINNERS: TALES OF SPIDER-MAN #1, SPIDER-MAN FAMILY (2007) #1 and AMAZING SPIDER-MAN FAMILY #1.
528 PGS./Rated T+ …$34.99
ISBN: 978-0-7851-8901-5
SUPERIOR SPIDER-MAN VOL. 5: THE SUPERIOR VENOM TPB
Written by CHRISTOS GAGE & DAN SLOTT
Penciled by JAVIER RODRIGUEZ & HUMBERTO RAMOS
Cover by Humberto Ramos
Flash Thompson, the Secret Avenger known as Venom, is back in town — but will his first run-in with the Superior Spider-Man be friendly, or will Flash sense something perilous about Peter Parker's presence? And as Otto Octavius takes another big step in his life as Peter Parker, could a big part of Flash's life be coming to a close? Will he be Venom no more? As Cardiac returns, MJ faces her fears, and a new Goblin is born, the one question everyone will be asking is, "Who is the Superior Venom?!" And after half a century, don't miss one of the most cringe-worthy moments in all of Spidey-history! Guest-starring the Avengers! Plus: Blackout wants to re-establish his reputation by killing the Superior Spider-Man — and to do so, he targets Aunt May! Collecting SUPERIOR SPIDER-MAN #22-26 and ANNUAL #1.
144 PGS./Rated T …$17.99
ISBN: 978-0-7851-8796-7
SPIDER-MAN NEWSPAPER STRIPS VOL. 1 TPB
Written by STAN LEE
Penciled by JOHN ROMITA SR.
Cover by JOHN ROMITA SR.
All the strips that are fit to print! And since we're talking about Spider-Man comic strips written by Stan "The Man" Lee and drawn by "Jazzy" John Romita, that means every one of 'em! Collecting all of Stan and John's AMAZING SPIDER-MAN newspaper strips in chronological order, this first volume brings you the earliest classic panels that hit the daily and Sunday papers of the late 1970s! All the daily strips are printed in the original black and white, and all the Sundays in color, ready to spin a web of enchantment upon anyone who reads them! Collecting the AMAZING SPIDER-MAN newspaper strips from Jan. 3, 1977, to Jan. 28, 1979.
344 PGS./All Ages …$39.99
ISBN: 978-0-7851-8561-1
Trim size: landscape
THE AMAZING SPIDER-MAN 2 PRELUDE TPB
Written by TOM COHEN & STAN LEE
Penciled by WELLINTON ALVES, NEIL EDWARDS, STEVE DITKO, JOHN ROMITA SR. & ANDREA DIVITO
Get ready for the upcoming AMAZING SPIDER-MAN 2 with an awesome adaptation of the web-slinger's latest hit film! Witness young Peter Parker's transformation into the Amazing Spider-Man, and his epic clash with the lethal Lizard! Then, go "between the scenes" with a story inspired by the film — featuring Gwen Stacy, Captain George Stacy, Dr. Curt Connors and more as the fledging Spider-Man prepares to swing into action! And how does Spider-Man's battle with a new organized crime ring, and the damage he suffers, lead directly into AMAZING SPIDER-MAN 2? Plus: classic tales featuring the incredible origins of Electro and the Rhino! Collecting AMAZING SPIDER-MAN: THE MOVIE ADAPTATION #1-2, AMAZING SPIDER-MAN: THE MOVIE #1-2, AMAZING SPIDER-MAN (1963) #9 and #41, and AMAZING SPIDER-MAN: CINEMATIC INFINITE COMIC #1.
144 PGS./Rated T …$14.99
ISBN: 978-0-7851-5416-7
MARVEL KNIGHTS: SPIDER-MAN TPB
Written by MATT KINDT
Penciled by MARCO RUDY
Cover by Marco Rudy
From the haunted heights of a mysterious castle to the dizzying depths of the deep seas, the Amazing Spider-Man must take on not one, not six, not twelve — but ninety-nine of the Marvel Universe's deadliest villains to save the lives of countless innocents! Trapped aboard a submarine, Spider-Man finds himself in a race against time — but things get worse when Spidey's ninety-nine problems give way to one big one: Kraven the Hunter! With innocent lives on the line, can Peter Parker outfox his mysterious captors to win his freedom? Matt Kindt (Mind MGMT) and Marco Rudy (Swamp Thing) bring you a defining hour in the life of the webbed wonder! Collecting MARVEL KNIGHTS: SPIDER-MAN (2013) #1-5
112 PGS./Rated T+ …$16.99
ISBN: 978-0-7851-8407-2
DAREDEVIL: END OF DAYS TPB
Written by BRIAN MICHAEL BENDIS & DAVID MACK
Penciled by KLAUS JANSON, BILL SIENKIEWICZ, DAVID MACK & ALEX MALEEV
Cover by ALEX MALEEV
Brian Bendis heads a team of Daredevil legends to tell the last tale of the Man Without Fear. Years after the world last set eyes on him, Daredevil finally returned to Hell's Kitchen, only to be brutally slain by his deadliest foe in a very public battle. But Matt's enigmatic last word leads Daily Bugle reporter Ben Urich to take on one final story: the truth behind what happened to his old friend. Where did Matt go — and what brought him back, only to die? But while Urich hunts down answers from Daredevil's array of allies, enemies and former lovers, he is being watched from the shadows — by a mysterious figure with a strikingly familiar silhouette. Matt Murdock is dead. But is that the end for Daredevil? Collecting DAREDEVIL: END OF DAYS #1-8.
216 PGS./Rated T+ …$29.99
ISBN: 978-0-7851-4337-6
DAREDEVIL & ELEKTRA: FALL FROM GRACE TPB
Written by DG CHICHESTER, GREGORY WRIGHT & MINDY NEWELL
Penciled by SCOTT MCDANIEL, SERGIO CARIELLO & KRIS RENKEWITZ
Cover by SCOTT MCDANIEL
It's the epic saga that reintroduced Elektra to the Marvel Universe! The Hand ninja clan unleashes a super-virus on New York, and only Daredevil can stop them — but not without some unexpected help from a long-lost love and a new, armored costume! Can the Man Without Fear come to terms with his past with Elektra in time to halt the Hand's terror plot, even if it means the end of his secret identity? And when Baron Strucker assembles a team of cyber-terrorists to plunge the world's computer systems into global anarchy, will even Captain America's aid be enough to defeat them? Guest-starring Nick Fury, Black Widow and more! Plus: 15 rare, new story pages from the original 1995 FALL FROM GRACE trade paperback! Collecting DAREDEVIL (1964) #319-332 and ANNUAL #10.
464 PGS./Rated T …$44.99
ISBN: 978-0-7851-8516-1
DAREDEVIL BY MARK WAID VOL. 5 TPB
Written by MARK WAID
Penciled by CHRIS SAMNEE
Cover by CHRIS SAMNEE
A mystery takes Daredevil to the edge like never before! When Matt Murdock receives fateful news about someone close to him, will he be forced to abandon his super-hero identity to save one of his dearest friends? As a life-or-death medical drama plays out in Matt's personal life, the hidden foe behind Daredevil's recent troubles steps out of the shadows to play his trump card. The Man Without Fear comes face-to-face with his opposite number — an unstoppable enemy with a mysterious connection to the accident that gave young Matt Murdock his powers. The first two years of Mark Waid's award-winning run on the most critically acclaimed series in comics come to a head in this heart-stopping adventure! Collecting DAREDEVIL (2011) #22-27.
144 PGS./Rated T+ …$16.99
ISBN: 978-0-7851-6105-9
THOR BY WALTER SIMONSON VOL. 5 TPB
Written by WALTER SIMONSON
Penciled by SAL BUSCEMA & WALTER SIMONSON
Cover by WALTER SIMONSON
Few people have ever left their mark on one character quite the way Walter Simonson has. His work on the Mighty Thor swept the Norse God of Thunder to heights never before seen and rarely achieved in his wake. Spanning epic tales of heroism and treachery, love and war, Simonson's work is often considered the definitive Thor. From the majesty and mystery of fabled Asgard to the gritty streets of New York City, Thor was never the same. That is the mark of a true visionary. This fifth volume concludes the collection of Simonson's epic run — completely remastered from the original artwork and newly colored by Steve Oliff! Collecting THOR (1966) #375-382.
248 PGS./Rated T …$29.99
ISBN: 978-0-7851-8464-5
THOR EPIC COLLECTION: A KINGDOM LOST TPB
Volume 11 in the Thor Epic Collection
Written by CHRIS CLAREMONT & ALAN ZELENETZ
Penciled by KEITH POLLARD with RICK LEONARDI, GIL KANE, ALAN KUPPERBERG, LUKE McDONNELL & BOB HALL
Cover by GIL KANE
Thor returns to Earth, but the enemies of Asgard aren't going to wait for him back home! Foes fit for a god one and all — from the Wrecking Crew and Galactus' heralds Gabriel and Firelord to the Frost Giants and Drax the Destroyer — come for a piece of the Asgardian Avenger! Speaking of Avengers, Thor teams up with Iron Man to confront some of the strangest and most gruesome villains in the Marvel Universe, even as Loki conspires to pit his half-brother against the stone men of Easter Island and the great dragon Fafnir! Topping off this epic are new Tales of Asgard, and two action-packed Annual adventures featuring Odin vs. Dormammu — and Thor, joined with the gods of countless pantheons, against the fearsome God-Eater! Collecting THOR (1966) #303-319 and ANNUAL #9-10.
480 PGS./Rated T …$34.99
ISBN: 978-0-7851-8862-9
WOLVERINE BY JASON AARON: THE COMPLETE COLLECTION VOL. 2 TPB
Written by JASON AARON
Penciled by ESAD RIBIC, YANICK PAQUETTE, CP SMITH, RON GARNEY, DAVIDE GIANFELICE & JOCK
Cover by Ron Garney
He's the best there is at what he does — and Wolverine's not so bad, either. The acclaimed and character-defining Wolverine run of writer Jason Aaron's (PUNISHERMAX, Scalped) continues in this second volume! Joined by some of comics' top artists, Aaron puts Wolverine through his paces: fighting the bizarre "living religion" Allgod, battling his way back to sanity from within Dr. Rot's corrupt asylum, and facing unstoppable Deathlok assassins from the future — not to mention getting a girlfriend and grappling with the loss of his best friend! Plus: the double threats of Norman Osborn and Mystique! Guest-starring Marvel Boy, Fantomex, Psylocke, Captain America, the Avengers and more! Collecting DARK REIGN: THE LIST — WOLVERINE, WOLVERINE: WEAPON X #6-16, and material from ALL-NEW WOLVERINE SAGA and DARK X-MEN: THE BEGINNING #3.
320 PGS./Parental Advisory …$34.99
ISBN: 978-0-7851-8576-5