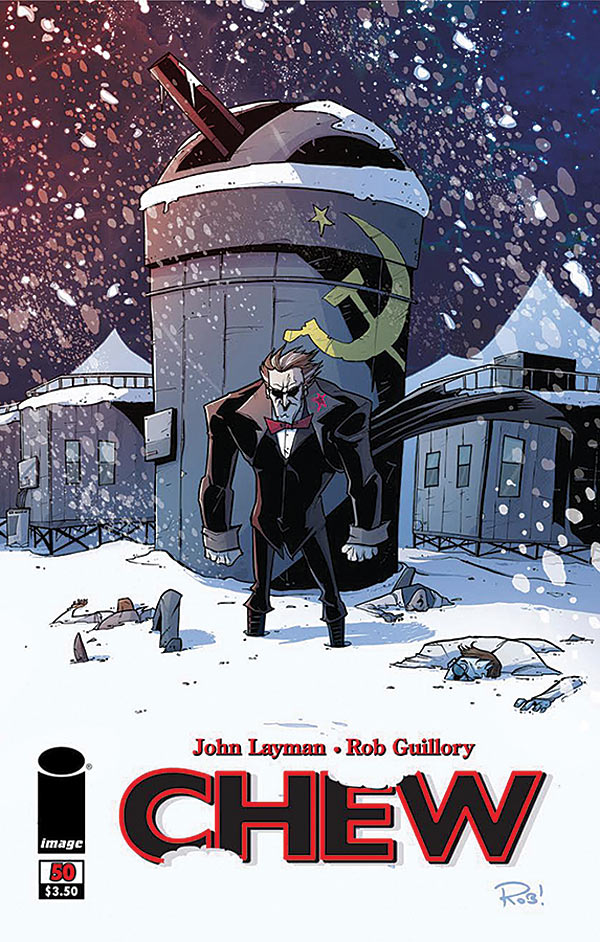 Et voici les sollicitations Image pour le mois de Juin prochain ! et c'est un nouveau mois de folie qui s'annonce sur l'éditeur, avec son lot habituel de nouveautés !
Je pense notamment à Airboy de James Robinson. Je ne pensais pas m'y intéresser au départ et puis j'ai lu la sollicitation…et je sens que je vais me laisser tenter…Également sur ma liste, 8house de Brandon Graham. Alors que l'on attend encore que le scénariste veuille bien terminer son run sur Prophet et la mini Earthwar, il lance son projet le plus ambitieux, avec un univers partagé avec d'autres auteurs !
Outre les nouvelles séries…il y a aussi des conclusions parfois inattendues, comme Alex + Ada. La géniale série de Jonathan Luna et Sara Vaughn atteint déjà sa conclusion avec l'épisode 15, ce qui signifie : plus que deux épisodes à dévorer !!!! noooonnnn ! Skullkickers s'achève également et se moque encore une fois de certaines techniques marketing des grands éditeurs en nous sortant un épisode 100 de nulle part …Chrononauts de Millar et Murphy se termine aussi après 4 petits épisodes.
A noter aussi le retour inattendu de Non Player ! plus de deux ans après la sortie du premier numéro, Nate Simpson a enfin trouver le temps de nous pondre un second épisode …Le premier numéro avait fait sensation en raison de son scénario original et sa partie graphique sublime…avant de disparaître. L'auteur a eu quelques ennuis de santé, et surtout un boulot de jour …
Enfin, on fêtera l'anniversaire de Chew qui atteint son 50e épisode…et approche de plus en plus de la ligne d'arrivée ! plus que 10 petits épisodes, sniff…
AIRBOY #1 (OF 4)
story: JAMES ROBINSON
art / cover: GREG HINKLE
JUNE 3 / 32 PAGES / FC / M / $2.99
Worlds and minds explode in a brand-new series!
When acclaimed comics author JAMES ROBINSON (Starman, Fantastic Four) is hired to write a reboot of the 1940s action hero Airboy, he's reluctant to do yet another Golden Age reboot. Just what the hell has happened to his career–?! His marriage?! His life?! Hey, it's nothing that a drink can't fix.
It's after one such night of debauchery with artist GREG HINKLE that the project really comes into its own. Quite literally. Because Airboy himself appears to set the two depraved comic book creators on the straight and narrow.
But is the task too much for our hero?
STARVE #1
story: BRIAN WOOD
art / cover: DANIJEL ZEZELJ & DAVE STEWART
JUNE 10 / 32 PAGES / FC / M / $3.50
UTENSILS DOWN, HANDS UP! WELCOME TO STARVE!
Once the world's most famous chef, Gavin Cruikshank's been in a self-imposed exile for years. His little foodie television program has since evolved into STARVE, an arena sport that pits chef against chef for the pleasure of their super-rich patrons. It's a stain on a once-noble profession, and Chef Gavin is ready to go to war to stop it. Two things stand in his way: his arch rival Roman Algiers, and his adult daughter Angie, who probably just wants her dad back and acting normal.
Whipsmart world-building and a creative dream team (DMZ, The Massive, Star Wars, Loveless, Hellboy, The Sandman) come together for a brand new monthly series!
8HOUSE: ARCLIGHT #1
story: BRANDON GRAHAM
art / cover: MARIAN CHURCHLAND
JUNE 24 / 32 PAGES / FC / M / $2.99
A lady of the blood house has had her mind trapped in a strange alien root-body. She's hiding on the outskirts of her kingdom until she learns that the alien monster pretending to be her has returned.
The first issue of a shared fantasy universe. Sharp genderqueer knights, blood magic, music, dancing, and a goose.
EMPTY ZONE #1
story / art / cover: JASON SHAWN ALEXANDER
JUNE 17 / 32 PAGES / FC / M / $3.50
JASON SHAWN ALEXANDER of « CONVERSATIONS WITH THE DEAD » returns with an ALL-NEW SERIES! In this sci-fi/horror saga, Corinne White attempts to reconcile with the ghosts of her violent past, literally, as she trudges through a world of dystopian cityscapes, reanimated corpses, & ganglands full of animal human hybrids.
ASTRONAUTS IN TROUBLE #1
story: LARRY YOUNG
art / cover: CHARLIE ADLARD
JUNE 10 / 32 PAGES / BW / E / $2.99
The series that brought THE WALKING DEAD artist CHARLIE ADLARD to the attention of ROBERT KIRKMAN has a new home at Image Comics!
In 1959, the Channel 7 News team covers a routine homicide that leads them to a mysterious rocket base in Peru filled with Russian spies. All in a day's work for the most trusted newsmen in America. They couldn't know their day'd end up with a hot pilot, a fast ship, cheap beer, and spacesuits!
THE COVENANT
story: ROB LIEFELD
art: MATT HORAK
covers A / B: ROB LIEFELD
JUNE 3 / 32 PAGES / FC / T+ / $3.99
In ancient times there was no weapon more devastating than The Ark of The Covenant, containing a power that collapsed enemy nations and destroyed hostile invaders. The Philistine army, led by General Thane, seeks to crush the Israelites as they populate the surrounding territories. A bold move on the field of battle robs the Israelites of their mythical weapon, empowering their most deadly enemy. A young priest, Samuel, determines to steal back the Ark and assembled a group of mercenaries to aid him in the most daring raid in history. An untold tale of the Bible that shifted the balance of power in history.
IXth GENERATION #5
story: MATT HAWKINS
art / cover B: ATILIO ROJO
cover A: STJEPAN SEJIC
JUNE 17 / 32 PAGES / FC / T+ / $3.99
NEW STORY ARC
The first issue of the second arc kicks off with a lot of people dying. Who lives, who dies? Does Aphrodite reluctantly force her vision on the survivors?
IXth GENERATION, VOL. 1 TP
story: MATT HAWKINS
art / cover: STJEPAN SEJIC
JUNE 24 / 160 PAGES / FC / T+ / $14.99
In the future there is no more natural death, no needs unfilled and everything you could ever want is yours…as long as you're one of the chosen ones to live in this new Utopia and you're willing to subjugate yourself to these new self-proclaimed gods with IXs emblazoned on them. Do the ends truly justify the means? Is a utopia built on genocide worth the price? Aphrodite, Velocity, Hades and the other Nines establish fiefdoms in this new world and attempt to rule. Their internal clashes have escalated, but they are forced to put that aside as they face off against the relentless hordes of the Darkness. The sins of the past have come to claim those who would pretend to be Gods.
Collects IXTH GENERATION #1-4 and IXTH GENERATION: HIDDEN FILES #1
IXth GENERATION #1 New Year's Eve Variant
story: MATT HAWKINS
art: STJEPAN SEJIC
cover: LINDA SEJIC
JUNE 24 / 32 PAGES / FC / T+ / $9.99 unsigned / $19.99 signed
Limited to 300 copies offered, both signed by MATT HAWKINS and unsigned. Allocations may occur.
CHEW #50
story: JOHN LAYMAN
art / cover: ROB GUILLORY
JUNE 17 / 32 PAGES / FC / M / $3.50
The landmark issue #50, and the showdown everyone's been waiting for.
EAST OF WEST #20
story: JONATHAN HICKMAN
art / cover: NICK DRAGOTTA
JUNE 17 / 32 PAGES / FC / T+ / $3.50
NEW STORY ARC
In « THE NATION RISES, » we finally get a good look deep inside the Endless Nation and the machinations of the great Machine State.
ELEPHANTMEN #65
story: RICHARD STARKINGS
art: AXEL MEDELLIN
cover: BOO COOK
JUNE 24 / 32 PAGES / FC / M / $3.99
NEW STORY ARC
« ALL COMING EVIL, » Part 1 of 5
Promethean and MAPPO are at war. Hip Flask, Ebony Hide and Obadiah Horn, and everyone in Los Angeles, 2260, are caught in the middle.
THE HUMANS #5
story: KEENAN MARSHALL KELLER
art: TOM NEELY & KRISTINA COLLANTES
cover: TOM NEELY
JUNE 3 / 32 PAGES / FC / M / $2.99
NEW STORY ARC!
The Humans ride protection for two truckloads of dope as they charge down CA I-5 dodging curious cops and hell-bent hijackers on a violent drug run from Oakland to L.A.! 'Nuff said.
LOW #7
story: RICK REMENDER
art / cover A: GREG TOCCHINI
cover B: RAFAEL ALBUQUERQUE
JUNE 17 / 32 PAGES / FC / M / $3.50
NEW STORY ARC!
The hit aquatic sci-fi series returns, to cast a pale light on the icy spires of the Second City, a frozen dystopia at the bottom of the ocean, where hoping for a better tomorrow is a crime punishable by death.
NONPLAYER #2
story / art / cover: NATE SIMPSON
JUNE 3 / 32 PAGES / FC / T / $2.99
THE SOLD-OUT SERIES RETURNS with a much-anticipated new chapter!
Bent on avenging the death of his queen, game character King Heremoth seeks vengeance against Dana, an unwitting tamale delivery girl. Meanwhile, strange things are afoot in future Los Angeles as a police standoff at a fish market reveals a homicidal robot armed only with seafood. Artist/writer NATE SIMPSON outdoes his beautiful and multi-layered debut with an even more ambitious feat of world-building!
RASPUTIN #6
story: ALEX GRECIAN
art: RILEY ROSSMO & IVAN PLASCENCIA
cover A: RILEY ROSSMO
cover B: JEREMY HAUN
JUNE 24 / 32 PAGES / FC / M / $3.50
NEW STORY ARC
In the wake of an assassination attempt on a US presidential candidate, a political aide is presented with the fact that he's Grigori Rasputin, the « mad monk. » How can he still be alive one hundred years later and what's he been doing all this time?
RASPUTIN, VOL. 1 TP
story: ALEX GRECIAN
art / cover: RILEY ROSSMO
JUNE 24 / 136 PAGES / FC / M / $14.99
In one night Rasputin was poisoned, beaten, stabbed, shot in the head, and drowned, then tied up and thrown in a frozen river. But how did he get from Siberia to the Winter Palace? And why was it so hard to kill him? A supernatural reimagining of the « mad monk. »
Collects RASPUTIN #1-5
REVIVAL #30
story: TIM SEELEY
art: MIKE NORTON
cover: JENNY FRISON
JUNE 17 / 32 PAGES / FC / M / $3.99
NEW STORY ARC
After the devastating terrorist attack, Wausau adjusts its strategy of dealing with the « undead. » Now, confined to « relocation camps » for the security of the living, Revivers must learn to live with each other, as Dana and Em adjust to new lives.
SAVAGE DRAGON #206
story / art / cover: ERIK LARSEN
JUNE 24 / 32 PAGES / FC / M / $3.99
NEW STORY ARC
Graduating Clash! When you're the son of the Savage Dragon, anything you do is a major media event! So when Malcolm Dragon graduates from high school, it's all-out mayhem! It's the event of the century and you're invited!
SEX CRIMINALS #11
story: MATT FRACTION
art / cover: CRIP ZNBLOODZ
JUNE 24 / 32 PAGES / FC / M / $3.50
NEW STORY! NEW ARC! SAME OLD MATT AND CHIP.
Jon and Suzie have a gift: when they have sex, they stop time. And they're not alone. Get on board the book that's been called « hilarious » and « arousing » — by Chip's mommy. OH! All these issues? They're all in a sealed bag because 1000 totally random blank covers have been « customized » by Matt and Chip. Will YOU be one of the lucky ones (thousand)? Will YOUR copy be worth a million dollars one day because it is one-of-a-kind and unique (probably not)? YES! (No.)
SEX CRIMINALS #11 BRYAN LEE O'MALLEY XXX VARIANT
story: MATT FRACTION
art: CHEP DURKDURK
cover: BRYAN LEE O'MALLEY
JUNE 24 / 32 PAGES / FC / M / $4.69
The same comic as SEX CRIMINALS #11 only with the first of five XXX variant covers shipped in a solid polybag so it cannot be seen until opened. Ever want to see Scott Pilgrim's business? What about the bing-bong? What if you could see his floober, too? WHO KNOWS WHAT « MAL » WILL 'DRAW!!!'
ONE PRINT RUN ONLY.
SOUTHERN BASTARDS #9
story: JASON AARON
art / cover A: JASON LATOUR
cover B: TONY MOORE
JUNE 17 / 32 PAGES / FC / M / $3.50
NEW STORY ARC
The Summer of the Bastards begins with a new arc, as the Runnin' Rebs are gearing up for the big homecoming game against arch-rival Wetumptka County. And what better way to start homecoming week than with a murder?
SKULLKICKERS #100
story: JIM ZUB
art: EDWIN HUANG & MISTY COATS
cover: CHRIS STEVENS & ESPEN GRUNDETJERN
JUNE 24 / 40 PAGES / FC / T / $3.99
« INFINITE ICONS OF THE ENDLESS EPIC, » Finale
ISSUE 100?!!
Hey, if other publishers can just slap any old number on a cover and call it an anniversary, then we want in on that action for our final issue.
Yup, this is the big finish. All skulls must be kicked.
Join us in sending off the series in style with a big three-digit number and tweet with the hashtag #SK100 to let us know what happened in the 66 issues in-between. The best entries get a place in SKULLKICKERS history.
TALES OF HONOR: BRED TO KILL #1
story: MATT HAWKINS
art / cover A: LINDA SEJIC
cover B: RAHSAN EKEDAL
cover C (Incentive Cover): LINDA SEJIC
JUNE 17 / 32 PAGES / FC / T+ / $3.99
From the best-selling science fiction novels by David Weber comes the first-ever original comic story arc set in the Honorverse! Captain Honor Harrington and her alien tree cat Nimitz investigate her uncle's disappearance and are forced to fight for their lives in a Solarian space casino battle arena. Honor may be genetically enhanced, but when she's up against a super race bent on protecting their profitable slave business all bets are off.
THE AUTUMNLANDS, VOL. 1: TOOTH & CLAW TP
story: KURT BUSIEK
art / cover: BENJAMIN DEWEY
colors: JORDIE BELLAIRE
lettering: COMICRAFT
JUNE 3 / 184 PAGES / FC / M / $9.99
SPECIAL LOW INTRODUCTORY PRICE OF $9.99!
The debut collection of the hit epic-fantasy series. When the wizards of the Autumnlands reach through time to bring back a legendary hero, they don't get the savior they expected. But in a shattered, besieged city, he's their only hope of survival—and possibly their entire world's, as well.
Collects THE AUTUMNLANDS: TOOTH & CLAW #1-6
C.O.W.L., VOL. 2: THE GREATER GOOD TP
story: KYLE HIGGINS & ALEC SIEGEL
art: ROD REIS
cover: TREVOR MCCARTHY
JUNE 24 / 128 PAGES / FC / M / $14.99
With super villain threats a problem of the past, a strike on his hands, and scandal on the horizon, Geoffrey Warner has taken drastic steps to breathe life back into the Chicago Organized Workers League. But how far will his false-flag operation reach? Is there any line he won't cross for « the greater good? »
Collects C.O.W.L. #7-11
CRIMINAL, VOL. 5: THE SINNERS TP
story: ED BRUBAKER
art / cover: SEAN PHILLIPS
JUNE 3 / 144 PAGES / FC / M / $14.99
Tracy Lawless returns with a vengeance in this strikingly-designed new edition from Image Comics.
One year after the events of CRIMINAL, VOL. 2: LAWLESS, Tracy Lawless is still a man caught between a history of violence and his own conscience. And now the worst bad guy in the world is tasked with a new job: Solving a series of murders of untouchable crime lords.
CRIMINAL returns to its hard-hitting pulp roots!
DANGER CLUB, VOL. 2: LIFE TP
story: LANDRY Q. WALKER
art / cover: ERIC JONES
JUNE 10 / 120 PAGES / FC / $9.99
It is Kid Vigilante's' darkest hour as he travels through the labyrinth of Hell in order to battle the Gods. Can the teenage sidekicks stop the all-powerful cosmic menace from devouring existence, or will their universe itself be rewritten into a sick parody of what it once was? All will face death in this conclusion to the critically-acclaimed superhero epic by Landry Q. Walker, Eric Jones, and Rusty Drake. Collects DANGER CLUB #5-8
DRIFTER, VOL 1: OUT OF THE NIGHT TP
story: IVAN BRANDON
art / cover: NIC KLEIN
JUNE 17 / 128 PAGES / FC / M / $9.99
SPECIAL LOW INTRODUCTORY PRICE OF $9.99!
Abram Pollux barely survives a crash landing on Ouro, a lawless backwater planet, only to end up on the wrong end of a bullet.
What starts as a struggle for survival quickly becomes a journey to the very edges of what it means to be human, as Pollux searches for answers among the ruins of this forgotten world. And if he can't have answers, he'll at least have his revenge.
Catch up on the first collection of IVAN BRANDON & NIC KLEIN's seminal sci-fi epic before the story continues in July with DRIFTER #6.
Collects DRIFTER #1-5
THE FUSE, VOL. 2 GRIDLOCK TP
story: ANTONY JOHNSTON
art / cover: JUSTIN GREENWOOD
JUNE 3 / 160 PAGES / FC / M / $14.99
22,000 MILES UP, THERE IS (STILL) NO BACKUP.
They call it « Gridlocking »—maglev-bike races across the Fuse's vast solar arrays. Fast, dangerous, and very illegal. So when the #1 gridlock racer turns up dead, Klem and Ralph begin their own race to catch a killer…in a case that will force them into the dark underbellies of drug smuggling and terrorism in zero-g!
« Comic of the year… Deserves to be on the Hugo ballot. » — The Angriest
Collects THE FUSE #7-12
GHOSTED, VOL. 4: GHOST TOWN TP
story: JOSHUA WILLIAMSON
art: VLADIMIR KRSTIC, JUAN JOSE RYP, GORAN SUDZUKA, & MIROSLAV MRVA
cover: MATTEO SCALERA
JUNE 10 / 120 PAGES / FC / M / $12.99
In a newly created ghost town, a portal to the afterlife has emerged—setting the stage for the greatest heist of Jackson's career.
Collects GHOSTED #16-20
GØDLAND CELESTIAL EDITION, VOL. 3 HC
story: JOE CASEY & TOM SCIOLI
art / cover: TOM SCIOLI
JUNE 24 / 360 PAGES / FC / T+ / $34.99
THE BOOK THAT WILL CHANGE YOUR LIFE!
The final edition of the Eisner Award-nominated CELESTIAL EDITION hardcover series is here!
This is how the universe ends! All of your favorites are back: Adam Archer! Basil Cronus! Friedrich Nickelhead! And the ultimate secret of Iboga! If you've never experienced the cosmic wonder of GØDLAND, this is your last chance! Also included: a galaxy full of quantum extras!
Collects GØDLAND #25-36 & GØDLAND FINALE
INVINCIBLE, VOL. 21 TP
story: ROBERT KIRKMAN
art: RYAN OTTLEY, CLIFF RATHBURN, & JEAN-FRANCOIS BEAULIEU
cover: RYAN OTTLEY & JEAN-FRANCOIS BEAULIEU
JUNE 17 / 152 PAGES / FC / T+ / $16.99
In the aftermath of Robot's attempt to take over the world, the few survivors that remain must pick up the pieces of a world once familiar…but now completely alien.
Collects INVINCIBLE #115-120
POSTAL, VOL. 1 TP
story: BRYAN HILL & MATT HAWKINS
art: ISAAC GOODHART
cover: LINDA SEJIC
JUNE 24 / 128 PAGES / FC / T+ / $9.99
SPECIAL LOW INTRODUCTORY PRICE OF $9.99!
The first volume of Top Cow's bold new ongoing series POSTAL brings readers into the fictional town of Eden, Wyoming, a place founded by criminals for criminals. A place where, despite its inhabitants, no crime is allowed. Local postman Mark Shiffron has Asperger's, and through his peculiar eyes we see a town struggling to keep its fragile peace, a town on the constant brink of chaos. When a murdered woman's body is found on Eden's main street, Mark's need to solve her crime leads him into darkness and truth about the town he's known his entire life and the hidden realms of his own psychology. Co-writers BRYAN HILL & MATT HAWKINS work with newcomer ISAAC GOODHART to take an unflinching look at the cost of justice and the price of redemption through a tale set in the murky soul of America's heartland.
Collects POSTAL #1-4
REYN, VOL. 1: WARDEN OF FATE TP
story: KEL SYMONS
art / cover: NATHAN STOCKMAN
JUNE 17 / 128 PAGES / FC / T+ / $9.99
SPECIAL LOW INTRODUCTORY PRICE OF $9.99!
Freelance swordsman and monster-hunter Reyn is the last of the legendary « Wardens » whose ranks long ago faded from the land of Fate into myth. Not exactly a white knight, Reyn's haunted by visions from his « guiding angel » Aurora, who sets him on a great quest against the mysterious Venn, teaming him with Seph, a woman with witch-like powers. Together they discover Fate holds an incredible secret.
Collects REYN #1-5
RUMBLE, VOL. 1: WHAT COLOR OF DARKNESS? TP
story: JOHN ARCUDI
art / cover: JAMES HARREN
JUNE 24 / 144 PAGES / FC / M / $9.99
SPECIAL LOW INTRODUCTORY PRICE OF $9.99!
A Scarecrow Warrior God walks into a bar…and proceeds to drag a modern American city into a ten-thousand-year-old grudge-match! A bizarre new adventure—complete with boozehound shamans, monster queens, and a football-fetching hydra! Featuring an extended sketchbook section and a few surprises!
Collects RUMBLE #1-5
THE WICKED + THE DIVINE, VOL. 2: FANDEMONIUM TP
story: KIERON GILLEN
art / cover: JAMIE MCKELVIE & MATT WILSON
JUNE 10 / 176 PAGES / FC / M / $14.99
The critically-lauded best-selling hyphen-abusing series of stardom, divinity, and death returns with a second volume that's even grander than the first, because it contains six issues instead of five. THE FAUST ACT is over. Welcome to FANDEMONIUM. Includes cover gallery and anything else we'll cram in the back, because we just can't help ourselves.
Collects THE WICKED + THE DIVINE #6-11
ALEX + ADA #15
story: JONATHAN LUNA & SARAH VAUGHN
art / cover: JONATHAN LUNA
JUNE 17 / 32 PAGES / FC / T+ / $2.99
SERIES CONCLUSION
BIG MAN PLANS #4 (OF 4)
story: ERIC POWELL & TIM WIESCH
art / cover A: ERIC POWELL
cover B (Incentive Cover): FRANCESCO FRANCAVILLA
JUNE 3 / 32 PAGES / FC / M / $2.99 E
MINISERIES CONCLUSION
The shocking conclusion where the true motive of Big Man's bloody rampage is revealed!
BIRTHRIGHT #8
story: JOSHUA WILLIAMSON
art / cover: ANDREI BRESSAN & ADRIANO LUCAS
JUNE 3 / 32 PAGES / FC / T+ / $2.99
A new warrior from Terrenos has landed on Earth, looking for the father of her child.
BITCH PLANET #6
story: KELLY SUE DeCONNICK
art: TAKI SOMA
cover: VALENTINE DE LANDRO
JUNE 3 / 32 PAGES / FC / M / $3.50
« Extraordinary Machine » uncovers the past of the Bitches' secret weapon Meiko Maki, how she went from hotshot engineer to killer—and the ace up her sleeve. From KELLY SUE DeCONNICK (PRETTY DEADLY, Captain Marvel), with guest pencils by TAKI SOMA (Takio, The Victories).
BLACK SCIENCE #15
story: RICK REMENDER
art / cover: MATTEO SCALERA & MORENO DINISIO
JUNE 3 / 32 PAGES / FC / M / $3.50
The radical science that led to the Pillar's creation came from the fevered passions of one man: Grant McKay…didn't it? Dive into the dark history of Grant's colleague and secret lover Rebecca as the clock ticks down to the Pillar's final jump!
CHRONONAUTS #4 (OF 4)
story: MARK MILLAR
art / cover: SEAN GORDON MURPHY
JUNE 10 / 48 PAGES / FC / M / $5.99
MINISERIES CONCLUSION
Captured by enemies and robbed of their ability to time travel, Danny and Corbin have created the biggest mess the space-time continuum has ever seen. Now, it's up to them to defeat the bad guys, fix past wrongs, and escape the wrath of their bosses! The finale to this sci-fi buddy adventure features MORE breathtaking Sean Murphy art—with MORE soldiers, MORE dinosaurs, and a conclusion to leave you clamoring for a sequel!
COPPERHEAD #8
story: JAY FAERBER
art / cover: SCOTT GODLEWSKI & RON RILEY
JUNE 10 / 32 PAGES / FC / T+ / $3.50
You wanted more Boo? You got more Boo.
DEADLY CLASS #14
story: RICK REMENDER
art / cover: WES CRAIG
JUNE 24 / 32 PAGES / FC / M / $3.50
Isolated from his friends and spiraling downward into the black hole of depression and addiction, Marcus must ask himself: did he jump or was he pushed?
DESCENDER #4
story: JEFF LEMIRE
art / cover: DUSTIN NGUYEN
JUNE 10 / 32 PAGES / FC / M / $2.99
Image's red-hot new series continues as Tim-21 struggles to trust his new companions, the Scrappers move in, and factions from across the galaxy tighten their grip.
THE DYING AND THE DEAD #6
story: JONATHAN HICKMAN
art / cover: RYAN BODENHEIM
JUNE 24 / 32 PAGES / FC / T+ / $3.50
« THE SPEAR THAT IS A HAMMER »
The construction of an infernal device happens in the past and the present as the City burns. It's the final act of old friends and even older enemies.
EGOs #9
story: STUART MOORE
art / cover: GUS STORMS
JUNE 3 / 32 PAGES / FC / T+ / $2.99
The conspiracy revealed! CRUNCHED concludes with a planet in peril, a deadly hostage crisis, a tragic death, and an extra-large dose of betrayal and disillusionment.
« A romp that was tailor made for sci-fi fandom. » -Unleash the Fanboy
« EGOs is the real deal. A wonderful comic. » -Fanboy Comics
THE EMPTY #4
story / art / cover: JIMMIE ROBINSON
JUNE 3 / 32 PAGES / FC / T / $3.99
« STINGERS, » Part Four
Lila discovers the source of the poisonous evil destroying the land, but the end of her journey leads to a horrific choice between her world and those struggling to survive in The Empty.
THE FADE OUT #8
story: ED BRUBAKER
art / cover: SEAN PHILLIPS & ELIZABETH BREITWEISER
JUNE 24 / 40 PAGES / FC / M / $3.50
STORY ARC CONCLUSION
BRUBAKER & PHILLIPS' best-selling series so far concludes its second act, as every answer Charlie and Gil find brings them into more and more danger.
And remember, every issue of THE FADE OUT is packed with essays and art that are only in the monthly comics.
THE FADE OUT WILL RETURN WITH ISSUE #9 IN SEPTEMBER
GOD HATES ASTRONAUTS #9
story / art / cover A: RYAN BROWNE
cover B: RYAN STEGMAN
JUNE 3 / 32 PAGES / FC / M / $3.50
Get ready for some hot king-on-king action! As the action intensifies, 'dem burgers be flying like crazy, dawg!
INJECTION #2
story: WARREN ELLIS
art / cover A & B: DECLAN SHALVEY & JORDIE BELLAIRE
JUNE 10 / 24 PAGES / FC / M / $2.99
INJECTION is the new ongoing series created by the acclaimed creative team of MOON KNIGHT.
In this issue: the five members of the Cross-Cultural Contamination Unit came from very different backgrounds. Simeon Winters, for instance, came from a department of the British Foreign Office. The one that kills foreign people. Also this issue: sandwiches.
INTERSECT #8
story / art / cover: RAY FAWKES
JUNE 17 / 32 PAGES / FC / M / $3.50
The intersected story of New Orleans begins with the introduction of a whole new cast of characters! But what strange connection do they share with the Intersected of Detroit? And where will the Lady Flock finally land?
INVISIBLE REPUBLIC #4
story: GABRIEL HARDMAN & CORINNA BECHKO
art / cover: GABRIEL HARDMAN
colors: JORDAN BOYD
JUNE 24 / 32 PAGES / FC / M / $2.99
Starving and homeless on the streets of Maidstone, Maia finds refuge with a charitable stranger. But will she be betrayed when he discovers her identity? After the chaos last issue, will reporter Croger Babb finally catch a break?
JUPITER'S CIRCLE #3
story: MARK MILLAR
art: WILFREDO TORRES
cover: FRANK QUITELY
JUNE 3 / 32 PAGES / FC / M / $3.50
Fitz Fenton is part of America's greatest super-team. When he meets a sweet small-town girl on one of his missions, sparks fly—but at what cost? With his family back home and his teammates to contend with, Fitz must choose between a promising new life and the respect of those he holds dear.
KAPTARA #3
story: CHIP ZDARSKY
art / cover: KAGAN McLEOD
JUNE 24 / 32 PAGES / FC / T+ / $3.50
ENTER: MELVON!
BUT REMEMBER: ABANDON ALL HOPE YE WHO ENTER: MELVON!
To save their own lives, our heroes must slay the famed, sensual wizard of The Unchanted Forest! A great jumping-on point for anyone who reads!
LAZARUS #18
story: GREG RUCKA
art: MICHAEL LARK
cover: OWEN FREEMAN
JUNE 24 / 32 PAGES / FC / M / $3.50
« POISON, » Part Two
Hock forces have engaged Carlyle troops on the shores of Lake Superior, and to turn them back Forever must take her place on the front…where the enemy is waiting for her.
LEGACY OF LUTHER STRODE #3
story: JUSTIN JORDAN
art / cover: TRADD MOORE & FELIPE SOBREIRO
JUNE 24 / 32 PAGES / FC / M / $3.50
The bullets are flying in Hong Kong as Luther goes up against The Shooter, the last man standing between him and finding Cain.
THE MANHATTAN PROJECTS: THE SUN BEYOND THE STARS #4
story: JONATHAN HICKMAN
art / cover: NICK PITARRA
JUNE 17 / 32 PAGES / FC / T+ / $3.50
« SMUGGLERS »
The black market for exotic alien death machines is absolutely booming and Yuri Gagarin has empty pockets and a bag full of destruction. Who's buying?
MANIFEST DESTINY #17
story: CHRIS DINGESS
art / cover: MATTHEW ROBERTS & OWEN GIENI
JUNE 17 / 32 PAGES / FC / T+ / $2.99
Who—or what—is the fabled Vameter?
THE MANTLE #2
story: ED BRISSON
art / cover: BRIAN LEVEL
JUNE 10 / 32 PAGES / FC / M / $3.99
The Mantle is not the gift that it may have originally been made out to be. Sure, it's cool to be able to fly and to be part of a superhero team…but it's not cool to have an indestructible, intergalactic bad-ass hellbent on your death!
MATERIAL #2
story: ALES KOT
art: WILL TEMPEST
cover: TOM MULLER
JUNE 24 / 32 PAGES / FC / M / $3.50
America is not what it used to be.
MINIMUM WAGE: SO MANY BAD DECISIONS #2
story / art / cover: BOB FINGERMAN
JUNE 3 / 32 PAGES / 2C / M / $3.99
« Bela Legosi is dead, » as the song said, but Rob is alive and well. Well, maybe not well, but decked out in gloomy Goth resplendence courtesy of his interim fling, Bekka. Maybe it's time for Rob to rethink the trajectory his love life has taken?
MORNING GLORIES #48
story: NICK SPENCER
art: JOE EISMA
cover: RODIN ESQUEJO
JUNE 17 / 32 PAGES / FC / M / $3.50
« The Debate. »
MYTHIC #2
story: PHIL HESTER
art / cover: JOHN MCCREA
JUNE 24 / 32 PAGES / FC / M / $2.99
Science is the key to our understanding of reality; it also happens to be one big lie. Magic is how the world works, and a secret army of troubleshooters fights to keep these unseen gears of the universe turning. But when they become the hunted, the end of everything nears.
NAILBITER #13
story: JOSHUA WILLIAMSON
art / cover: MIKE HENDERSON
JUNE 3 / 32 PAGES / FC / M / $2.99
« I'M IN LOVE WITH A SERIAL KILLER! »
NAMELESS #5
story: GRANT MORRISON
art / cover: CHRIS BURNHAM
JUNE 24 / 32 PAGES / FC / M / $2.99
The soul-destroying origin story of the man known only as « Nameless » is uncovered in all its horror. What caused « Nameless » to surrender his identity? What are the sickening secrets of the Razor House Project?
And what went wrong in there?
On the eve of extinction, all is finally revealed.
NO MERCY #3
story: ALEX de CAMPI
art / cover: CARLA SPEED McNEIL
JUNE 3 / 32 PAGES / FC / T+ / $2.99
A long and vicious night ends in savage recriminations, fire…and death. Sister Ines, along with the evening's unlikely hero, go in search of rescue.
OUTCAST BY KIRKMAN & AZACETA #10
story: ROBERT KIRKMAN
art / cover: PAUL AZACETA & ELIZABETH BREITWEISER
JUNE 24 / 32 PAGES / FC / M / $2.99
A weakness exposed.
PISCES #3
story: KURTIS J. WIEBE
art / cover: JOHNNIE CHRISTMAS
JUNE 24 / 32 PAGES / FC / M / $3.99
With a new start in Houston, Texas, Dillon begins to find a semblance of a normal life. But even with a beautiful new home to stay in and the pleasant company of an old friend, Dillon begins to show signs of decay. There's a sickness corroding his very flesh. And his mind.
RAT QUEENS #12
story: KURTIS J. WIEBE
art / cover: STJEPAN SEJIC
JUNE 17 / 32 PAGES / FC / M / $3.99
« DEMONS, » Part Two
Along the deadly mountain trail leading to Mage University, Hannah stumbles across an old friend from an old life. The mysterious figure knows a secret past that Hannah wants no one else to ever know about.
ROCHE LIMIT: CLANDESTINY #2
story: MICHAEL MORECI
art / cover: KYLE CHARLES
JUNE 10 / 32 PAGES / FC / T+ / $3.50
Elbus and his military crew form an unlikely alliance in their rush to flee the city. Meanwhile, within the forest, Sasha and the science team's expedition comes unhinged.
ROCKET GIRL #7
story: BRANDON MONTCLARE
art / cover: AMY REEDER
JUNE 3 / 32 PAGES / FC / T / $3.50
« NOW WHAT!? »
DaYoung Johansson was prepared to live a normal life—as normal as 1986 New York City could ever be for a teenage cop from a high tech alternate reality 2014. But time travelling isn't so simple: changes made in both the future and past are now at war, with the present stuck in the middle.
RUNLOVEKILL #3
story: JON TSUEI & ERIC CANETE
art / cover: ERIC CANETE
JUNE 17 / 32 PAGES / FC / M / $2.99
The running never stops, as Rain meets face to face with her relentless pursuers. More of her past is revealed which leads to her choices in the present. Now, she must fight for her escape—jumping, sliding, and dodging a hail of gunfire. It's only a matter of time before her luck runs out!
SAGA #29
art / cover: FIONA STAPLES
story: BRIAN K. VAUGHAN
JUNE 10 / 32 PAGES / FC / M / $2.99
The Last Revolution makes their move.
SATELLITE SAM #15
story: MATT FRACTION
art / cover: HOWARD CHAYKIN
JUNE 24 / 32 PAGES / BW / M / $3.50
THE END of the first SATELLITE SAM STORY!
Who lives? Who dies? Who gets away with what? Who pays? All the bloody answers come out as our broadcast day draws at long last to an end.
SAVIOR #3
story: BRIAN HOLGUIN & TODD McFARLANE
art / cover: CLAYTON CRAIN
JUNE 17 / 32 PAGES / FC / T / $2.99
The mystery of TODD McFARLANE's newest character continues in issue three of SAVIOR. Image Comics's newest and hottest comic from TODD McFARLANE includes 22 pages of beautifully painted art by CLAYTON CRAIN.
SECRET IDENTITIES #5
story: BRIAN JOINES & JAY FAERBER
art: ILIAS KYRIAZIS & RON RILEY
cover: ILIAS KYRIAZIS
JUNE 17 / 32 PAGES / FC / T / $3.50
Discover the origin of Luminary…and also the SECRET origin of Luminary.
SEX #22
story: JOE CASEY
art / cover: PIOTR KOWALSKI
JUNE 24 / 32 PAGES / FC / M / $2.99
This issue: The infinite countdown begins…
SONS OF THE DEVIL #2
story: BRIAN BUCCELLATO
art / cover: TONI INFANTE
JUNE 24 / 32 PAGES / FC / M / $2.99
After the suspicious murder of his friend, Travis tries to move on with life. But when his girlfriend Melissa follows a clue that might lead to his birth family, they wind up in the crosshairs of a killer. Also, a look into the past and the cult of David Daly! Grounded, character-driven psychological horror.
SOUTHERN CROSS #4
story / cover: BECKY CLOONAN
art: ANDY BELANGER & LEE LOUGHRIDGE
JUNE 17 / 32 PAGES / FC / T+ / $2.99
As the gravity drive starts to malfunction, Braith uncovers a smuggling ring with a trail that leads back to her sister's murder.
SPAWN #254
story: PAUL JENKINS
art / cover: JONBOY
JUNE 3 / 32 PAGES / FC / T / $2.99
Reality has been undone, and Spawn's job is to fix it—beginning with the repair of a historical tragedy that has been undone by cynical, self-interested forces. Spawn must journey to another time and place to battle angels and demons both, and oversee the sinking of the unsinkable ship, RMS Titanic, which now sits in dry dock in New York harbor as a floating museum!
STRAY BULLETS: SUNSHINE & ROSES #6
story / art / cover: DAVID LAPHAM
JUNE 24 / 32 PAGES / BW / M / $3.50
Just mere days before Beth, Orson, Nina, Rose, and Kretchmeyer are about to pull off the crime of the century, Orson discovers a fatal flaw in their carefully laid out plan: It's convoluted, confusing, ill-conceived, and riddled with more holes than a can of Spaghetti-O's! Something needs to change and change fast, or they're all going to wind up dead…or worse. But with a gang of partners driven by their own agendas, inner rages, raging hormones, and self-medicating supplementation, that's easier said than done. As he traces the plan through the underbelly of Baltimore, Orson begins to suspect that Spanish Scott may be on to them, and that no matter what they do, it may already be far too late…
TECH JACKET #12
story: JOE KEATINGE
art / cover: KHARY RANDOLPH & EMILIO LOPEZ
JUNE 3 / 32 PAGES / FC / T+ / $2.99
The war is over. The battle has ended. Does Zack Thompson even need to be Tech Jacket anymore? After last issue, would YOU want that job?
THIEF OF THIEVES #30
story: ANDY DIGGLE
art / cover: SHAWN MARTINBROUGH & ADRIANO LUCAS
JUNE 24 / 32 PAGES / FC / M / $2.99
Redmond's day in court arrives. Who will pay for his crimes?
THE TITHE #3
story: MATT HAWKINS
art / covers A & B: RAHSAN EKEDAL
JUNE 24 / 32 PAGES / FC / T+ / $3.99
The penultimate issue of the first arc turns up the tension as the media and public celebrate the outlaw while legal issues and angry politicians interfere with the FBI's attempts to stop the last two mega-churches on « the list » from getting robbed.
THE THRILLING ADVENTURE HOUR PRESENTS… BEYOND BELIEF #4 (of 4)
story: BEN ACKER & BEN BLACKER
art / cover: PHIL HESTER
JUNE 24 / 32 PAGES / FC / T / $3.50
BASED ON THE HIT NERDIST PODCAST!
The twenty-foot PROTO-VAMPIRE brings about the END OF DAYS! Frank gets SOMETHING on his LAPEL! Sadie BRUSHES it off! What was it? A piece of lint? Or something FAR MORE SINISTER…?
TREES #10
story: WARREN ELLIS
art / cover: JASON HOWARD
JUNE 17 / 24 PAGES / FC / M / $2.99
Continuing the second TREES story, « Two Forests. »
The new mayor of New York City has a plan, and it involves the drowned Downtown area. Dr. Jo Creasy doesn't have a plan at all, and that's why she's been dropped into the remote Orkney Islands in search of something that might end the world.
VALHALLA MAD #2
story: JOE CASEY
art / cover: PAUL MAYBURY
JUNE 17 / 32 PAGES / FC / T / $3.50
The fabled Gluttonalia continues as comics' newest godly sensations dive ever deeper into their own merriment on the streets of Manhattan. But there are secrets yet to be revealed…even beyond the mythic ingredients of Viken mead! It's more drunken fun from Casey and Maybury! Don't miss it!
THE WALKING DEAD #142
story: ROBERT KIRKMAN
art: CHARLIE ADLARD, STEFANO GAUDIANO, & CLIFF RATHBURN
cover: CHARLIE ADLARD & DAVE STEWART
JUNE 10 / 32 PAGES / BW / M / $2.99
A Gathering.
THE WALKING DEAD #143
story: ROBERT KIRKMAN
art: CHARLIE ADLARD, STEFANO GAUDIANO, & CLIFF RATHBURN
cover: CHARLIE ADLARD & DAVE STEWART
JUNE 24 / 32 PAGES / BW / M / $2.99
A Union.
WAYWARD #9
story: JIM ZUB
art / cover A: STEVE CUMMINGS & TAMRA BONVILLAIN
cover B: GURIHIRU
JUNE 24 / 32 PAGES / FC / M / $3.50
IMAGE'S SUPERNATURAL SENSATION CONTINUES!
Tokyo is a battleground and blood will be spilled.
COVER A is part four of a five-part panorama by STEVE CUMMINGS & TAMRA BONVILLAIN. Buy all five issues of this story arc to fit them together into a massive WAYWARD illustration.
COVER B is a variant by acclaimed Japanese illustrators GURIHIRU.
#ZERO #18
story: ALES KOT
art: TULA LOTAY & JORDIE BELLAIRE
cover A: TULA LOTAY & TOM MULLER
cover B: TOM MULLER
JUNE 24 / 32 PAGES / FC / M / $2.99
SERIES CONCLUSION
Surrender.