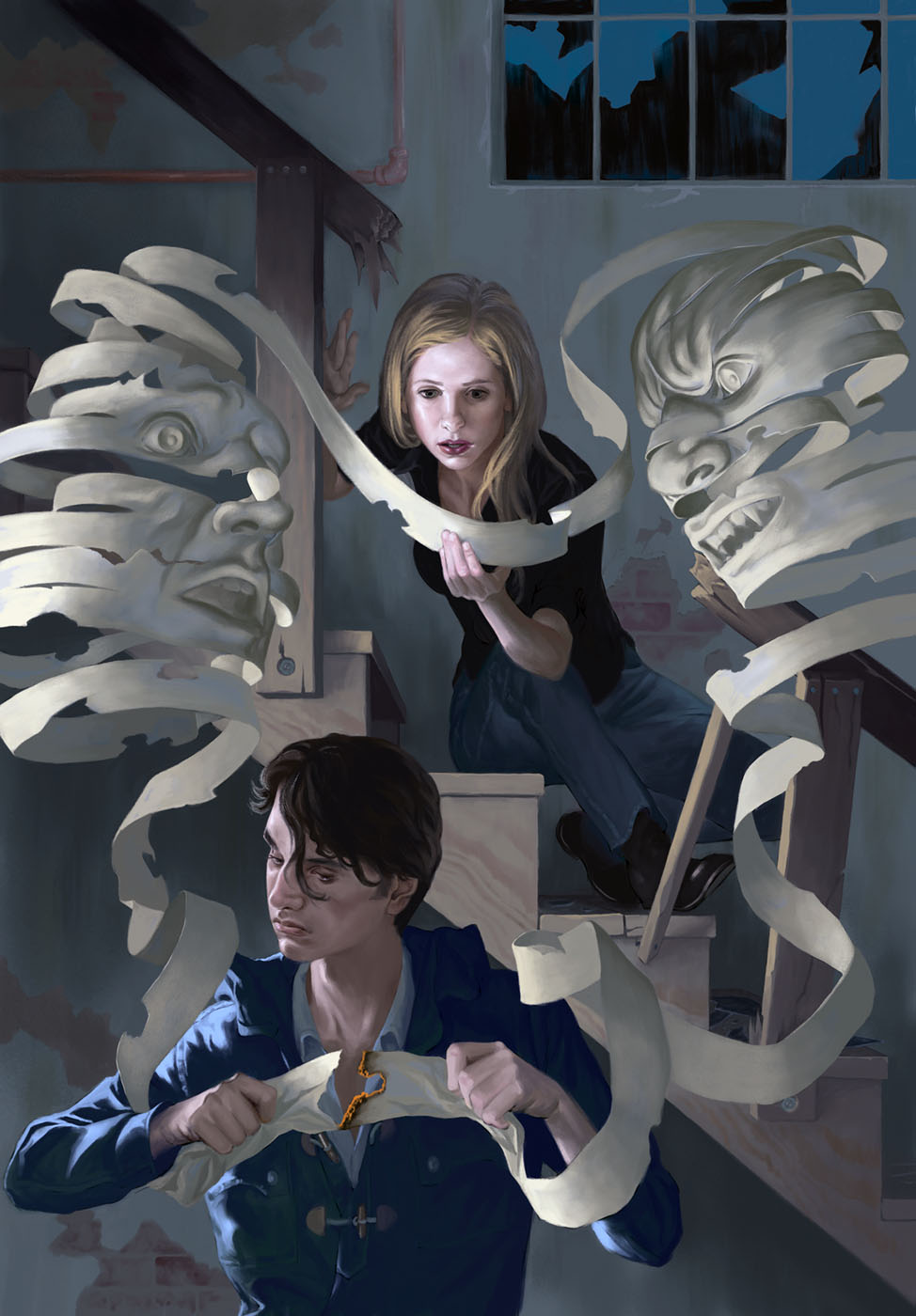 Dark Horse Comics ouvre le bal des sollicitations pour le mois de décembre, sans doute pour éviter d'être noyées par celles des grands éditeurs, que ce soit DC ou Marvel. (Source Comics Continuum)
Pas grand chose à se mettre sous la dent, je retiens bien sûr le Buffyverse entre la saison 9 de Buffy et la nouvelle série Angel & Faith. Je surveille comme d'habitude les titres de Mike Mignola, entre BPRD, et une apparition de hellboy dans Dark Horse Present. A noter la sortie du 12e TPB de Hellboy, qui contient l'extraordinaire mini The Fury, un immanquable !
Christos Gage (W), Phil Noto (A), Dan Jackson (C), Steve Morris (Cover), and Rebekah Isaacs (Variant cover)
It's a dark and foggy night in London, and Angel and Faith are about to encounter a most unexpected visitor. Superceleb vampire Harmony Kendall returns! When a stalker threatens to expose one of Harm's misdeeds, she solicits the help of wayward heroes Angel and Faith. With her little pups, her friend Clem, and her Hollywood entourage by her side, Harmony is taking the UK by storm!
32 pages, $2.99, in stores on Dec. 28. 

ARCHIE ARCHIVES VOLUME 4 HC
Various (W/A)
Pay a visit to the familiar and yet very different world of 1940s Riverdale, home of « America's newest boy friend, » Archibald « Chick » Andrews. Along with gals and pals Betty, Veronica, Jughead, Reggie, and more, Archie and his teenager travails have captured the hearts of comics readers for seventy years, and these hilarious stories are where it all began. So what are you waiting for? Pull up a stool at Pop Tate's Chocklit Shoppe and get ready for 200-plus pages of mirthful mayhem and beautiful cartooning! Collecting every Archie appearance from Pep Comics #51-53 and Archie Comics #11-14.
232 pages, $49.99, in stores on Feb. 8. 

THE ART OF THE MASS EFFECT UNIVERSE HC
Casey Hudson (W) and Derek Watts (W)
The Mass Effect trilogy is a groundbreaking epic that has immersed gamers in one of science fiction's richest universes. Now BioWare and Dark Horse are proud to invite fans deeper than ever into the Mass Effect saga with The Art of the Mass Effect Universe! Featuring concept art and commentary by BioWare on the games' characters, locations, vehicles, weapons, and more–including Mass Effect 3–The Art of the Mass Effect Universe is the most complete companion available to gaming's most compelling series!
184 pages, $39.99, in stores on Feb. 8. 

B.P.R.D. HELL ON EARTH: RUSSIA #4
Mike Mignola (W), John Arcudi (W), Tyler Crook (A), Dave Stewart (C), Dave Johnson (Cover)
While Johann is locked in spectral combat with the spirit of a possessed prisoner of Russia's Special Sciences Service, Kate learns about the deserted town of Rampayedik and its mysterious zombie looters.
32 pages, $3.50, in stores on Dec. 21. 

BALTIMORE: THE CURSE BELLS #5
Mike Mignola (W/Cover), Christopher Golden (W), Ben Stenbeck (A), and Dave Stewart (C)
Baltimore makes a final stand against the evil warlock and his clan of undead nuns in order to save the town, rescue the innocents, and finally come face to face with his mortal enemy!
32 pages, $3.50, in stores on Dec. 14. 

BRODY'S GHOST
Mark Crilley (W/A/Cover) and Dan Jackson (C)
Former slacker Brody has vowed to uncover the identity of the serial killer known only as the « Penny Murderer. » Will he complete his intense training to develop physical and psychic abilities before the mysterious killer strikes again? Collecting four stories from MySpace Dark Horse Presents, this one-shot issue continues the hilarious, poignant, thrilling tale of Brody's fight for justice.
32 pages, $3.50, in stores on Dec. 14. 

BUFFY THE VAMPIRE SLAYER SEASON 9 #4
Andrew Chambliss (W), Georges Jeanty (P/Variant cover), Dexter Vines (I), Michelle Madsen (C), and Steve Morris (Cover)
As Xander, Dawn, and Willow retreat into their own complicated lives, Buffy finds herself drawn more closely to her new friend Severin, a mysterious crime fighter in his own right, and a snappy dresser to boot. Together they take on a new kind of vampire threat while Buffy's not-in-the-know roomies start snooping through her unslept-in bedroom. Now what could they possibly find?
32 pages, $2.99, in stores on Dec. 14. 

CARDCAPTOR SAKURA BOOK 3 TP
CLAMP (W/A)
Now that Sakura has proven herself as a magician, she finds that there are other unnatural forces threatening her town . . . forces linked somehow to two mysterious transfer students who've just arrived–one attracted to her brother, the other attracted to her! Li and Sakura may be friends now instead of rivals, but if there's a rival for Sakura's affections, is he going back to Hong Kong . . . ? ¥ Book 3 contains thirty bonus Cardcaptor Sakura illustrations in full color!
800 pages, black and white, $19.99, in stores on Feb. 15. 

CLASSIC MARVEL CHARACTERS #4: DAREDEVIL
The 1960s brought a cultural upheaval in music and art, with a host of new icons entering the scene: The Beatles, Andy Warhol, and of course, Marvel Comics, led by a host of characters that redefined modern comic books. The fourth statuette in the Marvel Classic Characters series is everyone's favorite blind hero, Daredevil, featured in his original black, yellow, and red costume. This ongoing character lineup presents these characters just as they originally appeared, but features a rougher surface texture, visible seam lines, and other slightly distressed aspects, such as paint application. Sculpted by Yoe! Studio.
On sale Dec 14, 5 1/2″ tall, limited to 1,000 numbered pieces, packaged in its own tin box, with a pin-back button and character booklet, $49.95. 

CLASSIC MARVEL CHARACTERS: THE FANTASTIC FOUR #2–INVISIBLE GIRL
Appearing in 1961, the Fantastic Four was the first superhero team created by writer-editor Stan Lee and artist and coplotter Jack Kirby. It ushered in the « Marvel Age » of comics and was an immediate success. The second statuette in the Fantastic Four Classic Characters series is the very first female superhero created by the team. Sue Storm as Invisible Girl is featured in her most glamorous pose. This ongoing character lineup presents these characters just as they originally appeared, but feature, a rougher surface texture, visible seam lines and other slightly distressed aspects, such as paint application. Sculpted by Yoe! Studio.
6″ tall, limited to 1,000 numbered pieces. Packaged in its own tin box, with a pin-back button and character booklet, $49.95, in stores on Dec. 28. 

CONAN: ROAD OF KINGS #11
Roy Thomas (W), Mike Hawthorne (P), John Lucas (I), Dan Jackson (C), and Aleksi Briclot (Cover)
In need of money after escaping war-torn Tarantia, Conan finds his way to a seaport called Messantia. There he wastes no time in finding old allies and making new enemies. With a friend on the wrong side of the law and Conan himself on the wrong side of the local criminals, all the pieces are in place for Road of Kings's blowout conclusion!
32 pages, $3.50, in stores on Dec. 21. 

CREEPY ARCHIVES VOLUME 12 HC
Various (W/A)
Featuring a new introduction by modern comics storyteller and painter Jason Shawn Alexander, this volume's special features include the color Creepy Monster Match board game (cut out and play at your own risk), a series of color stories by Richard Corben, and all text pieces from the initial Creepy run. Collecting Creepy magazines #55-59 — with terrifying tales by fan-favorites Doug Moench, Jose Bea, Reed Crandall, Gardner Fox, Paul Neary, Sanjulian, Richard Corben, and others — the tome is topped off with The Creepy Crawley Castle and Werewolf! games, color Sanjulian covers, creator biographies, and Dear Uncle Creepy letters columns!
248 pages, black and white, $49.99. 

DARK HORSE PRESENTS #7
Mike Mignola (W/A), Neal Adams (W/A), Howard Chaykin (W/A), Andi Watson (W/A), Ricardo Delgado (W/A), Beau Smith (W), M. J. Butler (W), Eduardo Barreto (A), Mark Wheatley (A), Dave Stewart (C), Mike Mignola (Cover), and others
Mike Mignola's Hellboy is the centerpiece for the 7th all-star issue of Dark Horse Presents! In addition, this issue packs the beginnings of two new stories–200 People to Kill and Skultar, a brand-new Age of Reptiles story by Ricardo Delgado, a new Skeleton Key story by Andi Watson, and continuing stories by Howard Chaykin and Neal Adams!
80 pages, $7.99, in stores on Dec. 21. 

DOTTER OF HER FATHER'S EYES HC
Mary M. Talbot (W) and Bryan Talbot (A)
Part personal history, part biography, Dotter of Her Father's Eyes contrasts two coming- of-age narratives: that of Lucia, the daughter of James Joyce, and that of author Mary Talbot,Êdaughter of the eminent Joycean scholar James S. Atherton. Social expectations and gender politics, thwarted ambitions and personal tragedy are played out against two contrasting historical backgrounds, poignantly evoked by the atmospheric visual storytelling of award-winning graphic-novel pioneer Bryan Talbot. Produced through an intense collaboration seldom seen between writers and artists, Dotter of Her Father's Eyes is smart, funny, and sad–an essential addition to the evolving genre of graphic memoir.
96 pages, $14.99, in stores on Feb. 8. 

EMPOWERED DELUXE EDITION VOLUME 1 HC
Adam Warren (W/A)
The steamy cape-and-tights comedy so outrageous that the bonds of regular graphic novels could not hold the laughs within, Empowered has expanded into a tome so massive that even the superpowered can barely lift it! Empowered Deluxe Edition Volume 1 collects between its rock-hard covers all the material from the first three Empowered volumes, plus several metric tons (okay, like forty pages) of top-secret, never-before-seen extras (except by Adam Warren, a few close friends, and some ninja), including the very first Empowered stories, sketches, logo variants, Adam's story notes, and more, more, more! That's seven hundred pages, chief, and printed on way nice paper, too! Only you deserve so much!
712 pages, black and white, $59.99, in stores on Feb. 29. 

GANTZ VOLUME 21 TP
Hiroya Oku (W/A)
A new chapter in the Gantz saga brings with it a new level of action and mayhem! The alien-hunting Gantz warriors are transported to their new mission, leaving behind their fallen comrades, Kurono and Izumi. Given no time to mourn, they find themselves in a completely unfamiliar location, well beyond the confines of Tokyo in the Dotombori district of Osaka. Even more surprising is an encounter with another group in Gantz suits. Are the members of this unknown team allies . . . or deadly new foes? Ê
208 pages, black and white, $12.99, in stores on Feb. 22. 

GATE 7 VOLUME 2 TP
CLAMP (W/A)
A strange dimension overlaps with our reality, sending magical creatures and bloodthirsty spellcasters against the Earth's protectors. As the newest member in Hana's group, awkward high schooler Chikahito Takamoto is looked upon with puzzlement and suspicion by his older teammates. They don't know how he can be immune to their powers, or if Chikahito has any latent powers of his own. Finding himself in the middle of this mystical war, Chikahito tries to make sense of his quirky, moody allies and his own feelings for Hana–a strong, short, and awfully cute warrior!
200 pages, black and white, $10.99, in stores on Feb. 29. 

Eric Powell (W/A/Covers) and Dave Stewart (C)
When several workers die in a girdle-factory fire due to poor safety conditions and an out-of-control taco cart, the union is in an uproar. But when the fat cats bring in a supernatural union buster, there's only one man for the workers to turn to: The Goon.
32 pages, $3.50, in stores on Dec. 21. 

Felicia Day (W), Sandeep Parikh (W), Becky Cloonan (A), Dave Stewart (C), Evan Dorkin (Cover), and Georges Jeanty (Variant cover)
Zaboo has loved Cyd's game avatar Codex from afar since the two first met playing The Game. Just what he'll do for love comes to the fore as he senses Cyd is in trouble and embarks on a real-life quest to escape his mother and become Cyd's knight in shining armor.
32 pages, $3.50, in stores on Dec. 2.1 

HELLBOY VOLUME 12: THE STORM AND THE FURY TP
Mike Mignola (W/Cover), Duncan Fegredo (A), and Dave Stewart (C)
Hellboy cuts a deal with the devious Baba Yaga that may secure the survival of mankind in this climactic follow-up to 2009's lauded Hellboy: The Wild Hunt. But when war ensues between the forces of good and evil, Hellboy must finally confront the Queen of Blood in a battle that will change the fate of the world! Collects Hellboy: The Storm #1-#3 and Hellboy: The Fury #1-#3.
176 pages, $19.99, in stores on May 17. 

HOUSE OF NIGHT #2
Kent Dalian (W), P. C. Cast (W), Kristin Cast (W), Jo'lle Jones (A), Josh Covey (A), Ryan Hill (C), and Jenny Frison (Cover)
Struggling to understand her connection to the vampyre goddess Nyx and her elemental affinities, Zoey Redbird's got her hands full at the House of Night. Add needing a plan to revamp the student group known as the Dark Daughters, and this third-former vampyre's need of a hand. Turning to her friends, Zoey hopes to gain clarity in her quest to understand where she fits into the modern world of vampyrism.
32 pages, $2.99, in stores on Dec. 14. 

THE IMMORTAL: DEMON IN THE BLOOD #1
Ian Edginton (W), Vicen Villagrasa (P), JosŽ Luis R'o (I/C), Dan Jackson (C), and Long Vo (Cover)
Wrongly branded a traitor by his fellow samurai, Amane is attacked and left for dead. When he is found by a mysterious tattoo artist, his life is saved–and changed forever! Connected to an immortal oni through a mystical tattoo, he creates a new life for himself as Enma, an apprentice tattooist. But Enma's new life comes at a price he has yet to realize . . .
32 pages, $3.50, in stores on Dec. 21. 

KING CONAN: THE SCARLET CITADEL TP
Timothy Truman (W), Tom‡s Giorello (A), JosŽ Villarrubia (C), and Gerald Parel (Cover)
Trapped in the dungeons beneath an evil wizard's scarlet stronghold, Conan must confront a slew of new challenges and foes as he fights to free himself and reclaim the throne of Aquilonia! Featuring duplicitous betrayers, sparring sorcerers, and all of the brutal excitement you've come to expect from the rampaging Cimmerian, this trade paperback collects the four-issue King Conan: The Scarlet Citadel adaptation.
112 pages, $14.99, in stores on Feb. 15. 

KULL: THE CAT AND THE SKULL #3
David Lapham (W), Gabriel Guzman (P), Dan Jackson (C), and Jo Chen (Cover)
There is only one place in Valusia that even the bravest men dare not disturb–the Forbidden Lake. Thousands of years before Kull, men sought to conquer the people of the lake, and were turned back by magic and the creatures spawned in those dark waters. When Saremes the cat informs Kull that his closest ally Brule has gone to the lake, the mighty king sets out, sword in hand, to rescue his friend from whatever monsters lie dormant in those mysterious waters!
32 pages, $3.50, in stores on Dec. 14. 

THE MANARA LIBRARY VOLUME 2 HC
Hugo Pratt (W), Mino Milani (W), Milo Manara (A/Cover), and Laura Battaglia (C)
Dark Horse continues to bring the works of Italian comics master Milo Manara to American audiences with volume 2 of The Milo Manara Library! This deluxe hardcover, newly translated by Eurocomics expert Kim Thompson, features the sweeping historical epic El Gaucho, the second of Manara's storied collaborations with his mentor Hugo Pratt, author of the internationally acclaimed Corto Maltese. Rounding out this volume is Trial by Jury, a series of shorts, never before published in the US, in which some of history's most notorious figures undergo a mock trial.
280 pages, $59.99, in stores on Feb. 8. 

Mac Walters (W), John Jackson Miller (W), Omar Francia (A), Michael Atiyeh (C), Massimo Carnevale (Cover), and Paul Renaud (Variant cover)
The Omega space station has fallen and Aria, Omega's pirate queen, is on the run from an enemy greater than anything she's ever faced before. Learning that the battle is merely the first skirmish in a war that will reshape the galaxy, Aria must retake Omega and lead a new charge to save her empire!
32 pages, $3.50, in stores on Dec. 21. 

NINGEN'S NIGHTMARES TP
J. P. Kalonji (W/A) and Dan Jackson (C)
In ancient Japan, a witch seeks to use the warrior-monk Ningen's enlightened body and spirit to resurrect a demon-samurai and unleash an era of chaos on an already-troubled country. After leaving the safety of his temple to protect poor commoners who are caught in bloody battles between feuding warlords, Ningen soon finds that several colorful bounty hunters are on his trail–seeking his head and his very lifeblood for the witch's twisted spells!
120 pages 

THE OCCULTIST #2
Tim Seeley (W), Victor Drujiniu (P), Andrew Dalhouse (C), and Steve Morris (Cover)
With spell-crazed hit mages and the malevolent serpentine demon known as the Swordbreaker hot on his tail, it's a steep learning curve for the Occultist, who must master the powerful magic of the Sword–or suffer at the hands of numerous sorcerous enemies. But is our hero wielding this enigmatic weapon, or is it the one in control?
32 pages, $3.50, in stores on Dec. 14. 

OH MY GODDESS! VOLUME 20 TP
Kosuke Fujishima (W/A)
Cutie meganekko (girl with glasses) Sora Hasegawa faces off against Keiichi in a crazy go-kart race through campus to settle who will lead the Motor Club. Keiichi has the experience . . . but Hasegawa is being trained by Belldandy! No more gap on your bookshelf, Oh My Goddess! fans–volume 20 completes the run of « classic » Oh My Goddess! volumes, previously released flopped, to be re-issued in Japanese reading order! Each volume of Oh My Goddess! contains fan art, letters, and commentary from the creator.
248 pages, black and white, $11.99, in stores on Feb. 22. 

ORCHID #3
Tom Morello (W), Scott Hepburn (A), Dan Jackson (C), and Massimo Carnevale (Cover)
Orchid, Simon, and Yehzu meet a mysterious, forest-dwelling woman named Opal and hear the tale of General China's defeat at the hands of Tomo Wolfe. As Orchid struggles to find an outlet for her anger, Simon pleads for help from this experienced woman, whom he sees as a new and knowledgeable ally. Is this the turning point in the efforts of the uprising? Or another setback for a hopeless cause?
32 pages, $3.50, in stores on Dec. 14. 

SPACE FAMILY ROBINSON ARCHIVES VOLUME 3 HC
Gaylord DuBois (W) and Dan Spiegle (A)
Between the fourteen-legged metal eaters, a prison break of shape-shifting Dreephars, and flying manta ray-like creatures, life is never dull for America's first outer-space family! But while the lost Robinsons continue their interstellar journey to return home, swords and sorcery meet science fiction as the familial explorers team-up with medieval knights and return to Earth . . . in the twelfth century! Collects Space Family Robinson comics #15-#22. Includes the beautiful, original painted covers by George Wilson!
216 pages, $49.99, in stores on Feb. 15. 

STAR WARS OMNIBUS: A LONG TIME AGO . . . . VOLUME 5 TP
Various (W/A)
The classic-era Star Wars adventures conclude in this fifth and final volume of Star Wars Omnibus: A Long Time Ago…
All your favorite characters are here–Luke Skywalker, Princess Leia, Han Solo, Chewie, the droids, and more!–bringing peace to a recently liberated galaxy, and finding new troubles confronting them! With nearly six hundred pages of material, this massive omnibus collects Marvel Comics' Star Wars #86-#107, their final US-published issues!
568 pages, $24.99, in stores on Feb. 29. 

STAR WARS: AGENT OF THE EMPIRE–IRON ECLIPSE #1
John Ostrander (W), Stephane Roux (P/Cover), Julien Hugonnard-Bert (I), and Dave Wilkins (Variant cover)
The name's Cross. Jahan Cross. Move over, James Bond; there's a new secret agent in the galaxy, and he has the weight of the Empire behind him! Cross' mission takes him and his assistant IN-GA 44 to the affluent Corporate Sector. There, on the trail of stolen droid technology, they will rub elbows with diplomats and desperadoes, captains of industry and sergeants of the local police–and rub most of them the wrong way!
40 pages, $3.50, in stores on Dec. 14. 

STAR WARS: CRIMSON EMPIRE III — EMPIRE LOST #3
Mike Richardson (W), Paul Gulacy (A), Michael Bartolo (C), and Dave Dorman (Cover)
Kir Kanos strikes back at the Empire! Kidnapped and dragooned into a hard-liner Imperial plot, Kir Kanos, the last surviving member of Emperor Palpatine's royal guard, has had enough! He goes to war with one Imperial faction, even as Leia Organa Solo receives an invitation to meet with emissaries from another. Treachery layered on treachery is revealed and Kanos answers it the only way he knows how–with violence!
32 pages, $3.59, in stores on Dec. 28. 

STAR WARS: KNIGHT ERRANT–DELUGE #5
John Jackson Miller (W), David Daza (P), Sergio Abad (I), Michael Atiyeh (C), and Joe Quinones (Cover)
Final issue! Caught between a Sith and a Hutt, Jedi Knight Kerra Holt must battle both to save the billions on the planet Darkknell from being drowned by a fleet of ships with the power to flood the planet! Her plan is full-steam-ahead brute force–but her enemies are more cunning than she expected. Is this the end of Kerra Holt, the lone Jedi?
40 pages, $3.50. 

David Lapham (W), Guillero del Toro (W), Chuck Hogan (W), Mike Huddleston (A/Cover), Steve Morris (Variant cover), and Dan Jackson (C)
When a Boeing 777 lands at JFK International Airport and goes dark on the runway, the Center for Disease Control, fearing a terrorist attack, calls in Dr. Ephraim Goodweather and his team of expert biological-threat first responders. Only an elderly pawnbroker from Spanish Harlem suspects a darker purpose behind the event–an ancient threat intent on covering mankind in darkness.
32 pages, $1, in stores on Dec. 14. 

THE STRANGE CASE OF MR. HYDE TP
Cole Haddon (W), M. S. Corley (A/Cover), and Jim Campbell (C)
Sometimes good police work just isn't enough, as Inspector Thomas Adye of Scotland Yard finds out when he's assigned to the Jack the Ripper case. He'll need the guidance of imprisoned madman and amoral libertine Dr. Henry Jekyll, whose mind-splitting serum Jack might be using to commit his bloody murders. With London's two greatest monsters pitted against one another, will Adye — and his soul–survive intact? Collecting The Strange Case of Mr. Hyde #1-#4.
96 pages, $14.99, in stores on Feb. 22.