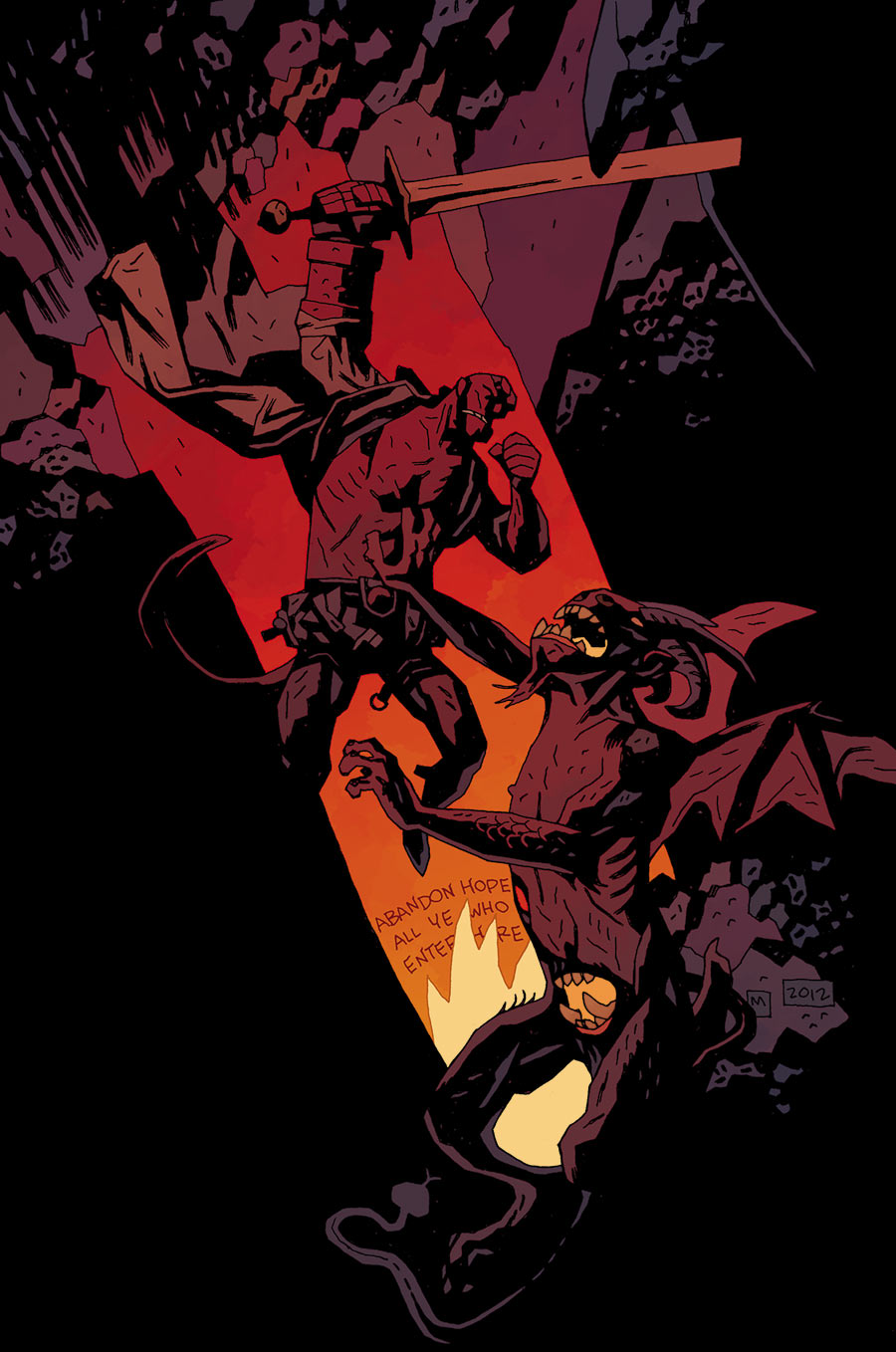 Décembre sera un mois important pour Dark Horse avec le retour de HellBoy de Mike Mignola, qui après les événements cataclysmiques de la dernière mini série « Fury » (qui était au passage incroyable), a décidé de transporter sa création en enfer ! En outre, pour l'occasion, Mignola assure le scénario ET le dessin. Une première depuis pas mal d'années, donc à ne pas rater pour le retour du maître. Toujours dans l'univers de Mignola, Dark Horse continue de publier plusieurs mini autour du BPRD, autre série excellente.
Sinon, on continue avec les univers habituels, avec notamment le Buffyverse avec la saison 9 de Buffy, Angel & Faith et les mini relative à Spike et Willow (au moins on aura du matos à se mettre sous la dent !).
A noter aussi la poursuite de la série de Brian Wood The Massive, ou la conclusion de la mini-série de Michael Avon Oeming Victories.
THE ADVENTURES OF SUPERHERO GIRL HC
Faith Erin Hicks (W/A/Cover) and Cris Peter (C)
On sale Feb 27FC
FC, 112 pages
$16.99
HC, 10 13/16" x 6 5/8"
What if you can leap tall buildings and defeat alien monsters with your bare hands, but you buy your capes at secondhand stores and have a weakness for kittens? Cartoonist Faith Erin Hicks brings charming humor to the trials and tribulations of a young, female superhero, battling monsters both supernatural and mundane in an all-too-ordinary world.
• A lighthearted twist on the superhero genre!
ALABASTER: WOLVES HC
Caitlín R. Kiernan (W), Steve Lieber (A), Rachelle Rosenberg (C), and Greg Ruth (Cover)
On sale Feb 13FC
FC, 136 pages
$19.99
HC, 6 5/8″ x 10 3/16″
Dancy Flammarion may look like a frail teenage girl, but her journey through the swamps and byways of the American South brings her into battle with werewolves, monsters, and grotesque secrets, armed only with a knife and a mission to destroy the deadly creatures that lurk in shadow. Collects the five-issue miniseries.
« It's gentle and horrific and apocalyptic all at once.  Good writing. Good pencil and ink work. Good colors. That's a good comic. » —Comics Alliance
ALICE IN WONDERLAND HC
Rod Espinosa (W/A)
On sale Feb 6FC
FC, 128 pages
$19.99
HC, 6 5/8" x 10 3/16"
The curious Alice follows a flustered white rabbit to a magical land of talking animals, evil queens, and enough riddles to strain any logically inclined brain.
It's all here: a hookah-smoking caterpillar, a mad hatter, potions to drink, cookies to eat, and a Cheshire cat. Alice discovers that Wonderland may be a fascinating place to visit, but you don't want to live there . . .
• Eisner and Ignatz Award-nominated Rod Espinosa adapts Lewis Carroll's Alice!
ANGEL & FAITH #17
Christos Gage (W), Rebekah Isaacs (A/Variant cover), Dan Jackson (C), and Steve Morris (Cover)
On sale Dec 19FC
FC, 32 pages
$2.99
Ongoing
Longtime nemesis Ethan Rayne has set the final piece of Giles's soul practically in Angel's lap. To complicate things further, the loss of a Slayer has sent Nadira and her group into the fray with their sights set on Angel now more than ever!
• Coincides with events in Buffy Season 9.
« Everything is solid, the characters voices feel and sound true, Rebekah Isaacs does a phenomenal job and Christos Gage's writing just keeps getting better. This really was a great read and I can't wait for the next issue! » —BAMFAS
Timed with the new game!

THE ART OF BIOSHOCK INFINITE HC
Ken Levine (W) and Nate Wells (W)
On sale Feb 27FC
FC, 184 pages
$39.99
HC, 9" x 12"
In The Art of BioShock Infinite, delve deeper into the city of Columbia—the fabled floating metropolis that serves as a beacon of technology and achievement for the early 1900s! This deluxe hardcover features production designs and concept illustrations focusing on main characters Booker DeWitt, Elizabeth, and Songbird from the BioShock Infinite video game. See the evolution of Sky-Hooks, Heavy Hitters, the populace of Columbia, Vigors, airships, and much more!
• BioShock Infinite won over 75 video game awards, including Best Original Game and Best of Show!
• Introduction by creative director Ken Levine.
AVATAR: THE LAST AIRBENDER—THE PROMISE LIBRARY EDITION HC
Gene Luen Yang (W), Michael Dante DiMartino (W), Bryan Konietzko (W), and Gurihiru (A/Cover)
On sale Feb 20FC
FC, 240 pages
$39.99
HC, 9" x 12"
The Avatar's adventures continue right where the TV series left off, in this beautiful oversized hardcover of The Promise, from Airbender creators Michael Dante DiMartino and Bryan Konietzko and Eisner and Harvey Award winner Gene Luen Yang!
Aang and friends must join together once again as the four nations' tenuous peace is threatened in an impasse between Fire Lord Zuko and Earth King Kuei! As the world heads toward another devastating war, Aang's friendship with Zuko throws him into the middle of the conflict! Collects Avatar: The Last Airbender—The Promise Parts 1–3, plus a brand-new sketchbook.
• Combined, Avatar: The Art of the Animated Series and Avatar: The Lost Adventures have sold over 30 thousand copies.
BILLY THE KID'S OLD TIMEY ODDITIES AND THE ORM OF LOCH NESS #3 (of 4)
Eric Powell (W), Tracy Marsh (W), Kyle Hotz (A/Cover), and Daniel Brown (C)
On sale Dec 12FC
FC, 32 pages
$3.50
Miniseries
With his deformed allies in dire straits, Billy escapes to the edge of Loch Ness and battles the Mormon brides of Dracula!
"Peppered with the humor and fantastic art that the reader has come to expect from the previous two [series], this is a page turner full of chills and excitement."—The Outhouse
BLACK BEETLE: NIGHT SHIFT #0
Francesco Francavilla (W/A/Cover)
On sale Dec 19FC
FC, 32 pages
$2.99
One-shot
When a powerful totem of dark magic shows up at the Colt City Natural History Museum, Hitler sends his fearsome Werwolf Korps to collect the piece. Unfortunately for the führer, Colt City's protector, the Black Beetle, is on the case!
From the mind of 2012 Eisner Award winner Francesco Francavilla (Batman: The Black Mirror). Collects three Dark Horse Presents stories from issues #11–#13.
• Features a brand-new cover, 24 story pages, and bonus sketch material and art!
B.P.R.D.: 1948 #3 (of 5)
Mike Mignola (W), John Arcudi (W), Max Fiumara (A), Dave Stewart (C), and Dave Johnson (Cover)
On sale Dec 19FC
FC, 32 pages
$3.50
Miniseries
Monsters are killing civilians in the Utah desert, leading Professor Bruttenholm to recall the last time a government operation cracked open reality to unleash something from another world: Project Ragna Rok.
• From Hellboy creator Mike Mignola!
B.P.R.D. HELL ON EARTH #102: THE RETURN OF THE MASTER part 5 (of 5)
Mike Mignola (W), John Arcudi (W), Tyler Crook (A), Dave Stewart (C), and Ryan Sook (Cover)
On sale Dec 19FC
FC, 32 pages
$3.50
Miniseries
Hell on Earth reaches its apex as massive devastation covers the globe and horrific monsters spew forth from the ground.
• Hell on Earth is here!
"B.P.R.D. is both the comic you need and the comic you deserve to experience."—ComicsAlliance
BROTHERS OF THE SPEAR ARCHIVES VOLUME 2 HC
Gaylord DuBois (W) and Russ Manning (A)
On sale Feb 6FC
FC, 264 pages
$49.99
HC, 7″ x 10″
The follow-up to the instantly sold-out Brothers of the Spear Volume 1 is here! With nearly 300 more pages of rare Russ Manning art, the middle third of blood brothers Natongo and Dan-El's quest to reclaim Dan-El's kingdom is a gorgeous, action-packed gem from comics' Golden Age! Collects the backup stories from Tarzan #68–#109!
• A never-before-reprinted epic from the legendary Russ Manning!
BUFFY THE VAMPIRE SLAYER SEASON 9 #16
Andrew Chambliss (W), Georges Jeanty (P/Variant cover), Dexter Vines (I), Michelle Madsen (C), and Phil Noto (Cover)
On sale Dec 12FC
FC, 32 pages
$2.99
Ongoing
Buffy takes on the zompire epidemic in San Francisco with new allies—the SFPD and Billy the Vampire Slayer! Just as Buffy finds contentment in her life, she's torn from routine battle and forced to confront an ancient demon from her former lover's past!
• Executive produced by Joss Whedon!
• The surprise return of a fan-favorite character!
BUFFY THE VAMPIRE SLAYER: SPIKE #5 (of 5)
Victor Gischler (W), Paul Lee (P), Andy Owens (I), Cris Peter (C), Jenny Frison (Cover), and Steve Morris (Variant cover)
On sale Dec 19FC
FC, 32 pages
$2.99
Miniseries
Spike and his new demon companion are getting along really well . . . On Easter Island, the duo work to activate a remnant of magic to help get Nadia home. Spike has stars in his eyes, but the bugs are wary of Spike's newest friend and their master's overly relaxed attitude. Something seems off. He's come out of his self-inflicted dark place a bit too swiftly . . .
• The conclusion!
• Coincides with events in Buffy Season 9.
BUFFY THE VAMPIRE SLAYER: WILLOW—WONDERLAND #2 (of 5)
Jeff Parker (W), Brian Ching (P), Jason Gorder (I), Michelle Madsen (C), David Mack (Cover), and Megan Lara (Variant cover)
On sale Dec 5FC
FC, 32 pages
$2.99
Miniseries
In a strange new dimension, many unexpected encounters guide Willow on the quest to return magic to her world. While she's increasingly better at keeping her darkest self at bay, her mystery companion—Marrak—encourages darkness, making Willow wary of his intentions while dependent on his knowledge of this magically abundant realm. Just how far down the path of volatile magic will she go to get what she wants? And whom might she find there?
• Coincides with events in Buffy Season 9.
THE CHRONICLES OF KING CONAN VOLUME 4: THE PRINCE IS DEAD AND OTHER STORIES TP
Alan Zelenetz (W), Marc Silvestri (P), John Buscema (P), Rudy Nebres (P/I), Ricardo Villamonte (I), Mike Gustovich (I), George Roussos (C), and Michael Kaluta (Cover)
On sale Feb 13FC
FC, 208 pages
$18.99
TP, 7″ x 10″
When reports of an ambush upon a diplomatic party led by his son reach the barbarian king, news of his son's death cuts Conan deeper than any blade. Conan's melancholy threatens to tear his kingdom apart at a time when his mighty hand is needed most. Collects King Conan #16-#20.
COLDER #2 (of 5)
Paul Tobin (W) and Juan Ferreyra (A/Cover)
On sale Dec 5FC
FC, 32 pages
$3.99
Miniseries
Declan Thomas steps into other men's insanity, fighting the horrific creatures lurking there. But a demonic presence hiding in the real world feeds on madness. And he's coming for Declan.
• From the creative team behind the Falling Skies comic!
• A new horror comic in the vein of Locke & Key and Preacher.
CONAN THE BARBARIAN #11
Brian Wood (W), Declan Shalvey (A), Dave Stewart (C), and Massimo Carnevale (Cover)
On sale Dec 12FC
FC, 32 pages
$3.50
Ongoing
Brian Wood introduces Conan to a kind of fear he's never experienced, in part two of "The Death"!
After the salvage of a derelict ship, a terrifying illness spreads swiftly throughout the Tigress, felling Bêlit and her entire crew. Healthy but fearful of losing Bêlit, Conan seeks help in a nearby town, where the welcome he recieves is just as deadly!
• From Brian Wood (Northlanders) and Declan Shalvey (Dark Avengers)!
• The most acclaimed Conan comics in years!
"Conan the Barbarian thus far has been the perfect example of how to make great comics." —Comic Book Resources
THE CREEP #4 (of 4)
John Arcudi (W) and Jonathan Case (A/Cover)
On sale Dec 12FC
FC, 32 pages
$3.50
Miniseries
The answers to Oxel's mystery unfold in the one place he never thought to look. The grisly truth that two boys died to conceal is revealed at last.
• The thrilling conclusion to John Arcudi's The Creep!
• Illustrated by Eisner Award winner Jonathan Case.
CREEPY ARCHIVES VOLUME 15 HC
Rich Margopoulos (W), Doug Moench (W), Gerry Boudreau (W), Budd Lewis (W), Don McGregor (W), Carl Wessler (W), Jeff Rovin (W), Edgar Allan Poe (W), Nathaniel Hawthorne (W), José Gual (A), Luis Bermejo (A), Bernie Wrightson (A), José Ortiz (A), Ken Kelly (A/Cover), Vincente Alcazar (A), Martin Salvador (A), Richard Corben (A), Leo Summers (A), Isidro Mones (A), and Adolfo Abellan (A)
On sale Feb 13
b&w, 248 pages
$49.99
HC, 8 3/8" x 10 7/8"
When Creepy teams up with Edgar Allan Poe, you know you're in for a terrifying treat! The latest volume includes a whopping twelve tales adapted from the founding father of short-form horror himself and features work by Richard Corben, Bernie Wrightson, Luis Bermejo, José Gual, and others! Volume 15 collects issues #69-#72 of Warren Publishing's anthology.
• A special Creepy #71 features art by Luis Bermejo and #72 features art by José Gual.
• New introduction by horror writer/actor/director Larry Fessenden!
Horror crossover of the year!

CRIMINAL MACABRE: FINAL NIGHT—THE 30 DAYS OF NIGHT CROSSOVER #1 (of 4)
Steve Niles (W), Christopher Mitten (A), Michelle Madsen (C), and Justin Erickson (Cover)
On sale Dec 12FC
FC, 32 pages
$3.99
Miniseries
In this epic crossover with IDW, Steve Niles's greatest characters come together in a final showdown.
Cal McDonald only wanted a beer, but what he got was a jaded federal agent and a story about vampires up in Barrow, Alaska. There's a new vamp in LA, and he's hell bent on escalating his attacks. When Mo'Lock's sometimes ghoul-friend is murdered, Cal's on the hunt . . . for Eben—the longtime protagonist/antagonist of 30 Days of Night.
• Dark Horse and IDW team up on this once-in-a-lifetime crossover!
• Covers by poster artist Justin Erickson (Rue Morgue).
"Fans of the horror genre really can't go wrong with [30 Days of Night]."—About.com
THE CURSE OF DRACULA HC
Marv Wolfman (W), Gene Colan (A), and Dave Stewart (C)
On sale Feb 20FC
FC, 96 pages
$14.99
HC, 7" x 10"
The Curse of Dracula is back in this deluxe new hardcover edition! A mysterious, charismatic figure is moving amongst the circles of San Francisco's political elite. When Jonathan Van Helsing and his team of vampire hunters come to town investigating a string of grisly murders, they know it's only a matter of time before they come face to face with the master of the dark!
• Previously unseen sketches by the legendary Gene Colan!
DARK HORSE PRESENTS #19
Duane Swierczynski (W), Matt Kindt (W/A), Phil Stanford (W), Peter Hogan (W), Joshua Williamson (W), Ulises Farinas (W/A), Erick Freitas (W), Frank J. Barbiere (W), Gabriel Hardman (W/A), Corrina Bechko (W), Caitlín R. Kiernan (W), Michael T. Gilbert (W/A), Eric Nguyen (A), Patric Reynolds (A), Steve Parkhouse (A), Victor Ibáñez (A), Luke Radl (A), Steve Lieber (A), and Raymond Swanland (Cover)
On sale Dec 19FC
FC, 80 pages
$7.99
Ongoing
Get a taste of Matt Kindt's critically acclaimed series MIND MGMT, and see San Francisco under assault by giant monsters in Gabriel Hardman and Corrina Bechko's Station to Station!
• Return of X by Duane Swierezynski (Birds of Prey, Bloodshot) and Eric Nguyen.
• Eisner Award-winning anthology!
"The new series of Dark Horse Presents has demonstrated that quality with every issue, hosting an eclectic mix of veteran creators and new talent alike, with content ranging from brand new short stories and idiosyncratic serials to the return of cult favorite characters and properties. »—ComicsAlliance
DOMO 2" QEE SERIES 5 DISPLAY CASE
On sale March 20
15-figure counter display
$134.85
Dark Horse is proud to bring you an exciting new series of creative designs for our little pal Domo, who continues to enjoy the Qee treatment from our collaborators at Hong Kong's Toy2R.
Their popular 2" Qee minifigures, appearing in stores and galleries worldwide, have proven to be a great fit for this character, and collectors and retailers seem to just want more.
As before, chase figures are being produced with common figures. There will be a total of fifteen different versions, with varied levels of scarcity.
Heaven goes to Hell!

EMPOWERED SPECIAL #3: HELL BENT OR HEAVEN SENT
Adam Warren (W/P/Cover) and Ryan Kinnaird (P/I/Cover)
On sale Dec 19
b&w, 32 pages
$3.99
One-shot
Costumed crime fighter Empowered makes an ill-fated visit to a top-secret dumping ground for ultratech « superdebris » and wrecked « villainware » left over from cape-on-cape battle. Can Emp and her hapless teammate, Mechanismo, avoid annihilation when the junkyard nano spawns an apocalyptic cheesecake plague of flirty but lethal « cyberangels » and sensual but savage « devil mecha"?
• 30 story pages!
EX SANGUINE #3 (of 5)
Tim Seeley (W/A/Cover), Joshua Scott Emmons (W), and Carlos Badilla (C)
On sale Dec 12FC
FC, 32 pages
$3.99
Miniseries
Saul can't handle Ashley's infectious joy over killing, not since he lost his ages ago. But when he tries to end their romance, innocent people die.
• From Hack/Slash's Tim Seeley!
GHOST #3
Kelly Sue DeConnick (W) and Phil Noto (A/C/Cover)
On sale Dec 5FC
FC, 32 pages
$2.99
Miniseries
Ghost finally discovers her true name and identity! As they investigate the mysterious disappearances surrounding a crystal-powered box, Ghost and her accomplices, Vaughn and Tommy, uncover a shocking conspiracy that stretches deep into Chicago's history of political corruption. The stage is set for Ghost's confrontation with the demonic mastermind who pulls all the strings—if Doctor October doesn't get to her first!
• Kelly Sue DeConnick (Captain Marvel, Avenging Spider-Man) revives one of Dark Horse's most popular characters.
GHOST OMNIBUS VOLUME 4 TP
Chris Warner (W), Mike Kennedy (W), Christian Zanier (P), Ryan Benjamin (P/I), Chris Brunner (P/I), Steve Moncuse (I), Chris Chalenor (C), Dan Jackson (C), Digital Broome (C), and Den Beauvais (Cover)
On sale Feb 27FC
FC, 280 pages
$24.99
TP, 6" x 9"
After what seems like a lifetime trying to reconstruct the events that led to her death, Ghost finally nears the white-hot core of the truth. But like pieces of a broken window, the shards of the past can be dangerous and razor-sharp, and sometimes the truth goes deeper than anyone would want. And for the Spectral Avenger, a past revealed may mean a future destroyed.
• Ghost's origin saga.
THE GOON #45
Eric Powell (W/A/Cover)
On sale Dec 19FC
FC, 32 pages
$3.50
Ongoing
You want to know what Christmas is all about, Charlie Brown? Well, I'll tell ya! It's about a long-tongued devil snatching you in the night and beating you with bundles of switches! Ho! Ho! Ho! It's the Goon versus the Krampus!
• Christmas nightmares, Goon style!
"The Goon is one of the strangest and best comics you can be reading." – Comics Grinder
THE GOON VOLUME 12: THEM THAT RAISED US LAMENT TP
Eric Powell (W/A/Cover) and Dave Stewart (C)
On sale Feb 27FC
FC, 120 pages
$16.99
TP, 7" x 10"
Zombie rockabillies, superheroes with hilarious gay abandon, and the tragicomedy of carny folk are just a few bizarre tales in this new Goon collection from Dark Horse Comics! See why Eric Powell has won the Eisner Award for Best Humor Publication and Best Ongoing Series! This volume collects The Goon #38-#41.
• New cover by Eric Powell.
Death was only the beginning!

HELLBOY IN HELL #1
Mike Mignola (W/A/Cover/Variant cover) and Dave Stewart (C)
On sale Dec 5FC
FC, 32 pages
$2.99
Ongoing
After saving the world in The Storm and The Fury, but sacrificing himself and Great Britain, Hellboy is dead, cast into Hell, where he finds many familiar faces, and a throne that awaits him.
Mike Mignola returns to draw Hellboy's ongoing story for the first time since Conqueror Worm. It's a story only Mignola could tell, as more of Hellboy's secrets are at last revealed, in the most bizarre depiction of Hell you've ever seen.
• Mike Mignola writes and draws the next phase of Hellboy's story.
• Dark Horse horror gets under your skin!
HIROAKI SAMURA'S EMERALD AND OTHER STORIES TP
Hiroaki Samura (W/A)
On sale Feb 6
b&w, 224 pages
$12.99
TP, 5 1/8″ x 7 1/4″
Hiroaki Samura's Emerald and Other Stories collects seven powerful short pieces from the manga maestro that have appeared in various Japanese magazines. In "Emerald," Samura tells his first explosive adventure set in the Wild West, and a series of humorous vignettes about two motor-mouthed teen girls is woven through several other riveting tales. A masterful storyteller bounces around genres and time periods in this unique collection!
• A perfect companion to Samura's Ohikkoshi collection!
• Hiroaki Samura is the winner of Japan's Media Arts Award, an Eisner Award, and three British Eagle Awards!
• Presented in English for the first time!
THE HOUND OF THE BASKERVILLES HC
Martin Powell (W), Sir Arthur Conan Doyle (W), and Jamie Chase (A/C)
On sale Feb 20FC
FC, 64 pages
$12.99
HC, 6 5/8" x 10 3/16"
The greatest detective of all time investigates the seemingly supernatural in this adaptation of Sir Arthur Conan Doyle's classic novel The Hound of the Baskervilles. Martin Powell and Jamie Chase blend modern comics, classic detective fiction, and the adventurous sensibilities of the pulp novel into a delectable Sherlock Holmes mystery that appeals to new readers and old fans alike—an "elementary" addition to any comics library!
• A classic Sherlock Holmes mystery!
HOUSE OF FUN
Evan Dorkin (W/A/Cover) and Sarah Dyer (C)
On sale Dec 5FC
FC, 32 pages
$3.50
One-shot
Evan Dorkin's sick and twisted sense of humor unleashes itself with a new Murder Family episode, multiple pages of Fun gag strips, and the return of The Eltingville Comic Book, Science Fiction, Fantasy, Horror, and Role-Playing Club, and new Milk and Cheese strips. Collecting stories from Dark Horse Presents #10-#12.
• Eisner and Harvey winner Evan Dorkin (Superman: The Animated Series, Beasts of Burden)!
• A must for Milk and Cheese fans and new readers!
"I adore what Evan Dorkin does. I think he's the funniest guy in comics." —Frank Miller
"Dorkin is a powerful man, and this is powerful stuff." —Bryan Lee O'Malley
KING CONAN: THE PHOENIX ON THE SWORD TP
Timothy Truman (W), Tomás Giorello (A), José Villarrubia (C), and Andrew Robinson (Cover)
On sale Feb 20FC
FC, 96 pages
$14.99
TP, 7" x 10"
King Conan is beset on all sides by scheming politicians plotting his demise! But the conspirators have chosen the wrong ally in Thoth-Amon. The barbarian king will need more than a strong arm and a sturdy ax to face the horrors at his chamber door!
• Timothy Truman, Tomás Giorello, and José Villarrubia adapt the classic Robert E. Howard adventure.
THE MANARA LIBRARY VOLUME 4 HC
Milo Manara (W/A)
On sale Feb 13
b&w, 224 pages
$59.99
HC, 8 3/8" x 10 7/8"
Travel the world of adventure with Milo Manara's most beloved character, Giuseppe Bergman! Revered for his peerless draftsmanship, Manara is also a wily satirist, and his Bergman tales are hilarious send-ups of adventure comics. Longing to escape his boring life, Bergman joins the mysterious H. P. (a loving caricature of Manara's mentor Hugo Pratt) on a bizarre, televised adventure for which he proves laughably unprepared. Also featuring Bergman's subsequent escapades though India, this volume is an essential addition to the Manara Library!
• Translated by Eurocomics expert Kim Thompson.
• Winner of the 2012 Eisner Award for Best U.S. Edition of International Material!
THE MASSIVE #7
Brian Wood (W), Garry Brown (A), Dave Stewart (C), J. P. Leon (Cover)
On sale Dec 12FC
FC, 32 pages
$3.50
Ongoing
The Kapital stumbles upon a newly declared sovereign nation—a community of hundreds living on oil platforms with dreams of forming a new utopia. With the world's governments and economies in shambles in the post-Crash world, is this new "country" the hope for the future that Callum Israel and Ninth Wave are looking for? Or is it the divisive issue that'll bring his crew to their breaking point?
• The beginning of a new arc!
• From New York Times bestselling author Brian Wood.
Cocreator of Powers!

MICHAEL AVON OEMING'S THE VICTORIES #5 (of 5)
Michael Avon Oeming (W/A/Cover) and Nick Filardi (C)
On sale Dec 12FC
FC, 32 pages
$3.99
Miniseries
In this epic conclusion to The Victories, Faustus is in jail and only one person is willing to help . . . the Jackal. Will Faustus get revenge against his former master, the Mark? And can the Jackal fulfill his promise to turn Faustus into a killer?
• The most shocking antiheroes since Hobo with a Shotgun!
NUMBER 13 #1
Robert Love (W/A/Cover), David Walker (W), Dana Shukartsi (I), and Brennan Wagner (C)
On sale Dec 19FC
FC, 32 pages
$3.99
Miniseries
The young bionic amnesiac known as Number 13 searches for answers and his creator, in a future world that's been brought to its knees by the vicious Monstrum Morbus plague. Weakened by his last explosive encounter, Number 13 is discovered by a group of curious, scavenging mutants who have banded together for survival. They dub him "Thirteen" and invite him to join their group—and one of them knows exactly what horrible purpose he was built for!
• From the pages of Dark Horse Presents!
ORCHID #12
Tom Morello (W), Scott Hepburn (A), Dan Jackson (C), and Massimo Carnevale (Cover)
On sale Dec 12FC
FC, 32 pages
$3.50
Ongoing
The fight for freedom ends here!
Will the downtrodden Bridge People find the strength to succeed in their uprising against the oppressive elite? Will Orchid rally her vicious Valks to victory over the fascist dictator Tomo Wolfe? Answers to these questions and more in the stunning conclusion to Tom Morello's fantastical science-fiction class-war epic!
• Free musical score with every issue!
• Tom Morello writes the final installment!
REX MUNDI OMNIBUS VOLUME 2 TP
Arvid Nelson (W) and Juan Ferreyra (A/Cover)
On sale Feb 6FC
FC, 600 pages
$24.99
TP, 6″ x 9″
Dr. Julien Saunière's quest to catch his friend's murderer concludes with the discovery of a secret society dedicated to protecting the mystery of the Holy Grail. Now in pursuit of the Grail, Julien has been betrayed by his lover and hunted by the Inquisition, and witnessed slaughters and miracles in a wild mountain valley owned by the power-mad Duke of Lorraine. Collects Rex Mundi Volumes 4–6.
• Includes the all-new story from Dark Horse Presents!
• Murder, mystery, heresy, and the occult!
RESIDENT ALIEN VOLUME 1: WELCOME TO EARTH! TP
Peter Hogan (W), Steve Parkhouse (P/A/Cover)
On sale Feb 27 FC
FC, 96 pages
$14.99
TP, 7" x 10"
A stranded alien seeks refuge in the small town of Patience, USA, where he hides undercover as a retired doctor. All the alien wants is to be left alone until he's rescued. However, when the town's real doctor dies, "Dr. Harry" is pulled into medical service—and finds himself smack dab in the middle of a murder mystery! Collects issues #0-#3 of the miniseries.
• From the writer of Tom Strong and the artist for Alan Moore's The Bojeffries Saga!
R.I.P.D.: CITY OF THE DAMNED #2 (of 4)
Peter Lenkov (W), Jeremy Barlow (W), Tony Parker (A), and Dave Wilkins (Cover)
On sale Dec 19FC
FC, 32 pages
$3.50
Miniseries
There's something sinister living underneath the town of Black Pool. While no one can find Black Pool on any map, its strange energy has attracted the Rest In Peace Department's attention. Newly minted officer Roy Pulsipher hopes the answer to Black Pool's riddle holds the key to solving his own murder, but what he finds instead is a gospel of madness and terror!
• Prequel to the upcoming feature film starring Ryan Reynolds and Jeff Bridges!
ROTTEN APPLE 
Chuck Brown (W), Sanford Greene (P/I/Cover), and Tyson Hesse (C)
On sale Dec 19FC
FC, 40 pages
$2.99
One-shot
In the crumbling, chaotic city now known as Rotten Apple, San Gee is hired by religious fanatics to find a lost, sacred artifact called the Bleeding Rock—but other strange sell-swords are also on the hunt for the priceless relic! Collects stories from Dark Horse Presents #2-#5.
• A manic, Cannonball Run-style race for a mystical relic by Sanford Greene!
STAR WARS: AGENT OF THE EMPIRE—HARD TARGETS #3 (of 5)
John Ostrander (W), Davidé Fabbri (P), Christian Dalla Vecchia (I), Wes Dzioba (C), and Stéphane Roux (Cover)
On sale Dec 19FC
FC, 32 pages
$2.99
Miniseries
A young boy—the heir to the title of Count Dooku—is kidnapped, and it's Jahan Cross to the rescue!
When the kidnapper turns out to be a sexy female spy with whom Cross has worked before, and when her motives turn out to have the boy's welfare at heart, Cross is faced with a decision: should he disobey his own orders from the Empire?
But first there's a little matter of breaking out of a supposedly inescapable prison . . .
STAR WARS: DAWN OF THE JEDI—THE PRISONER OF BOGAN #2 (of 5)
John Ostrander (W), Jan Duursema (P), Dan Parsons (I), Wes Dzioba (C), and David Michael Beck (Cover)
On sale Dec 19FC
FC, 32 pages
$2.99
Miniseries
As the Je'daii study the amazing Forcesaber of the banished Xesh, word spreads that he and his fellow prisoner on Bogan, Daegen Lok, have escaped the dark moon! The three young Je'daii who first encountered Xesh are teamed with Je'daii Masters to locate the prisoners and return them to Bogan . . . and prevent them from bringing about the mad vision that Lok has obsessively held to during his years of banishment . . .
• Chronicles the origins of the Jedi!
STAR WARS: LOST TRIBE OF THE SITH—SPIRAL #5 (of 5)
John Jackson Miller (W), Andrea Mutti (P), Pierluigi Baldassini (I), Michael Heisler (C), and Paul Renaud (Cover)
On sale Dec 12FC
FC, 32 pages
$2.99
Miniseries
Lord Dreypa's Leviathans continue their destruction of the lost tribe of Sith, searching in vain for an ancient, well-hidden Jedi starship. Beating Dreypa to the ship, a Sith rebel finds himself on the cusp of attaining his dreams—destruction of the tribe and discovery of a way to reach the galaxy. But there could be something that would cause him to have a change of heart, and Lord Dreypa could have found it!
• The final action-packed issue!
• Sequel to the best-selling e-books.
STAR WARS OMNIBUS: INFINITIES TP
Chris Warner (W), Dave Land (W), Adam Gallardo (W), Ryan Benjamin (P/I), Davidé Fabbri (P), Drew Johnson (P), Juvaun Kirby (P), Dan Norton (P), Al Rio (P), Saleem Crawford (I), Christian Dalla Vecchia (I), Neil Nelson (I), Ray Snyder (I), Helen Bach (C), Joel Benjamin (C), Dan Jackson (C), and Dave McCaig (C)
On sale Feb 13FC
FC, 280 pages
$24.99
TP, 6" x 9"
Collected here are three different tales where one thing happens differently than it did in the original trilogy of Star Wars films. The familiar players—Luke Skywalker, Princess Leia, Han Solo, and Darth Vader—are launched onto new trajectories that send them toward dire consequences and unexpected futures! Collects Star Wars: Infinities—A New Hope; The Empire Strikes Back; and Return of the Jedi.
Darth Vader brings terror to the Jedi!

STAR WARS: PURGE—THE TYRANT'S FIST #1 (of 2)
Alexander Freed (W), Marco Castiello (P/I), Andrea Chella (P/I), Michael Atiyeh (C), and Dan Scott (Cover)
On sale Dec 5FC
FC, 32 pages
$3.50
Miniseries
Shortly after the birth of the Empire, Darth Vader master of combat, terror of his enemies, continues his purge of the Jedi Knights on a planet where his Jedi prey are revered. Amidst a planetwide insurgency, the Dark Lord must snuff out one surviving Jedi, as well as kill the fire of rebellion in the native populace. All will bow to the power of Vader and the Galactic Empire!
• Alexander Freed of The Old Republic writes Darth Vader!
• Follows the events of Revenge of the Sith.
THE STRAIN #9
David Lapham (W), Mike Huddleston (A), Dan Jackson (C), and E. M. Gist (Cover)
On sale Dec 12FC
FC, 32 pages
$3.50
Ongoing
Due to the machinations of a vast conspiracy, convincing the world that there's a vampiric epidemic spreading across Manhattan has been impossible for the CDC's Dr. Ephraim Goodweather. However, video footage of these vicious beasts—proof of their horrifying existence—might be the first step in turning the tide against the wave of bloodthirsty vamps set to drown the Big Apple.
• Adapts the Strain Trilogy from director Guillermo del Toro and Chuck Hogan!