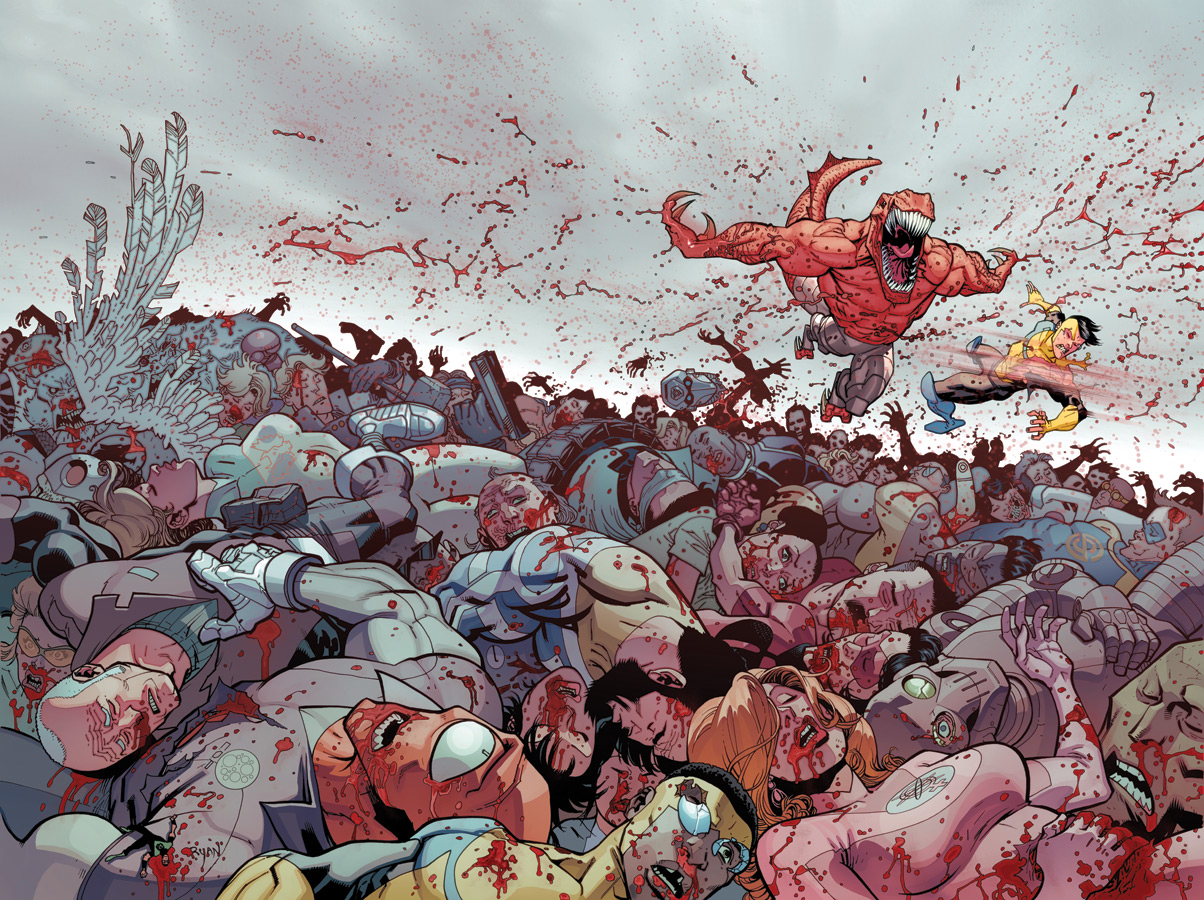 Un mois de janvier très spécial pour Image avec la sortie du tant attendu épisode 100 d'Invincible, qui reste pour moi la meilleure série super-héroïque de ces dernières années. On peut saluer la performance étant donné le peu de séries qui parviennent à ce chiffre historique ! pour les grands éditeurs c'est encore plus rare vu qu'ils relancent leurs séries à peine lancées. D'ailleurs Kirkman n'a pas hésité à sortir toute une série de teasers pour bien nous vendre l'épisode et pour l'occasion l'auteur nous ressort les bonnes vieilles méthodes marketing avec pas moins 8 variant-covers. A noter aussi la sortie du 17e TPB d'Invincible.
Comme d'habitude Image nous sort plusieurs nouveautés en ce mois de janvier, plus nos séries préférées habituelles : Chew, Revival, Guarding the Globe, Manhattan Projects, Mind the Gap, la fin de Point of Impact, Saga, Super Dinosaur, Whispers,…
INVINCIBLE #100 – GEM OF THE MONTH
story ROBERT KIRKMAN
art RYAN OTTLEY & JOHN RAUCH
cover A RYAN OTTLEY
cover B CORY WALKER
cover C MARC SILVESTRI
cover D BRYAN HITCH
cover E ARTHUR ADAMS
cover F CHARLIE ADLARD
cover G (WRAPAROUND) RYAN OTTLEY
cover H (1-in-100 B/W WRAPAROUND) RYAN OTTLEY
JANUARY 23
48 PAGES / FC / T+
$3.99
10th ANNIVERSARY LANDMARK 100 th ISSUE SPECTACULAR!
THE DEATH OF EVERYONE: CONCLUSION! It's all been building to this. Mark Grayson's entire life as a superhero, all he's learned, all he's endured, it's all been leading to this one moment. Will he become the hero he was meant to or will he choose… a DIFFERENT path? The aftermath of this EXTRA-SIZED issue will shock you.
INVINCIBLE #100 CHROMIUM EDITION
story ROBERT KIRKMAN
art / cover RYAN OTTLEY & JOHN RAUCH
JANUARY 23
48 PAGES / FC / T+
$9.99
CHROMIUM EDITION of the LANDMARK 100 th ISSUE SPECTACULAR!
ONE TRICK RIP-OFF / DEEP-CUTS HC – GEM OF THE MONTH
story PAUL POPE
art / cover  PAUL POPE
JANUARY 16
288 PAGES / FC / T+
$29.99 US
Young lovers Tubby and Vim want to escape – escape the mistakes they've made, the lives they've lived, and the dirty city weighing them down. Their plan is simple –all they have to do is rip-off Tubby's pals, the One Tricks – the toughest street gang in LA.
If they pull it off, they're set for life. If not, their lives won't matter much anyway.
What was going to be a smooth, straight-forward heist becomes a fast-paced battle to the death.
From Eisner Award-winning writer/artist PAUL POPE (Batman: Year 100, THB, Heavy Liquid, 100%) and presented for the first time in color by JAMIE GRANT (All-Star Superman). ONE TRICK RIP-OFF/DEEP-CUTS is 288 pages of raw power, of which over 150 pages are comprised of new, rare, and never before seen stories created during POPE's time traveling the world in the '90s.
Included in the « Deep Cuts » section is a bounty of unpublished and rare work POPE did in the '90s, including the legendary « Supertrouble » manga, created for Kodansha in Japan, appearing here in print for the first time.
It's a tour de force of pure, kinetic storytelling that will keep your eyes peeled until the very last page.
DIAS DE LAS MUERTAS #1 (of 3)
story ALEX LINK, CHRISTOPHER LONG, DIRK MANNING
art / cover RILEY ROSSMO
JANUARY 9
40 PAGES / FC / M
GOLDEN AGE FORMAT
$4.99
Inspired by the Mexican Day of the Dead, artist extraordinaire, RILEY ROSSMO (DEBRIS, GREEN WAKE, COWBOY NINJA VIKING, REBEL BLOOD) joins forces with nine different writers over three issues to tell tall tales from beyond the grave!
This issue's writers are ALEX LINK (REBEL BLOOD), CHRISTOPHER LONG (X-Men Unlimited, Hiding In Time, Easy Way) and DIRK MANNING (NIGHTMARE WORLD, Write or Wrong). Future issues will feature stories by ED BRISSON (COMEBACK), ALEX GRECIAN (PROOF), JOE KEATINGE (HELL YEAH), JEFF MARRIOTTE (FADE TO BLACK), KURTIS WIEBE (PETER PANZERFAUST) and JOSHUA WILLIAMSON (XENOHOLICS).
In this issue: A mariachi falls in love with a woman who strongly resembles his lost love, a father is abused by a poltergeist, and a girl who's mother died when she was born visits the land of the dead in her dreams.
NOTE: Due to the special nature and size of this book and in order to maintain an on-time shipping schedule, this book will be solicited BI-MONTHLY.
THE END TIMES OF BRAM & BEN 1 (of 4)
story JAMES ASMUS & JIM FESTANTE
art REM BROO
cover JIM MAHFOOD
JANUARY 9
40 PAGES / FC / M
$2.99
What would you do if you were caught in the Biblical End Times? When Heaven raptures total bastard Bram Carlson in a "clerical error" – he's sent back and immediately uses Armageddon to his benefit! Can his anxious roommate Ben save Bram from himself – AND the gathering forces of Armageddon?
Extra-long debut issue! This apocalyptic buddy-comedy from writers JAMES ASMUS (THIEF OF THIEVES, Gambit) and JIM FESTANTE is recommended for fans of CHEW and BATTLE POPE.
REPOSSESSED #1 (of 4)
story / art / cover JM RINGUET
JANUARY 9
32 PAGES / FC /T+
$2.99
In a world where Demon possessions are commonplace it's up to a crew of overworked blue-collar repo guys to repossess the victims with old grimoires and big guns. The Dee Agency is hired by a rich NYC banker to repossess his daughter Sarah who ran away to Vegas. But the job is tougher than they expected and Demons of all sorts start popping up on the trail.
TODD, THE UGLIEST KID ON EARTH #1 (of 4)
story KEN KRISTENSEN
art / cover M.K. PERKER
JANUARY 16
32 PAGES / FC / T+
$2.99
This series, a collision of comedy, sex, and violence, follows the misadventures of America's most dysfunctional family as they go head-to-severed head with an Oprah-loving ax murderer, a cult-crazy soap opera star, and a neo-Nazi prison gang.
First issue: Todd wants desperately to make friends, but every kid he approaches winds up decapitated. Or worse. Meanwhile, Todd's mother is on a mission to get even with her husband who she believes is having an affair.
CHEW #31
story JOHN LAYMAN
art & cover ROB GUILLORY
JANUARY 23
32 PAGES / FC / M
$2.99
The second half of CHEW starts here. With a funeral.
HELL YEAH #6 (RES)
story JOE KEATINGE
art ANDRE SZYMANOWICZ & FABIO REDIVO
cover RICKEN
JANUARY 16
32 PAGES / FC / T+
$3.50
« THE LOST SUPER-VILLAINS OF MARS, » Part One
ALL-NEW STORYLINE! ALL-NEW COVER ARTIST! SAME MULTIVERSE-SHATTERING ACTION!
Twenty-five years ago Earth's first superheroes appeared, but no one knew about the villains. They've been hiding, waiting, planning and all these years later, they're coming.
From Mars.
PLUS: HELL YEAH is packed to the brim with even more backup stories than ever before, featuring the most exciting up-and-coming talent today, including another exciting installment of TIGER LAWYER! No interior ads – HELL YEAH is all-comics, all the time!
HOAX HUNTERS #6
story MICHAEL MORECI & STEVE SEELEY
art AXEL MEDELLIN
cover JENNY FRISON
JANUARY 16
32 PAGES / FC / T +
$2.99
"HAUNCHYVILLE"
At Reality Con, the Hoax Hunters cross paths with the Hoax Hunters Hunters and are issued a challenge: Disprove the legend of the Haunchyville gnomes and their albino king! The start of an all new arc!
IT GIRL & THE ATOMICS #6
story JAMIE S. RICH
art CHYNNA CLUGSTON FLORES
cover MICHAEL & LAURA ALLRED
JANUARY 23
32 PAGES / FC / E
$2.99
"HIS SPACE HOLIDAY"
It's a solo Mr. Gum adventure! The rubbery Atomic has the day off on a distant planet. He's met a cute alien girl and is about to get a glimpse of the local wildlife. Prepare for giant space-monster action with guest art by Blue Monday creator CHYNNA CLUGSTON FLORES!
REVIVAL #6
story TIM SEELEY
art MIKE NORTON
cover by JENNY FRISON
JANUARY 23
32 PAGES / FC / T+
$2.99
A great jumping on point for new readers.
Dana investigates the murder of a prominent psychologist who specialized in coping with returned love ones. Cooper gets a visitor. And May Tao visits the hopsital.
THINK TANK MILITARY DOSSIER #1
story MATT HAWKINS
art RAHSAN EKEDAL
cover RAHSAN EKEDAL & BRIAN REBER
JANUARY 2
32 PAGES / BW / T+
$3.99
Get an exclusive behind the scenes look into the process of the hottest new title form Minotaur Press! Hack into the classified personnel files of slacker genius Dr. David Loren and all the other characters you know and love from behind the concrete barricades of a DARPA contracted Think Tank! School yourself on the extended "Science Class" that further explores the real world science behind the Reaper drones, guided bullets, and much, much more never-before-seen tech! Cheaper than tuition to Cal Tech, it's like breaking into a black box, but more fun.
TOM JUDGE: THE GEOMETRY OF HELL (ONE –SHOT)
story PHIL SMITH
art KALMAN ANDRASOVSKY
cover MICHAEL BROUSSARD
JANUARY 30
32 PAGES / FC / T+
$3.99
Rapture bearer Tom Judge is trapped in Hell. The only problem? He's forgotten where he is. It will be up to Tom's partner and numeromacer Tilly Grimes to save Tom from Hell. Perfect for the casual reader and the devoted fan of the Top Cow universe, this standalone one-shot reveals the never before told story of how Tom Judge first acquired his doomed burden to keep the universe in balance.
THE ACTIVITY, VOL. 2 TP
story NATHAN EDMONDSON
art / cover MITCH GERADS (guest issue MARC LAMING)
JANUARY 9
168 PAGES / FC / T
$15.99
Collecting the hit Special Ops thriller that Fanboy Comics calls « a realistic story about the teams that protect us, without us ever knowing it. »  Follow Team Omaha from Uzbekistan to Somalia to Minneapolis on their globe-trotting, high-octane and high-tech execution of WARFARE WITHOUT WARNING.
Collects THE ACTIVITY #6-12
BOMB QUEEN DELUXE EDITION, VOL. 1 HC
story / art / cover JIMMIE ROBINSON
JANUARY 23
256 PAGES / FC / M+
$24.99
The definitive, remastered, oversize edition of one of the most outrageous comics of the 21st century! This special, super-deluxe hardcover features the first eight BOMB QUEEN comics, the first one-shot BOMB QUEEN special, plus behind the scenes features, stories and extras! For the discriminating ADULT reader (WARNING: hide it from yer mom!).
Collects BOMB QUEEN: ROYAL FLUSH #1-4, BOMB QUEEN II: QUEEN OF HEARTS #1-4 and BOMB QUEEN VS. BLACKLIGHT: CAT FIGHT (one-shot)
ELEPHANTMEN, VOL. 5: DEVILISH FUNCTIONS TP
story RICHARD STARKINGS
art AXEL MEDELLIN & SHAKY KANE
cover BOO COOK
JANUARY 2
312 PAGES / FC / M
$24.99
Collects MAN AND ELEPHANTMAN (including the sold out one-shot and the highly sought after issue by THE BULLETPROOF COFFIN's Shaky Kane) and THE KILLING SEASON, ELEPHANTMEN, VOL. 5 is packed with extras, including art by J. SCOTT CAMPBELL and the shocking « strip » from CBLDF LIBERTY ANNUAL 2011 by RICHARD STARKINGS and SHAKY KANE.
Collects MAN AND ELEPHANTMAN and ELEPHANTMEN #31-33 and #36-39
HAUNT IMMORTAL EDITION BOOK 2 HC
story ROBERT KIRKMAN & JOE CASEY
art GREG CAPULLO, TODD McFARLANE, NATHAN FOX, JOHN LUCAS, TRAVIS SENGAUS, MR. SHELDON, JONAPTHAN GLAPION, LeBEAU UNDERWOOD & JON GOFF
cover GREG CAPULLO
JANUARY 30
360 PAGES / FC / T+
$29.99
One talented creative team passes the torch to another! HAUNT IMMORTAL EDITION BOOK 2 delivers the final installment of ROBERT KIRKMAN and GREG CAPULLO's critically acclaimed story arc, while paving the way for a new direction lead by the creative team of JOE CASEY and NATHAN FOX. Continue Daniel Kilgore's unexpected foray into espionage with help from the ghost of his brother, Kurt.  After getting the rug pulled out from under him, will Daniel be able to make sense of the nightmare he's entered into?  HAUNT IMMORTAL EDITION BOOK 2 HC includes bonus art from both creative teams, as well as a cover gallery, including alternate covers.
Collects HAUNT #13-24
INVINCIBLE, VOL. 17: WHAT'S HAPPENING TP
story ROBERT KIRKMAN
art RYAN OTTLEY, CORY WALKER & CLIFF RATHBURN
cover RYAN OTTLEY, CORY WALKER & JOHN RAUCH
JANUARY 16
144 PAGE / FC / T+
$16.99
The new Invincible will not back down, will not give in, and he is not going to play nice. What happens when Mark Grayson isn't happy with his replacement?
Collects INVINCIBLE #91-96
SPAWN: ORIGINS, VOL. 17 TP
story TODD McFARLANE & BRIAN HOLGUIN
art GREG CAPULLO & ANGEL MEDINA
cover CLAYTON CRAIN
JANUARY 23v176 PAGES / FC / T+
$14.99
In 1992, legendary writer and artist TODD McFARLANE unleashed his iconic anti-hero, Spawn, on the world. In so doing, he launched the most successful independent comic book in history – and the world would never be the same.
SPAWN: ORIGINS, VOL. 17 features the stories and artwork that helped cement the Spawn legacy. Relive the excitement of this groundbreaking series – collected in this accessibly priced format with exclusive bonus content, including cover galleries, b/w art, classic quotes and an exclusive digitally painted cover by CLAYTON CRAIN.
Collects SPAWN #99-104 – including landmark double-sized issue #100!
THE WALKING DEAD "FLAG" T-SHIRT
Show your colors while wearing this gruesome flag design featuring artwork from CHARLIE ADLARD.  Also available in women's sizes.
Men's sizes:
S-XL – $19.99
XXL – $21.99
Women's size:
S-XL – $19.99
BEDLAM #4
story NICK SPENCER
art RILEY ROSSMO
cover FRAZER IRVING
JANUARY 23
32 PAGES / FC / M
$3.50
« The Good Doctor. »
ALSO AVAILABLE:
• BEDLAM #1 NYCC Exclusive Variant Cover by – $10.00
NOTE: Limited quantities available. Allocations may occur.
BLACKACRE #2 
story DUFFY BOUDREAU
art WENDELL CAVALCANTI
cover BRIAN CHURILLA
JANUARY 2
32 PAGES / FC / M
$2.99
Hull ventures deeper into the wilds of the Hinterlands to uncover a lost comrade's fate, but a savage encounter threatens to derail everything. Back in the opulent and ultramodern city-state of BlackAcre, the aggressive designs of Sinclair, an ambitious young Guardian, come to light.
BLACK KISS II #6 (of 6)
story / art / cover HOWARD CHAYKIN
JANUARY 2
24 PAGES / BW / M+
$2.99
MINISERIES CONCLUSION
It's the early aughts, and the ascent of terrorism has created jitters of every variety…not the least of which are sensual and sexual…
…and in the new millennium, social media puts a new spin on the concept of social disease.
CHANGE #2 (of 4)
story ALES KOT
art / cover MORGAN JESKE
JANUARY 9
32 PAGES / FC / M
$2.99
Have you ever lost someone?
What if the city you lived in your entire life, the city you loved with all of your soul, the city you were inextricably connected to – what if that city was about to die, and you were the only one who could possibly keep it alive?
Sonia and W-2 will do all it takes – but the horrors tear through the walls of reality to get at them.
Dreams are crushed. New facts appear. Old alliances fall apart.
CLONE #3
story DAVID SCHULNER
art / cover JUAN JOSE RYP & FELIX SERRANO
JANUARY 9
32 PAGES / FC / T+
$2.99
Will Dr. Luke Taylor's descent into the government's most secretive project shed light on his origins? Or is he just the next in line to fall victim to his evil "brother?" In this country, not all clones are created equal…
COMEBACK #3 (of 5)
story ED BRISSON
art / cover MICHAEL WALSH
JANUARY 16
32 PAGES / FC / M
$3.50
Mark Thomas has lost Kelly, the woman he's been sent back in time to rescue. His partner Seth is MIA and his boss is demanding that Mark hunt down and kill an FBI agent in order to save RECONNECT, their illegal time travel operation.
CREATOR-OWNED HEROES #8
story / art  STEVE NILES & SCOTT MORSE, JIMMY PALMIOTTI & JUSTIN GRAY, JERRY LANDO & PAUL MOUNTS, DARWYN COOKE
cover A SCOTT MORSE
cover B AMANDA CONNER & PAUL MOUNTS
JANUARY 2
48 PAGES / FC / M
$3.99
A monthly feature featuring graphic strips and material by DARWYN COOKE, plus: "LEAPING TALL BUILDINGS: INDEPENDENT SPIRITS" a profile feature by CHRISTOPHER IRVING and SETH KUSHNER featuring JAMIE & GILBERT HERNANDEZ.
"KILL SWITCH," Conclusion
The game of death continues in it's final chapter as Kill Switch, surrounded by an army of blood thirsty assassins and dealing the last issue's betrayal, vows to hunt down and punish the person responsible no matter how long it takes!
"MEATBAG," Part Two
Potbelly Sanders is dead, deceased, expired. Now Detective DeSanto is on his own, and falling further and further into darkness. Part Two of "Meatbag" concludes with a twist of bizarre noir by SCOTT MORSE and STEVE NILES in their first CREATOR-OWNED HEROES collaboration.
Interviews, contests, art galleries, con photos, and original articles, all celebrating the creator-owned spirit.
CYBER FORCE #4
story MARC SILVESTRI & MATT HAWKINS
art KHOI PHAM & SUNNY GHO
cover MARC SILVESTRI
JANUARY 16
32 PAGES / FC / T+
FREE (A $2.99 VALUE!)
RIPCLAW UNLEASHED!
With the aid of Velocity, Ripclaw has been able to resurrect the rebel Cyber Force faction from complete obliteration at the hands of the CDI corporation. But where can you run when you are hiding in a city that is completely owned, operated, and monitored by those who want you dead most?
THE DARKNESS #111
story DAVID HINE
art & cover JEREMY HAUN
JANUARY 9
32 PAGES / FC / M
$2.99
"WRATH OF THE WITCHBLADE!"
Jackie crafted the world as he saw fit. For the longest time, nobody noticed. As master of the shadows, he knows that he must operate outside of the spotlight if he wants to get what he truly wants. But there are those who know the unbalance Jackie caused. Witchblade bearer Sara Pezzini knows what Jackie stole from her and the time has come for her to make Jackie pay.
FATALE #12
story ED BRUBAKER
art SEAN PHILLIPS & DAVE STEWART
cover SEAN PHILLIPS
JANUARY 23
32 PAGES / FC / M
$3.50
The curse of the Femme Fatale has been around long before Josephine.
Now we go back to the dark ages, to Medieval times, and the story of a young woman warrior facing unknowable horror that echoes down through time! Another standalone FATALE FLASHBACK issue, and a perfect place for new readers to jump on board!
And remember each issue of FATALE contains extra content, articles and
artwork that are not available anywhere but the printed single issues.
GLORY #32
story JOE KEATINGE
art ROSS CAMPBELL, OWEN GIENI, EMI LENOX, GREG HINKLE, SLOANE LEONG & JED DOUGHERTY
cover RICKEN
JANUARY 23
32 PAGES / FC / T+
$3.99
« WAR TORN, » Part Two
The dawn before war. Glory and her allies face inevitable death. With only hours left to live, everyone's final moments are revealed in short stories illustrated by some of the greatest new talents in comics, including OWEN GIENI, GREG HINKLE, SLOANE LEONG, JED DOUGHERTY and a very special crossover with EMI LENOX's EMITOWN!
GREAT PACIFIC #3
story JOE HARRIS
art / cover  MARTÍN MORAZZO
JANUARY 2
32 PAGES / FC / M
$2.99
"TRASHED!" Part Three
Lost and alone, surveilled from above by forces unrevealed, on the run from hostile natives out to avenge their murdered brother, and stalked from below by the monstrous octopus, Yalafath, Chas Worthington scuttles his quest to tame and settle The Pack as merely surviving becomes the hardest task of all.
GUARDING THE GLOBE #5
story PHIL HESTER
art / cover TODD NAUCK & JOHN RAUCH
JANUARY 2
32 PAGES / FC / T+
$2.99
Brit and his wife Jessica have a date night – what can go wrong? Answer: EVERYTHING! Enter: The Walking Dread! He's an unstoppable killing machine who doesn't care how long it's been since you've had a lovely evening with your wife. All this and a surprising confession from Kaboomerang that you won't believe!
HACK/SLASH #23
story TIM SEELEY
art ELENA CASAGRANDE
covers A ELIZABETH TORQUE
cover B TIM SEELEY & JORDIE BELLAIRE
JANUARY 30
32 PAGES / FC / M
$3.50
"FINAL," Part Four
The all Final Girl team has to take to the highhway to stop Black Lamp Soceity. If they don't, the insidious cult will poison an entire shipment of orange cola and turn a legion of Ig'Nant Mime Squad fans into slashers!
HAUNT #30
story JOE CASEY
art NATHAN FOX
cover NATHAN FOX
JANUARY 9
32 PAGES / FC / T+
$2.99
The mystery of Mirage is revealed!  When a cryptic message is delivered to the Kilgore brothers, their next move may end up tearing them apart!  It's brother versus brother, in a battle for their own soul!
I LOVE TROUBLE #2
story KEL SYMONS
art/cover MARK A. ROBINSON
JANUARY 2
24 PAGES / FC / M
$2.99
"FOLLOW THE BITCH"
Felicia's feeling the squeeze when she realizes she's never going to get out from under the thumb of New Orleans mobster Vincent Moreaux after he coerces her into using her new found power for his own gains.  She also receives a visit from a mysterious stranger who knows an awful lot about what she's been doing and how.
THE LEGEND OF LUTHER STRODE #2 (of 6)
story JUSTIN JORDAN
art / cover TRADD MOORE
JANUARY 9
32 PAGES / FC / M
$3.50
The trap has been sprung on Luther Strode. As he fends off the attack on his life and home, he discovers that his enemies are much more powerful than he knew, and for the first time in years, Luther Strode finds himself struggling not just to win, but to survive.
MACGYVER: FUGITIVE GAUNTLET #4 (of 5)
story LEE DAVID ZLOTOFF & TONY LEE
art WILL SLINEY & OWEN JOLLANDS
cover ANDIE TONG & CIARAN LUCAS
JANUARY 30
32 PAGES / FC / T+
$3.50
The hit comic series continues, co-written by MACGYVER creator LEE DAVID ZLOTOFF! Captured in Moscow by the Chinese secret service, MacGyver needs to escape from a locked down embassy and stop industrialist Joseph Moscone before he becomes more powerful than ever… But is this one too challenge too many?
THE MANHATTAN PROJECTS #10
story JONATHAN HICKMAN
art RYAN BROWN & JORDIE BELLAIRE
JANUARY 30
32 PAGES / FC / T+
$3.50
"FINITE OPPENHEIMERS"
An in-depth look at the first decade of the ongoing war inside Oppenheimer's brain. How far is too far behind enemy lines when the enemy is yourself?
MY GOD… IT'S FULL OF OPPENHEIMERS!
MARA #2 (of 6)
story BRIAN WOOD
art MING DOYLE & JORDIE BELLAIRE
cover MING DOYLE
JANUARY 30
32 PAGES / FC / T
$2.99
As superstar athlete Mara Prince's superpower manifestation is caught on live TV, her life rapidly starts to spiral out of control.  The media descends like vultures.  Her handlers go into spin mode.  The footage is seen around the world, and this young woman, who only hours ago was the darling of pop culture, is now being slammed and ridiculed for being a fraud and a liar.  But the more she tries to fight back, the only thing she's doing is escalating the problem.  A sci-fi take on real world superheroes by the powerhouse team of BRIAN WOOD, MING DOYLE and JORDIE BELLAIRE!
MIND THE GAP #8
story JIM McCANN
art RODIN ESQUEJO
cover A RODIN ESQUEJO
cover B SONIA OBACK
JANUARY 16
32 PAGES / FC / T+
$2.99
"WISH YOU WERE HERE," Part Three
The struggle between Katie and Elle's mind is settled, and the winner still loses, as a difficult choice must be made.  An uneasy alliance is formed to clear Dane's name as Lonnie becomes an even bigger threat.  Lives hang in the balance, and more than one person will find Death knocking on their door…
MULTIPLE WARHEADS: FROM ALPHABET TO INFINITY #4 (of 4)
by BRANDON GRAHAM
JANUARY 23
40 PAGES / FC / T+
$2.99
MINISERIES CONCLUSION
Eight extra pages of serious fantasy adventure at no extra cost!
Blue Nura chases her prey across a mass of pipes built high above the earth past a Sphinx and into a town built onto the back of a Whale.
NON-HUMANS #4 (of 4)
story GLEN BRUNSWICK
art/cover WHILCE PORTACIO
JANUARY 16
32 PAGES / FC / T+
$2.99
MINISERIES CONCLUSION
Aimes has learned a startling unpleasant truth.  And the cost of that knowledge will result in the death of someone close.  Don't fret too much – trust me when I tell you it's a great way to close this story arc!
NOWHERE MEN #3
story ERIC STEPHENSON
art NATE BELLEGARDE & JORDIE BELLAIRE
cover NATE BELLEGARDE & FONOGRAFIKS
JANUARY 23
32 PAGES / FC /T+
$2.99
Some disasters are bigger than others.
THE PERHAPANAUTS: DANGER DOWN UNDER! #3 (of 5)
story TODD DEZAGO
art / cover CRAIG ROUSSEAU
cover A CRAIG ROUSSEAU
cover B CHARLES PAUL WILSON III
JANUARY 2
32 PAGES / FC / E
$3.50
"The AUSTRALIAN ADVENTURE" Part Three
Down into a vast network of caverns below the billibongs, Big and his motley crew of a team hunt the voracious BUNYIP! Or, wait…that's not right. I mean, IT'S hunting THEM!! Plus: Choopie and Karl continue their Wild West Adventure and Molly has her hands full in Peru where the legendary EL CUERO is preying on goats…and people…and Perhapanauts!
PETER PANZERFAUST #10
story KURTIS J. WIEBE
art / cover TYLER JENKINS
JANUARY 9
32 PAGES / FC / T
$3.50
"PARIS" Conclusion
The aftermath of a dangerous rescue mission leaves the group fractured and forever changes the face of their war.
« Both magical and adventurous without needing the aid of pixie dust or giant crocodiles (not saying that throwing in the croc wouldn't be awesome though). PETER PANZERFAUST is a title that you should be checking into every month and I'm giving this issue 4 out of 5 stars. » – Major Spoilers
POINT OF IMPACT #4 (of 4)
story JAY FAERBER
art & cover KORAY KURANEL
JANUARY 9
32 PAGES / BW / M
$2.99
MINISERIES CONCLUSION
The mystery is solved! All of the questions are answered … but who will survive the fallout?
PROPHET #33
story BRANDON GRAHAM & SIMON ROY
art SIMON ROY
aover FIL BARLOW
JANUARY 23
32 PAGES / FC / T+
$3.99
The Prophet clone with the Dolemantle from issues 21-23, New Father Prophet returns to Earth. As Prophet brothers from all over the universe assemble he must prove his worth among their ranks.
SAGA #9
story BRIAN K. VAUGHAN
art / cover  FIONA STAPLES
JANUARY 16
32 PAGES / FC / M
$2.99
The Will finally has a good day.
SPAWN #227
story TODD MCFARLANE
art SZYMON KUDRANSKI
cover TODD MCFARLANE
JANUARY 9
32 PAGES / FC / T+
$2.99
« DE-PROGRAMMED, » Part Three: "The Life and Death of Jason Wynn" – Conclusion
Since his sudden awakening from a mysterious coma in the pages of SPAWN 185, Jim Downing, the world's newest Hellspawn, has been searching for his past. At every turn answers were given in the form of more questions, but his time spent looking back has come to an end.
As Jason Wynn weaves his final tale, the great manipulator will set Spawn up for something they both long for – freeing Jim of the burden of his human past, and unwittingly paving the way for a threat far greater than any imagined.
STORM DOGS #3 (of 6)
story DAVID HINE
art DOUG BRAITHWAITE & ULISES ARREOLA
cover DOUG BRAITHWAITE
JANUARY 16
32 PAGES / FC / M MATURE
$3.50
A witness to one of the murders is found, but will he survive long enough to reveal what he knows? More secrets and lies are uncovered as Cassandra Burroughs and her team dig deeper into the deadly mysteries of Amaranth.
SUPER DINOSAUR #18
story ROBERT KIRKMAN
art / cover JASON HOWARD
JANUARY 30
32 PAGES / FC/ E
$2.99
Super Dinosaur and Derek Dynamo come face to face with a new threat unlike any they've faced before. Who is TYRANNOSAURUS X?!
THIEF OF THIEVES #12
story ROBERT KIRKMAN & JAMES ASMUS
art / cover SHAWN MARTINBROUGH & FELIX SERRANO
JANUARY 2
32 PAGES / FC / T+
$2.99
Can Augustus prove to his father that he's built for a life of crime? Or will Conrad's worst fears about his son be confirmed as their plan to double-cross the cartel falls apart around them? And who is the familiar foe back on Conrad's case?
THINK TANK #5
story MATT HAWKINS
art RAHSAN EKEDAL
cover RAHSAN EKEDAL & BRIAN REBER
JANUARY 2
32 PAGES / BW / T+
$3.99
Genius slacker Dr. David Loren outsmart the government, the military, and the all of the brightest minds in science to escape the think tank he used to call his home and his job. But his tropical retreat isn't as secluded as he would hope!
THE WALKING DEAD #106
story ROBERT KIRKMAN
art / cover A CHARLIE ADLARD & CLIFF RATHBURN
cover B CHARLIE ADLARD
JANUARY 9
32 PAGES / BW / M
$2.99
REVENGE!
Plus a special variant cover by CHARLIE ADLARD, to celebrate his 100TH issue of THE WALKING DEAD!
WHERE IS JAKE ELLIS? #3 (of 5)
story NATHAN EDMONDSON
art / cover TONCI ZONJIC
JANUARY 16
32 PAGES / FC / T
$3.50
« CHAPTER EIGHT »
Jon's back is against the wall, but Jake is by his side.  The question is, what is The Facility really after – and what is Dawid willing to do to get it for them?
WHISPERS #5
story JOSHUA LUNA
art / cover JOSHUA LUNA
JANUARY 30
32 PAGES / FC / M
$2.99
Sam fights the devil.
WITCHBLADE #163
story TIM SEELEY
art DIEGO BERNARD & FRED BENES
cover A JOHN TYLER CHRISTOPHER
cover B DIEGO BERNARD & FRED BENES
JANUARY 2
32 PAGES / FC / T+
$2.99
"THE CORRUPTION CATARACT"
With Cain Jorgenson imprisoned and the Corruption Cataract agents closing in, Sara Pezzini discovers that even the Witchblade needs to ask for help when outgunned and outnumbered. Short on time and forced into an unstable alliance with the gangster Rook, Sara must take a walk on the other side of the law if she is to triumph. But can she trust that other enemies of the Corruption Cataract are truly the Witchblade's friends?
WITCH DOCTOR: MAL PRACTICE #3 (of 6)
story BRANDON SEIFERT
art / cover LUKAS KETNER
JANUARY 23
32 PAGES / FC / T
$2.99
Dr. Morrow's medical practice – diagnosing and treating supernatural diseases – has been disrupted by a mysterious force that's targeted him for unknown reasons. Now, Morrow faces his oppressor – and discovers just how much danger he's in!
"A unique combination of spine-tingling terror and medical drama." – MTV