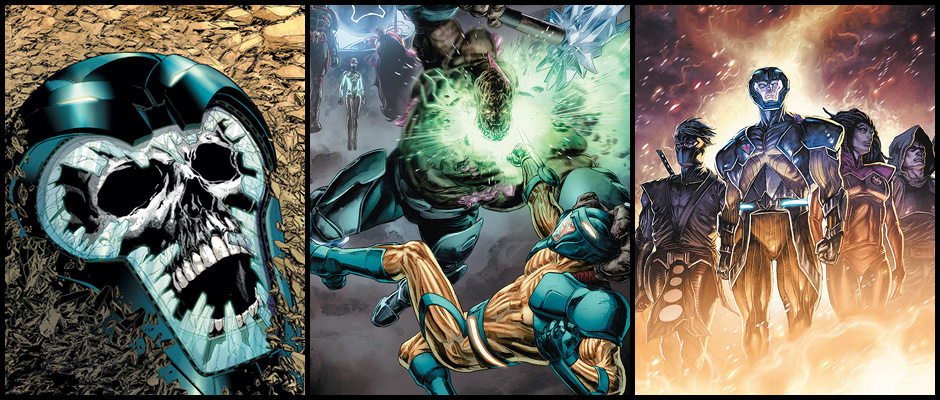 Voici les sollicitations complètes pour Valiant. Au menu, la suite de l'Event Armor Hunters (qui s'annonce très très bien si vous lisez X-O Manowar actuellement), mais surtout quelques nouvelles :
– Après la fin de la mini-série « Shadowman : End Times », plus de série régulière Shadowman, en tout cas pas ce mois-ci. Rien n'a été annoncé par Valiant concernant une éventuelle annulation, mais le titre se vendant plutôt mal (et l'arrivée de Peter Milligan n'a pour le moment pas montré son efficacité), il ne serait pas étonnant que s'en soit terminé.
– pas de Bloodshot and H.A.R.D Corps ce mois-ci puisque la série de Joshua Dysart et Christos Gage se conclue avec le numéro 23 en juin. La statu quo de Bloodshot ne pouvait pas continuer ainsi éternellement, les lecteurs savent de quoi je parle… Une fin plutôt naturelle. Néanmoins nous retrouverons Bloodshot dans Unity, puisque le super-soldat amnésique joindra l'équipe en juin, faisant le lien avec la fin de sa série solo.
– le dernier numéro de la série Harbinger. Enfin presque, puisqu'une mini-série « Harbinger : Omega » viendra conclure le run du même Joshua Dysart. L'auteur étant exclusif à Valiant, on sait qu'il y a d'autres choses prévues pour la suite de l'univers Valiant, et que nous retrouverons je l'éspère Peter Stanchek et ses amis dans un autre coin de l'univers de l'éditeur… A noter qu'il s'agit d'un numéro anniversaire de 48 pages, à l'image du X-O Manowar #25 en juin.
– La mini-série Bloodshot tie-in à Armor Hunters sera écrite par Joe Harris (Great Pacific, X-Files Season 10) qui fait ses débuts chez l'éditeur. Une bonne plume que j'espère revoir sur une série régulière!
– Pour la blague, une cover géniale d'Archer & Armstrong qui swipe un célèbre album punk…
Globalement, après la fin de différentes séries, on peut s'attendre à pas mal de nouveautés  pour la rentrée prochaine.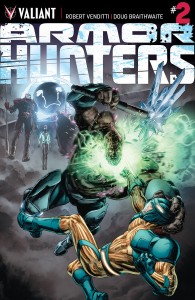 ARMOR HUNTERS #2 (of 4)
Written by ROBERT VENDITTI
Art & Cover by DOUG BRAITHWAITE
Mask Cover by RIAN HUGHES
Variant Cover by TREVOR HAIRSINE
Artist Variant by BRYAN HITCH
SURRENDER THE ARMOR OR EARTH WILL DIE!
Following the shocking final moments of the previous issue, the Armor Hunters have made their intentions clear, and unless X-O Manowar is turned over to them immediately, thousands of innocents will become additional casualties of this already brutal war. Valiant's most formidable heroes are about to go on the offensive, but the Armor Hunters have another trick up their sleeve, and this one will change the battle forever. Who will live? Who will die? The world will know what it feels like to be POWERLESS as Valiant's massive summer crossover continues!
$3.99/T+/32 pgs.
ON SALE JULY 9
—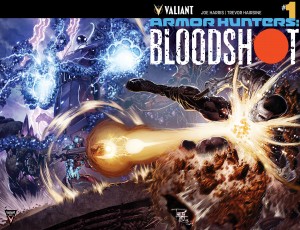 ARMOR HUNTERS: BLOODSHOT #1 (of 3)
Written by JOE HARRIS
Art by TREVOR HAIRSINE
Chromium & Standard Edition Cover by PHILIP TAN*
Character Design Variant by CLAYTON CRAIN
Armor Hunters Variant by TREVOR HAIRSINE
The hunters become the hunted!
With the major capitals of Earth under siege by the Armor Hunters, the world's most dangerous weapon has decided to come in from the cold – and into the service of the top-secret Military Extraterrestrial Reconnaissance Outpost (M.E.R.O.)! But when one of the Armor Hunters' own stages an extraterrestrial jailbreak inside of M.E.R.O.'s fortified command center, the nanite-enhanced commando known as Bloodshot will become the last thing standing between the galaxy's most feared team of hunter-killers and a classified arsenal of secret weapons far too deadly for human hands!
CHROMIUM EDITION: $5.99 | STANDARD EDITION: $3.99
T+/32 pgs.
ON SALE JULY 23
—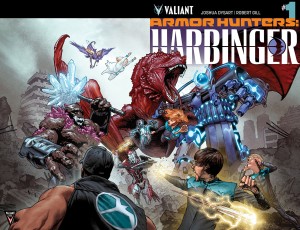 ARMOR HUNTERS: HARBINGER #1 (of 3)
Written by JOSHUA DYSART
Art by ROBERT GILL
Chromium & Standard Edition Cover by LEWIS LAROSA*
Character Design Variant by CLAYTON CRAIN
Armor Hunters Variant by TREVOR HAIRSINE
Earth is besieged by alien enforcers, and some of the most powerful people on the planet…are the kids!­
The Harbinger Renegades are still reeling from a tragic death in their ranks, but in the face of monumental destruction they'll find unlikely allies in a fellow group of super-powerful teenagers. But is Generation Zero here to help…or are they just looking out for themselves?
CHROMIUM EDITION: $5.99 | STANDARD EDITION: $3.99
T+/32 pgs.
ON SALE JULY 30
—
UNITY #9 (ARMOR HUNTERS)
Written by MATT KINDT
Art bY STEPHEN SEGOVIA
Cover by MICO SUAYAN
Variant Cover by STEPHEN SEGOVIA
Time to bring in…Bloodshot!
The unrelenting forces of the Armor Hunters have wreaked havoc on planet Earth, leaving terror and destruction in their wake. Now, our last, best chance at standing against the calculating wrath of the Hunters comes in the form of Unity – Livewire, Ninjak, Eternal Warrior, and their latest recruit…BLOODSHOT?! But can they stop these galactic intruders before they capture X-O Manowar and destroy the Earth?
$3.99/T+/32 pgs.
ON SALE JULY 16
—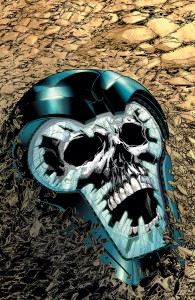 X-O MANOWAR #27 (ARMOR HUNTERS)
Written by ROBERT VENDITTI
Art by DIEGO BERNARD
Cover by MIGUEL SEPULVEDA
Variant Cover by DIEGO BERNARD
Hunt it. Trap it. Kill it.
The Armor Hunters are the most dangerous fighters in the universe – unparalleled in their abilities to catch and destroy their prey. Their mission has been long and unforgiving…and has featured the destruction of many X-O Manowar armors. For the first time, we see the brutal beginnings of the Hunters…and the devastation they have vowed to combat.
$3.99/T+/32 pgs.
ON SALE JULY 30
—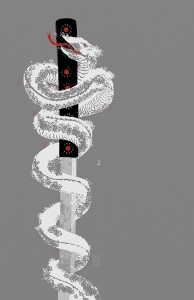 RAI #3
Written by MATT KINDT
Art by CLAYTON CRAIN
Cover A by RAUL ALLEN
Cover B by CLAYTON CRAIN
Variant Cover by CAFU
Nothing is what it seems…not even yourself…
A seemingly random murder – the first in a thousand years – is unraveling the mysteries at the heart of Rai's very existence. As the country of Japan completes another orbit around 41st century Earth, Rai, its sole protector, turns his investigation toward two figures he never questioned before: Father, the A.I. that controls Japan…and himself.
$3.99/T+/32 pgs.
ON SALE JULY 9
—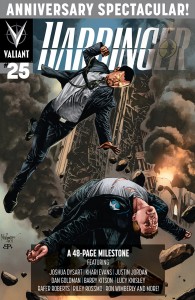 HARBINGER #25
Written by JOSHUA DYSART with JUSTIN JORDAN and LUCY KNISLEY
Art by KHARI EVANS with DAN GOLDMAN, BARRY KITSON, ANDREW PEPOY, RAFER ROBERTS, RILEY ROSSMO, RON WIMBERLY and MORE!
Cover A by MICO SUAYAN
Cover B by JENNY FRISON
Variant Cover by LUCY KNISLEY
Throwback Variant by SEAN CHEN
Variant Cover by BARRY KITSON
Toyo Harada's last stand! The future of Harbinger starts here with a star-studded, 48-page anniversary milestone – packed with brand new contributions from an all-star cast of creators and shocking new revelations about the fate of Valiant's teenage superteam!
A Renegade has fallen and, now, there is no turning back. Stripped of his allies and all sense of self-preservation, the world's most powerful "harbinger," super-powered billionaire Toyo Harada, is about to inflict a terrible reckoning on a world he thought he could control…and everything we thought we knew will be forever changed in its wake.
Original series creators Joshua Dysart and Khari Evans reunite to deliver a devastating climax to the second year of the series that The Onion/A.V. Club calls "the crown jewel of Valiant's lineup" – and officiates the "Death of a Renegade" with all-new artwork and stories from an incredible roster of award-winning talents, including Dan Goldman (Red Light Properties), Justin Jordan (The Strange Talent of Luther Strode), Barry Kitson (Empire), Lucy Knisley (Relish: My Life in the Kitchen), Andrew Pepoy (Fables), Rafer Roberts (Carpool Buddies of Doom), Riley Rossmo (Drumhellar), Ron Wimberly (Prince of Cats), and more!
—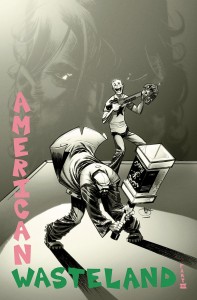 ARCHER & ARMSTRONG #22
Written by FRED VAN LENTE
Art by PERE PEREZ
Cover A by SHAWN CRYSTAL
Cover B by MICHAEL WALSH
THE END IS NEAR!
Archer and Armstrong have survived their stay in the Hotel California, but now they are at the mercy of the Church of Retrology and the despicable Lizard King! What does this disgraced former rock star have in store for our dysfunctional duo, and what secret does he hold that has affected celebrities (both living and dead) for untold decades?
$3.99/T+/32 pgs.
ON SALE JULY 23
—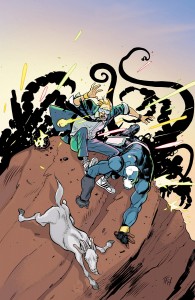 QUANTUM AND WOODY #12
Written by JAMES ASMUS
Art by WILFREDO TORRES
Cover by TOM FOWLER
Beaten! Bloodied! Bamboozled!
Quantum and Woody took the battle straight to the enemy – the mad-science cabal called Edison's Radical Acquisitions and their mysterious, monstrous new leader – and the enemy kicked their ass! When these rogue biologists (and roboticists) get their hands (and robo-claws) on their new lab subjects, Quantum and Woody are as good as vivisected! (And, by vivisected, we mean dead.)
$3.99/T+/32 pgs.
ON SALE JULY 2
—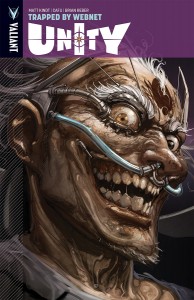 UNITY VOL. 2: TRAPPED BY WEBNET TPB
Written by MATT KINDT with ROBERT VENDITTI
Art by CAFU with LEE GARBETT
Cover by CLAYTON CRAIN
For every action, there is an equal and opposite reaction. First came UNITY… Now meet WEBNET!
Coming off of the earth-shattering repercussions of their first mission, Ninjak is leading the newly formed Unity team right back into the trenches to face the Valiant Universe's next colossal threat – the enigmatic Dr. Silk and his high-tech terror cell: WEBNET! With the fate of untold millions on the line, can this team of cutthroat heroes uncover Silk's endgame – and his connection to Ninjak's shadowy past?
From New York Times best-selling writer Matt Kindt (Mind MGMT) and superstar artist CAFU (Action Comics), start reading here when X-O Manowar, Eternal Warrior, Livewire and the rest of Valiant's best-selling superteam begin an all-new, high-stakes adventure! Collecting UNITY #5-8, plus the landmark first appearance of Ninjak from X-O MANOWAR #5!
$14.99/T+/112 pgs.
TRADE PAPERBACK
ISBN: 9781939346346
ON SALE JULY 9