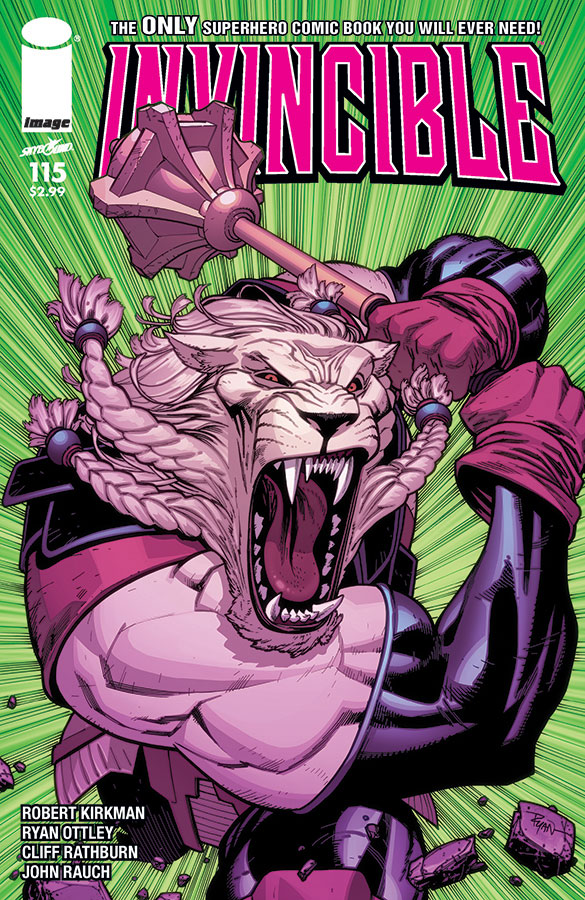 Et voici les sollicitations Image pour le mois de septembre prochain !
ROCHE LIMIT #1
STORY: MICHAEL MORECI
ART / COVER: VIC MALHOTRA
SEPTEMBER 24 / 32 PAGES / FC / T+ / $3.50
« OUR DESTINY IS THE STARS, AND I WILL LEAD US THERE. »
Twenty years after this promise, billionaire Langford Skaargard's dream of cosmic exploration is no more. Roche Limit, a colony situated on the cusp of a mysterious energy anomaly, is a melting pot of crime and terrible secrets. When Bekkah Hudson goes missing, the search to find her will plunge her sister and a cadre of the colony's underworld figures into an odyssey that reveals a grim future for mankind. Blending 2001: A Space Odyssey with Blade Runner, ROCHE LIMIT is the first part of a bold sci-fi/noir trilogy.
COPPERHEAD #1
STORY: JAY FAERBER
ART / COVER: SCOTT GODLEWSKI & RON RILEY
SEPTEMBER 10 / 32 PAGES / FC / T / $3.50
Welcome to Copperhead, a grimy mining town on the edge of a backwater planet. Single mom Clara Bronson is the new sheriff, and on her first day she'll have to contend with a resentful deputy, a shady mining tycoon, and a family of alien hillbillies. And did we mention the massacre?
Writer JAY FAERBER and the art team of SCOTT GODLEWSKI & RON RILEY bring you this gritty 24th Century Western with an extra-long first issue for the regular price of $3.50!
GOD HATES ASTRONAUTS #1
STORY / ART / COVER A: RYAN BROWNE
COVER B: GEOF DARROW
SEPTEMBER 3 / 32 PAGES / FC / M / $3.50
RYAN BROWNE's (THE MANHATTAN PROJECTS, BEDLAM) farcical cult-sensation returns with a new story perfect for new readers!
A NASA funded group of arrogant « super people » must stop a rash of farmers that have been using rocket-powered silos to launch themselves into outer space! As these Astro-Farmers fire themselves all over the galaxy, NASA must utilize their every resource (a guy with a ghost-cow head, a bunch of magic bears, and a Chicago cop with robot arms) to avoid an intergalactic incident!
ODDLY NORMAL #1
STORY / ART / COVER: OTIS FRAMPTON
SEPTEMBER 17 / 32 PAGES / FC / E / $2.99
Meet Oddly Normal, a ten-year-old girl with pointed ears and green hair — a half-witch who will be the first to tell you that having a mother from a magical land called Fignation and a father from Earth doesn't make it easy to make friends at school! On her tenth birthday, she blows out her cake's candles and makes a disastrous wish. Now, Oddly must travel to Fignation to uncover the mystery of her parents' disappearance.
LAZARUS #11
STORY: GREG RUCKA
ART / COVER: MICHAEL LARK
SEPTEMBER 17 / 32 PAGES / FC / M / $3.50
« CONCLAVE, » Part One
For the first time in the 65 years since they divided the world, the 16 Families are gathering again. For Malcolm Carlyle, it is an opportunity to identify and eliminate his enemies. For Jakob Hock, it is an opportunity to exact for revenge. And for Forever Carlyle, it's the first step in discovering the truth about who she is, and what she is destined to become.
'68: HOMEFRONT #1 (OF 4)
STORY: MARK KIDWELL
ART: KYLE CHARLES & JAY FOTOS
COVER A: NAT JONES & JAY FOTOS
COVER B: MARK KIDWELL, NAT JONES, & JAY FOTOS
COVER C: SKETCH COVER
SEPTEMBER 10 / 32 PAGES / FC / M / $3.99
In 1968, the horrors of the Vietnam war invaded every American living room. On February 13th of that year, a new war began, bringing horror…and hunger home to stay. '68: HOMEFRONT returns the series to the American heartland and the small, sleepy town of Harbinger, Pennsylvania (home of the Heralds) in the first two-issue story arc, « '68: PEECE AND LOVE. » Fresh accident victims sit up on morticians' slabs, a busload of visiting athletes rises from wet red asphalt to become an army of the damned, and Jenny Love — homecoming queen, cheerleader, and girl next door — prepares to reveal her deepest secret to the world. A secret in the form of leather-clad town bad boy, Johnny Love.
DEADLY CLASS #7
STORY: RICK REMENDER
ART / COVER: WES CRAIG & LEE LOUGHRIDGE
SEPTEMBER 17 / 32 PAGES / FC / M / $3.50
CLASS IS BACK IN SESSION AS RICK REMENDER & WES CRAIG'S HIT SERIES ROLLS INTO ITS SECOND ARC!
Narrowly escaping death in Las Vegas, Marcus and his remaining gang return to Kings Dominion High School for the Deadly Arts. But they're about to learn a hard lesson: blood begets blood, and no bad deed goes unpunished.
ROCKET GIRL #6
STORY: BRANDON MONTCLARE
ART / COVER: AMY REEDER
SEPTEMBER 17 / 32 PAGES / FC / T / $3.50
« SPLIT SECOND »
Rocket Girl returns for a second time-travelling story arc!
In 1986 NYC, DaYoung Johansson vowed to hang up her helmet and jetpack — now there's no one's left to right the city's wrongs. And what could possibly be happening in the time-travelling 2014 that shouldn't exist at all?
A VOICE IN THE DARK: GET YOUR GUN #1 (of 5)
STORY/ART: LARIME TAYLOR
COVER A: LARIME TAYLOR & SYLV TALOR
COVER B: BEN TEMPLESMITH
SEPTEMBER 17 / 32 PAGES / FC / M / $3.99
NOW IN FULL COLOR!
A great jumping-on point for new readers. With Zoey and several of her roommates possible suspects in the murder of Mandy Jenkins, Uncle Zeke is taken off the case to avoid a conflict of interest. Meanwhile, Zoey meets her 'fan' for the first time without masks.
CHRONICLES OF HATE HC
STORY / COVER / ART: ADRIAN SMITH
SEPTEMBER 24
104 PAGES 8″ x 12″ / BW / M / $29.99
An art event that will shatter your expectations of what the medium can offer is being exclusively released in this oversized (8″ x 12″) hardcover. In a world where the sun is frozen and the moon burns, an unlikely hero rises to free the Earth Mother from her chains. His path lies in shadows, his enemies' legion.
WHITE DEATH HC (NEW PRINTING)
STORY: ROBBIE MORRISON
ART / COVER: CHARLIE ADLARD
SEPTEMBER 3 / 104 PAGES / BW / T+ / $14.99
In 1916, Pietro Aquasanta, an Italian rifleman, returns to his childhood home of the Trentino mountain range to find that it's no longer the realm of wonder and adventure he remembers, but has become a place of death and despair, where the elements are as great a threat as the enemy.
No weapon of war was more feared than the White Death, thundering avalanches deliberately caused by cannon fire which consumed everything in their path.
AMERICA'S GOT POWERS TP
STORY: JONATHAN ROSS
ART / COVER: BRYAN HITCH
SEPTEMBER 3 / 184 PAGES / FC / M / $17.99
18 years ago, a strange crystal touched down in San Francisco and every pregnant woman in the area gave birth. These were no ordinary children, though, as each but one was gifted an extraordinary power. Used by society for entertainment, these special children live in a form of slavery with no rights, except the ability to compete in the Games. Growing up powerless, Tommy Watts is the only one of these children not to have any special gifts, but when he accidentally steps into the arena it might just be down to him to save the world.
Collects AMERICA'S GOT POWERS #1-7
BLUE ESTATE: THE GRAPHIC NOVEL HC
STORY: VIKTOR KALVACHEV, KOSTA YANEV, & ANDREW OSBORNE
ART: VIKTOR KALVACHEV, TOBY CYPRESS, NATHAN FOX, ROBERT VALLEY, PETER NGUYEN, TOMM COKER, REV. DAVE JOHNSON, ANDREW ROBINSON, PAUL MAYBURY, MARLEY ZARCONE, ANDY KUHN, KIERAN, & ALEKSI BRICLOT
COVER: VIKTOR KALVACHEV
SEPTEMBER 10 / 288 PAGES / FC / M / $29.99
FINALLY AVAILABLE IN ONE DELUXE EDITION!
Catch the entire Eisner-nominated saga of a desperate starlet and a hapless private dick as they tangle with dueling crime families, a homicidal action hero — and each other — on the mean streets of L.A. in one deluxe, bonus-packed edition.
« A dark, funny slice of pulp fiction. » — USA Today
Collects BLUE ESTATE #1-12
CARBON GREY, VOL. 3: MOTHERS OF THE REVOLUTION TP
STORY: PAUL GARDNER, HOANG NGUYEN
ART / COVER: KHARI EVANS, HOANG NGUYEN, & KINSUN LOH
SEPTEMBER 10 / 128 PAGES / FC / T+ / $ 14.99
The war, which not long ago was everything, seems insignificant in the face of the stone's unimaginable destructive power. As the world unravels, twin sisters face each other in battle, mortal enemies unite, and the true meaning of Gottfaust's prophecy is revealed in the final devastating chapter of CARBON GREY.
Collects CARBON GREY, VOL. 3 #1-2, plus « Gottfaust — Man of Stone, » « A Test of Faith, » and all-new original material.
EAST OF WEST, VOL. 3: THERE IS NO US TP
STORY: JONATHAN HICKMAN
ART / COVER: NICK DRAGOTTA
SEPTEMBER 17 / 144 PAGES / FC / T+ / $14.99
It's the third volume of the Eisner-nominated EAST OF WEST. « There Is No Us » sees the breaking apart of the future-scape of America as the world races forward towards the apocalypse.
Collects EAST OF WEST #11-15
EGOs, VOL. 1: QUINTESSENCE TP
STORY: STUART MOORE
ART / COVER: GUS STORMS
SEPTEMBER 3 / 112 PAGES / FC / T+ / $9.99
Far-future action meets midlife crises as an aging hero rebuilds his former team. But to do so, he must cross a line with his wife that cannot be uncrossed.
« EGOs is Stuart Moore's best story yet. » — Brian K. Vaughan
« Ballsy and super fun with plenty of edge. » — Comic Book Resources
Collects EGOs #1-4, plus the Twitter-exclusive issue #0
FATALE, VOL. 5: CURSE THE DEMON TP
STORY: ED BRUBAKER
ART / COVER: SEAN PHILLIPS & ELIZABETH BREITWEISER
SEPTEMBER 24 / 144 PAGES / FC / M / $14.99
The final book in ED BRUBAKER and SEAN PHILLIPS's best-selling horror-noir epic. The secrets of the immortal Femme Fatale and her adversary come to light before their final explosive confrontation.
Collects FATALE #20-24
THE FIELD TP
STORY: ED BRISSON
ART / COVER: SIMON ROY
SEPTEMBER 17 / 128 PAGES / FC / M / $14.99
An underwear clad amnesiac, an ex-Bible salesman on a meth-induced murder spree, a seedy biker gang on a revenge mission, and a group of cosplayers out to save the world. What more do you need to know?
Collects THE FIELD #1-4 and extras, including all-new material.
GREAT PACIFIC, VOL. 3: BIG GAME HUNTERS TP
STORY: JOE HARRIS
ART / COVER: MARTÍN MORAZZO
SEPTEMBER 24 / 152 PAGES / FC / M / $14.99
Adventure junkies, come to New Texas and seek your fortune on its plastic shores! The sci-fi saga of a young man's quest to turn an island of trash into sovereign land continues, as the settlers grapple with confounding new threats including addiction, mysterious and cruel interlopers, and all-out civil war.
Collects GREAT PACIFIC #13-18
THE MANHATTAN PROJECTS, VOL. 1 HC
STORY: JONATHAN HICKMAN
ART: NICK PITARRA
SEPTEMBER 24 / 300 PAGES / FC / T+ / $34.99
« SCIENCE. BAD. »
What if the research and development department created to produce the first atomic bomb was a front for a series of other, more unusual, programs? What if the union of a generation's brightest minds was not a signal for optimism, but foreboding? What if everything…went wrong?
Collects THE MANHATTAN PROJECTS #1-10
THE MERCENARY SEA, VOL. 1 TP
STORY: KEL SYMONS
ART / COVER: MATHEW REYNOLDS
SEPTEMBER 3 / 160 PAGES / FC / T+ / $9.99
1938 — The South Seas. Japan has invaded China. War in Europe is imminent. Ex-bootlegger Jack Harper captains the Venture, a refitted German U-Boat, with a crew of expats, mercenaries and fortune hunters. Jack and his crew take a job offered by a shady operative: rescue a British agent carrying valuable intelligence about the Japanese war effort. Meanwhile, Jack dreams of landing the greatest score ever: finding the legendary lost island of Koji Ra.
Collects THE MERCENARY SEA #1-6
MORNING GLORIES, VOL. 8 TP
STORY: NICK SPENCER
ART: JOE EISMA
COVER: RODIN ESQUEJO
SEPTEMBER 24 / 120 PAGES / FC / T+ / $12.99
It's time to stop running! Allegiances are formed, rivals are challenged, and the Glories take a defiant stand against the faculty in the explosive turning point-arc « Assembly. »
Collects MORNING GLORIES #39-42
REVIVAL VOL. 4 TP: ESCAPE TO WISCONSIN
STORY: TIM SEELEY
ART / COVER: MIKE NORTON & MARK ENGLERT
SEPTEMBER 17 / 160 PAGES / FC / T+ / $16.99
For one day in rural central Wisconsin, the dead came back to life. Now it's up to Officer Dana Cypress to deal with the media scrutiny, religious zealots, and government quarantine that has come with them. Now, as Dana closes in on the bizarre murderer of her Reviver sister, she's swept up in a conspiracy that will bring her from rural Wisconsin to New York City! The sell-out hit series created by New York Times Bestselling writer TIM SEELEY and Eisner-winning artist MIKE NORTON is collected with bonus material!
Collects REVIVAL #18-23 & CHEW/REVIVAL #1
SOUTHERN BASTARDS, VOL 1: HERE WAS A MAN TP
STORY: JASON AARON
ART / COVER: JASON LATOUR
SEPTEMBER 24 / 112 PAGES / FC / M / $9.99
Welcome to Craw County, Alabama, home of Boss BBQ, the state champion Runnin' Rebs football team…and more bastards than you've ever seen. When you're an angry old man like Earl Tubb, the only way to survive a place like this…is to carry a really big stick.
Collects SOUTHERN BASTARDS #1-4
UNDERTOW, VOL. 1: BOATMAN'S CALL TP
STORY: STEVE ORLANDO
ART/COVER: ARTYOM TRAKHANOV
SEPTEMBER 17 / 192 PAGES / FC / M / $14.99
Join Redum Anshargal's crew and explore the savage surface world! Stampeding humans. Warlike crustaceans. An ice-road Mammoth hunt. Hold fast face to face with the Amphibian, the mad barbarian god that holds the key to a life on land!
Collects UNDERTOW #1-6, with extras
THE WALKING DEAD BOOK 10 HC
STORY: ROBERT KIRKMAN
ART / COVER: CHARLIE ADLARD & CLIFF RATHBURN
SEPTEMBER 3 / 296 PAGES / BW / M / $34.99
Rick's treaty with Negan and the Saviors is pushed to the limit, as both sides march toward ALL OUT WAR.
Collects THE WALKING DEAD #109-120
ALEX + ADA #9
STORY: JONATHAN LUNA & SARAH VAUGHN
ART / COVER: JONATHAN LUNA
SEPTEMBER 17 / 32 PAGES / FC / T+ / $2.99
Ada explores life without Alex and discovers just how dangerous it is to be a sentient android out in the world.
ARTIFACTS #39
STORY: RAVEN HEISENBERG
ART / COVER: GUSTAVO BROCANELLO
SEPTEMBER 3 / 32 PAGES / FC / M / $3.99
2014 Talent Hunt winning team! The story of the very first Darkness bearer told by Jackie Esacado.
BLACK SCIENCE #9
STORY: RICK REMENDER
ART / COVER: MATTEO SCALERA & DEAN WHITE
SEPTEMBER 24 / 32 PAGES / FC / M / $3.50
Conflict is the only constant, as the Dimensionauts are embroiled in a brutal war which threatens to engulf the fantastical land they are stranded in. But how can they uncover the horrible truth about the Pillar when every second is a fight to survive?
BURN THE ORPHANAGE: REIGN OF TERROR #5 (of 5)
STORY: DANIEL FREEDMAN & SINA GRACE
ART / COVER: SINA GRACE
COVER B: SETH DAMOOSE & SHAUN STEVEN STRUBLE
SEPTEMBER 3 / 40 PAGES / FC / M / $3.99
The epic, oversized conclusion of Reign of Terror is here! Rock, Bear, Lex, and their allies go toe-to-toe with the foes at MannCorp. Are they strong enough to survive? This finale is not to be missed!
CHEW #44
STORY: JOHN LAYMAN
ART / COVER: ROB GUILLORY
SEPTEMBER 24 / 32 PAGES / FC / M / $2.99
« CHICKEN TENDERS, » Part Four
Warning: Sissies will need an adult diaper before reading this one.
No joke. No lie. This will be the most talked about issue of CHEW in years.
CLONE #20
STORY: DAVID SCHULNER, AARON GINSBURG, & WADE McINTYRE
ART / COVER: JUAN JOSE RYP & ANDY TROY
SEPTEMBER 3 / 32 PAGES / FC / M / $2.99
« The national clone crisis is over. The threat has been eliminated. »
C.O.W.L. #5
STORY: KYLE HIGGINS & ALEC SIEGEL
ART: ROD REIS
COVER: TREVOR McCARTHY
SEPTEMBER 24 / 32 PAGES / FC / M / $3.50
The end of the first arc and a huge turning point for the series! John Pierce and Geoffrey Warner square off over C.O.W.L.'s big secret, Radia faces public outcry, and Arclight resorts to lethal force…against one of his own.
DARK ENGINE #3
STORY: RYAN BURTON
ART / COVER: JOHN BIVENS
SEPTEMBER 24 / 32 PAGES / FC / M / $3.50
The dragon that dreams of salvation is awakened in the heart of a Gigahül. The hands that made the dark engine are revealed. And Sym becomes war.
DEATH VIGIL #3 (of 8)
STORY / ART / COVER: STJEPAN SEJIC
SEPTEMBER 10 / 32 PAGES / FC / M / $3.99
Training day in Death Vigil! You get a magical weapon with no instruction manual and an unholy abomination from beyond the sane universe is advancing. What do you do? Helps to have an immortal and powerful dinosaur-transforming raven by your side.
DEAD@17: THE BLASPHEMY THRONE #2 (of 7)
STORY / ART / COVER: JOSH HOWARD
SEPTEMBER 17 / 32 PAGES / FC / T+ / $3.50
Nara meets an unexpected ally on board the spirit vessel Equinox. On Earth, Nara's lifeless body is discovered, and a plan is put into motion.
DREAM POLICE #6
STORY: J. MICHAEL STRACZYNSKI
ART: SID KOTIAN & HiFi
COVER: SID KOTIAN & BILL FARMER
SEPTEMBER 24 / 32 PAGES / FC / T / $2.99
In the Dreamscape, it's impossible for a dreamer to simply go missing. But that's exactly what has happened, and it's up to Dream Police Detectives Joe Thursday and Katie Black to find her…a trail that leads to a living nightmare who has gone too far. Meanwhile, Joe has come to realize that he hasn't been told the truth about the man who keeps appearing to him…the former partner he doesn't now remember. If the time comes for Joe to stand against the vast powers of the Dreamscape, will Katie stand with him…or turn away?
DRUMHELLAR #9
STORY: RILEY ROSSMO & ALEX LINK
ART / COVER: RILEY ROSSMO
SEPTEMBER 24 / 32 PAGES / FC / M / $3.50
No way to fight! Nowhere to hide! Nothing to smoke! This time the horror is all too real as Drum finds himself running for his life. The supernatural killers hunting him in the dark want to know just one thing: how badly does he want to stay alive?
ELEPHANTMEN #61
STORY: RICHARD STARKINGS
ART: AXEL MEDELLIN
COVER: BOO COOK
SEPTEMBER 24 / 32 PAGES / FC / M / $3.99
Sahara, the Red Queen of the City of Angels, must deal with some Demons.
THE FADE OUT #2
STORY: ED BRUBAKER
ART/COVER: SEAN PHILLIPS & ELIZABETH BREITWEISER
SEPTEMBER 24 / 32 PAGES / FC /M / $3.50
Was a murder covered up? Or did the movie starlet commit suicide? And how does the show go on with a dead leading lady and an unfinished film?
BRUBAKER & PHILLIPS' new crime noir masterpiece is just getting started! Remember, every month THE FADE OUT has exclusive back pages articles that are only available in the single issues.
FIVE WEAPONS #11
STORY / ART / COVER: JIMMIE ROBINSON
SEPTEMBER 24 / 32 PAGES / FC / T / $3.50
« CLASS WARFARE, » Part One
The school of Five Weapons adds a NEW class: the psionic club. But, not everyone is happy about the new students and conflicts arise between the assassin class and their servants. Enrique has to take action between his friends and what's right or a new class warfare will erupt.
GHOSTED #13
STORY: JOSHUA WILLIAMSON
ART: Davide Gianfelice and Miroslav Mrva
COVER: Dan Panosian
SEPTEMBER 3 / 32 PAGES / FC / M / $2.99
Is New York the most evil place on earth? Where else would you expect Jackson and his new assistant to find a man selling death wishes?
HACK/SLASH: SON OF SAMHAIN #3
STORY: MICHAEL MORECI & STEVE SEELEY
ART: EMILIO LAISO
COVER: STEFANO CASELLI
SEPTEMBER 3 / 32 PAGES / FC / M / $3.50
Cassie enlists the help of an old friend to uncover the secrets of October's origins. Meanwhile, with the God Beast at his side, Morinto musters an army of monsters to wage war on mankind.
HOWTOONS: (RE) IGNITION #2
STORY: FRED VAN LENTE
ART / COVER: TOM FOWLER & JORDIE BELLAIRE
SEPTEMBER 10 / 32 PAGES / FC / E / $2.99
Tuck and Celine search the post-energy wasteland for their missing parent — but when they discover they aren't alone in civilization's ruins, they'll need new HowToons projects to protect themselves!
IMPERIAL #2
STORY: STEVEN T. SEAGLE
ART / COVER: MARK DOS SANTOS
SEPTEMBER 10 / 32 PAGES / FC / T+ / $2.99
ALL TREMBLE BEFORE THE EVIL THAT IS METERAX AND HIS…
ah, you know what? Who gives a damn? Mark's wedding to Katie is looming and he still hasn't learned how to fly or gotten a superhero costume yet. But it's Imperial who gets a lesson when Mark teaches him how to make s'mores: Jab it — Heat it — Stack it — Squish it. Now that's worth saving the world for.
INVINCIBLE #115
STORY: ROBERT KIRKMAN
ART / COVER: RYAN OTTLEY, CLIFF RATHBURN, & JOHN RAUCH
SEPTEMBER 17 / 32 PAGES / FC / T+ / $2.99
As the events on Earth grow more dire, we turn our attention toward space…we turn our attention toward…THRAGG vs. BATTLE BEAST!
JUPITER'S LEGACY #5
STORY: MARK MILLAR
ART / COVER A: FRANK QUITELY
COVER B: BRYAN HITCH
COVER C: DUNCAN FEGREDO
SEPTEMBER 17 / 40 PAGES / FC / M / $4.99
Meet BARNABAS WOLFE — a former supervillain with Sherlock Holmesian instincts who hunts heroes for the U.S. government. While Brandon and Uncle Walter struggle with their utopian vision for America, Chloe and family live under the radar in Australia. But their peaceful lives are about to explode when the authorities find suspicious super-activity Down Under, and send their #1 weapon to investigate. The generation gap is about to reach the next level as MILLAR and QUITELY bring their epic to a head!
LOW #3
STORY: RICK REMENDER
ART / COVER: GREG TOCCHINI
SEPTEMBER 24 / 32 PAGES / FC / M / $3.50
In an effort to save mankind, Stel Kane embarks to do what hasn't been done in millennia: walk on the Earth's surface. But before she can rise from the depths of the ocean, she must first help her son rise from the suffocating darkness in which he wallows.
MADAME FRANKENSTEIN #5 (of 7)
STORY: JAMIE S. RICH
ART: MEGAN LEVENS
COVER: JOELLE JONES & NICK FILARDI
SEPTEMBER 3 / 32 PAGES / BW / T+ / $2.99
It's time for the monster's society debut! Vincent dresses Gail in her best party frock and takes her to a bash at his old fraternity house. This may be a fatal mistake, however, as his worst enemy sees a woman from his past in the creature's face.
THE MANHATTAN PROJECTS #24
STORY: JONATHAN HICKMAN
ART: NICK PITARRA
SEPTEMBER 24 / 32 PAGES / FC / T+ / $3.50
« TEXAS ROULETTE »
In the wake of the disastrous resolution to the Cuban Missile Crisis, the scientists of the Manhattan Projects are forced to choose sides between the country they love and the people they love the most…themselves.
MANIFEST DESTINY #10
STORY: CHRIS DINGESS
ART / COVER: MATTHEW ROBERTS & OWEN GIENI
SEPTEMBER 17 / 32 PAGES / FC / T+ / $2.99
« Nothing cuts through the quiet of night like screams of panic and pain. »
Stranded on the river, Lewis & Clark's crew discover their place in America's food chain…where man is no longer its greatest predator…
MICE TEMPLAR IV: LEGEND #14
STORY: BRYAN J.L. GLASS & MICHAEL AVON OEMING
ART: VICTOR SANTOS & SERENA GUERRA
COVER A: MICHAEL AVON OEMING
COVER B: VICTOR SANTOS & CHANDRA FREE
SEPTEMBER 24 / 56 PAGES / FC / T / $5.99
« KARIC THE MANY »
Possessed by the Red Ant god, Karic's long-prophesied doom becomes reality as the would-be savior of the mice becomes an instrument of vengeance for the great demon lord Donas the Nathair! On the very brink of restoration, the Templar find themselves trapped between the insatiable hunger of The Many…and the unstoppable insect Guardians of the Dusk and Dawn!
PLUS…HAMMER OF THE GODS returns to Image Comics in a three-part story: « HANDS OF THE DWARF » by MICHAEL AVON OEMING and MARK WHEATLEY. The mythical Rattatosk the squirrel that lives in the World Tree provokes a war, and uses the cursed Modi to do it!
MORNING GLORIES #43
STORY: NICK SPENCER
ART: JOE EISMA
COVER: RODIN ESQUEJO
SEPTEMBER 24 / 32 PAGES / FC / M / $3.50
« Unbeatable. »
MPH #5 (of 5)
STORY: MARK MILLAR
ART / COVER A: DUNCAN FEGREDO
COVER B: GREG TOCCHINI
SEPTEMBER 17 / 32 PAGES / FC / T+ / $2.99
Down to the last MPH pills, the gang finds their speed powers running on empty just as the Feds close in. Will they have enough juice to make it through a final showdown? And at last, we learn what makes the mysterious Mr. Springfield so dangerous. MILLAR & FEGREDO dish up an epic finale you'll never see coming!
NAILBITER #5
STORY: JOSHUA WILLIAMSON
ART / COVER: MIKE HENDERSON
SEPTEMBER 3 / 32 PAGES / FC / M / $2.99
ONE OF THE HORRIBLE SECRETS OF BUCKAROO HAS BEEN REVEALED!
Finch and Crane are hot on the heels of a serial killer loose in Buckaroo, but Finch has finally found what he was looking for and it's worse than he feared.
NIGHTWORLD #2 (of 4)
STORY: PAOLO LEANDRI & ADAM McGOVERN
ART/COVER: PAOLO LEANDRI & DOM REGAN
SEPTEMBER 3 / 32 PAGES / FC / E / $3.99
Hidden tombs, troubled dreams and big-budget hellscapes set the stage for tragic demon Plenilunio's fight for redemption against the Empyre and its agents Hotspot and Hellena — but surprise alliances may form as new perils surface! The super-horror quest continues as the widescreen crazy amps up!
OUTCAST BY KIRKMAN & AZACETA #4
STORY: ROBERT KIRKMAN
ART / COVER: PAUL AZACETA & ELIZABETH BREITWEISER
SEPTEMBER 24 / 32 PAGES / FC / M / $2.99
« TO LIGHT OUR WAY »
Who is Luke Masters and what answers does he bring Kyle? A major new character is introduced as Kyle's epic journey starts down a new path.
PETER PANZERFAUST #22
STORY: KURTIS J. WIEBE
ART / COVER: TYLER JENKINS
SEPTEMBER 3 / 32 PAGES / FC / T / $3.50
« ON TILL MORNING, » Part Two
The screws tighten as the iron grip of the Third Reich crushes rebellion all over France. With their contacts drying up, Peter and the Lost Boys find themselves alone against the forces of Hook and are driven to desperate action.
PROTECTORS INC. #9
STORY: J. MICHAEL STRACZYNSKI
ART / COVER: GORDON PURCELL & MIKE ATIYEH
SEPTEMBER 17 / 32 PAGES / FC / M / $2.99
After having mysteriously disappeared over a decade earlier, The Patriot has returned from his long absence. But what has prompted this sudden reappearance? Does he know something of value about the murders that have lately gripped Chicago in a fist of terror…or is he trying to hide something? Who do you trust in an organization where everyone wears a mask and very few tell the truth? Detective John Riley must decide whether or not to trust someone he once idolized, but who may now be a serial killer.
RAT QUEENS #9
STORY: KURTIS J. WIEBE
ART: ROC UPCHURCH
COVER: JENNY FRISON
SEPTEMBER 17 / 32 PAGES / FC / M / $3.50
« THE FAR REACHING TENTACLES OF N'RYGOTH, » Part Four
Life in Palisade is a goblet of toasty sweet mulled wine. But this issue is the skull-pounding headache the next morning when all you're left with is the consequences. And they are life-changing, awful ones at that.
Special cover by superstar artist JENNY FRISON!
RED CITY #4
STORY: DANIEL COREY
ART/COVER: MARK DOS SANTOS
SEPTEMBER 17 / 32 PAGES / FC / T+ / $2.99
The case comes to a close and Cal has to resort to extreme measures to save the city.
SAGA #23
STORY: BRIAN K. VAUGHAN
ART / COVER: FIONA STAPLES
SEPTEMBER 24 / 32 PAGES / FC / M / $2.99
Betrayal.
SEX #16
STORY: JOE CASEY
ART/COVER: PIOTR KOWALSKI
SEPTEMBER 24 / 32 PAGES / FC / M / $2.99
Remember…there's no such thing as « safe SEX »!
SHELTERED #12
STORY: ED BRISSON
ART / COVER: JOHNNIE CHRISTMAS
SEPTEMBER 3 / 32 PAGES / FC / M / $2.99
The countdown to the end continues.
The outside world is closing in and the two factions fighting within the gates of Safe Haven have turned their sanctuary into a war zone. The end of the world is now the LEAST of their concerns.
SHUTTER #6
STORY: JOE KEATINGE
ART / COVER: LEILA DEL DUCA & OWEN GIENI
SEPTEMBER 17 / 32 PAGES / FC / M / $3.50
Kate Kristopher makes a stand against sins past as the smash-hit series' first arc reaches its bloody finale.
SHUTTER WILL RETURN IN DECEMBER.
SPAWN #247
STORY: TODD MCFARLANE
ART: SZYMON KUDRANSKI
COVER: Greg Capullo & TODD MCFARLANE
SEPTEMBER 3 / 32 PAGES / FC / T+ / $2.99
Sara is rushed to the hospital after the unthinkable happens at her apartment. Everyone comes to her aid, but each has a separate agenda that puts not only Sara, but also Jim in danger.
SPREAD #3
STORY: JUSTIN JORDAN
ART / COVER: KYLE STRAHM
SEPTEMBER 10 / 32 PAGES / FC / M / $3.50
It's chow time at Fat Jack's Cannibal Café!
STARLIGHT #6
STORY: MARK MILLAR
ART: GORAN PARLOV
COVER A: JOHN CASSADAY
COVER B: CLIFF CHIANG
SEPTEMBER 17 / 40 PAGES / FC / M / $4.99
Duke, Space-Boy, and their rebel friends face off in their final, defining battle against the Brotean regime. But there's been a traitor in their midst, and their plans aren't all they're cracked up to be. It's not only their lives in the balance, but the future of the entire planet Tantalus. Millar and Parlov's space epic concludes here!
STRAY BULLETS: KILLERS #7
STORY / ART / COVER: DAVID LAPHAM
SEPTEMBER 17 / 32 PAGES / BW / M / $3.50
What happens when when you find out you've been living in a prison your whole life and had no idea? What happens when everything you thought was good is really bad and everything you've been told is bad is really good? And what happens when you know if you make the right choice your life will become a nightmare beyond your imagination? Tonight Eli is going to find out. He's going to put his soul on the line and find out who he really is even if it kills him…or someone else. You've never read anything like these sometimes happy, sometimes sad, but always desperate…TALES FROM THE BOX.
SUPERANNUATED MAN #3
STORY / ART / COVER: TED McKEEVER
SEPTEMBER 10 / 32 PAGES / BW / M / $3.99
GOLDEN-AGE FORMAT
The theory of evolution is turned on its proverbial ear when a demented scientist warthog and his lizard assistant begin performing visceral experiments on our hapless protagonist, HE.
SUPREME: BLUE ROSE #3
STORY: WARREN ELLIS
ART / COVER: TULA LOTAY
SEPTEMBER 17 / 32 PAGES / FC / M / $2.99
Ethan Crane is missing. Emergency procedures have been activated. Nothing makes sense. We are all in danger.
TECH JACKET #3
STORY: JOE KEATINGE
ART / COVER: KHARY RANDOLPH
SEPTEMBER 3 / 32 PAGES / FC / T+ / $2.99
The champion of the Colossus emerges to challenge Tech Jacket, while the President of the United States (you know who!) receives council from a strange advisor.
THIEF OF THIEVES #25
STORY: ANDY DIGGLE
ART / COVER: SHAWN MARTINBROUGH & ADRIANO LUCAS
SEPTEMBER 24 / 32 PAGES / FC / M / $2.99
Down Mexico way, it's kill or be killed…and a major player doesn't make it out alive in the conclusion to « The Kill List. »
TREES #5
STORY: WARREN ELLIS
ART/COVER: JASON HOWARD
SEPTEMBER 3 / 32 PAGES / FC / M / $2.99
Luca has a plan for Eligia. It is not the plan she thinks it is. She is his knife now.
UMBRAL #9
STORY: ANTONY JOHNSTON
ART / COVER: CHRISTOPHER MITTEN
SEPTEMBER 24 / 32 PAGES / FC / M / $3.50
« TWISTING THE KNIFE »
The Redguard are closing in, the Kin are on the trail, and the Wodelings aren't letting their new prisoners out of their sight! But even a simple trip through the forest is anything but simple in the world of UMBRAL — as Rascal is about to find out!
VELVET #8
STORY: ED BRUBAKER
ART / COVER: STEVE EPTING & ELIZABETH BREITWEISER
SEPTEMBER 17 / 32 PAGES / FC / M / $3.50
Velvet takes her battle right to the heart of the agency's headquarters, literally.
THE WALKING DEAD #131
STORY: ROBERT KIRKMAN
ART / COVER: CHARLIE ADLARD, STEFANO GAUDIANO, & CLIFF RATHBURN
SEPTEMBER 10 / 32 PAGES / BW / M / $2.99
A journey begins.
WAYWARD #2
STORY: JIM ZUB
ART: STEVE CUMMINGS & JOHN RAUCH
COVER A: STEVE CUMMINGS & ROSS A. CAMPBELL
COVER B: RILEY ROSSMO
SEPTEMBER 24 / 32 PAGES / FC / M / $3.50
IMAGE COMICS' NEW SUPERNATURAL SENSATION!
Rori's uncanny senses lead her to a classmate with a dark secret…one he's willing to kill to keep hidden.
THE WICKED + THE DIVINE #4
STORY: KIERON GILLEN
ART / COVER: JAMIE McKELVIE & MATT WILSON
SEPTEMBER 17 / 32 PAGES / FC / M / $3.50
The mystery is solved. But does pop-god Lucifer like the answer? The answer is a word that rhymes with « Go », « Blow » and « Pro ». If you think the answer rhymes with « Cow » I applaud you for your unconventional nature. It's good to experiment. We're experimenting with being Awesome for four issues in a row. JOIN US.
WILDFIRE #4
STORY: MATT HAWKINS
ART / COVER A: LINDA SEJIC
COVER B: STJEPAN SEJIC
SEPTEMBER 24 / 32 PAGES / FC / T+ / $3.99
The conclusion of the inaugural Wildfire arc! The government is prepared to firebomb Los Angeles to prevent the spread of the genetically altered plants that are growing out of control and destroying the city. How will Dan Miller stop what he's helped unleash and the government from destroying LA?
WITCHBLADE #179
STORY: RON MARZ
ART / COVER A: LAURA BRAGA
COVER B: JOHN TYLER CHRISTOPHER
SEPTEMBER 24 / 32 PAGES / FC / T+ / $3.99
Sara Pezzini's fiercest ally in her battles against the supernatural has always been the Witchblade. But what happens if the Witchblade abandons Sara when she needs it most? A shocking turn of events leaves Sara alone and in deadly danger!