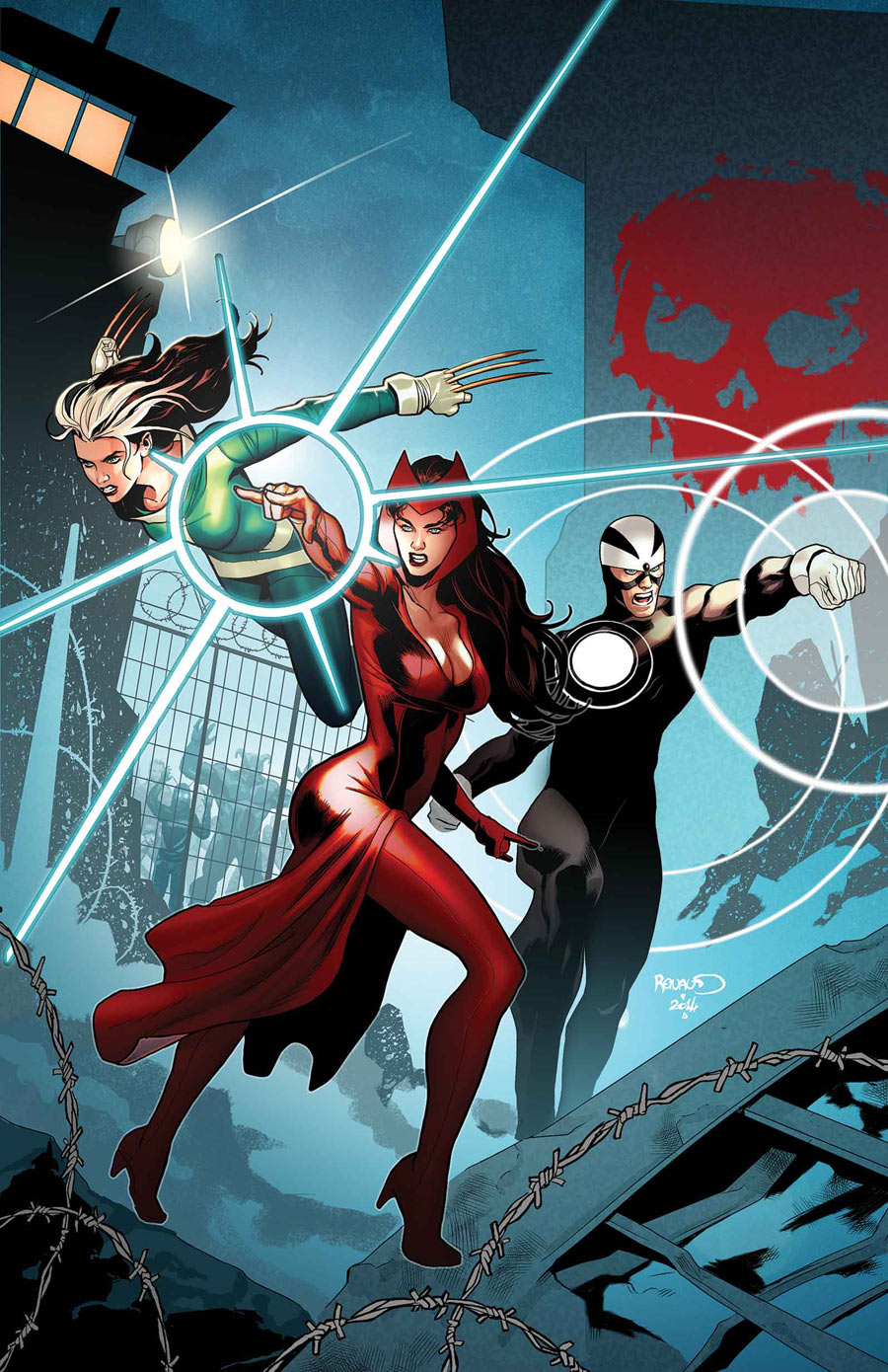 Et voici les sollicitations de Marvel pour le mois de septembre prochain ! qui prouve  que Marvel devient la maison de l'event/crossover permanent, voire désormais plusieurs en simultané 

Ce sont surtout les titres Avengers qui sont mis en avant :

– avec la préparation d'Axis. Comme on m'accuse de ne pas aimer les crossovers, je précise que celui là je l'attends de pieds fermes puisqu'il s'inscrit comme la suite logique du travail de Remender sur Uncanny Avengers. Pour une fois, nous aurons donc un crossover qui sera le résultat de plusieurs années de mise en place et qui n'arrivera pas de nulle part…Bonne nouvelle en plus, je vois que Magneto va  avoir quelques épisodes ties ins, à mon sens logique vu la mission que le personnage s'est attribué et les actions du Red Skull …j'ai hâte de voir cette confrontation ! Dans le même temps, Remender nous donne de l'espoir pour Captain America qui semble se bouger (enfin…) après une seconde année sur le titre proprement horrible…

– Death of wolverine …20$ pour 4 épisodes…(5$ par épisode)…à ce niveau on atteint tout de même le sommet de la montagne du foutage de gueule…autant le lire en TPB, cela reviendra sans doute moins cher…surtout pour une histoire déjà faite et qui ne se maintiendra pas longtemps…Il faut maintenant espérer que l'exécution sera à la hauteur.

– Spider-Verse commence aussi à se faire sentir, bien que le début officiel interviendra plus tard dans l'année, nous avons déjà les premiers one shot + la mise en place dans cet épisode de Superior Spider-Man…Là aussi une histoire que j'attends beaucoup, car de toute évidence, Slott l'a en tête depuis un moment. Et cela permettra de secouer les titres Spidey, parce que la confrontation avec Black Cat et Electro pour le moment m'indiffère complètement…

– les titres Avengers font donc un bond de 8 mois dans le futur avec des couvertures qui annoncent du changement en perspective…mais pour combien de temps, alors que nous arrivons ici vers la fin du run d'Hickman (en principe début 2015). On connaît la force du statut quo chez Marvel et avec Avengers : Age of Ultron au ciné l'année prochaine, ne doit on pas s'attendre à un bon coup de balai ? après tout nous savons tous qu'une fois le run d'Hickman achevé, Marvel relaunchera ses séries…

– la seule franchise que je trouve ronronne un peu est la franchise X-Men. Certes il y a la mort de Wolverine, mais à ce stade le personnage s'est presque affranchi de son appartenance aux X-Men, avec ses participations à…à peu près toutes les autres équipes de l'univers Marvel…
UNCANNY AVENGERS #24
RICK REMENDER (W) • SALVADOR LARROCA (A)
Cover by PAUL RENAUD
The MARCH to AXIS continues!
• Havok and his team defeated at the hands of the sinister S-Men!
• A dark secret in Genosha!
• The Red Skull's revenge is now unstoppable.
32 PGS./Rated T …$3.99
MAGNETO #9 & 10
CULLEN BUNN (W)
GABRIEL HERNANDEZ WALTA (A)
Covers by DAVID YARDIN
The MARCH to AXIS continues!
• When Magneto discovers that mutants are being hauled away to a re-education camp, he goes to investigate…
• And when he discovers that the RED SKULL is behind the operation—and in possession of the brain and powers of his deceased ally and friend, Charles Xavier, no less—Magneto becomes determined to shut it down!
• But can the Master of Magnetism overcome the Red Skull and his terrifying S-Men?
32 PGS. (EACH)/Parental Advisory …$3.99 (EACH)
LOKI: AGENT OF ASGARD #6
AL EWING (W)
Jorge Coelho (A)
Cover BY LEE GARBETT
The MARCH to AXIS continues!
• Loki's back from the Tenth Realm – and facing his greatest challenge yet! Can you say… DOCTOR DOOM?
• But with Valeria Richards in the mix – who's the hero of the story? And who's the villain?
• A new jumping-on point for the series fans literally can't get enough of! Grab it while stocks last, true believer!
• And looming in the wings: AXIS!
32 PGS./Rated T+ …$2.99
CAPTAIN AMERICA #24
RICK REMENDER (W) • CARLOS PACHECO (A/C)
The Tomorrow Soldier part 3! The MARCH to AXIS continues!
• Zola unleashes the hyper-mutates on New York!
• Jet Black and Falcon vs Zola to the death!
• The Red Skull's long game revealed, as the road to AXIS begins here!
32 PGS./Rated T+ …$3.99
DEATH OF WOLVERINE #1-4
CHARLES SOULE (W) • STEVE McNiven (A/C)
Variant COVER by Joe Quesada*
Sketch Variant COVER by Joe Quesada*
75TH ANNIVERSARY VARIANT BY ALEX ROSS*
Variant COVER by SCOTTIE YOUNG*
Mortal Variant COVER by ED MCGUINNESS*
Deadpool Party Variant by Pasqual Ferry*
Deadpool Party SKETCH Variant by Pasqual Ferry*
Artist Premiere Variant BY TBA*
*Issue #1 only
IT'S THE BEGINNING OF THE END – 3 MONTHS TO DIE ENDS HERE!
• The beginning of the end is now here … THE DEATH OF WOLVERINE!
• THREE MONTHS TO DIE, the loss of Wolverine's healing factor–all led to this, the single most important X-Men event of the decade.
• Logan has spent over a century being the best there is at what he does…but even the best fade away eventually.
• Over the years, Logan has been a warrior, a hero, a renegade, a samurai, a teacher—and so much more. But now, the greatest X-Men hero will play a role he's never played before in this special weekly event brought to you by industry superstars Charles Soule and Steve McNiven.
Issue #1 – 48 PGS./Rated T+ …$4.99
Issue #2-4 – 40 PGS. (EACH)/Rated T+…$4.99 (EACH)
Order USING THESE CODES:
DEATH OF WOLVERINE #1 (JUN140590)
DEATH OF WOLVERINE #1 QUESADA SKETCH VARIANT (JUN140592)
DEATH OF WOLVERINE #1 QUESADA VARIANT (JUN140591)
DEATH OF WOLVERINE #1 ROSS 75TH ANNIVERSARY SKETCH VARIANT (JUN140594)
DEATH OF WOLVERINE #1 ROSS 75TH ANNIVERSARY VARIANT (JUN140593)
DEATH OF WOLVERINE #1 TBD ARTIST MORTAL VARIANT- Please see Marvel Mailer for ordering details.
DEATH OF WOLVERINE #1 TBD ARTIST VARIANT B (JUN140596)
DEATH OF WOLVERINE #1 YOUNG VARIANT (JUN140595)
DEATH OF WOLVERINE #2 (JUN140601)'
DEATH OF WOLVERINE #2 VAR (APR148360)
DEATH OF WOLVERINE #3 (JUN140602)
DEATH OF WOLVERINE #3 VAR (APR148361)
DEATH OF WOLVERINE #4 (JUN140603)
DEATH OF WOLVERINE #4 VAR (APR148362)
SUPERIOR SPIDER-MAN #33
CHRISTOS N. GAGE & DAN SLOTT (W)
GIUSEPPE CAMUNCOLI (A/C)
VAriant cover by Mike Del mundo
EDGE OF SPIDER-VERSE
• The Superior Spider-Man takes the fight to Karn, the man working his way through the multiverse, leaving a trail of dead spiders in his wake, but finds himself hopefully over-powered.
• Can Sup' Spidey find enough allies to make a dent in Karn?
48 PGS./Rated T …$4.99
EDGE OF SPIDER-VERSE #1 (of 5)
David Hine with Fabrice Sapolsky (W)
RICHARD ISANOVE (A/C)
VARIANT COVER BY Greg Land
SPIDER-MAN NOIR RETURNS!
• The Peter Parker of the 1930's finds himself not only up against Mysterio, but knee-deep in the Spider-Man event of 2014!
32 PGS./Rated T+ …$3.99
EDGE OF SPIDER-VERSE #2 (Of 5)
JASON LATOUR (W)
ROBBI RODRIGUEZ (A/C)
VARIANT COVER BY Greg Land
GWEN STACY: SPIDER-WOMAN!
• In one universe, it wasn't Peter Parker bitten by the radioactive Spider, but Gwen Stacy!
• She's smart, charming and can lift a car– Just don't tell her Police Chief father!
• How is she involved in Spider-Verse? Seeds of AMAZING SPIDER-MAN #9 are planted here!
32 PGS./Rated T+ …$3.99
EDGE OF SPIDER-VERSE #3 (Of 5)
DUSTIN WEAVER (W)
DUSTIN WEAVER (A/C)
VARIANT COVER BY Greg Land
• What is the secret of Dr. Aaron Aikman, Spider-Man?!
• Who are the villainous Red Eye and Naahmurah? And can Aaron possibly live through Morlun's arrival?
• Rising star Dustin Weaver (AVENGERS, INFINITY, SHIELD) makes his Marvel Comics writing debut in the most wildly imaginative story of the year!
32 PGS./Rated T+ …$3.99
NEW AVENGERS #24
JONATHAN HICKMAN (W) • MIKE DEODATO (A)
Cover by GABRIELE DELL'OTTO
TIME RUNS OUT VARIANT ALSO AVAILABLE
Extra-sized issue!
• IN 8 MONTHS…TIME RUNS OUT!
40 PGS./Rated T+ …$4.99
AVENGERS #35
JONATHAN HICKMAN (W) • JIM CHEUNG (A/C)
TIME RUNS OUT VARIANT ALSO AVAILABLE
Extra-sized issue!
• IN 8 MONTHS…TIME RUNS OUT!
40 PGS./Rated T+ …$4.99
AVENGERS #34.1
AL EWING (W) • DALE KEOWN (A/C)
Variant cover by Chris Bachalo
• Last son of a dead utopia. Father-figure to a new species of humanity. Avenger. Hyperion is all these things… and more!
• Now the Man From Nowhere searches for an unhinged cop killer, a kidnapped child…
• …and the answers to the questions that haunt him.
40 PGS./Rated T …$4.99
AVENGERS WORLD #12 & 13
NICK SPENCER (W)
Issue #12 – MARCO CHECCHETTO (A)
Issue #13 – RAFFAELE IENCO (A)
CoverS by JORGE MOLINA
Issue #12 – The UPRISING continues!
• The Army of the Dead march at Morgan Le Fay's command!
• The ragtag heroes of the new Euroforce team up with the Avengers to confront the menace lurking under Europe.
32 PGS./Rated T+ …$3.99
Issue #13 – The UPRISING continues!
• The Gorgon and the Dragon Temple of The Hand attack China!
• The Avengers and The Ascendant answer the call.
32 PGS./Rated T+ …$3.99
SECRET AVENGERS #8
ALES KOT (W)
MICHAEL WALSH (A)
Cover by TRADD MOORE
"M.O.D.O.K. SUPREME EXTRAVAGANZA"
• M.O.D.O.K.'S ORIGIN STORY. YOU HEARD RIGHT.
• How do you know what we tell you here is true? You don't. But you're into it. Why? Because we love you. And it shows.
• Disco? Yes. Abandonment issues? Definitely. Was that a pun? Maybe. Is that a romance brewing? Are we still lying to you? CLAP FOR M.O.D.O.K.!
32 PGS./Rated T+ …$3.99
AVENGERS UNDERCOVER #10
DENNIS HOPELESS (W)
TIGH WALKER (A)
Cover by FRANCESCO MATTINA
IT'S ZEMO VS. THE WORLD IN THE SERIES FINALE!
• The Avengers & S.H.I.E.L.D. attack as Baron Zemo's true plan is revealed!
• Which Murder World survivor becomes a Master of Evil?
• Be there as the character journeys that began in AVENGERS ACADEMY & AVENGERS ARENA end here!
32 PGS./Rated T+ …$3.99
MIGHTY AVENGERS #14
AL EWING (W) • GREG LAND (A/C)
• The Deathwalkers have won – and humanity is doomed!
• Can the Mighty Avengers pull it back from the brink? And if so… how?
• Year One of Mighty Avengers reaches its heart-stopping climax!
32 PGS./Rated T+ …$3.99
SPIDER-MAN 2099 #3
PETER DAVID (W) • WILLIAM SLINEY (A)
Cover by Francesco Mattina
• Miguel's uneasy arrangement with Alchemax lands him in a literal war zone!
• And his very existence is once again threatened when Tiberious Stone is taken hostage!
• Plus: a classic Spider-Man villain faces the future's Spider-Man!
32 PGS./Rated T …$3.99
AMAZING SPIDER-MAN #6
DAN SLOTT (W) • HUMBERTO RAMOS (A/C)
• The finale of the record-breaking first arc of AMAZING SPIDER-MAN where all heck breaks loose on Peter Parker.
• Parker Industries has promised a humane and secure super-villain containment system but Black Cat and Electro have other ideas…
• The secrets of Silk have been revealed!
32 PGS./Rated T …$3.99
THE SUPERIOR FOES OF SPIDER-MAN #15
NICK SPENCER (w) • STEVE LIEBER (A/c)
Still not CANCELLED!
• GANG WAR begins here. You know it's a big deal because we put it in caps!
• Everyone gets in a big fight over the head of Silvio Silvermane. Lives are lost, feelings are hurt, and car keys get misplaced!
32 PGS./Rated T+ …$3.99
AMAZING SPIDER-MAN #1.5
DAN SLOTT (w) • RAMÓN PÉREZ (a)
Cover by ALEX ROSS
THE CLIMACTIC CONCLUSION OF "LEARNING TO CRAWL!"
• We all know what Uncle Ben told Peter about power and responsibility, but there were some secrets he kept from Peter…
• Discover Clash's fate that kept him secret all these years!
32 PGS./Rated T …$3.99
MILES MORALES: THE ULTIMATE SPIDER-MAN #5
BRIAN MICHAEL BENDIS (W) • DAVE MARQUEZ (A/C)
REVIVAL!
• One of the most defining stories in the ULTIMATE UNIVERSE explodes in a way no one saw coming!
• Only one of the two ULTIMATE SPIDER-MANS shall rise!
32 PGS./Rated T+ …$3.99
ALL-NEW ULTIMATES #8
MICHEL FIFFE (W) • GIANNIS MILONOGIANNIS (A)
Cover by DAVID NAKAYAMA
• The ALL-NEW ULTIMATES face off with super-powered mercenary crew the FEMME FATALES!
• Is this the end of CLOAK & DAGGER as a couple and a crime fighting duo?
• The team's ultimate nemesis makes his first deadly play and Miles & Co. won't be the same when it hits!
32 PGS./Rated T+ …$3.99
LEGENDARY STAR-LORD #3
SAM HUMPHRIES (W) • PACO MEDINA (A/C)
Artist Variant by Dustin Nguyen
• The Badoon have captured the Star-Lord!
• Sharing a jail cell with a Spartax criminal and a Badoon child aren't exactly Peter's idea of a good time…
• Luckily, Peter's got an ace up his sleeve—an ace named Kitty Pryde!
32 PGS./Rated T …$3.99
GUARDIANS OF THE GALAXY #19
BRIAN MICHAEL BENDIS (W) • ED MCGUINNESS (A/C)
AN ORIGINAL SIN TIE-IN!
• Last we checked, Star-Lord, Thanos, and Nova were trapped in the Cancerverse…
• But Star-Lord and Thanos seem to be running around just fine.
• So what exactly happened to Richard Rider?
32 PGS./Rated T …$3.99
ROCKET RACCOON #3
SKOTTIE YOUNG (W/A/C)
Artist Variant COVER by TBA
• Everyone's favorite pistol-packin' procyon* finally finds himself face-to-face with the intergalactic imposter.
• It's macho ado about everything as Macho Gomez guest-stars and the Ex-Terminators are hot on Rocket's tail!
*Procyon is the scientific term for raccoon, obviously.
32 PGS./Rated T …$3.99
INHUMAN #6
CHARLES SOULE (W) • RYAN STEGMAN (A/C)
Variant Cover by JOE MADUREIRA
• The Unspoken has attacked Medusa's island nation and successfully taken it.
• With all the Inhuman royal family captive, it's up to the NuHumans to show their mettle!
32 PGS./Rated T+ …$3.99
FANTASTIC FOUR #10
JAMES ROBINSON (W) • MARC LAMING (A)
Cover by LEONARD KIRK
THE FALL OF REED RICHARDS!!!
• A savage and strategic attack on REED RICHARDS!
• Can WYATT WINGFOOT save a self-destructive JOHNNY STORM?
• SUE RICHARDS goes to Latveria to reclaim her daughter…and she'll take on DR. DOOM if she has to (continuing straight into this month's FANTASTIC FOUR ANNUAL)!
32 PGS./Rated T …$3.99
FANTASTIC FOUR ANNUAL #1
JAMES ROBINSON (W) • TOM GRUMMETT (A)
Cover by GREG LAND
ATTACK ON CASTLE DOOM!
• SUE RICHARDS goes to Latveria to confront DR. DOOM for the safety and welfare of her daughter VALERIA.
• See the majesty of Dr. Doom's sovereign country blown apart as he and the Invisible Woman turn Latveria into a battlefield in one of the most savage battles in FF history!
• And when it's over and the smoke has cleared whose side will Valeria be on?
40 PGS./Rated T …$4.99
IRON FIST: THE LIVING WEAPON #6
KAARE ANDREWS (W) • KAARE ANDREWS (A/C)
• A figure from Danny's past comes to his aid, but is the Iron Fist broken beyond repair?
• A new hope is born, with talons and fire.
• Is their new life for K'un Lun, or a fate worse than death?
32 PGS./Rated T+ …$3.99
ELEKTRA #6
HADEN BLACKMAN (W) • MICHAEL DEL MUNDO (A/C)
• The second arc of the critically-acclaimed ongoing Elektra series pits Elektra against an enraged Assassin's Guild.
• After her life-and-death battles with Cape Crow, Bloody Lips, Lady Bullseye and Scalphunter, Elektra vows to take the fight to the Guild itself.
• It's Elektra vs. the World as she begins hunting down the Guild's agents before they can find her and her allies.
32 PGS./Rated T+ …$3.99
CAPTAIN MARVEL #7
KELLY SUE DECONNICK (W) • MARCIO TAKARA (A)
Cover by DAVID LOPEZ
• For Issues 7 and 8, Marcio Takara, the incomparable artist on Incorruptible, joins the Carol Corps!
• What happens when Captain Marvel and her flerkin' cat, Chewie, have an unexpected alien visitor?
• In space, no one can hear you MEOWWWHISSSS!
32 PGS./Rated T+ …$3.99
MOON KNIGHT #7
BRIAN WOOD (W) • GREG SMALLWOOD (A)
Cover BY DECLAN SHALVEY
Personality variant by DECLAN SHALVEY
• Season 2 of MOON KNIGHT begins with a new creative team and a black-out!
• When the entire city is thrust into darkness by a threat, Moon Knight's must use all of his weapons (and personalities) to defeat a new foe!
• Brian Wood (X-MEN, DMZ) takes the writing reins picking up from where Ellis left off pushing questions from MOON KNIGHT #1 back to the fore and amplifies them 100-fold!
32 PGS./Rated T+ …$3.99
THE PUNISHER #10
NATHAN EDMONDSON (W) MITCH GERADS (A/C)
• THE PUNISHER gets incarcerated in a South American prison! Surely he'll be a model inmate.
• With Frank locked up, who is cleaning up the streets of Los Angeles?
• L.A. has a new crime lord with a personal vendetta against Frank Castle — and with The Punisher gone, it's open season on the police in LA.
32 PGS./Parental Advisory …$3.99
BLACK WIDOW #10
NATHAN EDMONDSON (W)
PHIL NOTO (A/C)
• Because you demanded he shows up in more than just two panels: Black Widow v.s. Hawkeye!
• Plus, how could their fight cost Isaiah his life?
32 PGS./Rated T+ …$3.99
SILVER SURFER #7
DAN SLOTT (W) • MICHAEL ALLRED (A/C)
"We are Sailors on An Endless Sea of Night"
• The Surfer and Dawn travel further into the Marvel U than any being has ever gone… only to find an empty starless void.
• And one other thing… a lone lighthouse, floating in infinity.
• What is its secret? And what else is out there in the darkness?
• Also in this issue: Surprise characters from long ago are officially brought into Marvel Continuity. You won't believe it till you see it.
32 PGS./Rated T+ …$3.99
SHE-HULK #8
CHARLES SOULE (W) • JAVIER PULIDO (A)
Cover by KEVIN P. WADA
• Charles Soule and Javier Pulido's acclaimed run continues!
• She-Hulk takes on a new client: CAPTAIN AMERICA!
• Meanwhile, Patsy does a little digging on the Blue File
32 PGS./Rated T+ …$2.99
THOR: GOD OF THUNDER #25
JASON AARON (W)
ESAD RIBIC, SIMON BISLEY, RM GUERA (A)
Cover by ESAD RIBIC
Variant cover by MILO MANARA
Variant cover by SIMON BISLEY
Variant cover by RM GUERA
• Redefining the word "epic," it's the god-sized 25th issue of THOR: GOD OF THUNDER featuring an amazing artistic line-up!
• Young Thor vs. Frost Giants!
• The untold origin of Malekith the Accursed!
• King Thor's granddaughters uncover a startling secret chapter from the history of the Thunder God!
• Thor deals with the shocking fall-out from ORIGINAL SIN!
40 PGS./Rated T+ …$4.99
NOVA #21
GERRY DUGGAN (W) • DAVID BALDEON (A)
Cover by JG JONES
• Spinning right out of the events of ORIGINAL SIN, Sam has new information about his dad– both newly revealed and troubling secrets and his whereabouts!
• It's up to Sam to find his former-Nova father halfway across the universe and either give him salvation or justice!
32 PGS./Rated T …$3.99
ALL-NEW GHOST RIDER #7
FELIPE SMITH (W) • DAMION SCOTT (A/C)
"LEGEND"
• Is ROBBIE REYES racing towards eternal damnation?
• The birth of the BLUE HYDE BRIGADE
• A blazing hot trail comes to an end.
32 PGS./Rated T+ …$3.99
THUNDERBOLTS #31
BEN ACKER & BEN BLACKER (W) • GERARDO SANDOVAL (A)
Cover by DAVID YARDIN
THE PUNISHER VS. THE THUNDERBOLTS, PART FIVE!
• Finally! The fight you've craved since Thunderbolts #1—RED HULK vs. PUNISHER!
• Soldier/monster vs. soldier/killer for the fate of the Thunderbolts team!
32 PGS./Parental Advisory …$2.99
MIRACLEMAN #10
THE ORIGINAL WRITER (W) • RICK VEITCH (A/C)
Variant Cover by JOE QUINONES
Variant Cover by MICO SUAYAN
• Mike and Liz Moran are now parents to a talking newborn miraclebaby. Their surprises have just begun.
• Two strange alien figures are tracking the subjects of Project Zarathustra. Who are they and how are they connected to Miracleman's origin?
• Johnny Bates fights back against Kid Miracleman, making a decision that will have epic repercussions.
• Including material originally presented in MIRACLEMAN (1985) #10, plus bonus content.
48 PGS./Parental Advisory…$4.99
NOTE: This issue will be Poybagged
DAREDEVIL #8
MARK WAID (W) • CHRIS SAMNEE (A/C)
• Matt Murdock takes on his first big case in his new hometown–and the opposition is killer!
• Daredevil is faced with a menace he has no idea how to fight–the Purple Children!
32 PGS./Rated T+ …$3.99
SAVAGE HULK #4
ALAN DAVIS (W) • ALAN DAVIS (A/C)
Variant by DALE KEOWN
• The Hulk is trapped and you won't believe where!
• What are the Leader's plans for Bruce Banner?
• The X-Men are under lock and key!
• All this in more in the THRILLING conclusion to Alan Davis's startling Savage Hulk story!
32 PGS./Rated T+ …$3.99
HULK #6
GERRY DUGGAN (W) • MARK BAGLEY (A)
Cover by GARY FRANK
Variant Cover by LUKE ROSS
THE OMEGA HULK!!!
• The surprising new direction continues after ORIGINAL SIN
• Can RICK JONES survive "DOC GREEN'S" Gamma cure?
• A secret behind the "antidote" revealed!
32 PGS./Rated T …$3.99
HULK ANNUAL #1
MONTE NERO (W) LUKE ROSS AND MORE (A)
Cover by MICHAEL DEL MUNDO
• Someone close to HULK dies
• What impact will this have on one of the most dangerous super beings on the planet?
• And how does a ghost from the past threaten to haunt the world of the Hulk forever?
40 PGS./Rated T …$4.99
MS. MARVEL #8
G. WILLOW WILSON (W) • ADRIAN ALPHONA (A)
Cover by JAMIE MCKELVIE
• Kamala crosses paths with Inhumanity for the first time — by meeting the royal pup, Lockjaw!
• Every girl wants a puppy, but this one may be too much of a handful, even for a super hero with embiggening powers.
• He may be the Queen's pooch, but this dog's one royal pain in the neck.
• And the return of Adrian Alphona!
32 PGS./Rated T+ …$2.99
NEW WARRIORS #9 & 10
CHRISTOPHER YOST (W) • MARCUS TO (A)
CoverS by TAKESHI MIYAZAWA
Issue #9 – SPECIAL ISSUE!
• It's the anti-buddy movie as odd couple JUSTICE and SCARLET SPIDER hit the road together, heading for HOUSTON, TEXAS.
• Scarlet Spider never wanted to be on a team, with… people. And this issue, he shocks no one by QUITTING!
•Can Justice convince him to stay? No! Can they dude-bond by fighting a hundred foot tall guy in a bear suit? Probably not!
32 PGS./Rated T+ …$3.99
Issue #10 – "ALWAYS AND FOREVER" PART 1 (of 3)
• The New Warriors take the fight to the High Evolutionary! For the fate of all things not human, the war is on!
• But wait! Who is behind the High Evolutionary's plans? Can anyone trust the Evolutionaries?
• The biggest arc in the All-New New Warriors begins here, and not everyone will survive it.
32 PGS./Rated T+ …$3.99
ALL-NEW INVADERS #10
JAMES ROBINSON (W) • STEVE PUGH (A)
Cover by SCOTT KOLINS
• The hunt for TORO!
• JIM HAMMOND reprogrammed?
• One of the "band of brothers" a traitor?
• The startling end of the DEATHLOK WAR and a Martian invasion?
• This one has it all, even KILLRAVEN!!!
32 PGS./Rated T+ …$3.99
GEORGE ROMERO'S EMPIRE OF THE DEAD: ACT TWO #1 (of 5)
GEORGE ROMERO (W) • DALIBOR TALAJIC (A)
Cover by ALEXANDER LOZANO
Variant Cover by MIKE MCKONE
IT'S ZOMBIES VS VAMPIRES VS AN INVADING MILITIA AS THE LEGENDARY GEORGE ROMERO UNLEASHES THE NEXT CHAPTER IN HIS UNDEAD EPIC!
• Welcome back to New York City years after a world-changing undead plague—and now outside forces are knocking on Manhattan's walls!
• What's worse, the roaming flesh-eaters who seem to be growing smarter every day…the ruling blood-suckers struggling to keep their grip on power…or the Southern army bent on pillaging the greatest city in the world?
32 PGS./Parental Guidance …$3.99
STEPHEN KING'S THE DARK TOWER: THE DRAWING OF THE THREE – THE PRISONER #1 & #2 (of 5)
PETER DAVID & ROBIN FURTH (W) • PIOTR KOWALSKI (A)
Cover by JULIAN TOTINO TEDESCO
Variant Cover by CHRISTIAN WARD
THE DARK TOWER SAGA BEGINS AGAIN…ON EARTH!
• Meet Eddie Dean, a troubled young man gifted with the ability to open doors to other worlds. Can he survive family tragedy, haunting addiction, and the deadly forces that conspire to stop him from growing up to challenge the Man in Black?
• If you thought the badlands of Mid-World were dangerous, just wait until you experience Brooklyn in the 1960s!
32 PGS. (EACH)/Parental Guidance …$3.99 (EACH)
MARVEL UNIVERSE ULTIMATE SPIDER-MAN #30
Adapted by Joe Caramagna
• Peter Parker's school is putting on a Spider-Man musical… starring Flash Thompson!
• Now the real Spidey has to save the fake one from the villainous Trapster!
32 PGS./All Ages …$2.99
MARVEL UNIVERSE AVENGERS ASSEMBLE #12
Adapted by Joe Caramagna
• The Impossible Man shows up to turn the Falcon into…a movie star?
• It's lights, cameras, ACTION when the Chitauri arrive to settle a score with Impossible Man!
32 PGS./All Ages …$2.99
FIGMENT #4 (OF 5)
JIM ZUB (W) • FILIPE ANDRADE (A)
Cover by JOHN TYLER CHRISTOPHER
REVEALING THE ORIGINS OF ONE OF DISNEY'S MOST IMAGINATIVE CHARACTERS!
• An all-new steampunk fantasy story exploring the never-before-revealed first adventure of the inventor known as Dreamfinder and his famous dragon Figment!
• Clockwork Control invades London while Blair and Figment are trapped within the Nightmare Nation! Our intrepid explorers must find the power to escape or be lost inside their deepest fears forever!
• Acclaimed creators Jim Zub (Skullkickers) and Filipe Andrade (CAPTAIN MARVEL) give a Marvel spin to the mind-expanding attraction Journey Into Imagination!
32 PGS./All Ages …$3.99
Elements based on Figment © Disney
DEADPOOL BI-ANNUAL #1
PAUL SCHEER & NICK GIOVANNETTI (W)
SALVA ESPIN (A)
Cover by DAVID NAKAYAMA
• When Deadpool is hired by WaterWorld to protect their theme park from activists, he has no idea he's going to wind up face to snout with Brute Force—protectors of the environment! Look 'em up! That's right—they're real!
• Written by star of The League and NTSF:SD:SUV Paul Scheer and Nick Giovannetti, this is one issue sure to make a splash*!
*This joke was not written by them.
40 PGS./Parental Advisory …$4.99
HAWKEYE VS DEADPOOL #0 (Of 4)
GERRY DUGGAN (W) • MATTEO LOLLI (A)
Cover BY JAMES HARREN
HAWKEYE VS DEADPOOL VS CRIME
• Once upon a time, champions emerged to fight evil plaguing humanity. They fought for salvation, for all that is good in the world — and they won. They were kind, generous and self-sacrificing. They were heroes.
• These are not those heroes.
• Meet Hawkeye: Ladies man ("ladies man" because the ladies love to hate this man), crossbow crusader and, most importantly, Avenger. He's the only guy on the team without any powers, though, so cut him a little slack.
• Then there's Deadpool (MR. Deadpool to you, skippy) — the regeneratin' degenerate. You can shoot him, stab him, and make with the punchy-punchy right in his face, but nothing can keep the Merc with a Mouth down.
• What do they have in common? Halloween and a S.H.I.E.L.D. espionage mystery that has the both heroes racing against the clock while outshining one another. It's a Hawkeye & Deadpool comic 75 years in the making, give or take 75 years.
40 PGS./Rated T …$4.99
DEADPOOL #34
BRIAN POSEHN & GERRY DUGGAN (W) • SCOTT KOBLISH (A)
Cover by MARK BROOKS
SPECIAL 3D Motion VARIANT COVER BY MARK BROOKS
• Flashback to the 90's as we learn the darkest secret of Deadpool's past!
• See the events Deadpool's friends learned about it Original Sin FIRST HAND!
• Guest-Starring 90's Sabretooth, 90's Alpha Flight, and 90's artwork!
40 PGS./Parental Advisory …$4.99
DEADPOOL #35
BRIAN POSEHN & GERRY DUGGAN (W)
MIKE HAWTHORNE (A)
Cover by MARK BROOKS
• Our wall-crawling hero is stalked by a classic SPIDER-SLAYER!
• Wait. This isn't a Spider-Man book.
• What is a Spider-Slayer doing here???
32 PGS./Parental Advisory …$3.99
DEADPOOL VS. X-FORCE #4 (OF 4)
DUANE SWIERCZYNSKI (W) • PEPE LARRAZ (A)
Cover by SHANE DAVIS
• Deadpool is dead-set on destroying the timeline!
• X-Force is eXtra For-sure not gonna let him!
• X-Force is stronger…but Deadpool is more popular!
• WHO WILL WIN???
32 PGS./Parental Advisory …$3.99
STORM #3
GREG PAK (W) • MATTEO BUFFAGNI (A)
Cover by DAVID YARDIN
Variant by STEPHANIE HANS
• Long ago, after she was worshipped as a goddess on the plains of Africa, Storm was stripped of her mutant powers and fell into deep depression. A brilliant inventor named Forge came to her rescue and nursed her back to health, showing her that she is so much more than her superhuman abilities. And a romance blossomed between them. But it was a love made to be broken…
• Now, years later, Storm has the powers and stature of a goddess once more, and she is reunited with Forge. But what does fate have in store for the pair this time?
32 PGS./Rated T+ …$3.99
UNCANNY X-MEN #26
BRIAN MICHAEL BENDIS (W) • CHRIS BACHALO (A/C)
• Scott Summers has swiftly become one of the world's most wanted men.
• With one simple act, he destroyed the life he knew and must now remain constantly vigilant in case of attack.
• But is the greatest threat to his safety lurking within the dark recesses of his own mind?
32 PGS./Rated T+ …$3.99
ALL-NEW X-MEN #32
BRIAN MICHAEL BENDIS (W) • MAHMUD ASRAR (A)
Cover by SARA PICHELLI
• Dimension-hopping is something of an X-Men rite of passage and it's about time the All-New X-Men took the plunge!
• I guess you don't always have to travel Miles away to visit a new place…
• But will the web they find themselves tangled in Ultimately bring about their end?
32 PGS./Rated T …$3.99
WOLVERINE & THE X-MEN #9
JASON LATOUR (W) • Robbi Rodriguez (A)
Cover by MAHMUD ASRAR
• Happy Birthday, Quentin Quire!
• Party crasher Wolverine gets more than he bargained for when he realizes who Quentin's bouncers are.
32 PGS./Rated T+ …$3.99
CYCLOPS #5
GREG RUCKA (W) • TBA (A)
Cover by ALEXANDER LOZANO
• Still weeks away from pick-up by the Starjammers, Cyclops and Corsair look for help getting off a hostile planet elsewhere
• Continuing the trend, would-be rescuers might not be what they seem.
32 PGS./Rated T+ …$3.99
NIGHTCRAWLER #6
CHRIS CLAREMONT (W) • TODD NAUCK (A/C)
• As an ambassador to the Jean Grey School, Nightcrawler heads out to locate a newly-manifested mutant.
• But little does he know that classic X-MEN villains THE CRIMSON PIRATES have their own nefarious designs for the mutant.
• Just what will it take for Nightcrawler to save the new mutant and escape with his own skin?
32 PGS./Rated T+ …$3.99
AMAZING X-MEN #11
CRAIG KYLE & CHRIS YOST (W)
CARLO BARBERI (A/C)
Part 4 (of 5) of World War Wendigo!
• As the Wendigo threat spreads across Canada, the X-Men take the battle to a new front—the Spirit Realm!
• Guest staring Alpha Flight!
32 PGS./Rated T+ …$3.99
SAVAGE WOLVERINE #23
DAVID MORRELL (W) • JONATHAN MARKS (A)
Cover by DECLAN SHALVEY
• Wolverine versus the Wild West!
32 PGS./Parental Advisory …$3.99
X-MEN #19
MARC GUGGENHEIM (W) • HARVEY TOLIBAO (A)
Cover by TERRY DODSON
• With S.W.O.R.D.'s orbital headquarters, the Peak, literally hanging in the balance, the X-Men race into deep space to find the source of the new threat that's emerged from the abyss.
• But little do they suspect that lurking in the shadows of the Acanti Skunkworks, a conspiracy is waiting to entangle them…
• And what's worse is that it's a conspiracy that has connections to the deaths of Rachel Grey's family!
32 PGS./Rated T+ …$3.99
X-FORCE #9
SIMON SPURRIER (W) • ROCK-HE KIM (A/C)
• In the deserts of Afghanistan, X-Force has found a lead that could help them track down the villain who killed one of their own.
• But standing in their way is Britain's own team of superhuman operatives: MI13!
• As the two factions come to blows, little do they know that a third player threatens to wipe them all off the board…
32 PGS./Parental Advisory …$3.99
ALL-NEW X-FACTOR #13-14
PETER DAVID (W) • Pop Mhan (A)
Cover by KRIS ANKA & JARED FLETCHER
• Quicksilver is reunited with his daughter, Luna…
• …But THE INHUMANS are not too happy about it!
• PLUS: could Warlock make a move on Danger?
32 PGS. (EACH)/Rated T+ …$3.99 (EACH)
THE UNITED STATES OF MURDER INC. #5
BRIAN MICHAEL BENDIS (W) • MICHAEL AVON OEMING (A/C)
Variant Cover by MATT KINDT
Variant Cover by DAVID MACK
From the Eisner Award-winning creators of POWERS comes another chapter in this brand-new crime epic. Made man Valentine and hit-woman Jagger Rose are getting closer and closer to discovering who set them up—but with the CIA and FBI closing in on them, will they discover the truth about the five families before it's too late?
32 PGS./Mature …$3.99
© 2013 Jinxworld Inc.
POWERS VOL. 1: WHO KILLED RETRO GIRL? TPB (NEW PRINTING)
BRIAN MICHAEL BENDIS (W) • MICHAEL AVON OEMING (A/C)
Coming this December as the first-ever television show on Sony's PlayStation Network, POWERS is about to reach an all-new audience all over the world. And with these Eisner Award-winning graphic novels, you can discover where it all began.
Heroes glide through the sky on lightning bolts and fire. Flamboyant villains attempt daring daylight robberies. Godlike alien creatures clash in an epic battle in the night sky. And on the dirty city streets below, homicide detective Christian Walker does his job. Now, Walker must investigate the shocking murder of one of the world's most popular superheroes: Retro Girl. Walker is teamed up with spunky rookie Detective Deena Pilgrim, and the investigation takes them from the city's seedy underbelly to the gleaming towers that are home to immortal beings. As shocking, twisted truths about Retro Girl come to light, Walker discovers that to solve this crime, he might have to reveal his own dark secret. This collection also includes the POWERS comic strips, a Michael Avon Oeming sketchbook, the POWERS #1 script and more! Collecting POWERS (2000) #1-6.
240 PGS./Mature …$15.99
ISBN: 978-0-7851-9274-9
POWERS VOL. 2: ROLEPLAY TPB (NEW PRINTING)
BRIAN MICHAEL BENDIS (W) • MICHAEL AVON OEMING (A/C)
Homicide detectives Christian Walker and Deena Pilgrim work special cases that involve Powers. And this case is the most disturbing one yet. A group of college kids who role-play their favorite real-life superheroes D&D-style are being murdered one by one. And the path of violence takes our detectives to the most unexpected places. This collection also includes a cover gallery including unused images and an interview with artist Michael Avon Oeming! Collecting POWERS (2000) #8-11.
112 PGS./Mature …$15.99
ISBN: 978-0-7851-9275-6
ORIGINAL SIN COMPANION HC
Written by JONATHAN HICKMAN, GERRY DUGGAN, BRIAN POSEHN, AL EWING, JAMES ROBINSON, MARK WAID, KIERON GILLEN, JASON AARON, DAN SLOTT, BRIAN MICHAEL BENDIS & ED BRUBAKER
Penciled by LEINIL FRANCIS YU, JOHN LUCAS, GREG LAND, MARC LAMING, STEVE PUGH, DAVID BALDEON, PACO MEDINA, MARK BAGLEY, LUKE ROSS, SIMONE BIANCHI, LEE GARBETT, LEONARD KIRK, JAVIER RODRIGUEZ, HUMBERTO RAMOS, KRIS ANKA, CHRIS BACHALO, FRANK CHO & JAVIER PULIDO
Cover by
The shockwaves from the release of the Watcher's secrets are felt across the Marvel Universe! The Avengers face their future as the Invaders struggle with their past! Deadpool has a daughter! Luke Cage investigates the Mighty Avengers from 1972! Learn truths about Nova's father and Daredevil's mother! How is Iron Man connected to the Hulk's origin? How is Angela connected to Thor and Loki? Can the Thing handle the truth about the Human Torch? Can Spider-Man cope with Silk? And could Professor X's will destroy the X-Men? Collecting AVENGERS (2012) #29-34, DEADPOOL (2012) #29-34, MIGHTY AVENGERS (2013) #10-12, ALL-NEW INVADERS #6-7, NOVA (2013) #18-20, ORIGINAL SIN #3.1-3.4 and #5.1-5.5, FANTASTIC FOUR (2014) #6-8, DAREDEVIL (2014) #6-7, AMAZING SPIDER-MAN (2014) #4-5, UNCANNY X-MEN (2013) #23-25, GUARDIANS OF THE GALAXY ANNUAL (2014) #1, and material from POINT ONE #1.
856 PGS./Parental Advisory …$125
ISBN: 978-0-7851-9212-1
Trim size: oversized
MIRACLEMAN BOOK 2: THE RED KING SYNDROME PREMIERE HC
Written by THE ORIGINAL WRITER
Penciled by ALAN DAVIS, JOHN RIDGWAY, RICK VEITCH & CHUCK AUSTEN
Cover by ALAN DAVIS
Michael Moran has rediscovered the power of Miracleman! But unbeknownst to him, Dr. Emil Gargunza, the man behind Project Zarathustra, has set in motion plans decades in the making. In The Red King Syndrome, Gargunza's intentions for Miracleman's wife and unborn child set the stage for a confrontation between creator and creation. The origins of Gargunza and Zarathustra will be revealed, and life and death will be decided deep in the jungles of Paraguay. Collecting MIRACLEMAN (2014) #5-10.
192 PGS./Parental AdvisorySLC …$34.99
ISBN: 978-0-7851-5464-8
Trim size: standard
MIRACLEMAN BOOK 2: THE RED KING SYNDROME PREMIERE HC VARIANT (DM ONLY, SDOS)
192 PGS./Parental AdvisorySLC …$34.99
ISBN: 978-0-7851-9088-2
YOUNG AVENGERS BY KIERON GILLEN & JAMIE MCKELVIE OMNIBUS HC
Written by KIERON GILLEN
Penciled by JAMIE MCKELVIE & KATE BROWN with EMMA VIECELI, CHRISTIAN WARD, ANNIE WU, BECKY CLOONAN, MING DOYLE & JOE QUINONES
Cover by JAMIE MCKELVIE
Kieron Gillen and Jamie McKelvie's groundbreaking, critically acclaimed epic is collected in one oversized volume! The Young Avengers are reinvented for the 21st century as Wiccan, Hulkling and Kate "Hawkeye" Bishop unite with Kid Loki, Marvel Boy, Prodigy and Ms. America. Someone has to save the entire multiverse. They're someone. No pressure, right? As a cosmic horror emerges from the shadows of the past, the Young Avengers race desperately across dimensions — but once they take on the gig to save reality, they may never be able to go home again! Meanwhile, Kid Loki is up to something. Surprise, I know. Fight scenes! Kissing! Fake IDs! Kissing! Drama! Conflict! Plentiful feels! (a.k.a. "meaningful emotional character beats" for people who aren't on tumblr.) And oh yeah, nightclubs! Read it! Collecting YOUNG AVENGERS (2013) #1-15 and material from MARVEL NOW! POINT ONE #1.
360 PGS./Rated T+ …$49.99
ISBN: 978-0-7851-9171-1
Trim size: oversized
YOUNG AVENGERS BY KIERON GILLEN & JAMIE MCKELVIE OMNIBUS HC O'MALLEY COVER (DM ONLY)
360 PGS./Rated T+ …$49.99
ISBN: 978-0-7851-9285-5
CAPTAIN AMERICA: THE TRIAL OF CAPTAIN AMERICA OMNIBUS HC
Written by ED BRUBAKER & MORE
Penciled by LUKE ROSS, JACKSON GUICE, MITCH BREITWEISER, DANIEL ACUÑA, MIKE DEODATO JR., ED MCGUINNESS, CHRIS SAMNEE, DALE EAGLESHAM, STEVE MCNIVEN, ALAN DAVIS & MORE
Cover by MARKO DJURDJEVIC
Bucky Barnes, the once and future Winter Soldier, took on the mantle of Captain America after Steve Rogers' seeming death. But now Steve is back, and the two Caps must decide which one of them will wield the shield! As the Grand Director, Baron Zemo and Sin make life difficult for the heroes, Steve settles into a new role as head of S.H.I.E.L.D. — and Bucky's secret past is exposed to the world! Now, Steve must race to keep Bucky from being swallowed up by a Russian gulag! But when tragedies strike and the Serpent Squad returns, will Steve have the strength to soldier on? Guest starring the Falcon, Black Widow and more! Collecting CAPTAIN AMERICA REBORN: WHO WILL WIELD THE SHIELD? #1, CAPTAIN AMERICA (2005) #602-619 and #615.1, STEVE ROGERS: SUPER-SOLDIER #1-4, and CAPTAIN AMERICA (2011) #1-10.
944 PGS./Rated T+ …$99.99
ISBN: 978-0-7851-9272-5
Trim size: oversized
IRON MAN VOL. 5: RINGS OF THE MANDARIN PREMIERE HC
Written by KIERON GILLEN
Penciled by LUKE ROSS & JOE BENNETT
Cover by MIKE DEL MUNDO
An all-new epic begins! Malekith the Accursed, lord of the Dark Elves, has a problem with Iron Man. Then again, Malekith the Accursed has a problem with pretty much everyone on Earth. And when Malekith the Accursed strikes, blood will flow and darkness will fall…unless Iron Man can gain the upper hand! It's cutting-edge mortal science versus the most arcane Asgardian science imaginable…all in a bath of blood. Plus: which classic Marvel UK character returns in a reinvented form after the events of Revolutionary War? And how do the Mandarin's rings factor into this crisis? Iron Man vows to get to the bottom of things…assuming he lives! Collecting IRON MAN #23-28.
136 PGS./Rated T+ …$16.99
ISBN: 978-0-7851-5482-2
Trim size: standard
DEADPOOL & CABLE OMNIBUS HC
Written by FABIAN NICIEZA, REILLY BROWN & DAN SLOTT
Penciled by MARK BROOKS, PATRICK ZIRCHER, LAN MEDINA, REILLY BROWN, RON LIM, STAZ JOHNSON & NELSON DECASTRO
Cover by MARK BROOKS
Wade Wilson is Deadpool, the mentally disturbed Merc with a Mouth and a healing factor that just won't quit! Nathan Summers is Cable, the messianic mutant from the future who plans to save us all — whether we want him to or not! And now, this disparate duo has just become Marvel's oddest couple — because they're stuck with one another! Can two grown men armed to the teeth with high-tech weaponry coexist without driving each other crazy?! It's action, adventure, time travel, dimension-hopping, black humor, black ops, Bea Arthur, chimichangas — yes, that whole thing started here — and lots of gunfire as two of Marvel's fan-favorite antiheroes take on each other and everyone else! Guest-starring the X-Men, Spider-Man, Captain America, the Fantastic Four…and the Great Lakes Avengers! Collecting CABLE & DEADPOOL #1-50 and DEADPOOL/GLI SUMMER FUN SPECTACULAR.
1272 PGS./Rated T+ …$125
ISBN: 978-0-7851-9276-3
Trim size: oversized
X-MEN: INFERNO PROLOGUE HC
Written by LOUISE SIMONSON, CHRIS CLAREMONT, TOM DEFALCO & MARK GRUENWALD
Penciled by WALTER SIMONSON, STEVE LIGHTLE, TERRY SHOEMAKER, RICK LEONARDI, MARC SILVESTRI, ARTHUR ADAMS, JON J MUTH, BO HAMPTON, BRET BLEVINS & JUNE BRIGMAN
Cover by MARC SILVESTRI
The X-Men are dead! At least that's what the world thinks — but Marvel's mightiest mutants are secretly alive and well in the Australian Outback! How long will the X-Men's self-imposed exile last when the Brood and the mutant-exploiting nation of Genosha come calling? Meanwhile, the New Mutants battle Freedom Force as they deal with Doug Ramsey's shocking death, and X-Factor befriends Apocalypse's Celestial ship and faces Infectia! But as all three teams fight the Evolutionary War, Limbo's demons begin to pursue a sinister agenda — on Earth! A spark has been lit — and if the X-Men aren't careful, the flames will fan into an all-out inferno! Collecting X-FACTOR (1986) #27-32 and ANNUAL #3, UNCANNY X-MEN (1981) #228-238, NEW MUTANTS (1983) #62-70 and ANNUAL #4, X-MEN ANNUAL (1970) #12, and material from MARVEL AGE ANNUAL #4 and MARVEL FANFARE (1982) #40.
824 PGS./Rated T …$125
ISBN: 978-0-7851-9273-2
Trim size: oversized
MARVEL MASTERWORKS: THE MIGHTY THOR VOL. 5 TPB
Written by STAN LEE
Penciled by JACK KIRBY
Cover by JACK KIRBY & RICHARD ISANOVE
A masterpiece of immortal action, cosmic scope and boundless drama, Stan Lee and Jack Kirby's THOR marks a cornerstone of the Marvel Universe — and in this collection they kick their efforts up a cosmic notch! It begins when Thor is captured by Rigellian colonizers and pitted against Ego, the Living Planet! The action continues non-stop from there as Thor faces the High Evolutionary and his man-beasts, battles the Ulik the Troll in the under-earth menace's first appearance, and confronts the unstoppable Destroyer! There's a soft spot to these tales, too, as Thor struggles to reconcile his love for the mortal Jane Foster. And when Lady Sif returns, the cup runneth over with drama and delight! Collecting THOR (1966) #131-140 and ANNUAL #2.
264 PGS./All Ages …$24.99
ISBN: 978-0-7851-8850-6
MARVEL MASTERWORKS: THE MIGHTY THOR VOL. 5 TPB — VARIANT EDITION VOL. 69 (DM ONLY)
264 PGS./All Ages …$24.99
ISBN: 978-0-7851-8851-3
MARVEL MASTERWORKS: THE MIGHTY THOR VOL. 13 HC
Written by GERRY CONWAY
Penciled by JOHN BUSCEMA with RICH BUCKLER, SAL BUSCEMA, ARVELL JONES & KEITH POLLARD
Cover by GIL KANE
Prepare to behold one of the greatest sagas in the annals of Asgard when the Mighty Thor teams up with Hercules! It's page after page of boasts, battles and broken bones as the two titans fight their way into Pluto's underworld to save the lovely Krista! And that's not all we have in store for you: Thor, Sif and Balder's journey across the cosmos to stop the mysterious Black Stars from destroying the Rigellian homeworld; the unstoppable Destroyer returns; Galactus' herald Firelord makes his debut; and the origin of Ego the Living Planet is revealed! With scripts by Gerry Conway and art by the incomparable John Buscema, there's no doubt they're Marvel Masterworks of the highest order! Collecting THOR (1966) #217-228 and MARVEL TREASURY EDITION #3
256 PGS./Rated T …$69.99
ISBN: 978-0-7851-8856-8
MARVEL MASTERWORKS: THE MIGHTY THOR VOL. 13 HC — VARIANT EDITION VOL. 213 (DM ONLY)
256 PGS./Rated T …$69.99
ISBN: 978-0-7851-8857-5
SPIDER-MAN: KRAVEN'S LAST HUNT PROSE NOVEL HC
Written by NEIL KLEID
Cover by MIKE ZECK
Born to a rarified breed of Russian aristocracy, Kraven the Hunter had stalked and killed every animal known to man, and considered himself the world's best big-game hunter. It was this confidence that brought him to New York years ago, in an obsessive quest to hunt what he considered the city's greatest prey: Spider-Man. But his target eluded him time and again, mocking him at every turn. Now, after years of crushing defeats against the web-slinger, Kraven has hatched one last plan to best Spider-Man. In a stunning instant of shocking violence, Kraven stands finally triumphant over Peter Parker's seemingly dead body. And to prove that he is the hero's master, Kraven will don Spider-Man's costume — and become him! Experience the classic, genre-defining Spider-Man shocker like never before in this new adaptation!
304 PGS./No Rating …$24.99
ISBN: 978-0-7851-8970-1
Trim size: standard
Celebrate 75 years with the first volumes of these Marvel Epic Collections On-Sale through the end of 2014!
AMAZING SPIDER-MAN EPIC COLLECTION: GREAT POWER TPB
Volume #1 in the Amazing Spider-Man Epic Collections
Written by STAN LEE
Penciled by STEVE DITKO with JACK KIRBY
Cover by STEVE DITKO
In 1962, in the pages of a comic book slated for cancellation, Stan Lee and Steve Ditko gave birth to one of the most enduring icons in American popular culture: the Amazing Spider-Man! Turning the concept of a super hero on its head, they imbued the young, guilt-ridden Peter Parker with the fantastic powers of an arachnid and the fantastic pressures of an everyday teenager. The combination was pure magic. Now, you can leap into Spider-Man's web-slinging world from the very beginning, including the tragic origin that started it all; the first appearances of the Daily Bugle and J. Jonah Jameson; and the debut of classic villains including the Green Goblin, Dr. Octopus, the Sandman, the Vulture and Electro! Collecting AMAZING SPIDER-MAN (1963) #1-17 and ANNUAL #1, and material from AMAZING FANTASY (1962) #15.
504 PGS./All Ages …$34.99
ISBN: 978-0-7851-8834-6
MOON KNIGHT EPIC COLLECTION: BAD MOON RISING TPB
Volume #1 in the Moon Knight Epic Collections
Written by DOUG MOENCH, DAVID ANTHONY KRAFT, BILL MANTLO & STEVEN GRANT
Penciled by DON PERLIN, KEITH GIFFEN, MIKE ZECK, JIM MOONEY, JIM CRAIG, GENE COLAN, KEITH POLLARD & BILL SIENKIEWICZ
Cover by BILL SIENKIEWICZ
Discover the many faces of the Moon Knight! Mercenary. Werewolf hunter. Super hero. Millionaire playboy. Cab driver. Ghost? Moon Knight is many things to many people, with the multiple personalities to match! Follow the Fist of Khonshu as he battles to find his place in the Marvel Universe in this collection of his earliest appearances. From his startling debut as a nemesis of Werewolf by Night to an unlikely stint with the Defenders, from encounters with Spider-Man and the Thing to the solo adventures that shaped a legend, relive the rise of the moon's specter of vengeance! Collecting WEREWOLF BY NIGHT (1972) #32-33; MARVEL SPOTLIGHT (1971) #28-29; DEFENDERS (1972) #47-50; PETER PARKER, THE SPECTACULAR SPIDER-MAN (1976) #22-23; MARVEL TWO-IN-ONE (1974) #52; MOON KNIGHT (1980) #1-4 — plus material from HULK MAGAZINE #11-15, #17-18 and #20; and MARVEL PREVIEW #21.
504 PGS./Rated T+ …$39.99
ISBN: 978-0-7851-9096-7
THOR EPIC COLLECTION: THE GOD OF THUNDER TPB
Volume #1 in the Thor Epic Collections
Written by STAN LEE with LARRY LIEBER & ROBERT BERNSTEIN
Penciled by JACK KIRBY with JOE SINNOTT, DON HECK & AL HARTLEY
Cover by JACK KIRBY
Pull up a seat to the beginning of one of the greatest tales of modern myth: the epic saga of the Mighty Thor! While vacationing in Norway, Dr. Donald Blake discovered a strange, gnarled cane. Upon striking it, a shower of lightning rained down — and the hobbled doctor found himself transformed into Thor, God of Thunder! In these pages, you'll journey across the Rainbow Bridge to Eternal Asgard — and meet Lord Odin, Heimdall, Balder and Thor's evil half-brother, Loki, for the first time. And to top it off, the mythological origins of Asgard are revealed in fan-favorite backup features! Collecting JOURNEY INTO MYSTERY (1952) #83-109.
480 PGS./All Ages …$34.99
ISBN: 978-0-7851-8835-3
AMAZING SPIDER-MAN VOL. 1: THE PARKER LUCK TPB
Written by DAN SLOTT
Penciled by HUMBERTO RAMOS
Cover by HUMBERTO RAMOS
The greatest super hero of all time returns! The world may have changed since Spidey's been gone, but so has Peter Parker. This is a man with a second chance at life, and he's not wasting a moment of it. But his old foes are back, as well! Re-energized, out of control and madder than ever, Electro and the Black Cat demand revenge! And as if dealing with them isn't enough, a new revelation rocks Spider-Man's world to its core: the radioactive spider that granted Peter his powers bit someone else, too! Who is Silk, and where has she been all these years? Find out as Peter Parker retakes his life, putting the "friendly" back in the neighborhood, the "hero" back in "super hero" — and the "amazing" back in "Spider-Man!" Collecting AMAZING SPIDER-MAN (2014) #1-6.
152 PGS./Rated T+ …$17.99
ISBN: 978-0-7851-6676-4
HULK VOL. 1: BANNER DOA TPB
Written by MARK WAID
Penciled by MARK BAGLEY
Cover by JEROME OPENA
An all-new direction for the Hulk! Following the shocking events of the INDESTRUCTIBLE HULK finale, Bruce Banner lies at death's door, shot in the head by an unknown assailant. If he survives, it won't be as the Bruce Banner we've known! Only the Hulk can save Banner — if he even wants to! How will the Hulk wreak vengeance on Banner's attacker? How can he? As a new threat enters the scene, Banner goes to a dark place — and he could drag the Avengers right along with him! To stop the Hulk from destroying the Avengers, a dangerous plan is put into play. What forbidden knowledge will Tony Stark use to attempt to cure Banner's brain damage? And even if the cure works, what will it cost? Experience a whole new twist in Hulk history! Collecting HULK (2014) #1-4 and ANNUAL #1.
120 PGS./Rated T …$17.99
ISBN: 978-0-7851-9061-5
MOON KNIGHT VOL. 1: FROM THE DEAD TPB
Written by WARREN ELLIS
Penciled by DECLAN SHALVEY
Cover by DECLAN SHALVEY
Marc Spector is Moon Knight! Or is he? It's hard to tell these days, especially when New York's wildest vigilante protects the street with two-fisted justice and three — that's right, count 'em — three different personalities! But even with the mystical force of Egyptian moon-god Khonshu fueling his crusade, how does the night's greatest detective save a city that's as twisted as he is? The road to victory is going to hurt. A lot. Be there as Moon Knight punches ghosts(!), investigates a sleep experiment that's driving its patients insane, travels to the mushroom graveyard planet(!!), faces the Black Spectre and takes on twenty mob enforcers to save an abductee…alone. Marvel's most mind-bending adventure begins as Moon Knight sleuths his way to the rotten core of New York's most bizarre mysteries! Collecting MOON KNIGHT (2014) #1-6.
136 PGS./Rated T+ …$17.99
ISBN: 978-0-7851-5408-2
CAPTAIN MARVEL VOL. 1: HIGHER, FURTHER, FASTER, MORE TPB
Written by KELLY SUE DECONNICK
Penciled by DAVID LOPEZ
Cover by DAVID LOPEZ
Hero! Pilot! Avenger! Captain Marvel, Earth's Mightiest Hero with an attitude to match, is launching headfirst into an all-new adventure! As Carol Danvers comes to a crossroads with a new life and new romance, she makes a dramatic decision that will alter the course of her life — and the entire Marvel Universe — in the months to come. But as Carol takes on a mission to return an alien girl to her homeworld, she lands in the middle of an uprising against the Galactic Alliance and the Spartax! Investigating the forced resettlement of Rocket Girl's people, Carol discovers that she has a history with the man behind the plot. But when the bad guy tries to blackmail Carol and turn the Avengers against her, it's payback time! Guest-starring the Guardians of the Galaxy! Collecting CAPTAIN MARVEL (2014) #1-6.
136 PGS./Rated T+ …$17.99
ISBN: 978-0-7851-9013-4
GUARDIANS OF THE GALAXY VOL. 2: ANGELA TPB
Written by BRIAN MICHAEL BENDIS
Penciled by SARA PICHELLI, FRANCESCO FRANCAVILLA & KEVIN MAGUIRE
Cover by SARA PICHELLI
Spinning out of the dramatic conclusion of AGE OF ULTRON, dimensions collide and Heaven's most fearsome Angel arrives — and comes straight for the Guardians! Gamora, one of the galaxy's greatest warriors, holds a deadly secret that could bring down the entire team. And when Gamora battles Angela, the entire universe hangs in the balance! Then, the galaxy's most mismatched heroes find themselves at a crossroads when the effects of Infinity begin to rise. Can even the mysterious Angela's power help combat the fallout from Thanos' master plan? And what will it take for Star-Lord to betray the entire Marvel Universe? The biggest blockbuster hit of the year continues as artists Sara Pichelli and Francesco Francavilla climb aboard, and comics legend Neil Gaiman joins the team in this one-of-a-kind comic-book event! Collecting GUARDIANS OF THE GALAXY (2013) #4-10.
168 PGS./Rated T …$19.99
ISBN: 978-0-7851-6608-5
ALL-NEW X-FACTOR VOL. 2: CHANGE OF DECAY TPB
Written by PETER DAVID
Penciled by CARMINE DI GIANDOMENICO
Cover by KRIS ANKA & JARED FLETCHER
One of the country's most outspoken anti-mutant leaders…has a mutant daughter! Now, it's up to X-Factor to rescue this young girl from her father! But when the team faces unexpected consequences for "saving" the girl, X-Factor brings big trouble to its employer, Serval Industries — heavily armed trouble. Plus: Gambit does something naughty. And when his indiscretion is found out, nobody is happy. X-Factor holds a press conference, hoping that everything will turn out fine, but they're forgetting that pretty much all of them have awkward secrets that probably shouldn't be made public! Serval Industries brings you the heroes you need in any situation: an all-new X-Factor for an all-new day! Collecting ALL-NEW X-FACTOR #7-12.
136 PGS./Rated T+ …$17.99
ISBN: 978-0-7851-8817-9
X-MEN VOL. 3: BLOODLINE TPB
Written by BRIAN WOOD
Penciled by CLAY MANN & MATTEO BUFFAGNI
Cover by TERRY DODSON
Jubilee is haunted by her adopted baby Shogo's past — or is it his future?! When the Jean Grey School comes under attack, leaving a young X-Man dead on the school's front lawn, Jubilee's worst nightmare has come to pass — and the future is being rewritten. The JGS has always been a school, but is it time to become an army? Or will their differences prove their greatest asset? As a multi-generational war unfolds — pitting mothers against daughters and fathers against sons — Jubilee is caught in the middle. The future has come calling, and he wants his son Shogo back! But will Jubilee and the X-Men let their bouncing baby boy go without a fight? Hell no! Collecting X-MEN (2013) #13-17.
112 PGS./Rated T+ …$17.99
ISBN: 978-0-7851-8972-5
DEADLY HANDS OF KUNG FU: OUT OF THE PAST TPB
Written by MIKE BENSON, GERRY CONWAY & CHRIS CLAREMONT
Penciled by TAN ENG HUAT, DICK GIORDANO
& MARSHALL ROGERS
Cover by DAVE JOHNSON
Murder! Mystery! Martial arts! Shang-Chi's former lover is murdered while working deep undercover for MI-6. Shang-Chi travels to England, but learns that all is not as it seems — and if he's not careful, he'll be next to die! As Shang-Chi battles mystical kung-fu masters in the streets of London and learns terrible truths about his fallen comrade, Misty Knight and Colleen Wing pitch in — but they soon discover the danger is greater than any of them had feared! And no one saw the final twist of the knife coming! Old friends, new enemies, espionage and kung fu collide in this riveting adventure! Plus, classic tales featuring the Sons of the Tiger and the Daughters of the Dragon! Collecting DEADLY HANDS OF KUNG FU (2014) #1-4, and material from DEADLY HANDS OF KUNG FU (1974) #1 and #32-33.
160 PGS./Rated T+ …$16.99
ISBN: 978-0-7851-9078-3
ALL-NEW DOOP TPB
Written by PETER MILLIGAN
Penciled by DAVID LAFUENTE
Cover by MICHAEL ALLRED
Living in the margins, Doop has freaked out X-Men and readers alike. But when he gets deeply involved in X-Men business — and Kitty Pryde's personal life! — Doop will be thrust into the spotlight! Behind the scenes of BATTLE FOR THE ATOM, Doop's unrequited love for Kitty forces him to drag Iceman into Doopspace for some highly unusual questioning. Doop soon discovers the shapeshifting Raze isn't really Kitty Pryde from the future — but Raze has a dark secret that just might stop Doop from telling the other X-Men his true identity! Now, Doop must struggle to halt the craziness corrupting the real world! As Kitty and Doop find themselves in the middle of the scariest moment of their lives with no one to turn to, will Kitty finally accept Doop's proposal of…marriage? Collecting ALL-NEW DOOP #1-5.
112 PGS./Rated T+ …$16.99
ISBN: 978-0-7851-9042-4
ALL-NEW GHOST RIDER VOL. 1: ENGINES OF VENGEANCE TPB
Written by FELIPE SMITH
Penciled by TRADD MOORE
Cover by TRADD MOORE
With four on the floor, Marvel's newest Ghost Rider puts vengeance in overdrive! Amid an East Los Angeles neighborhood running wild with gang violence and drug trafficking, Robbie Reyes has been given an awesome new power! But can the teen handle it, or will it drive him to a path of destruction? As a war brews in the criminal underworld, the streets of East L.A. flare up with drug-fueled gang violence from Dr. Zabo's power-enhancing narcotics — and Mr. Hyde launches a diabolical plan to expand his underground empire. Robbie meets the mysterious entity behind his possession, but will he submit to the sprit inside him and go too far in protecting his neighborhood? The all-new Ghost Rider takes on Mr. Hyde with all-out action and a twist that will hit you at 100mph! Collecting ALL-NEW GHOST RIDER #1-5.
112 PGS./Rated T+ …$15.99
ISBN: 978-0-7851-5455-6
ULTIMATE FF: STRANGEST EVER TPB
Written by JOSHUA HALE FIALKOV
Penciled by MARIO GUEVARA & ANDRE ARAUJO
Cover by MIKE McKONE
Sue Storm, Tony Stark and Sam Wilson are the all-new Future Foundation — and they're all that stand between us and complete and utter doom! When a lavish vacation spot for the super-rich suddenly goes dark, with hundreds missing, the only suspect is an old frenemy of the Fantastic Four! Meanwhile, a mysterious new member will join the FF's ranks, whether they like it or not — and when their secret origin is revealed, the truth behind this newcomer spells doom for another team member! When a parallel Earth invades, sending something unimaginable through the rift, a new Atlantis will rise — but will Namor massacre his own people to survive? Meanwhile, trapped outside the Universe, an old friend returns to help face the coming destruction. The Ultimate Universe's greatest nightmare approaches, and the Doomsday Clock counts down. Can the new FF prevail? Collecting ULTIMATE FF #1-6.
136 PGS./Rated T+ …$17.99
ISBN: 978-0-7851-5404-4
ALL-NEW ULTIMATES VOL. 1: POWER FOR POWER TPB
Written by MICHAEL FIFFE
Penciled by AMILCAR PINNA
Cover by DAVID MARQUEZ
The next generation of Ultimates is here! Spider-Man, Black Widow, Kitty Pryde, Bombshell, Cloak and Dagger unite to tackle the vicious, rampant crime wave overtaking Hell's Kitchen! But the young Ultimates are put to the test as they try to survive their first mission: going head-to-head with the city's most ruthless gang, the Serpent Skulls, led by Diamondback! Meanwhile, detective Brigid O'Reilly and her anti-gang unit are on the hunt for a serial mask killer called Scourge! As Jessica Drew adjusts to the mantle of Black Widow, Spider-Man falls for a villainess, and Bombshell's life is changed by tragedy, Crossbones joins the fray! These young heroes have fought Galactus, but can they survive super-powered street gangs and psychopaths? Written by Michel Fiffe, creator of the acclaimed indie series COPRA! Collecting ALL-NEW ULTIMATES #1-6.
136 PGS./Rated T+ …$17.99
ISBN: 978-0-7851-5427-3
MARVELS COMPANION TPB
Written by MIKE BARON, MARIANO NICIEZA, DAN ABNETT, ANDY LANNING, CHUCK DIXON & WARREN ELLIS
Penciled by SHAWN MARTINBROUGH, BOB WAKELIN, IGOR KORDEY, BRAD PARKER, TRISTAN SHANE, VINCE EVANS, CLIFF NIELSSEN, TERESA NIELSSEN & MORE
Cover by CLIFF NIELSSEN & TERESA NIELSSEN
Delve deeper into the universe of Marvels as six fully painted masterpieces reveal the ordinary lives in the shadow of the extraordinary. What happens to innocents caught in the crossfire of a blockbuster Silver Surfer battle? Can a fish out of water, the amnesiac Sub-Mariner, conquer his inner demons among Manhattan's homeless? Experience the wonder of Wonder Man through the eyes of his greatest fan, learn how one of New York's Finest protects and serves in a city of miracles, and join a Daily Bugle reporter as he uncovers the conspiracy at the heart of…everything! And on another Earth, see how the Age of Marvels could so easily have gone wrong! Collecting TALES OF THE MARVELS: BLOCKBUSTER, TALES OF THE MARVELS: INNER DEMONS, TALES OF THE MARVELS: WONDER YEARS #1-2, CODE OF HONOR #1-4, CONSPIRACY #1-2 and RUINS #1-2.
512 PGS./Rated T+ …$39.99
ISBN: 978-0-7851-9059-2
DEATHLOK THE DEMOLISHER: THE COMPLETE COLLECTION TPB
Written by RICH BUCKLER, DOUG MOENCH, BILL MANTLO & J.M. DEMATTEIS with DAVID ANTHONY KRAFT, MARV WOLFMAN, RALPH MACCHIO & MARK GRUENWALD
Penciled by RICH BUCKLER with MIKE ZECK, SAL BUSCEMA, RON WILSON & JOHN BYRNE
Cover by RICH BUCKLER
Col. Luther Manning has been locked in a state of living death. He is no longer a man, but a mockery of a man. He has become an amalgam of reanimated flesh and computer circuitry, stripped of his family, his humanity — but not his will. He has become Deathlok the Demolisher — a weapon of war programmed solely for destruction. A challenging blend of science fiction and psychological war journal, Deathlok set the pace for anti-heroes in the turbulent post-Watergate '70s. Illustrated by Rich Buckler, and co-written with Doug Moench and Bill Mantlo, Deathlok pushed the moral relevance of Marvel Comics into a bold, often frightening new future. Collecting ASTONISHING TALES (1970) #25-28 and #30-36, MARVEL TEAM-UP (1972) #46, MARVEL SPOTLIGHT (1971) #33, MARVEL TWO-IN-ONE (1974) #27 and #54, and CAPTAIN AMERICA (1968) #286-288.
368 PGS./Rated T …$39.99
ISBN: 978-0-7851-9112-4
NEW MUTANTS/X-FORCE: DEMON BEAR TPB
Written by CHRIS CLAREMONT, JOHN FRANCIS MOORE, CRAIG KYLE & CHRIS YOST
Penciled by BILL SIENKIEWICZ, JIM CHEUNG & MIKE CHOI
Cover by BILL SIENKIEWICZ
The visionary talents of legendary illustrator Bill Sienkiewicz bring the Demon Bear that has haunted Danielle Moonstar's dreams to horrifying life! It took her parents, and now it has returned for Dani — and only the combined efforts of her fellow New Mutants can stop it from finishing the job! Sink your teeth into a true classic! Then, Dani's nightmare returns years later as San Francisco — and her new team, X-Force — come under attack from a similarly unholy ursine! And when the Apache mutant Warpath faces his own Demon Bear, he must forge an unlikely alliance with Ghost Rider — and embrace his birthright — to discover the truth. It's a trilogy of terror, featuring a threat far scarier than the average bear! Collecting NEW MUTANTS (1983) #18-20, X-FORCE (1991) #99 and material from X-FORCE (2008) #7-10.
144 PGS./Parental Advisory …$24.99
ISBN: 978-0-7851-9001-1
SPIDER-MAN NEWSPAPER STRIPS VOL. 2 TPB
Written by STAN LEE
Penciled by JOHN ROMITA SR. & LARRY LIEBER
Cover by JOHN ROMITA SR.
Extra! Extra! Read all the Spidey strips by Stan "The Man" Lee and "Jazzy" John Romita! The second volume compiling all of Stan and John's AMAZING SPIDER-MAN newspaper strips in chronological order, this titanic tome brings you the classic panels that hit the papers in the late 1970s and early 1980s! All the daily strips are printed in the original black and white, and all the Sundays in color, ready to spin a web of enchantment upon anyone who reads them! Collecting the AMAZING SPIDER-MAN newspaper strips from Jan. 29, 1979, to Jan. 11, 1981.
312 PGS./All Ages …$34.99
ISBN: 978-0-7851-8564-2
MARVEL ZOMBIES: THE COMPLETE COLLECTION VOL. 3 TPB
Written by KARL KESEL, FRED VAN LENTE, FRANK MARRAFFINO & PETER DAVID
Penciled by TODD NAUCK, ADAM DEKRAKER, ROBERTO DISALVO, KANO, FERNANDO BLANCO, MIRCO PIERFEDERICI, AL BARRIONUEVO, ALESSANDRO VITTI & MORE
Cover by FRANCESCO FRANCAVILLA
Zombies on infinite earths! First, it's monkey on the menu as the original Marvel Zombies invade the dimension of the Marvel Apes! Then, to uncover an antidote to the zombie plague, Machine Man and Howard the Duck set out across the multiverse — battling zombies in the Wild West, Camelot, a future megacity, during a Martian invasion, and on a world suspiciously similar to our own! But back home, undead clones of the Squadron Supreme have overrun Project P.E.G.A.S.U.S., and only a long-dead former Avenger can stop them! And when the Marvel Universe is targeted by a dimension of Nazi zombies, Howard the Duck must assemble a brigade of misfits to beat them back! Collecting MARVEL APES: PRIME EIGHT #1, MARVEL ZOMBIES: EVIL EVOLUTION #1, MARVEL ZOMBIES 5 #1-5, MARVEL ZOMBIES SUPREME #1-5, MARVEL ZOMBIES DESTROY #1-5 and MARVEL ZOMBIES HALLOWEEN #1.
464 PGS./Parental Advisory …$34.99
ISBN: 978-0-7851-8899-5
MARVEL UNIVERSE ULTIMATE SPIDER-MAN VOL. 7 DIGEST
Adapted by JOE CARAMAGNA
Featuring screen-capture images from MARVEL'S ULTIMATE SPIDER-MAN
The smash Disney XD hit webs its way right out of your TV!
• Scorpio and the Zodiac have taken over the S.H.I.E.L.D. Helicarrier! Now, Spider-Man and Nick Fury must put their differences aside and team up!
• Spider-Man is put on a S.H.I.E.L.D. security detail to protect J. Jonah Jameson from the Beetle, on the same day Mary Jane has an interview at the Daily Bugle!
• Spidey and the team sneak off to a desert island for a vacation! But it's hard to relax when the beach beneath your feet is the villainous Sandman!
• After Hulk falls sick with an alien infection caused by the Phalanx, Spider-Man, tries to hide him at his house!
It's all-out action and excitement as the hit Disney XD TV show bursts off the screen and into your hands with these screen-capture adaptations! Collecting MARVEL UNIVERSE ULTIMATE SPIDER-MAN #25-28.
88 PGS./All Ages …$9.99
ISBN: 978-0-7851-8974-9