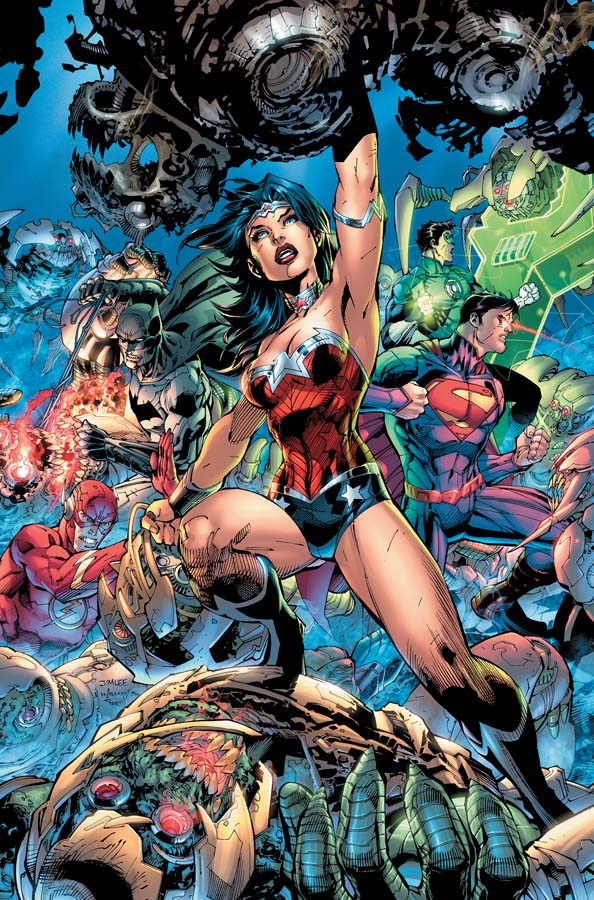 Captain America et Green Lantern continuent leur carrière
Pour son quatrième week-end Captain America : the first avenger continue à bien se comporter tant sur le sol américain, avec plus de 156 millions de dollars de recettes, qu'à l'étranger, et c'est la surprise, avec déjà 128 millions engrangés et ce alors qu'il n'est pas encore sorti dans certains gros marchés étrangers comme l'Allemagne ou la France.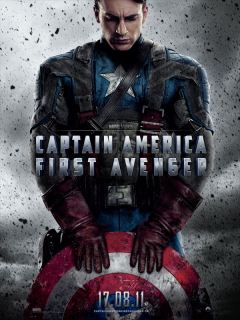 Il est possible que le film sorte presque en dernier dans nos pays, parce qu'il met en scène des allemands dans le rôle des méchants pour les premiers et parce que les américains pensent qu'on ne peut pas les sentir chez nous.
Bref, au delà de ces considérations avec plus de 285 millions de recettes mondiales le films est donc un succès. Il finira, selon toute vraisemblance, sa carrière derrière Thor. Mais le film se comporte très bien.
En tout cas mieux que Green Lantern, qui restera un bide, mais peut être moins que prévu. En effet le film commence à bénéficier de sa sortie internationale. Comme nous l'avons tous remarqués Green Lantern est sorti avec de nombreuses semaines de retard en Europe, et notamment en France où il a fait un démarrage honnête mais pas renversant.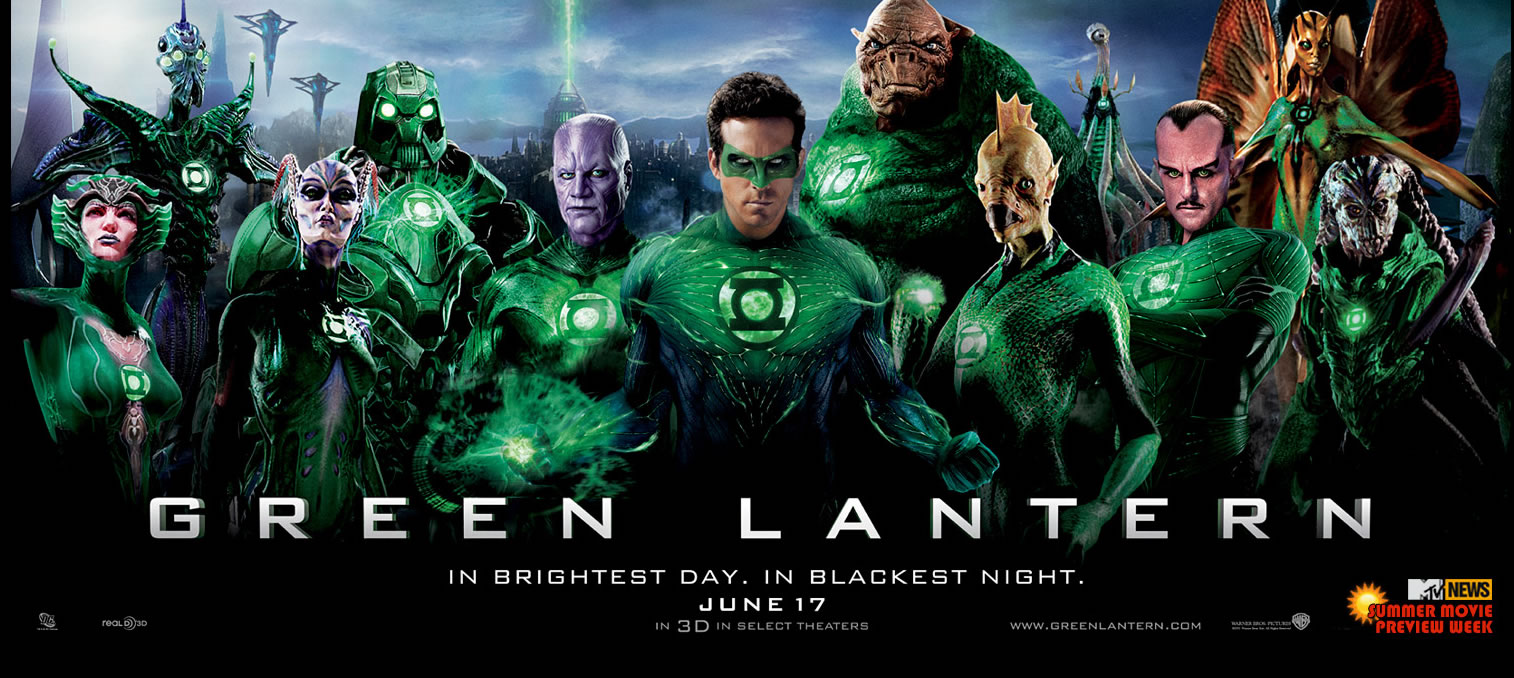 Alors que les recettes américaines restent désormais bloquer à 114 millions, le film a à ce jours récolté 61 millions à l'international, et n'est pas encore sorti partout. Entre ça et les ventes DVD, le film remboursera à terme son énorme budget mais ne fera sans doute aucun bénéfice.
Encore cette année, Marvel est le grand gagnant sur le front du cinéma.
Couvertures variantes pour les titres Ultimates
Dans quelques semaines le grand relaunch de la ligne Ultimate comics interviendra, nouveaux personnages, nouveaux créatifs, l'ensemble est très prometteur et cet univers tient pour la première fois une vraie chance de se relancer.
Il y a quelques jours Marvel a dévoilé des couvertures variantes de certains de ces titres, avec la couverture de Ultimate X-Men dessinée par Mark Bagley :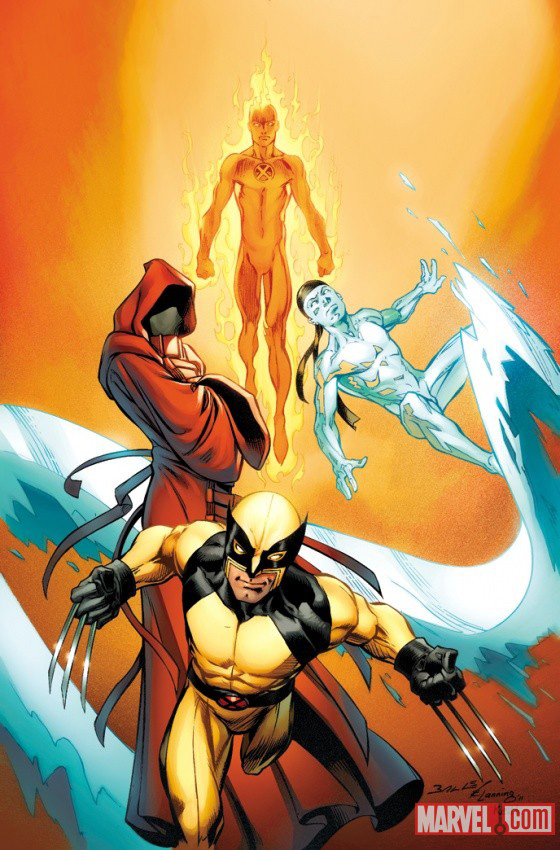 On voit ce qui sera sans doute une partie du casting principal. Il manque encore Rogue et Kitty Pride, que le scénariste de la série décrit comme le coeur de la série. Pour information pour ceux qui suivent uniquement la VF, vous découvrirez qui est le gus en costume de Wolverine dans la mini-série de Jeph Loeb et Arthur Adams: Ultimate X.
Ensuite nous avons la variante cover de Ultimate Spider-man  1 signée Sara Pichelli et mettant en scène Miles Morales nouveau héros de la série
Et puisque vous avez été très gentil, voici les sollicitations des titres vengeurs pour le mois de novembre : (source Newsrama). Avec manifestement tout plein d'origins tout partout, j'ai très peur car je ne vois pas Avengers Academy, espérons que cette sollicitation soit encore incomplète, et comme promis la Hammer War débute. Rien de tout ça ne me donne envie de faire chauffer la carte bleue.
AVENGERS ORIGINS: ANT-MAN & THE WASP #1
Written by ROBERTO AGUIRRE-SACASA
Painted by STEPHANIE HANS
Cover by MARKO DJURDJEVIC
The scientist's name is Hank Pym. The socialite's is Janet Van Dyne. Both are haunted by personal tragedy and the burning need to…avenge! It's insect love, Marvel-style, as we revisit the unlikely origin (and courtship) of the astonishing Ant-Man and the winsome Wasp!
40 PGS./All-New Material/No Reprints/Rated T+ …$3.99
AVENGERS ORIGINS: LUKE CAGE #1
Written by ADAM GLASS & MIKE BENSON
Penciled by DALIBOR TALAJIC
Cover by MARKO DJURDJEVIC
EXPLODING FROM THE PAGES OF NEW AVENGERS…
What makes someone a hero? An Avenger? Is it super-powers? An
indomitable will? An innate sense of right and wrong? For Luke Cage its one terrible mistake that has haunted him his entire life. But can a lifetime of good deeds make up for his years spent on the other side of the law? And will that past ever let him go, or will it tear him to pieces?
40 PGS./All-New Material/No Reprints/Rated T+ …$3.99
AVENGERS ORIGINS: QUICKSILVER & THE SCARLET WITCH #1
Written by SEAN McKEEVER
Penciled by MIRCO PIERFEDERICI
Cover by MARKO DJURDJEVIC
He is X-Factor's hot-headed speedster, and she is arguably the most dangerous mutant alive. But there was once a time when these two were children, twins on the run from those who feared and hated them, belonging with no one save for one another…until they joined the Avengers! For the first time ever in one titanic tale, see the path that took Wanda and Pietro Maximoff from vagrants to mutant terrorists under Magneto to Earth's mightiest heroes!
40 PGS./All-New Material/No Reprints/Rated T+ …$3.99
AVENGERS ORIGINS: THOR #1
Written by KATHRYN IMMONEN
Penciled by AL BARRIONUEVO
Cover by GERALD PAREL
A chosen son seemingly determined to simultaneously live up to and defeat his father's expectations. A brother who's influence he cannot abide but will never escape. Join Thor in Asgard for a timeless archetypal family drama played out against a cosmic backdrop where the human journey toward humility and compassion is also Thor's journey toward godhood and worthiness.
40 PGS./All-New Material/No Reprints/Rated T+ …$3.99
AVENGERS ORIGINS: VISION #1
Written by KYLE HIGGINS & ALEC SIEGEL
Painted by STEPHANE PERGER
Cover by MARKO DJURDJEVIC
Is he man or machine? Created by the evil Ultron, The Vision was meant to be a terrifying weapon of destruction. But when tasked with destroying The Avengers, he must decide whether to follow his programming…or defy his creator. Witness the origin of The Avengers' most mysterious member in this exciting one-shot! Written by Kyle Higgins & Alec Siegel with art by Stephane Perger.
40 PGS./All-New Material/No Reprints/Rated T+ …$3.99
AVENGERS 1959 #3 (of 5)
Written by HOWARD CHAYKIN
Pencils & Cover by HOWARD CHAYKIN
The Avengers fight their way across the South China Sea, while Nick Fury hijacks a jet fighter to rendezvous with the team in Madripoor –where their occult adversaries have a hellish gauntlet awaiting them in the garden district of the capital.
32 PGS./Rated T+ …$2.99
AVENGERS: SOLO #2
Written by JEN VAN METER & JIM MCCANN
Penciled by ROGER ROBINSON & CLAYTON HENRY
Cover by JOHN TYLER CHRISTOPHER
Movie Variant also available
TRAPPED BY THE TRAPSTER! As Hawkeye unveils another piece of the plot against the Avengers, he must do battle with that glue-gobbing gadabout, the Trapster! By Jen Van Meter (BLACK CAT) and Roger Robinson (THOR) BONUS: More with the Avengers Academy kids by Jim McCann (NEW AVENGERS: THE REUNION) and Clayton Henry (SPIDER-GIRL)
32 PGS./Rated T+ …$2.99
AVENGERS #19
Written by BRIAN MICHAEL BENDIS
Pencils & Cover by DANIEL ACUÑA
• Norman Osborn and H.A.M.M.E.R. return!
• Witness the new Avengers line-up in action!
32 PGS./Rated T …$3.99
NEW AVENGERS #18
Written by BRIAN MICHAEL BENDIS
Pencils & Cover by
MIKE DEODATO
Enter…the NEW Dark Avengers!!
And the world will never be the same again!
32 PGS./Rated T+ …$3.99
SECRET AVENGERS #19
Written by WARREN ELLIS
Pencils by MICHAEL LARK
Cover by JOHN CASSADAY
Marvel Comics 50th Anniversary Variant by LARRY STROMAN
RUN THE MISSION. DON'T GET SEEN. SAVE THE WORLD.
In the decadent and crumbling city of ANIANA, in the Eastern European country of SYMKARIA, a local drug lord is planning to sell something mysterious to the Shadow Council.  The Secret Avengers cannot risk that, or an interception after the fact — they must get to the drug lord before the handover, and take whatever the goods are.  Their covert mission uncovers something utterly unexpected, ancient and terrible and a threat to the entire world…
32 PGS./Rated T+ …$2.99
CAPTAIN AMERICA #5
Written by ED BRUBAKER
Pencils & Cover by STEVE McNIVEN
The grand finale of « AMERICAN DREAMERS » is here – Cap faces down an old friend, now a new enemy, but which of them is right in their view of modern America? Only Ed Brubaker and Steve McNiven know the answer!
32 PGS./Rated T+ …$3.99
I AM CAPTAIN AMERICA #1
Cover by JOE QUESADA
Missed one of this summer's "I Am Captain America"
variants? This collection has you covered! Featuring the work of superstar artists such as Marvel Chief Creative Officer Joe Quesada, Marko Djurdjevic, Alex Maleev, Skottie Young and Ed McGuinness, these inspiring images depict
hardworking, everyday Americans whose service would make Steve Rogers proud.
40 PGS./Rated T+ …$3.99
RED SKULL #5 (of 5)
Written by GREG PAK
Art by MIRKO COLAK
Cover by DAVID AJA
History, destiny, and tragedy collide, as young Johann Schmidt reaches his apotheosis…and the Third Reich climbs to the regrettable heights of its terrible power. A tremendous evil is unleashed on the world, and humanity will never be the same for it again. A powerful and sobering story of human evil reaches its chilling conclusion, by Greg Pak (MAGNETO: TESTAMENT) and Mirko Colak (SECRET WARRIORS).
32 PGS./Parental Advisory …$2.99
ALL-WINNERS SQUAD: BAND OF HEROES #6 (of 8)
Written by Paul Jenkins
Art by Carmine Di Giandomenico
Cover by Mico Suayan
Guest-starring Captain America,
Nick Fury and Loki!
As the mystery of Operation: Firefly comes to light in 2011, the sacrifice of brave heroes who laid their lives on the line in World War II is revealed in all its importance. But the greatest losses are the hardest to tally…what did this top-secret mission cost the nation? By Paul Jenkins (X-MEN: PRELUDE TO SCHISM) and Carmine Di Giandomenico (INVINCIBLE IRON MAN).
32 PGS./Rated T+ …$2.99
CAPTAIN AMERICA & BUCKY #624
Written by ED BRUBAKER & MARC ANDREYKO
Penciled by CHRIS SAMNEE
Cover by ED McGUINNESS
The final chapter in Cap and Bucky's first arc is here, completing the retelling of Bucky's early days with a heartbreaking tale of the Winter Soldier and Black Widow in the 1950s, and our secret narrator is finally revealed – as are the things that tie this series to current continuity.
32 PGS./Rated T+ …$2.99
Justice League se montre 
DC vient de révéler la couverture du 3e épisode de Justice League, titre qui va sans aucun doute se vendre comme des petits pains, pendant les quelques mois au cours desquels Jim Lee arrivera à tenir la cadence. (Source DC Nation)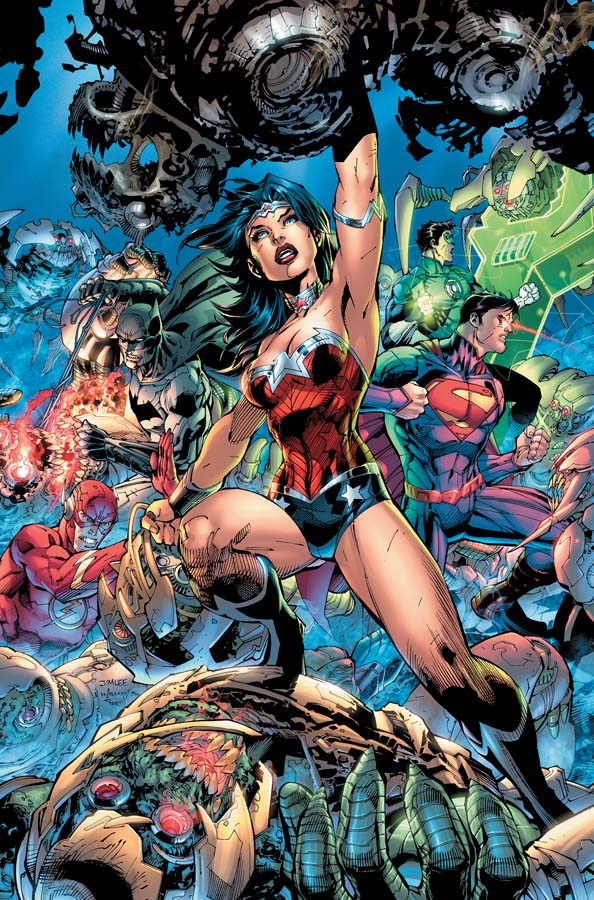 JUSTICE LEAGUE #3
Written by GEOFF JOHNS
Art and cover by JIM LEE and SCOTT WILLIAMS
1:25 Variant cover by GREG CAPULLO
1:200 B&W Variant cover by JIM LEE
On sale NOVEMBER 16 • 40 pg, FC, $3.99 US • RATED T
Combo pack edition: $4.99 US
The superstar team of writer Geoff Johns and artist Jim Lee continue to make history as they unleash the amazing Amazon, Wonder Woman, who joins the battle against a bizarre threat! And the not-yet World's Greatest Heroes need all the help they can get!
Oui je sais, je sais, ça craindra surement, puisqu'il semble bien que Geoff Johns ait perdu son mojo, mais on le veut tous quand même ce comic-book, mais ne culpabilisez pas nous ne sommes que des pauvres geeks…
Et pour l'accompagner  les sollicitations des titres Batman pour le mois de novembre : (Source CBR)
BATMAN #3
Written by SCOTT SNYDER
Art by GREG CAPULLO and JONATHAN GLAPION
Cover by GREG CAPULLO
1:25 Variant cover by IVAN REIS and JOE PRADO
1:200 B&W Variant cover by FRANCIS MANAPUL
On sale NOVEMBER 16 * 32 pg, FC, $2.99 US * RATED T
As Bruce digs deeper into the mystery of the recent owl murders, he soon finds himself face to face with a shocking enemy – an enemy the Wayne family has secretly been at war with for centuries. Be there for the first shots of the war for the soul of Gotham City. Friends will become deadly enemies and secrets will be revealed – revelations that will change the Bat-family forever.
DETECTIVE COMICS #3
Written by TONY S. DANIEL
Art and cover by TONY S. DANIEL and RYAN WINN
On sale NOVEMBER 2 * 32 pg, FC, $2.99 US * RATED T
He makes dolls out of his victims – and he's tired of being referred to in the media as the Gotham Strangler. His moniker is the Dollmaker, and he and his insane family are going to hunt down Gotham City's public figures and turn them into the ultimate collectables. As the Dollmaker ups the stakes, Batman finds himself in a race against time – because one of his allies is the Dollmaker's next target!
BATMAN: THE DARK KNIGHT #3
Written by PAUL JENKINS
Art by DAVID FINCH and RICHARD FRIEND with JAY FABOK
Cover by DAVID FINCH and RICHARD FRIEND
On sale NOVEMBER 23 * 32 pg, FC, $2.99 US * RATED T
A wave of fear washes across Gotham City as a mysterious toxin radically alters the bodies of its criminals, sending crazed villains into the streets and stretching the resources of the police department. Can Batman and his vigilante partners follow the clues and uncover the perpetrator's real identity? And when one fabled hero is stricken by the poison, the trail will point to the mysterious White Rabbit.
BATWING #3
Written by JUDD WINICK
Art and cover by BEN OLIVER
On sale NOVEMBER 2 * 32 pg, FC, $2.99 US * RATED T
Massacre's crusade of blood continues, and the only one standing in his way is Batwing, who finds himself fighting alongside a legendary hero of Africa: the mighty Thunder Fall! As more heroes are targeted by this madman, the mystery of why begins to unfold, as does the story of Batwing's dark past.
BATMAN AND ROBIN #3
Written by PETER J. TOMASI
Art and cover by PATRICK GLEASON and MICK GRAY
On sale NOVEMBER 9 * 32 pg, FC, $2.99 US * RATED T
As Robin does all he can to keep his own killer instincts at bay, Batman focuses his energies on Nobody, the deadly enigma from Bruce's past who has arrived in Gotham and is hellbent on forcing him to accept a new world crimefighting view even as he infiltrates the Waynes' personal lives.
BIRDS OF PREY #3
Written by DUANE SWIERCZYNSKI
Art by JESUS SAIZ
Cover by DAVID FINCH and RICHARD FRIEND
On sale NOVEMBER 16 * 32 pg, FC, $2.99 US * RATED T
Someone's come up with a way to turn ordinary citizens of Gotham City into undetectable walking bombs…and only Black Canary (a.k.a. Dinah Laurel Lance), Starling (a.k.a. Ev Crawford) and new team member Katana (a.k.a. Tatsu Yamashiro) can stop them. But will Canary's choice of a fourth team member, a notorious bioterrorist, tear them apart first?
BATWOMAN #3
Written by J.H. WILLIAMS III and W. HADEN BLACKMAN
Art and cover by J.H. WILLIAMS III
On sale NOVEMBER 9 * 32 pg, FC, $2.99 US * RATED T
Horror! Batwoman faces the terrifying villain stalking Gotham City's children. Can she defeat the gruesome monster in time to save the city's most innocent victims? Intrigue! Kate Kane unearths a ghost she has tried hard to bury, even as the D.E.O. closes in on Batwoman. Can Kate outrun her past and Cameron Chase? Romance! Kate's relationship with Detective Maggie Sawyer continues to evolve. But will Kate's nocturnal activities cause a rift between the two?
BATGIRL #3
Written by GAIL SIMONE
Art by ARDIAN SYAF and VICENTE CIFUENTES
Cover by ADAM HUGHES
On sale NOVEMBER 9 * 32 pg, FC, $2.99 US * RATED T
It's the story you've been waiting for! As Barbara Gordon struggles to find her place in the world, Batgirl and Nightwing collide with the unstoppable force of a train wreck! Will it be sparks flying, or fists for this star-crossed duo? Also, the terrifying Mirror ups the ante in his bizarre war on the citizens of Gotham City! Featuring the eye-popping art of rising superstar Ardian Syaf!
CATWOMAN #3
NOT FINAL COVER ART
Written by JUDD WINICK
Art and cover by GUILLEM MARCH
On sale NOVEMBER 16 * 32 pg, FC, $2.99 US
RATED T+
Cats hate baths. Cats hate dogs. And cats hate being caught. Catwoman stole from the wrong man, and now he's got her. He wants his stuff back, he wants answers and he wants blood. Cats had better have nine lives, because Selina Kyle is about to lose one!
RED HOOD AND THE OUTLAWS #3
Written by SCOTT LOBDELL
Art and cover by KENNETH ROCAFORT and BLOND
On sale NOVEMBER 16 * 32 pg, FC, $2.99 US * RATED T
Red Hood, Arsenal and Starfire enter the Chamber of All to discover what the Untitled wanted – but they'll need to leave their most cherished memories as collateral! And when you're a reincarnated sidekick who lets your madon get the better of you, a former addict turned soldier of fortune, and an intergalactic princess who never quite recovered from a childhood spent as a prisoner of war…? Well, there aren't a lot of cherished memories to choose from! All this as the trio draws ever closer to dealing with a threat that's already killed the ancient caste of assassins who taught Jason Todd everything he knows about the art of killing!
NIGHTWING #3
Written by KYLE HIGGINS
Art and cover by by EDDY BARROWS and JP MAYER
On sale NOVEMBER 16 * 32 pg, FC, $2.99 US
RATED T
The Big Top comes to the Windy City! After the massive events of issue 2, the circus heads to Chicago – and Dick Grayson is along for the ride! But as Nightwing puts pressure on ex-Haley connections in search for answers about his past, one lead may be far too explosive to handle! Be here as Nightwing takes his quest for the truth to the Second City!