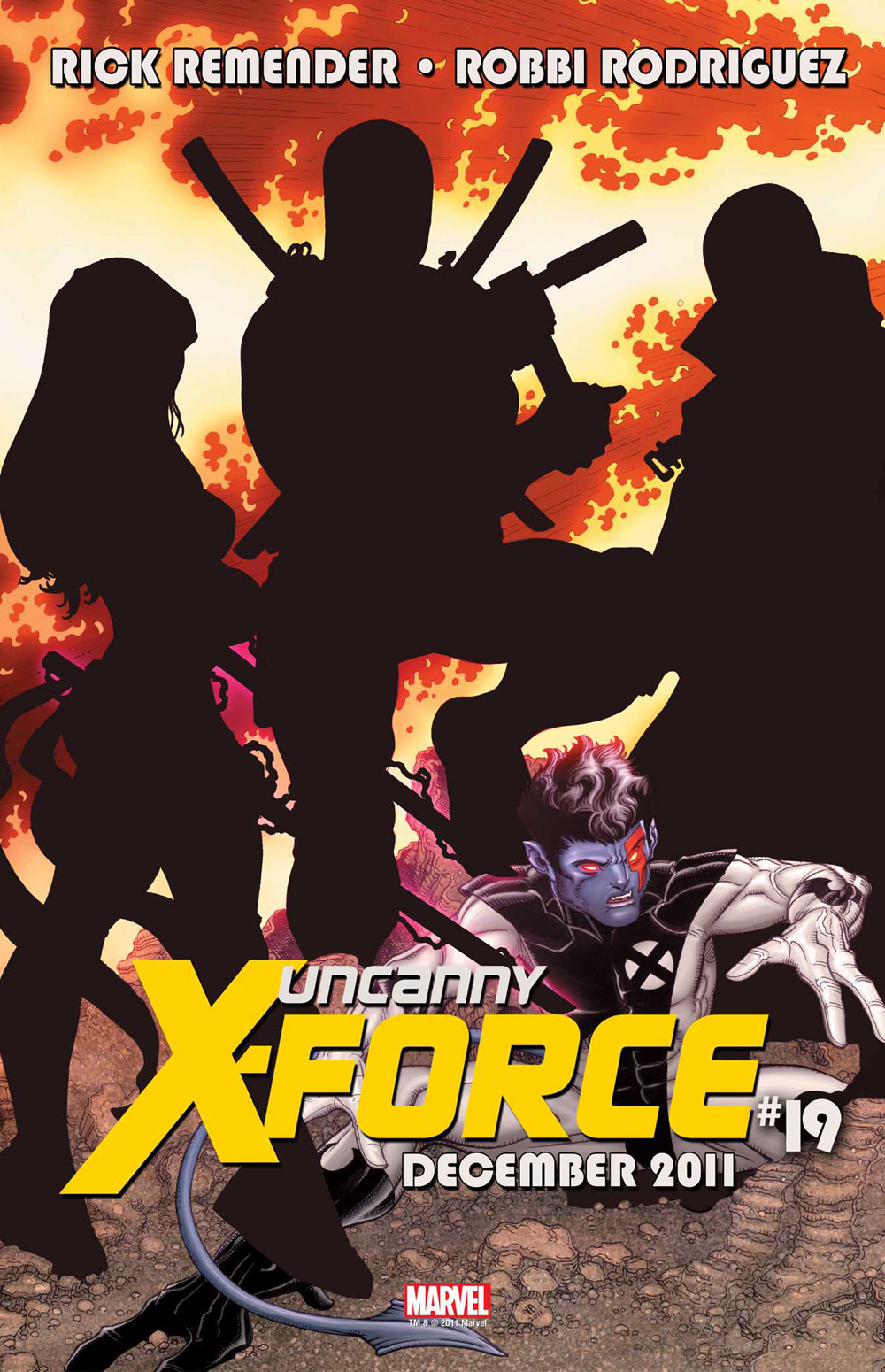 Les X-Men en Novembre se démultiplient…encore
Vous êtes comme moi, vous n'en avez jamais assez des X-Men ? seul votre compte vous arrête, alors faites des économies parce que le mois de novembre s'annonce chargé côté sorties : (source Ifanboy)
On voit que chaque titre va suivre sa voie mais que Marvel fait tout pour conserver le secret quant aux membres qui vont intégrer les rangs de chaque équipe. Je vois que le sort de Cyclope sera au centre des premiers épisodes de Uncanny X-Men tandis que l'équipe de Logan partira à la chasse au nouveau Hellfire Club.
Si Schism est pour le moment, et pour ce qui me concerne, une déception, je dois dire que l'avenir des X-Men est prometteur. Marvel semble avoir compris l'ampleur du travail à accomplir pour reconstruire ce qui était autrefois sa franchise star, et y met les moyens. Nous verrons ensuite à la lecture.
En tout cas on dirait bien que la maison des idées est bien décidée à faire une saisie sur nos salaires, voilà ce que je me dis à la vue du nombre de séries qui bénéficient de deux épisodes en novembre.
WOLVERINE & THE X-MEN #2
Written by JASON AARON
Cover and Pencils by CHRIS BACHALO
Marvel Comics 50th Anniversary Variant by ED McGUINNESS
X-MEN REGENESIS
Wolverine and his X-Men have very little chance of surviving the new Hellfire Club. And that's without another classic villain (the villain of the most important X-Story ever) returning!
32 PGS./Rated T+ …$3.99
NOT FINAL COVER
UNCANNY X-MEN #1 & #2
Written by KIERON GILLEN
Cover and Pencils by CARLOS PACHECO
Issue #1 Variant Cover by FRANK CHO
Issue #1 Regenesis Blue Variant by DALE KEOWN
Issue #1 Blank Variant Cover available
Issue #2 Marvel Comics Annivesary
Variant by BILLY TAN
X-MEN REGENESIS
After the Schism, UNCANNY X-MEN starts over at #1. What is to become of Cyclops and the mutants who side with him after the big split? And what does it have to do with the resurrected Mister Sinister? The hottest new writer in the business, Kieron Gillen (THOR) and superstar Carlos Pacheco (X-MEN: SCHISM, ULTIMATE AVENGERS) bring you the biggest and baddest X-Men you've ever seen.
ISSUE #1 40 PGS./Rated T+ …$3.99
ISSUE #2 32 PGS./Rated T+ …$3.99 
WOLVERINE #18 & #19
Written by JASON AARON
Pencils & Cover by RON GARNEY
Issue #18 Marvel Comics 50th Anniversary Variant by KHOI PHAM
Powerhouses JASON AARON and RON GARNEY continue their rampage through the streets of Chinatown, as Logan struggles to wrap up unfinished business in San Francisco. Journey to the stronghold of the world's newest, most powerful drug dealer… at the center of the earth, where Logan and Gorilla Man find a fierce new ally. ENTER: IMMORTAL WEAPON FAT COBRA!
32 PGS. (each)/Parental Advisory …$3.99 (each)
ISSUE #18 COVER SHOWN
X-MEN #20 & #21
Written by VICTOR GISCHLER
Penciled by WILL CONRAD
Cover by ADI GRANOV
Issue #20 Regenesis Blue Variant by DALE KEOWN
GUEST STARRING IRON MAN 2.0! The fallout of Schism pushes the X-Men and War Machine at each other in Eastern Europe as sentinels are being traded on the black market. But things aren't as they seem and the X-Men and War Machine are going to have to work together to stop a truly horrible plot.
32 PGS. (each)/Rated T …$3.99 (each)
ISSUE #20 COVER SHOWN
X-MEN LEGACY #258 & #259
Written by MIKE CAREY
Pencils by STEVE KURTH (#258) & KHOI PHAM (#259)
Cover by MICO SUAYAN (#258) & CLAY MANN (#259)
Issue #259 Regenesis Gold Variant by NICK BRADSHAW
Issue #259 Marvel Comics 50th Anniversary Variant by DAVID YARDIN
Issue #258
"FIVE MILES SOUTH OF THE UNIVERSE" CONCLUSION!
Locked in psychic combat with an extraterrestrial opponent who far outclasses her, and trapped on a space station that's hurtling toward an exploding sun, Marvel Girl finds herself in dire straits. With the lives of the station's inhabitants and her teammates on the line, just how far will she go to win the day?
ISSUE #259
SCHISM AFTERMATH!
The X-Men are divided. As Cyclops and Wolverine part ways, Rogue, Magneto and Gambit attend to unfinished business, hoping to avoid answering the question: Whose side are they on?
32 PGS. (each)/Rated T+ …$2.99 (each)
NEW MUTANTS #33 & #34
Written by ANDY LANNING
Pencils by DAVID LOPEZ
Covers by JASON PEARSON
Issue #33 Regenesis Blue Variant by DALE KEOWN
Issue #33
In the wake of the events of X-MEN: SCHISM the New Mutants find themselves at a crossroads. A decision needs to be made that will change their lives forever. Featuring fan-favorite artist David Lopez (Hawkeye & Mockingbird, Mystic).
Issue #34
The New Mutants get back to their unfinished business! Tracking the mutant Blink, the team discovers her always near natural disaster areas. Is Blink somehow responsible for this destruction or is there something more sinister afoot? Part 1 of 3.
32 PGS. (each)/Rated T+ …$2.99 (each)
GENERATION HOPE #13
Written by JAMES ASMUS
Pencils and Cover by IBRAIM ROBERSON
Regenesis Blue Variant by DALE KEOWN
REGENESIS TIE-IN!
NEW CREATIVE TEAM! Hope and what is left of her five lights travel to China to find their latest recruit. Wait, is that X-Villain SEBASTIAN SHAW? James Asmus (UNCANNY X-MEN
ANNUAL) and Ibraim Roberson (UNCANNY X-MEN) take the reins of the most-talked about new X-Book
32 PGS./Rated T …$2.99
ASTONISHING X-MEN #44
Written by GREG PAK
Pencils and Cover by MIKE MCKONE
GREG PAK (WORLD WAR HULK) and MIKE MCKONE
 (AMAZING SPIDER-MAN) are here to put the ASTONISHING back in the X-Men. Storm needs Cyclops' help with a special
mission, but it ends up being much more than they bargained for. Oh, and they kiss. WHAT!?!? The biggest, most exciting X-Men story in years starts here!
32 PGS./Rated T+ …$3.99
MAGNETO: NOT A HERO #1
Written by SKOTTIE YOUNG
Pencils and Cover by CLAY MANN
The X-Men are shaken when Magneto finally goes villain again. The Master of Magnetism is caught on video murdering
members of an anti-mutant group. Why did he throw away everything he's earned with the X-Men? Or is this just the only time he's gotten caught? This new series by SKOTTIE YOUNG (WIZARD OF OZ) and CLAY MANN (X-MEN LEGACY) will change the way you look at the best X-Villain of all time!
32 PGS./Parental Advisory …$2.99
UNCANNY X-FORCE #17
Written by RICK REMENDER
Penciled by JEROME OPEÑA
Cover by ESAD RIBIC
The Dark Angel Saga: Part 7
Archangel is ascended. The betrayer has turned the tide. The World will be opened. Realities will clash. Life will be lost. Love shattered. Do not miss this or we will find you! The boss team of Rick Remender (Venom, Fear Agent), Jerome Opeña (Punisher, Fear Agent) and Dean White (Avengers, Amazing Spider-Man) are reunited to bring on the bad guys!
32 PGS./Parental Advisory …$3.99
WOLVERINE: THE BEST THERE IS #12
Written by CHARLIE HUSTON
Penciled by JUAN JOSE RYP
Cover by BRYAN HITCH
FINAL ISSUE!
At last, Logan comes face-to-face with Contagion, the man
who has put him through Hell too many times to count. And
Contagion is about to find out that even after you dissect,
dismember, mutilate and eviscerate the Wolverine, he's still the best there is at what he does. Don't miss this skin-flaying final issue!
32 PGS./Rated T+ …$2.99
X-FACTOR #227
Written by PETER DAVID
Penciled by LEONARD KIRK
Cover by DAVID YARDIN
In this issue, a member of X-Factor dies.
32 PGS./Rated T+ …$2.99
X-23 #16 & #17
Written by MARJORIE LIU
Penciled by PHIL NOTO (#16) & SANA TAKEDA (#17)
Covers by KALMAN ANDRASOFSZKY
AN ALL NEW STORY STARTS HERE! An offer to join
Wolverine collides with an offer from the FF and X-23 is forced to decide if she wants to continue her life as an assassin or take a break and see what it's like to be a regular teenager..
32 PGS. (each)/Parental Advisory …$2.99 (each)
Issue #16 Cover Shown
DAKEN: DARK WOLVERINE #17
Written by ROB WILLIAMS
Penciled by MATTEO BUFFAGNI
Cover by GIUSEPPE CAMUNCOLI
"PRIDE COMES BEFORE IT" PART 2
GUEST-STARRING THE RUNAWAYS! Daken's Hollywood empire has been ripped to pieces and, with his healing factor still
damaged, he's desperate and running for his life. The Pride appears to have returned to Los Angeles, but who's gotten the band back together?
32 PGS./Parental Advisory …$2.99 
Et attendez ce n'est pas fini, dans sa campagne de promotion de sa nouvelle ligne, Marvel a révélé un teaser sur l'avenir de Uncanny X-Force :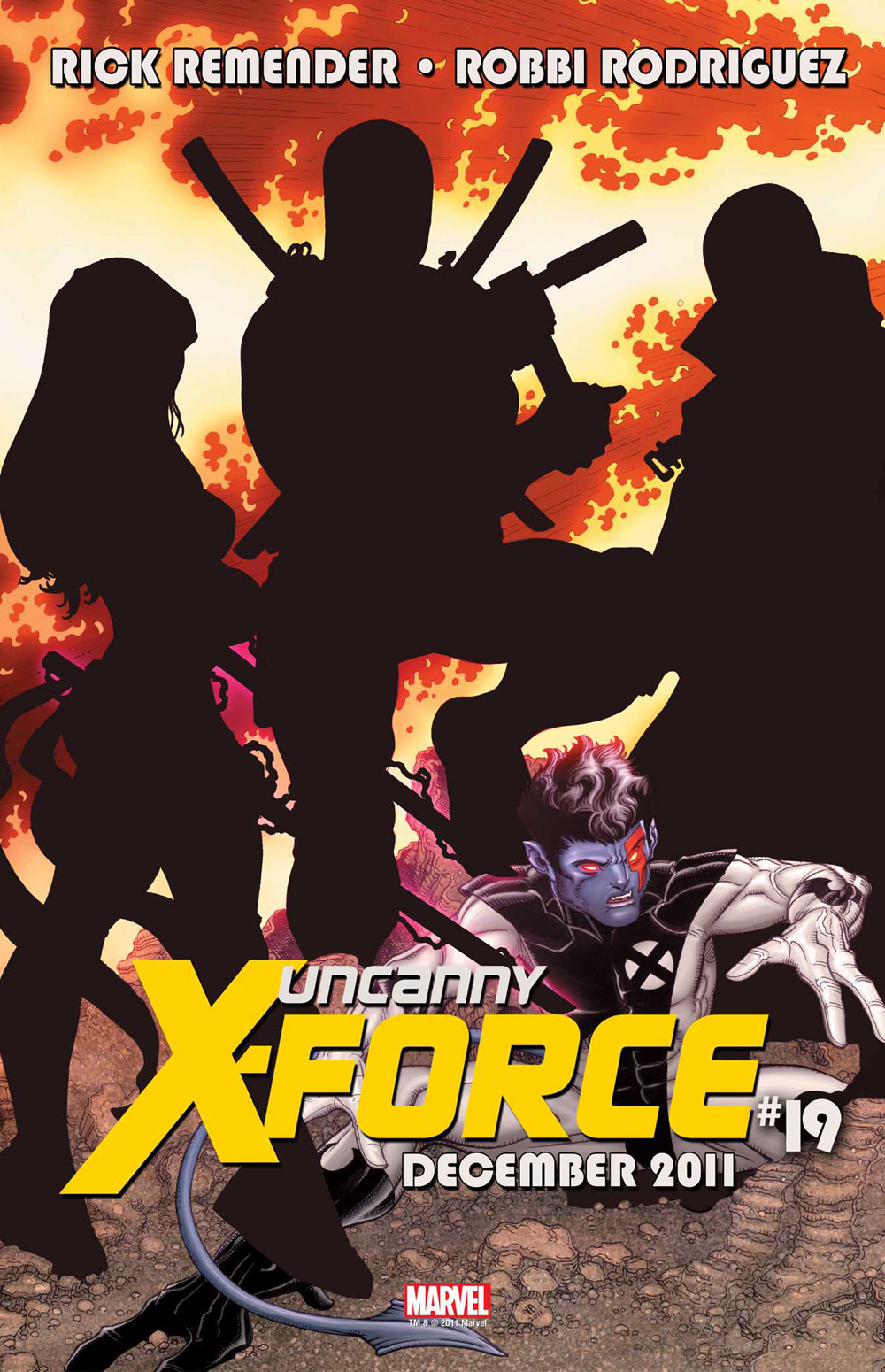 On peut donc voir que l'équipe de Wolverine va ramener un souvenir de la dimension d'Apocalypse. Tiens en parlant de Wolverine, on ne le voit pas sur ce teaser, va-t-il abandonner l'équipe ? Dans l'ombre on peut aisément reconnaître Psyloque, qui rejoindrait donc le camp de Logan après Schism, Deadpool et Fantomex. Quel avenir pour l'équipe ?
Et encore plus de teaser !
Vous en avez marre des teaser, vous voulez les entérrer et tuer leurs auteurs ? Marvel pense à vous avec … encore plus de teasers (vous voulez une capsule de cyanure ? )
Aujourd'hui c'est encore le monde marvel post Fear Itself qui nous est vendu, avec le bandeau Shaterred Heroes qui va nous occuper un temps. Nos héros auraient il besoin de prozac ?ou le lecteur ?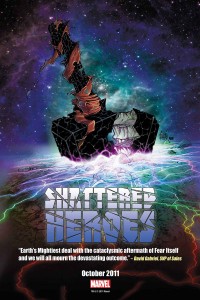 L'affiche de Holly Terror
On connaît tous les « opinions » assez extrémistes de Frank Miller sur bien des sujets. Holy Terror est né de ses partis pris. A l'origine il devait s'agir d'une histoire dans laquelle Batman s'en serait pris à Ben Laden. Après 10 ans à nous l'annoncer il a abandonné l'idée d'utiliser Batman, ou DC lui a dit que son idée il pouvait se la garder, et à »créer » le peso du fixer (réparateur en VF) pour aller tuer du terroriste. Aujourd'hui il a révélé l'affiche de son projet qui sort en septembre :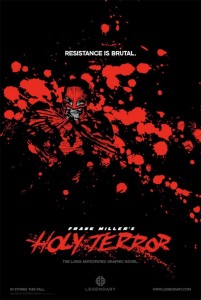 Je suis parano, ou les couleurs, le lettrage et la composition de la page ressemblent beaucoup à celle de 300 ? et ben Frank on se copie soi-même ?