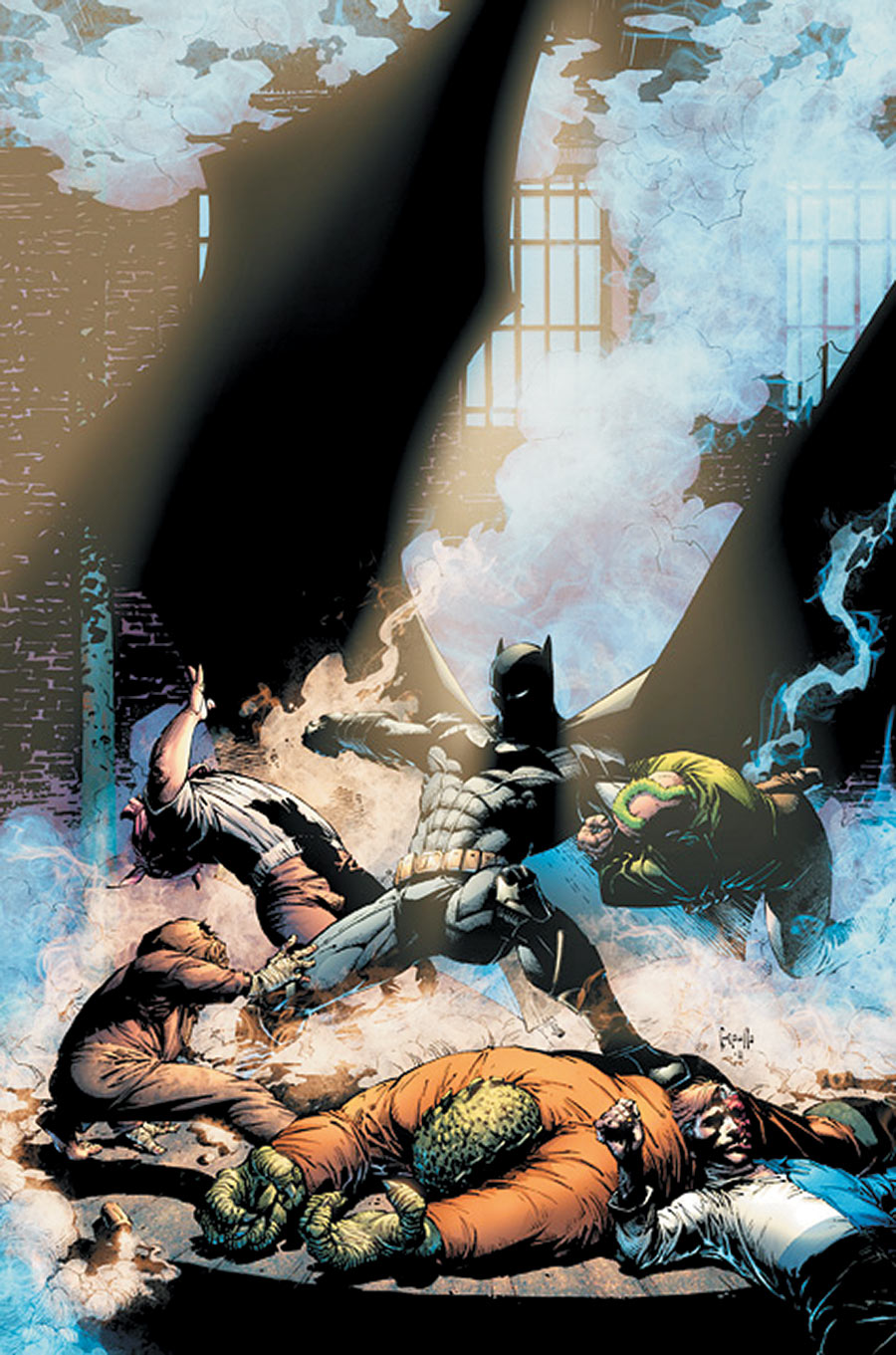 Panini 2012 : Marvel Universe relancé en 2012
Panini a annoncé sur sa page Facebook qu'il allait relancer le magazine  Marvel Universe en 2012  :
NEWS ! MARVEL UNIVERSE en février : Fin de Chaos War, dernier numéro avant relaunch !
Je ne vois pas trop l'intérêt de relancer le mag. On peut penser que Thanos Imperative inaugurera cette nouvelle mouture du titre.
Euh X-Tiction Team : sérieux ?
Voici les premières images de Uncanny X-Men 1, dans lequel Cyclope assemble une nouvelle équipe qu'il nomme … X-Tiction Team. Ils étaient à court de nom ?
Avec le texte de la sollicitation :
This November, history is made with Uncanny X-Men #1! From the superstar creative team of Kieron Gillen and Carlos Pacheco, Cyclops and those who have stayed with him on Utopia rise from the rubble of X-Men: Schism renewed & refocused. Cyclops has created the most powerful X-Men team ever gathered and called them the X-Tinction Team. Except when Mr. Sinister makes his diabolical return, is this new team up to stopping Sinister's current style of extinction? Find out as a bold new era of mutantkind begins in Uncanny X-Men #1!
What team will you choose?
On apprend par ailleurs que le 4e épisode sera une histoire auto-contenue, ce qui suggère que le 1er story-arc ne fera que 3 épisodes, ce qui nous changerait agréablement des arcs sans fin, qui sera dessinée par Brandon Peterson.Il s'agit sans doute là du projet X-Men dont le dessinateur avait parlé sur son blog il y a quelques semaines de cela.
La couverture de Batman 5
Voici la couverture de Batman 5, DC commence déjà à nous teaser janvier 2012…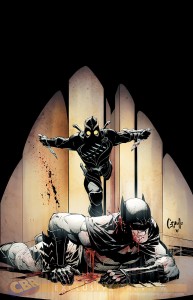 En septembre c'est toujours Batman qui règne
Les premières informations sur les ventes de septembre commencent à sortir. Si l'on ne dispose pas encore des chiffres de ventes, bien que DC ait communiqué sur les seuils symboliques franchis par ces nouveaux titres.
Une chose me turlupine. On sait que DC a réussi à avoir, dans ce Top de septembre, 2 titre au dessus des 200 000, Batman et Action Comics, plus 9 autres titres au delà des 100 000ex dont Aquaman. Mais il ne me semble pas avoir vu WW dans les titres listés au delà de ce seuil. Mais si l'on regarde ce classement on voit que WW est devant Aquaman.Nous voyons que ce sont les grosses franchises DC qui prennent la tête, entre Batman, Superman, Green Lantern… Je suis content de voir que Wonder Woman est bien classée, sauf que … elle se vend moins que Batgirl ? sérieux ? et elle reste derrière les autres super-héros DC. Dommage. Même commentaire pour Batwoman qui à mon sens mérite mieux que sa 17e place.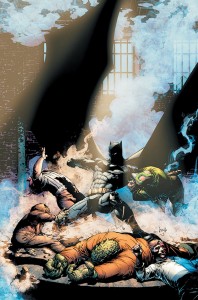 Ce qui semble nous dire que les pré-commandes sont différentes des ventes finales. En outre je vois que Fear Itself, pour une raison inconnue de l'homme, reste dans le Top 10. Or le titre est stable depuis des mois aux alentours de 95 000ex. Il n'y a pas de raison que ce soit différent en septembre.
En outre on a quelques bonnes surprises en terme de classement, comme Justice League Dark qui atteint la 20e place avec des personnages assez peu connus du grand public. On pourrait se dire que le titre s'est avant tout vendu sur son nom de Justice League, or on voit que Justice League International, avec Batman dedans n'est pas dans ce Top.
En outre on apprend que comme on si attendait DC a battu Marvel en terme de part de marché. C'est bien le minimum, surtout lorsque l'on sait que DC a dépensé plus d'un million de dollars en communication autour de son relaunch ! Mais comme le note le site Bleeding Cool, DC avait moitié moins de sorties que Marvel.
En terme de part de marché DC prend 43% contre 35% à Marvel. En outre les ventes de comics single sont en hausse tant par rapport au mois d'août de 9%, mais aussi par rapport à septembre 2010,de 8%. Le relaunch D  met donc fin à plusieurs mois de baisse consécutif.
Je tacherai de vous proposer une analyse plus détaillée, … quand j'aurai un peu de temps.
Au niveau des TPB on voit que Holy Terror de Frank Miller remporte la palme suivi de peu par le Teen Titans Games de Marv Wolfman et Georges Perez. Deux projets en attente depuis des années.

Classement des singles :
QTY
RANK
DOLLAR
RANK
INDEX
ITEM CODE
DESCRIPTION
PRICE
VENDOR
1
2
100.00
JUL110206-M
BATMAN #1
$2.99
DC
2
1
96.99
JUL110201-M
ACTION COMICS #1
$3.99
DC
3
3
75.19
JUL110218-M
GREEN LANTERN #1
$2.99
DC
4
5
68.60
JUL110193-M
FLASH #1
$2.99
DC
5
4
62.83
JUL110203
SUPERMAN #1 [*]
$2.99
DC
6
7
54.87
JUL110208
DETECTIVE COMICS #1 [*]
$2.99
DC
7
8
52.22
JUL110210
BATMAN THE DARK KNIGHT #1 [*]
$2.99
DC
8
6
49.37
JUL110570-M
FEAR ITSELF #6
$3.99
MAR
9
9
46.30
JUL110605-M
ULTIMATE COMICS SPIDER-MAN #1
$3.99
MAR
10
11
45.24
JUL110211
BATMAN AND ROBIN #1 [*]
$2.99
DC
11
35
44.60
JUL110221
GREEN LANTERN NEW GUARDIANS #1
$2.99
DC
12
12
43.25
JUL110212-M
BATGIRL #1 [*]
$2.99
DC
13
45
40.45
JUL110192
WONDER WOMAN #1
$2.99
DC
14
13
39.68
JUL110220
GREEN LANTERN CORPS #1 [*]
$2.99
DC
15
49
39.10
JUL110239
TEEN TITANS #1
$2.99
DC
16
16
38.36
JUL110191
AQUAMAN #1 [*]
$2.99
DC
17
51
38.33
JUL110213
BATWOMAN #1
$2.99
DC
18
10
38.18
JUL110617-M
AMAZING SPIDER-MAN #669
$3.99
MAR
19
21
35.32
JUL110222
RED LANTERNS #1 [*]
$2.99
DC
20
24
33.36
JUL110223
JUSTICE LEAGUE DARK #1 [*]
$2.99
DC
21
25
33.29
JUL110214
NIGHTWING #1 [*]
$2.99
DC
22
19
32.95
JUL110608-M
ULTIMATE COMICS X-MEN #1
$3.99
MAR
23
15
32.64
JUL110578-M
AVENGERS #17
$3.99
MAR
24
28
32.42
JUL110190
JUSTICE LEAGUE INTERNATIONAL #1 [*]
$2.99
DC
25
17
30.96
JUL110600-M
UNCANNY X-MEN #543
$3.99
MAR
26
18
30.76
JUL110583-M
NEW AVENGERS #16
$3.99
MAR
27
20
30.57
JUL110620
AMAZING SPIDER-MAN #670
$3.99
MAR
28
30
29.46
JUL110197
GREEN ARROW #1 [*]
$2.99
DC
29
79
29.06
JUL110224
SWAMP THING #1
$2.99
DC
30
22
28.88
JUL110637-M
CAPTAIN AMERICA #3
$3.99
MAR
31
31
28.69
JUL110205
SUPERGIRL #1 [*]
$2.99
DC
32
23
28.54
JUL110687-M
UNCANNY X-FORCE #15
$3.99
MAR
33
32
28.48
JUL110215
CATWOMAN #1 [*]
$2.99
DC
34
46
28.18
JUL110664-M
FF #9
$2.99
MAR
35
26
27.90
JUL110607
ULTIMATE COMICS SPIDER-MAN #2
$3.99
MAR
36
27
27.87
JUL110678-M
X-MEN SCHISM #4
$3.99
MAR
37
48
27.34
JUL110633
NEW AVENGERS #16.1
$2.99
MAR
38
52
27.07
FEB110639
KICK-ASS 2 #4 (MR)
$2.99
MAR
39
40
26.80
JUL110217
RED HOOD AND THE OUTLAWS #1 [*]
$2.99
DC
40
39
26.78
JUL110216
BIRDS OF PREY #1 [*]
$2.99
DC
41
41
26.73
JUL110198
SAVAGE HAWKMAN #1 [*]
$2.99
DC
42
43
26.56
JUL110204
SUPERBOY #1 [*]
$2.99
DC
43
14
26.41
JUL110630-M
NEW AVENGERS ANNUAL #1
$4.99
MAR
44
29
24.76
JUL110187-M
JUSTICE LEAGUE #1
$3.99
DC
45
88
24.62
JUL110230
STORMWATCH #1
$2.99
DC
46
47
24.62
JUL110196
FURY OF FIRESTORM THE NUCLEAR MEN #1 [*]
$2.99
DC
47
50
24.07
JUL110243
LEGION OF SUPER HEROES #1 [*]
$2.99
DC
48
33
24.01
JUL110646-M
MIGHTY THOR #6
$3.99
MAR
49
55
23.87
JUL110234
SUICIDE SQUAD #1 [*]
$2.99
DC
50
34
23.82
JUL110634-M
SECRET AVENGERS #17
$3.99
MAR
51
37
22.93
JUL110682-M
X-MEN #17
$3.99
MAR
52
65
22.79
JUL110017-M
BTVS SEASON 9 FREEFALL #1
$2.99
DAR
53
38
22.68
JUL110610
ULTIMATE COMICS ULTIMATES #2
$3.99
MAR
54
57
22.46
JUL110233
DEATHSTROKE #1 [*]
$2.99
DC
55
42
22.33
JUL110684-M
X-MEN #18
$3.99
MAR
56
58
22.15
JUL110244
LEGION LOST #1 [*]
$2.99
DC
57
60
22.00
JUL110225
ANIMAL MAN #1 [*]
$2.99
DC
58
61
21.96
JUL110209
BATWING #1 [*]
$2.99
DC
59
44
21.92
JUL110586-M
INVINCIBLE IRON MAN #508
$3.99
MAR
60
59
21.83
JUL110200
DC UNIVERSE PRESENTS #1 [*]
$2.99
DC
61
74
21.39
JUL110652-M
DAREDEVIL #4
$2.99
MAR
62
62
21.23
JUL110242
BLUE BEETLE #1 [*]
$2.99
DC
63
63
21.07
JUL110195
CAPTAIN ATOM #1 [*]
$2.99
DC
64
77
20.95
JUL110651
DAREDEVIL #3
$2.99
MAR
65
36
20.86
JUL110238
ALL STAR WESTERN #1 [*]
$3.99
DC
66
78
20.85
JUL110699
X-MEN LEGACY #255
$2.99
MAR
67
80
20.53
JUL110700
X-MEN LEGACY #256
$2.99
MAR
68
66
20.20
JUL110241
HAWK AND DOVE #1 [*]
$2.99
DC
69
53
20.14
JUL110691
WOLVERINE #15
$3.99
MAR
70
54
20.06
JUL110692
WOLVERINE #16
$3.99
MAR
71
67
19.94
JUL110228
RESURRECTION MAN #1 [*]
$2.99
DC
72
68
19.87
JUL110229
DEMON KNIGHTS #1 [*]
$2.99
DC
73
69
19.85
JUL110226
FRANKENSTEIN AGENT OF SHADE #1 [*]
$2.99
DC
74
70
19.80
JUL110199
MISTER TERRIFIC #1 [*]
$2.99
DC
75
71
19.69
JUL110232
GRIFTER #1 [*]
$2.99
DC
76
72
19.25
JUL110231
VOODOO #1 [*]
$2.99
DC
77
73
19.11
JUL110236
BLACKHAWKS #1 [*]
$2.99
DC
78
75
18.95
JUL110227
I VAMPIRE #1 [*]
$2.99
DC
79
85
18.10
JUL110643
CAPTAIN AMERICA AND BUCKY #622
$2.99
MAR
80
83
18.05
JUL110240
STATIC SHOCK #1 [*]
$2.99
DC
81
56
17.91
JUL110237
MEN OF WAR #1 [*]
$3.99
DC
82
84
17.82
JUL110235
OMAC #1 [*]
$2.99
DC
83
87
17.58
JUL110629
VENOM #7 SPI
$2.99
MAR
84
64
17.35
JUL110681
ASTONISHING X-MEN #42
$3.99
MAR
85
89
17.23
JUL110603
FEAR ITSELF UNCANNY X-FORCE #3
$2.99
MAR
86
76
16.05
JUN110634
AVENGERS CHILDRENS CRUSADE #7
$3.99
MAR
87
92
15.75
JUL110593
JOURNEY INTO MYSTERY #627
$2.99
MAR
88
81
15.37
MAY110707-M
BRILLIANT #1 (MR)
$3.95
MAR
89
93
15.31
JUL110594
JOURNEY INTO MYSTERY #628
$2.99
MAR
90
82
15.08
JUL110654
MOON KNIGHT #5
$3.99
MAR
91
96
14.22
JUL110655
PUNISHER #3
$2.99
MAR
92
95
14.14
JUL110701
DEADPOOL #43
$2.99
MAR
93
97
14.11
JUL110649
HULK #40
$2.99
MAR
94
98
13.84
JUL110650
HULK #41
$2.99
MAR
95
100
13.62
JUL110582
NEW MUTANTS #31
$2.99
MAR
96
86
13.56
JUL110611
ULTIMATE COMICS HAWKEYE #2
$3.99
MAR
97
104
12.84
JUL110671
THUNDERBOLTS #163
$2.99
MAR
98
105
12.70
JUL110581
AVENGERS ACADEMY #19
$2.99
MAR
99
106
12.59
JUL110695
X-23 #14
$2.99
MAR
100
108
12.48
JUL110698
X-FACTOR #225
$2.99
MAR
TPB 
QTY
RANK
DOLLAR
RANK
INDEX
ITEM CODE
DESCRIPTION
PRICE
VENDOR
1
1
5.27
JUL111154
HOLY TERROR HC (MR)
$29.99
LEG
2
2
4.37
MAY110190
NEW TEEN TITANS GAMES HC
$24.99
DC
3
7
3.22
MAY110447
CHEW TP VOL 04 FLAMBE (MR)
$12.99
IMA
4
15
2.82
JUL110726
CASTLE PREM HC RICHARD CASTLES DEADLY STORM
$19.99
MAR
5
4
2.77
MAY118259
HELLBOY TP VOL 11 BRIDE OF HELL & OTHERS
$19.99
DAR
6
10
2.71
JUN110483
MORNING GLORIES TP VOL 02
$12.99
IMA
7
3
2.26
MAY110243
BRIGHTEST DAY HC VOL 03
$29.99
DC
8
21
1.97
JUL111150
SAILOR MOON TP KODANSHA ED VOL 01
$10.99
RAN
9
37
1.95
JUN111269
NARUTO TP VOL 52
$9.99
VIZ
10
24
1.57
AUG110733
UNCANNY X-FORCE TP VOL 01 APOCALYPSE SOLUTION
$15.99
MAR
11
14
1.48
MAY110029
SAVAGE SWORD OF CONAN TP VOL 10
$19.99
DAR
12
35
1.47
JUN110353
IZOMBIE TP VOL 02 UVAMPIRE (MR)
$14.99
DC
13
16
1.39
JUL110940
IRREDEEMABLE TP VOL 07
$16.99
BOO
14
42
1.39
JUL110753
UNCANNY X-MEN TP BREAKING POINT
$16.99
MAR
15
9
1.39
JUN110275
GREEN LANTERN SINESTRO CORPS WAR TP
$29.99
DC
16
51
1.38
JUL111144
CODENAME SAILOR V TP VOL 01
$10.99
RAN
17
23
1.38
JUN110270
BATMAN THE WIDENING GYRE TP
$17.99
DC
18
30
1.36
JUL110744
THANOS IMPERATIVE TP
$19.99
MAR
19
41
1.31
MAY110051
BERSERK TP VOL 35
$14.99
DAR
20
18
1.29
JUN110885
CROSSED TP VOL 02 FAMILY VALUES (MR)
$19.99
AVA
21
73
1.26
JUN111266
BLEACH TP VOL 36
$9.99
VIZ
22
32
1.25
MAY118193
CODE WORD GERONIMO HC
$15.99
IDW
23
53
1.25
JUL110747
ULTIMATE COMICS THOR TP
$15.99
MAR
24
12
1.18
JUN110730
OZ HC OZMA OF OZ
$29.99
MAR
25
45
1.16
JUL110752
ASTONISHING X-MEN TP XENOGENESIS
$19.99
MAR
26
40
1.15
JUN110029
MASS EFFECT TP VOL 02 EVOLUTION
$16.99
DAR
27
31
1.14
JUN110774
WOLVERINE WOLVERINE GOES TO HELL TP
$19.99
MAR
28
6
1.14
JUN111212
HABIBI GN (MR)
$35.00
RAN
29
47
1.14
JUN111097
LOVE AND ROCKETS NEW STORIES TP VOL 04 (MR)
$14.99
FAN
30
33
1.13
JUL110728-M
VENOM BY RICK REMENDER PREM HC VOL 01
$19.99
MAR
31
91
1.13
JUL110743
RUSE TP VICTORIAN GUIDE TO MURDER
$14.99
MAR
32
36
1.08
JUN110276
JLA TP VOL 01
$19.99
DC
33
26
1.05
MAY110244
GREEN LANTERN CORPS THE WEAPONER HC
$22.99
DC
34
19
1.05
MAY118260
STAR WARS OMNIBUS EPISODES I-VI COMP SAGA TP
$24.99
DAR
35
114
1.01
JUL110459
CARBON GREY TP VOL 01 SISTERS AT WAR
$9.99
IMA
36
43
0.99
JUN110873
SUPERGOD TP VOL 01 (MR)
$17.99
AVA
37
60
0.99
JUL110762
THOR FOR ASGARD TP
$19.99
MAR
38
86
0.99
JUL110928
HELLRAISER TP VOL 01 (MR)
$9.99
BOO
39
102
0.99
JUN111289
FULLMETAL ALCHEMIST VOL 26
$9.99
VIZ
40
117
0.99
JUL068351
WALKING DEAD TP VOL 01 DAYS GONE BYE
$9.99
IMA
41
116
0.97
JUL110742
SIGIL TP OUT OF TIME
$14.99
MAR
42
46
0.96
JUL110746
ULTIMATE COMICS NEW ULTIMATES THOR REBORN TP
$19.99
MAR
43
49
0.96
JUN111309
GRIMM FAIRY TALES TP VOL 10
$15.99
ZEN
44
17
0.96
MAY110254
SUPERMAN THE BLACK RING HC VOL 02
$29.99
DC
45
81
0.95
JUL110846
MEGA MAN TP VOL 01
$11.95
ARC
46
70
0.95
JUN110351
NEW YORK FIVE TP (MR)
$14.99
DC
47
83
0.94
JUL110754
DEADPOOL ALL IN FAMILY TP
$12.99
MAR
48
107
0.92
APR110041
OH MY GODDESS RTL TP VOL 39
$10.99
DAR
49
84
0.91
JUL111147
NEGIMA GN VOL 31 (MR)
$10.99
RAN
50
34
0.89
JUL110745
INFINITY GAUNTLET TP
$24.99
MAR
51
38
0.88
JUL110731
ULTIMATE AVENGERS VS NEW ULTIMATES DOSM PREM HC
$24.99
MAR
52
92
0.88
JUL110850
SONIC UNIVERSE TP VOL 01
$11.95
ARC
53
96
0.85
JUL111123
AMULET SC VOL 04 LAST COUNCIL
$10.99
SCH
54
62
0.85
JUN110277
JUSTICE LEAGUE OF AMERICA TEAM HISTORY TP
$17.99
DC
55
69
0.84
JUL110751
AVENGERS PRIME TP
$16.99
MAR
56
8
0.84
MAY110248
KAMANDI OMNIBUS HC VOL 01 LAST BOY ON EARTH
$49.99
DC
57
13
0.82
MAR110342
COVER STORY DC COMICS ART OF BRIAN BOLLAND HC
$39.99
DC
58
57
0.82
JUL110352
GODZILLA KINGDOM OF MONSTERS TP VOL 01
$17.99
IDW
59
101
0.81
FEB110491
ARTIFACTS TP VOL 02
$14.99
IMA
60
59
0.79
JUN110281
SHOWCASE PRESENTS ALL STAR COMICS TP VOL 01
$19.99
DC
61
93
0.79
JUL110759
X-MEN ORIGINS II TP
$19.99
MAR
62
90
0.78
APR110444
WALKING DEAD TP VOL 14 NO WAY OUT (MR)
$14.99
IMA
63
39
0.78
JUL110315
TRUE BLOOD HC VOL 02 TAINTED LOVE
$24.99
IDW
64
119
0.76
JUL110455
BLUE ESTATE TP VOL 01 (MR)
$12.99
IMA
65
99
0.76
JUN110355
GREEK STREET TP VOL 03 MEDEAS LUCK (MR)
$14.99
DC
66
55
0.75
JUL110385
SUICIDE GIRLS TP VOL 01
$19.99
IDW
67
136
0.74
JUL110740
SHADOWLAND MOON KNIGHT TP
$15.99
MAR
68
129
0.74
JUL110756
PUNISHER CIRCLE OF BLOOD TP
$16.99
MAR
69
22
0.73
JUL110757
SPIDER-MAN VENGEANCE OF VENOM TP
$34.99
MAR
70
71
0.72
JUL110730
DEADPOOL PREM HC VOL 08 OPERATION ANNIHILATION
$19.99
MAR
71
110
0.70
JUN110766
STAND TP VOL 01 CAPTAIN TRIPS
$14.99
MAR
72
131
0.70
JUN110329
ALL NEW BATMAN BRAVE AND THE BOLD TP
$12.99
DC
73
89
0.70
JUL110741
HALO FALL OF REACH TP BOOT CAMP (MR)
$16.99
MAR
74
150
0.67
JUL111271
ONE PIECE TP VOL 58
$9.99
VIZ
75
54
0.67
MAY110247
JUSTICE LEAGUE OF AMERICA OMEGA HC
$24.99
DC
76
87
0.67
JUL110733
X-MEN FIRST TO LAST PREM HC
$19.99
MAR
77
118
0.66
JUN110279
JUSTICE SOCIETY OF AMERICA SUPER TOWN TP
$14.99
DC
78
11
0.66
APR110675-M
MMW INVINCIBLE IRON MAN HC VOL 07
$54.99
MAR
79
88
0.65
JUN110274
GOD SOMEWHERE TP NEW ED (MR)
$17.99
DC
80
106
0.63
JUN110505
HACK SLASH TP VOL 09 TORTURE PRONE
$16.99
IMA
81
291
0.62
JUN111288
POKEMON BLACK & WHITE GN VOL 03
$4.99
VIZ
82
44
0.62
MAY110044
COMPLETE MAJOR BUMMER SUPER SLACKTACULAR TP
$29.99
DAR
83
128
0.61
MAY110442
BOMB QUEEN GANG BANG TP (MR)
$14.99
IMA
84
112
0.61
JUL110749
IRON MAN 2.0 TP VOL 01 PALMER ADDLEY IS DEAD
$16.99
MAR
85
134
0.60
JUN110282
TITANS FAMILY REUNION TP
$14.99
DC
86
56
0.59
JUN110421
DUNGEONS & DRAGONS FR DRIZZT OMNIBUS TP VOL 01
$24.99
IDW
87
168
0.59
MAY110052
BLOOD BLOCKADE BATTLEFRONT TP VOL 01
$10.99
DAR
88
143
0.59
JUL110986
XXXHOLIC GN VOL 17
$10.99
RAN
89
97
0.59
MAY111307
GFT MYTHS & LEGENDS TP VOL 01 (MR)
$15.99
ZEN
90
95
0.58
JUL110755
NEW MUTANTS TP VOL 03 FALL OF NEW MUTANTS
$19.99
MAR
91
121
0.58
JUL110468
GREEN WAKE TP VOL 01 (MR)
$16.99
IMA
92
98
0.58
JUL110765
ESSENTIAL DEFENDERS TP VOL 06
$19.99
MAR
93
80
0.57
JUN110388
GI JOE SPECIAL MISSIONS TP VOL 04
$19.99
IDW
94
72
0.56
MAY110251
LEGION OF SUPER HEROES HC VOL 02 CONSEQUENCES
$24.99
DC
95
68
0.56
JUL100692
WOLVERINE OLD MAN LOGAN TP
$29.99
MAR
96
94
0.56
JUN110743-M
ENDERS GAME FORMIC WARS BURNING EARTH PREM HC
$24.99
MAR
97
138
0.56
SEP088204
WALKING DEAD TP VOL 02 MILES BEHIND US (NEW PTG)
$14.99
IMA
98
77
0.56
JUL110717
ASTONISHING THOR HC
$24.99
MAR
99
141
0.55
DEC058055
BATMAN DARK KNIGHT RETURNS TP
$14.99
DC
100
105
0.55
JUL110720
SECRET WARRIORS PREM HC VOL 06 WHEELS WITHIN WHEELS
$19.99
MAR