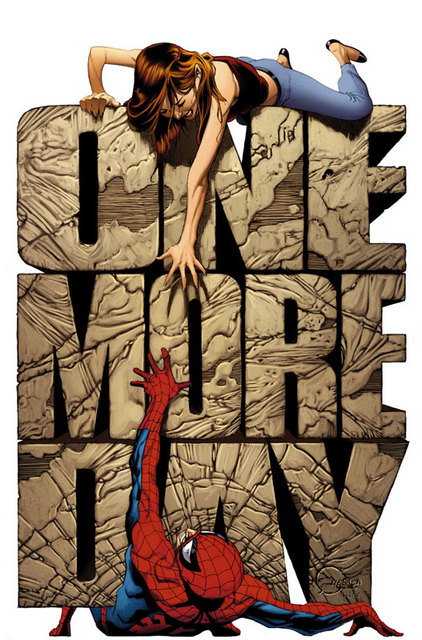 Je ne pensais pas reporter cette info, car elle n'a rien de bien passionnant, sauf que là je dois dire que l'attitude de Marvel m'a vraiment exaspéré.
Il y a de cela quelques jours, JMS a posté sur sa page Facebook ce petit graphique sur les ventes de Spider-man après son départ :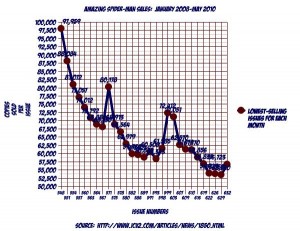 Ce à quoi Stephen Wacker a poliment répondu :
Stephen Wacker :  An excellent post, JMS. Out of context, out of date and full of out-of-the-blue mean.

Everyone on ASM currently respects your years on the book (and as editor I've said so many times in interviews and in the letter column), but seriously this is about as creepy and low of a move as a former writer can pull on another group of creators (many of whom didn't have the luxury you had of ducking out of controversy).

Due to the team's hard work, ASM is still one of the best-selling, best performing comics around. And thanks to them, 130+ (on-time!) issues of ASM have come out since you left — which certainly helps mitigate the softening of the ENTIRE comics market that you're apparently willing to ignore.

Yes, you are one of the bigger names in the comics industry. Congratulations. You've earned the title.

It's a shame though that the title doesn't come with more class…just sayin'…
Je ne vais pas vous traduire l'ensemble, mais en gros il lui répond que ce post est une honte, et une insulte pour l'équipe créative actuelle, et que si JMS est un grand nom de l'industrie, manifestement il n'en a pas la classe.
Ce à quoi JMS a répondu de manière beaucoup plus adulte :
Individual responses:

Stephen Wacker: nowhere in my post did I say word one about the current creative team. Nowhere in the post was there the sort of personal attack you engage in here. Nowhere do I characterize anyone or impugn their motives or integrity. I was simply passing along raw numbers, which you do not actually refute, you simply yell at me for posting them and call names and engage in other essentially churlish behavior. In regards to ducking out of controversy, I would like to know what that refers to as I have never stepped away from either controversy or sharing my opinion.

I have always made it very clear that when I came aboard ASM I brought Peter and MJ back together because I liked writing them as a married couple. I made equally clear that the decision to unmarry them and, in the same brushstroke, eliminate virtually every story I'd written during those eight years was an editorial mandate, not my choice. I would've been happy to continue writing them married until the sun went out. Marvel wanted to unmarry them. That's your choice, and your right. At no point did I duck out of anything. If you think I did, back it up: what are you referring to?

I posted numbers. Nothing more or less. If those numbers are correct, and again you do nothing to say otherwise…then your reaction is simply mean-spirited diversion. If those numbers are not correct, provide what you consider to be accurate ones. I am more than happy to have them posted here.

In the course of this, I received a friendly, measured note from Dan Slott, who is a terrific writer, who asked if I had any problems with the current creative team. I'll tell you what I told him: I have no problem with them/him whatsoever. Dan is a terrific writer and is doing great work. I happened to come across this chart, and passed it along. Beginning, middle and end of story.

At NO point did I engage in the kind of attacking, spiteful, mean-spirited characterization you did above. It's unfortunate that one of Marvel's editors comports himself in this fashion, but it happens.

If you choose to continue the conversation, please try to do so in a grown-up fashion, as did Dan Slott. You might find it a refreshing change.
En gros il lui dit qu'à aucun moment il n'a voulu insulter de quelque manière que ce soit l'équipe créative actuelle, et qu'il s'est d'ailleurs expliqué avec Dan Slott, qui  lui a envoyé un message très adulte et amical pour savoir si il y avait un problème.
Je dois dire que l'attitude de marvel, et de Wacker en particulier, est ahurissante, car après plusieurs années ils continuent à insulter JMS sous le manteau, voire de manière beaucoup plus frontale alors qu'il a redressé à lui seul deux de leurs personanges, Spider-man et Thor.
Manifestement ils ont oublié que Spider-man était au fond du trou lorsqu'il est arrivé sur le titre, et qu'il en a refait un hit. Ils ont oublié que lorsqu'il a repris la série Thor c'est à peine si une série au nom de ce personnage était viable. Aujourd'hui le perso porte des crossovers sur ses épaules.
Oui la série Amazing Spider-man va beaucoup mieux aujourd'hui, mais cela est dû à 99% au boulot de dingue fourni par Dan Slott ces dernièrs temps. Boulot qui a essentiellement consisté à … effacer tous les effets de One More day/Brand new Day.
Est-ce que le marché a connu un récession à la même période à laquelle est intervenue la chute des ventes de AMS ? oui, sauf que la baisse des ventes s'est faite sur plus de 3 ans, or comme le montre ce graphique la baisse des ventes de ce titre est intervenue en à peine quelques mois ! pour revenir au même niveau de ventes d'avant l'arrivée de JMS qui était alors un plus bas historique !
Je rappellerai enfin que ces chiffres sont de notoriété publique depuis pas mal de temps maintenant. Je trouve donc triste que Marvel ne veuille pas reconnaître qu'ils se sont plantés dans les grandes largeurs. Enfin je dirai que je sais que JMS n'est pas sans défaut, le plus connu étant de partir d'une série alors qu'il n'a pas fini de raconter son histoire, mais personne ne peut lui enlever tout le travail qu'il a fourni pour Marvel.