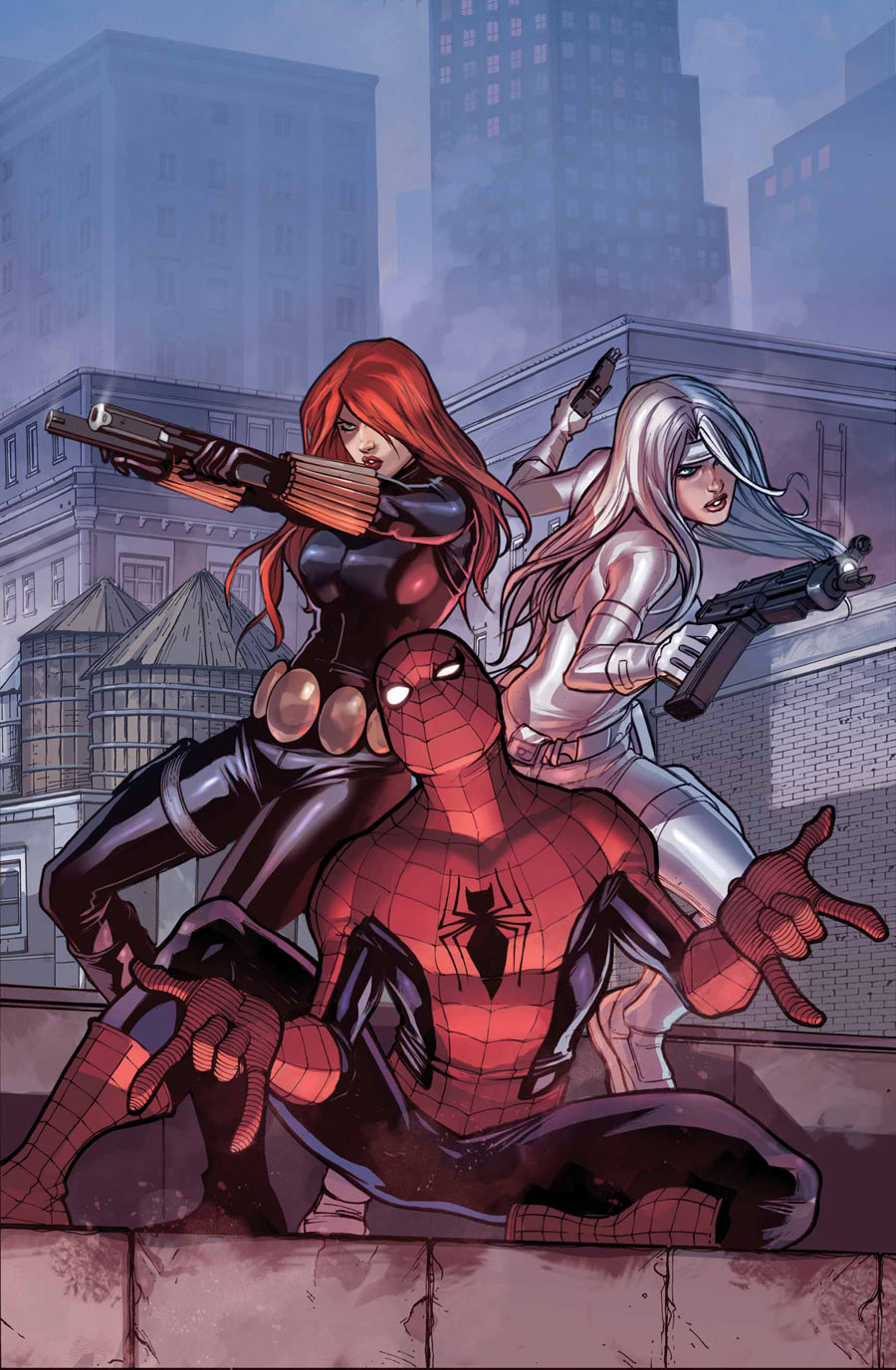 Avx: Vs #2 (of 6)
KIERON GILLEN/STEVE MCNIVEN(w) • SALVADOR LARROCA/STEVE MCNIVEN(a)
Cover by SALVADOR LARROCA
Fight Poster Variant by STEVE MCNIVEN
• The premier tie-in to AVENGERS vs. X-MEN!
• SPIDER-MAN vs. COLOSSUS
• CAPTAIN AMERICA vs. GAMBIT
32 PGS./Rated T+ …$3.99 (EACH)
AVENGERS VS X-MEN #3-4 (of 12)
Issue #3 ED BRUBAKER (W)
ISSUE #4 JONATHAN HICKMAN (w) • JOHN ROMITA JR (a)
CoverS by JIM CHEUNG
Issue #3 Variant cover by J. Scott. Campbell
Issue #3 Variant cover by Sara Pichelli
Issue #4 Variant Cover by Mark Bagley
Issue #4 Variant Cover by Jerome Opeña
Issue #3
• The Avengers and the X-Men scour the Earth searching for the host of the Phoenix!
• Hope takes matters into her own hands!
• And Captain America and Wolverine come to bitter blows!
Issue #4
• All across the globe—in the Savage Land, in Wakanda, in Tabula Rasa and more—Avenger battles X-Man for the fate of the world!
• Hope has a suicide mission to propose to Wolverine!
• While in space, the Avengers' away team meets the Phoenix head on!
32 PGS./Rated T+ …$3.99 (EACH)
AVENGERS #26
BRIAN MICHAEL BENDIS (w) • WALT SIMONSON (a/c)
• AVX TIE-IN!
• One of the Avengers must betray the team to fill their destiny with the Phoenix.
• A game-changer for the Avengers franchise…and it is not who you think!
• Comics legend Walt Simonson is back!!
32 PGS./Rated T …$3.99
UNCANNY X-MEN #12
KIERON GILLEN (w) • GREG LAND (A/C)
• AVX TIE-IN!
• The Avengers and X-Men take their battles world-wide.
• Return to Tabula Rasa!
32 PGS./Rated T+ …$3.99
WOLVERINE & THE X-MEN #10 & 11
JASON AARON (w) • CHRIS BACHALO (a/c)
• AVX TIE-INS!
• Cyclops comes to the Jean Grey School!
• Will Wolverine's X-Men join Cyclops against the Avengers?
• ICEMAN vs RED HULK!
32PGS./Rated T …$3.99 (EACH)
NEW AVENGERS #26
BRIAN MICHAEL BENDIS (w) • MIKE DEODATO (a/c)
• AVX TIE-IN!
• The secret history of the Phoenix is revealed in K'un Lun's book of the dead Iron Fists. One of the most important chapters in the AVX story.
• What is Danny Rand's secret connection to the Phoenix?
32PGS./Rated T …$3.99
SECRET AVENGERS #27
RICK REMENDER (w) • RENATO GUEDES (A)
Cover by ALAN DAVIS
• AVX TIE-IN!
• Captain Marvel reborn to unite all Kree!
• Captain Marvel, The Protector and Ms. Marvel vs The Avengers!
• Who is Minister Marvel and why has he drawn the Phoenix to the Kree homeworld?
32 PGS./Rated T+ …$3.99
AVENGERS ACADEMY #29 & 30
CHRISTOS GAGE (w) • TOM GRUMMETT (a)
CoverS by GIUSEPPE CAMUNCOLI • AVX TIE-IN!
• Both issues tie-in to AVENGERS VS. X-MEN!
• The Utopia and Gen Hope teens have come to the Academy…as prisoners?
• Sebastian Shaw strikes!
• Guest-starring Wolverine, Hawkeye, Hercules and Captain America!
32 PGS./Rated T …$2.99 (EACH)
X-MEN LEGACY #266 & 267
CHRISTOS GAGE (w) • RAFA SANDOVAL (a)
CoverS by MARK BROOKS • AVX TIE-IN!
"OCCUPY THE JEAN GREY SCHOOL"
• Avengers She-Hulk, Falcon and Moon Knight are tasked with securing the Jean Grey School…
• And Rogue and her team of X-Men aren't too happy about it!
32 PGS./Rated T+ …$2.99 (EACH)
AVENGERS ASSEMBLE #3
BRIAN MICHAEL BENDIS (w) • MARK BAGLEY (a/C)
• Avengers versus the Zodiac! But who is behind the Zodiac?
• PLUS! The reappearance of a team of characters you've been clamoring for!
32 PGS./Rated T+ …$3.99
Marvel's The Avengers: The Avengers Initiative 
FRED VAN LENTE (w) • RON LIM (a/C)
• The all-ages, action-packed prequel to the Avengers movie is here!
• Meet the incredible cast of the Avengers Initiative: Captain America, Iron Man, Thor, Hulk, Black Widow and Hawkeye!
• The perfect introduction to The Avengers movie coming out in May 2012!
32 PGS./ONE-SHOT/Rated T+ …$2.99
HULK SMASH AVENGERS #1 (OF 5)
TOM DEFALCO (w) • RON FRENZ (a)
Cover by LEE WEEKS • A five-part, weekly punch-fest that explores the ever-evolving relationship between the Gamma Goliath and Earth's Mightiest Heroes!
• Hulk vs. the 60's-era Avengers: Captain America, Iron Man, Giant-Man, Wasp and Thor!
32 PGS./Rated T …$2.99
HULK SMASH AVENGERS #2 (OF 5)
JOE CASEY (w) • MAX FIUMARA (a)
Cover by LEE WEEKS • Hulk vs. the '70s-era Avengers: Iron Man, Wasp, Vision and the Beast!
32 PGS./Rated T …$2.99
HULK SMASH AVENGERS #3 (OF 5)
ROGER STERN (w) • KARL MOLINE (a)
Cover by LEE WEEKS • Hulk vs. the '80s-era Avengers: Captain America, Iron Man, Hawkeye, Wasp, Captain Marvel and Thor!
32 PGS./Rated T …$2.99
HULK SMASH AVENGERS #4 (OF 5)
JIM MCCANN (w) • AGUSTIN PADILLA (a)
Cover by LEE WEEKS
• Mr. Fixit Hulk vs. the '90s-era West Coast Avengers: Iron Man, Wonder Man, Mockingbird, Tigra and Hawkeye!
32 PGS./Rated T …$2.99
HULK SMASH AVENGERS #5 (OF 5)
FRED VAN LENTE (w) • MICHAEL AVON OEMING (a)
Cover by LEE WEEKS
• Red Hulk vs. the 2000s-era Mighty Avengers…Black Widow, Wonder Man, Ares, Sentry and the Wasp!
32 PGS./Rated T …$2.99
ULTIMATE COMICS SPIDER-MAN #10
BRIAN MICHAEL BENDIS (w) • DAVID MARQUEZ (a)
Cover by KAARE ANDREWS
• It's Prowler vs. Spider-Man! Uncle vs. nephew!
• The superstar team of Brian Michael Bendis and newcomer David Marquez continue Miles Morales' journey to becoming a hero!
32 PGS./Rated T+ …$3.99
ULTIMATE COMICS ULTIMATES #10 & 11
SAM HUMPHRIES & JONATHAN HICKMAN (w) • LUKE ROSS (a)
Cover by KAARE ANDREWS
• New creative team! Rising talent Sam Humphries and superstar artist Luke Ross join writer Jonathan Hickman!
• It's the beginning of a new era for the United States!
• How do Nick Fury and the Ultimates move forward in the aftermath of the People vs. the Children?
32 PGS./Rated T+ …$3.99 (EACH)
ULTIMATE COMICS X-MEN #11
NICK SPENCER (w) • PACO MEDINA (a)
Cover by KAARE ANDREWS • The Nimrod Fleet continues their brutal massacre of mutants.
• Stryker is reborn.
•The face of the United States is changed forever.
32 PGS./Rated T+ …$3.99
ULTIMATE COMICS X-MEN #12
NICK SPENCER (w) CARLO BARBERI (a)
Cover by KAARE ANDREWS
• The mysteries of the mutant dead deepen even further.
• A familiar and much feared foe makes an unexpected return.
• What do you know about the last time the world ended?
32 PGS./Rated T+ …$3.99
VENOM #17 & 18
RICK REMENDER & CULLEN BUNN (w) • Issue #17 Kev Walker (a)
Issue #18 Lan Medina (a)
CoverS by Mike DelMundo
• Venom faces a gauntlet of doom as the Crime-Master unites Jack O'Lantern, The Human Fly, Toxin and more to destroy Flash Thompson!
• The Crime-Master's plan is so diabolical, so vile, that it forces Eddie Brock to become a symbiote's host once more – and takes the war to Flash Thompson's Family, Betty Brant and even Peter Parker!
32 PGS./Rated T+ …$2.99 (EACH)
AMAZING SPIDER-MAN: ENDS OF THE EARTH #1
DAN SLOTT, BRIAN CLEVENGER AND ROB WILLIAMS (W) • THONY SILAS (A)
Cover by SEBASTAIN FIUMARA
• From one "Ends of the Earth" to the other, Spider-Man isn't the only hero fighting free the globe from Doctor Octopus's treacherous tentacles in this extra sized story!
• And the dying doctor has some wicked worldly associates of his own.
• Guest staring: Big Hero Six and Union Jack
32 PGS./ONE-SHOT/Rated T …$3.99
AMAZING SPIDER-MAN ANNUAL #39
BRIAN REED (w) • LEE GARBETT (a/C)
• Spider-Man is stuck in a world where Peter Parker never existed!
• And reality is coming apart!
• Guest staring the Avengers!
48 PGS./Rated T …$3.99
AVENGING SPIDER-MAN #7
kATHERINE iMMONEN (w) • Stuart Immonen (a/C)
• A night out with Spider-Man and She-Hulk!
• All the thwipping and quipping and none of the calories!
• Katherine and Stuart Immonen smash their way into the book so action packed it keeps flying off the shelves…
32 PGS./Rated T+ …$3.99
AMAZING SPIDER-MAN #685
DAN SLOTT (w) • HUMBERTO RAMOS (a)
Cover by STEFANO CASELLI
VARIANT Cover by Gabriele DELLOTTO
• Part four of the epic "Ends of the Earth"
• Featuring the World's Greatest Super Hero: Doctor Octopus!
• Guest staring Black Widow and Silver Sable.
32 PGS./Rated T …$3.99
AMAZING SPIDER-MAN #686
DAN SLOTT (w) • STEFANO CASELLI (a/C)
VARIANT Cover by Gabriele DELLOTTO
• In this perilously penultimate issue of "Ends of the Earth" Inferno: Earth rages!
• We promised the End of the Earth… and this is it, Jocko!
• Guest staring: a doomed planet.
32 PGS./Rated T …$3.99
SCARLET SPIDER #5
CHRISTOPHER YOST (w) • NEIL EDWARDS (a)
Cover by RYAN STEGMAN
• A Nuclear Bomb is ticking, ready to devastate Kaine Parker's new home – it's a race against time!
• Why has the Scarlet Sentinel's heroics attracted the ire of the Avengers?!
32 PGS./Rated T+ …$2.99
AMAZING SPIDER-MAN: PARALLEL LIVES #1
GERRY CONWAY (w) • ALEX SAVIUK (a)
Cover by BOB LARKIN
• He's Peter Parker: a shy, introverted teen whose life changed forever when a radioactive spider bit him.
• She's Mary Jane Watson: product of a broken home, concealing her pain with an outgoing party-girl persona.
• They meet, fall in love and get married. This is their story.
• The classic 1989 graphic novel returns!
64 PGS./Rated T+ …$4.99
JOHN CARTER: THE GODS OF MARS #3 (of 5)
SAM HUMPHRIES (w) • RAMON PEREZ (a)
Cover by Julian Totino Tedesco
The epic Edgar Rice Burroughs adaptation continues!
• John Carter and friends have escaped countless deaths, but are they running out of lives!
• Will Carter get to his long lost love before Dejah Thoris is sacrificed?
• Join rising sensations Sam Humphries and Ramon Perez on an incredible journey though the unforgettable worlds of Mars!
32 PGS./All Ages …$2.99
DOROTHY & THE WIZARD IN OZ #6 & 7 (of 8)
ERIC SHANOWER (w) • SKOTTIE YOUNG (a/C)
• What happens when you get to the Land of Oz and you don't fit in?
• Jim the Cab-horse challenges the Sawhorse to a race—with alarming results.
• Dorothy meets her old friends—the Scarecrow, the Tin Woodman, the Cowardly Lion, Tik-tok, and more.
• The talking Gump-head is always good for a surprise.
32 PGS./All Ages …$3.99 (EACH)
• What happens when you get to the Land of Oz and you don't fit in?
• Jim the Cab-horse challenges the Sawhorse to a race—with alarming results.
• Dorothy meets her old friends—the Scarecrow, the Tin Woodman, the Cowardly Lion, Tik-tok, and more.
• The talking Gump-head is always good for a surprise.
32 PGS./All Ages …$3.99 (EACH)
THE AVENGERS: BLACK WIDOW STRIKES #1&2 (of 3)
FRED VAN LENTE (w) • WELLINTON ALVES, RENATO ARLEM, NEIL EDWARDS, STEVE KURTH, RON LIM & AGUSTIN PADILLA (a)
CoverS BY ADI GRANOV & TBD
• A brand-new Black Widow solo adventure from the Marvel Cinematic Universe!
• Before Natasha assembles with the Avengers Initiative, see her in this hard-hitting espionage adventure set between the events of IRON MAN 2 and MARVEL'S THE AVENGERS!
32 PGS./Rated T+ …$2.99 (EACH)
CAPTAIN AMERICA #11 & 12
ED BRUBAKER (w) • PATRICK ZIRCHER (a)
• Patrick Zircher joins Ed Brubaker for "Shock To The System"
• Ex super-villains in Witness Protection murdered!
• The return of an old villain and an old lover!
• Can Cap solve this mystery before he himself becomes a target?
32 PGS./Rated T …$3.99 (EACH)
CAPTAIN AMERICA AND HAWKEYE #630 
CULLEN BUNN (w) • ALESSANDRO VITTI (a)
Cover by PATRICK ZIRCHER
• All the patriotism and arrows in the world may not be enough to save Cap and Hawkeye from a hive of dino-monstrosities!
• A secret buried beneath the San Andres Mountains begins to unravel.
• All this and—Stegron!
32 PGS./Rated T …$2.99
CAPTAIN AMERICA AND HAWKEYE #631 
CULLEN BUNN (w) • ALESSANDRO VITTI (a)
Cover by PATRICK ZIRCHER
• In the depths of an underground city, Stegron's dream becomes a nightmare!
• Cap "goes Mezozoic" and he's set his carnivorous sights on Hawkeye!
• And what's freakier than creepy little kids? Creepy little dinosaur kids!
32 PGS./Rated T …$2.99
WINTER SOLDIER #5
ED BRUBAKER (w) • BUTCH GUICE (a)
Cover by LEE BERMEJO
• Ed Brubaker and Butch Guice bring the Winter Soldier's first arc to a dramatic ending!
• Can Bucky and the Black Widow prevent war with Latveria?
• Can Bucky stop the Sleepers he himself trained?
• Can this series get any cooler?
32 PGS./Rated T+ …$2.99
THE MIGHTY THOR #14
MATT FRACTION (w) • PEPE LARRAZ (a)
Cover by WALT SIMONSON • How far will Donald Blake go to regain what he's lost?
• What really happens in your room at night after you fall asleep?
• How can Thor fight a foe that's not there?
32 PGS./Rated T+ …$3.99
INVINCIBLE IRON MAN #516
MATT FRACTION (w) • SALVADOR LARROCA (a/C)
• The mole inside Start Resilient is revealed!
32 PGS./Rated T+ …$3.99
INVINCIBLE IRON MAN #517
MATT FRACTION (w) • SALVADOR LARROCA (a/C)
• If Tony Stark isn't Iron Man, then who's the guy in the suit?
• Zeke Stane digs for he truth
• Spymaster racks up his victims
32 PGS./Rated T+ …$3.99
INCREDIBLE HULK 7.1 
JASON AARON (w) • JEFTE PALO (a)
Cover by MICHAEL KOMARCK
• Whatever happened to Bruce Banner…?
• RED SHE-HULK knows, and is NONE TOO PLEASED.
32 PGS./Parental Advisory …$2.99
HULK #51 & 52
JEFF PARKER (w) • CARLO PAGULAYAN (a)
• General Ross is being haunted by ghosts from his past… but WHOSE ghosts are they?
• Red Hulk wants answers, but so do… RAIZO KODO and THE FORGIVEN?!?!
• Does salvation lie in the hands of the LEGION OF MONSTERS?
32 PGS./Rated T+ …$2.99 (EACH)
INCREDIBLE HULK #8
JASON AARON (w) • STEVE DILLON (a)
Cover by MICHAEL KOMARCK
ASM 50TH ANNIVERSARY VARIANT BY TBA
• In order to stay himself, Hulk must STAY ANGRY!
• How does one stay angry? How about going up against THE PUNISHER?
• And if that isn't enough, the Green Goliath can always take on a murderous drug cartel!
32 PGS./Parental Advisory …$3.99
FANTASTIC FOUR #605.1
JONATHAN HICKMAN (w) • MIKE CHOI (a/C)
"THE FOUR"
• The Secret History of the Fantastic Four
• Everything starts just like you remember…
• It ends like something completely different.
32 PGS./Rated T …$2.99
FANTASTIC FOUR #606
JONATHAN HICKMAN (w) • RON GARNEY (a)
Cover by MIKE CHOI "INERT"
• The Fantastic Four travel to Wakanda
• The Return of Black Panther to the pages of the F4.
• What happens when the world completely runs out of Vibranium?
32 PGS./Rated T+ …$2.99
FF #18
JONATHAN HICKMAN (w) • NICK DRAGOTTA (a)
Cover by MIKE CHOI "SAFARI"
• The kids take their first Field Trip. To Africa!
• Meet the Science Club of Wakanda.
• The Future Foundation gets a brand new member.
32 PGS./Rated T+ …$2.99
MARVEL ZOMBIES Destroy! 1 & 2 (of 5)
FRANK MARRAFFINO (w) • MIRCO PIERFEDERICI (a)
Cover by MICHAEL DEL MUNDO • At long last! The BEST-SELLING Marvel Zombies franchise returns!
• A.R.M.O.R. is called upon to rescue a reality where the Nazis won WWII… with ZOMBIES!
• Howard the Duck brings in Nazi-fighter extraordinaire DUM DUM DUGAN and a squadron of fighters known as Ducky's Dozen!
• SERIOUSLY, YOU GUYS! NAZI ZOMBIES!
32 PGS./Parental Advisory …$3.99 (EACH)
EXILED #1
KIERON GILLEN, DAN ABNETT & ANDY LANNING (w) • CARMINE DI GIANDOMENICO (a)
Cover by STEPHANIE HANS • It's NEW MUTANTS. It's JOURNEY INTO MYSTERY. It's NEW MUTANTS *and* JOURNEY INTO MYSTERY. It's the New Journey Into Mutant Mystery!
• With a left over "s".
• A forgotten hero returns, mightier than Thor himself, but will the truth behind his exile consume them all?
32 PGS./ONE-SHOT/Rated T+ …$2.99
EXILED PARTS 2-5
JOURNEY INTO MYSTERY #637
PART ONE
NEW MUTANTS #42
PART TWO
JOURNEY INTO MYSTERY #638
PART THREE
NEW MUTANTS #43
PART FOUR
• Gods made mortal, with mutants their only hope for survival!
• Undead cannibals on the loose, San Francisco turned inside out by forbidden magic!
• A thrilling mythological mystery adventure in the Mighty Marvel manner, the most epic crossover of 2012! (Not counting that one where As fight Xs)
32 PGS./Rated T+ …$2.99 (EACH)
DEFENDERS #6
MATT FRACTION (w) • VICTOR IBANEZ (a)
Cover by TERRY DODSON
• WHO is trying to kill the Immortal Weapons and can Iron Fist stop them?
• WHY did the world forget about the Confederates of the Curious?
• HOW does the Concordance Engine tie all these threads together?
32 PGS./Rated T+ …$3.99
THE PUNISHER #11
GREG RUCKA (w) • MIRKO COLAK (a)
Cover by BRYAN HITCH
• After making the streets run red in "the Omega Effect" with Spider-Man and Daredevil…
• Frank Castle speaks. And Rachel Cole is not going to like what she hears.
32 PGS./Parental Advisory …$2.99
DAREDEVIL #12
MARK WAID (w) • CHRIS SAMNEE (a)
Cover by PAOLO RIVERA
• It's lawyers in love as Matt Murdock finally makes some time for assistant district attorney Kirsten McDuffie.
• The best reviewed comic of the year continues as Waid and Rivera welcome aboard new artist Chris Samnee (Ultimate Spider-Man).
32 PGS./Rated T+ …$2.99
DAREDEVIL #13
MARK WAID (w) • KHOI PHAM (a/C)
• THIS IS IT! "Megacrime and Punishment" Be here as Megacrime strikes back at Daredevil!
• And Matt's "happy go lucky" veneer at last begins to peel back, revealing… darker truths that may end his career as Daredevil.
• Artist Khoi Pham returns!
32 PGS./Rated T+ …$2.99
AVENGERS: EARTH'S MIGHTIEST HEROES #2
CHRISTOPHER YOST (w) • ADAM DEKRAKER (a)
Cover by Khoi Pham
• Two breathtaking tales of THE AVENGERS: EARTH'S MIGHTIEST HEROES by Chris Yost, the head writer of the hit animated series.
• Lightning striking stone! Thor and Iron Man vs. Grey Gargoyle!
• Plus: It's might vs. bright when Hulk, Wasp and Hawkeye take on Marvel's most malicious Mensa member: the Wizard!
32 PGS./All Ages 32 PGS./All Ages …$2.99
ULTIMATE SPIDER-MAN #2
EUGENE SON & Jacob Semahn (w) • NUNO PLATI (a)
• From the minds behind the hit TV show, witness the web-slinging adventures of the ULTIMATE SPIDER-MAN!
• An easy errand for Aunt May becomes a maddening misadventure with the Malevolent MOLE MAN!
• Then, when the Electrifying ELECTRO attacks a StarkTech Expo, can the wily-web-slinger pull the plug on this voltaic villain?!
32 PGS./All Ages …$2.99
TOY STORY #3 (of 4)
Written by TEA ORSI
Art by ETTORE GULA, ANDREA ROSSETTO, FEDERICA SALFO, & PACO DESIATO
Cover by MARCO GHIGLIONE, CRISTINA GIORGILLI & SILVANO SCOLARI • New adventures featuring Woody, Buzz Lightyear and the rest of the gang!
• "To the Attic!" — Woody, Buzz, Rex and Slink explore new territory when they accidentally get put in the attic for storage!
• An unexpected new friend could be their only hope for getting back to Andy's room!
32 PGS./All Ages …$2.99
THUNDERBOLTS #174
JEFF PARKER (w) • DECLAN SHALVEY (a)
Cover by MARK BAGLEY
• The Clash of the Bolts Concludes!
• In their most dire hour, the Fixer makes a devastating decision!
• Zemo's legacy of evil destroy our present or can the Thunderbolts pulls the world back from oblivion?!
32 PGS./Rated T+ …$2.99
WOLVERINE & THE X-MEN: ALPHA & OMEGA #5 (of 5)
BRIAN WOOD (w) • MARK BROOKS AND ROLAND BOSCHI (a)
Cover by JOHN TYLER CHRISTOPHER
• Logan and Armor are removed from the construct – but back in the real world something lingers inside them.
• Logan versus the Berserker!
• Quentin Quire is contrite, but has he blown his last chance with the X-Men?
32 PGS./Parental Advisory …$3.99
UNCANNY X-FORCE #25
RICK REMENDER (w) • MIKE MCKONE (a)
Cover by JEROME OPEÑA
VARIANT Cover by STEPHEN PLATT • Landmark 25th issue!
• The epic saga THE FINAL EXECUTION begins here!
• Who are the Omegas and why must X-Force hunt them down?
• Included in this issue: Two rare stories by Rick Remender and Jerome Opeña starring Wolverine and Deadpool!
48 PGS./Parental Advisory …$4.99
WOLVERINE #306 & 307
CULLEN BUNN (w) • PAUL PELLETIER (a)
CoverS by CHRIS SAMNEE
• DR. ROT IS BACK!
• Discover the secret behind Rot's twisted family…and what Wolverine's connection is.
• FBI Agent Wells is circling closer to the truth behind the brutal murders he's investigating. And Wolverine is his lead suspect!
32 PGS./Parental Advisory …$3.99 (EACH)
X-MEN #28 & 29
VICTOR GISCHLER (w) • WILL CONRAD (a/C)
• A lost team of Skrulls infiltrates the X-Men
• Pixie is taken hostage…or did she go by choice?
32 PGS./Rated T …$3.99 (EACH)
X-FACTOR #235 & 236
PETER DAVID (w) • LEONARD KIRK (a/c)
Cover by DAVID YARDIN "X-TREME MEASURES"
• Something is eviscerating super heroes in Seattle and X-Factor is called in to investigate.
• Featuring all-new villain Scattershot, who looks suspiciously like two members of X-Factor Investigations…
• And Shatterstar goes berserk! ('Nuff said!)
32 PGS./ Rated T+ …$2.99 (EACH)
ASTONISHING X-MEN #50
MARJORIE LIU (w) • MIKE PERKINS (a)
Cover by DUSTIN WEAVER
VARIANT COVER BY JOHN CASSADAY
• Karma is losing control of her mind, and taking control of the other X-Men!
• When Kyle is put in danger, will Northstar choose him or his team?
• Don't miss the end of this issue – it'll be the most talked about moment of the year!
32 PGS./Rated T+ …$3.99
AGE OF APOCALYPSE #3
DAVE LAPHAM (w) • ROBERTO DE LA TORRE (a)
Cover by Mike McKone
• AOA Wolverine is resurrecting dead X-Men to destroy the human race.
• Jean Grey continues her training to join the X-Terminated.
• The humans find their "atomic bomb" to defeat Wolverine.
32 PGS./Parental Advisory …$2.99
DEADPOOL #54
DANIEL WAY (w) • ALE GARZA (a)
Cover by DAVE JOHNSON
• Finale of epic DEAD storyline!
• Does Deadpool get his wish and die?
• Do you expect us to spoil the ending in a solicit?
32 PGS./Parental Advisory …$2.99
DEADPOOL #55
DANIEL WAY (w) • ALE GARZA (a)
Cover by DAVE JOHNSON
• All-new storyline!
• Just who is that under Deadpool's mask?
• Guest-starring THE INTELLIGENCIA!
32 PGS./Parental Advisory …$2.99
FURY MAX #1 & 2
GARTH ENNIS (w) • GORAN PARLOV (a)
Cover by DAVE JOHNSON
• Garth Ennis (Punisher MAX, Preacher) and Goran Parlov (Punisher MAX) reunite to bring you the life of Marvel's hardest soldier like no one else could.
• In the wake of World War II, Fury is fast running out of battles to fight. But the world's superpowers are gearing up for a new kind of war and they'll need a man like Fury to win it.
32 PGS./Explicit Content …$3.99 (EACH)
BRILLIANT #6
BRIAN MICHAEL BENDIS (w) • MARK BAGLEY (a/C)
The runaway creator-owned smash continues! From the award-winning creators of ULTIMATE SPIDER-MAN comes another blistering chapter in a world where college students discover the secret of superpowers — and now that secret is out! How will the world react when science fiction becomes science fact?
40 PGS./Mature …$3.95
© 2012 Jinxworld Inc.
TAKIO #1
BRIAN MICHAEL BENDIS (w) • MICHAEL AVON OEMING (a/C)
Bursting from the pages of last year's best-selling graphic novel! From the Eisner Award-winning creators of POWERS comes this all-new, all-ages superhero adventure for a new generation! Taki and Olivia are sisters with superpowers! In fact, they are the only ones in the world with superpowers! So obviously, they have to become superheroes! But is the world ready for real-life superheroes? Are the girls ready for the challenge? And will the accident that made them who they are reveal secrets that will change their lives forever? The answers are no, no and yes. This is a brand-new all-ages adventure. A new book for comic-book fans of all ages. A book you can share with your kids or just enjoy for yourself. TAKIO is on the 2012 YALSA Great Graphic Novels for Teens List!
40 PGS./All Ages …$3.95
© 2012 Jinxworld Inc.
SECRET SERVICE #2 (of 7)
VARIANT cover by Leinil Yu
The world's greatest secret agent is on the most exciting case of his career. But will the end of the world as we know it take a back seat to training his street-punk nephew to be the next James Bond? The young man's preparation now begins in earnest, saving him from a life of desperation. Meanwhile, what's the secret link between a series of kidnapped science fiction stars and the murder of an entire town in Middle America?
32 PGS./Mature …$2.99
SUPERCROOKS #3 (of 4)
Mark Millar (w) • Leinil Yu (a/C)
VARIANT COVER BY TBA
Johnny Bolt has gathered a group of super-villain friends from his past to pull off the biggest robbery in history. The real surprise–the victim's identity! But things go horribly wrong and it's too late to turn back. The greatest super-villain of all time might have amassed a billion dollar fortune, but he's not going to be easy to steal from. A massive secret in the American superhero community might just work in their favor…
32 PGS./Mature …$2.99
KICK-ASS 2 PREMIERE HC
MARK MILLAR (w) • JOHN ROMITA JR. (a/C)
The sequel to the biggest creator-owned book of the decade — the one that spawned the No. 1 hit movie and the worldwide phenomenon — is here! KICK-ASS is back, just as over-the-top as ever! As everybody's favorite psychotic 11-year-old Hit Girl trains Kick-Ass to be…well, a bad-ass, Red Mist gathers a team of super villains to take them down! It's super-hero mayhem as only Mark Millar and John Romita Jr. can bring you! Collecting KICK-ASS 2 #1-7.
208 PGS./Mature …$24.99
ISBN: 978-0-7851-5245-3
Trim size: standard
Only available in US &Canada
NEW X-MEN OMNIBUS HC (NEW PRINTING)
Written by GRANT MORRISON
Penciled by FRANK QUITELY, ETHAN VAN SCIVER, LEINIL FRANCIS YU, IGOR KORDEY, JOHN PAUL LEON, PHIL JIMENEZ, KERON GRANT, CHRIS BACHALO & MARC SILVESTRI
Cover by FRANK QUITELY
Grant Morrison's wildly innovative X-Men saga returns! The X-Men, re-imagined with a new look and a new mission, must face weird new threats including evil twins, organ harvesters, sentient bacteria, rebellious mutant youth, power-enhancing street drugs and living weapons! Joined by wicked telepath Emma Frost and mysterious powerhouse Xorn, the X-Men go public — expanding Xavier's school to train a new generation of mutants including the insect-like Angel, the bird-boy Beak, the living sandstorm Dust and eerie telepathic quintuplets the Stepford Cuckoos. And as secondary mutations alter familiar mutants, the team is tested when Emma Frost sets her seductive sights on Cyclops, the all-consuming Phoenix threatens to rise again, and shocking traitors plot the destruction of everything the X-Men have accomplished! Featuring the Shi'ar Imperial Guard, the X-Corporation, Fantomex and more! Collecting NEW X-MEN (2001) #114-154 and ANNUAL 2001.
1120 PGS./Rated T+ …$125
ISBN: 978-0-7851-6505-7
Trim size: oversized
MARVEL MASTERWORKS: THE DEFENDERS VOL. 3 HC
Written by LEN WEIN & STEVE GERBER with CHRIS CLAREMONT & JIM STARLIN
Penciled by SAL BUSCEMA with GIL KANE, DON HECK, GEORGE TUSKA, BOB POWELL, ANGELO TORRES & DOUG WILDEY
Cover by GIL KANE
Comicdom's #1 non-team is back, and they've never been better! Hulk, Dr. Strange, Sub-Mariner, Valkyrie and Nighthawk team with Luke Cage, Daredevil and Son of Satan to take on the likes of the Wrecking Crew, Satannish and Asmodeus! Then, spinning out of MARVEL TWO-IN-ONE, comes Steve Gerber! Deconstructing genre conventions with a healthy dose of absurdity, Gerber's innovative Defenders run turned readers' expectations on their heads — so suitably we're including the original Atlas Era appearances of the Headmen: Gorilla Man, Jerold Morgan and Chondu the Mystic! Topped off with a GIANT-SIZE battle royale with the Grandmaster and a Squadron Sinister rematch, this one is a MARVEL MASTERWORKS if there ever was! Collecting DEFENDERS (1972) #17-21, GIANT-SIZE DEFENDERS #2-4, MARVEL TWO-IN-ONE #6-7; and material from MYSTERY TALES #21, WORLD OF FANTASY #11 and TALES OF SUSPENSE (1959) #9.
256 PGS./All Ages …$59.99
ISBN: 978-0-7851-5961-2
MARVEL MASTERWORKS: THE DEFENDERS VOL. 3 HC — VARIANT EDITION VOL. 184 (DM ONLY)
256 PGS./All Ages …$59.99
ISBN: 978-0-7851-5962-9
MARVEL MASTERWORKS: THE AMAZING SPIDER-MAN VOL. 7 TPB
Written by STAN LEE
Penciled by JOHN ROMITA
CoverS by JOHN ROMITA & DEAN WHITE
Get ready for our most amazing Spider-Man MASTERWORKS yet! Filled with heroic Spidey battles against the likes of the villainous Vulture, Mysterio and Medusa of the Inhumans, this one's a nail-biter if there ever was. And here's the real treat: In 1968, mighty Marvel created a new magazine-sized comic offering: THE SPECTACULAR SPIDER-MAN! Tying directly into the long-running storylines in AMAZING, the series exploded on the stands first with a marvelous graywash masterpiece, and then a 58-page Spider-Man/Green Goblin fight to the finish you'll never forget! And no, we're not going to let you catch your breath because it all wraps up with the sensational origin of Peter Parker's parents — as Spider-Man battles no less than the Red Skull! Collecting AMAZING SPIDER-MAN (1963) #62-67 and ANNUAL #5, and SPECTACULAR SPIDER-MAN (1968) #1-2.
328 PGS./All Ages …$24.99
ISBN: 978-0-7851-5935-3
MARVEL MASTERWORKS: THE AMAZING SPIDER-MAN VOL. 7 TPB — VARIANT EDITION VOL. 44 (DM ONLY)
328 PGS./All Ages …$24.99
ISBN: 978-0-7851-5936-0
NEW AVENGERS BY BRIAN MICHAEL BENDIS VOL. 3 PREMIERE HC
Written by BRIAN MICHAEL BENDIS
Penciled by NEAL ADAMS. MIKE DEODATO JR.
Cover by MIKE DEODATO
The New Avengers are about to face their biggest threat: the revitalized, resurrected and rejuvenated H.A.M.M.E.R. — led by none other than Norman Osborn! What insanity is Osborn about to unleash on the world? And can the Avengers stop his master plan when Osborn unleashes a new squad of Dark Avengers?! Get ready for old-school blockbuster action as the New Avengers' new lineup charges into action! And wait until you find out who's behind the Dark Avengers' masks! (Actually, wait until the Avengers find out!) As the blistering battle rages, an Avenger leaves the team in defeat, a Dark Avenger just might become a New Avenger, and not everyone makes it out alive! Collecting NEW AVENGERS (2010) #16.1 and #17-23.
192 PGS./Rated T …$24.99
ISBN: 978-0-7851-5179-1
Trim size: standard
AVENGERS BY BRIAN MICHAEL BENDIS VOL. 3 PREMIERE HC
Written by BRIAN MICHAEL BENDIS
Penciled by DANIEL ACUNA & RENATO GUEDES
Cover by DANIEL ACUÑA
The madness and drama of FEAR ITSELF has taken its toll on the mighty Avengers; now, they must reinvent themselves once more — as the whole world watches! Witness the latest and greatest roster of Avengers in action as they battle the new Dark Avengers — and the combined forces of Hydra, A.I.M., the Hand and H.A.M.M.E.R. — all under the leadership of Norman Osborn! The summer of the Avengers starts here! Collecting AVENGERS (2010) #18-24.
168 PGS./Rated T …$24.99
ISBN: 978-0-7851-5116-6
Trim size: standard
AVENGERS ACADEMY: SECOND SEMESTER PREMIERE HC
Written by CHRISTOS GAGE
Penciled by SEAN CHEN, TOM RANEY & TOM GRUMMETT
Cover by RODIN ESQUEJO
It's a new start for the Academy kids! New students! New staff! New West Coast campus! But when a classic Avenger is murdered, everyone becomes a suspect — and guest-stars Captain America, Luke Cage and Hawkeye…brawl with the student body?! As student turns on student, and students clash with staff, which cast members are trying to shut down the Academy? It's a surprise revelation that will have your jaw on the floor! Plus: Reptil's darkest secret is revealed! And when X-23 joins Avengers Academy, will they survive the experience? Collecting AVENGERS ACADEMY #21-26.
144 PGS./Rated T …$19.99
ISBN: 978-0-7851-5202-6
Trim size: standard
AVENGERS: THE MANY FACES OF HENRY PYM TPB
Written by STAN LEE, LARRY LIEBER, ROY THOMAS, STEVE ENGLEHART, KURT BUSIEK & DAN SLOTT
Penciled by JACK KIRBY, DON HECK, JOHN BUSCEMA, AL MILGROM, IVAN REIS & KHOI PHAM
Cover by JOHN BUSCEMA
Dr. Henry Pym, the Avengers' resident scientist, has had many heroic guises — and this Giant-Man-sized collection spotlights them all! From his pre-Avenging days to his various turns as Ant-Man, Giant-Man, Goliath, Yellowjacket and even the Wasp, Dr. Pym has been a nearly constant presence on the Avengers' roster since the team's inception. Relive the excitement, the horror and the heartache! Collecting TALES OF SUSPENSE (1959) #27, #35 and #49; AVENGERS (1963) #28 and #59-60; WEST COAST AVENGERS (1985) #21; AVENGERS ANNUAL 2001; and SECRET INVASION: REQUIEM.
184 PGS./Rated T+ …$19.99
ISBN: 978-0-7851-6206-3
AVENGERS: THE CONTEST TPB
Written by MARK GRUENWALD, BILL MANTLO, STEVEN GRANT, STEVE ENGLEHART & TOM DEFALCO
Penciled by JOHN ROMITA JR., AL MILGROM & BOB HALL
Cover by JOHN ROMITA JR.
"I am the Grandmaster! Never, in a thousand games on a thousand worlds, have I quit the table ere the game was through!" Marvel's first miniseries, an event so big it required every hero Earth has! Time and again, the Grandmaster sets heroes against heroes in cosmic games with billions of lives at stake! Daredevil vs. Iron Fist! Captain America vs. Mockingbird! Iron Man vs. She-Hulk! Black Knight vs. Moon Knight! Wolverine vs. Black Panther! Thor vs. Wonder Man! Plus: Bucky, Mar-Vell, Dracula, Drax, the Green Goblin, the Red Guardian and so many more! Collecting CONTEST OF CHAMPIONS #1-3, WEST COAST AVENGERS ANNUAL #2 and AVENGERS ANNUAL (1967) #16.
168 PGS./Rated T …$16.99
ISBN: 978-0-7851-6199-8
AVENGERS WEST COAST: ALONG CAME A SPIDER-WOMAN TPB
Written by FABIAN NICIEZA, DANNY FINGEROTH, ROY THOMAS, DANN THOMAS & TERRY KAVANAGH
Penciled by TOM MORGAN, GARY HARTLE, BRAD VANCATA, PAUL RYAN, CHRIS WOZNIAK, RICK LEVINS, STEVEN BUTLER, DAVE ROSS, GEORGE FREEMAN & HERB TRIMPE
Cover by TOM MORGAN
The West Coast branch of Earth's Mightiest Heroes faces one villainous threat after another without letup! From walking natural disasters Vibro and Hydro-Man to longstanding Avengers villains the Grim Reaper and Ultron, the outlook is bleak for our favorite Wackos! A silver lining appears when Julia Carpenter, the second Spider-Woman, joins the team — but will her presence be enough to re-energize the West Coast Avengers? Collecting AVENGERS WEST COAST #58-59 and #63-75.
368 PGS./Rated T …$39.99
ISBN: 978-0-7851-6232-2
X-MEN: ICEMAN PREMIERE HC
Written by J.M. DEMATTEIS & JO DUFFY
Penciled by ALAN KUPPERBERG, ALFREDO ALCALA & GEORGE PEREZ
CoverS by MIKE ZECK
Bobby Drake, the X-Men's coolest hero, gets the spotlight all to himself in a fun-filled, time-tripping adventure taking him from the safety of his parents' home to a point in time decades before he was born. Family issues, alien beings, miniature time machines, and a struggle against the deadly and enigmatic being known as Oblivion all play a part in a story illustrating just how powerful a force of nature Iceman can be on his own! Collecting ICEMAN (1984) #1-4 and material from BIZARRE ADVENTURES #27.
120 PGS./Rated T …$24.99
ISBN: 978-0-7851-6275-9
Trim size: standard
X-MEN: ICEMAN PREMIERE HC — VARIANT EDITION VOL. 101 (DM ONLY)
120 PGS./Rated T …$24.99
ISBN: 978-0-7851-6276-6
X-FORCE: CHILD'S PLAY PREMIERE HC
Written by FABIAN NICIEZA & JIM KRUEGER
Penciled by TONY DANIEL, DARICK ROBERTSON, BRANDON MCKINNEY, PAUL PELLETIER, MIKE WIERINGO & ARNIE JORGENSEN
CoverS by TONY DANIEL
Gotta kill 'em all! History, mystery, romance, family intrigue, a day in the life of a terrorist cell and more await in this union of two of the nineties' most powerful youth movements: X-Force and the New Warriors. The Upstarts' final game is on, and a generation of mutants is on the line! Guest-starring Magma, Karma, Bird-Brain and other New Mutant veterans! Featuring X-Factor and China Force! Collecting X-FORCE (1991) #32-37 and ANNUAL #3, and NEW WARRIORS (1990) #45-46.
248 PGS./Rated T …$34.99
ISBN: 978-0-7851-6269-8
Trim size: standard
X-FORCE: CHILD'S PLAY PREMIERE HC — VARIANT EDITION VOL. 100 (DM ONLY)
248 PGS./Rated T …$34.99
ISBN: 978-0-7851-6270-4
IRON MAN: REVENGE OF THE MANDARIN PREMIERE HC
Written by KURT BUSIEK, ROGER STERN, MARK WAID & CHRIS CLAREMONT
Penciled by SEAN CHEN, PATRICK ZIRCHER & SALVADOR LARROCA
CoverS by SEAN CHEN
Out of his armor — but never out of options! Tony Stark's day begins when he and the Avengers take on the Mandarin's Dragon of Heaven in Russia. Then, he joins the Fantastic Four to fight Kree crusader Ronan the Accuser on the moon. When he learns that if his enemies don't kill him, his armor will, he does his Golden Avenging via remote control — but someone else is waiting to control him and the armor both! Villain after villain strike in a wave of warfare, and a secret-identity crisis threatens to fracture one of Marveldom's oldest friendships! Guest starring Captain America, the Black Widow, Warbird and once-and-future War Machine James Rhodes! Collecting IRON MAN (1998) #8-14, IRON MAN/CAPTAIN AMERICA ANNUAL '98 and FANTASTIC FOUR (1998) #15.
256 PGS./Rated T …$34.99
ISBN: 978-0-7851-6260-5
Trim size: standard
IRON MAN: REVENGE OF THE MANDARIN PREMIERE HC — VARIANT EDITION VOL. 99 (DM ONLY)
256 PGS./Rated T …$34.99
ISBN: 978-0-7851-6261-2
X-MEN: OPERATION ZERO TOLERANCE HC
Written by SCOTT LOBDELL, JAMES ROBINSON, JOHN FRANCIS MOORE, STEVE SEAGLE, LARRY HAMA & TERRY KAVANAGH
Penciled by JOE BENNETT, CHRIS BACHALO, POP MHAN, BRYAN HITCH, ADAM POLLINA, CARLOS PACHECO, PASQUAL FERRY, SALVADOR LARROCA, JOE MADUREIRA, LEINIL FRANCIS YU, RANDY GREEN, STEVE HARRIS, ROB HAYNES, ROGER CRUZ & CARY NORD
Cover by LEINIL FRANCIS YU
A rogue faction of the U.S. government, backed by powerful international forces and led by the man known only as Bastion, is about to launch a massive strike against the X-Men with one goal: the extermination of the entire mutant race. With Jubilee and Professor X captives, the X-Mansion overrun and Prime Sentinels darkening the skies, the X-Men, X-Force and Generation X must fight a war on many fronts. And it's a war they're losing. This is the X-Men's darkest hour. Collecting GENERATION X #26-31, X-FORCE (1991) #67-70, X-MEN (1991) #65-70, UNCANNY X-MEN (1963) #346, WOLVERINE (1988) #115-118, CABLE (1993) #45-47 and X-MAN #30.
640 PGS./Rated T …$75.00
ISBN: 978-0-7851-6240-7
Trim size: oversized
VENOM: CIRCLE OF FOUR HC
Written by RICK REMENDER
Penciled by LAN MEDINA, LEE GARBETT, SANA TAKEDA, JULIAN TOTINO & TONY MOORE
Cover by STEFANO CASELLI
Flash Thompson's secret identity is in the hands of the villainous Crime-Master, and the only way to take his life back is to go rogue — but Captain America and the Red Hulk are out to shut him down! On the run, Flash may have no choice but to ally himself with his newest enemy, Jack O'Lantern! Then: Hell is spreading across the Earth, and the new Ghost Rider is responsible — but what price is she willing to pay to save mankind? X-23, Venom and Red Hulk must defeat their worst enemies to buy Ghost Rider time. Mephisto offers a deal that the heroes might not be able to refuse — but can Ghost Rider's ragtag team work together to stop Blackheart, or will her decision rip them apart? This oversized edition comes packed with exclusive extras, including preliminary artwork by Tony Moore, script pages and more! Collecting VENOM (2011) #10-14 and #13.1-13.4.
232 PGS./Rated T+ …$29.99
ISBN: 978-0-7851-6450-0
Trim size: oversized
CIVIL WAR PROSE NOVEL HC
Written by STUART MOORE
Cover by STEVE McNIVEN
The Marvel Universe is changing. In the wake of a tragedy, Capitol Hill proposes the Super Hero Registration Act, requiring all costumed heroes to unmask themselves before the government. Divided, the nation's greatest champions must each decide how to react — a decision that will alter the course of their lives forever! Experience Marvel's blockbuster event like never before in this new adaptation!
352 PGS./No Rating …$24.99
ISBN: 978-0-7851-6035-9
Trim size: 6-1/4 x 8
CAPTAIN AMERICA BY ED BRUBAKER VOL. 2 PREMIERE HC
Written by ED BRUBAKER
Penciled by ALAN DAVIS
Cover by ALAN DAVIS
Cap struggles to find his faith when the new Hydra rises from the ashes and makes its first deadly moves! As the Serpent Squad strikes and Madbomb riots explode through Manhattan, Sharon Carter takes charge — and Cap's crisis of faith becomes a debilitating physical dilemma! Events spiral out of control as Codename: Bravo returns, Machinesmith breaks loose, and Falcon fights alongside the enemy! Can Cap be cured? And if so, will it be in time to face the new Hydra's deadly secret? Superstar artist Alan Davis joins the all-star creative team as best-selling Cap writer Ed Brubaker brings you action-packed espionage in the Mighty Marvel Manner! Collecting CAPTAIN AMERICA (2011) #6-10.
120 PGS./Rated T …$19.99
ISBN: 978-0-7851-5710-6
Trim size: standard
X-23 VOL. 3: DON'T LOOK BACK PREMIERE HC
Written by MARJORIE LIU
Penciled by SANA TAKEDA & PHIL NOTO
Cover by KALMAN ANDRASOFSKY
When an offer to join Wolverine collides with an offer from the FF, X-23 is forced to decide wheter she wants to continue her life as an assassin — or take a break and see what it's like to be a regular teenager. Then: What could possibly go wrong for Hellion and X-23 on an already disastrous night? How about being kidnapped to another galaxy by the Collector? Plus: Jubilee guest-stars as X-23 returns to Utopia, to decide once and for all what direction her life should take. After all this time spent deciding who she will be, will X-23 permanently choose a team, as well? Collecting X-23 (2010) #17-21.
120 PGS./Parental Advisory …$19.99
ISBN: 978-0-7851-5281-1
Trim size: standard
DAKEN: DARK WOLVERINE —NO MORE HEROES PREMIERE HC
Written by ROB WILLIAMS
Penciled by ALESSANDRO VITTI
Cover by GIUSEPPE CAMUNCOLI
The Kingpin of L.A. is revealed at last, as Daken and FBI agent Donna Kiel reach the shocking end of their quest. But with the Heat drug ravaging Daken's mind and body, his outlook on life has been shaken up, and his priorities have changed. With his old business concluded, and suffering through the final stages of his terminal disease, Daken sets out to complete the one goal that has always eluded him: to get revenge on the man he hates most in the world — his father, Wolverine. And if the whole Marvel Universe has to bleed for that to happen, then that's just fine. Collecting DAKEN: DARK WOLVERINE #20-23.
112 PGS./Parental Advisory …$19.99
ISBN: 978-0-7851-6088-5
Trim size: standard
CAPTAIN AMERICA AND BUCKY: OLD WOUNDS PREMIERE HC
Written by ED BRUBAKER & JAMES ASMUS
Penciled by FRANCESCO FRANCAVILLA
Cover by FRANCESCO FRANCAVILLA
The original Human Torch guest-stars as Captain America teams up with Bucky in the present day — for the first time?! Who is this uncanny twin to Cap's first sidekick, and where did he come from? The deadly legacy of the original Human Torch and the mad android Adam II are revealed as Captain America battles an army of deadly Cap-killer androids! Rising stars James Asmus and Francesco Francavilla join Eisner Award-winner Ed Brubaker for a rollicking adventure into the future of the star-spangled Avenger's past! Collecting CAPTAIN AMERICA AND BUCKY #625-628.
112 PGS./Rated T …$19.99
ISBN: 978-0-7851-6083-0
Trim size: standard
X-FACTOR: THEY KEEP KILLING MADROX PREMIERE HC
Written by PETER DAVID
Penciled by EMANUELA LUPACCHINO
Cover by DAVID YARDIN
Layla Miller. Jamie Madrox. Husband and wife. Lying murdered in their honeymoon suite. The moment you thought would never come is here — and not only are you a witness to it, but so is Jamie Madrox himself. We feel safe in saying this is X-Factor as you've never seen them before, in what has to be the trippiest arc in the history of Marvel. Guest-starring Wolverine, Iron Man, Captain America, Dr. Strange and the dread Dormammu! Plus: X-Factor is shaken by the recent death of a team member, so what better time for the return of two fan-favorite classic X-FACTOR characters: Havok and Polaris! Collecting X-FACTOR (1986) #229-232.
112 PGS./Rated T+ …$19.99
ISBN: 978-0-7851-6060-1
Trim size: standard
DEADPOOL MAX: SECOND CUT PREMIERE HC
Written by DAVID LAPHAM
Penciled by KYLE BAKER
Cover by KYLE BAKER
David Lapham (Stray Bullets, Young Liars) and Eisner Award-winner Kyle Baker (TRUTH: RED WHITE AND BLACK, Plastic Man) unleash their own special brand of crazy as DEADPOOL MAX returns! Deadpool and Bob try to stop a shadowy government conspiracy — and totally futz it up. Now, accused of killing a quarter of a million people, they are the world's most wanted terrorists — and Deadpool's ex-girlfriend Crazy Inez is on their tail! Find out how the puzzle pieces fit together as Deadpool, Hydra Bob, Cable and Taskmaster team up to take down the shadow group that's running the country. Plus: Deadpool and Bob spend their holiday break faking their own deaths, breaking into CIA headquarters, hunting down Internet-porn-peddling jihadists and causing a riot in an insane asylum! Collecting DEADPOOL MAX 2 #1-6 and DEADPOOL MAX X-MAS SPECIAL.
176 PGS./Explicit Content …$24.99
ISBN: 978-0-7851-6452-4
Trim size: standard
MOON KNIGHT BY BRIAN MICHAEL BENDIS & ALEX MALEEV VOL. 2 PREMIERE HC
Written by BRIAN MICHAEL BENDIS
Penciled by ALEX MALEEV
Cover by ALEX MALEEV
Moon Knight throws down with the Kingpin of Los Angeles! But the battle for LA's soul claims a life — one that will be felt throughout the Marvel Universe! And once LA's Kingpin pushes him over the edge, Moon Knight succumbs to the abyss of his new multiple personalities. What force on Earth can bring him back from the brink? Enter: the Avengers! But after all he's been through, will there be anything left of the one-man Avenger to save? Brian Michael Bendis and Alex Maleev continue the adventures of Marvel's psyche-splitting superstar! Collecting MOON KNIGHT (2011) #8-12.
120 PGS./Rated T+ …$24.99
ISBN: 978-0-7851-5171-5
Trim size: standard
THE MIGHTY THOR BY MATT FRACTION VOL. 2 PREMIERE HC
Written by MATT FRACTION
Penciled by PASQUAL FERRY & ADAM KUBERT
Cover by PASQUAL FERRY
First: the critical FEAR ITSELF prequel that couldn't be told until now! Discover the true story behind the Serpent and Odin's past! Then: In the wake of FEAR ITSELF, Odin decides the final fate of Asgard, and the heroes of the Nine Worlds bid farewell to one of their own. THOR NO MORE! But who is Tanarus, and why is he the new God of Thunder? Loki tries to expose the imposter god by enlisting the help of…Dr. Donald Blake?! And as the new All-Mothers of Asgardia battle their first threat to the Nine Realms, Thor struggles to free himself before the Demogorge consumes him. Collecting MIGHTY THOR #7-12 and FEAR ITSELF #7.2: THOR.
168 PGS./Rated T+ …$24.99
ISBN: 978-0-7851-6243-8
Trim size: standard
UNCANNY X-FORCE: OTHERWORLD PREMIERE HC
Written by RICK REMENDER
Penciled by BILLY TAN, GREG TOCCHINI & PHIL NOTO
Cover by LEINIL FRANCIS YU
X-Force journeys to Otherworld, where Fantomex is put on trial by the Captain Britain Corps! As Wolverine and Age of Apocalypse Nightcrawler face a strange and deadly foe, Psylocke becomes Lady Briton — and Deadpool is decapitated! With the Multiverse in danger and the Corps in shambles, it's up to X-Force to save the day — and a terrible choice must be made to ensure the protection of all reality! Plus: Return to the Age of Apocalypse as the AOA X-Men make their final stand against Weapon X! Introducing new AOA super-hero team the X-Terminated! Collecting UNCANNY X-FORCE #19.1 and #20-24.
144 PGS./Parental Advisory …$24.99
ISBN: 978-0-7851-6181-3
Trim size: standard
UNCANNY X-MEN BY KIERON GILLEN VOL. 2 PREMIERE HC
Written by KIERON GILLEN
Penciled by GREG LAND & CARLOS PACHECO
Cover by GREG LAND
Cyclops and his X-Men investigate Tabula Rasa, a newly discovered area of the Marvel Universe where evolution has run rampant. The Immortal Man plans to show the X-Men just how out of date homo superior really are, but the evolutionary jungle's secrets are revealed as a new ally helps the X-Men face their newfound foe — and Namor does the unthinkable to save the day! Then, it's a prison break, X-Men-style — guest-starring the Avengers! And the X-Men battle the galactic genocidal foe known as Unit — but what's behind Unit's sinister interest in Hope? Kieron Gillen's groundbreaking run continues! Collecting UNCANNY X-MEN (2012) #5-10.
144 PGS./Rated T+ …$24.99
ISBN: 978-0-7851-5995-7
Trim size: standard
AMAZING SPIDER-MAN VOL. 2: THE VULTURE YOUNG READERS NOVEL
Written by JOE CARAMAGNA
Cover by PATRICK SCHERBERGER
Ever since his transformation into Spider-Man, Peter Parker has been a bit lost. He's still adjusting to the responsibilities brought on by his new persona: He's not sure exactly how to make use of his extraordinary abilities, and he's learning how to fight crime the hard way — through trial, error and pure blind luck. And if all that wasn't stressful enough for a bookish teenager to process, the newly minted Spider-Man is forced to do battle with the Vulture — a winged jewel thief out for power, profit…and revenge! How will Spidey defeat this flying menace? Find out in this Young Readers Novel, featuring select artwork by Francesca Ciregia and Elena Casagrande!
96 PGS./All Ages …$6.99
ISBN: 978-0-7851-6476-0
MARVEL UNIVERSE SPIDER-MAN: AMAZING FANTASY DIGEST
Written by PAUL TOBIN
Penciled by MATTEO LOLLI & ROB DISALVO
Cover by ALE GARZA
It's all-ages excitement as the Amazing Spider-Man battles his way across the Marvel Universe! When Magneto attacks Peter Parker's class trip, Spidey must swing into action! Then, the Mandarin traps Spidey in an underground fighting tournament! And if those two big bads weren't enough, Spidey finds himself at the mercy of M.O.D.O.K., stands against the Kingpin of Crime, marvels at the awesome abilities of the Absorbing Man and attempts to escape the deadly plot of the Puppet Master! Plus: When king of disguises the Chameleon returns, how can Spidey catch a crook who can be anyone? And Spider-Man and the Black Cat get caught up in a calamitous caper to capture Frog-Man! Collecting SPIDER-MAN (2010) #21-24.
88 PGS./All Ages …$9.99
ISBN: 978-0-7851-5259-0
OZ: OZMA OF OZ GN-TPB
Written by ERIC SHANOWER
Penciled by SKOTTIE YOUNG
Cover by SKOTTIE YOUNG
Dorothy is back, and she's not in Kansas anymore. But she's not in Oz, either! L. Frank Baum's magical world comes to life once again as Dorothy Gale takes yet another unexpected trip to a mystical, faraway land. This time, Dorothy winds up in the land of Ev —where she meets new friends such as Tik-Tok the mechanical man and Billina, perhaps the cleverest chicken you'll ever encounter. Dorothy will have to face the wicked Nome King, who's imprisoned Ev's royal family — but luckily has help from her Oz friends, including the Tin Woodman, the Scarecrow and the new Queen of Oz, the lovely Ozma! But can even their combined might win the day and see Dorothy back home? Find out in Marvel's third amazing series adapting the L. Frank Baum classics! Collecting OZMA OF OZ #1-8.
200 PGS./All Ages …$19.99
ISBN: 978-0-7851-4248-5
ALPHA FLIGHT BY GREG PAK & FRED VAN LENTE VOL. 1 TPB
Written by GREG PAK & FRED VAN LENTE
Penciled by BEN OLIVER & DALE EAGLESHAM
Cover by PHIL JIMENEZ
Canada's premier super-team returns to action! The original Alpha Flight reunites to face a threat unlike any other, as the impact of FEAR ITSELF is felt in Canada! Resurrected from the dead, Guardian, Vindicator, Shaman and Marrina rejoin Sasquatch, Snowbird, Northstar and Aurora in defense of the Great White North. But the Canada they return to looks a lot different than the one they left as a new political regime rises to power and brands Alpha Flight traitors! Betrayed from within, Canada's champions are hunted by the government as they battle to release their fellow citizens from the grip of fear and win back the True North, strong and free! Collecting ALPHA FLIGHT (2011) #0.1 and #1-4.
120 PGS./Rated T+ …$16.99
ISBN: 978-0-7851-6283-4
HERC: PRODIGAL GOD TPB
Written by GREG PAK & FRED VAN LENTE
Penciled by MIKE GRELL, JUNE BRIGMAN & DAVID HAHN
Cover by CARLO PAGULAYAN
When "Spider-Island" erupts, Hercules finds himself "infested" with spider-powers of his own. Can you handle…the Incredible Spider-Herc?! It's a pulse-pounding, wall-crawling adventure as our web-slinging demigod battles the X-Men! Then: Zeus decides to move in with his wayward son after an angry Hera de-powers him. As if parental baggage wasn't problematic enough, some powerful enemies are gunning for Herc. A team-up with the assassin Elektra could give him the help he needs — as long as his dad doesn't muck it up. Collecting HERC #6.1 and #7-10.
120 PGS./Rated T+ …$16.99
ISBN: 978-0-7851-4723-7
MOON KNIGHT BY BRIAN MICHAEL BENDIS & ALEX MALEEV VOL. 1 TPB
Written by BRIAN MICHAEL BENDIS
Penciled by ALEX MALEEV
Cover by ALEX MALEEV
Captain America. Wolverine. Spider-Man. There's not a more powerful set of heroes you'd want to have your back than this trio of Avengers. The problem is, the guys who have Moon Knight's back are all in his head — symptoms of Marc Spector's schizophrenia. But as Spector tries to find balance in his new home of Los Angeles, a criminal mastermind makes deadly maneuvers — trafficking the temporarily inert robot body of Ultron. Can Moon Knight get his act together in time to take on this deadly threat? Or will it take another personality on the scene — Maya Lopez, the former Avenger Echo — to tip the odds in Moon Knight's favor? Collecting MOON KNIGHT (2011) #1-7.
176 PGS./Rated T+ …$19.99
ISBN: 978-0-7851-5170-8
DAREDEVIL BY ED BRUBAKER & MICHAEL LARK ULTIMATE
COLLECTION BOOK 2 TPB Written by ED BRUBAKER
Penciled by MICHAEL LARK, LEE WEEKS, LEE BERMEJO, GENE COLAN, MARKO DJURDJEVIC, ALEX MALEEV, JOHN ROMITA, BILL SIENKIEWICZ & PAUL AZACETA
Cover by MARKO DJURDJEVIC
Critically acclaimed, award-winning creators Ed Brubaker and Michael Lark continue their explosive run! Everything Matt Murdock thought he'd gotten back teeters on the edge of a precipice, ready to shatter all around him, as he fights a battle on both fronts of his life — in the courtroom and on the rooftops of Hell's Kitchen! And with the post-CIVIL WAR fallout all around him, the price of being Daredevil just got even higher. Nominated for three Eisner Awards: Best Continuing Series, Best Writer and Best Penciler-Inker Team! Collecting DAREDEVIL (1998) #94-105.
304 PGS./Rated T+ …$29.99
ISBN: 978-0-7851-6335-0
MAGNETO: NOT A HERO TPB
Written by SKOTTIE YOUNG
Penciled by CLAY MANN
Cover by CLAY MANN
The X-Men are shaken when Magneto finally goes villain again. The Master of Magnetism is caught on video murdering members of an anti-mutant group. Then, fresh from that brutal and public crime, Magneto forms a new Brotherhood of Evil Mutants — and the membership will shock you! Why has Magneto thrown away everything he's earned with the X-Men? Or is this just the only time he's gotten caught? Or — is something even stranger going on? Skottie Young (WIZARD OF OZ) and Clay Mann (X-MEN LEGACY) will change the way you look at the best X-villain of all time! Collecting MAGNETO: NOT A HERO #1-4.
96 PGS./Parental Advisory …$14.99
ISBN: 978-0-7851-5860-8
GENERATION HOPE: THE END OF A GENERATION TPB
Written by JAMES ASMUS
Penciled by IBRAIM ROBERSON, TIMOTHY GREEN III & TAKESHI MIYAZAWA
Cover by IBRAIM ROBERSON
Meet the newest member of Generation Hope: Sebastian Shaw?! When Hope and company investigate an unaccounted-for mutant reading in Pakistan, they come across a full-grown mutant with no memory being used as a weapon. They see a mutant in trouble and help — not realizing they're rescuing one of the X-Men's deadliest foes! Plus: Generation Hope clashes with a gang of mutant villains living on Utopia, and romance blossoms between Marvel's most unlikely couple! Then, as Zero reveals his true colors, a battle breaks out on Utopia as the lights rebel against their leader! What will be the final fate of Generation Hope? Collecting GENERATION HOPE #13-17.
120 PGS./Rated T …$15.99
ISBN: 978-0-7851-5244-6
ASTONISHING X-MEN VOL. 7: MONSTROUS TPB
Written by DANIEL WAY
Penciled by JASON PEARSON, SARA PICHELLI, NICK BRADSHAW & JACK KIRBY
Cover by MICHAEL WILLIAM KALUTA
What do you get when you cross an island full of giant monsters, a telepathic terrorist and a jet full of mad-as-hell mutants? Monstrous action! Mentallo has the perfect plan: take mental control of the denizens of Monster Island and use them to extort his old employers at Roxxon. But when his monsters attack Tokyo at the same time the X-Men are in town helping one of their own cope with a family tragedy, the mutant heroes are drawn into the conflict. Can Wolverine, Cyclops, Emma Frost and Armor take on an entire island of giant monsters? Sharpen your claws, and get ready for a battle of the ages! Collecting ASTONISHING X-MEN (2004) #36, #37, #39 and #41, and material from STRANGE TALES (1951) #89.
112 PGS./Rated T+ …$16.99
ISBN: 978-0-7851-5115-9
SPIDER-MAN: BIG TIME ULTIMATE COLLECTION TPB
Written by DAN SLOTT, FRED VAN LENTE & CHRISTOS GAGE
Penciled by HUMBERTO RAMOS, STEFANO CASELLI, MARCOS MARTIN, NUNO PLATI, TY TEMPLETON, JAVIER PULIDO, MIKE MCKONE & REILLY BROWN
Cover by MARCOS MARTIN
Peter Parker has finally hit the Big Time. He's a full-fledged Avenger, he just landed a high-paying science job, and he has an amazing new girlfriend. But big-time living means big-time pressure! When the Hobgoblin returns, Spidey will need a slick new edge to defeat him. And when the Scorpion targets J. Jonah Jameson and his loved ones, Spider-Man must grapple with matters of life and death in a moving and compelling tale. Then, Spidey is asked to join the FF, adding even greater responsibilites to his already overfull plate. Will all his new commitments prove too much to handle? Plus: A new and strangely familiar Venom makes his debut! Collecting AMAZING SPIDER-MAN (1963) #648-662 & 654.1.
528 PGS./Rated T+ …$39.99
ISBN: 978-0-7851-6217-9
THE MIGHTY THOR BY MATT FRACTION VOL. 1 TPB
Written by MATT FRACTION
Penciled by OLIVIER COIPEL & KHOI PHAM
Cover by OLIVIER COIPEL
What is the Worldheart? Plucked by Thor and his companions from the deepest roots of Yggdrasil — the World Tree, split in twain — the cosmic seed is now the most coveted object in Odin's possession. But the Silver Surfer — herald of Galactus, devourer of worlds — recognizes the Worldheart as the one object that could forever sate his master's apocalyptic appetite. Now, the Surfer has come to Asgard to claim a prize Odin will not surrender without a fight — and Thor is caught in the middle. Will he entrust the Worldheart to the Surfer for the betterment of the universe, or choose instead to fight to the death for the glory of Odin? Collecting MIGHTY THOR #1-6.
144 PGS./Rated T+ …$19.99
ISBN: 978-0-7851-5624-6
UNCANNY X-FORCE VOL. 3: THE DARK ANGEL SAGA BOOK 1 TPB
Written by RICK REMENDER
Penciled by BILLY TAN, RICH ELSON, MARK BROOKS & SCOT EATON
Cover by ESAD RIBIC
It's the Age of Archangel! X-Force has returned from the twisted Age of Apocalypse with the Celestial Life Seed, their only hope to prevent their friend Angel from transforming into the monstrous Archangel. But X-Force is too late: Archangel has become the heir to Apocalypse and stands poised to succeed where his dead master failed. All life on Earth is forfeit unless X-Force can stop Archangel — by destroying him. But can a team of hardened killers assassinate one of their own? Can Psylocke kill the man she loves? And even if X-Force is willing to cross that line, has Archangel become too powerful to stop? Collecting UNCANNY X-FORCE #8-13.
144 PGS./Parental Advisory …$19.99
ISBN: 978-0-7851-4661-2
WOLVERINE & BLACK CAT: CLAWS 2 TPB
Written by JIMMY PALMIOTTI, JUSTIN GRAY, JOSEPH MICHAEL LINSNER & EVA HOPKINS
Penciled by JOSEPH MICHAEL LINSNER
Cover by JOSEPH MICHAEL LINSNER
Collecting WOLVERINE & BLACK CAT: CLAWS 2 #1-3 and KILLRAVEN (2001) #1.
112 PGS./Parental Advisory …$14.99
ISBN: 978-0-7851-5186-9
MARVEL UNIVERSE VS. WOLVERINE TPB
Written by JONATHAN MABERRY
Penciled by LAURENCE CAMPBELL
Cover by MICHAEL WILLIAM KALUTA
Collecting MARVEL UNIVERSE VS. WOLVERINE #1-4.
112 PGS./Parental Advisory …$14.99
ISBN: 978-0-7851-5653-6
VILLAINS FOR HIRE: KNIGHT TAKES KING TPB
Written by DAN ABNETT & ANDY LANNING
Penciled by RENATO ARLEM
Cover by PATRICK ZIRCHER
All-new, all-evil team! If the story starts with bionic detective Misty Knight uniting heroes Black Panther, Paladin and Silver Sable to halt a heist, why does she then cross the line and hire those she once fought — including psychopaths like Tiger Shark and Speed Demon? Because the Purple Man is out to build a criminal empire with an army including Avalanche, Shocker and the new Scourge! Enter a world of treachery, double-crosses and death when you hear: "Hello, villain…are you for hire?" Collecting VILLAINS FOR HIRE #0.1 and #1-4.
120 PGS./Rated T+ …$14.99
ISBN: 978-0-7851-6044-1
ULTIMATE COMICS SPIDER-MAN: DEATH OF SPIDER-MAN FALLOUT TPB
Written by BRIAN MICHAEL BENDIS
Penciled by MARK BAGLEY, GABRIEL HARDMAN, BRYAN HITCH, LEE GARBETT, STEVE KURTH, ERIC NGUYEN, CARLO PAGULAYAN, SARA PICHELLI, SALVADOR LARROCA, CLAYTON CRAIN, LUKE ROSS, BILLY TAN & MITCH BREITWEISER
Cover by MARK BAGLEY
Spider-Man is dead. Long live Spider-Man. Peter Parker has been struck down, felled by a bullet and his archnemesis the Green Goblin. But though the teenage web-slinger is gone, his memory lives on. Check in with Thor, Captain America, Iron Man, Nick Fury and more as they mourn the loss of one of their world's finest heroes. For better or for worse, the Ultimate Universe must come to grips with its new reality — which includes new Spider-Man Miles Morales. Join fan-favorite writers Brian Michael Bendis, Jonathan Hickman and Nick Spencer as they explore the lives of all your favorite characters — along with a once-in-a-lifetime artistic lineup that includes Mark Bagley, Bryan Hitch, Eric Nguyen, Sara Pichelli, Salvador Larroca, Clayton Crain, Billy Tan and more. Collecting ULTIMATE COMICS FALLOUT #1-6.
136 PGS./Rated T+ …$19.99
ISBN: 978-0-7851-5913-1
DEADPOOL MAX: INVOLUNTARY ARMAGEDDON TPB
Written by DAVID LAPHAM
Penciled by KYLE BAKER & SHAWN CRYSTAL
Cover by KYLE BAKER
Crazy is as crazy does! Wade Wilson ditches his job as the government super-assassin known as Deadpool to spend the rest of his life making sweet, sweet love to his blushing bride, Domino. Or is it Inez? Or Honey Moon? Or Luau Luau, the Hawaiian spirit of vengeance? Take your freakin' pick, because things spiral straight down the tubes when she goes on a murdering spree that threatens to destroy Deadpool's newly formed nuclear family. And Deadpool's handler Bob gets back to work as the two take on machine-gun-wielding hookers and their own twisted histories, using teamwork and good old-fashioned American ingenuity. And guns. And swords. Marvel as two broken men attempt to take down the worldwide terrorist network Hydra in a story so shocking it could only be told by MAX! Collecting DEADPOOL MAX (2010) #7-12.
144 PGS./Explicit Content …$19.99
ISBN: 978-0-7851-4853-1
DEADPOOL VOL. 9: INSTITUTIONALIZED TPB
Written by DANIEL WAY
Penciled by CARLO BARBERI
Cover by DAVE JOHNSON
After a vicious run-in with the Hulk put his healing factor to the test, Deadpool wakes up to find himself incarcerated in a prison for the criminally insane. Placed in the special care of Dr. Ella Whitby, Deadpool uses his special "charms" to hammer his way to the top of the inmate hierarchy and seduce the plug-ugly psychotherapist to help him escape. But when Whitby's treatment starts to take effect on Deadpool's scarred psyche, the Merc with a Mouth runs the risk of actually being cured! Will Deadpool finally find some semblance of sanity? Can he escape prison without the help of the voices in his head? Collecting DEADPOOL (2008) #40-44.
112 PGS./Parental Advisory …$15.99
ISBN: 978-0-7851-5892-9
HALO: FALL OF REACH — COVENANT TPB
Written by BRIAN REED
Penciled by FELIX RUIZ
Cover by HUMBERTO RAMOS
Continuing the adaptation of Eric Nylund's novel Halo: The Fall of Reach, based on the international videogame sensation! After creating more than 800 colonies, the United Nations Space Command has encountered the Covenant — an alien race bent on obliterating humanity. The burnt cinder that used to be the peaceful farming world Harvest and its millions of dead colonists serve as testimony to the Covenant's intentions. But if Dr. Catherine Halsey can equip the UNSC's super-soldiers, the Spartans, in her new MJOLNIR armor, humanity just might stand a fighting chance against the aliens' seemingly unstoppable campaign. But as the Master Chief and his fellow Spartans take the battle to the Covenant on Sigma Octanus IV, what deep, dark secret will hold the key to humanity's future? Collecting HALO: FALL OF REACH — COVENANT #1-4.
112 PGS./17 & Up …$16.99
ISBN: 978-0-7851-5149-4
© 2012 Microsoft Corporation. All rights reserved. Microsoft, 343 Industries, the 343 Industries Logo, Halo, the Halo logo, Xbox, Xbox 360, and the Xbox logos are trademarks of the Microsoft group of companies.
THE STAND VOL. 3: SOUL SURVIVORS TPB
Written by ROBERTO AGUIRRE-SACASA
Penciled by MIKE PERKINS
Cover by LEE BERMEJO
Three bands of weary survivors regroup in an American nightmare — all sharing the desperation of survival in a world bereft of hope and the deadening desolation of the soul that comes with it. But when the hard work of living to see another day is done, there come the dreams: persistent dreams of an old, guitar-playing black woman on a front porch in Nebraska, offering the promise of hope. But Mother Abagail shares the dreamscape with nightmare visions of the Dark Man, Randall Flagg — he of the soulless crows, the feral animals and the creeping death of world's end. As these two battle in the hearts, minds and dreams of the last standing, who will be the "soul survivor?" Marvel's adaptation of celebrated author Stephen King's popular apocalyptic novel continues! Collecting THE STAND: SOUL SURVIVORS #1-5.
136 PGS./Parental AdvisorySLC …$19.99
ISBN: 978-0-7851-3523-4
Published by arrangement with The Doubleday Broadway Publishing Group, a division of Random House, Inc. This graphic novel is produced under license from The Doubleday Broadway Publishing Group and Stephen King. TM & © 2010 Marvel Characters, Inc. All rights reserved.
MARVEL FIRSTS: THE 1970s VOL. 3 TPB
Written by MARV WOLFMAN, TONY ISABELLA, JOHN WARNER, STEVE GERBER, STEVE ENGLEHART, MARY SKRENES, JACK KIRBY, GERRY CONWAY, ARCHIE GOODWIN, ROY THOMAS, DOUG MOENCH & STAN LEE
Penciled by STEVE GAN, DON HECK, MIKE VOSBURG, AL MILGROM, GEORGE TUSKA, BOB MCLEOD, JIM MOONEY, JACK KIRBY, JOHN BUSCEMA, JOE SINNOTT, JIM CRAIG, RON WILSON & CHIC STONE
Cover by VARIOUS
Marvel's popular line of fantastic first appearances continues! The sensational seventies come to a phenomenal finish with this third volume featuring aliens, space gods, giants, dinosaurs and more! Included here are the fabulous first issues of such seventies stalwarts as Skull the Slayer, Omega the Unknown, the Champions, the Eternals, Devil Dinosaur and others! Collecting SKULL THE SLAYER #1, CHAMPIONS #1, MARVEL PRESENTS #1 and #3, BLACK GOLIATH #1, material from MARVEL PREVIEW #4, OMEGA THE UNKNOWN (1976) #1, ETERNALS (1976) #1, NOVA (1976) #1, MS. MARVEL (1977) #1, MARVEL SPOTLIGHT (1971) #32, WHAT IF? (1977) #1, MARVEL PREMIERE #35, DEVIL DINOSAUR #1, MACHINE MAN (1978) #1, material from HULK MAGAZINE (1978) #11, and SAVAGE SHE-HULK (1980) #1.
376 PGS./Rated T+ …$29.99
ISBN: 978-0-7851-6382-4
STRIKEFORCE: MORITURI VOL. 3 TPB
Written by JAMES D. HUDNALL
Penciled by MARK BAGLEY
Cover by MARK BAGLEY
The war against the Horde is over, and mankind is victorious — so what do the Morituri do now? As the Earth heals from its lengthy occupation, the surviving Strikeforce members must come to terms with their own looming mortality, even as new and deadly dangers arise on the post-war planet — including a group of Morituri-empowered assassins targeting the Prime Minister, and a secret conspiracy threatening to sunder Earth's united government. And what is the sinister hidden agenda of the alien VXX199? The epic sci-fi sensation of the '80s concludes here! Collecting STRIKEFORCE: MORITURI #27-31 and STRIKEFORCE: MORITURI — ELECTRIC UNDERTOW #1-5.
384 PGS./Rated T …$34.99
ISBN: 978-0-7851-6474-6
SPIDER-MAN: IDENTITY CRISIS TPB (NEW PRINTING)
Written by TODD DEZAGO, MIKE WIERINGO, TOM DEFALCO, HOWARD MACKIE, J.M. DEMATTEIS & GLENN GREENBERG
Penciled by MIKE WIERINGO, JOE BENNETT, JOHN ROMITA JR. & LUKE ROSS
Cover by MIKE WIERINGO, JOE BENNETT, JOHN ROMITA & JOHN ROMITA JR.
Meet the Marvel Universe's newest heroes: The coldly efficient Prodigy. The shadowy avenger known as Dusk. The hyper-kinetic, free-wheeling Ricochet. The high-flying wonder called Hornet. They're here, they're hot, and they're wildly popular. There's just one catch: For these four heroes to live, Spider-Man must die! Collecting SENSATIONAL SPIDER-MAN (1996) #27-28, AMAZING SPIDER-MAN (1963) #434-435, SPIDER-MAN (1990) #91-92 and SPECTACULAR SPIDER-MAN (1976) #257-258.
200 PGS./Rated T …$24.99
ISBN: 978-0-7851-5970-4
NEW MUTANTS CLASSIC VOL. 7 TPB
Written by CHRIS CLAREMONT
Penciled by JACKSON GUICE, BRET BLEVINS, KEVIN NOWLAN, RICK LEONARDI, SAL BUSCEMA & ALAN DAVIS
Cover by BRET BLEVINS
The New Mutants fast-forward to the world of tomorrow, and it ain't pretty! Join Cannonball, Cypher, Karma, Magik and the rest of the best that young mutantkind has to offer as they face evil future versions of themselves, mutant-hunting Sentinels, a rebellion in Limbo, the Hellfire Club and their teenage Hellions, and more! Guest-starring Professor X, the Starjammers, Emma Frost and the infuriating Impossible Man! Collecting NEW MUTANTS (1983) #48-54 and ANNUAL #3.
232 PGS./Rated T …$29.99
ISBN: 978-0-7851-5971-1
X-MEN: PHOENIX — ENDSONG/WARSONG ULTIMATE COLLECTION TPB
Written by GREG PAK
Penciled by GREG LAND & TYLER KIRKHAM
Cover by GREG LAND
Writer Greg Pak's epic two-part tale of life, death and rebirth is collected in one volume! The Phoenix has come back to life. Seeking to reunite with Jean Grey, it has returned to Earth — only to find its former host dead and buried. Without Jean Grey to control the Phoenix's limitless power, will the X-Men succeed in stopping this cosmic force of death and destruction once more? Plus: Something's not quite right with the Stepford Cuckoos, and the X-Men better figure out what it is — and fast! And what does Weapon Plus have to do with all this? Collecting X-MEN: PHOENIX — ENDSONG #1-5 and X-MEN: PHOENIX — WARSONG #1-5.
256 PGS./Rated T+ …$29.99
ISBN: 978-0-7851-6487-6
OFFICIAL HANDBOOK OF THE MARVEL UNIVERSE A TO Z VOL. 5 TPB
Written by VARIOUS
Cover by TOM GRUMMETT
AT LAST! The landmark encyclopedia-style OFFICIAL HANDBOOK OF THE MARVEL UNIVERSE hardcover series finally is reprinted in softcover format! Each volume has corrected any errors in all profiles — and features a new, 16-page "Where Are They Now?" update addendum with text and art! An indispensable resource for all true Marvel fans! VOL. 5 spotlights hundreds of characters beginning with G-J — including the Hand, the Hellfire Club, Heroes for Hire, the High Evolutionary, three Hobgoblins, Ikaris, Immortus, Imperial Guard, the Infinity Gems, the Inhumans, the Initiative, Jack of Hearts and the Jackal!
256 PGS./Rated T+ …$19.99
ISBN: 978-0-7851-5834-9
ESSENTIAL BLACK PANTHER VOL. 1 TPB
Written by DON MCGREGOR & JACK KIRBY
Penciled by RICH BUCKLER, GIL KANE, BILLY GRAHAM, KEITH POLLARD & JACK KIRBY
Cover by GIL KANE
Embark on an expedition into the heart of Marvel's dark continent! Join T'Challa, King of Wakanda — the Black Panther — as he fights to uphold peace and justice in both his own African kingdom and New York City's urban jungle. Experience the thrills as one of the Marvel Universe's noblest knights-errant takes on everything from hatemongering heels to futuristic frog time machines, as brought to you by the inimitable imaginations of some of comicdom's most sensational scribes! Collecting JUNGLE ACTION (1972) #6-22 and # 24, and BLACK PANTHER (1977) #1-10.
528 PGS./Rated T …$19.99
ISBN: 978-0-7851-6323-7