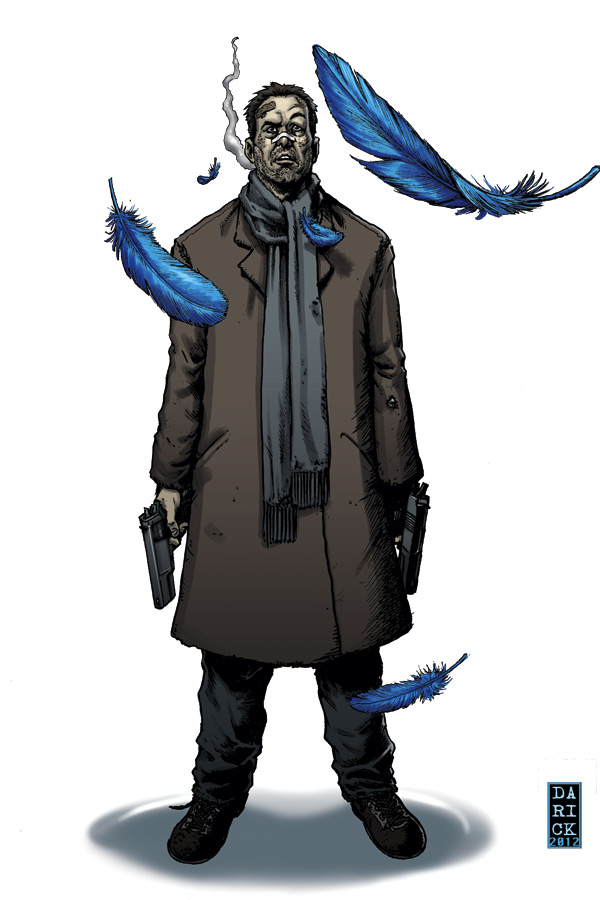 Et voici les sollicitations Image Comics pour le mois de septembre. Alors au programme le nouveau creator owned de Grant Morrison dessiné par Darick Robertson (avec un mec en couv qui ressemble beaucoup à Butcher…), la nouvelle série spin off  d'Invincible écrite par Phil Hester et comme chaque mois beaucoup de bonnes choses !
HAPPY! #1 (of 4)
story GRANT MORRISON
art / cover DARICK ROBERTSON
SEPTEMBER 26
32 PAGES / FC / M
$2.99
Meet NICK SAX – a corrupt, intoxicated ex-cop turned hit-man, adrift in a stinking twilight world of casual murder, soulless sex, eczema and betrayal.
With a hit gone wrong, a bullet in his side, the cops and the mob on his tail, and a monstrous child killer in a Santa suit on the loose, Nick and his world will be changed forever this Christmas.
By a tiny blue horse called Happy…
GUARDING THE GLOBE #1
story PHIL HESTER
art / wraparound cover TODD NAUCK & JOHN RAUCH
SEPTEMBER 5
32 PAGES / FC / T
$2.99
The Guardians of the Globe are BACK in an all-new, all-exciting ongoing series! Your favorite heroes – Brit, Outrun, Invincible, Robot, Yeti, Kaboomerang, and more –face new challenges of epic proportions in stories by the all-star team of PHIL HESTER & TODD NAUCK!
YOUNGBLOOD #75
story JOHN McLAUGHLIN
art JON MALIN & ROB LIEFELD
cover A ROB LIEFELD & MIKE CAPPROTTI
cover B ROB LIEFELD & TODD McFARLANE
cover C ERIK LARSEN
cover D RYAN OTTLEY
cover E MARC SILVESTRI
SEPTEMBER 26
48 PAGES / FC / T+
$4.99
It's been twenty years in the making, but YOUNGBLOOD reaches its 75th issue with an oversized story!  And who can blame them?!    In this issue Jeff Terrell returns to the team, Cougar realizes that as impossible as it seems, he might actually be in love. We get one more clue as to the fate of Badrock, and Die Hard and Vogue discover there is more « there » there than they every suspected. All this and a battle worthy of the world's greatest superhero team!
PETER PANZERFAUST #6
story KURTIS J. WIEBE
art / cover TYLER JENKINS
SEPTEMBER 12
32 PAGES/FC/T
$3.50
NOW AN ONGOING SERIES!
« PARIS, » Part One
Paris cowers in the shadow of the Third Reich and one of the Lost Boys has become their prisoner. There is no running. There is no hiding. There is only the mission: save Felix!
THIEF OF THIEVES #8
story ROBERT KIRKMAN & JAMES ASMUS
art / cover SHAWN MARTINBROUGH & FELIX SERRANO
SEPTEMBER 5
32 PAGES / FC / T
$2.99
Redmond's big heist did not turn out as planned… and the aftermath shows that every action has an equal – and equally violent – reaction. Generation Hope writer JAMES ASMUS kicks off an all-new story arc!
VALENTINE, VOL 1: THE ICE DEATH TP
story ALEX de CAMPI
art CHRISTINE LARSEN, TIM DURNING & CASSANDRA JAMES
cover STEVEN BELLEDIN
SEPTEMBER 5
352 PAGES / FC / T+
$24.99
1812. As the mightiest army in the world is pitilessly ground into dust by the Russian winter, two soldiers, lost in a blizzard, are given a package by a dying general. Suddenly the young soldiers find themselves hunted by relentless, blood-eyed monsters out of their worst childhood nightmares. For those tales of terror and legend told across the Earth all have a kernel of truth: humans are not alone. And these monsters, now stuck in a world whose magic has drained away, will do anything to go home. Pity the humans caught in their path.
Collects the first 10 chapters of the hit online supernatural thriller VALENTINE, by ALEX DE CAMPI and CHRISTINE LARSEN, with an exclusive, print-only 42-page bonus story drawn by CASSANDRA JAMES.
BLOODSTRIKE, VOL. 1 TP
story TIM SEELEY
art FRANCESCO GASTON & ROB LIEFELD
cover FRANCESCO GASTON
SEPTEMBER 19
160 PAGES / FC / T+
$14.99
Extreme's zombie-black op-superheroes return!  Cabbot Stone was the last unliving Bloodstrike agent, an unstoppable weapon in America's war on terror! But being dead is a hell of way to make a living, and Cabbot is losing his faith. Having a new team might be just what Cabbot needs to give him something to believe in. At the least it'll be nice to have back-up in the battle against threats like high tech mummies, the super terrorist Quantum, his brother Battlestone, and the supervillians team known as The Quanta! Bloody horror-action with heart by Hack/Slash writer TIM SEELEY and artist FRANCESCO GASTON!
Collects BLOODTRIKE #26-30
EPOCH TP
story KEVIN McCARTHY
art & cover PAOLO PANTALENA, JORGE FARES & BILL FARMER
SEPTEMBER 12
160 PAGES / FC / M
STANDARD
$19.99
THE GREATEST TOURNAMENT THE WORLD HAS NEVER SEEN BEGINS ANEW!
Jonah Wright is an NYPD detective assigned to a mysterious murder case that threatens to rip him from the reality he knows and into the shadow world of his heritage – the Supernatural. Jonah's quest will drop him deep in the middle of a conspiracy that threatens to tear apart the very fabric of society and will plunge him into an ancient tournament known only as… EPOCH!
Collects EPOCH #1-5
HAUNT, VOL. 4 TP
story JOE CASEY
art NATHAN FOX & JOHN LUCAS
cover NATHAN FOX
SEPTEMBER 12
140 PAGES / FC / T+
$14.99
In a bold new direction writer JOE CASEY and artist NATHAN FOX flip the HAUNT series on its head. Still figuring out their newfound ability, brothers Daniel and Kurt Kilgore start experiencing the dark side of their powers, and no one is safe.
Collects HAUNT #19-25
THE LI'L DEPRESSED BOY, VOL. 4 TP
story S. STEVEN STRUBLE
art & cover SINA GRACE
SEPTEMBER 26
112 PAGES / FC / T
$12.99
« LOVE IS A PLACE »
As he settles into a groove with his new job, the Li'l Depressed Boy embarks on a relationship he must keep secret from his co-workers. But secrets rarely stay hidden, do they?
Collects THE LI'L DEPRESSED BOY #13-16
NEAR DEATH, VOL. 2 TP
story JAY FAERBER
art SIMONE GUGLIELMINI
cover  FRANCESCO FRANCAVILLA
SEPTEMBER 12
136 PAGES / FC / T+
$14.99
In this second collection of the series BRIAN K. VAUGHAN calls « a killer crime book with a very sharp hook, » former hitman Markham has relocated to Los Angeles, where he continues his efforts to balance the scales by saving people instead of killing them. But try as he might, Markham can't outrun his dark past.
If you like THIEF OF THIEVES and FATALE, you'll love NEAR DEATH.
Collects NEAR DEATH #6-11
REBEL BLOOD TP
story RILEY ROSSMO & ALEX LINK
art / cover RILEY ROSSMO
SEPTEMBER 19
128 PAGES / FC / M
$14.99
A virus has created a wilderness of blood-thirsty creatures standing between you and your family.  You don't know if you can save them in time, or if you've even got the strength to try.  But you're about to find out.
In a world of ravenous creatures it doesn't matter who you used to be. Today you're lunch.
SECRET, VOL. 1 TP
story JONATHAN HICKMAN
art RYAN BODENHEIM & MICHAEL GARLAND
SEPTEMBER 26
144 PAGES / FC / T+
$14.99
« NEVER GET CAUGHT »
A man gets shot in London, a law firm gets broken into in Washington, an accountant gives away the password to his computer, and something put to sleep 20 years ago awakens. What is the unsavory relationship all these things share, and how could it bring down two of the largest governments in the history of the world?
Brought to you by award-winning writer JONATHAN HICKMAN and break-out talent, RYAN BODENHEIM, SECRET is an espionage thriller that takes a deep look into the shadow world existing between the government and private security firms.
Collects SECRET #1-5
SPAWN: ORIGINS, VOL. 16 TP
story TODD McFARLANE & BRIAN HOLGUIN
art GREG CAPULLO & DANNY MIKI
cover CLAYTON CRAIN
SEPTEMBER 19
152 PAGES / FC / T+
$14.99
Add another baby to your SPAWN: ORIGINS family and re-live the excitement of one of the best-selling independent comics of all time! Collecting classic issues of everyone's favorite antihero and featuring impossible pencils by GREG CAPULLO, this is the stuff legends are made of.
While Spawn is busy battling his inner demons, real demons are on the prowl and want a piece of him, too. Enter the historic battle with Urizen and the advent of Ab and Zab. Plus… Wanda's pregnant?!
Collects Spawn #93-98
THIEF OF THIEVES, VOL. 1 TP
story ROBERT KIRKMAN & NICK SPENCER
art & cover SHAWN MARTINBROUGH & FELIX SERRANO
SEPTEMBER 5
152 PAGES / FC / T
$14.99
Conrad Paulson lives a secret double life as master thief Redmond. There is nothing he can't steal, nothing he can't have… except for the life he left behind. Now with a grown son he hardly knows, and an ex-wife he never stopped loving, Conrad must try to piece together what's left of his life, before the FBI finally catch up to him… but it appears they are the least of his worries.
Collects THIEF OF THIEVES #1-7
THE WALKING DEAD BOOK 8 HC
story ROBERT KIRKMAN
art / cover CHARLIE ADLARD & CLIFF RATHBURN
SEPTEMBER 19
336 PAGES / BW / M
$34.99
Rick and his group rebuild from the events of « NO WAY OUT, » and learn that maybe they can take part in « A LARGER WORLD. »
Collects THE WALKING DEAD # 85-96
THE ACTIVITY #9
story NATHAN EDMONDSON
art / cover MITCH GERADS
SEPTEMBER 12
32 PAGES /  FC / T+
$3.50
« THE HORN »
Disguised as a news crew, Team Omaha is in Somalia to help a British SAS team snatch and grab a British national – but even the best planned operations can end in a furious escape through the desert in the dead of night.
ALPHA GIRL #5
story: JEFF ROENNING & JEAN-PAUL BONJOUR
Art: DIEGO SIMONE
Cover: ROBERT LOVE, DANA SHUKARTSI & DIEGO SIMONE
September 19
32 PAGES / FC / M
$2.99
A traumatized Frank develops an appetite for zombie slaughter as he and Judith finally arrive at Buddy's detention center, only to discover it's over run with zombie inmates. This mini-series finale has more blood than Halloween and more crazy broads than Showgirls!
AMERICA'S GOT POWERS #5 (of 6)
story JONATHAN ROSS
art / cover BRYAN HITCH
SEPTEMBER 5
32 PAGES / FC / T+
$2.99
After the Event that created a whole generation of super-powered kids, Tommy Watts has finally discovered what his gift was: The ability to give super powers to others. Now, as the government's enhanced soldiers battle the outcast super-teens, Tommy can't decide which side to fight for!
ARTIFACTS #22
story RON MARZ
art / cover STJEPAN SEJIC
SEPTEMBER 26
32 PAGES / FC / T+
$3.99
« TRUTHS & DESTINIES, » PART 1
Tom Judge and Tilly Grimes are not the only ones that know the hidden truths of the universe. The Catholic Church knows dark realities kept secret from the world and they have agents to protect us from those secrets. Whether we want them to… or not. RON MARZ (MAGDALENA, SHINKU) and STJEPAN SEJIC (ANGELUS) re-introduce one of Top Cow's most popular characters into the « Rebirth » universe in a special two-part story.
BLACK KISS II #2 (of 6)
story / art / cover HOWARD CHAYKIN
SEPTEMBER 5
24 PAGES / BW / M
$2.99
In the second of six explorations of the dark side, filth piles on filth as the 20th Century revs into high gear – and the stroboscoping world of the movies conceals and reveals the degeneracy and debauchery hiding behind the winning smiles of matinee idols and America's sweethearts.
BLOODSTRIKE #32
story TIM SEELEY
art FRANCESCO GASTON
cover TIM SEELEY
SEPTEMBER 19
32 PAGES / FC / T+
$2.99
When one of the members of the 1960s teen team, The Young Americans is murdered, it's time for a reunion! But, it's not a social call, as Suprema and Twilight atack Operation: Bloodstrike!
CHEW #29
story JOHN LAYMAN
art / cover ROB GUILLORY
SEPTEMBER 19
32 PAGES / FC / M
$2.99
« SPACE CAKES, » Part Four
On the trail of the vampire!
CREATOR OWNED HEROES #4
story STEVE NILES, JIMMY PALMIOTTI & JUSTIN GRAY
art / cover  PHIL NOTO & KEVIN MELLON
SEPTEMBER 5
32+ PAGES / FC / M
$3.99
« TRIGGERGIRL 6, » Part Four
by JIMMY PALMIOTTI, JUSTIN GRAY & PHIL NOTO
The whopping final chapter in this sci-fi thriller, Triggergirl 6 has discovered who created her and why, and the President of the United States finally understands his place in the world in ways he never expected.
« AMERICAN MUSCLE, » Part Four
by STEVE NILES & KEVIN MELLON
Chloe and Gil have reached the end of the road. Now faced with an impossible choice the team must escape Mutant America and attempt to find civilization or die trying.
PLUS! An interview with superstar artist and trickster creator, SCOTT MORSE, a KEVIN MELLON art gallery, con photos, and original articles all celebrating the creator owned spirit!
DANCER #5
story NATHAN EDMONDSON
art / cover NIC KLEIN
SEPTEMBER 19
32 PAGES / FC / T+
$3.50
« CODA »
What must Alan give up to defeat the Assassin? The show comes to a close in the last issue of the miniseries with the sudden finality of a sniper round.
DANGER CLUB #5
story LANDRY Q. WALKER
art & cover ERIC JONES
SEPTEMBER 26
32 PAGES / FC / T+
$2.99
It's the end of the world, and Jack Fearless must now pay the price for his crimes.
THE DARKNESS #107
story DAVID HINE
art & cover JEREMY HAUN
SEPTEMBER 19
32 PAGES / FC / M
$2.99
« BREAKING DARK, » Part Two
Jackie Estacado and his crew, along with his Doppelganger, move in to take out Balakov and his organization. When they do… they will find that Balakov has a very unexpected and deadly ally. DAVID HINE (THE DARKNESS: FOUR HORSEMEN, THE BULLETPROOF COFFIN) and JEREMY HAUN (ARTIFACTS, Detective Comics) follow up their horrific first arc with a four-part story that will make you question everything you think you know about the Top Cow universe.
DEBRIS #3 (of 4)
story KURTIS J. WIEBE
art / cover RILEY ROSSMO
SEPTEMBER 26
32 PAGES / FC / T
$3.50
Maya and Kessel leave the world of ruin behind to discover a whole landscape of pure nature. The legend of Athabasca is true, but there is formidable opposition blocking their way and it becomes very clear: they are not alone.
ELEPHANTMEN #44
story RICHARD STARKINGS
art AXEL MEDELLIN
cover BRANDON GRAHAM
SEPTEMBER 12
40 PAGES / FC / M
$3.99
« SLEEPING PARTNERS, » Part Three
Is she really going out with him?
EPIC KILL #5
story / art / cover RAFAEL IENCO
SEPTEMBER 5
32 PAGES / FC / T+
$2.99
The conclusion of the first five issue arc… Obstacles are crushed. Vengeance is satisfied. But all this comes at a cost; someone dies in the electric chair for their crimes.
FATALE #9
story ED BRUBAKER
art SEAN PHILLIPS & DAVE STEWART
cover SEAN PHILLIPS
SEPTEMBER 26
32 PAGES / FC / M
$3.50
FATALE's second arc « The Devil's Business » rushes toward its savage
conclusion, as Jo comes out of hiding, ready to confront the reborn Bishop as his cultists creep around 1970s Hollywood searching for her and her new lover…
And remember each issue of FATALE contains extra content, articles and artwork that are not available anywhere but the printed single issues.
HACK/SLASH #20
story STEVE SEELEY & MICHAEL MORECI
art EMILIO LAISO
cover A by TIM SEELEY
cover B by EMILIO LAISO
SEPTEMBER 26
32 PAGES / FC / T+
$3.50
« FINAL, » Part One
The beginning of the end! Brand new regular artist ELENA CASAGRANDE (Angel, Hulk)! Cat Curio brings grim news! Cassie and Vlad fight! And Samhain prepares for an all out war, with slashers as his undying soldiers.
HARVEST #2 (of 5)
story AJ Lieberman
art & cover Colin Lorimer
SEPTEMBER 5
32 PAGES / FC / M
$3.50
As Dr. Benjamin Dane continues his plunge down the rabbit hole that is the black market for human organs, he signs a deal with a devil named Craven which Dane signs in blood with an alcohol level of about 22.  His only help? The kid on the cover.  Harvest: Medical Grade Revenge.
HELL YEAH #6
story JOE KEATINGE
art / cover  ANDRE SZYMANOWICZ
SEPTEMBER 12
32 PAGES / FC / T+
$2.99
« EVERYTHING YOU KNOW IS RIGHT, » Part One
A new beginning. A new world. A new Ben Day.
HOAX HUNTERS #3
story MICHAEL MORECI & STEVE SEELEY
art AXEL MEDELLIN
cover RYAN BROWNE
SEPTEMBER 12
32 PAGES / FC / T
$2.99
« DIE OFF ANOTHER DAY, » Part Three
The carnival proved to be more dangerous than even the Hoax Hunters anticipated, and now they must battle Clive's relentless forces to stay alive. Also, Jack digs further into his father's mysterious past and is shocked by what he uncovers.
INVINCIBLE #96
story ROBERT KIRKMAN
art RYAN OTTLEY & CORY WALKER
cover RYAN OTTLEY, CORY WALKER & JOHN RAUCH
SEPTEMBER 19
32 PAGES / FC/ T+
$2.99
The Flaxan invasion comes to a horrible, violent end. Robot and Monster Girl will never be the same again as their secrets are revealed. The new Invincible has gotten a taste for what his new role will require. Meanwhile, back at home… Mark Grayson is growing stronger.
IT GIRL & THE ATOMICS #2
story JAMIE S. RICH
art MIKE NORTON
cover MICHAEL & LAURA ALLRED
variant cover DARWYN COOKE
SEPTEMBER 12
32 PAGES / FC / E
$2.99
« DARK STREETS, SNAP CITY, » Part Two
It Girl comes crashing down to Earth. Can she figure out where she's landed before the shadowy figure following behind catches up with her? Also, see what the Skunk's old gang gets up to when left to their own devices! Joins us for world-bending new adventures starring Michael Allred's Atomics!
THE MANHATTAN PROJECTS #7
story JONATHAN HICKMAN
art NICK PITARRA & JORDIE BELLAIRE
SEPTEMBER 19
32 PAGES / FC / T+
$3.50
« ABOVE AND BEYOND »
At a top Secret meeting in Iceland, the Americans and Russians have a world-shattering encounter with the Science tyrants of the Manhattan Projects.
The thrilling FEEL GOOD, BAD SCIENCE series continues in THE MANHATTAN PROJECTS#7: ABOVE AND BEYOND!
MIND THE GAP #5
story JIM McCANN
art Rodin Esquejo & Adrian Alphona
cover A RODIN ESQUEJO
cover B JO CHEN
SEPTEMBER 19
32 PAGES / FC / T+
$2.99
An arrest made! A secret past revealed! Life-altering events set in motion! And a HOLY $%!! last page that will leave you breathless as the first arc ends and the stage set for the next chapter.
For this mind bending, jaw dropping tale, series artist RODIN ESQUEJO is joined by very special guests – the Runaways art team, including a cover from JO CHEN! (Admit it, your jaw just dropped a little more, right?)  The red-hot new series reaches scorching temperatures as it continues to sell out.  You DO NOT want to miss this issue!
MORNING GLORIES #23
story NICK SPENCER
art JOE EISMA
cover RODIN ESQUEJO
SEPTEMBER 26
32 PAGES / FC / M
$2.99
« Promises, Promises. »
MUDMAN #8
story / art PAUL GRIST
SEPTEMBER 26
32 PAGES / FC / T
$3.50
It's a big night of firsts for Owen Craig/Mudman.
First date.  First kiss.  First time arrested by the Police.
PLANETOID #4
story / art / cover KEN GARING
SEPTEMBER 12
32 PAGES  /  FC  /  T+
$2.99
After a period of calm the Ono Mao strike back! How long can the newly formed settlement survive without the protection of Silas?
PROPHET #29
story BRANDON GRAHAM, SIMON ROY & GIANNIS MILONOGIANNIS
art GIANNIS MILONOGIANNIS
cover FIL BARLOW
SEPTEMBER 26
32 PAGES / FC / T+
$2.99
Prophet goes looking for an old friend and finds an alien mystery.
REVIVAL #3
story TIM SEELEY
art MIKE NORTON
cover by JENNY FRISON
SEPTEMBER 19
32 PAGES / FC / T+
$2.99
Ms. Vang is a little old lady who wants her piece of the pie. And the creature in her basement is how she plans to get it. Meanwhile, Dana and her new partner are on a case, Em has more secrets, and a walking corpse goes to her daughter's funeral.
SKULLKICKERS #18
story JOHN LAYMAN, JUSTIN JORDAN, BLAIR BUTLER, J. TORRES, CHARLES SOULE, AUBREY SITTERSON
art ROB GUILLORY, TRADD MOORE, ENRIQUE RIVERA, ALBERTO ALBURQUERQUE, MICHAEL MAYNE, IVAN ANAYA
cover SAEJIN OH
SEPTEMBER 26
40 PAGES / FC / T – TEEN
$3.99
« SON OF TAVERN TALES »
With our third story arc wrapped up, it's time for the next Tavern Tales issue. This time, the tales can't be contained in just 32 pages. This extra large issue is jammed with some of the biggest indie creators in the business alongside our Tavern Tales Contest Winners!
JOHN LAYMAN & ROB GUILLORY (CHEW), JUSTIN JORDAN & TRADD MOORE (LUTHER STRODE), BLAIR BUTLER (G4, HEART), ENRIQUE RIVERA (BANANAS AND BINARY), J. TORRES (BIGFOOT BOY), ALBERTO J. ALBURQUERQUE (ELLE), CHARLES SOULE (27), MICHAEL MAYNE (BONNIE LASS), and welcoming contest winners AUBREY SITTERSON and IVAN ANAYA!
SPAWN #223
story TODD McFARLANE
art SZYMON KUDRANSKI
cover artist TODD McFARLANE
SEPTEMBER 5th
32 PAGES / FC/ T+
$2.99
SPAWN'S LANDMARK 20th ANNIVERSARY CELEBRATION CONTINUES! ALL-NEW TODD MCFARLANE COVER, FEATURING A RARE BLACK-AND-WHITE VARIANT! LONG-AWAITED ANSWERS COME TO LIGHT! PLUS A FAN-FAVORITE CHARACTER IS CHANGED… FOREVER!
Spawn and Tremor take a prisoner in their ongoing war to discover the truth behind The Program – the clandestine military operation that made them both monsters. As the interrogation heats up, the reality of Jim's memories begin to take shape. Was he the architect of his own downfall, or a victim of those with far more sinister intent?
SUPER DINOSAUR #14
story ROBERT KIRKMAN
art / cover JASON HOWARD
SEPTEMBER 26
32 PAGES / FC / E
$2.99
« ESCAPE FROM INNER-EARTH, » Part Three
Derek Dynamo learns the terrible secret of Inner-Earth, something even his father, Doctor Dynamo never discovered. Meanwhile Super Dinosaur and his friends are learning just how dangerous Inner-Earth can be!
THINK TANK #2
story MATT HAWKINS
art / cover RAHSAN EKEDAL & BRIAN REBER
SEPTEMBER 5
32 PAGES / B&W / M
STANDARD$3.99
Brought back in by his military masters, Dr. David Loren's newest invention has been confiscated. With pressure mounting against his friend Dr. Mannish and an innocent woman caught in the middle, how long can David keep the knowledge of how to operate the highly dangerous technology away from the brass?
THE WALKING DEAD #102
story ROBERT KIRKMAN
art & cover CHARLIE ADLARD & CLIFF RATHBURN
SEPTEMBER 12
32 PAGES / BW / M
$2.99
« SOMETHING TO FEAR » concludes!
The survivors attempt to pick up the pieces after what they've just lived through.
WITCHBLADE #161
story TIM SEELEY
art DIEGO BERNARD & FRED BENES
cover A JOHN TYLER CHRISTOPHER
cover B DIEGO BERNARD & FRED BENES
SEPTEMBER 12
32 PAGES / FC / T+
2.99
« APPARITIONS »
Private detective Sara Pezzini's recent exploits have had an unintended, but not all together negative side effect – she's now actually getting paid to investigate paid supernatural cases! However she may make an enemy of another one of Chicago's supernatural agents in the process. Meanwhile, all around her forces move in a much larger, sinister symphony…