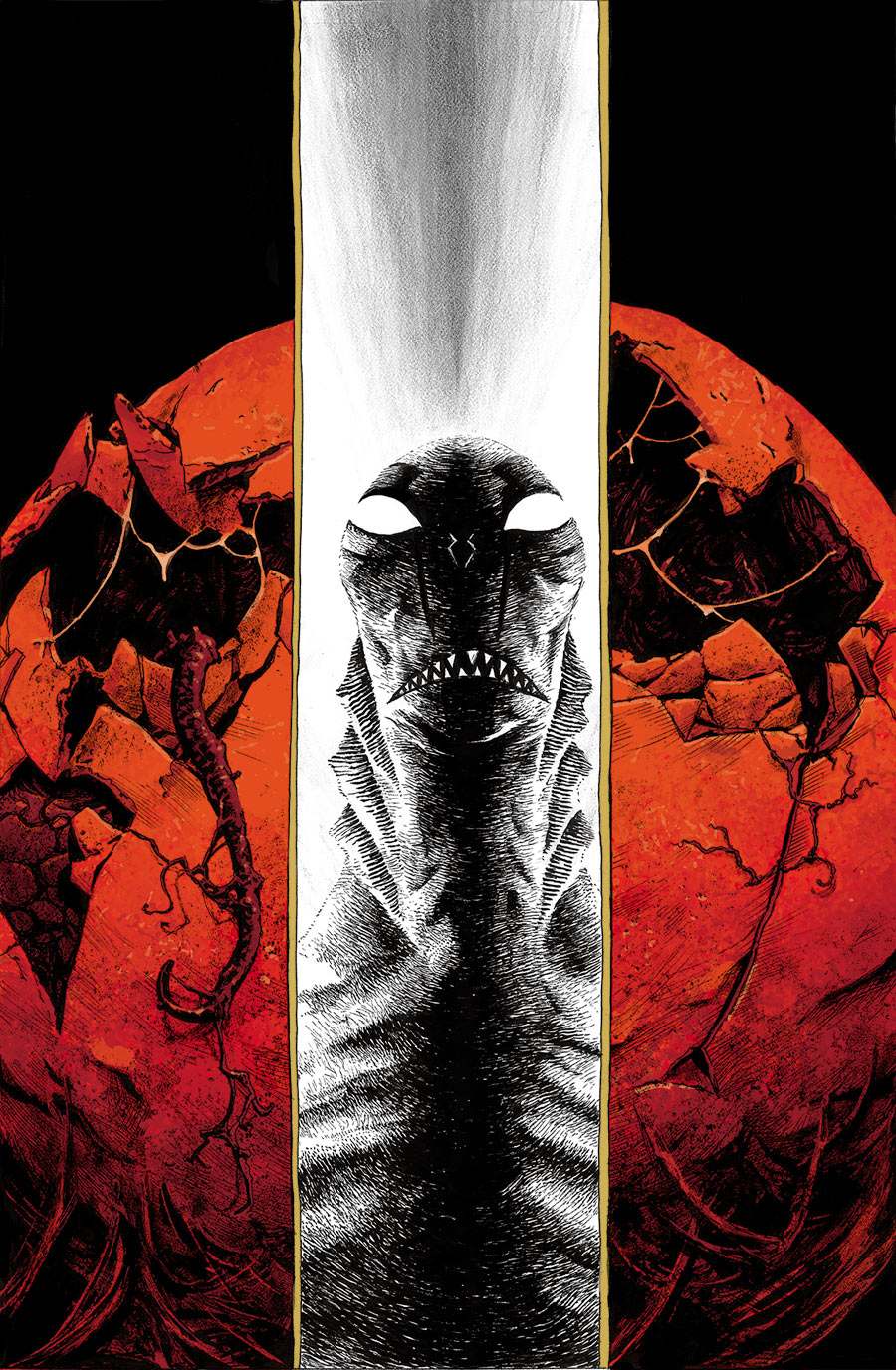 Et voici les sollicitations Dark Horse pour le mois de Juillet prochain !
47 RONIN #5 (of 5)
Mike Richardson (W), Stan Sakai (A/Cover), and Lovern Kindzierski (C)
On sale July 3
FC, 40 pages
$3.99
Miniseries
Mike Richardson and Stan Sakai's breathtaking account of Japan's most famous historical legend reaches its extra-length conclusion, as Lord Asano's loyal retainers take their revenge! THE EPIC FINALE!
• Special oversize final issue for the same low price!
• From Mike Richardson (Star Wars: Crimson Empire) and Stan Sakai (Usagi Yojimbo)!
« 47 Ronin is a book to watch … » –IGN
ABE SAPIEN #4 
Mike Mignola (W), John Arcudi (W), Max Fiumara (A/Cover), Dave Stewart (C), and Sebastián Fiumara (Variant cover)
On sale July 3
FC, 32 pages
$3.50
Ongoing
While on the run from the Bureau, Abe makes his way to the Salton Sea, where he encounters a bizarre egg-worshiping cult.
• « The New Race of Man » part 1 (of 2)
• Max Fiumara (B.P.R.D.: 1948) takes on Abe!
• Variant cover featuring Hellboy by Sebastián Fiumara!
ADVENTURES INTO THE UNKNOWN ARCHIVES VOLUME 3 HC
Richard E. Hughes (W), Edvard Moritz (A/Cover), Max Elkan (A), Charlie Sultan (A), John Celardo (A), John Belfi (A), R. S. Pious (A), Bob Jenney (A), Pete Riss (A), Bob Lubbers (A), Ken Bald (A), Ogden Whitney (A), Howard L. Larsen (A), Al Camy (A), and Lin Streeter (A)
On sale Sept 4
FC, 216 pages
$49.99
HC, 6 5/8″ x 10 3/16″
From storm-battered castles to secret laboratories, the golden age supernatural anthology Adventures into the Unknown! had every spooky setting audiences could desire! Eminent illustrators Ogden Whitney, Bob Lubbers, John Celardo, Lin Streeter, and others deliver some classic pre-Code horror stories. Collecting issues #9-#12, this deluxe hardcover also includes an introductory essay by Michael T. Gilbert.
• The rare and expensive comics are finally collected!
• Featuring classic work by Ogden Whitney!
AKANEIRO #3 (of 3)
Justin Aclin (W), Vasilis Lolos (A), Michael Atiyeh (C), and Shu Yan (Cover)
On sale July 31
FC, 32 pages
$3.99
Miniseries
Kani, a brave but inexperienced young huntress, uncovers a cunning plot by the demonic yokai, forcing her to make a decision that will shape her destiny—and that of her entire world!
• Based on the hot new game by American McGee's Spicy Horse Games!
• The startling conclusion!
« This game looks as though it were brushed into existence by a watercolor artist, all colorful swirls and sophisticated flourishes. » –GameSpot
AMALA'S BLADE #4 (of 4)
Steve Horton (W) and Michael Dialynas (A/C/Cover)
On sale July 31
FC, 32 pages
$3.50
Miniseries
Master assassin Amala uncovers Prince Markos' plan to reignite civil war between Modifiers and Purifiers! Can she stem the tides of war? What is the deadly secret her mother carries? And will Amala face her long-lost destiny?
« This is female-led swashbuckling fun for the whole family. »–Comic Book Resources
ANGEL & FAITH #24
Christos Gage (W), Rebekah Isaacs (A/Variant cover), Dan Jackson (C), and Steve Morris (Cover)
On sale July 31
FC, 32 pages
$2.99
Ongoing
Angel and Faith will need all the help they can get when it comes to stopping this season's ubervillains from unleashing a magic-fueled plague on the earth. Enter an archmage, a former Watcher, and two socialites who've dabbled in magic … Will it be enough?
• Final Arc!
• Battle to the death!
« Joss Whedon fans, you need this comic. »—CBR
ANGEL & FAITH VOLUME 4: DEATH AND CONSEQUENCES TP
Christos Gage (W), Rebekah Isaacs (A), Dan Jackson (C), and Steve Morris (Cover)
On sale Sept 18
FC, 136 pages
$18.99
TP, 7″ x 10″
When a demon from Giles's past emerges in London, Angel has his chance to capture the final piece of Giles's soul. But when Faith's innocent Slayer friends end up standing between the guilt-ridden vampire and his prize, Angel is unwilling to sacrifice new lives for one that was already lost—even if it destroys his quest altogether!
• Executive produced by Joss Whedon!
B.P.R.D.: 1948 TP
Mike Mignola (W/Cover), John Arcudi (W), Max Fiumara (A), and Dave Stewart (C)
On sale Sept 11
FC, 144 pages
$17.99
TP, 7″ x 10″
Atomic-bred monsters are killing civilians in the Utah desert, pitting Professor Bruttenholm, guardian of the child Hellboy, an Anders, the agent possessed by vampires, to investigate. All signs point to a mysterious glass element discovered in the desert as the origin of these dangerous creatures entering our world. Collects the five-issue miniseries.
Mike Mignola! John Arcudi!
• Featuring young Hellboy!
• Leads into B.P.R.D.: Vampire by Gabriel Bá and Fábio Moon!
B.P.R.D. HELL ON EARTH #109
Mike Mignola (W), John Arcudi (W), Laurence Campbell (A), Dave Stewart (C), and Dave Johnson (Cover)
On sale July 17
FC, 32 pages
$3.50
Ongoing
As the agents ride deeper into the Chicago ruins they locate the final resting place of the missing B.P.R.D. agents from « The Abyss of Time ». What they find is a bizarre paranormal crime scene and an army of mutated humans preventing them from getting back to headquarters.
• Art by Laurence Campbell (Marvel Universe Vs. Wolverine, Punisher MAX).
« It's a good time as any to check in with a series that started as a Hellboy spin-off but has become a force in its own right. »—Comic Book Resources
B.P.R.D.: VAMPIRE #5 (of 5)
Mike Mignola (W), Fábio Moon (W/A/Cover), Gabriel Bá (W/A), and Dave Stewart (C)
On sale July 31
FC, 32 pages
$3.50
Miniseries
After the bloody encounter in the woods, only Professor Bruttenholm himself can put an end to this vampire hunt and get to the bottom of the mystery of the undead of Český Krumlov.
• A direct sequel to the critically acclaimed B.P.R.D.: 1948!
• From the Eisner Award-winning creators of Daytripper—Gabriel Bá and Fábio Moon!
THE BEST OF MILLIGAN & MCCARTHY HC
Peter Milligan (W) and Brendan McCarthy (W/A)
On sale Sept 11
FC, 264 pages
$24.99
HC, 7 3/4″ x 11″
One of comics' most fruitful collaborations gets its due in this deluxe collection of hard-to-find gems from Peter Milligan (Hellblazer, X-Statix) and Brendan McCarthy (Judge Dredd, The Zaucer of Zilk There is still nothing else like Freakwave, Paradax!, Skin, and Rogan Gosh, and this volume is the ideal starting place for new readers! Collecting twenty years' worth of the pair's finest work from Vanguard Illustrated, Strange Days, 2000 AD, and Vertigo.
• Rare classics of action and satire!
• Brand-new restoration and commentary!
BLADE OF THE IMMORTAL VOLUME 27: MIST ON THE SPIDER'S WEB TP
Hiroaki Samura (W/A)
On sale Sept 11
b&w, 248 pages
$19.99
TP, 5 3/4″ x 8 1/4″
With this epic tale of revenge completed in Japan, now's the time to catch up with Manji, Rin, and your favorite battling groups of anachronistic, enigmatic warriors! Anotsu Kagehisa's Ittō-Ryū crew is splintered and fatigued—as Habaki Kagimura's group of suicidal Rokki-dan soldiers closes in on them! The road to Blade's final volume begins here!
• Hiroaki Samura's long-running manga series nears its conclusion!
« Samura's work will thrill you, engage you, and even horrify you like no other artist working in film or print today. » –Geof Darrow
FROM THE CREATOR OF TRIGUN!

BLOOD BLOCKADE BATTLEFRONT VOLUME 4 TP
Yasuhiro Nightow (W/A)
On sale Sept 4
b&w, 200 pages
$12.99
TP, 4 5/8″ x 7 1/4″
Libra agent Zap has been kidnapped, and to free him Klaus von Reinhertz must battle a procession of horrors from the Beyond, ultimately to face one of the terrifying Blood Breed. But was Zap really kidnapped, or is something more sinister in play to draw Libra's head honcho into the ring?
• Trigun: Multiple Bullets released March 2013.
• Trigun: Badlands Rumble animated film now available in North American markets.
• « Everything we've come to expect from Nightow, all done up in his signature style. »—Comic Attack
BLOOD BROTHERS #1 (of 3)
Mike Gagerman (W), Andrew Waller (W), Evan Shaner (A), Dan Jackson (C), and Juan Doe (Cover)
On sale July 17
FC, 32 pages
$3.99
Miniseries
Nick and Tree have smoked opium with Genghis Khan, had orgies in Michelangelo's studio, and even fronted a death metal band. But after a century of friendship, these inseparable vampire buddies are on the verge of splitting up. Terrible timing, as an apocalypse-obsessed villain is plotting an end to humanity.
Best friends … forever.
• Covers by Juan Doe (Legion of Monsters, Iron Man Legacy)!
• Interiors by Evan Shaner (Buddy Cops, Eerie, Green Hornet Year One)!
BREATH OF BONES: A TALE OF THE GOLEM #2 (of 3)
Steve Niles (W), Matt Santoro (W), and Dave Wachter (A/Cover)
On sale July 10
b&w, 32 pages
$3.99
Miniseries
After rescuing an injured British pilot, the town must protect themselves and their secret from the Nazi occupiers. Using clay and mud from the river, they bring to life a giant monster to destroy those who would harm them.
• Art by 2012 Russ Manning Award nominee Dave Wachter!
• In the spirit of Steve Niles's critically acclaimed masterwork, Freaks of the Heartland!
THE SCOOBIES REUNITE TO SAVE DAWN!

BUFFY THE VAMPIRE SLAYER SEASON 9 #23
Andrew Chambliss (W), Georges Jeanty (A/Variant cover), Karl Story (I), Michelle Madsen (C), and Phil Noto (Cover)
On sale July 10
FC, 32 pages
$2.99
Ongoing
Dawn's life hangs in the balance, and Buffy will stop at nothing to save her little sis. Willow, Xander, and Buffy reunite to save the girl they love and begin a journey that reveals betrayal amongst the ranks as they descend into the mysterious Deeper Well, former home of Illyria and many powerful Old Ones.
• Executive produced by Joss Whedon!
« Season 9's strongest quality so far is that it feels very much like a return to basics for the franchise. Essentially, Season 9 tells stories in the style of the original TV show without having to make the same sorts of budgetary concessions. » –IGN
They stole his perfect vision of the future … He's here to take it back!

CAPTAIN MIDNIGHT #1
Joshua Williamson (W), Fernando Dagnino (A), Ego (C), Felipe Massafera (Cover), and Paolo Rivera (Variant cover)
On sale July 31
FC, 32 pages
$2.99
Ongoing
On the run from the US government after fleeing custody, Captain Midnight has been labeled a security risk. In the forties, he was an American hero, a daredevil fighter pilot, a technological genius . . . a superhero. But since he rifled out of the Bermuda Triangle into the present day, Captain Midnight doesn't know what or who to trust!
• A key title in Dark Horse's new superhero initiative!
• Written by Joshua Williamson (Masks and Mobsters, Voodoo, Uncharted) with art by Fernando Dagnino (Resurrection Man, Suicide Squad)!
• Featured on Free Comic Book Day!
CATALYST COMIX #1 (of 9)
Joe Casey (W), Dan McDaid (A), Ulises Farinas (A), Paul Maybury (A), Brad Simpson (C), and Rafael Grampá (Cover)
On sale July 3
FC, 32 pages
$2.99
Miniseries
Straight from the glory of Comics' Greatest World, Frank « Titan » Wells, Amazing Grace and the Agents of Change are back, baby! But you've never seen them like this! Superhero comics get a back-alley facelift as these very different champions confront cosmic threats and personal demons—and it all starts at the end of the world as we know it!
• Masterminded by Joe Casey (Sex, Gødland, Baker the Righteous Maker)!
• Wraparound series covers from Rafael Grampá, Paul Pope, and Brendan McCarthy!
• Artists Dan McDaid (Doctor Who), Ulises Farinas (Glory), and Paul Maybury (Aqua Leung)!
« Joe Casey is good at bringing reinvigorating ideas to the table … [he] doesn't like to play in that sandbox so much as kick a lot of dirt around within the confines of that sandbox, and that's wonderful. » —ComicsAlliance
ESSENTIAL READING FOR CONAN FANS!

CONAN THE BARBARIAN #18
Brian Wood (W), Davide Gianfelice (A), Dave Stewart (C), and Massimo Carnevale (Cover)
On sale July 17
FC, 32 pages
3.50
Ongoing
While under the mind-altering influences of the potent yellow lotus, Conan and Bêlit relive their most disturbing memories and begin to question their future together, as they plum the dark depths of their own souls.
• The epic conclusion to the arc from Northlanders team Brian Wood and Davide Gianfelice!
« Wood is the first writer in a long time that has made the character feel fresh and exciting. As long as he is at the helm, this series is a must buy. »—IGN
CONAN: THE PHENOMENON TP
Paul M. Sammon (W), Michael Moorcock (W), and Frank Frazetta (Cover)
On sale Sept 18
FC, 176 pages
$19.99
TP, 9″ x 12″
This in-depth tour through the history of fantasy's greatest hero covers everything from the earliest prose pieces of Robert E. Howard, to Frazetta's explosive artwork, through the Schwarzenegger film, and into the rebirth of the character at Dark Horse Comics. Comics historian Paul M. Sammon delivers an engrossing visual history!
• A visual history of the many incarnations of Conan the Barbarian!
« Conan, like Chingachgook and Umslopogaas, is an ideal rather than a reality. A symbol of a certain kind of perfection and all the more enduring as a result. » —From the foreword by Michael Moorcock
CRIMINAL MACABRE: FINAL NIGHT—THE 30 DAYS OF NIGHT CROSSOVER TP
Steve Niles (W), Christopher Mitten (A), and Michelle Madsen (C)
On sale Sept 25
FC, 112 pages
$17.99
TP, 7″ x 10″
Cal McDonald only wanted a beer, but what he got was a jaded federal agent and a story about vampires up in Barrow, Alaska. There's a new vamp in LA, and he's hell bent on bringing mankind to its knees. Collects Criminal Macabre: Final Night—The 30 Days of Night Crossover #1-#4.
EPIC CROSSOVER!
• Features the death of a major character!
The odds are never in her favor, but Trekker never loses!

DARK HORSE PRESENTS #26
Ron Randall (W/A/Cover), Steve Niles (W), Andrew Vachss (W), Mike Richardson (W), David Lapham (W/A), Mike Baron (W), Patrick Alexander (W/A), Phil Stanford (W), Jane Espenson (W), Caitlín R. Kiernan (W), Frank Barbiere (W), Dan Jolley (W), Dara Naraghi (W), menton3 (A), Steve Rude (A), Patric Reynolds (A), Karl Moline (A), Steve Lieber (A), Micah Kaneshiro (A), Leonard Kirk (A), Dom Reardon (A), and Tom Williams (A)
On sale July 24
FC, 80 pages
7.99
Ongoing
Meet the Juice Squeezers: a group of elementary-school kids tasked with secretly keeping their small town safe from a horrible, underground epidemic—written and drawn by David Lapham! Learn about a vampire couple during the time of the Black Plague in Steve Niles and menton3's The Nosferatu Wars! Join bounty hunter Mercy St. Clair on a vacation gone horribly wrong in Ron Randall's Trekker!
• Plus, new installments of Buffy, Blackout, Nexus, Crime Does Not Pay, Underground, Alabaster: Boxcar Tales, and Bloodhound!
• David Lapham srites and draws a gory all-ages story.
« Dark Horse's prestigious anthology series … showcases emerging talent alongside some of the greatest writers, artists and cartoonists comics has to offer. » —ComicsAlliance
« Seriously, this is comics' best kept secret trove of great comics. »—Comic Book Resources' Robot 6
DOMO HOLIDAY ORNAMENTS
On sale Sept 17
Domo and Friends on Earth Ornament
$17.99
Domo Resin Ornament: Domo Carrying Gifts
$14.99
Domo is an all-season kind of critter, but also chock full of the holiday spirit.
These two new designs complete our initial offering of Domo ornaments. Handcrafted, these clever collectibles will start a new tradition. Limited supply—these will be retired after the season.

DREAM THIEF #3 (of 5)
Jai Nitz (W), Greg Smallwood (A), and Kevin Nowlan (Cover)
On sale July 17
FC, 32 pages
$3.99
Miniseries
John Lincoln's unpredictable crusade of supernatural revenge lands him in Mississippi, where he takes on the perpetrators of a decades-old hate crime. But will the skills he's accumulated from the spirits of the dead be enough for the Dream Thief when he faces down an angry mob in the sweltering South?
• Written by Bram Stoker Award winner Jai Nitz!
« I was sold on the art alone … » —Comic Bastards
EERIE ARCHIVES VOLUME 14 HC
Various (W/A)
On sale Sept 25
b&w, 256 pages
$49.99
HC, 8 3/8″ x 10 7/8″
The latest Eerie Archives volume reprints issues #65–#69 of Warren Publishing's frightful anthology of horror, fantasy, and science fiction and includes work by Alex Toth, Bernie Wrightson, Paul Neary, and others. Vivid covers by Ken Kelly and Sanjulian are reproduced, and a new introduction by John Cochran caps off this fine collection!
• Legendary creators influential, experimental horror!
« There's an astonishing assortment of style and craftmanship contained in each and every volume. » –Mania.com
EERIE COMICS #3
Landry Walker (W), Troy Nixey (A), Paul Chadwick (W/A), Jonathan Case (W/A), and Jim Pavelec (Cover)
On sale July 10
b&w, 32 pages
$3.99
Ongoing
Cousin Eerie knows what you crave—all the scares your voracious brain can handle! That's why his latest terror tome brings you ravenous aliens from Landry Walker (Danger Club) and Troy Nixey (Jenny Finn: Doom Messiah) and insatiable infants Jonathan Case (The Creep)! Eat your fill—before this comic eats you!
• Art by Troy Nixey, director of the terrifying film Don't Be Afraid of the Dark!
• Monster gallery from Paul Chadwick!
• Eisner Award-winner Jonathan Case (Green River Killer)!
GAME OF THRONES LUNCHBOX
On sale Aug 28
Embossed tin lunchbox
$14.99
Winter is coming: you'd better pack a lunch!
Delivering just in time for the autumn sales season is a time-honored collectible—a spectacular litho-printed, embossed tin lunchbox with imagery from the HBO adaptation of Game of Thrones. We used a heavier gauge of tin than on previous lunchbox releases and have improved the metal clasp.
GAMMA 
Ulises Farinas (W/A/Cover) and Erick Freitas (W)
On sale July 24
FC, 32 pages
$2.99
One-shot
Dusty Keztchemal is a pathetic coward. He failed the entire planet, and now, the only way he can make a living is by getting punched in the face for money. But when a beautiful stranger wanders into his saloon looking for help, Dusty thinks he can conjure up the man he once was—the greatest monster trainer in the world!
• The first original story from Catalyst artist and rising star Ulises Farinas (Transformers: Heart of Darkness, Glory)!
« Hilarious, awesome and hilariously awesome. »—ComicsAlliance.com
GOOD LUCK TROLLS MYSTERY BOX ASSORTMENT SERIES 3
On sale Aug 28
15-figure counter display
$119.85
The response to our Good Luck Trolls Mystery Box program has been incredible, with the first series selling out in the blink of an eye and the second series nearly gone as well.
This all-new assortment of colorful designs, with an array of hair colors, belly jewels, and exotic surface treatments from glitter to metallic to flocked, is sure to stun both collectors and casual fans.
HELLBOY 5″ MINI QEE FIGURES
On sale July 10
Hellboy 5″ Mini Qee: Gray Monotone
$19.99
Hellboy 5″ Mini Qee: Hellboy with Horns
$19.99
Hellboy 5″ Mini Qee: DIY
$19.99
When things that go bump in the night meet modern designer vinyl, the result is something that bumps back!
We are excited to see Toy2R in Hong Kong take on Hellboy, with special Qee designs produced under license from Hellboy creator Mike Mignola.
The second wave of these unique designs is now being offered, including a popular DIY version.
Written by Stone Sour and Slipknot front man COREY TAYLOR!

HOUSE OF GOLD & BONES #4 (of 4)
Corey Taylor (W), Richard Clark (A), Dan Jackson (C), Jason Shawn Alexander (Cover), and Frank Quitely (Variant cover)
On sale July 31
FC, 32 pages
$3.99
Miniseries
Inside the House of Gold and Bones, the Conflagration has begun. Here, the Human must make a choice that could alter the course of his life: Remain the man he is or change?
Inspired by the Stone Sour album House of Gold & Bones, in stores now!
Bonus content in every issue!
KING CONAN: THE HOUR OF THE DRAGON #3 (of 6)
Timothy Truman (W), Tomás Giorello (P), José Villarrubia (C), and Gerald Parel (Cover)
On sale July 31
FC, 32 pages
$3.50
Miniseries
Aided by the brave harem girl Zenobia, the deposed barbarian king escapes a gruesome dungeon using both stealth and brute force—only to come face to face with one of his ruthless captors! Conan seeks to reclaim his crown, but he'll have to defeat an army backed by an evil wizard first!
« The art in this comic is phenomenal. Giorello shows echoes of Barry Windsor-Smith in his line work and character composition. » –Comic Book Resources
RUSS MANNING!

KORAK, SON OF TARZAN VOLUME 2 HC
Gaylord DuBois (W) and Russ Manning (A)
On sale Sept 4
FC, 192 pages
$49.99
HC, 6 5/8″ x 10 3/16″
Stepping out from Tarzan's shadow and with all of Africa his to explore, Korak— »the killer »—and his chimpanzee sidekick Pahkut make new friends and enemies, embark on daring rescues, and fight dinosaurs, crocodile men, subterranean raiders, and even aliens! Don't miss this thrilling conclusion! Collects Korak, Son of Tarzan #7–#11 and #21 from Gold Key!
• Foreword by Stephen R. Bissette (Saga of the Swamp Thing)!
• Completes Mannings run on the son of the jungle lord.
THE LAST OF US: AMERICAN DREAMS #4 (of 4)
Faith Erin Hicks (W/A), Neil Druckmann (W), Rachelle Rosenberg (C), and Julian Totino Tedesco (Cover)
On sale July 31
FC, 32 pages
$3.99
Miniseries
Ellie and Riley thought they'd found a home with the Fireflies. Instead, they find themselves imprisoned, threatened with death unless they can prove their allegiance. Don't miss the thrilling finale to this essential chapter of The Last of Us!
• Cowritten by Naughty Dog art director Neil Druckmann!
• Essential story from the anticipated game!
• Naughty Dog's Uncharted series has sold over 17 million copies!
LOBSTER JOHNSON: A SCENT OF LOTUS #1
Mike Mignola (W), John Arcudi (W), Sebastián Fiumara (A), Dave Stewart (C), and Tonci Zonjic (Cover)
On sale July 24
FC, 32 pages
$3.50
Miniseries
A series of brutal Chinatown murders sets off a manhunt for an Imperial Japanese agent even the Tong are afraid to kill. The Crimson Lotus, first introduced in B.P.R.D.: The Dead in 2005, finally stands revealed!
• Essential ties to B.P.R.D. Plague of Frogs!
« Lobster is the hero who gets things done instantly … »–Comic Book Resources
MARVEL CLASSIC CHARACTER: X-MEN #3—MARVEL GIRL
On sale Aug 21
Limited to 950 numbered pieces. Packaged in its own tin box, with a pin-back button and character booklet
$49.95
The sculpting team at Yoe! Studio has captured both the look of the original Marvel characters as well as the funky, distressed look that has made this series a collector favorite. Craig Yoe describes them as « primitive but charming. »
Created by Stan Lee and Jack Kirby, the third character in the series continues with none other than Marvel Girl. Watch for the rest of the lineup, archvillain Magneto, in coming months.
ALL NEW ONGOING SERIES FROM VIDEO GAME WRITER, MAC WALTERS!

MASS EFFECT: FOUNDATION #1
Mac Walters (W), Omar Francia (A), Michael Atiyeh (C), and Benjamin Carré (Cover)
On sale July 24
FC, 32 pages
$3.99
Ongoing
Mass Effect 2 and 3 lead writer Mac Walters kicks off a new ongoing series, set in the vibrant, engaging world of BioWare's blockbuster science fiction epic!
Mass Effect: Foundation starts with a bang, introducing readers to an enigmatic « agent » and revealing the story of her time spent on the violent mining colony of Themis.
• First issue of a new ongoing series!
• Mass Effect 3 was the winner of « Best RPG » at the 2012 Spike VGAs!
« Walters lends the instant authenticity, and the unique approach of having the desire to say more with these characters than he can in the video games. » –Newsarama
MASS EFFECT TURIAN CRUISER SHIP REPLICA
On sale Nov 13
6″ on a sculpted custom base
$34.99
The turians are a race in Mass Effect, members of the Citadel Council and known for their military role, particularly their contribution of starships to the Citadel fleet, making the Turian Cruiser a logical next addition to the popular Dark Horse line of Mass Effect starships.
Packaged with an insert card with a unique code that will enhance the Mass Effect game experience.
THE MASSIVE #14
Brian Wood (W), Garry Brown (A), Dave Stewart (C), and J. P. Leon (Cover)
On sale July 24
FC, 32 pages
$3.50
Ongoing
Closed off by rising seas and permanent power loss, New York City has been reduced to a graveyard of empty buildings. The devastation hits Ryan—the only American member of the crew—hard, and the homecoming she dreamed of for the last year is fraught with terror and betrayal. Will Ninth Wave's mission finally meet its end?
« Brian Wood's The Massive proves that there's room for political comics. » —Complex
« The Massive is clearly one of the best books of 2012. » —Comic Book Resources
MICHAEL AVON OEMING'S THE VICTORIES #3 
Michael Avon Oeming (W/A/Cover) and Nick Filardi (C)
On sale July 3
FC, 32 pages
$3.99
Ongoing
An alien invasion, an airborne flesh-eating disease, and an onslaught of death brought forth by the bull-horned cannibal known as Tarcus are just a few of the many deadly plans the mysterious cabal known as the Advisors have set loose against our heroes.
• By Eisner Award winner Michael Avon Oeming (cocreator of Powers).
« One of the most anticipated comics of the year. » —Comic Booked
« If you like Powers, you will love The Victories! »— Brian Michael Bendis
MIND MGMT #13
Matt Kindt (W/A)
On sale July 24
FC, 24 pages
$3.99
Ongoing
Prepare for MIND MGMT's most surreal arc yet, in this first in a series of one-shot stories! This month, how will sleeper agent The Home Maker maintain her cover when Mind Management invades suburbia?
SEASON 2 STARTS HERE!
• Optioned for the big screen by Ridley Scott!
« If you are a fan of mysteries, if you are a fan of Kindt, if you are a fan of comics: pick this up! »—Comics Bulletin
MISTER X: EVICTION #3 (of 3)
Dean Motter (W/P/Cover) and Hamid Bahrami (I/C)
On sale July 3
FC, 24 pages
$3.99
Miniseries
Dean Motter's reintroduction of his classic character comes to a dynamic conclusion, as Mister X's mission to cure Radiant City's madness approaches its deadly end! The new city government, under the control of a devious cabal, seeks to envelop the entire world in a disastrous new conflict.
• Features an additional standalone tale from Radiant City!
« …frequently chilling and surprisingly funny. » –Comics Alliance
NEON GENESIS EVANGELION: THE SHINJI IKARI DETECTIVE DIARY VOLUME 1 TP
Takumi Yoshimura (W/A/Cover)
On sale Sept 4
b&w, 184 pages
$9.99
TP, 5 1/8″ x 7 1/4″
When even a tough dude like his school pal Toji is getting menaced by gangsters, a nice guy like Shinji Ikari feels obliged to seek out the local private eye, Ryoji Kaji, and his striking young assistant, Kaworu Nagisa. Somehow, though, Shinji gets drafted into solving the case himself, with Kaworu's help—although Kaworu quickly proves to be a mystery of his own …
• The most famous anime franchise of the last 20 years!
CELEBRATING 25 YEARS OF MANGA
OREIMO VOLUME 4 TP
Sakura Ikeda (W/A/Cover)
On sale Sept 11
b&w, 168 pages
$10.99
TP, 5 1/8″ x 7 1/4″
Popular girls vs. geek girls showdown! Kirino's done all she can to keep her two different groups of friends separate, but as much as she'd like to, she can't keep those two worlds from colliding, and this time, big brother Kyousuke may not be able to help her. He's got problems of his own—Kirino's friends can't decide if he's a dreamboat or a pervert! A smash-hit bestseller in Japan, Oreimo is presented in English for the very first time. Who says girls can't be otaku, too?
POPULAR ANIME!
• Oreimo Volume 1 had a sold-out launch at Kumoricon.
• Color pages, bonus strips, fan letters, and cool giveaways!
CAMERON STEWART'S EISNER AWARD-WINNING WEBCOMIC!

SIN TITULO HC
Cameron Stewart (W/A/Cover)
On sale Sept 25
FC, 168 pages
$19.99
HC, 9″ x 6 3/4″
Following the death of his grandfather, young Alex Mackay discovers a mysterious photograph in the old man's belongings that sets him on an adventure like no other—where dreams and reality merge, family secrets are laid bare, and lives are irrevocably altered.
• The complete webcomic in one volume.
•Neo noir mystery thriller with semiautobiographical elements.
« Creepy and oddly beautiful. »—ComicsAlliance
EISNER NOMINEE FOR BEST LIMITED SERIES!

SMOKE/ASHES TP & LTD. HC
Alex de Campi (W), Igor Kordey (A), Carla Speed McNeil (A), Bill Sienkiewicz (A), Richard Pace (A), Colleen Doran (A), Dan McDaid (A), Len O'Grady (C), and Tomer Hanuka (Cover)
On sale Sept 18
FC, 424 pages
$29.99
TP, 7″ x 10″
On sale Sept 18
FC, 424 pages
$59.99
Ltd. HC, 7″ x 10″
Reporter Katie Shah's exposés of the corruption of the English ruling class put her in the crosshairs of powerful men on a good day. Smoke and Ashes tells the stories of the bad days, as she and assassin Rupert Cain become targets of a sinister cabal bent on controlling the nation's oil and of a psychotic intelligence that has uploaded itself onto the Internet!
• Art by Dan McDaid, Carla Speed McNeil, Bill Sienkiewicz, Igor Kordey, Richard Pace, Colleen Doran, and more!
« Alex de Campi makes the wonderful look effortless. I'm buying this, and you should too, if you have any sense at all. » —Gail Simone (Batgirl, Secret Six)
« There is a dedication to expanding the language of comic books, the kind of thing you rarely see these days. » Bleeding Cool
A NEW ARC OF BRIAN WOOD'S BREAKOUT HIT!

STAR WARS #7
Brian Wood (W), Ryan Kelly (A), Dan Parsons (I), Gabe Eltaeb (C), and Rodolfo Migliari (Cover)
On sale July 10
FC, 32 pages
$2.99
Ongoing
Princess Leia takes the Rebels' secret mission to the next level! Playing it safe has gotten them nowhere, and they are running out of resources and time. What's the fastest way to get inside info on the Empire? Have your top pilots get themselves captured!
• Ryan Kelly, the artist from Brian Wood's Local series, joins the Star Wars team!
« From the first scene in this new series, it is not hard to imagine playing Star Wars action figures with Wood sometime back in my childhood. That unbridled imagination, energy and excitement is exactly what Wood brings to this story. » –Comic Book Resources
BRIAN WOOD! ALEX ROSS! CLASSIC STAR WARS!

STAR WARS VOLUME 1—IN THE SHADOW OF YAVIN TP
Brian Wood (W), Carlos D'Anda (A), Ryan Odagawa (A), Gabe Eltaeb (C), and Alex Ross (Cover)
On sale Sept 18
FC, 152 pages
$19.99
TP, 7″ x 10″
After the destruction of the Death Star, the Rebels are hounded by the Empire. Suspecting a spy in their ranks, Princess Leia forms a secret X-wing squadron—which includes Luke Skywalker—to expose the spy and find a safe home. Meanwhile, Han Solo and Chewbacca are sent on a covert mission! Collects Star Wars #1–#6 and Free Comic Book Day 2013.
• The perfect starting point for new readers!
« It all just feels like Star Wars, and for a franchise that has been around for over 30 years, D'Anda somehow finds a way to inject new life into it. »—Complex
STAR WARS: DARK TIMES—A SPARK REMAINS #1 (of 5)
Randy Stradley (W), Douglas Wheatley (A), Dan Jackson (C), and Benjamin Carré (Cover)
On sale July 17
FC, 32 pages
$3.50
Miniseries
Reunited with the ragtag crew of the Uhumele, Jedi Dass Jennir is surprised to find them plotting with another Jedi to take down the iron fist of the new Galactic Empire—Darth Vader himself! Having only just found love and a reason to live, Jennir is reluctant to join—but their plan may be too good to pass up …
• Artist Doug Wheatley returns!
STAR WARS: DARK TIMES VOLUME 6—FIRE CARRIER TP
Randy Stradley (W), Gabriel Guzman (A), Garry Henderson (C), and Douglas Wheatley (Cover)
On sale Sept 25
FC, 128 pages
$18.99
TP, 7″ x 10″
On Coruscant, Darth Vader continues his obsession with ending all Jedi. Across the galaxy, Jedi Master K'Kruhk is on the run with a group of young Padawans. Forced to land on an Imperial-run planet, they hide with other refugees. Immediately, K'Kruhk senses something wrong. They must sneak away, and hope that they can escape the Empire … Collects Star Wars: Dark Times—Fire Carrier #1–#5.
STAR WARS: DARTH VADER AND THE NINTH ASSASSIN #4 (of 5)
Tim Siedell (W), Stephen Thompson (P), Mark Irwin (I), Drew Geraci (I), Michael Atiyeh (C), and Ariel Olivetti (Cover)
On sale July 17
FC, 32 pages
$3.50
Miniseries
In the ruins of an ancient moon, Darth Vader encounters an evil people with a dark prophecy and a powerful weapon. They are a threat to the Empire and Vader will force them to serve—or crush them all! Meanwhile, the assassin hunting Vader still lurks …
• Tim Siedell (@badbanana) has one of Time's 140 Best Twitter Feeds and over 600,000 followers!
STAR WARS: LEGACY #5 
Corinna Bechko (W), Gabriel Hardman (W/A), Rachelle Rosenberg (C), and Dave Wilkins (Cover)
On sale July 24
FC, 32 pages
$2.99
Ongoing
The bad news: Ania Solo and her friends are on a planetoid that's on a collision course with a huge space station. The worse news: a mad Sith warrior stands between them and escape!
Imminent fiery destruction, or white-hot dismemberment by lightsaber? Some days there are just no good choices!
• Action-packed conclusion of the first arc!
STAR WARS: LEGACY BOOK 2 HC
John Ostrander (W), Jan Duursema (W/P), Omar Francia (P), Kajo Baldisimo (P), Alan Robinson (P), Dan Parsons (I), Brad Anderson (C), Jesus Aburto (C), and Adam Hughes (Cover)
On sale Sept 11
FC, 424 pages
$34.99
HC, 6″ x 9″
A century after the death of Darth Vader, the Sith have returned and the galaxy is on the brink of war. The one hope for stopping the Sith lies with ex-Jedi and would-be pirate Cade Skywalker, the last of the Skywalker lineage. But Cade has plans of his own …
« Legacy has long stood as one of the most interesting and original new additions to the expanded Universe. »—IGN
SOON TO BE A TV SHOW ON FX!

THE STRAIN: THE FALL #1
David Lapham (W), Mike Huddleston (A), Dan Jackson (C), and E. M. Gist (Cover)
On sale July 17
FC, 32 pages
$3.99
Ongoing
Dr. Ephraim Goodweather's failure to kill the Master—the ancient vampire behind the epidemic infesting New York City—has led the former alcoholic to relapse as the city burns around him. It's the end of the world, but Eph, beaten but not dead, has still got to protect his son Zack from his mother, who's now a bloodthirsty vampire that craves her child more than any artery.
• From the mind of visionary filmmaker Guillermo del Toro and novelist Chuck Hogan.
• Ongoing series continuing the story of the critically acclaimed comic The Strain.
« Essential reading. »—Bleeding Cool
« The subtle build of tension and terror still peppers every page. »—IGN
TRIGUN OMNIBUS TP
Yasuhiro Nightow (W/A)
On sale Sept 18
b&w, 696 pages
$19.99
TP, 5″ x 7″
Meet Vash the Stampede, the galaxy's deadliest and most wanted man. Every bounty hunter aims to claim Vash dead or alive—preferably dead!—and though Vash is a pacifist, he won't go down without a fight. Collecting both Trigun volumes, Trigun Omnibus features nearly 700 pages of Yasuhiro Nightow's signature creation!
• Popular anime series and Cartoon Network Adult Swim mainstay.
THE TRUE LIVES OF THE FABULOUS KILLJOYS #2 (of 6)
Gerard Way (W), Shaun Simon (W), Becky Cloonan (A/Cover), Dan Jackson (C), and Gabriel Bá (Variant cover)
On sale July 10
FC, 32 pages
$3.99
Miniseries
« Our home was sent to the heavens and there ain't nowhere to go! »
Delve into the life of Korse, one of Better Living Industries' most productive and violent Scarecrows! See the trials and tribulations faced by Blue, an android down on her luck! Meanwhile, find out who—or what—survived the original Killjoys' deadly confrontation in Battery City.
• One of IGN's Most Anticipated Comics of 2013!
• The follow-up to the album Danger Days: The True Lives of the Fabulous Killjoys!
X #3 
Duane Swierczynski (W), Eric Nguyen (A), Michelle Madsen (C), and Dave Wilkins (Cover)
On sale July 10
FC, 32 pages
$2.99
Miniseries
The vermin of Arcadia's underworld chase Leigh into a literal urban maze … and what's waiting at the end ain't cheese! A revived Berkshire's got a beautiful new face and an appetite for revenge, mobilizing the entire police force against X.
« Very gritty story here, and that goes for the artwork as well! Bullets flying and blood splattering is on the menu, so if that's your thing, don't miss out! »–Comic Attack