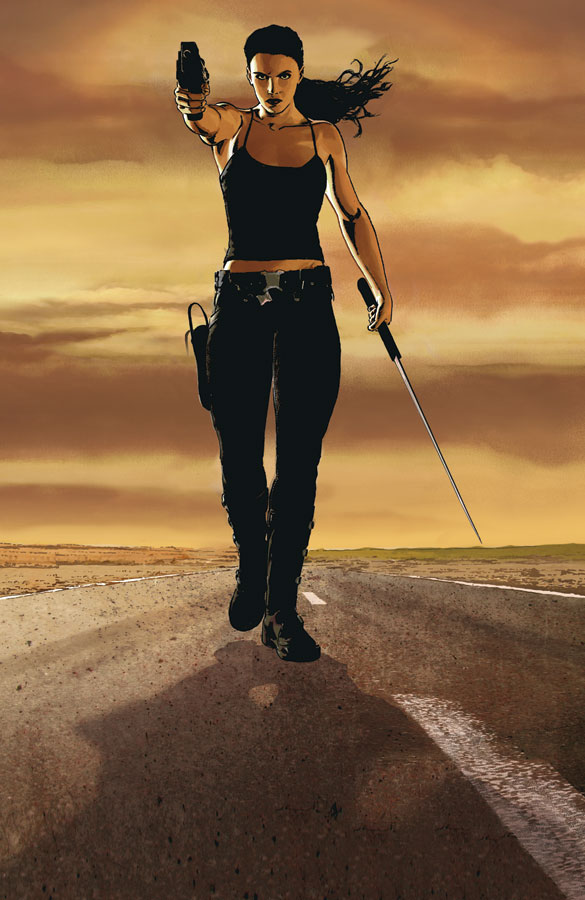 Et pour finir cette journée chargée en sollicitations, voici celles d'Image Comics pour le mois de juillet ! et elles commencent mal les méchantes en disant qu'un nouveau titre signé Matt Fraction est le joyaux du mois !!!! je vais le prendre comme une insulte personnelle !!!!
Non si vous voulez du bon comic-book, vous irez lire :
– la suite de la série de Greg Rucka et Michael Lark : Lazarus, parce que Rucka ben c'est bien et pis c'est tout !!!
– niveau TPB, il y a aussi de bonnes choses avec enfin le nouveau volume de Savage Dragon qui est annoncé, il se sera fait attendre l'animal !!! le second tome de Glory que je vous recommande encore une fois !!! (oui le triple point d'exclamation, c'est mon signe d'approbation, quatre quand je suis pas content !!!!) ou encore le 18e d'Invincible qui contiendra le 100e épisode de la série sur lequel je garde un avis assez réservé …
SATELLITE SAM #1 – GEM OF THE MONTH
story MATT FRACTION
art / cover  HOWARD CHAYKIN
JULY 3
32 PAGES / BW / M
$3.50
SEX • DEATH • LIVE TV!
NEW YORK CITY, 1951: The star of beloved daily television serial « Satellite Sam » turns up dead in a flophouse filled with dirty secrets. The police think it was death by natural causes but his son knows there was something more… if only he could sober up long enoguh to do something about it. This noir mystery shot through with sex and violence exposes the seedy underbelly of the golden age of television.
By MATT FRACTION (CASANOVA, Hawkeye, FF) and HOWARD CHAYKIN (BLACK KISS I & II, AMERICAN FLAGG!).
GHOSTED #1 – GEM OF THE MONTH
story JOSHUA WILLIAMSON
art GORAN SUDZUKA & MIROSLAV MRVA
cover SEAN PHILLIPS
JULY 10
32 PAGES / FC / M
$2.99
A HORROR/CRIME MASHUP THAT'S EQUAL PARTS OCEAN'S 11 AND THE SHINING.
Jackson T. Winters is one of the greatest criminal masterminds to ever live…except he's rotting in jail after his last, doomed score. But when a filthy rich collector breaks him out, he's tasked with putting together an elite team of paranormal experts to do the impossible: Steal a ghost from a haunted house of horrors!
SHELTERED #1
story ED BRISSON
art / cover JOHNNIE CHRISTMAS
JULY 10
32 PAGES / FC / T+
$2.99
A PRE-APOCALYPTIC TALE OF SURVIVAL AT ANY COST.
The men and women of Safe Haven have been preparing for any-and-all end of world scenarios for years. However, their bunkers, weapons and training can't save them from the one threat they never could have expected: Their own children.
CYBER FORCE #6
story MARC SILVESTRI
art MARCO TURINI & STJEPAN SEJIC
cover A MARC SILVESTRI
cover B STJEPAN SEJIC
cover C JOHN TYLER CHRISTOPHER
JUL 17
32 PAGES / FC / T+
$2.99
KILLJOY RETURNS!
Velocity and Ripclaw have been left hurting since their last confrontation with CDI. To eradicate the rogue Cyber Force faction once and for all, an even more dangerous and uncontrollable threat has been activated.
DAWN: THE SWORDMASTER'S DAUGHTER & OTHER STORIES (one-shot)
story / art / cover JOSEPH MICHAEL LINSNER
JULY 10
32 PAGES/ FC / T+
$3.99
In his first new Dawn comic in three years, JOSEPH MICHAEL LINSNER brings to life three classic tales as only Dawn can. "THE SWORDMASTER'S DAUGHTER" shows a young Dawn inspiring Darrian to become a master swordsman. In "SAMSARA," Dawn learns that Death is never late for an appointment. And in "THE WHITE PHOENIX," Dawn shows Darrian if it is right to fight false friends by sharing with him a page from The Bhagavad Gita.
ELEPHANTMEN #50
story RICHARD STARKINGS
art AXEL MEDELLIN, GABRIEL BAUTISTA & MORITAT
cover FRANK QUITELY
flip cover LADRÖNN re-presenting the cover of ELEPHANTMEN #1
JULY 17th
64 PAGES / FC / $5.99
« BLUE COLLAR BLUES »
The work of an Elephantman who died quietly after living a solitary life in a loft in downtown Los Angeles, paints a different picture of the lives of all the Elephantmen.
PLUS: A gallery of art and ELEPHANTMEN #1, re-presented in celebration of our 50th issue!
ELEPHANTMEN, VOL. 6: EARTHLY DESIRES HC
story RICHARD STARKINGS, MONIFA ALDRIDGE & DAVID HINE
art AXEL MEDELLIN, DAVE SIM, TONY PARKER, DAVID HINE, TULA LOTAY, SHAKY KANE, BOO COOK & IAN CHURCHILL
cover BOO COOK
JULY 10
312 PAGES / FC / M
$34.99
Collecting issues 40-49 of Image's longest-running Piulp Science Fiction series, ELEPHANTMEN, VOL. 6 is packed with extras, including the HIP FLASK/STRONTIUM DOG crossover by STARKINGS and BOO COOK, and the HIP FLASK/MARINEMAN crossover by STARKINGS and IAN CHURCHILL
39 MINUTES, VOL. 1 HC
story WILLIAM HARMS
art JERRY LANDO & LINDA SEJIC
cover RAFAEL ALBUQUERQUE
JUL 31
128 PAGES / FC / T+
$19.99
ROBBING A BANK IS EASY, IT'S THE GETAWAY THAT'S HARD
The bank is surrounded by police officers, alarms are blaring, customers and employees are screaming, and the streets are blocked off. So what's the solution? Kill everyone in town!
AGE OF BRONZE, VOL. 3B: BETRAYAL, PART TWO TP & HC
story ERIC SHANOWER
art / cover  ERIC SHANOWER
JULY 10
176 PAGES / BW / M
$18.99 TP
$28.99 HC
The Trojan plain fills with death as Achaean forces clash in blood with the Trojan army. In the city of Troy Pandarus pulls the strings to put Troilus in Cressida's bed. But when Cressida is ripped away to the enemy camp, how far will Troilus fight to recover her?
Collects AGE OF BRONZE #27-33.
THE ACTIVITY, VOL. 3 TP
story NATHAN EDMONDSON
art / cover MITCH GERADS & MARC LAMING
JULY 17
160 PAGES / FC / T
$16.99
From Ft. Belvoir to Fallujah, Team Omaha follows leads from missions in all corners of the globe and uncovers a massive plot funded by one of the U.S.'s biggest global enemies.
Collects THE ACTIVITY #12-16.
BLACK KISS II TP
story / art / cover  HOWARD CHAYKIN
JULY 3
128 PAGES / BW / M
$14.99
Nearly 25 years ago, HOWARD CHAYKIN brought the '80s to a close, and comics to the brink, with his landmark erotic thriller, BLACK KISS.  Now, after years of anticipation, he's back with BLACK KISS II, telling the story behind that legendary story – like the original, in glorious black and white.
And really, now – does it have to be so dirty?
GLORY, VOL. 2: WAR TORN TP
story JOE KEATINGE
art ROSS CAMPBELL, ULISES FARINAS, OWEN GIENI, EMI LENOX, GREG HINKLE, JED DOUGHERTY, SLOANE LEONG & ROMAN MURADOV
JULY 10
144 PAGES / FC / M
$14.99
GLORY REACHES ITS SHOCKING CONCLUSION!
Featuring the introduction of Glory's ultra-violence prone sister, Nanaja, the truth behind their parents' hidden alliance and a very special guest appearance by Ernest Hemingway!
Collects GLORY #29-34.
INVINCIBLE, VOL. 18: THE DEATH OF EVERYONE TP
story ROBERT KIRKMAN
art RYAN OTTLEY, CLIFF RATHBURN & JOHN RAUCH
cover RYAN OTTLEY & JOHN RAUCH
JULY 31
160 PAGES / FC / T+
$16.99
Mark Grayson's entire life as a superhero, all he's learned, all he's endured, it's all been leading to this one moment. Will he become the hero he was meant to or will he choose… a DIFFERENT path?
Collects issues #97-102 of the greatest super hero comic in the universe.
KAFKA HC
story STEVEN T. SEAGLE
art / cover  STEFANO GAUDIANO & MARCO CINELLO
JULY 10
176 PAGES / FC / T+
$29.99
A MAN WITH NO PAST HAS SIX DAYS TO RECOVER HIS FUTURE.
Dan Hutton lost everything. Adrift in the witness relocation program, Dan is told his new identity has been compromised – by two different groups each claiming to be US agents. Not knowing who to trust, Dan runs – back to the world that took everything he loved.
KOMACON HC
story ANINA BENNETT, COLLEEN DORAN, JOE KEATINGE, BEN McCOOL, BEAU SMITH & RICK VEITCH
art JUN-HYUK CHOI, HA MI JANG, ROCK-HE KIM, CHAN-HYUK LEE, IN_HYUK LEE & JUNG-GUEN YOON
cover IN_HYUK LEE
JULY 10
88 PAGES / FC / M
$12.99
Six exceptional young artists from South Korea join forces with six outstanding veteran American writers to create a cross-cultural anthology of spectacular breadth.
THE MANHATTAN PROJECTS, VOL . 3 TP 
story JONATHAN HICKMAN
art NICK PITARRA
JULY 24
32 PAGES / FC / T+
$3.50
"BUILDING"
What if the research and development department created to produce the first atomic bomb was a front for a series of other, more unusual, programs?
The acclaimed FEEL GOOD, BAD SCIENCE epic series now in one super educational package. It's THE MANHATTAN PROJECTS, VOLUME 3: BUILDING!
Collecting issues 11-15 of the world's most irreverent alt history book.
MASKS AND MOBSTERS, VOL. 1 HC
story JOSHUA WILLIAMSON
art MIKE HENDERSON, RYAN CODY, JASON COPLAND & JUSTIN GREENWOOD
cover MIKE HENDERSON
JULY 3
128 PAGES/BW/M
$19.99
One of USA Today's Best Digital Comics of 2012
When Mob enforcer Bobby Silver killed masked hero Doctor Daylight in cold blood, it sent shock waves through the Masked community. Now in the eyes of the heroes, the mob is their #1 enemy—and it's war!
NOWHERE MEN, VOL. 1: FATES WORSE THAN DEATH
story ERIC STEPHENSON
art NATE BELLEGARDE & JORDIE BELLAIRE
cover NATE BELLEGARDE & FONOGRAFIKS
JULY 17
184 PAGES / FC / T+
$9.99
« SCIENCE IS THE NEW ROCK 'N' ROLL! »
So said Dade Ellis, Simon Grimshaw, Emerson Strange, and Thomas Walker at the dawn of a new age of enlightenment that ushered in a boom in scientific advancement. As the research supergroup World Corp., they became the most celebrated scientists of all time. They changed the world—and we loved them for it. But where did it all go wrong? And when progress is made at any and all cost, who ultimately pays the price?
Collects NOWHERE MEN #1-6
REVIVAL, VOL. 2 TP: LIVE LIKE YOU MEAN IT
story TIM SEELEY
art MIKE NORTON & MARK ENGLERT
cover MIKE NORTON & JENNY FRISON
JULY 17
128 PAGES / FC / T+
$14.99
For one day in rural central Wisconsin, the dead came back to life. Now the living and the recently returned struggle to maintain a sense of normalcy, amidst political and religious conflicts.
Collects REVIVAL #6-11.
SAVAGE DRAGON: ON TRIAL TP
story / art / cover ERIK LARSEN
JULY 3
128 PAGES / FC / T
$16.99
Savage Dragon is on trial for crimes he committed when he had reverted to his Emperor Kurr persona. Now the world is witness to the shocking verdict.
Collets SAVAGE DRAGON #181-186.
SKULLKICKERS, VOL. 4: EIGHTY EYES ON AN EVIL ISLAND TP
story JIM ZUB
art EDWIN HUANG & MISTY COATS
cover EDWIN HUANG & ESPEN GRUNDETJERN
JULY 10
160 PAGES / FC / T
$16.99
The fourth SKULLKICKERS adventure is madcap island mayhem with tropical terror, savage stupidity, beach brawls and jungle jams alongside surprising revelations about the SKULLKICKERS mythos.
Collects SKULLKICKERS #18-23 (including the five 'unbooted' issues Uncanny, Savage, Mighty, All-New Secret, and Dark Skullkickers Dark).
SAGA "LYING CAT" T-SHIRT
JULY 10
Men's and women's sizes
$19.99 S-XL
$22.99 XXL
So you say you don't want one of these snazzy Saga t-shirts featuring all-new art by FIONA STAPLES?
"Lying."
THE WALKING DEAD LUNCH BOX
JULY 10
$14.99
The new lunch box from THE WALKING DEAD is ready to shamble its way into your lunchtime activities, with art by CHARLIE ADLARD.
THE WALKING DEAD "EZEKIEL HAS A TIGER" T-SHIRT
JULY 10
Men's and women's sizes
$19.99 S-XL
$22.99 XXL
Ezekiel has a tiger. You have a t-shirt. Art by CHARLIE ADLARD.
'68 JUNGLE JIM #4 (of 4)
story MARK KIDWELL
art / cover JEFF ZORNOW & JAY FOTOS
variant cover NATE JONES & JAY FOTOS
JULY 3
32 PAGES / FC / M
$3.99
MINISERIES CONCLUSION!
An armored engine of vengeance stalks the jungle trails, following a rogue band of Viet Cong guerillas and a pair of kidnapped children. Doomed to become brainwashed killing machines, a hero some call Jungle Jim is their only hope.
APHRODITE IX #3
story MATT HAWKINS
art STJEPAN SEJIC
cover A STJEPAN SEJIC
cover B DAVID FINCH
cover C ERIC BASALDUA
JULY 10
32 PAGES / FC / T+
$2.99
Aphrodite IX was created for a purpose, but she does not know what it is. Torn between two factions in a hostile, new world, she's forced to choose sides in a war that she wants no part in.
BEDLAM #9
story NICK SPENCER
art RYAN BROWNE
cover FRAZER IRVING
JULY 17
32 PAGES / FC / M
$3.50
« Hiding Something. »
BLACKACRE #8
story DUFFY BOUDREAU
art WENDELL CAVALCANTI & ANTONIO FABELA
cover BRIAN CHURILLA
JULY 3
32 PAGES / FC / M
$2.99
On one side of the wall, harsh reality pushes an embattled visionary to the point of no return. On the other, strange fate presents an anguished victim with the perfect opportunity for revenge.
THE BOUNCE #3
story JOE CASEY
art / cover DAVID MESSINA
JULY 24
32 PAGES / FC / M
$2.99
INTRODUCING: THE HORROR!
Good ol' Jasper Jenkins has his hands full dealing with the newest threat in town (this freak lives up to his name!). Meanwhile, learn the hidden secrets tucked away inside a secret identity!
CHIN MUSIC #4
story STEVE NILES
art / cover  TONY HARRIS
JULY 17
22 PAGES / C / M
$2.99
Chicago has become ground zero for one of the oldest wars ever fought. Shaw's supernatural stunt to bring Al Capone back from the dead takes a sudden and terrifying turn. Old enemies use the recently dead to flush the fallen mystic from hiding.
CLONE #9
story DAVID SCHULNER, AARON GINSBURG & WADE MCINTYRE
art / cover JUAN JOSE RYP & FELIX SERRANO
JULY 24
32 PAGES / FC / T+
$2.99
Luke Taylor has a secret to share: WE'RE ALL CLONES.
THE DARKNESS #116
story DAVID HINE
art / cover JEREMY HAUN & JOHN RAUCH
JUL 24
32 PAGES / FC / M
$3.99
SERIES FINALE!
As The Darkness virus becomes a citywide epidemic, the Old Gods run rampant. What will it take for Jackie Estacado to reclaim the Darkness from his nefarious Doppelganger?
A DISTANT SOIL #41
story / art / cover COLLEEN DORAN
JULY 24
32 PAGES / BW / T
$3.50
The Hierarchy is defeated. Now, the small team of human rebels and their allies face an even bigger foe: A factionalized resistance movement intent on seizing power.
THE DREAM MERCHANT #3
story NATHAN EDMONDSON
art / cover KONSTANTIN NOVOSADOV
JULY 10
32 PAGES / FC / T
$3.50
With dreams come nightmares…but where do nightmares come from?
EAST OF WEST #5
story JONATHAN HICKMAN
art NICK DRAGOTTA
JULY 31
32 PAGES / FC / T+
$3.50
"THE LOST WORDS"
Hear the good word, hear the MESSAGE. In this issue of East of West we find out the contents of the apocrypha that predicts the end of the world. Or does it?
The most exciting new book of the year, EAST OF WEST continues in: "THE LOST WORDS."
FATALE #16
story ED BRUBAKER
art SEAN PHILLIPS & ELIZABETH BREITWEISER
cover SEAN PHILLIPS
JULY 3
32 PGS / FC / M
$3.50
Nicolas is on Josephine's trail of secrets, and they lead him back to 1990s Seattle, where a rock band, a gang of bank robbers, and a wandering serial killer all circle around a mysterious woman with no memory…
And remember, each issue of FATALE contains extra content, artwork and articles that are only available in the printed single issues.
FIVE GHOSTS: THE HAUNTING OF FABIAN GRAY #5 (of 5)
story FRANK J. BARBIERE
art / cover CHRIS MOONEYHAM
JULY 24
32 PAGES / FC / T+
$2.99
…THE END?
GREAT PACIFIC #8
story JOE HARRIS
art / cover  MARTÍN MORAZZO
JULY 3
32 PAGES / FC / M
$2.99
"NATION BUILDING" Part Two
Who shot Chas Worthington? It's not like he hasn't pissed off his share of people who'd want him dead. But while outside powers threaten to hijack control of his fledgling trash nation, forces within the plastic province of New Texas conspire to tear it apart.
INVINCIBLE #105
story ROBERT KIRKMAN
art / cover RYAN OTTLEY & JOHN RAUCH
JULY 17
32 PAGES / FC / T+
$2.99
INVINCIBLE IS BACK!
It's a new day dawning for everyone's favorite superhero. If you've ever wanted to jump onto INVINCIBLE without shelling out the money for 18 collected editions, this would be the perfect issue to start with.
INVINCIBLE UNIVERSE #4
story PHIL HESTER
art/ cover TODD NAUCK & GABE ELTAEB
JULY 3
32 PAGES / FC / T+
$2.99
No one is better than Best Tiger.
IT GIRL & THE ATOMICS #12
story JAMIE S. RICH
art CHYNNA CLUGSTON FLORES, MIKE NORTON, NATALIE NOURIGAT
cover MICHAEL & LAURA ALLRED
JULY 17
32 PAGES / FC / E
$2.99
"STOP AS YOU MEANT TO GO ON"–SERIES FINALE!
All the ATOMICS artists return for a triptych of international superspies, dopey costumed villains, and mummy attacks. Rights will be wronged, relationships repaired, and seriously, it's going to be one heck of a party!
LAZARUS #2
story GREG RUCKA
art/cover MICHAEL LARK
JULY 24
32 PAGES / FC / M
$2.99
"FAMILY," Part Two
The Carlyle Family has been attacked by their enemies to the south, and Forever's father suspects a conspiracy amongst his children. To root it out, he sends Forever into the arms of the enemy, Family Morray.
THE MANHATTAN PROJECTS #16
story JONATHAN HICKMAN
art NICK PITARRA
JUNE 24
32 PAGES / FC / T+
$3.50
"FINITE OPPENHEIMERS," Part Two
An in-depth look at the second decade of the ongoing war inside Oppenheimer's brain. It's endless brothers versus brothers: It's the Oppenheimer Civil War!
MICE TEMPLAR IV: LEGEND #4
story BRYAN J.L. GLASS & MICHAEL AVON OEMING
art VICTOR SANTOS
cover a MICHAEL AVON OEMING
cover b VICTOR SANTOS & CHANDRA FREE
JULY 3
32 PAGES / FC / T
$2.99
"TOSK'S TALE"
Karic confronts the full Pantheon of gods and discovers a shocking truth behind the prophecy, his destiny, the dark winter's dream and his own growing legend.
MICE TEMPLAR IV: LEGEND #5
story BRYAN J.L. GLASS & MICHAEL AVON OEMING
art VICTOR SANTOS
cover a MICHAEL AVON OEMING
cover b VICTOR SANTOS & CHANDRA FREE
JULY 24
32 PAGES / FC / T
$2.99
"A LEGEND OF GODS"
Karic claims his destiny within Otherworld, but must face the wrath of the Parliament of gods, against whom no mortal can contend.
MIND THE GAP #13
story JIM McCANN
art RODIN ESQUEJO & DAN McDAID
cover A RODIN ESQUEJO
cover B DAN McDAID
JULY 17
32 PAGES / FC / T+
$2.99
"R.I. PETERSSEN," Part One
The race to kill Elle begins here! Min and her lackeys wrestle to control the final fate of Elle, but there are others who may be one step ahead. The only thing that's certain is that Elle must die. As Elle's time as she knows it winds down, learn how it all began, with the flashbacks to the origin of Jairus! Is this the beginning of the end…or just the end of the beginning?
MINIATURE JESUS #4 (of 5)
story / art / cover TED McKEEVER
JULY 17
24 PAGES / BW / M
$3.99
GOLDEN-AGE FORMAT
With present day society being nothing more than a meandering landscape of bloated roadkill, leave it to our recovering alcoholic Chomsky and 8" Jesus to confront the facade of what stands for humanity's cardboard excuse of a higher power.
MORNING GLORIES #29
story NICK SPENCER
art JOE EISMA
cover RODIN ESQUEJO
JULY 24
32 PAGES / FC / M
$3.50
« A New Assignment. »
PETER PANZERFAUST #12
story KURTIS J. WIEBE
art / cover TYLER JENKINS
JULY 10
32 PAGES / FC / T
$3.50
"CRY OF THE WOLF," Part Two
An official meeting of top German officials in a nearby town spells trouble for operations in The Sticks. But, something much worse is about to arrive.
PROPHET #39
story BRANDON GRAHAM & SIMON ROY
art SIMON ROY & GIANNIA MILONOGIANNIS
cover HELEN MAIER
JULY 24
32 PAGES / FC / T+
$3.99
Die-Hard, a cyborg trying to regain his humanity, looks back over the thousands of years since his birth.
REVIVAL #12
story TIM SEELEY
art MIKE NORTON w/ ART BALTAZAR
cover by SKOTTIE YOUNG
JULY 17
32 PAGES / FC / M
$2.99
The "Revival Event" as seen through the eyes of young Cooper Cypress.
SAVAGE DRAGON #190
story / art / cover ERIK LARSEN
JULY 24
32 PAGES / FC / MR
$3.99
LIMITED EDITION DIGEST VERSION
64 PAGES / FC / MR
$3.99
The countdown to the biggest and most significant change for SAVAGE DRAGON continues as Dragon faces Mako in jail for their most brutal battle ever!
SEX #5
story JOE CASEY
art / cover PIOTR KOWALSKI
JULY 31
32 PAGES/FC/M
$2.99
Simon Cooke's night out has disastrous consequences! And not just socially. But, hey, at least he's trying! Meanwhile, life in Saturn City's criminal underworld rolls on… just not as smoothly as expected. Never forget: SEX is real! SEX is now! But, most importantly, SEX has infected your local comic book store!
SPAWN #233
story TODD MCFARLANE
art SZYMON KUDRANSKI
cover TODD MCFARLANE
JULY 3
32 PAGES / FC / T+
$2.99
« COMPLEX MESSIAH," Part Five
Jim is at odds with his powers as he and the K7-Leetha fight for control. Can Jim harness the dark powers within? Or will the suit overwhelm his human soul, making him a true Hellspawn?
SUPER DINOSAUR #22
story ROBERT KIRKMAN
art JASON HOWARD & CLIFF RATHBURN
cover JASON HOWARD
JULY 31
32 PAGES / FC / E
$2.99
The Dino-Men attack! United by Tyrannosaurus-X, the creations of Max Maximus are brought together for a single purpose: the destruction of the Dynamo family and Super Dinosaur!
TEN GRAND #3
story J. MICHAEL STRACZYNSKI
art / cover BEN TEMPLESMITH
JULY 3
32 PAGES / FC / M
$2.99
Joe Fitzgerald's client is dead. The young woman he went searching for on her behalf is dead. And he's not happy about it. Worse still, someone's shaking the foundations of Heaven, in a move putting the spirit of his beloved Laura in jeopardy. Someone's going to pay for it…even if that means walking into Hell itself.
THIEF OF THIEVES # 16
story ANDY DIGGLE & ROBERT KIRKMAN
art / cover SHAWN MARTINBROUGH & FELIX SERRANO
JULY 31
32 PAGES / FC / M
$2.99
A sit down with the Godfather…
THE WALKING DEAD #112
story ROBERT KIRKMAN
art / cover CHARLIE ADLARD & CLIFF RATHBURN
JULY 10
32 PAGES / BW / M
$2.99
Carl and Andrea are faced with the unthinkable.
WITCHBLADE #168
story TIM SEELEY
art DIEGO BERNARD
cover A JOHN TYLER CHRISTOPHER
cover B DIEGO BERNARD
JULY 3
32 PAGES / FC / T+
$2.99
"ABSOLUTE CORRUPTION," Part Two
After failing to capture the murderous criminal Toio Mulranny, Sara is forced to ask who is the greater threat: Toio or former Witchblade bearer Katarina Godliffe?