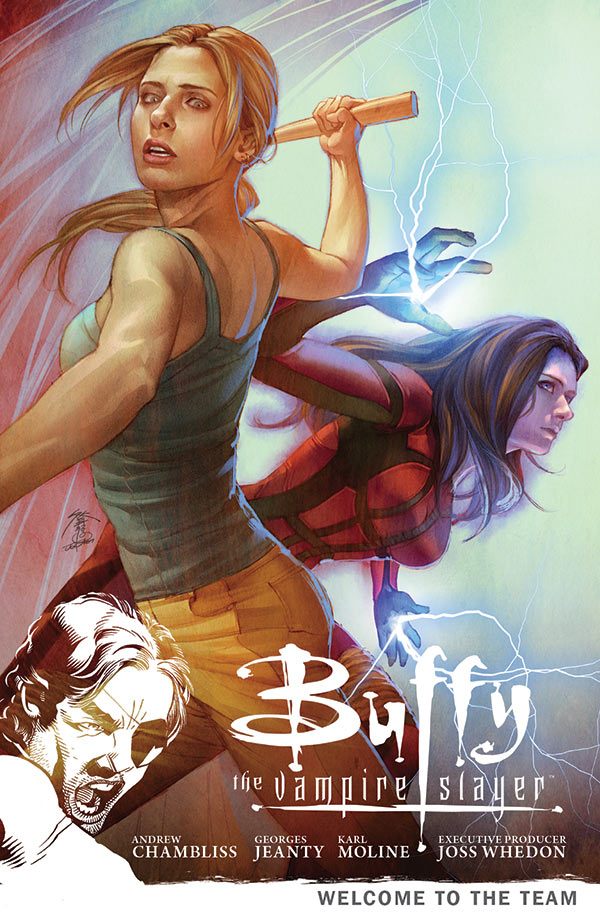 Et voici les sollicitations Dark Horse pour le mois d'août prochain.
From the pages of Hellboy!

ABE SAPIEN #5
Mike Mignola (W), John Arcudi (W), and Max Fiumara (A/Cover), and Dave Stewart (C)
On sale Aug 7
FC, 32 pages
$3.50
Ongoing
After a half-eaten body washes ashore, a small cult suspects the hungry killer may be Abe, who flees to the Salton Sea only to confront a dangerous Ogdru Hem larva.
• Max Fiumara (B.P.R.D.: 1948) takes on Abe!
The Season 9 finale!

ANGEL & FAITH #25
Christos Gage (W), Rebekah Isaacs (A/Variant cover), Dan Jackson (C), and Steve Morris (Cover)
On sale Aug 28
FC, 32 pages
$2.99
Ongoing
Millions of lives hang in the balance, and Angel and Faith just might be on the losing end of this battle. It's times like these that call for drastic measures . . . How far will they go to save the world?
Lives are lost, heroes are born, and as one chapter ends, another begins.
« Angel & Faith has been consistently strong. If Gage and Isaacs work together on another comic once this is over, I know I'll stick around to read it, too. Another good show from this duo. » — Comic Book Resources
Eisner award-winning writer and artist Mike Norton!

THE ANSWER! TP
Mike Norton (W/A/Cover), Dennis Hopeless (W), and Mark Englert (C)
On sale Oct 23
FC, 96 pages
$12.99
TP, 7" x 10"
Insomniac librarian Devin MacKenzie is yanked into a maelstrom of mayhem and mystery by the punctuation-faced crime fighter known as the Answer! Can this unlikely team take on the sinister BRAIN TRUST? A thoroughly original superhero adventure from Mike Norton (Battlepug) and Dennis Hopeless (Avengers Arena, Cable and X-Force). Collects the four-issue miniseries.
• Dennis Hopeless (Cable and the X-Force, Avengers Arena) is one of comics' rising stars!
RED RIDING HOOD REIMAGINED BY AMERICAN MCGEE!

THE ART OF AKANEIRO HC
American McGee (W) and Spicy Horse Games (A/Cover)
On sale Oct 2
FC, 96 pages
$19.99
HC, 8 1/2" x 11"
Delve into the never-before-seen artwork behind Akaneiro—the reimagining of Red Riding Hood as a monster hunter in mythological Japan.
Join the creators as they explore, in their own words, the art and inspiration that culminated in one of the most evocative video game experiences of this generation. A must-have for fans of video games, mythology, and imaginative art!
• From American McGee, creator of Alice and Alice: Madness Returns!
• A stunning mash-up of fairy tales and Japanese folklore.
The fate of Zuko's mom revealed!

AVATAR: THE LAST AIRBENDER—THE SEARCH PART THREE TP
Gene Luen Yang (W), Michael Dante DiMartino (W), Bryan Konietzko (W), Gurihiru (A/Cover)
On sale Oct 30
FC, 80 pages
$10.99
TP, 6" x 9"
Avatar Aang travels to the spirit world to parley with an ancient power, bringing Fire Lord Zuko ever closer to discovering the truth about his mother's fate—and his own past.
Yet Zuko's sister Azula is becoming increasingly dangerous, threatening to ruin everything that Zuko, Aang, Katara, and Sokka have struggled to achieve on their search!
• The official continuation of Airbender from its creators, Michael Dante DiMartino and Bryan Konietzko!
• Avatar: The Last Airbender—The Promise has sold almost two hundred thousand copies!
Celebrating 25 years of Manga!

BRIDE OF THE WATER GOD VOLUME 14 TP
Mi-Kyung Yun (W/A) and Haebek Enthroned Symetrically (Cover)
On sale Oct 23
b&w, 164 pages
$9.99
TP, 5 7/8" X 8 1/4"
A bitter goddess tempts Mui to abandon his godhood and spend a short but happy life with Soah as a human! But a goddess's gift is never without conditions! Mi-Kyung Yun delivers another sumptuous installment of the hit manhwa series, filled with romance and intrigue and steeped in Korean mythology.
• Bestselling series in the US and Korea!
• Each volume includes four pages of lavish color artwork!
"Dark Horse's production is as visually beautiful as Yun's art." –School Library Journal
BLOOD BROTHERS #2 (of 3)
Mike Gagerman (W), Andrew Waller (W), Evan Shaner (A), Dan Jackson (C), and Juan Doe (Cover)
On sale Aug 21
FC, 32 pages
$3.99
Miniseries
When a badass bunch of bail jumpers kidnap Nick's girlfriend, he and Tree have to put aside their differences in order to storm a casino magnate's heavily guarded and secluded private residence. Shouldn't be a problem for two resourceful vampires . . . unless, of course, that billionaire's in league with a bloodsucker bent on world destruction!
• Covers by Juan Doe (Legion of Monsters, Iron Man Legacy)!
• Interiors by Evan Shaner (Buddy Cops, Eerie, Green Hornet Year One)!
Cover by Rafael Albuquerque!

B.P.R.D. HELL ON EARTH #110
Mike Mignola (W), John Arcudi (W), Tyler Crook (A), Dave Stewart (C), and Rafael Albuquerque (Cover)
On sale Aug 21
FC, 32 pages
$3.50
Ongoing
As Liz Sherman fights for her life in a Utah hospital, the B.P.R.D. sends a recon team into the no-man's land that used to be New York City, and the young psychic Fenix encounters a monster-worshiping cult at the Salton Sea.
• "Lake of Fire" Part 1 of 5
• Art by Eisner winner Tyler Crook (The Sixth Gun).
"It's a good a time as any to check in with a series that started as a Hellboy spin-off but has become a force in its own right."—Comic Book Resources
Steve Niles, Matt Santoro, Dave Wachter!
An original take on Jewish folklore!

BREATH OF BONES: A TALE OF THE GOLEM #3
Steve Niles (W), Matt Santoro (W), and Dave Wachter (A/Cover)
On sale Aug 14
b&w, 32 pages
$3.99
Miniseries
While a town flees from advancing Germans, one young boy stays behind to protect their homes. With the help of a golem brought to life by the boy's grandfather's faith—and death—the battle begins for their freedom and future.
• Art by 2012 Russ Manning Award nominee Dave Wachter!
• From the creator of 30 Days of Night and Criminal Macabre!
Must read final arc of Season 9!

BUFFY THE VAMPIRE SLAYER SEASON 9 #24
Andrew Chambliss (W), Georges Jeanty (A/Variant cover), Karl Story (I), Michelle Madsen (C), and Phil Noto (Cover)
On sale Aug 14
FC, 32 pages
$2.99
Ongoing
In a last-ditch effort to save Dawn, the heroic trio of Buffy, Willow, and Xander must split up and tackle their own demons, real and imagined. As the season's Big Bads—Severin and Simone—threaten to turn back time, the mystical council partner with Koh and Illyria to prevent a tragic tear in the fabric of time!
« Anticipation for next month's issue is rising due to all the dramatic build-up this installment has to offer. » — Bloody Disgusting
BUFFY THE VAMPIRE SLAYER SEASON 9 VOLUME 4: WELCOME TO THE TEAM TP
Andrew Chambliss (W), Georges Jeanty (P), Karl Moline (P), Dexter Vines (I), Andy Owens (I), Michelle Madsen (C), and Jo Chen (Cover)
On sale Oct 2
FC, 136 pages
$17.99
TP, 7″ x 10″
Buffy is unwillingly recruited by the demon Illyria and a mystical council to take down the Siphon—for good. He is on the loose again, and a danger to all remnants of magic! Meanwhile, back home the loss of magic has begun to affect those closest to Buffy . . . Collect issues #16-#20 of Season 9.
• Executive produced by Joss Whedon!
• Andrew Chambliss of television's The Vampire Diaries and Once Upon a Time!
Out numbered. Out gunned . . . Out of patience!

CAPTAIN MIDNIGHT #2
Joshua Williamson (W), Fernando Dagnino (A), Ego (C), and Felipe Massafera (Cover)
On sale Aug 28
FC, 32 pages
$2.99
Ongoing
It's only been seventy-two hours since he appeared in the present, but three people have already tried to kill Captain Midnight! When faced with an FBI agent tasked with his capture, a fanboy pilot who knows his history, and the badass granddaughter of his lost love, the time-traveling hero must decide if he can trust these unlikely allies as he attempts to take on one of his oldest enemies!
• Dark Horse's new, must-read ongoing superhero series!
• Written by Joshua Williamson (Masks and Mobsters, Voodoo, Uncharted) with art by Fernando Dagnino (Resurrection Man, Suicide Squad)!
• They stole his perfect vision of the future . . . He's here to take it back!
JOE CASEY! PAUL POPE!

CATALYST COMIX #2 (of 9)
Joe Casey (W), Dan McDaid (A), Ulises Farinas (A), Paul Maybury (A), Brad Simpson (C), and Paul Pope (Cover)
On sale Aug 7
FC, 32 pages
$2.99
Miniseries
Frank Wells saved the world, but now what?! Amazing Grace fights for life in a cosmic coma! And the Agents of Change have a superhero encounter session! Don't miss the second smash issue of the baddest comic on the stands!
• Masterminded by Joe Casey (Sex, Gødland) with art team Dan McDaid, Ulises Farinas, and Paul Maybury!
"Dan McDaid's art continues to wow with lots of energy." —Comic Book Resources
"Joe Casey is good at bringing reinvigorating ideas to the table . . . [he] doesn't like to play in that sandbox so much as kick a lot of dirt around within the confines of that sandbox, and that's wonderful."—David Brothers, ComicsAlliance
THE CHRONICLES OF KING CONAN VOLUME 6: A DEATH IN STYGIA AND OTHER STORIES TP
Alan Zelenetz (W), Marc Silvestri (P/I), Mike Docherty (P), Geof Isherwood (I), Art Nichols (I), George Roussos (C), and Michael Kaluta (C/Cover)
On sale Oct 9
FC, 208 pages
$19.99
TP, 7" x 10"
"The queen is troubled." After the loss of the barbarian king's son, Conan's dark mood draws him further each day from his kingdom and his beloved queen. Can twenty years of regal life quell Conan's savage nature, or will he abandon hearth and home for the call of the wild? Collects Conan the King issues#26-#30.
• Featuring early work of superstar artist Marc Silvestri.
From the Eisner-nominated writer of Bandette.

COLDER TP
Paul Tobin (W) and Juan Ferreyra (A/Cover)
On sale Oct 9
FC, 110 pages
$17.99
TP, 7" x 10"
Declan Thomas is an ex-inmate of an insane asylum that was destroyed in a fire, he has the strange ability to step inside a person's madness—and sometimes cure it. He hopes to one day cure his own, but time is running out, as a demonic predator pursues him. Collects the five-issue miniseries.
• From the Eisner nominated writer of Bandette.
« Ferreyra has superstar written all over him and the words are written in blood. Visually, this book is leaps and bounds above 99% of the other books on the stands. » — IGN
A new story arc begins!

CONAN THE BARBARIAN #19
Brian Wood (W), Paul Azaceta (A), Dave Stewart (C), and Massimo Carnevale (Cover)
On sale Aug 21
FC, 32 pages
$3.50
Ongoing
Conan and Bêlit find themselves the unlikely couriers to a mysterious and ancient religious relic. They are soon beset on all sides by the feuding factions that wish to exploit the artifact's power. Can they reach their destination while keeping their prize—and themselves—intact?
• From Brian Wood (Star Wars, The Massive), and Paul Azaceta (Amazing Spider-Man, B.P.R.D.).
• The most-talked-about Conan comic in years!
"Wood is not afraid of going down new paths with a boldness that will benefit all readers." –Comic Book Resources
Alex Toth! Wally Wood! Classic Creepy!

CREEPY ARCHIVES VOLUME 17 HC
Various (W/A)
On sale Oct 16
b&w, 248 pages
$49.99
HC, 8 3/8" x 10 7/8"
Alex Toth, Al Williamson, Wally Wood, John Severin, Russ Heath, and Bernie Wrightson construct weird and wonderful stories, steeped in supernatural dread and nuclear paranoia, populated by tragic characters, and riddled with deadly, ironic twists. This volume also features an interview between comics historian S.C. Ringgenberg and cover artist extraordinaire Ken Kelly! Collecting issues #78 to #83 of Creepy.
• Contains original stories written and drawn by Alex Toth!
• Featuring "In Deep," Richard Corben's devastating full-color tale of survival at sea.
UNLUCKY #13!

CREEPY COMICS #13
Cullen Bunn (W), Josh Simmons (W), Dan Braun (W), Peter Bagge (W/A), Dean Haspiel (A), Lukas Ketner (A), Matt Wagner (A), and Jason Shawn Alexander (Cover)
On sale Aug 14
b&w, 48 pages
$4.99
Ongoing
The abominable anthology turns unsweet thirteen! Cullen Bunn (The Sixth Gun) celebrates crossroads mishaps, Josh Simmons (The Furry Trap) and Dean Haspiel (Billy Dogma) reveal a small town's twisted secrets, and Dan Braun and Lukas Ketner (Witch Doctor) ride a subway to hell! Don't push your luck—read Creepy!
• Glorious black-and-white art from Dean Haspiel (Billy Dogma) and Lukas Ketner (Witch Doctor)!
• Frontispiece from Matt Wagner!
• Superstitious tales of the Creepy family from Peter Bagge and Dan Braun!
Eisner & Harvey Award winner!

DARK HORSE PRESENTS #27
David Lapham (W/A/Cover), Steve Niles (W), Peter Bagge (W/A), Michael T. Gilbert (W/A), Mike Baron (W), Ron Randall (W/A), Phil Stanford (W), Caitlín R. Kiernan (W), Jane Espenson (W), Andrew Vachss (W), Mike Richardson (W), menton3 (A), Steve Rude (A), Patric Reynolds (A), Steve Lieber (A), Karl Moline (A), and Dominic Reardon (A)
On sale Aug 21
FC, 80 pages
$7.99
Ongoing
David Lapham's Juice Squeezers take on an army of giant bugs! Peter Bagge takes a comical look at American history in Founding Father Funnies! City of Roses returns with another grim crime tale from the mean streets of Portland! Read the dramatic conclusion to Billy the vampire slayer's tale in a Jane Espenson–penned, Karl Moline–illustrated Buffy story!
• Kids vs. giant bugs in David Lapham's Juice Squeezers!
"Dark Horse's prestigious anthology series . . . showcases emerging talent alongside some of the greatest writers, artists and cartoonists comics has to offer, as well as promising new and underground talents."—ComicsAlliance
"Seriously, this is comics' best kept secret trove of great comics."—Comic Book Resources' Robot 6 blog
DREAM THIEF #4 (of 5)
Jai Nitz (W), Greg Smallwood (A), and Dan Brereton (Cover)
On sale Aug 21
FC, 32 pages
$3.99
Miniseries
A murdered gambler, a dead hit man, and a priest who knows too much put John Lincoln in a lethal position. Pinched between the Dixie Mafia and La Cosa Nostra, the Dream Thief finds himself in a Memphis card game where the stakes are his life!
"A stunning debut. Crisp, mysterious, compelling and gorgeously drawn. Don't miss this book." –Kurt Busiek
« Dream Team. Dream Book. Wake up to Dream Thief! » —Grant Morrison
GAME OF THRONES IRON THRONE LUNCHBOX
On sale Aug 28
Embossed tin lunchbox
$14.99
Five kings. One throne. Two lunchboxes.
We are following up last month's solicitation with a second Game of Thrones lunchbox, focusing on the iconic Iron Throne.
Dark Horse has upgraded these new lunchboxes from the quality usually seen in this product category. We used a heavier-gauge tin than on previous lunchbox releases and have improved the metal clasp.
The imagery speaks for itself. The throne has become symbolic of the series as a whole and will resonate as season 3 brings new fans to the story.
Celebrating 25 years of manga!

GANTZ VOLUME 29 TP
Hiroya Oku (W/A)
On sale Oct 23
b&w, 216 pages
$13.99
TP, 5 1/8" x 7 1/16"
As the alien war machine continues its systematic slaughter of humanity, Gantz teams are assembled for a desperate assault. But will a fight within the heart of the immense alien mothership be the moment that turns the tide of war or a final, futile gesture before mankind's extinction?
• Gantz has sold over fifteen million copies in Japan!
• Popular anime series and live-action feature.
"Gantz is the nastiest manga in the North American market." —Ain't It Cool News
"Bold, shocking, and entertaining." —About.com
HALO: INITIATION #1 (of 3)
Brian Reed (W), Marco Castiello (A), Michael Atiyeh (C), John Liberto (Cover), and Terry Dodson (Variant cover)
On sale Aug 14
FC, 32 pages
$3.99
Miniseries
Halo—one of the largest video game franchises—comes to Dark Horse!
Before she was a supersoldier defending humanity as part of the Spartan IV program, Sarah Palmer was an ODST—Orbital Drop Shock Trooper—carrying out the most dangerous missions behind enemy lines!
• The origin of Sarah Palmer—and the Spartan IV program!
• The Halo franchise has sales eclipsing $3 billion over its lifetime.
• From one of the writers on Halo 4—comics veteran Brian Reed!
HELLBOY: THE MIDNIGHT CIRCUS HC
Mike Mignola (W/Cover), Duncan Fegredo (A), and Dave Stewart (C)
On sale Oct 23
FC, 56 pages
$14.99
HC, 7″ x 10″
Young Hellboy runs away from the B.P.R.D. only to stumble upon a weird and fantastical circus and the few demons from Hell who inhabit it.
• Cover and story by Mike Mignola!
• Duncan Fegredo returns!
• An original graphic novel in hardcover!
« In the world of Hellboy, the stony hand that Hellboy uses to clobber opponents is called the Right Hand of Doom. For cartoonist and creator Mike Mignola, his right-hand man for doing Hellboy these days could be considered Duncan Fegredo. » —Newsarama
Eisner Award-winning ART BALTAZAR & FRANCO!

ITTY BITTY HELLBOY #1 (of 3)
Art Baltazar (W/A/Cover) and Franco (W)
On sale Aug 28
FC, 32 pages
$2.99
Miniseries
A ghost named Rasputin has been spotted! And Hellboy and the B.P.R.D. are going to find out what he's up to.
Who is Hellboy anyway? Why does he have such a big hand and what is it used for? Who's weirder, him or his friends? What is the B.P.R.D.? And what does chicken soup have to do with all of it? This and more answered in the debut issue, where BIG things happen to itty bitty Hellboy!
• The creators of Tiny Titans, Superman Family Adventures, and Aw Yeah Comics comes to Dark Horse!
• A new kids' comic with Mike Mignola's characters reimagined by Art Baltazar and Franco!
Conan rides for revenge!

KING CONAN: HOUR OF THE DRAGON #4 (of 6)
Timothy Truman (W), Tomás Giorello (P), José Villarrubia (C), and Gerald Parel (Cover)
On sale Aug 28
FC, 32 pages
$3.50
Ongoing
Betrayed, deposed, and in hiding, Conan rides for his old capital of Tarantia with bloody vengeance in his heart—but the devious wizard Xaltotun has spies in the sky and soldiers on the ground. The solitary barbarian is forced to seek counsel from an unlikely ally . . . who has a few beastly servants of her own!
"The art in this comic is phenomenal. Giorello shows echoes of Barry Windsor-Smith in his line work and character composition." –Comic Book Resources
2013's most talked about game now in comics!
THE LAST OF US: AMERICAN DREAMS TP
Faith Erin Hicks (W/A), Neil Druckmann (W), Rachelle Rosenberg (C), and Julian Totino Tedesco (Cover)
On sale Oct 30
FC, 112 pages
$16.99
TP, 7" x 10"
Nineteen years ago, a parasitic fungal outbreak killed the majority of the world's population, forcing survivors into a handful of quarantine zones. Thirteen-year-old Ellie has grown up in this violent, postpandemic world, and her disrespect for the military authority running her boarding school earns her new enemies, a new friend in fellow rebel Riley, and her first trip into the outside world.
• The official lead-in to the game from Faith Erin Hicks (The Adventures of Superhero Girl) and Naughty Dog's Neil Druckmann!
LOBSTER JOHNSON: A SCENT OF LOTUS #2 (of 2)
Mike Mignola (W), John Arcudi (W), Sebastian Fiumara (A), Dave Stewart (C), and Tonci Zonjic (Cover)
On sale Aug 21
FC, 32 pages
$3.50
Miniseries
After a brutal attack by an army of gun-blazing monkeys in a burning brothel, Lobster Johnson confronts the supernatural Japanese spy known as the Crimson Lotus!
• Tie-in to B.P.R.D.: Plague of Frogs!
• The Crimson Lotus, first introduced in B.P.R.D.: The Dead in 2005, comes after the Lobster!
A raw, hilarious new novel from the author of Bullettime.

LOVE IS THE LAW NOVEL
Nick Mamatas (W)
On sale Sept 25
b&w, 250 pages
$14.99
TP, 4 3/16″ x 6 3/4″
In 1989, punk-rock girl « Golden » Dawn has crafted an outsider's life combining the philosophies of Communism and Aleister Crowley's black magic. One fateful day she finds the dead body of her mentor in both politics and magick shot in the head, seemingly a suicide. But Dawn knows there's more going on than the cops could ever hope to find. In setting out to find the murderer herself, she will encounter dark and twisted truths for which nothing could have prepared her.
• Unusual mystery/detective tale with aggressive punk rock appeal and an outspoken young heroine.
MANARA EROTICA VOLUME 3: BUTTERSCOTCH AND OTHER STORIES
Milo Manara (W/A)
On sale Oct 9
b&w, 288 pages
$59.99
HC, 8 3/8″ x 10 7/8″
Dark Horse's complete presentation of Milo Manara's internationally acclaimed erotic work concludes on a high note, with this deluxe, archival volume featuring one of his best-loved stories, "Butterscotch"! A physicist discovers a way to become invisible, but a curious ballerina easily tracks him by the smell of butterscotch! This volume also includes "Candid Camera," "Gulliveriana," "Three Girls on the Internet," and more, all newly translated by Kim Thompson, as well as an essay by comics scholar Ben Saunders of the University of Oregon on the relationship between art and pornography.
• The concluding volume of Manara's erotic masterworks!
• Includes "Butterscotch," one of Manara's most famous stories!
• Introduction by Dr. Ben Saunders!
MARVEL CLASSIC CHARACTER: X-MEN #4—BEAST
On sale Nov 13
Limited to 850 numbered pieces. Packaged in its own tin box, with a pin-back button and character booklet
$49.95
Created by Stan Lee and Jack Kirby, the X-Men Syroco series continues with none other than Hank McCoy, better known as Beast.
The sculpting team at Yoe! Studio has captured both the look of the original Marvel characters as well as the funky, distressed look that has made this series a collector favorite. Craig Yoe describes them as « primitive but charming. »
MASS EFFECT: FOUNDATION #2
Mac Walters (W). Tony Parker (A), Michael Atiyeh (C), and Benjamin Carre (Cover)
On sale Aug 28
FC, 32 pages
$3.99
Ongoing
Urdnot Wrex—one of the most dangerous mercenaries in the galaxy—crosses paths with a mysterious secret agent in this explosive adventure!
• Written by Mac Walters, lead writer of Mass Effect 2 and 3 video games!
• Mass Effect 3 was the winner of "Best RPG" at the 2012 Spike VGAs!
« The same care and devotion that has led to some memorable Star Wars comics from Dark Horse is evident in Mass Effect. » –IGN
From Star Wars writer Brian Wood!

THE MASSIVE #15
Brian Wood (W), Garry Brown (A), Dave Stewart (C), and J. P. Leon (Cover)
On sale Aug 28
FC, 32 pages
$3.50
Ongoing
Ninth Wave's presence within the United States' now-sunken borders has caused a disruption that a rogue US Navy battle group plans to end. Mismatched and outnumbered by a fleet of larger ships, the crew of Kapital must rely on the unexpected aid of a rogue member of Ninth Wave in the explosive conclusion to Brian Wood's comic book return to New York City.
• One of Comic Book Resources' Best Comics of 2012!
"In a period where Wood's name seems to pop up all over the industry, this series has emerged as one of his most ambitious and rewarding so far."—IGN
« The Massive is not only an amazing action-packed and thought-provoking story, but it's quickly becoming a heartfelt one as well. The demise of humanity never looked so cool. » — Geeks Unleashed
Powers cocreator Mike Oeming's twisted take on tights and capes!

MICHAEL AVON OEMING'S THE VICTORIES #4
Michael Avon Oeming (W/A/Cover) and Nick Filardi (C)
On sale Aug 7
FC, 32 pages
$3.99
Ongoing
With the public turning against the Victories and other powered humans, the government takes action. All powered beings are ordered to turn themselves in to an internment camp, but when heroes and villains alike refuse to do so, a new force is unleashed, and one villain is made an example of.
• By Eisner Award winner Michael Avon Oeming (Powers, Rapture).
• New ongoing series!
« This book is for people that love the super hero genre, but need a break from kid friendly stories or the inevitable merry-go round storytelling that the genre usually suffers from. This is Oeming at his best and if you're not reading it then really it's your loss. » — Comic Bastards
MIND MGMT #14
Matt Kindt (W/A)
On sale Aug 28
FC, 24 pages
$3.99
Ongoing
What you don't know about Meru could just about fit in this issue!
• From the creator of 3 Story and Super Spy and cowriter of JLA!
• A single-part story perfect for new readers!
"I hereby crown Matt Kindt 'King of Comics.' MIND MGMT is a complex science-fiction mystery—life isn't complete without it."—Geeks Unleashed
MIND MGMT VOLUME 2: THE FUTURIST HC
Matt Kindt (W/A/Cover)
On sale Oct 9
FC, 176 pages
$19.99
HC, 7" x 10"
We've learned some of the secrets of Henry Lyme; now get ready to meet the rest of Mind Management! With the remains of the Management attempting to reform and hot on Lyme's tail, the former spy is forced to seek help from other defectors around the globe, including the deadly Futurist, Duncan! Meanwhile, losing her memory has barely slowed journalist Meru down, as an attempt on her life puts her back on the hunt for Mind Management—and on a collision course with the terrible truths Lyme has hidden from her! Collecting MIND MGMT #7–#12, plus stories from Dark Horse Presents and i09!
• Foreword by Scott Snyder (Batman, American Vampire)!
• Matt Kindt's (JLA, 3 Story) game-changing series ups the stakes!
THE CRITICAL HIT RETURNS!
RESIDENT ALIEN: THE SUICIDE BLONDE #0
Peter Hogan (W), Steve Parkhouse (A/C/Cover)
On sale Aug 14
FC, 32 pages
$3.99
Miniseries
Stranded on Earth, the alien living undercover as Dr. Harry Vanderspeigle continues his practice in the small town of Patience, USA! Assisted by Native American nurse Asta—the only person who suspects that he's from another planet—Harry finds himself enmeshed in another murder mystery. Also: the feds are on to Harry!
• From the writer of Tom Strong and the artist of the classic Bojeffries Saga!
"A pitch-perfect narrative from two of my favourite creators." —Alan Moore
STAR WARS #8
Brian Wood (W), Ryan Kelly (A), Dan Parsons (I), Gabe Eltaeb (C), David Michael Beck (Cover), and Alex Ross (Variant cover)
On sale Aug 14
FC, 32 pages
$2.99
Ongoing
Luke Skywalker and Wedge Antilles intentionally allow themselves to be captured by the Empire to discover how Colonel Bircher is tracking the Rebels' movements. Meanwhile, Darth Vader sends a spy into his own ranks to find out the same thing. And Han and Chewie go blaster to blaster against Boba Fett!
• Brian Wood and Ryan Kelly—the Local team goes galactic!
• Star Wars #1 is one of the bestselling single issues of 2013!
« A comic that feels like Star Wars . . . It might just be the most Star Wars-y comic I've ever read. » —ComicsAlliance
Secrets and Suspicions!

STAR WARS: DARK TIMES—A SPARK REMAINS #2 (of 5)
Randy Stradley (W), Douglas Wheatley (A), Dan Jackson (C), and Benjamin Carré (Cover)
On sale Aug 21
FC, 32 pages
$3.50
Miniseries
The crew of the Uhumele have a plan to strike at the heart of the newly formed Galactic Empire—Darth Vader himself! While they seek a certain Jedi to join their cause, secrets among the crew begin to form cracks in their alliance. Could their plan be over before it's begun? Elsewhere, Vader trains an assassin for Jedi hunting!
• Darth Vader and the Jedi—face to face!
• Artist Doug Wheatley returns!
« This book succeeds because it offers more than a solid trip to a galaxy far, far away.  »
— IGN
STAR WARS: DARTH VADER AND THE NINTH ASSASSIN #5 (of 5)
Tim Siedell (W), Iván Fernández (P), Denis Freitas (I), Michael Atiyeh (C), and Ariel Olivetti (Cover)
On sale Aug 21
FC, 32 pages
$3.50
Miniseries
Having stalked Darth Vader, the assassin is now ready to strike . . . It seems Vader, distracted by threats to the Emperor, could be taken. But the assassin has made one mistake—believing that he has a chance against the most-feared man in the galaxy!
• Dark Horse's 2013 Star Wars line is one of the most talked about in years!
Return to Endor!

STAR WARS: EWOKS—SHADOWS OF ENDOR TP
Zack Giallongo (W/A/Cover) and Braden Lamb (C)
On sale Oct 16
FC, 80 pages
$7.99
TP, 5 1/4" x 7 1/2"
Until now, the Ewoks had been able to ignore the arrival of the Empire's stormtroopers on Endor. But when they discover their rivals, the Duloks, have been enslaved and a legendary beast has been awakened, the Ewoks realize they may have to prepare for war—as soon as they figure out how to survive the beast!
• Leads directly into the events of Return of the Jedi!
• Ties into the beloved Ewoks TV series and movies!
New artist! New story arc!

STAR WARS: LEGACY #6 
Corinna Bechko (W), Gabriel Hardman (W), Brian Thies (A), Livio Ramondelli (Cover)
On sale Aug 28
FC, 32 pages
$2.99
Ongoing
When word comes that Sith are being sought out and murdered by another Sith, Ania Solo and Imperial Knight Jao want to find out why.
The only things standing in their way are the Empire, the Jedi, the Galactic Alliance, and the Imperial Knights!
• Artist Brian Thies (Marvel's Winter Soldier) joins the team!
« Star Wars: Legacy is a worthy follow-up to the old one and a solid debut for Hardman and Bechko. » — IGN
So much Jabba, so little time . . .

STAR WARS OMNIBUS: WILD SPACE TP
Various (W/A)
On sale Oct 2
FC, 488 pages
$24.99
TP, 6" x 9"
A second omnibus filled with rare Star Wars gems! Get your adventure on with Jabba the Hutt, Han Solo, and Lando Calrissian, and stomp on Star Wars with Mark Evanier and Sergio Aragonés! Plus, unreal tales from the concept artists behind Episode III, and podracing fun with young Anakin Skywalker!
• Many never-before-collected stories!
• A look at the lighter side of the Force!
Lovecraftian sci fi from the team of Star Wars: Legacy!

STATION TO STATION
Corinna Bechko (W) and Gabriel Hardman (W/A/Cover)
On sale Aug 28
FC, 32 pages
$2.99
One-shot
Something terrible has happened to the Bay Area. A pipeline explosion has totaled Treasure Island and destroyed the Bay Bridge. At least, that's the official story . . .
An interdimensional monster has been brought to San Francisco, and only the men responsible can fight it off, but can they resist its brainwashing? From the pages of Dark Horse Presents!
• From the writers of Betrayal of the Planet of the Apes and Star Wars: Legacy.
• Art by Gabriel Hardman (Agents of Atlas, Hulk, Secret Avengers, Star Wars: Legacy).
Guillermo del Toro's vampire series soon-to-be a TV show!

THE STRAIN: THE FALL #2
David Lapham (W), Mike Huddleston (W), Dan Jackson (C), and E. M. Gist (Cover)
On sale Aug 21
FC, 32 pages
$3.99
Ongoing
The Master's attack on New York City violated an ancient vampire treaty, and now his oldest enemies seek to punish him for this transgression. Dubbed the sun warrior, Augustin "Gus" Elizalde gears up to dispatch the strain now infesting Manhattan . . . but he won't be entering the fray alone!
• From the minds of visionary director Guillermo del Toro and novelist Chuck Hogan.
• Ongoing series continuing the story of the critically acclaimed comic The Strain.
Gerard Way! Becky Cloonan!

THE TRUE LIVES OF THE FABULOUS KILLJOYS #3 (of 6)
Gerard Way (W), Shaun Simon (W), Becky Cloonan (A/Cover), Dan Jackson (C), and Gabriel Bá (Variant cover)
On sale Aug 14
FC, 32 pages
$3.99
Miniseries
"The pulse is beating like a cheetah on speed!"
No longer content to hide from the prying eyes and lies of BLI, the Girl tries her hand at learning how to fire a ray gun with the help of a former Killjoy, Cherri Cola. But when her vision bends and her mind opens, will the Girl see beyond sight and view more than she can handle? How far can you see when you lose focus?
• One of IGN's Most Anticipated Comics of 2013!
• From the creator of The Umbrella Academy!
• Art by 2013 Eisner nominee Becky Cloonan!
SUPREMELY BIZARRE." —Comic Book Bin

UXB HC
Colin Lorimer (W/A/Cover)
On sale Oct 2
FC, 136 pages
$19.99
HC, 7" x 10"
In a shattered future London, three brothers grafted to powerful "lifesuits" squat in Buckingham Palace and load up on movies, video games, and porn. But when the city's scavengers rise against them, the brothers discover their suits aren't just for survival. Will they save the future . . . or bollocks it? Includes UXB stories from Dark Horse Presents, and loads of never-before-seen story material.
• A dark, dystopian, post-apocalyptic tale.
"Amazing art and witty dialog." —BAMFAS
X UNMASKED!

X #4 
Duane Swierczynski (W), Eric Nguyen (A), Michelle Madsen (C), and Dave Wilkins (Cover)
On sale Aug 14
FC, 32 pages
$2.99
Ongoing
It's a bloody showdown on Arcadia's rooftops as X is assaulted by the pig-faced Berkshire, a maniac who can no longer feel physical pain! As Leigh fends off a swarm of the city's thugs, Berkshire shatters the lock around X's neck . . . and the mask finally comes off!
• A cornerstone of Dark Horse's new superhero line!
"This is a gleeful bloody spree that executes bullet pace writing and splatterhouse art to bring out one of the most brutal vigilantes in comics today. » — Comic Book Resources
"X is a terrific combination of crime drama, vigilante action, and merciless revenge. After reading this issue, you will understand why X is one helluva scary superhero. »  — Bloody Disgusting