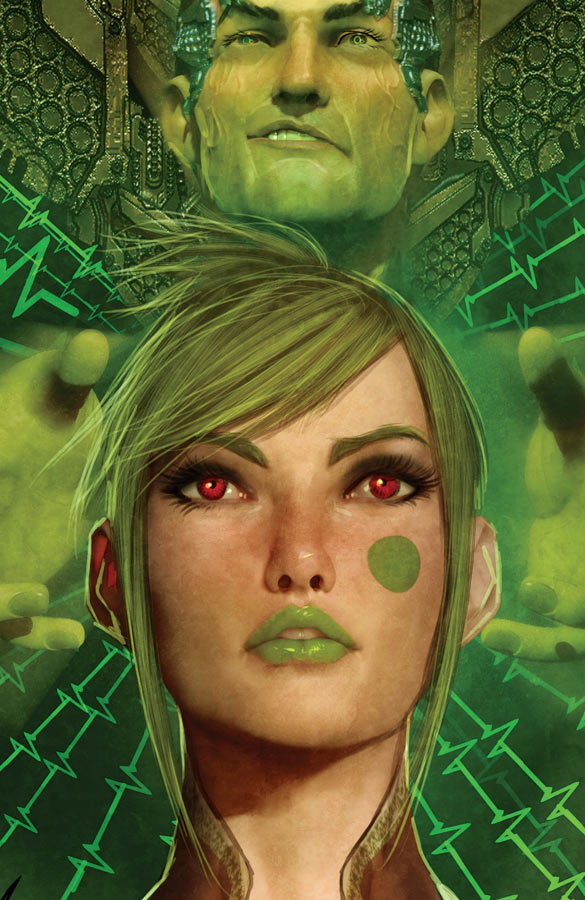 Et voici les sollicitations d'Image Comics pour le mois de décembre prochain ! Comme d'habitude avec cet éditeur, une pelletée de nouveautés et la suite de certains des meilleurs comics du marché :
– Justin Jordan, qui a débuté un très bon run sur New gardians chez DC, lance un nouveau creator owned sous la forme d'une mini série. 6 épisodes pour une histoire de vengeance bien sanglante…
– James Robinson de nouveau libre dans sa tête après son départ remarqué de chez DC a commencé à se consoler chez Marvel et en profite pour lancer chez Image un creator owned
– le retour de Carbon Grey pour un 3e volume et il était temps !
– on constate qu'il n'y a encore aucune nouvelle de Jupiter Legacy de Mark Millar et Frank Quitely disparu au champs d'honneur des délais…quelle surprise !
DEAD BODY ROAD #1 (of 6)
story JUSTIN JORDAN
art / cover MATTEO SCALERA & MORENO DINISIO
DECEMBER 11
32 PAGES / FC / M
$2.99
The men involved in his wife's death must die. All of them.
Writer JUSTIN JORDAN (LUTHER STRODE) and artist MATTEO SCALERA (BLACK SCIENCE, Indestructible Hulk) craft the bruising story of one man's revenge and the dark road he travels.
THE SAVIORS #1
story JAMES ROBINSON
art / cover J. BONE
DECEMBER 26
32 PAGES / FC / M
$2.99
Eisner Award winner JAMES ROBINSON (Starman, Earth 2) and artist extraordinaire J. BONE (The Rocketeer: Hollywood Horror, The Spirit) present an all-new saga of monstrous alien horror.
When Tomas Ramirez stumbles upon an extraterrestrial conspiracy to take over the world, his life is changed forever. He must now seek out those few souls who share this terrible knowledge. But even united, how can they hope to defeat a shadowy alien cabal that is both indestructible and eager to kill anyone who threatens it?
KRAMPUS! #1
story BRIAN JOINES
art / cover DEAN KOTZ
DECEMBER 11
32 PAGES / FC / T+
$2.99
Meet the Secret Society of Santa Clauses. For centuries, Father Christmas, Ded Moroz, Hoteiosho, and others have magically distributed Christmas cheer to children around the world. But when the source of their power is stolen, a desperate Society turns to an usual source for help: the dreaded Krampus, child-punishing demon of holiday lore. Free of his cell for the first time in decades, will the Krampus uncover the truth behind the Santas' depowering or leave his jailers to their ultimate fate? It's Snake Plissken by way of the Grinch as the darkly comedic adventure begins here.
BLACK KISS 2 CHRISTMAS SPECIAL (one-shot)
story / art / cover HOWARD CHAYKIN
DECEMBER 18
32 PAGES / BW / M
$3.99
The BLACK KISS 2 CHRISTMAS SPECIAL – because nothing says « holiday fun » like an endless stream of incredibly nasty revenge sex.
CARBON GREY, VOL. 3 #1 (of 2)
story PAUL GARDNER, HOANG NGUYEN
art KHARI EVANS, HOANG NGUYEN & KINSUN LOH
cover a HOANG NGUYEN & KINSUN LOH
cover b KHARI EVANS & KINSUN LOH
DECEMBER 4
32 PAGES / FC / T+
$3.99
« MOTHERS OF REVOLUTION, » Part One
Long ago, a child fled a revolution. She stole another's name, betrayed a king, took his country to war, and turned sister against sister—all to reclaim her Father's throne. She is Raisa Vasilyeva, illegitimate child of a Czar, Queen of Mitteleuropa, and now… destroyer of all things. The Sisters Grey return for the final devastating chapter of CARBON GREY.
SIN BOLDLY (one-shot)
story / art / cover JOSEPH MICHAEL LINSNER
DECEMBER 4
32 PAGES / BW / M
$3.50
JOSEPH MICHAEL LINSNER writes and draws two stories featuring characters that his die-hard fans have been asking about for years. In « Hell Is Waiting, » Sinful Suzi learns a lesson about the wages of sin. And in « Burning Roses, » Obsidian Stone loses an old friend and welcomes a new demon. This guilty pleasure is a long-overdue return to the B&W short stories that LINSNER started with in CRY FOR DAWN. Because if you are going to sin, then sin boldly!
APHRODITE IX: THE HIDDEN FILES #1
story MATT HAWKINS
art / cover STJEPAN SEJIC
DECEMBER 4
32 PAGES / FC / T+
$2.99
PEEK INTO THE PROPRIETARY BLACK BOX OF APHRODITE'S MIND!
The cybernetic assassin Aphrodite IX has survived the rise and fall of countless civilizations. What sacrifices and tragedies has she seen that have been erased from her memory?
APHRODITE IX #8
story MATT HAWKINS
art / cover STJEPAN SEJIC
DECEMBER 11
32 PAGES / FC / T+
$2.99
Is Aphrodite XV a threat? Or an ally?
BEDLAM #11
story NICK SPENCER
art RYAN BROWNE
cover FRAZER IRVING
DECEMBER 4
32 PAGES / FC / M
$3.99
The finale to the explosive second arc is here! The city is on its knees, manipulated into causing its own destruction… and only Fillmore Press can save them now.
BURN THE ORPHANAGE: BORN TO LOSE #2 (of 3)
story SINA GRACE & DANIEL FREEDMAN
art / cover a SINA GRACE
cover b TRADD MOORE
DECEMBER 4
48 PAGES / FC / M
$4.50
PART TWO OF THE BORN TO LOSE TRILOGY!
The events of BURN THE ORPHANAGE have led Rock down a dark path, where he finds himself on a hidden island, forced to compete in the ultimate martial arts tournament… one where the participants may not all be human. New foes, new hos, this is one oversized romp you can't miss!
FATALE, VOL. 4: PRAY FOR RAIN TP
story ED BRUBAKER
art SEAN PHILLIPS & ELIZABETH BREITWEISER
cover SEAN PHILLIPS
DECEMBER 18
144 PAGES / FC / M
$14.99
Sex, drugs, rock-n-roll, and ritual killers all collide in the strangest and most exciting volume of FATALE yet. A strange woman with no memory stumbles into the lives of a struggling grunge band in mid-'90s Seattle… Is she their muse? Will she save them from « one-hit wonder » status? Or will she be something much worse, especially since there's a psycho killer on her trail?
The newest volume of the New York Times Best-Selling series!
Collects FATALE #15-19
FATALE #20
story ED BRUBAKER
art SEAN PHILLIPS & ELIZABETH BREITWEISER
cover SEAN PHILLIPS
DECEMBER 18
32 PAGES / FC / M
$3.50
NEW STORY ARC!
Nicolas Lash is in the deepest trouble possible, and there's only one person who can save him now… the problem is, trouble is her business.
And don't forget all the back page extras you can only find in FATALE's single issues every month!
JUPITER'S LEGACY #1 STUDIO EDITION
story MARK MILLAR
art / cover FRANK QUITELY
DECEMBER 04
32 PAGES / BW / M
$4.99
In Jupiter's Legacy #1, superstar creators MARK MILLAR and FRANK QUITELY introduced an epic tale about the explosive tensions between two generations of superheroes. Now, this special edition spotlights Quitely's artwork in detailed black and white, plus includes Millar's original script and other special features.
MIND THE GAP #16
story JIM McCANN
art RODIN ESQUEJO
cover a RODIN ESQUEJO
cover b JENNY FRISON
DECEMBER 11
32 PAGES / FC / T+
$2.99
NEW STORY ARC
ACT II BEGINS!
Everything has changed, and the world as these characters know it will never be the same. New mysteries, higher stakes, bold action. Welcome to the next phase of MIND THE GAP.
If you've been waiting to jump on, now's the time!
ARTIFACTS, VOL. 6 TP
story RON MARZ
art STJEPAN SEJIC & MARCO TURINI
cover STJEPAN SEJIC
DECEMBER 4
144 PAGES / FC / T+
$16.99
"TRUTHS & DESTINIES"
To wage war with the Darkness, Rapture bearer Tom Judge will need to amass an army of Artifact bearers to back him up.
Collects ARTIFACTS #25-29
A DISTANT SOIL, VOL. II: THE ASCENDANT TP
story / art / cover COLLEEN DORAN
DECEMBER 18
240 PAGES / BW / T
$16.99
A small team of champions band together to protect young Liana from the Hierarchy, a corrupt otherworld government determined to destroy her. Unknown to the Hierarchy, Seren, their enshrined Avatar, a powerful psionic and religious leader, secretly aids Liana, and plots a coup to overthrow his masters.
GHOSTED, VOL. 1 TP
story JOSHUA WILLIAMSON
art GORAN SUDZUKA & MIROSLAV MRVA
cover MATTEO SCALERA
DECEMBER 4
144 PAGES / FC / M
$14.99
Jackson T. Winters is one of the greatest criminal masterminds to ever live…except he's rotting in jail after his last doomed score. But when a filthy rich collector breaks Winters out, he's tasked to put together an elite team of paranormal experts to do the impossible: steal a ghost from a haunted house of horrors!
Skybound's horror/crime mash-up is equal parts Ocean's 11 and The Shining, by writer JOSHUA WILLIAMSON (MASKS AND MOBSTERS, Captain Midnight) and artist GORAN SUDZUKA (OUTLAW NATION, Y: The Last Man)!
Collects GHOSTED #1-5
GREAT PACIFIC, VOL. 2: NATION BUILDING TP
story JOE HARRIS
art / cover MARTÍN MORAZZO
DECEMBER 4
152 PAGES / FC / M
$14.99
Over a year has passed since industrialist adventurer Chas Worthington founded the New Texas Settlement upon a floating continent of trash. But while growth has been strong, true sovereignty and statehood will come at a cost even he cannot afford. The frontier tale of sci-fi, scoundrels, mayhem, and monsters continues!
Collects GREAT PACIFIC #7-12
HAPPY! DELUXE HC
story GRANT MORRISON
art / cover DARICK ROBERTSON
DECEMBER 4
128 PAGES / FC / T+ / OVERSIZED
$24.99
Meet Nick Sax: a corrupt, intoxicated ex-cop turned hit-man, adrift in a stinking twilight world of casual murder, soulless sex, eczema, and betrayal. With a hit gone wrong, a bullet in his side, the cops and the mob on his tail, and a monstrous child killer in a Santa suit on the loose, Nick and his world will be changed forever this Christmas by a tiny blue horse called Happy…
Re-presented as an oversized hardcover just in time for the holidays, this deluxe edition of HAPPY! includes an all-new 10-page story by creators GRANT MORRISON and DARICK ROBERTSON.
Collects HAPPY! #1-4
HOAX HUNTERS, VOL. 3 THE BOOK OF MOTHMAN TP
story MICHAEL MORECI & STEVE SEELEY
art T-REX JONES
cover STEVE SEELEY
DECEMBER 11
128 PAGES / FC / T+
$14.99
Mix X-Files with Mythbusters and you get HOAX HUNTERS, the series about a reality show that is out to cover up the dark, mysterious corners of the world. THE BOOK OF MOTHMAN collects the final arc of the acclaimed first season — dig deeper into the mysteries of Jack's dad and the multiverse, Regan's powers, and what the heck is going on with Murder.
Collects HOAX HUNTERS #10-13 and CASE FILES #1
THE COMPLETE MULTIPLE WARHEADS TP
story / art / cover BRANDON GRAHAM
DECEMBER 4
208 PAGES / FC / M
$17.99
Ex-organ smuggler Sexica and her werewolf boyfriend Nikoli travel across a sci-fi/fantasy version of Russia while the hardcore organ hound Blue Nura tracks a bounty across radioactive wastelands.
Slice of life comics from a world where magic and monsters are commonplace.
Collects MULTIPLE WARHEADS #1-4 and MULTIPLE WARHEADS: DOWN FALL
SHELTERED, VOL. 1 TP
story ED BRISSON
art / cover JOHNNIE CHRISTMAS
DECEMBER 11
128 PAGES / FC / T+
$9.99
SPECIAL LOW INTRODUCTORY PRICE!
A PRE-APOCALYPTIC TALE OF SURVIVAL AT ANY COST.
The men and women of Safe Haven have been preparing for any and all end-of-world scenarios for years. However, their bunkers, weapons, and training can't save them from the one threat they never could have expected: their own children.
Collects SHELTERED #1-5
SNAPSHOT TP
script ANDY DIGGLE
art / cover JOCK
DECEMBER 11
104 PAGES / BW / T+
$12.99
When Jake Dobson finds a lost cell phone, he's horrified to discover it's full of snapshots of a murder victim. Suddenly he finds himself hunted by a ruthless hit-man who will stop at nothing to recover his « proof of kill » photos – and silence Jake forever!
Collects SNAPSHOT #1-4
THIEF OF THIEVES, VOL. 3 TP
story ROBERT KIRKMAN & ANDY DIGGLE
art / cover SHAWN MARTINBROUGH & FELIX SERRANO
DECEMBER 4
128 PAGES / FC / M
$14.99
Conrad Paulson lives a secret double life as master thief Redmond. There is nothing he can't steal, nothing he can't have…except for the life he left behind. Now it's go time for his Venice heist — and THIEF OF THIEVES' most EXPLOSIVE story arc yet!
Collects THIEF OF THIEVES #14-19
THE WALKING DEAD, VOL. 2 SPANISH LANGUAGE EDITION TP
story ROBERT KIRKMAN
art CHARLIE ADLARD & CLIFF RATHBURN
cover TONY MOORE
DECEMBER 18
132 PAGES / BW / M
$14.99
Available for the first time in the US, the second volume of the Walking Dead saga is presented in Spanish.
Collects THE WALKING DEAD #7-12
ALEX + ADA #2
story JONATHAN LUNA & SARAH VAUGHN
art / cover JONATHAN LUNA
DECEMBER 11
32 PAGES / FC / T+
$2.99
Alex struggles with figuring out what to do with Ada, his new android, before anyone finds out about her. She is not what he expected.
ARTIFACTS #33
story KEN PORTER
art -ROM-
cover STJEPAN SEJIC
DECEMBER 11
32 PAGES / FC / T+
$3.99
"THE TEACHER AND THE PREACHER"
Top Cow publishes its first team of winners from the 2012 Talent Hunt! Rapture bearer and defrocked priest Tom Judge and the numeromancer Tilly Grimes are hot on the heels of a prolific serial killer. But even if Tom is able to save the next intended victim, is he already too late to save her soul?
BLACK SCIENCE #2
story RICK REMENDER
art MATTEO SCALERA & DEAN WHITE
cover a MATTEO SCALERA & DEAN WHITE
cover b ROBBI RODRIGUEZ & DEAN WHITE
DECEMBER 18
32 PAGES / FC / M
$3.50
Run-amok reality! Grant and his crew escape the madness of the lightning sea-swamp only to be flung into a futurepast trenchworld, where the Sons of the Wakan Tech-Tanka wage never-ending war on the savages of Europe! How did the Anarchist League of Scientists end up this deep in the onion? Who among them sabotaged the Pillar?
THE BOUNCE #8
written JOE CASEY
art / cover DAVID MESSINA
DECEMBER 18
32 PAGES / FC / M
$2.99
The s#!t is hitting the fan in a big, bad way! The Bounce's grip on this reality is getting looser all the time. Meanwhile, the Darling is ready to strike! All this, and inter-dimensional pornography, too! We dare not tell you more!
CHEW #40
story JOHN LAYMAN
art / cover ROB GUILLORY
DECEMBER 4
32 PAGES / FC / M
$2.99
"FAMILY RECIPES," Conclusion
This is how you kill the Vampire…
CLONE #13
story DAVID SCHULNER, AARON GINSBURG & WADE MCINTYRE
art / cover JUAN JOSE RYP & ANDY TROY
DECEMBER 18
32 PAGES / FC / T+
$2.99
"Have you considered the moral and ethical ramifications of cloning?"
The balance between Luke's resistance and the anti-clone movement shifts here…in what is sure to be the most intense issue of CLONE yet.
DRUMHELLAR #2
story RILEY ROSSMO & ALEX LINK
art / cover RILEY ROSSMO
DECEMBER 11
32 PAGES / FC / M
$3.50
Psychedelic detective Drum Hellar searches for a wayward bog-man, but finds mutilated livestock instead. Meanwhile, someone else has a gruesome job in mind for Drum's elusive, soggy bog-buddy, and a new mystery for him to investigate…himself!
EAST OF WEST #9
story JONATHAN HICKMAN
art / cover NICK DRAGOTTA
DECEMBER 11
32 PAGES / FC / T+
$3.50
"HUNTER"
The Ranger and Death finally clash in the inevitable meeting of LAW and INEVITABILITY.
ELEPHANTMEN #54
story RICHARD STARKINGS
art AXEL MEDELLIN
cover TULA LOTAY & NEI RUFFINO
DECEMBER 18
32 PAGES / FC / M
$3.99
« PICKING UP THE PIECES, » Part Four
Are Jack Farrell's hands blood red, or are there memories buried in his subconscious that throw his investigations into a whole new light?
FIVE GHOSTS #8
story FRANK J. BARBIERE
art / cover CHRIS MOONEYHAM
DECEMBER 18
32 PAGES / FC / T+
$2.99
"LOST COASTLINES," Part Two
Fabian decides to aid his old flame, the rogue Jezebel, on a journey across the sea to THE ISLAND OF DREAMS. Step one: stealing a ship! Plus: pirates.
« Writer Frank J. Barbiere and artist Chris Mooneyham have yet to disappoint. Through premise, script, and art they've set the standard for all others to emulate. » -Graphic Policy
HOAX HUNTERS #13
story MICHAEL MORECI & STEVE SEELEY
art T-REX JONES
cover a MICHAEL WALSH
cover b RILEY ROSSMO
DECEMBER 4
32 PAGES / FC / T+
$3.50
« THE BOOK OF MOTHMAN, » Conclusion
SEASON FINALE
INVINCIBLE #109
story ROBERT KIRKMAN
art / cover RYAN OTTLEY & JOHN RAUCH
DECEMBER 18
32 PAGES / FC / T+
$2.99
What the what?! After one hundred and nine issues…things take a sharp turn.
INVINCIBLE UNIVERSE #8
story PHIL HESTER
art / cover TODD NAUCK & GABE ELTAEB
DECEMBER 4
32 PAGES / FC / T+
$2.99
Red Eye rules Rio de Janeiro from behind the gold-plated bars of his prison palace…all the more reason for the Guardians of the Globe to unleash their most dangerous operatives to take him out!
LAZARUS #6
story GREG RUCKA
art / cover MICHAEL LARK
DECEMBER 18
32 PAGES / FC / M
$2.99
"LIFT," Part Two
While Johanna continues to try and rehabilitate her image and prove her loyalty to the Family, Forever investigates rumors of the Freemen Resistance in Los Angeles. In Montana, the Barrets make a fateful decision, and begin the long journey to Denver.
THE MANHATTAN PROJECTS #19
story JONATHAN HICKMAN
art NICK PITARRA
DECEMBER 18
32 PAGES / FC / T+
$3.50
"STRATEGIC ASSASSINATION"
Simultaneous actions on three different worlds result in the most jaw-dropping issue of THE MANHATTAN PROJECTS to date!
MANIFEST DESTINY #2
story CHRIS DINGESS
art / cover MATTHEW ROBERTS & OWEN GIENI
DECEMBER 11
32 PAGES / FC / T+
$2.99
Lewis and Clark uncover a new breed of savage creature with the Louisiana Purchase. No wonder the French gave it up so easily…
MORNING GLORIES #36
story NICK SPENCER
art JOE EISMA
cover RODIN ESQUEJO
DECEMBER 18
32 PAGES / FC / M
$3.50
« Welcoming Committee »
PRETTY DEADLY #3
script KELLY SUE DeCONNICK
art EMMA RÍOS & JORDIE BELLAIRE
cover EMMA RÍOS
DECEMBER 18
32 PAGES / FC / M
$3.50
All blood spilled into the earth makes its way to a river. Where those rivers meet, Fox attends the birth of a beast, the child of a thousand violent deaths.
PROPHET #44
story BRANDON GRAHAM & SIMON ROY
art GIANNIS MILONOGIANNIS & SIMON ROY
cover LUDROE
DECEMBER 18
32 PAGES / FC / T+
$3.99
The war between the Old Man and the Empire reaches new heights when Badrock returns.
PROTECTORS, INC. #2
written J. MICHAEL STRACZYNSKI
art GORDON PURCELL & MIKE ATIYEH
cover a GORDON PURCELL & MIKE ATIYEH
cover b RENAE DE LIZ & RAY DILLION
DECEMBER 11
32 PAGES / FC / M
$2.99
An unexplained local disappearance, a corpse that lands several hundred miles from the scene of the crime, and the very first death of one of the Protectors…what do these three seemingly unrelated incidents have in common? And why is Protectors, Inc. so determined to whitewash the possibility that the super-powered hero was murdered? Lieutenant Detective Riley may be the only one who really wants to discover the truth.
RAT QUEENS #4
story KURTIS WIEBE
art / covers ROC UPCHURCH
DECEMBER 18
32 PAGES / FC / M
$3.50
"GOLD, GUTS, AND GROG," Part Four
Holy vengeance can be a real headache, but it's so much worse when it's coming from a fifteen foot tall lady troll who's just lost her dad. In this blood-splattered issue, the Rat Queens find out that every action has some sort of hilariously brutal consequence!
REALITY CHECK #4 (of 4)
story GLEN BRUNSWICK
art / cover VIKTOR BOGDANOVIC
DECEMBER 4
32 PAGES / FC / T+
$2.99
Dark Hour has been defeated. Will is forced to « Man Up » and face the maniac Devil-Inside on his own. If he loses, all Hell breaks loose — Devil will kill the woman he loves and continue an unstoppable homicidal reign of murder and mayhem.
REVIVAL #16
story TIM SEELEY
art MIKE NORTON
cover JENNY FRISON
DECEMBER 18
32 PAGES / FC / M
$2.99
Dana and her ex, Derrick, investigate Em murderer suspect Aaron, but they aren't the only ones. Meanwhile, May Tao gets closer to connecting the Cypresses to the burned bones of the Check brothers.
ROCKET GIRL #3
story BRANDON MONTCLARE
art / cover AMY REEDER
DECEMBER 18
32 PAGES / FC / T
$3.50
« DOUBLE REAGENT"
Changing the future is hard to do. Sparks fly when DaYoung becomes Most Wanted in two different New York Cities. Police in battling timestreams — 1986 and an alternate 2013 — want to get their girl. But bringing her in is going to take a coordinated effort from a mysterious player who straddles both worlds.
« This is Amy and Brandon firing on all cylinders. I'm blown away by all the life and energy in this book (and the mind-boggling backgrounds!). I can't wait to see more of DaYoung. » — ROSS CAMPBELL (GLORY, Wet Moon)
SAGA #17
story BRIAN K. VAUGHAN
art / cover FIONA STAPLES
DECEMBER 11
32 PAGES / FC / M
$2.99
Prince Robot IV gets everyone into trouble.
SAVAGE DRAGON #195
story / art / cover ERIK LARSEN
DECEMBER 18
32 PAGES / FC / T+
$3.99
It's hard enough being a 17-year-old kid, but when you're juggling schoolwork, dating and a deadly menace hellbent on leveling the city of Chicago? Well, you've just entered the world of the all-new, all-different Savage Dragon! Malcolm Dragon is on the run and his girlfriend Maxine Lai is caught in the crossfire!
SECRET #7
story JONATHAN HICKMAN
art RYAN BODENHEIM & MICHAEL GARLAND
DECEMBER 18
32 PAGES / FC / T+
$3.50
"ENDGAME"
It's taken fifteen years of couples counseling. Forty barrels of ink. Six billion dollars… and a time machine to get to the epic conclusion of SECRET… and HERE IT IS! The death and resurrection of Steadfast. Someone lives. Someone dies. And, of course, someone loses a finger.
Check out the final chapter of this modern spy thriller, SECRET #7: ENDGAME!
SEX #9
story JOE CASEY
art MORGAN JESKE & PIOTR KOWALSKI
cover PIOTR KOWALSKI
DECEMBER 18
32 PAGES / FC / M
$2.99
We know you're all wondering—what was life like in Saturn City in the glorious heyday of the Armored Saint? Find out this issue in a special flashback sequence drawn by MORGAN JESKE (CHANGE)! An orgy of action! Secrets revealed! Onions peeled! Don't miss it!
SEX CRIMINALS #4
story MATT FRACTION
art / cover CHIP ZDARSKY
DECEMBER 11
32 PAGES / FC / M
$3.50
She can seemingly control time and space with her…parts. She's as relentless a manhunter as law enforcement ever created. And by day she's no one you'd particularly notice, with her quiet suburban life and pleasant-enough job, but when the temporal dimension is used to break society's laws they call…HER. Jon and Suzie get in too deep way too fast as one little sexy fun party crime begets another and the villains of the piece descend. Turns out Jon and Suzie aren't the only ones after all…
SIDEKICK #5
story J. MICHAEL STRACZYNSKI
art TOM MANDRAKE & HiFi
cover a TOM MANDRAKE & HiFi
cover b ALINA URUSOV
DECEMBER 18
32 PAGES / FC / M
$2.99
For weeks, super-villain Julia Moonglow has been feeding off the body and energy of Barry « Flyboy » Chase while keeping him from remembering this. Now she's ready to let him remember, and reveals why she's been stalking him and the fate of her late twin sister. But that's just the warm-up for the big reveal, as Barry learns for the first time that the Red Cowl may be alive, a discovery that shatters him down to his very core.
SPAWN #238
story TODD MCFARLANE
art SZYMON KUDRANSKI
cover TODD MCFARLANE
DECEMBER 4
32 PAGES / FC / T+
$2.99
A HISTORY OF WAR—AND THE ORIGIN OF THE DEAD ZONE!
Jim's struggle to control his new life is put into perspective as Cogliostro reveals the secrets of the Dead Zone. From the temptations of Eden to the wars of today, the whole of human history has been tainted with conflict. While Cogliostro's motives may not be clear, his first lesson for Jim just may change his life…and alter the course of Heaven and Hell's eternal war… FOREVER!!!
THINK TANK #12
story MATT HAWKINS
art / cover RAHSAN EKEDAL
DECEMBER 11
32 PAGES / BW / T+
$3.99
"OUTBREAK," Conclusion
What will war take from Dr. David Loren?
THREE #3
story KIERON GILLEN
art / cover RYAN KELLY & JORDIE BELLAIRE
historical consultant PROF. STEPHEN HODKINSON
DECEMBER 11
32 PAGES / FC / M
$2.99
Curse the Spartan who is a Trembler. Shave his beard. Rip his cloak. Beat or spit on him if you will. If you found yourself condemned in such a fashion, a few short years after all of Sparta's men ran, the hypocrisy could bite. Discover why it's not just the helots who suffer under Spartan Law, and discover what a Trembler plans for the three slaves responsible for his shame…
TODD, THE UGLIEST KID ON EARTH #8
story KEN KRISTENSEN
art / cover M.K. PERKER
DECEMBER 18
32 PAGES / FC / T+
$2.99
« CHARLIE ROSE'S TABLE: PUBLIC BROADCASTING SATAN, » Conclusion
Our first Christmas issue! Holiday Gift Bonus: Todd Fold Out Origami with every issue!
In this thrilling conclusion to the PBS arc, Charlie Rose unleashes the full force of his demonic power, Peggy's home pregnancy test catches fire, and Gus discovers Todd has the highly marketable power to restore virginity.
UMBRAL #2
story ANTONY JOHNSTON
art / cover CHRISTOPHER MITTEN
DECEMBER 11
32 PAGES / FC / M
$2.99
« FALLING INTO DARK »
The nightmare creatures called Umbral are invading, and only the young thief Rascal knows it! But in a world where magic and religion are outlawed, will anyone believe her? And is the mysterious hobo Dalone an ally… or a deadly enemy?!
VELVET #3
story ED BRUBAKER
art STEVE EPTING & ELIZABETH BREITWEISER
cover STEVE EPTING
DECEMBER 18
32 PAGES / FC / M
$2.99
You all know the story: a beautiful woman seduced by a secret agent into revealing secrets and helping him on his mission…but what happens to them once the agent is gone? Find out in issue three, as Velvet tracks Agent X-14's most recent asset down very dark paths.
A VOICE IN THE DARK #2 (of 2)
story / art / cover LARIME TAYLOR
DECEMBER 18
32 PAGES / BW / M
$3.99
"BLOOD MAKES NOISE," Conclusion
Zoey's talk radio show will become a deadly public forum for her twisted listeners before she will even know what hit her.
THE WALKING DEAD #118
story ROBERT KIRKMAN
art CHARLIE ADLARD, STEFANO GAUDIANO & CLIFF RATHBURN
cover CHARLIE ADLARD & DAVE STEWART
DECEMBER 11
32 PAGES / BW / M
$2.99
ALL OUT WAR CONTINUES!
Maggie takes a stand as Rick's new plan comes together.
WITCHBLADE #172
story RON MARZ
art LAURA BRAGA
cover STJEPAN SEJIC
DECEMBER 4
32 PAGES / FC / T+
$2.99
Sara Pezzini will soon discover who the Witchblade chose to be its next bearer…
ZERO #4
story ALES KOT
art TRADD MOORE & JORDIE BELLAIRE
cover a TRADD MOORE & TOM MULLER
cover b CHRISTIAN WARD & TOM MULLER
DECEMBER 18
32 PAGES / FC / M
$2.99
Belfast, 2001. Zero is nine years old. The Agency sends him on his first mission. Zero's target: a supposedly ex-IRA terrorist.